$cat_name = 'category'; $categories = get_the_terms($post->ID, $cat_name); foreach ($categories as $category) { if ($category->parent) { echo $category->name; } } ?>
Sep 14, 2023
48 Hours on Safari at Lewa Wilderness
Share:
Usually around a month or so before our guests depart to various destinations in Africa – and now also India – we get them on a pre-departure Zoom call. We walk them through their itinerary on a day-by-day basis; review logistics; discuss activities at the various properties; and check on passport validity, visas and health requirements. 
One of the questions which comes up quite frequently from first time visitors concerns the daily routine. What exactly does a day on safari look like? When do you have to be up in the morning, how long are the game drives and what type of food is served? 
We thought we'd take a blow-by-blow look at a recent 2-night stay at Lewa Wilderness to give our readers a first-hand look at what may await them on their own trip.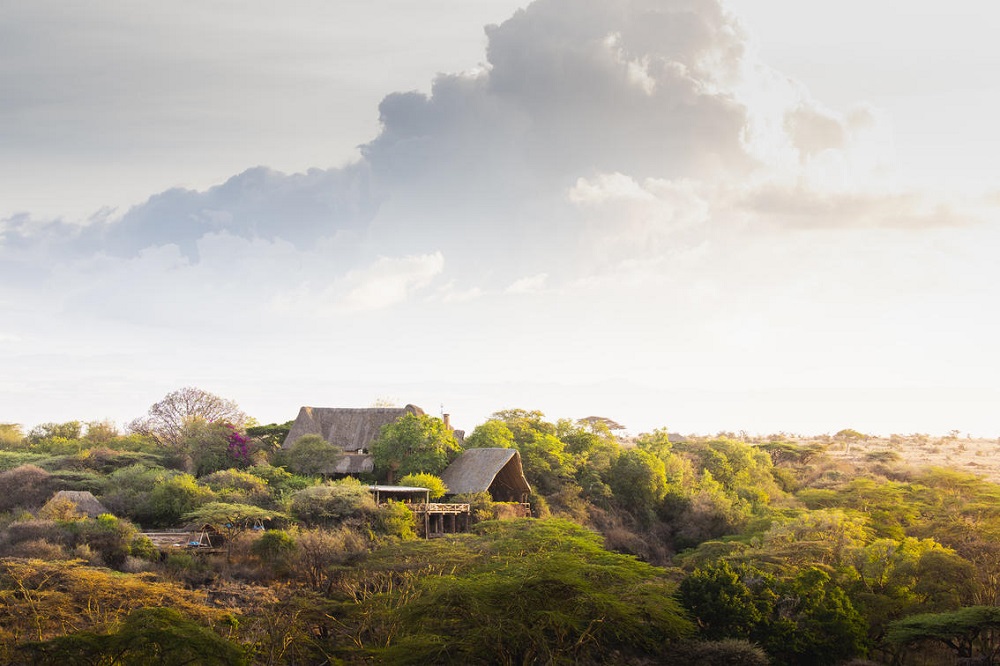 Lewa Wilderness is an imposing 9-roomed lodge located on a ridge in the Lewa Wildlife Conservancy in the north central Kenyan highlands at an altitude of just over 1,500 meters above sea level. That makes it a mile high, so pack appropriately for the cool nights. Lewa is a proverbial stone's throw from the equator, so winter and summer days are not unlike each other. Mostly balmy with maximum temperatures ranging from the mid-80's Fahrenheit from May through August and increasing to the mid-90's by December and January. Average lows are in the upper 60's to low 70's. 
Over the course of our recent 3-month plus African sojourn, we visited more than 16 properties in 5 countries.  Our two nights at Lewa Wilderness in early June was a standout. Simply a wonderful experience all round: excellent game viewing with our guide Francis Mayetu (how about a cheetah kill!), amazing food as always and fantastic hospitality thanks to camp manager Karmushu and his entire team.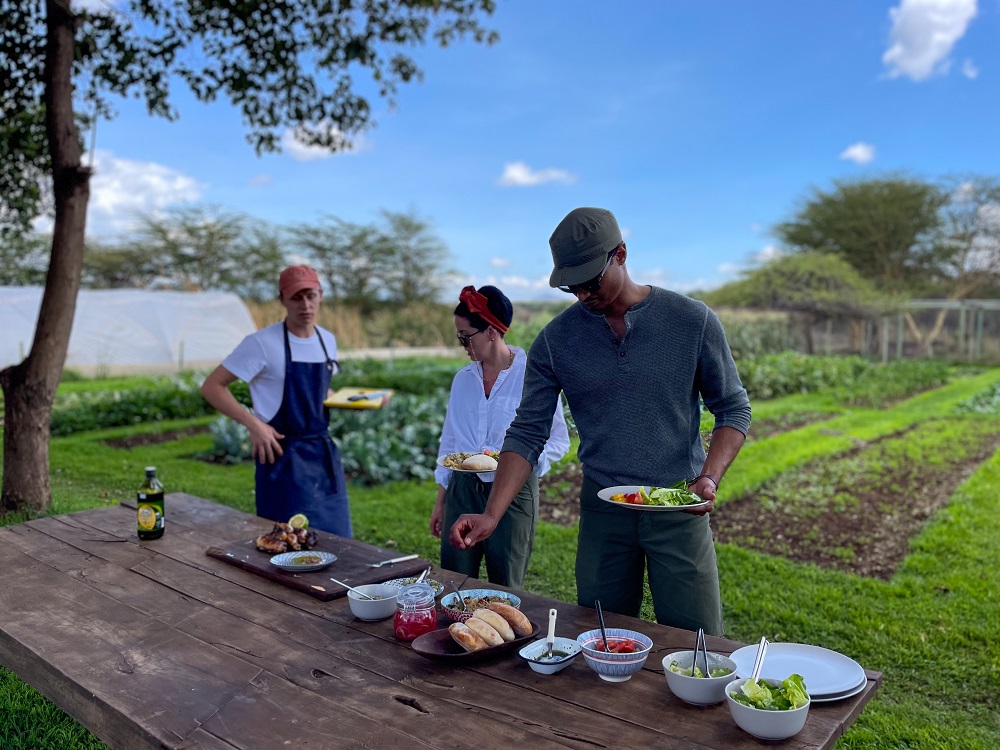 There were so many highlights, starting with being uber comfortable in our gorgeous room. An unexpected fun activity: a guided visit to the massive camp vegetable and fruit garden known as the Shamba. We think everyone should do it. See where much of the ingredients for your delicious Lewa Wilderness meals come from! Making us feel ever more 'at home' was meeting the owners Will and Emma Craig and – a bonus – bumping into their daughter Sacha, visiting for the weekend with some friends. And babies! What a pleasant surprise. We had met Sacha previously when she was traveling in the USA.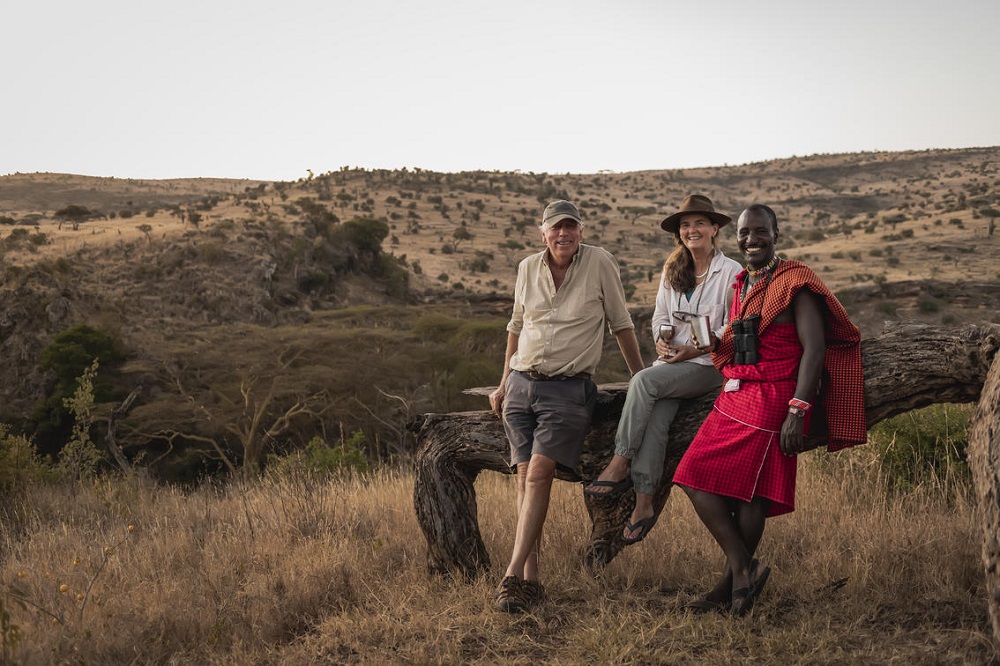 Getting there
We arrived at Lewa airstrip on a 12-seater Cessna 208 (Caravan), the workhorse of the safari industry in Kenya and elsewhere in Africa. Operated by Safarilink, our flight was  one of approximately 500 or so scheduled charter flight legs taking place in Kenya on an average day. Safarilink, which has an impeccable safety record, has a fleet of 12 aircraft including eight Caravans and four twin-engined Dehavilland Dash-8's. Lewa can be reached by air from Nairobi, direct from the Masai Mara and also from nearby Nanyuki town. The property is also driving distance – about four hours – from Nairobi.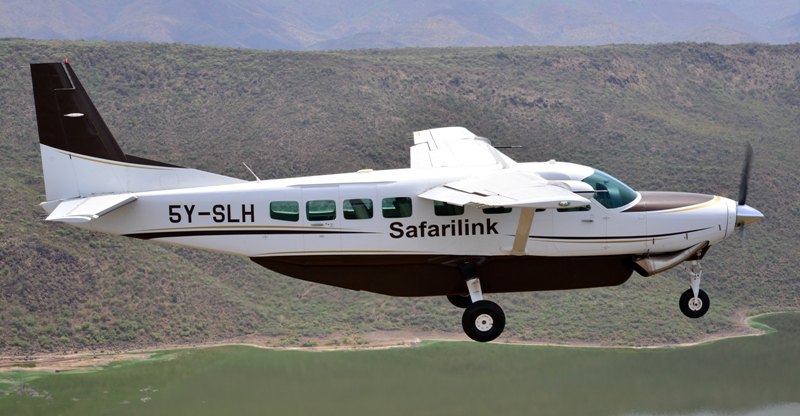 The Cessna 208 Caravan
The Cessna 208 is admirably suited for sightseeing from the air, as it has large windows and the wings are attached to the top of the fuselage. For a clear, unobstructed view try to find a seat closer to the front or behind the wheels. The aircraft's rugged fixed under-carriage is ideal for landing on the dirt airstrips common in the game parks. The seating is one on the left of the narrow aisle, and two to the right. The luggage weight limit is usually 20kg (44 lbs) per person, which can be split between three items: a medium-sized duffel bag (which Fish Eagle Safaris provides), a small backpack and a hand item like a handbag or a camera bag. After boarding – one at a time on the fold-out steps and mind your head – you can leave your backpack in the rear of the aircraft, which is usually cordoned off with netting or canvas.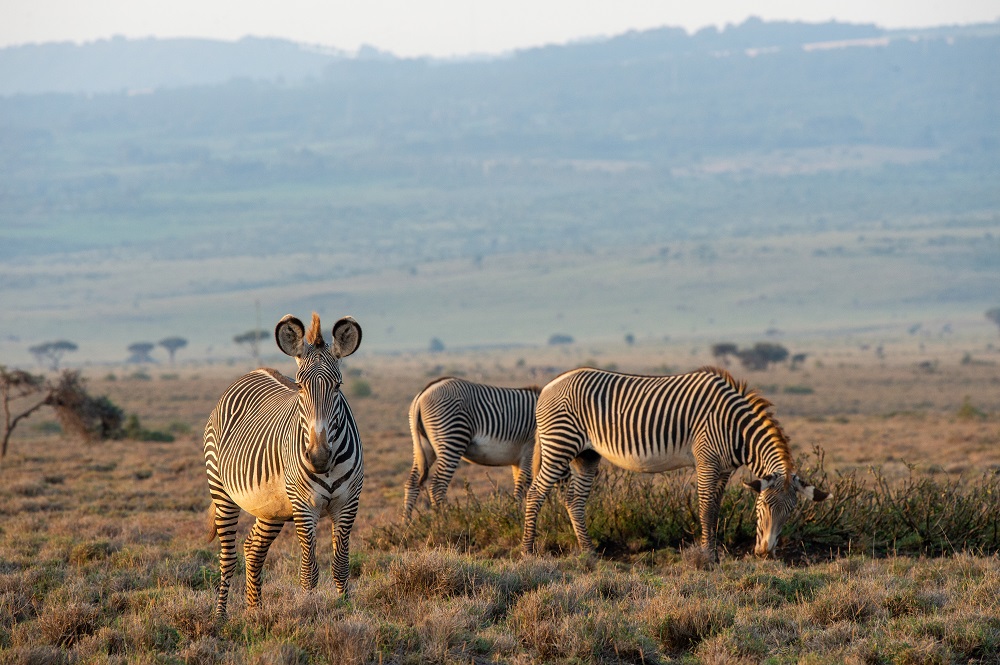 Guiding team at Lewa Wilderness 
Upon arrival at the Lewa airstrip, we met our driver guide Francis Mayetu, with whom we would be spending a good chunk of time over the next couple of days. Francis has been guiding at Lewa Wilderness for more than 10 years. At well over 6 feet, Francis cuts an impressive figure in his traditional Maasai gear, complete with a feathered mohawk which bumped up against the roof of the safari vehicle as we drove. 
Francis is one of the ten members of the Lewa Wilderness guiding corps, an exceptionally talented and highly experienced group, some of whom have been guiding either at Lewa Wilderness or in the surrounding area for more than twenty years. Their expertise covers the entire spectrum of activities available at Lewa Wilderness, ranging from walking to camelback safaris to photographic outings and horseback riding.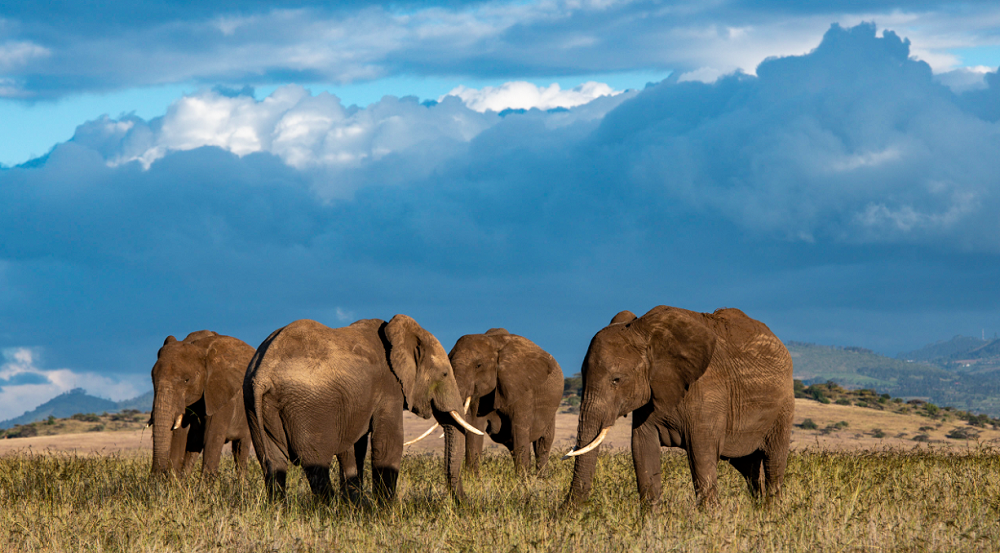 It took us about 40 minutes to get to the lodge, making several stops en route to observe some of the northern Kenya endemics for which Lewa is famous, including the reticulated giraffes, Grevy's zebras and Beisa oryx. These spectacular mammals are mostly found just in north-central Kenya.  
On arrival at Lewa Wilderness we were presented with a cool beverage and warm towels to freshen up. After being welcomed by manager Karmushu Kiama and riding manager Miranda Simpson, we sat down in the comfortable lounge for a camp briefing. We tried our hardest to pay attention to the all too predictable information about meal times, activities, safety procedures and the like. Our dietary preferences were reconfirmed and eventually we were escorted to our room.
Accommodation 
To say that we were exceedingly comfortable in our room at Lewa would be an understatement. The rooms are amazing. Huge, with lots of space and natural light. The rooms at Lewa Wilderness are all large and imposing, six of them with excellent views over the surrounding Eastern Marania valley. The three cozy garden cottages  open up to a beautiful lawn. It took a few minutes for our room steward to run us through the light switches (complicated), instructions to open and close the safe, what to do in case of an emergency and so on.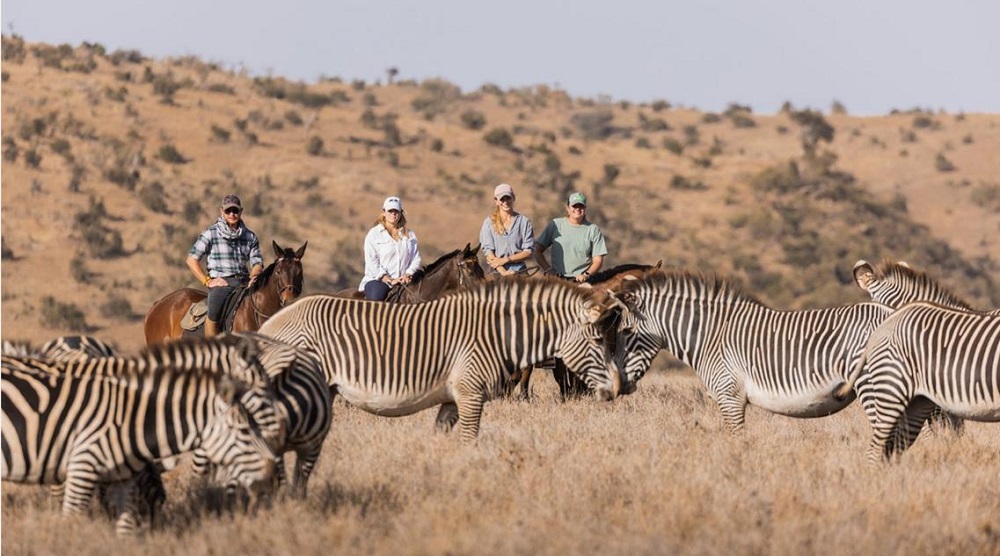 Activities 
Twice daily game drives are the primary activities at Lewa Wilderness but the property has a stellar range of additional activities. One which we mentioned earlier on is a guided walk through the camp's organic vegetable and fruit garden, the shamba. The others include foot safaris, horseback riding and a camelback safari. A range of activities beyond the property itself are also available such as various community-related outings (such as school and clinic visits), watching the Lewa anti-poaching canine team in action and visiting the Ngare Ndare Forest for a tree canopy walk. Some of these activities are best booked in advance, something we can help with, naturally.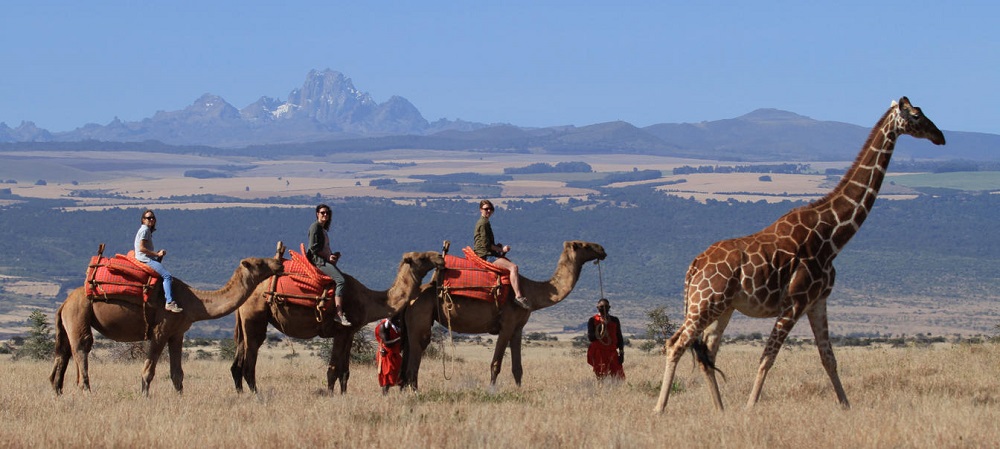 Camelback safari 
Fancy getting better acquainted with the ins and outs of camelback safaris? Lewa Wilderness has you covered. You can either hike alongside them or go all out and ride. Just be sure to remember this: once the camel feels your weight on its back, it 'wakes up' from its prone position by suddenly, and sometimes rather forcefully, lifting its hindquarters. Not a problem if you already know this…. So brace yourself and avoid any chance of an ignominious tumble forwards. The same at the end of the ride. Except this time the camel will drop down its head and tuck in its front legs first. Be ready to avoid another possible faceplant! Once you are underway, the ride will be a bit bumpy and the camel is not likely to be influenced by your tugging on the reins. At least not much. It will simply obey its handler or follow the camel in front of it. Do I make it sound like fun? You'll just have to try for yourself. 
Supporting conservation and community 
As a guest of Lewa Wilderness, you are automatically supporting the Lewa Wildlife Conservancy, renowned for its pioneering conservation initiatives as well as community and education programs. Before you leave, be sure to check out the various gift bag options in the curio shop. It's a tangible way to further support the local community and specifically the school children. An education is key to their future prospects. If you visit Lewa as a guest of Fish Eagle Safaris, Lewa Wilderness will contribute $25 towards the cost of a local child's school fees.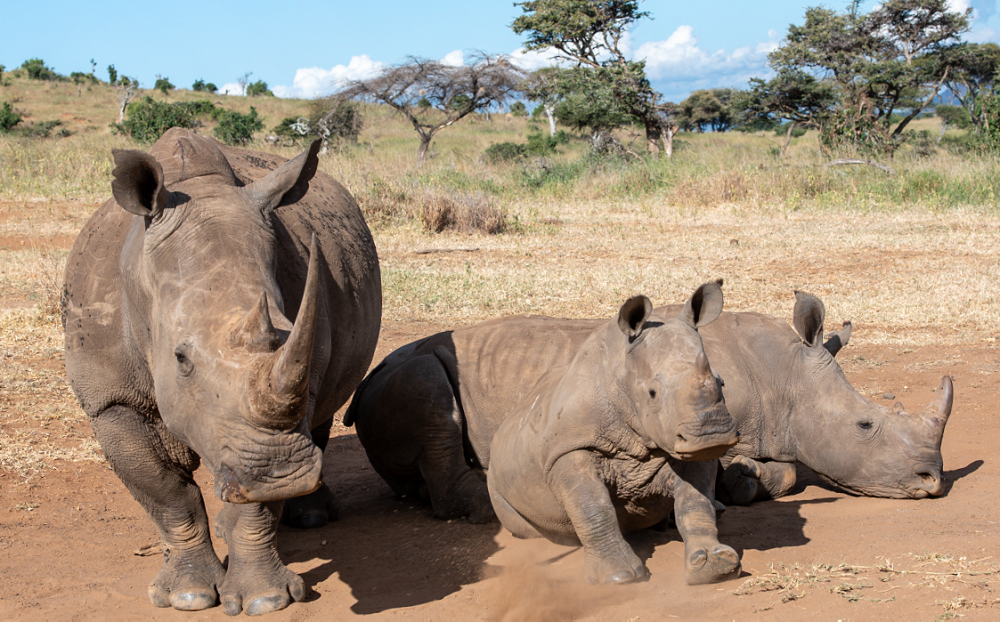 Game drives at Lewa Wilderness
Around 4:30 or so, it was time for our first game drive at Lewa Wilderness. After some light refreshments and a cup of tea, we headed out in the open sided vehicle, cameras and binoculars in hand. It is imperative to have your own pair of binocs on safari. It may very well be the difference between getting a memorable look at something small and beautiful – like a serval cat – or practically not seeing it at all 
Our steed for the next couple of days was a 6 seater Toyota Land Cruiser. Open sided, it is ideal for what we came to do: find, observe and photograph some of Africa's signature mammals. And birds. Over the next three hours we came across a variety of mammals and birds, the highlight being a trio of white rhinos, our first ones on this trip to Kenya.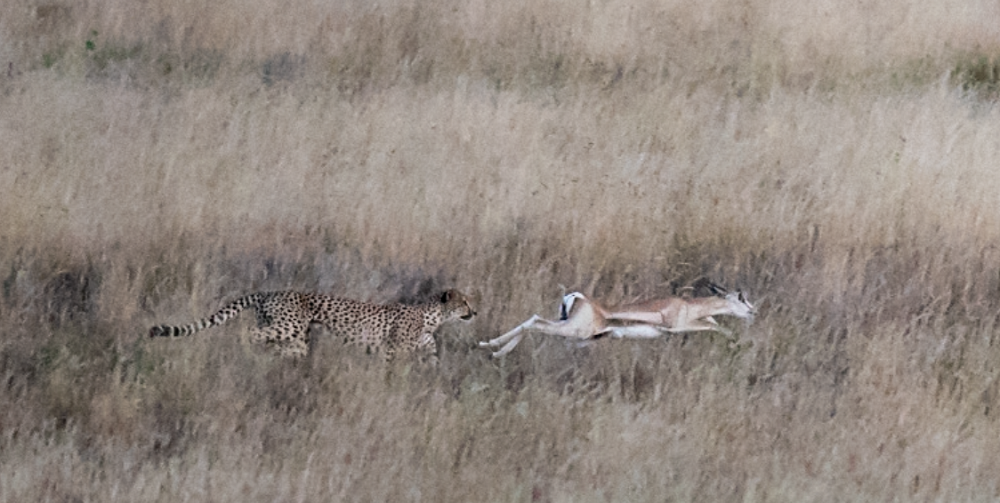 In addition to the northern Kenyan endemics (Grevy's zebra, reticulated giraffe, Beisa oryx and Somali ostrich), Lewa is renowned for its healthy population of both white and black rhinos. What is more, rhinos at Lewa are unaltered, with their often magnificent horns on full display, just the way nature intended them to be. Regrettably, that is mostly not the case in much of Southern Africa where most safari properties – in a desperate attempt to prevent poaching – are dehorning their rhinos on a regular basis.  
Over the course of our two-day stay at Lewa Wilderness we cleaned up on the northern endemics and we witnessed a cheetah kill when a female cheetah took down a Grant's gazelle right in front of us. We watched the whole thing from stalking to wild, tail-swerving chase right up to the take-down. A bit later on we also had a sighting of a male lion laying up along a perennial stream. Add both black and white rhinos (quite a few of both), buffaloes, elephants and zebras and it all amounted to a most satisfying experience.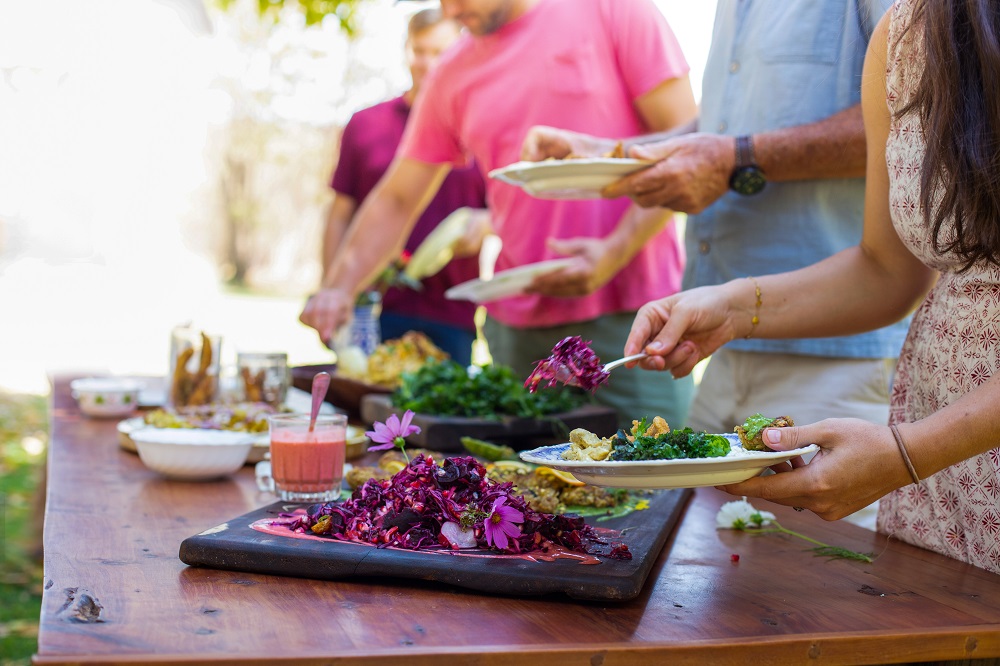 By the time dinner rolled around on our first day at Lewa Wilderness, we had an inkling of what to expect. It all starts with the freshest possible produce, right out of Lewa Wilderness' own small farm, originally started by Will Craig's mother, Delia. Every meal at the lodge includes fresh organic produce from the large vegetable garden. The chefs at Lewa Wilderness also get their eggs, milk and goat's cheese from the farm and source other ingredients and foodstuffs from the surrounding community.   

Breakfast and lunch are served casually. Guests can pick what they're craving from a full spread of fresh and delicious options. Dinner is presented more formally, with guests being served a three-course set menu to the backdrop of a crackling fireplace and a  star-filled sky. 

Kathy and I took our seats for dinner at just about  8: 00 pm, joining several other guests around a long, communal table. Having been briefly back to our room, we had exchanged our safari gear for casual clothing. There was a slight chill in the air and like us, most of the other guests had donned a fleece or light jacket.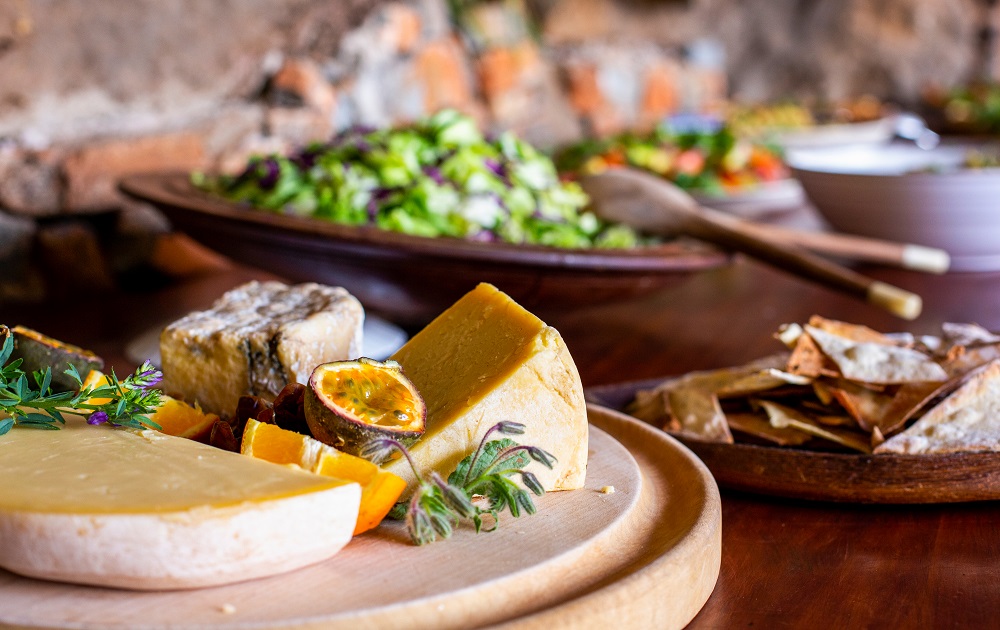 Dinners at Lewa Wilderness are communal (unless otherwise requested) and we enjoyed meeting some of the other guests. One of them was finishing up preparations for her first ascent of Mt Kilimanjaro. I was only too happy to share some of the experience I had gained in the course of my own previous Kili climbs. On the day, we enjoyed a minestrone soup, a delicious beef bourguignon with potatoes, carrots and courgettes, and an excellent dessert.  
Here are a few of the dishes currently in the Lewa Wilderness chef's rotation:
Breakfast Special 
Rare Breed Black Aisberg tomatoes – a dark beefsteak variety grown in the greenhouse – on homemade sourdough toast with good olive oil and salt. The key thing here is simplicity and focusing on the superb quality of the produce. 
Lunchtime salads 
Garden charred sweet corn, broad bean, avocado and coriander salsa. Lewa Wilderness grows three out of the four ingredients, with just the avocado being brought in from a farm five miles away. Lewa Wilderness recently planted several avocado trees but it will take a few years before they can harvest the fruit. 
Roasted Beetroot and Goat Cheese Salad 
Lewa Wilderness grows their beetroot and makes their own goat cheese from their resident goat herd. Simply boil and then thinly slice the beetroot with a mandoline, sprinkle with crumbled goat cheese, top with a classic vinaigrette and garden herbs and voila!
Sesame French Bean Salad 
This Asian french bean salad is super simple but delicious. Vibrant colors and Lewa Wilderness' homegrown beans make it a fun side dish. 
Courgetti with homemade pesto 
The chefs at Lewa Wilderness spiralise their own greenhouse grown courgettes and mix them with a freshly made pesto using their own basil. Raw food at lunch is great for everyone's digestion and brings freshness to the meal.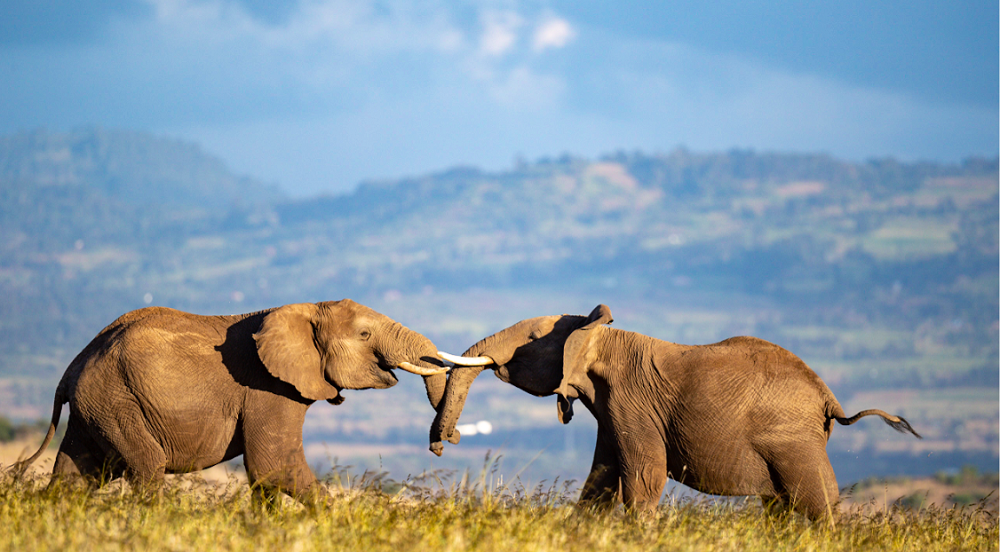 The daily routine at Lewa Wilderness
Routine is not a word that sits well in the safari lexicon. No two days are ever alike. Even so, there is a certain pattern to how most days unfold. Safari days start early. On our first full day at Lewa Wilderness we were up and ready to roll at around 6am when the room attendant showed up with tea and coffee. We grabbed our stuff and headed to the lounge for a light breakfast. There was toast and marmalade or honey. Some fresh fruit which tasted like the real thing. Freshly baked bread. And porridge. 
During high season Lewa Wilderness keeps a similar schedule in terms of activities and meal times. Guests head off early and come back for a big breakfast after their activity. Lunch is a buffet around 1pm and the lodge plans on having guests sit down for supper at 8pm, once they are all back from their afternoon adventures. Flexibility is key, and Lewa Wilderness always do their best to fit in with their guests' plans. It is not a problem to arrange private dining for guests if they prefer a meal away from the communal table. With more guests comes the potential for more night drives. For families with young children, Lewa Wilderness suggests earlier dinners between 7pm and 7.30pm.
For more information about safaris including Lewa Wilderness, please contact us at 1-800-513-5222 or email jason@fisheaglesafaris.com
YOU MIGHT ALSO BE INTERESTED IN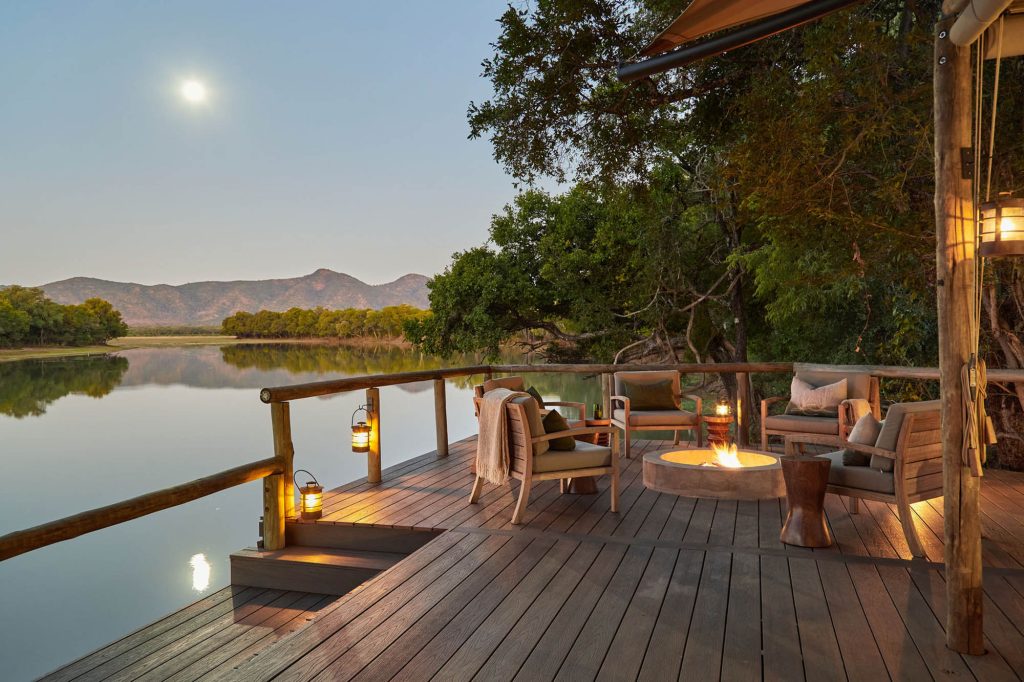 10th Sep 2021
Chindeni and the Bushcamp Company, Zambia
By late July we found ourselves at Chindeni, a small Bushcamp Company property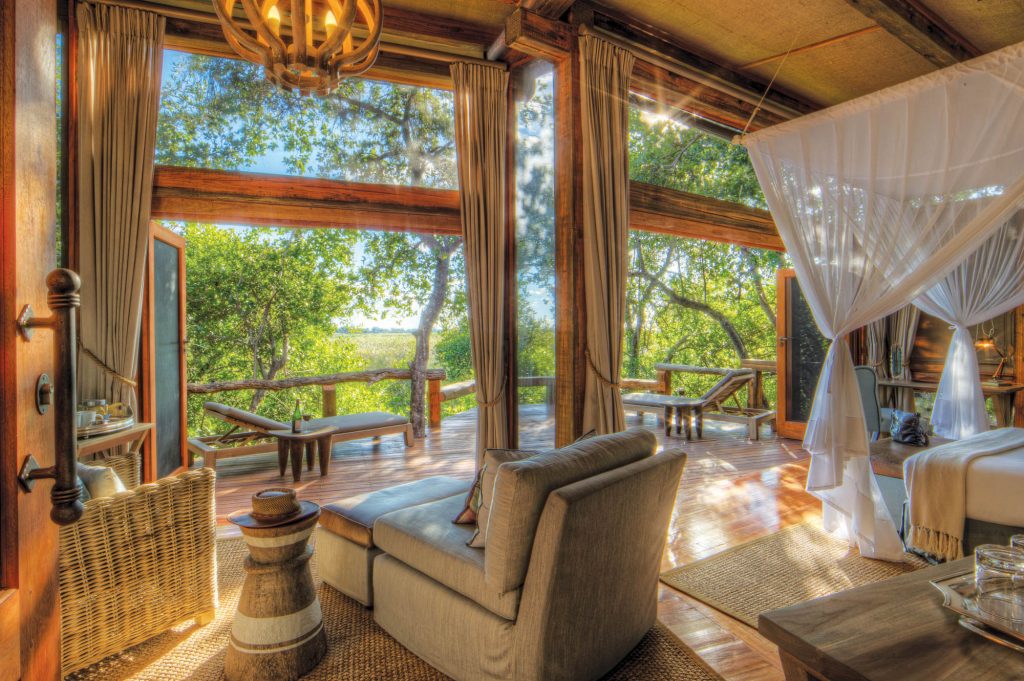 3rd Oct 2022
Camp Okavango, Botswana
Camp Okavango is in the heart of the permanent part of the Delta. In this idyllic setting there are no vehicles, and it is just a short walk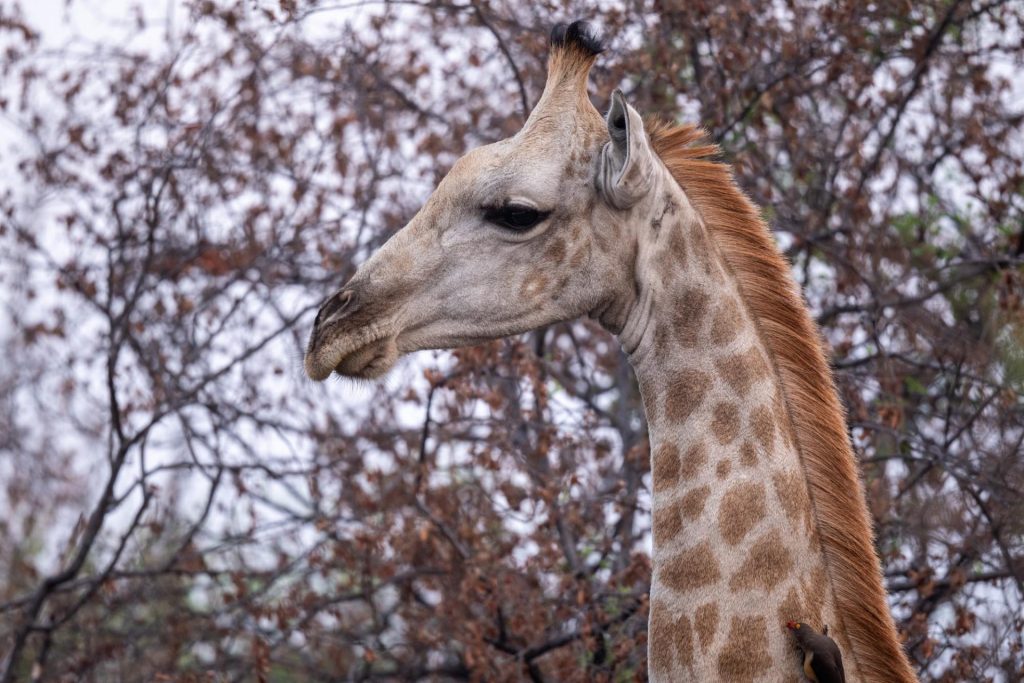 26th Mar 2023
Photography on safari
Fish Eagle Safaris was an early adopter of digital photography. Company founder Bert somewhat fondly recalls using a first generation Sony Mavica
SUBSCRIBE TO OUR NEWSLETTER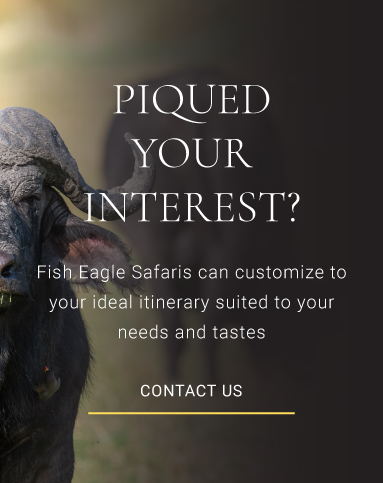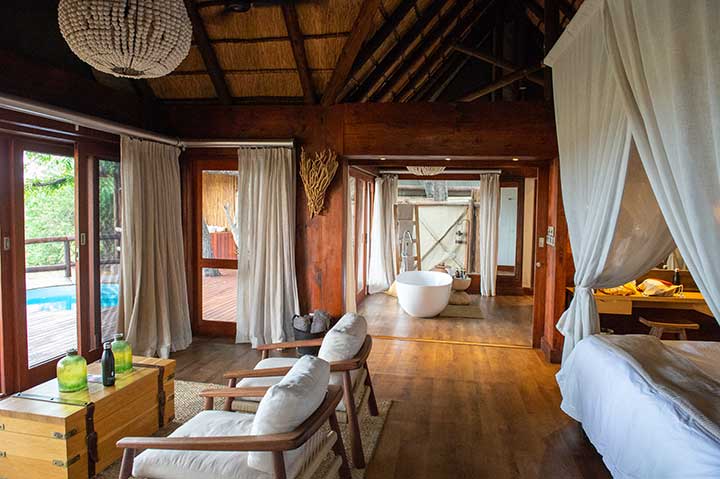 4th Aug 2022
On Safari At Belmond Eagle Island Lodge, Okavango Delta
What is the 'secret sauce' for an unforgettable few days on safari in Botswana? It starts with the animals, of course. The elephants, lions, giraffes, hippos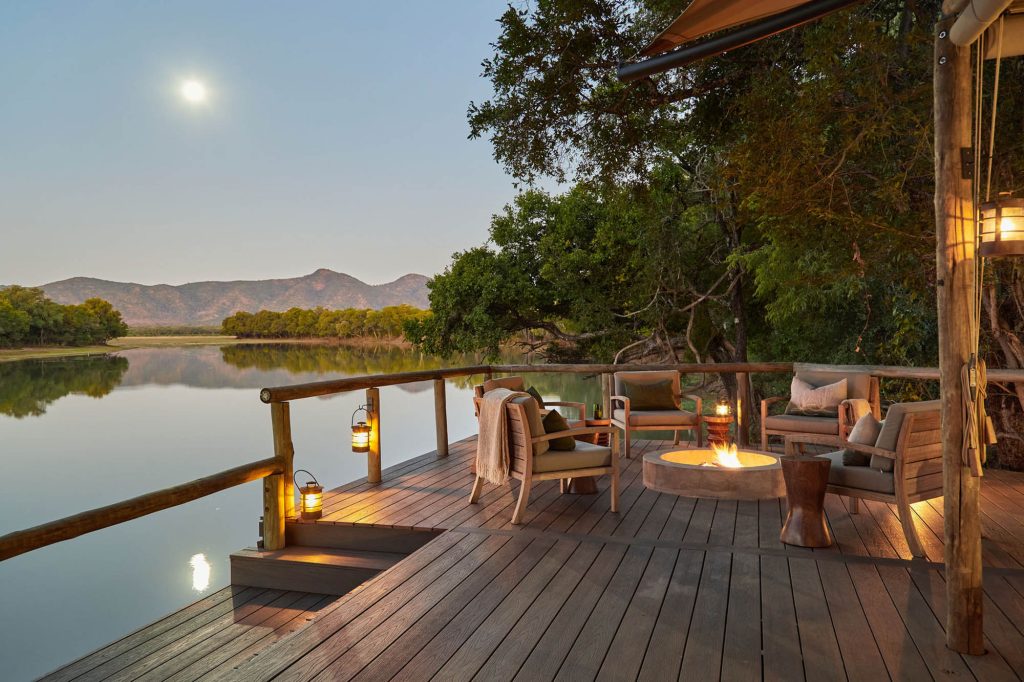 10th Sep 2021
Chindeni and the Bushcamp Company, Zambia
By late July we found ourselves at Chindeni, a small Bushcamp Company property