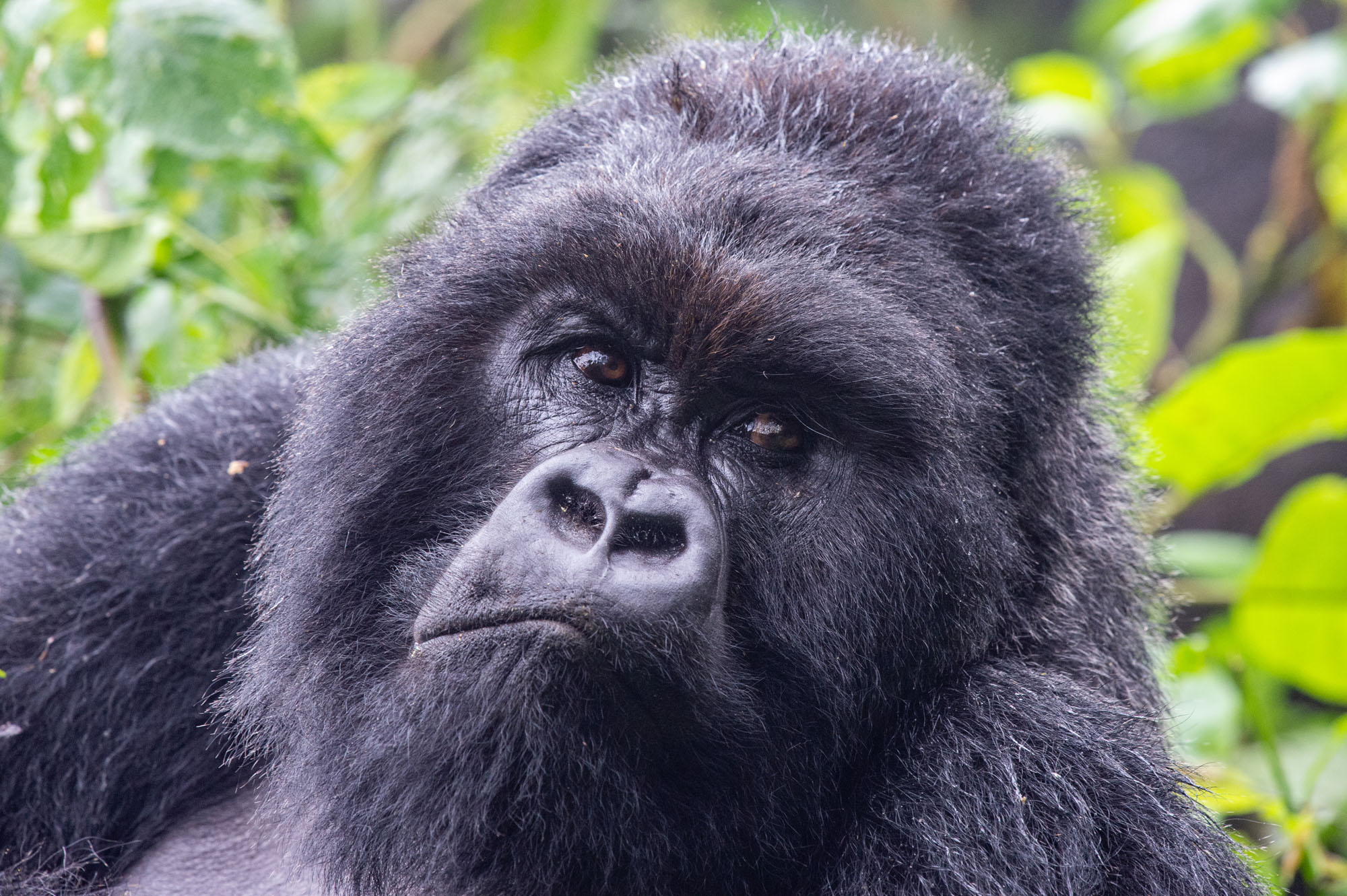 Gorilla trekking in Uganda and Rwanda
GORILLA TREKKING IN BWINDI IMPENETRABLE FOREST, UGANDA
The night before my first ever gorilla trek in the Nkuringo sector of Bwindi National Park in Uganda, I did not sleep well. Excitement, anticipation, maybe a little bit of apprehension. Who knows. All of the traveling to get there, the thought of seeing the gorillas close up, the realization that I would have just one precious hour with them. Thoughts about cameras and lenses, light and shade, f-stops and ISO settings. It all got to be a bit much and kept my brain synapses firing long after I should've been asleep.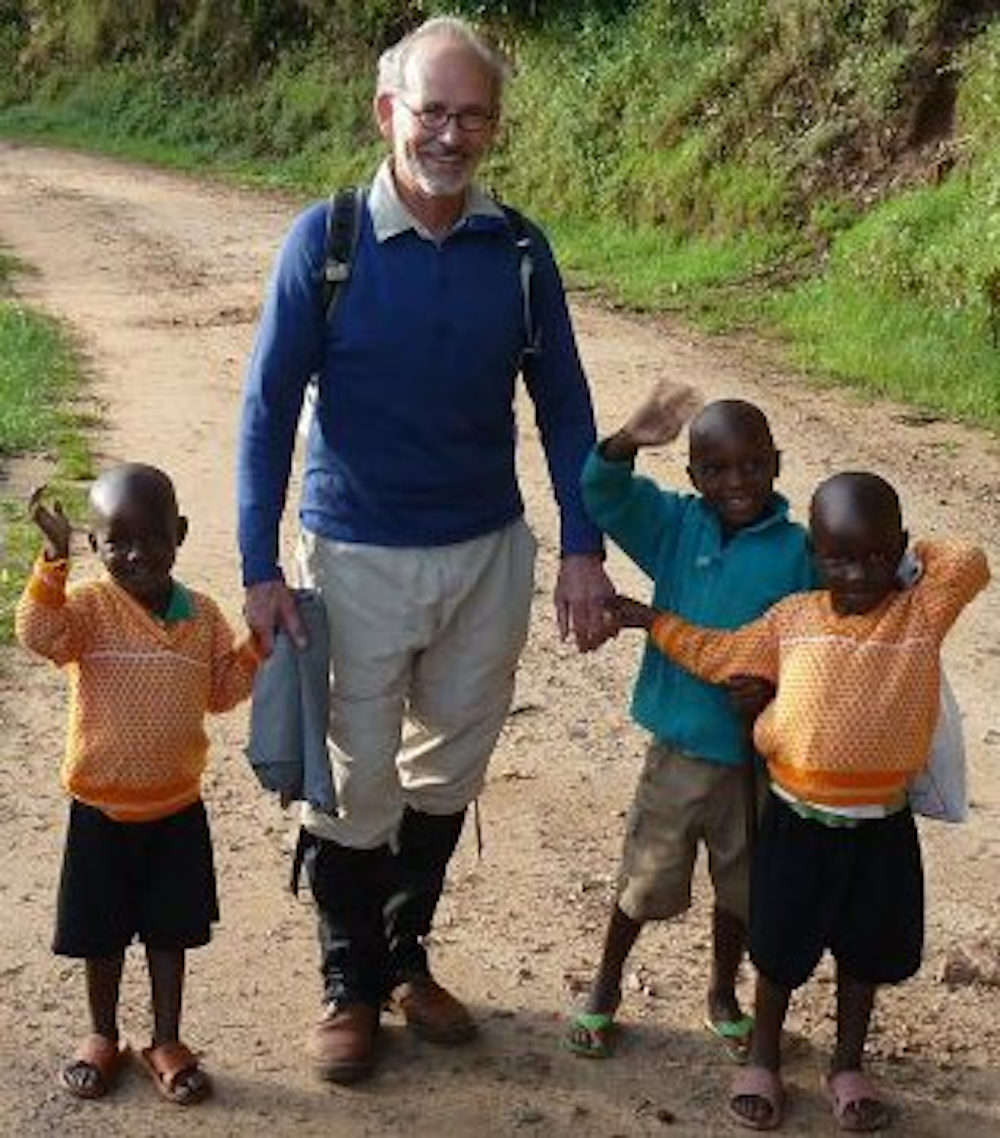 By the time we arrived at the trailhead the next morning, I was completely lost in my thoughts, lagging behind the other four persons who would be trekking the same gorilla group that morning. Just then, three cold little hands suddenly gripped mine, two on the left and one on the right. Totally spontaneously three little Uganda boys – one set of twins and a slightly older friend – had decided that I needed some company and maybe a sympathetic face to look up at me. No question, I did. Their timing was perfect and although I couldn't understand a word they were saying, their gentle touch and their sparkling eyes said it all: "Don't worry mzungu, you're going to be just fine. Relax, give that heavy bag to a porter and don't fret so much about the photographs. Just enjoy the experience!"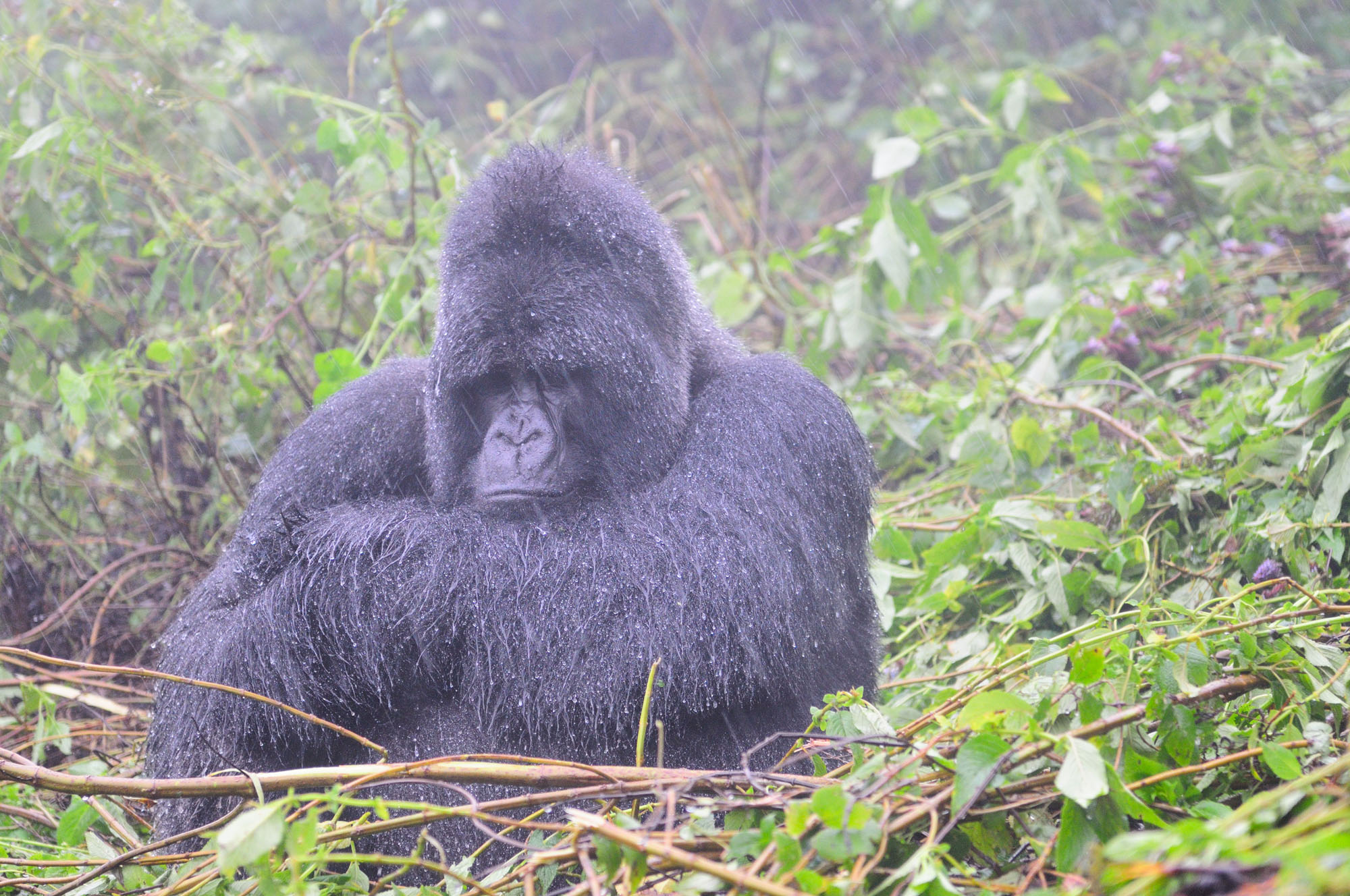 Barely an hour later, our small group were face to face with the most impressive big apes still to be found wandering this earth: the gentle giants who inhabit Bwindi Impenetrable Forest and a few other patches of similar habitat in neighboring Rwanda and the Democratic Republic of the Congo. The Mountain Gorilla. There are only about 1,000 of these great apes left in the wild, so it is an awesome experience – in the old-fashioned sense of the word – to behold them right there in front of you, stuffing their faces with big handfuls of leaves, clearly relishing every ounce of the approximately 40 pounds pounds of food they consume every day.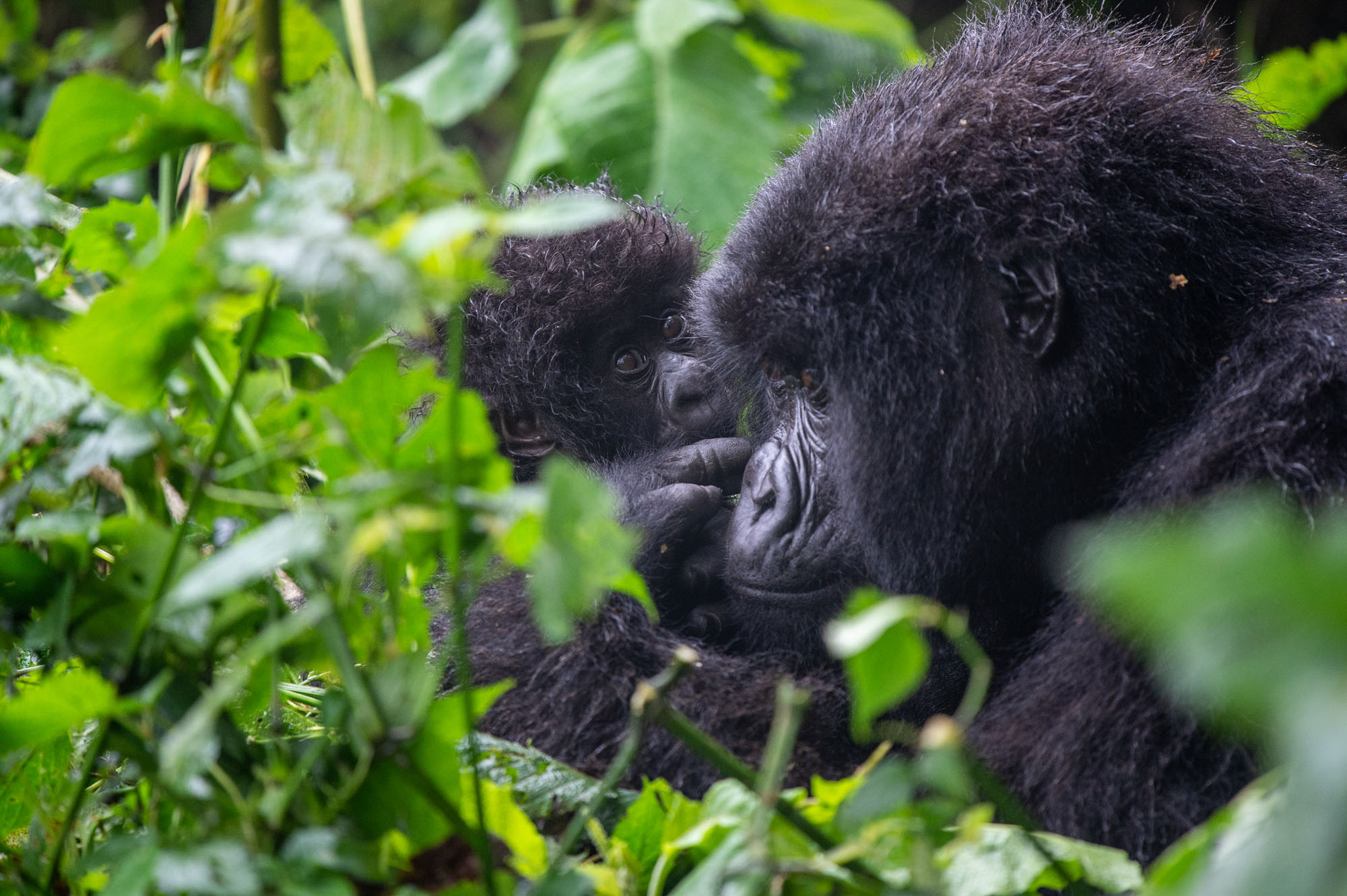 The gorilla trek in Uganda took place in the Nkuringo (southern) sector of Bwindi Impenetrable Forest. It is no mystery why a British colonial official added 'Impenetrable' to the name of the existing Crown Forest Reserve, almost a hundred years ago now. It is a thick curtain of green, with extensive stands of bamboo interspersed among large forest hardwoods. The bamboo and a dense ground cover of ferns, vines, and other plants make it heavy-going for anybody on foot. On the day of our visit, we had to walk down from the trailhead, negotiating a steep slope. Even though the gorillas were relatively close by, it would entail some scrambling down an ill-defined path to get to them. Fortunately, we each had a porter to help with an assist where needed and with a hand to reach out for, when gravity won out.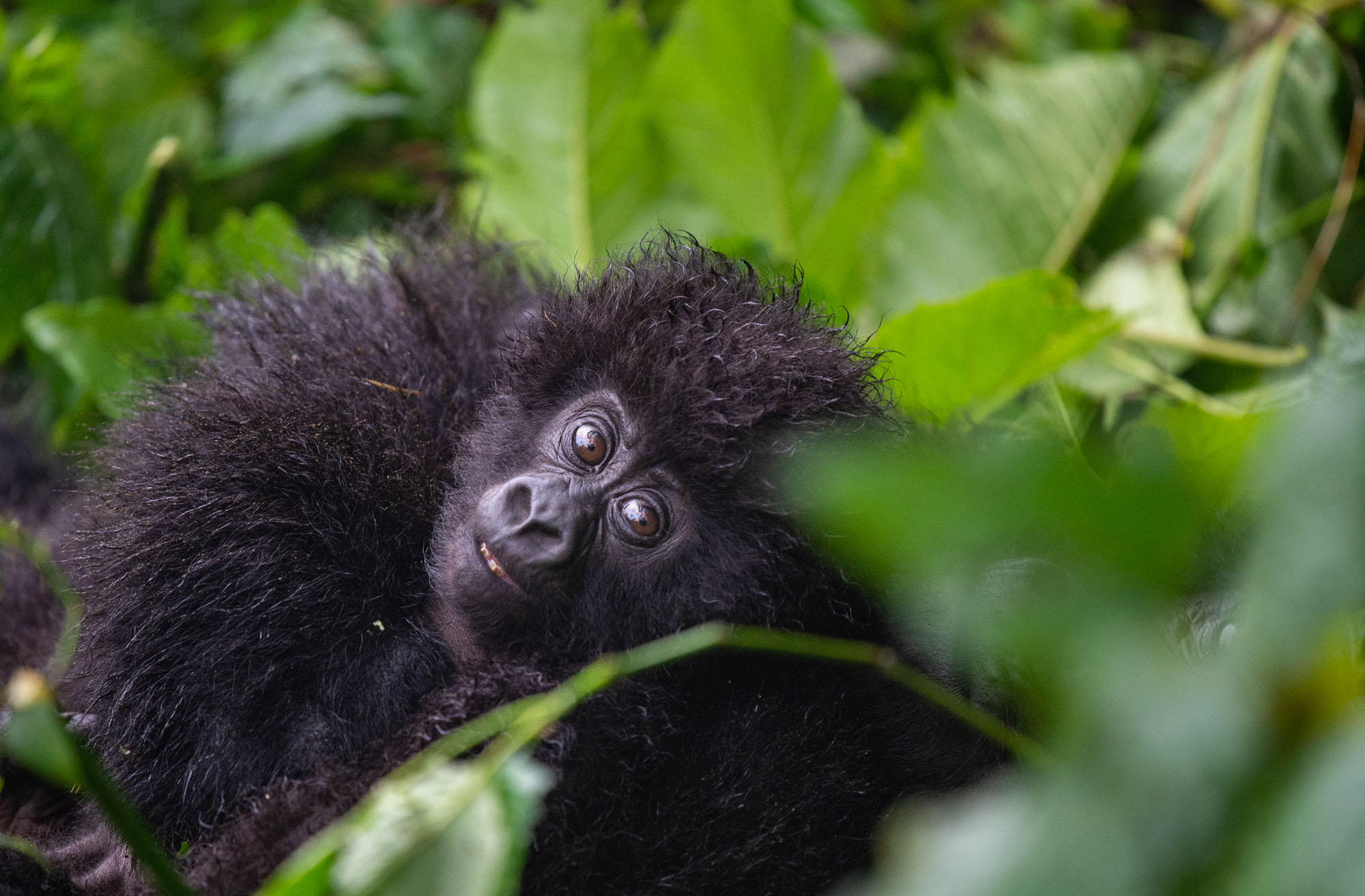 Eventually, we got very close to the gorillas but photography was difficult: they kept turning their backs on us or dodging behind the vegetation – inadvertently one assumes. I did not have the right photo equipment for a gorilla trek. My 200-400 zoom lens was too much glass and too heavy; I could barely pick it up towards the end. My other lens – a 28-70mm zoom lens was just a little on the short side. The ideal lens would be a fast zoom in the 70-200mm or 100-400mm range.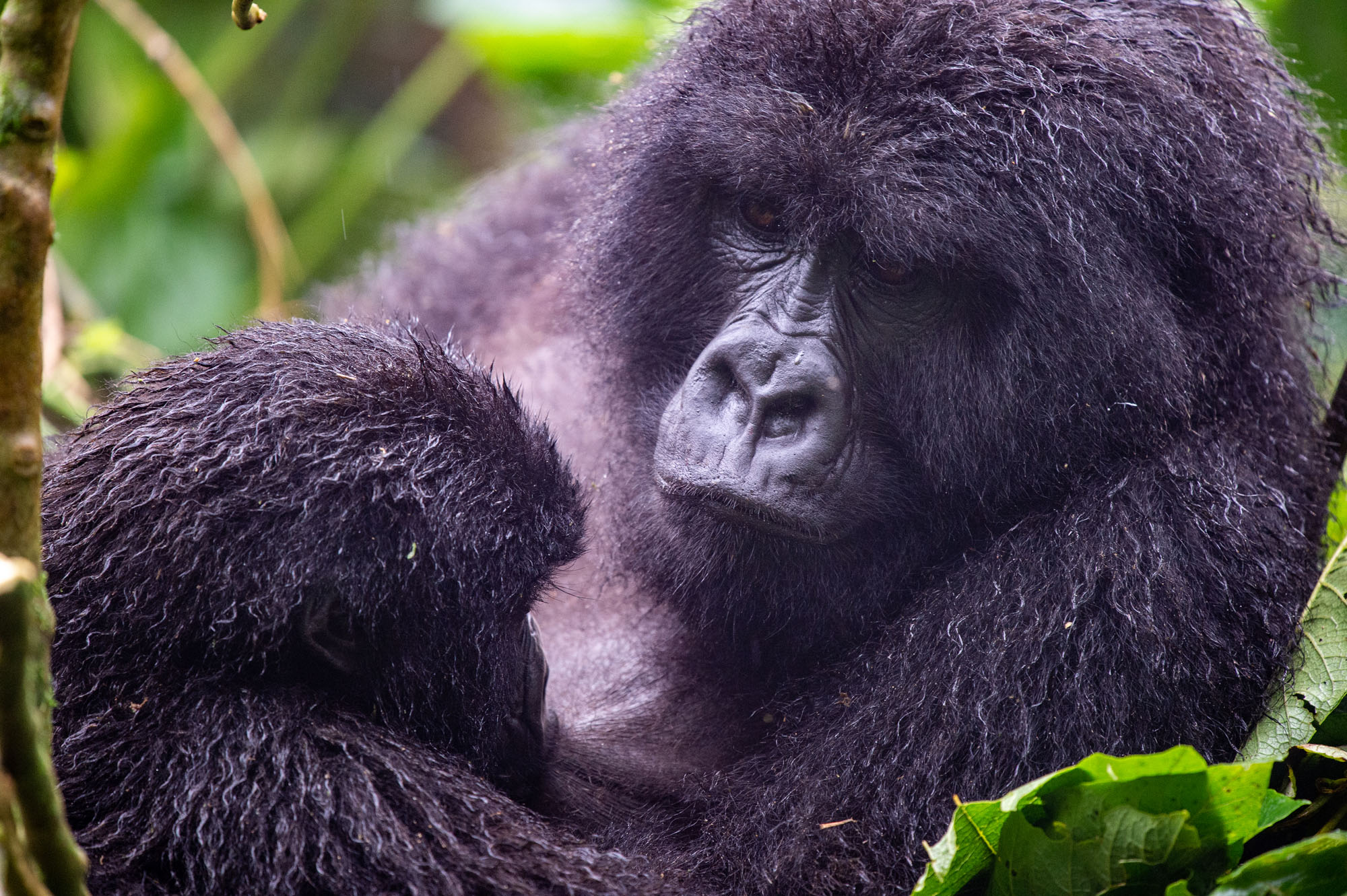 GORILLA TREKKING IN VOLCANOES NATIONAL PARK, RWANDA
Our subsequent gorilla treks in Rwanda, at Volcanoes National Park, were considerably easier, with less in the way of steep up or downhills. Even so, it involved quite a long walk with some pretty rough spots towards the end, close to where the gorillas were. On both our Rwanda treks, it took about one hour, from the trailhead, to get close to where the gorillas were. To be sure, not too strenuous a hike, nothing like the slopes of Bwindi. The first time around, our designated gorilla family was in a wide open area and I would have gotten some great photographs – if the weather had played along. All went well until about 10 minutes before we got to the gorilla group, when the rain came. It never let up, in fact it got worse. I took a few quick shots and then stowed my camera and lens. I did not want to risk potentially serious damage to the optical equipment – there was just too much water around. Just as well. Someone else in the group (a dentist from Sheffield, England) had two cameras seize up on him. Even so it was a great experience. Rainy conditions or not, we marveled at the proximity to those magnificent animals. Of course, they were affected by the rain also, mostly just patiently sitting there, waiting for it to end.
On our second gorilla trek at Volcanoes, we were allocated to the Kwitonda family group. As it turned out, we were fortunate to see about 15 to 17 individuals – all gathered in a clearing in the forest. For the better part of an hour we observed them feeding, playing, resting – and resting some more. A couple of youngsters were gamboling around, tumbling, jumping, chest-thumping and climbing onto high spots, playing 'king of the castle'.
A female was nursing her baby, yet another female was cradling her 3-month old baby protectively, and the #2 silverback male was in a pensive mood, posing for a series of 'selfies' with excited visitors positioning themselves between a camera and the gorilla, for the obligatory Facebook or Instagram pic.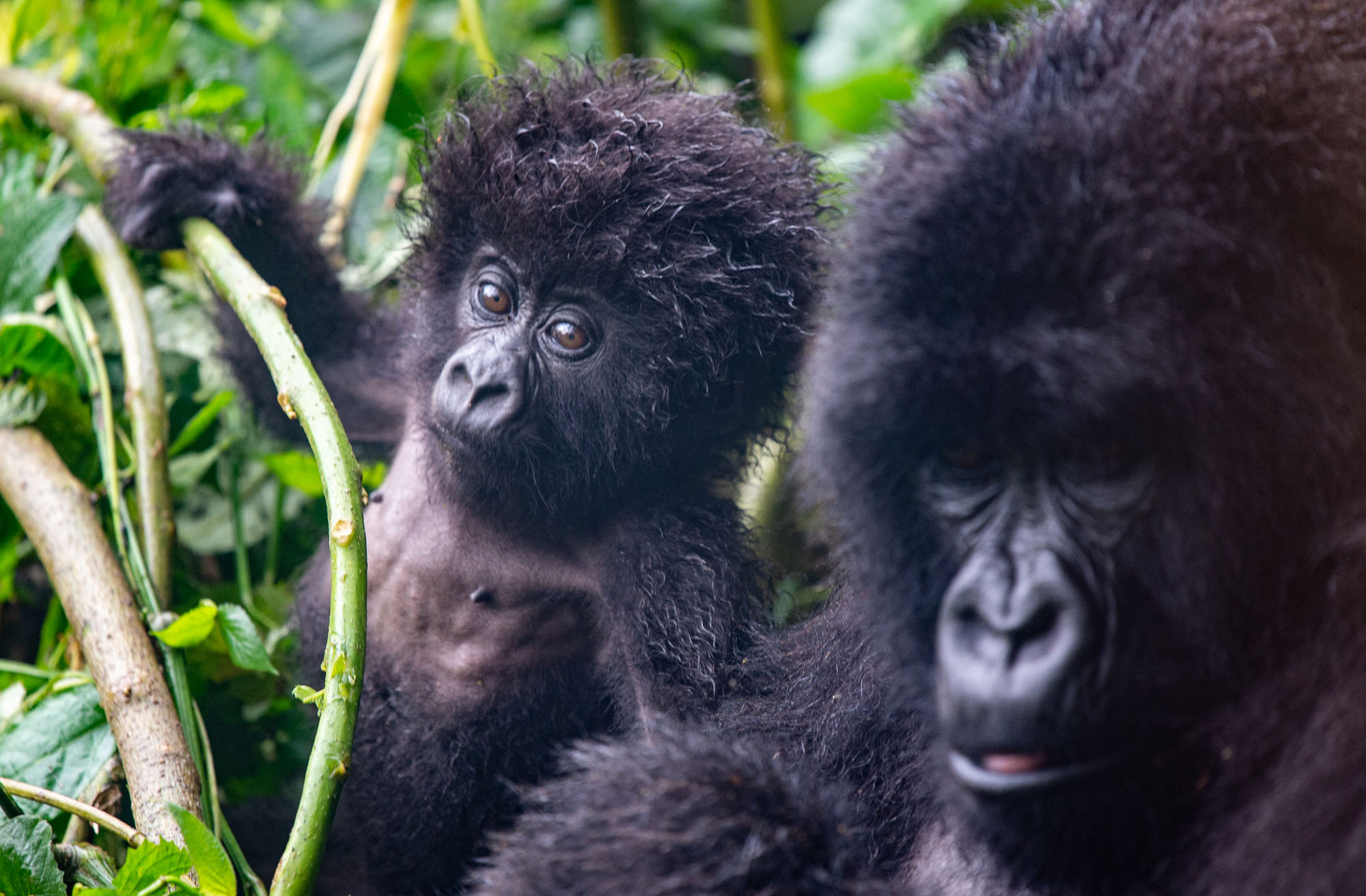 As the hour slipped by all too quickly, we watched this 'slice of life' portion of 'a day in the life of a gorilla family' daily existence, in awe and fascination. It was easy to imagine that almost all of their days in this beautiful sanctuary were spent in the same bucolic fashion, surrounded by family members while enjoying tasty bamboo shoots, as well as leaves, stems and fruits of many other plant species.
It became perfectly clear to me why these stunning animals are as universally revered and sought after as they are. They are undeniably at the pinnacle of the animal world, the very embodiment of the most special thing that can be lost, if global wildlife conservation attempts fail.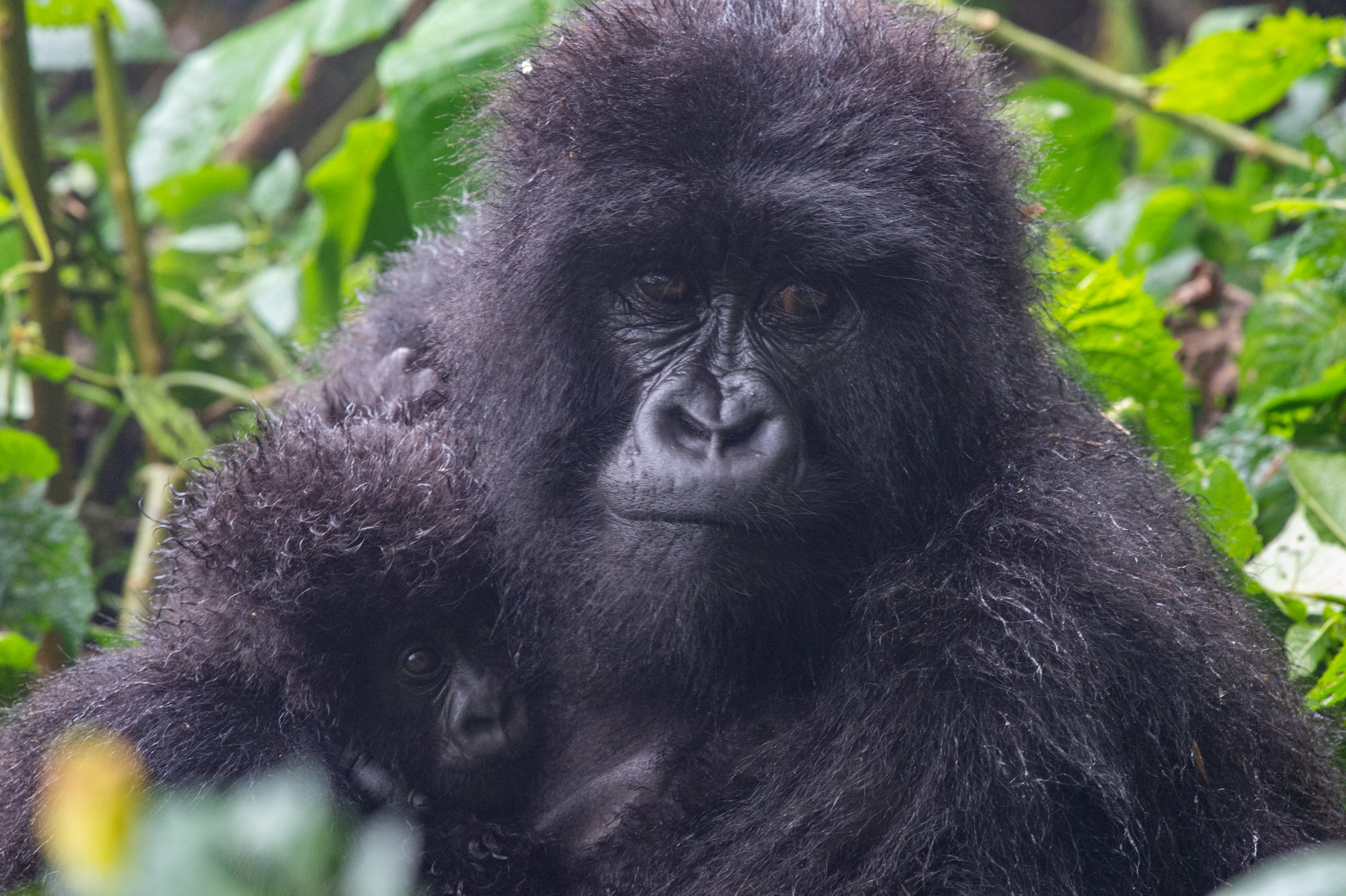 A few gorilla trekking hints and observations:
Try to maintain a distance of about 20 feet between yourself and the gorillas; the further back you are, the more relaxed the group will be. And the lower the likelihood of any diseases being transmitted from human to gorilla.

Always keep your voice down. However, it is okay to ask the guide questions. Do not smoke, drink or eat when you are near the gorillas as this might inevitably increase the risk of food/drink droplets falling and increase the risk of transmission of diseases.

Flash photography is not permitted – when taking pictures move slowly and carefully so as not to alarm or disturb the animals.

Do not touch the gorillas – they are wild animals. They are habituated to the presence of humans but could become agitated or even aggressive when provoked.

The gorillas live at an altitude of about 8,000 to as high as 13,000 feet above sea level. So pace yourself, particularly on the hike up to the first point of contact. Walk slowly. You will hear your guides use a Swahili phrase: 'pole, pole!' Pronounced 'POE-lay POE-lay' it simply means 'slowly slowly'.

Two gorilla treks are always better than one, particularly for keen photographers and videographers. There's a chance of one outing being negatively affected by weather (rain or poor visibility due to mist/fog), or by the gorillas being obscured by thick vegetation or in difficult terrain. Also, no two outings are the same or even similar. The make-up of the gorilla groups is different, some with more babies and youngsters, others with more silverbacks, so you are unlikely to experience 'more of the same'. Each day and each trek is different, with unique behavior, setting and interaction. So if you do have the means and time at your disposal, stay a bit longer and do a second trek.

Be sure to hire a porter – again two being better than one – to assist you with carrying your stuff and with negotiating tricky or muddy terrain. At about US$20 per porter for the duration of the trek, you will have a much more enjoyable time and you will be making a direct contribution to the well-being of the local community.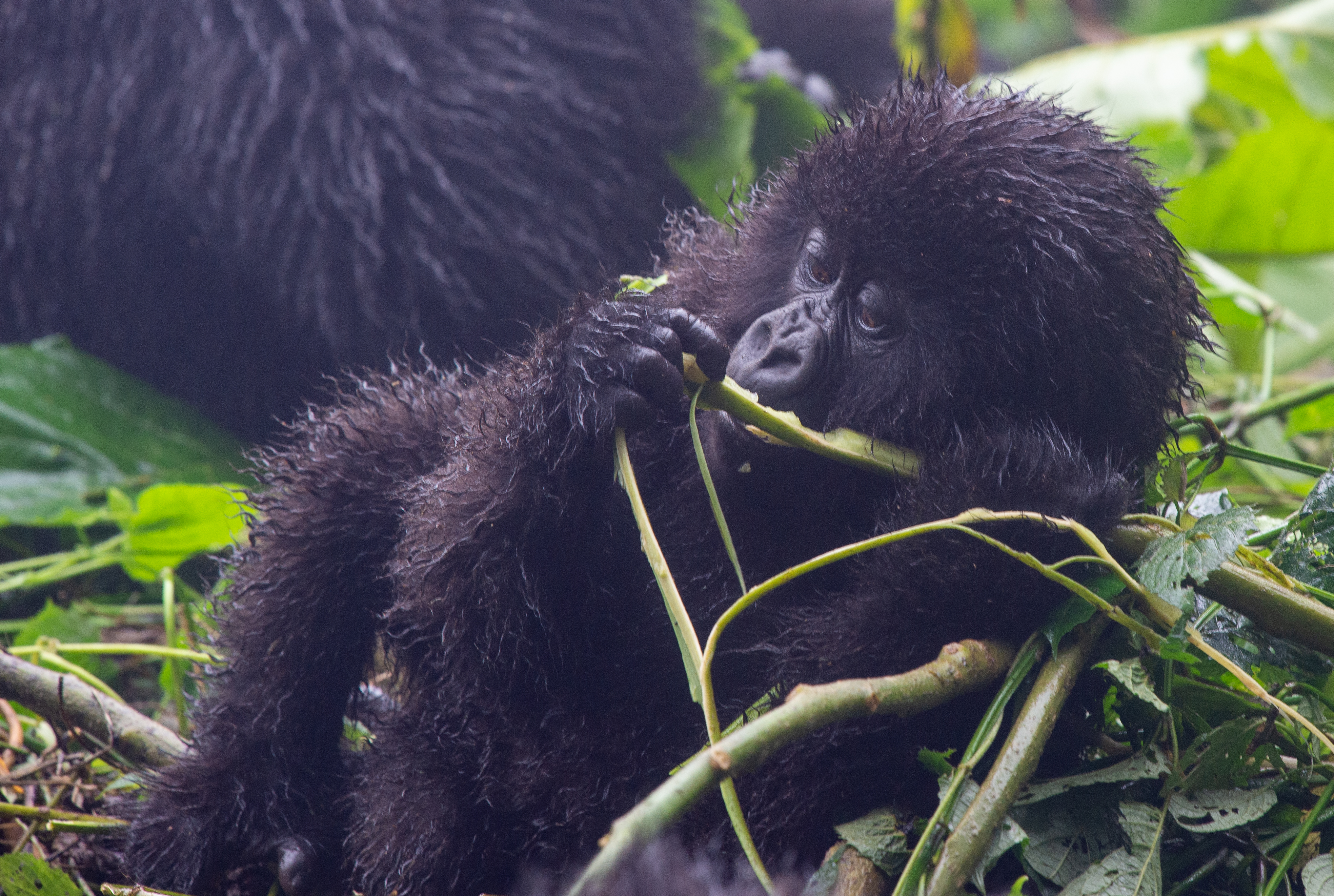 In our blog post next Friday, we will focus on our favorite big cat: the cheetah. We will highlight a few of the best places to find them in Africa, the best time to travel to maximise the chances of encountering them, and some general hints to make the most of your viewing and photography of these rare, special cats.
YOU MIGHT ALSO BE INTERESTED IN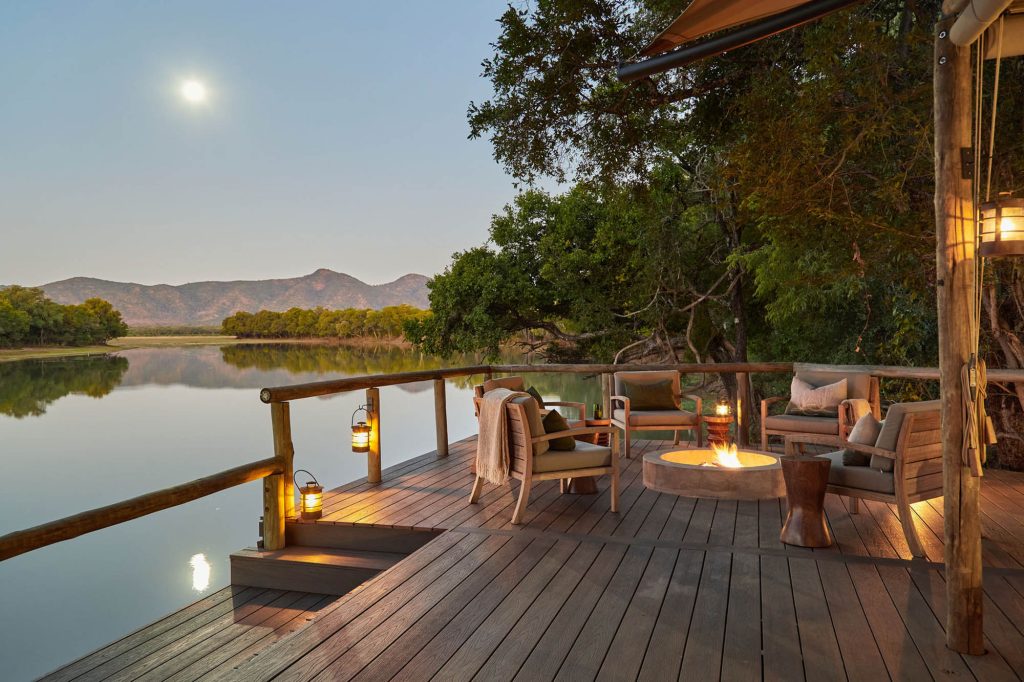 10th Sep 2021
Chindeni and the Bushcamp Company, Zambia
By late July we found ourselves at Chindeni, a small Bushcamp Company property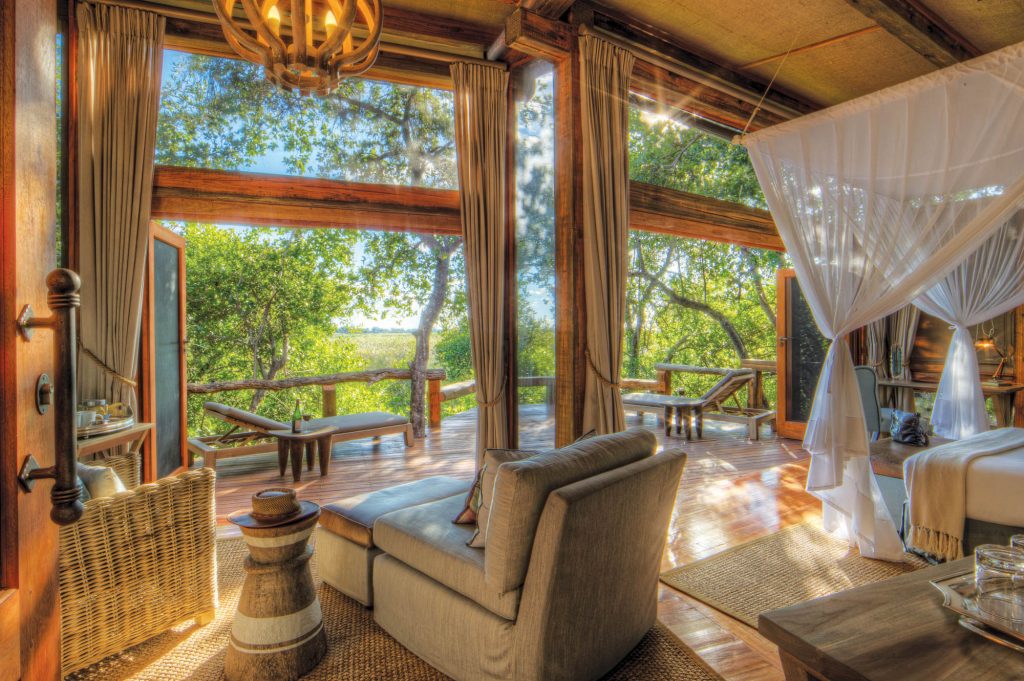 3rd Oct 2022
Camp Okavango, Botswana
Camp Okavango is in the heart of the permanent part of the Delta. In this idyllic setting there are no vehicles, and it is just a short walk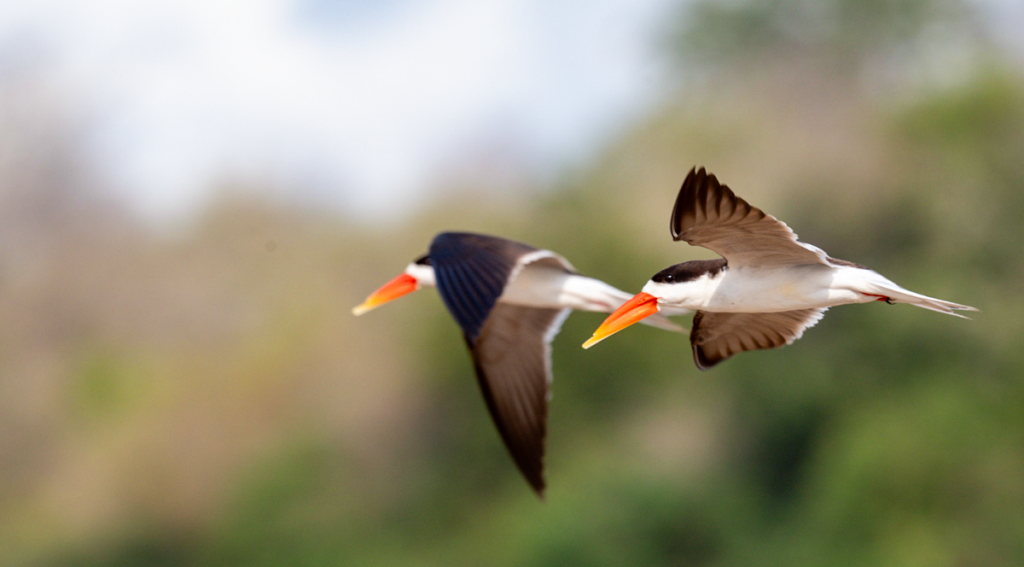 14th Oct 2023
From My Safari Notebook: Wildlife Photography
Birds in flight and wildlife photographers have an uneasy relationship. Things go wrong as often as they go right. Getting focus-lock on a moving subject
SUBSCRIBE TO OUR NEWSLETTER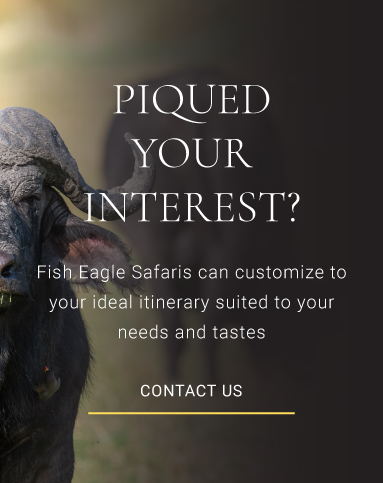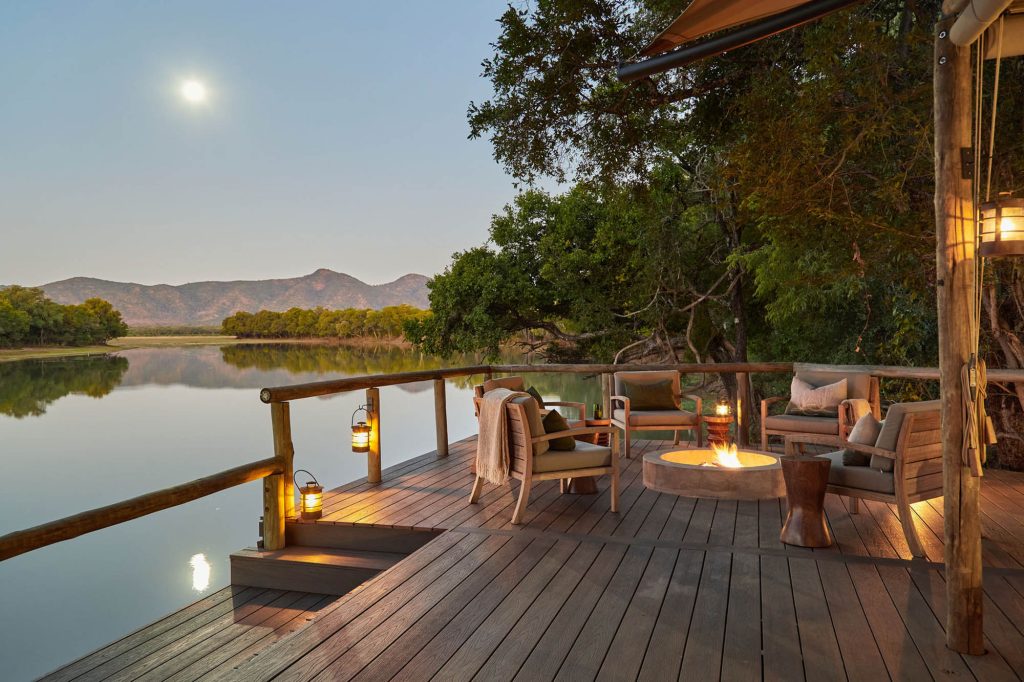 10th Sep 2021
Chindeni and the Bushcamp Company, Zambia
By late July we found ourselves at Chindeni, a small Bushcamp Company property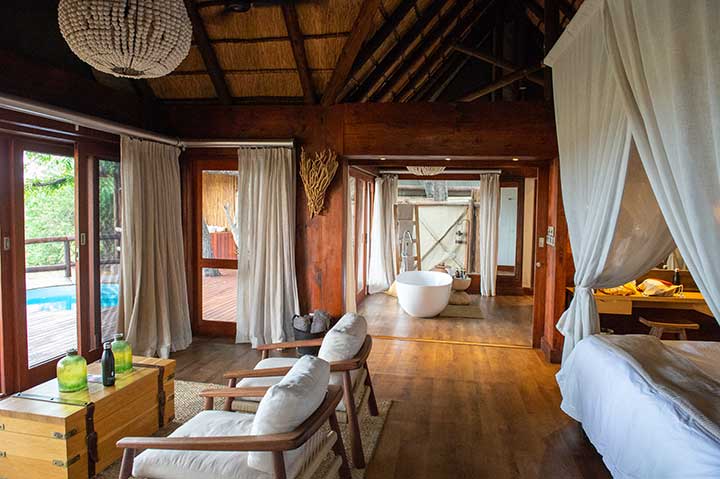 4th Aug 2022
On Safari At Belmond Eagle Island Lodge, Okavango Delta
What is the 'secret sauce' for an unforgettable few days on safari in Botswana? It starts with the animals, of course. The elephants, lions, giraffes, hippos