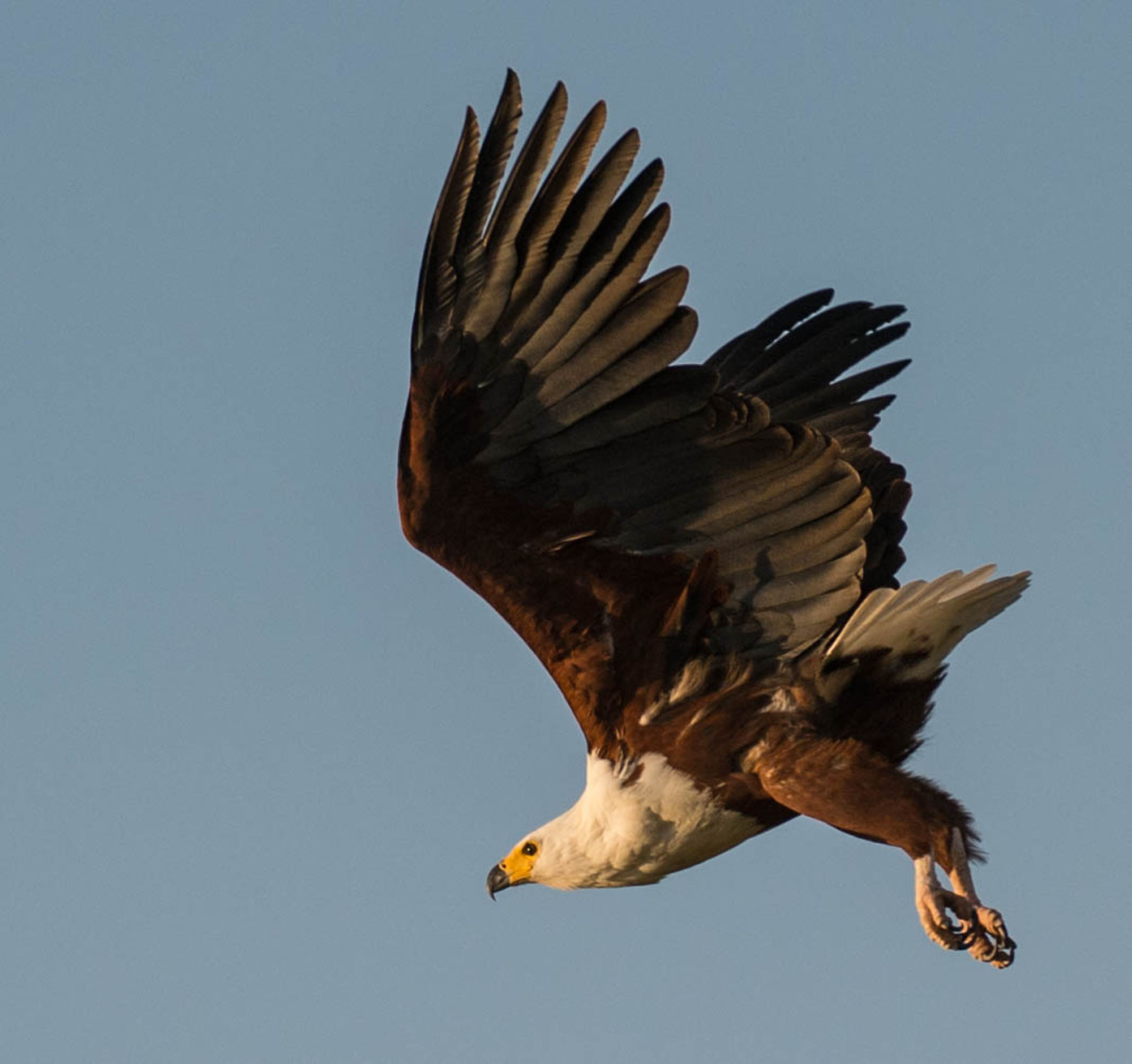 Beautiful Birds of Africa: Part 1
For many visitors to Africa, observing and appreciating birds is an added bonus to their safari.  Other than a relatively small group of serious birders, sometimes jocularly referred to as 'twitchers', few people travel to Africa mainly to see birds.  For the vast majority of safari-goers, it's all about the animals.  More precisely, the large mammals like elephants, giraffes, zebras and buffaloes, and of course the big cats.  At least as far as game drives are concerned.  Beyond that, many people are of course also interested in other aspects of the African milieu such as history, culture, cuisine, scenery and so on.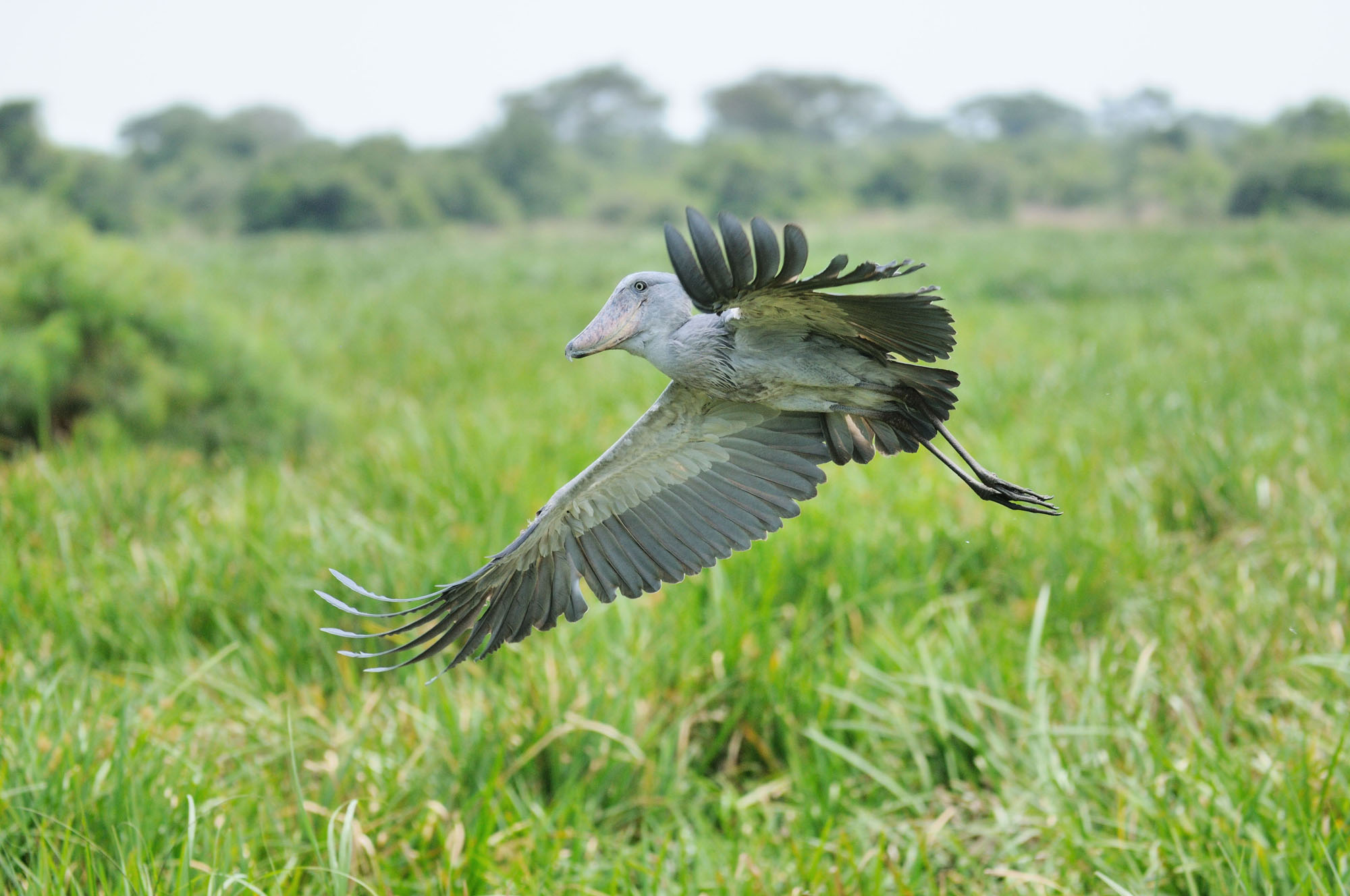 On a typical game-drive though, we're all pretty much looking for the larger animals.  This is where things sometimes go awry.  Mammals move around in real time and every now and then, sometimes more frequently than you might anticipate, they just seem to be absent.  In safari parlance, this is referred to as a quiet day.  Guides handle it differently.  Some just keep on driving - and driving some more - which can ultimately be frustrating for both guide and guests.  Other, more resourceful guides shift their and their guests' focus to smaller organisms which are often overlooked when there's plenty of mammal action.  Organisms like chameleons, tortoises - and birds.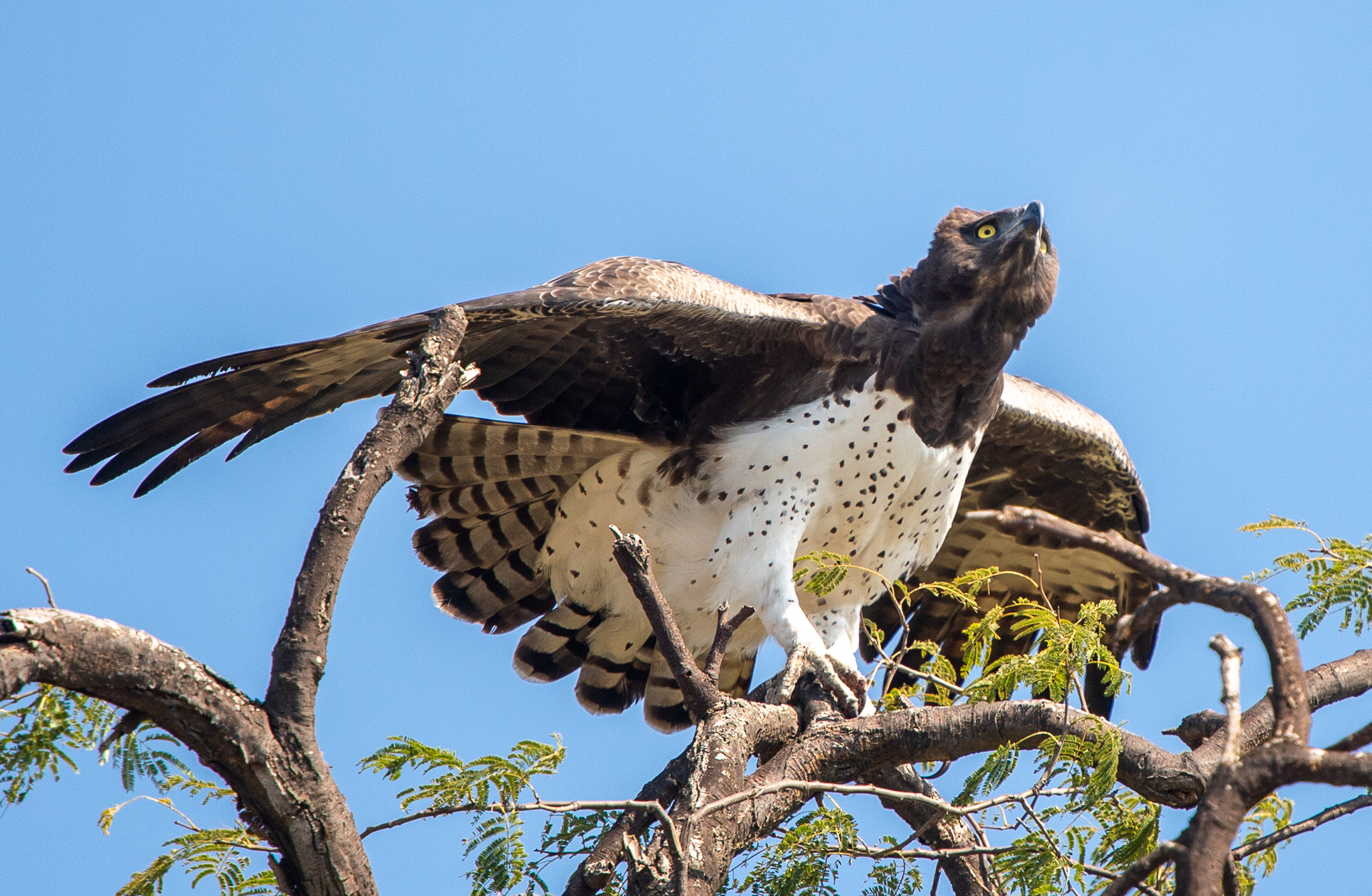 Once you start seeing them,  perhaps prompted by a guide looking to fill a hole on a slow morning drive, or on your own in a camp where birds are confiding and approach humans quite closely, you soon realize that there are an astonishing number and variety of beautiful and interesting birds of all shapes and sizes,  all over Africa.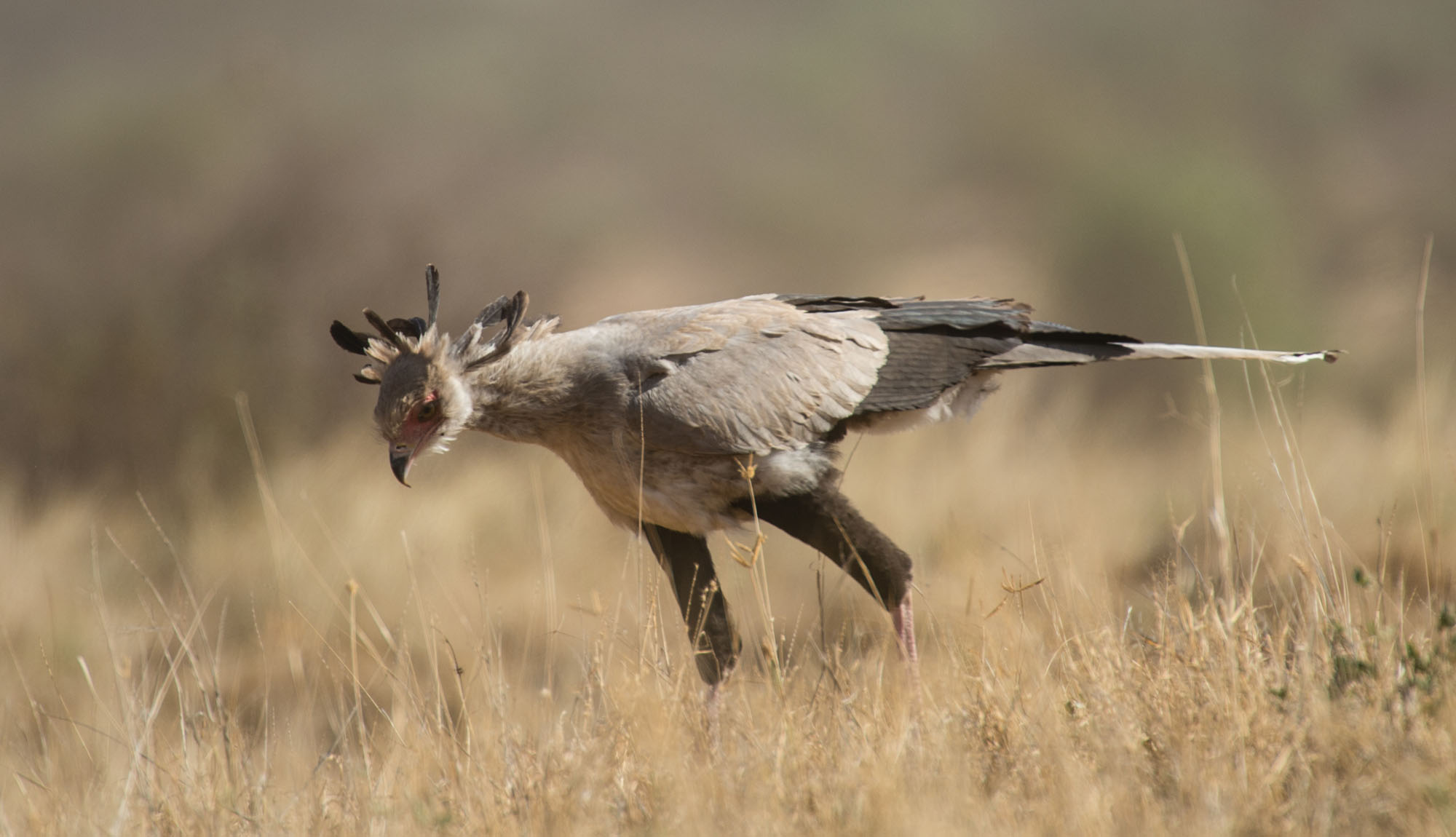 Secretary Bird
For my traveling partner Kathy and and for me, no Africa trip is complete without a sighting of a Secretarybird.  These stunning, long-legged terrestrial eagles (as they are sometimes referred to), are unmistakable when seen.  There's simply no other bird like it:  a huge bird of prey which spends much of its time striding along open patches of grassveld and savannah habitat, seeking out its food which consists of rodents, grasshoppers, small mammals, frogs, lizards, snakes and tortoises. The Secretarybird is unique to the point of being the only bird in its own family, the Sagittariidae.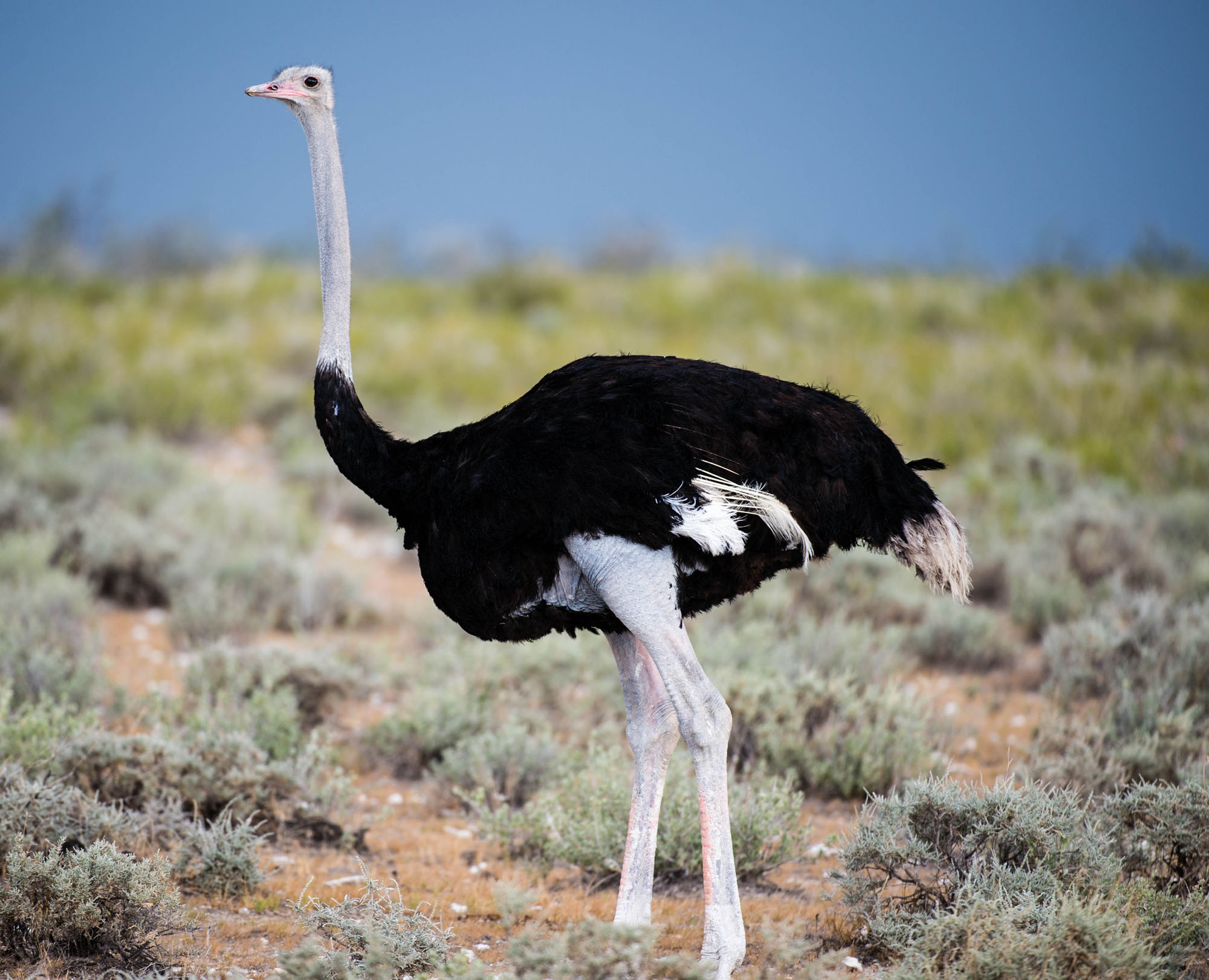 Ostrich
The largest bird of all is of course the ostrich and most visitors to Africa do get a chance to see these giant, flightless birds strutting in open terrain which they favor.  Ostriches are widely distributed in suitable habitats all over Africa, so whether your safari takes you to Southern or Eastern Africa, to Botswana, Zimbabwe, Namibia, Kenya or Tanzania, you are likely to see some ostrich along the way, somewhere.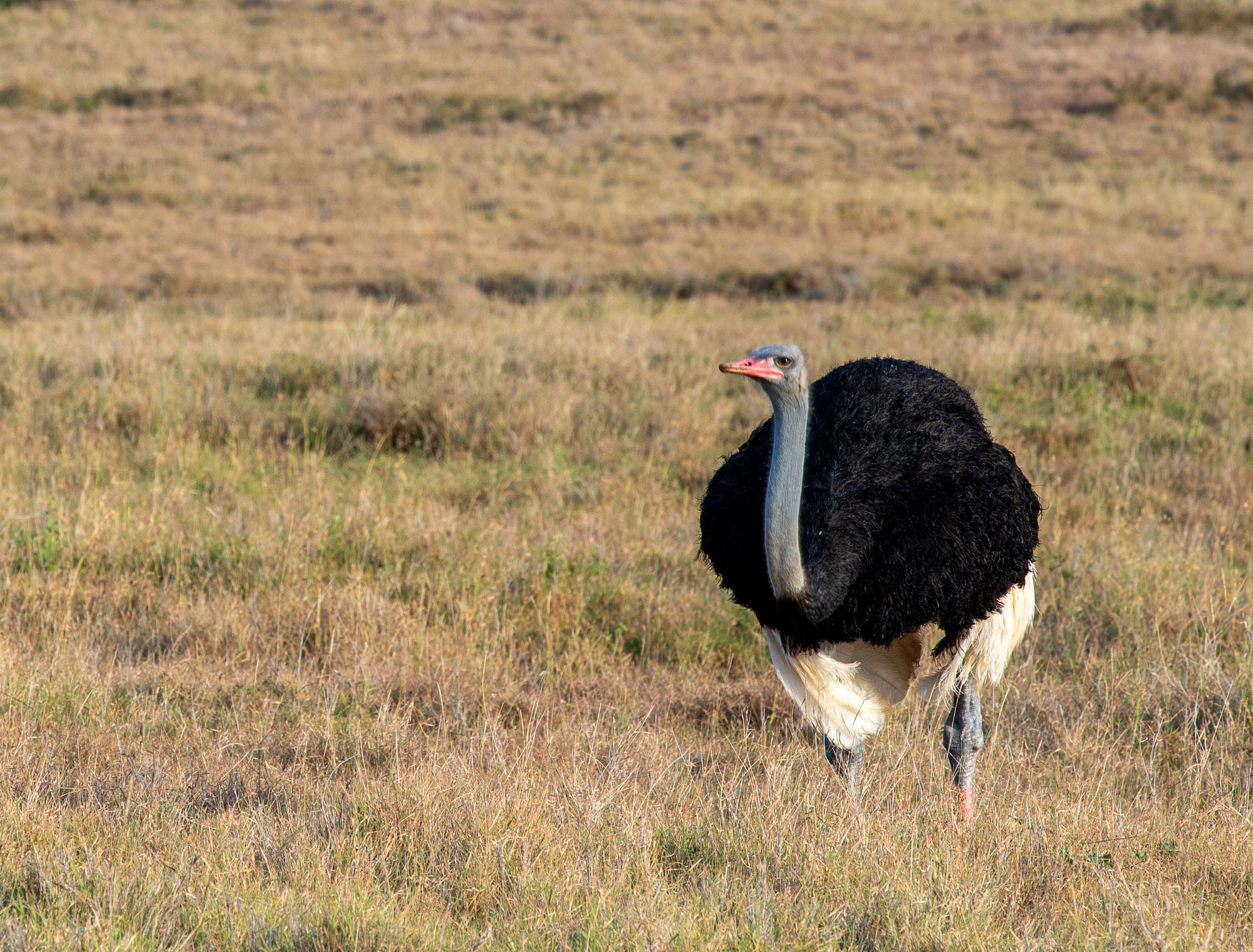 On a recent trip to Northern Botswana, on a game drive out of Mombo Camp, we witnessed a fascinating courtship display involving the markedly different male and female ostrich, the males having mostly black feathers and the female being a dull grey.  The male performed a ritualistic wing-flapping display, initially flapping alternate wings and then violently flapping both wings.  The female runs a circle around the male with her wings lowered, before they unite.  Even from a distance of several hundred meters we could see this fascinating spectacle quite clearly.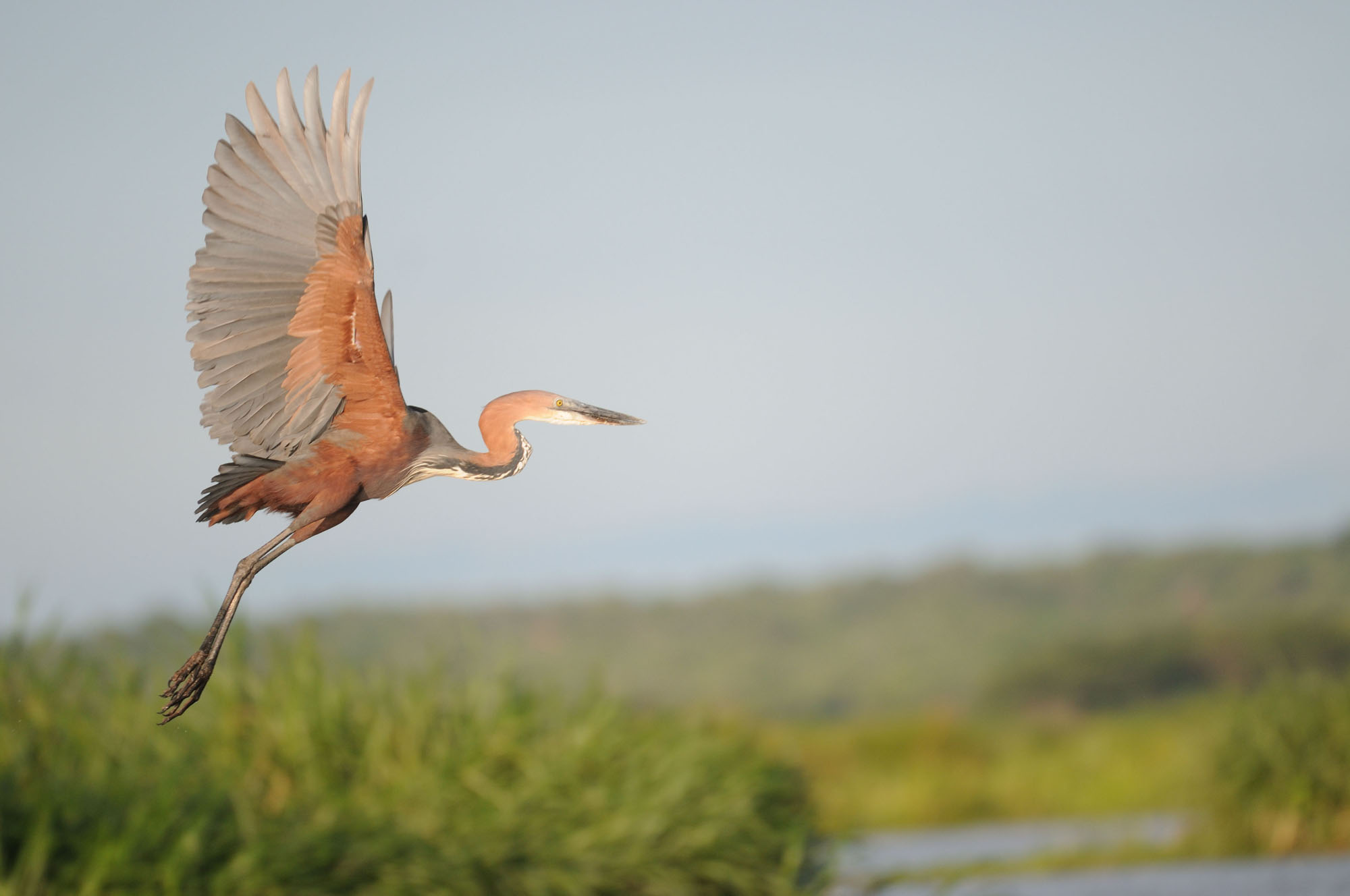 Herons
Herons are widely distributed in Africa and unless you find yourself in a particularly arid area, probably not a day goes by on anyone's safari, without a heron sighting.  The most spectacular one is the Goliath Heron, Africa's biggest heron.  Typical of its species, it is aquatic so it can be seen standing in a river or pond, waiting  for its prey which consists of fish, frogs and other aquatic animals.  Invariably solitary,  herons catch their food by impaling them with their sharp beaks.  Closely related to herons, there are many different kinds of mostly white egrets to be seen in similar aquatic habitats, all over Africa.  An interesting exception is the Cattle Egret which - on safari - is mostly seen away from water, on the ground, following mammals like wildebeest, zebra and buffaloes.  They pounce on the insects disturbed by the grazing action of the animals.  Cattle egrets only follow mammals which walk and graze at about the same pace as cattle.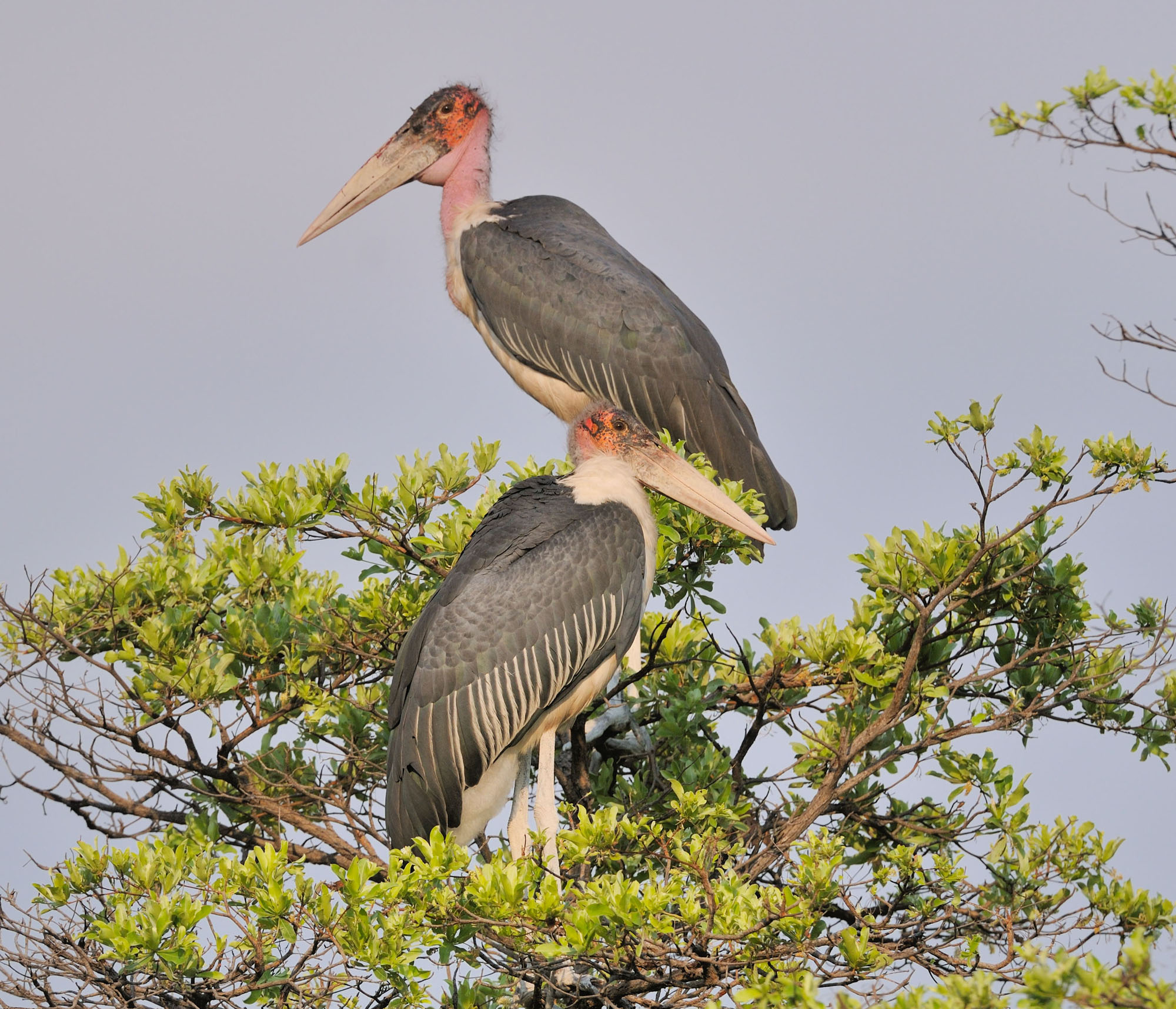 Storks
Of the storks which you may see on your Africa trip, the most visible one is the rather homely if not downright ugly Marabou Stork.  It has a massive, scary-looking beak, a bloated, hairy air sac and a bald, bristly head.  Add to that its tendency to scavenge - it can often be seen hanging around landfills - and it is not surprising that the Marabou Stork is not widely revered.    The Marabou is a strong flyer though, with a wingspan of up to 12 feet, among the longest of any bird.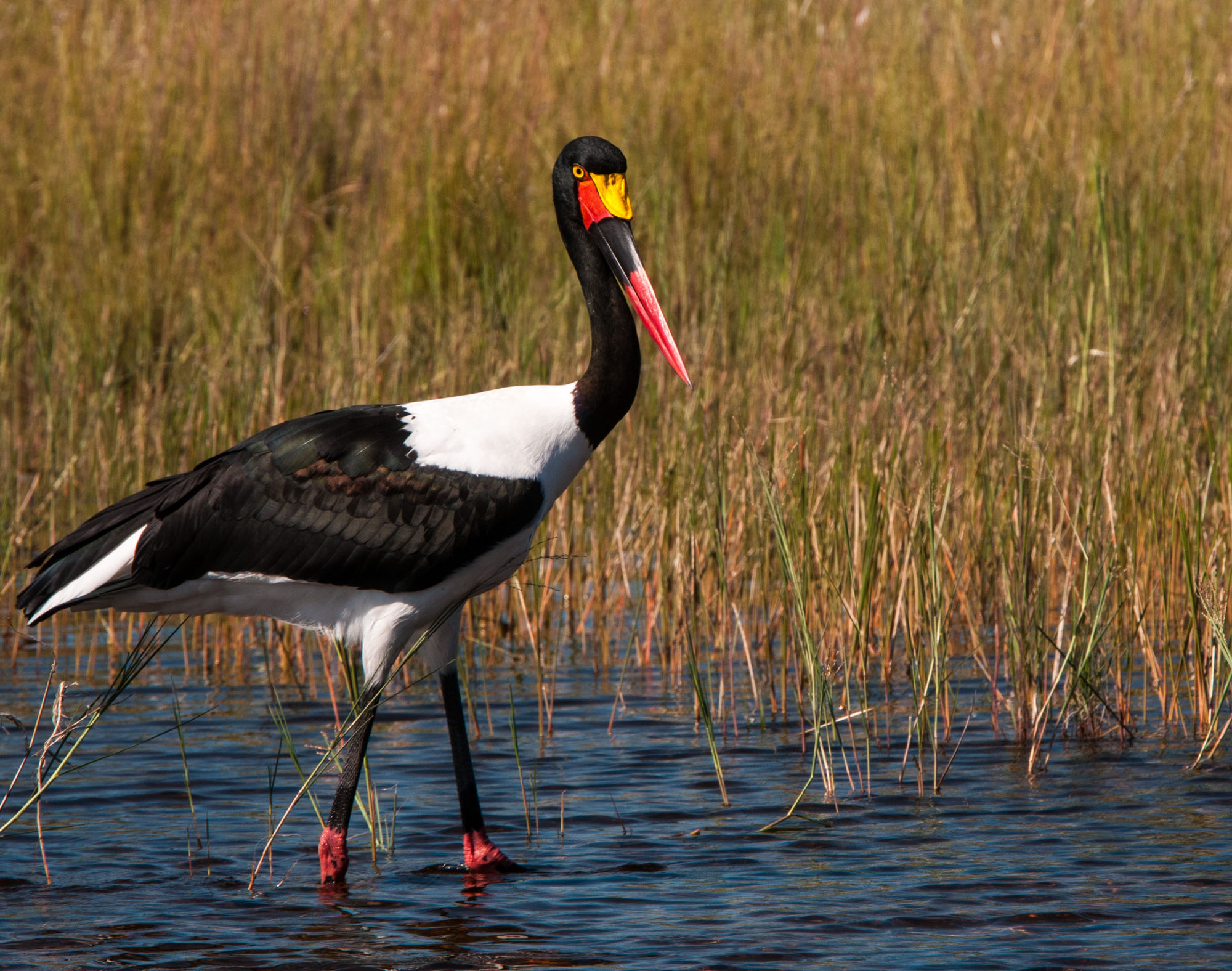 Another fairly easily seen African stork is the handsome Saddlebilled stork, also unmistakable because of its huge size, vivid black and white plumage and brilliant red and black beak and legs.  Saddlebilled storks are the only storks with marked visible differences between the males and females, the females having yellow eyes while the males' eyes are red, plus they have visible yellow wattles.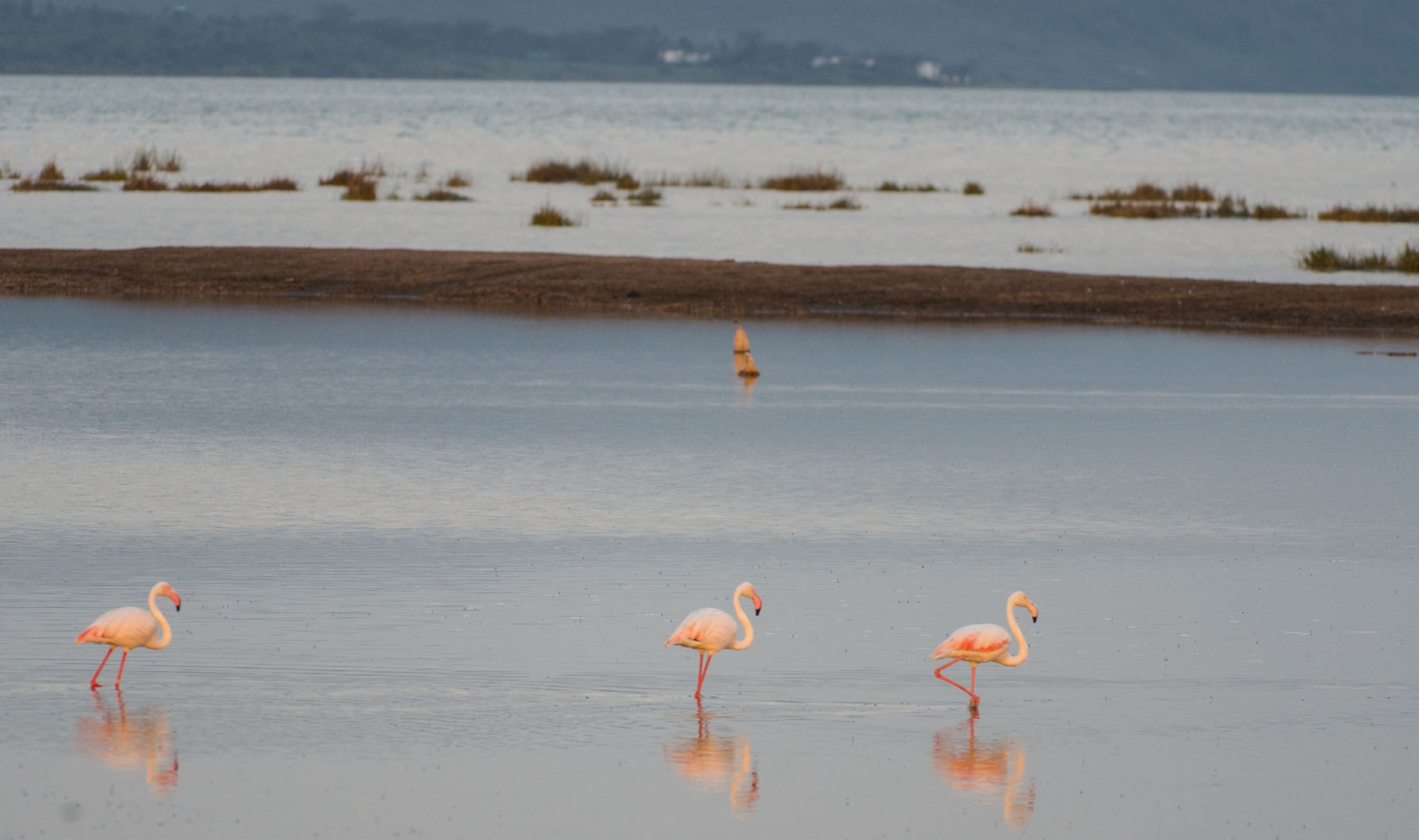 Flamingoes
If your trip takes you to the right habitat - being a river-mouth, lake or similar stretch of shallow water with high salinity, you may see something truly spectacular:  a flock of tall, thin, elegantly pink flamingos.  They are even more beautiful in flight when the vivid pink coloration of their underwings is seen to its best advantage. Currently, the best places to see flamingos in East Africa are the soda lakes of the Great Rift Valley such as Lake Logipi, Natron, Bogoria, Magadi, Manyara and Nakuru.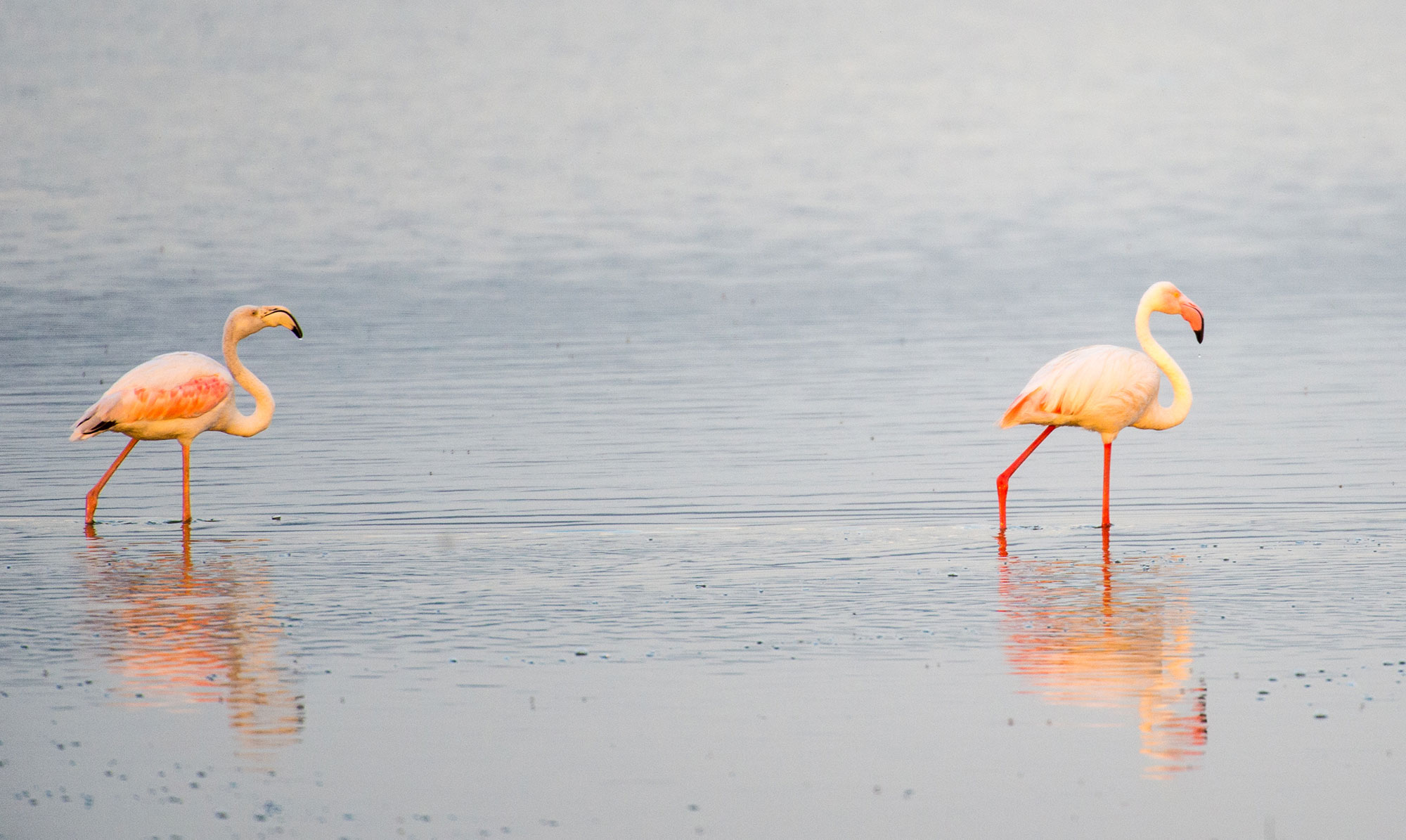 Of these the first three are currently excellent, while the last two are currently poor.   A good base from which to make a couple of outings in search of flamingoes would be Loldia House on Lake Elmenteita, in Kenya.  In Southern Africa, your best bet to see and photograph some flamingoes would be the Makgadikgadi Pans in Botswana, the Walvis Bay estuary in Namibia, and another Namibia location - Etosha Pan inside Etosha National Park.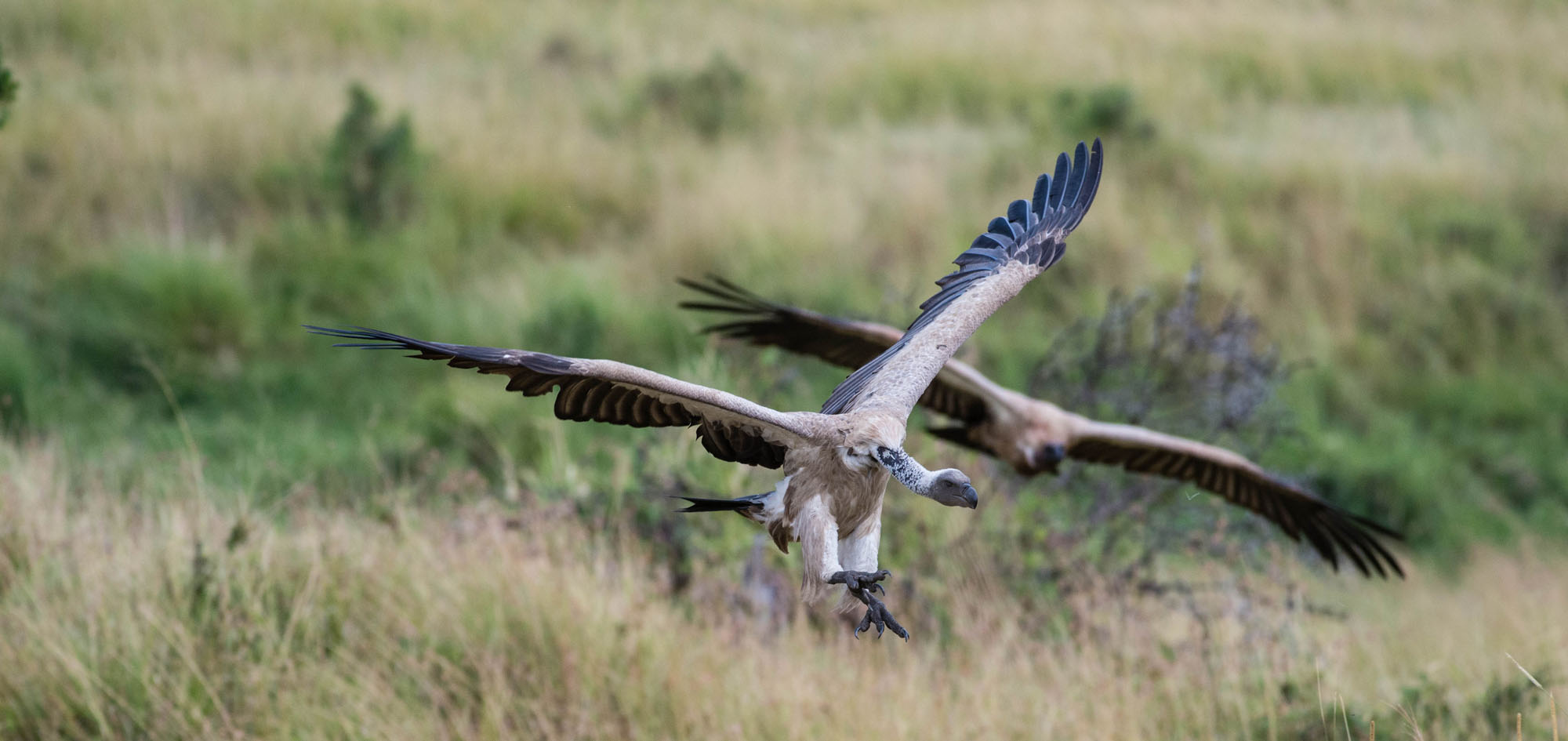 Vultures
Even if you spend just a few days on safari in Africa, you're likely to see some vultures, the continent being rich with vulture species.  Just like the turkey and black vultures of North America, African vultures are not the prettiest of creatures. Their large heads with prominent hooked bills, bare necks, a seemingly permanent demonic glare, and their carrion-eating behavior are not conducive to popularity.  They serve a necessary function of course, being nature's recyclers.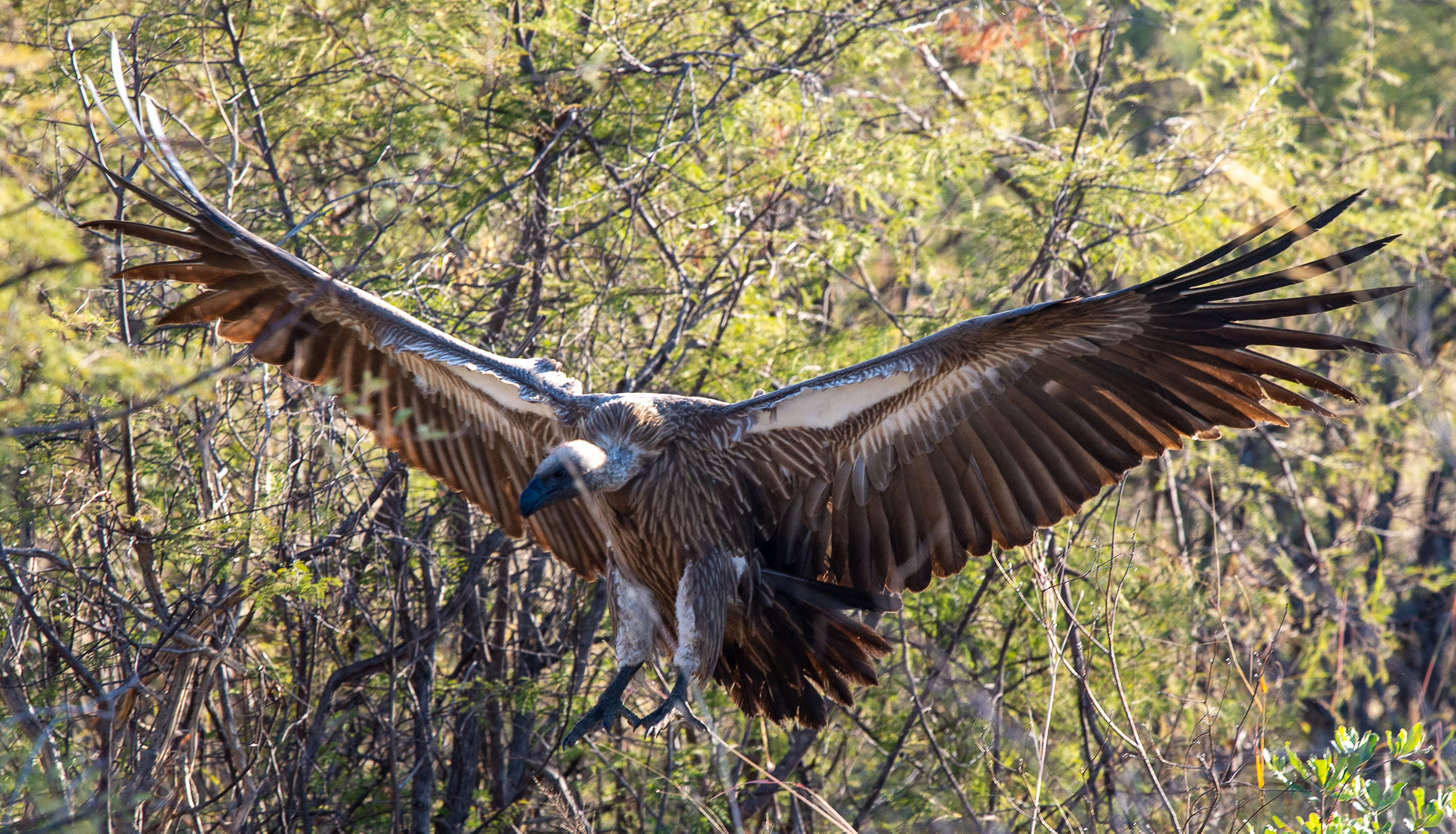 The overall number of vultures in Africa has dropped alarmingly over the last three decades, by more than 60%.  This has put at least six species of vultures in the critically endangered category.  According to an article in National Geographic, most African vultures may become extinct within the next 50 to 100 years.  Many are killed by feeding on poisoned animal carcasses, while others are hunted and sold to traditional medicine practitioners, and they also suffer casualties by flying into power lines.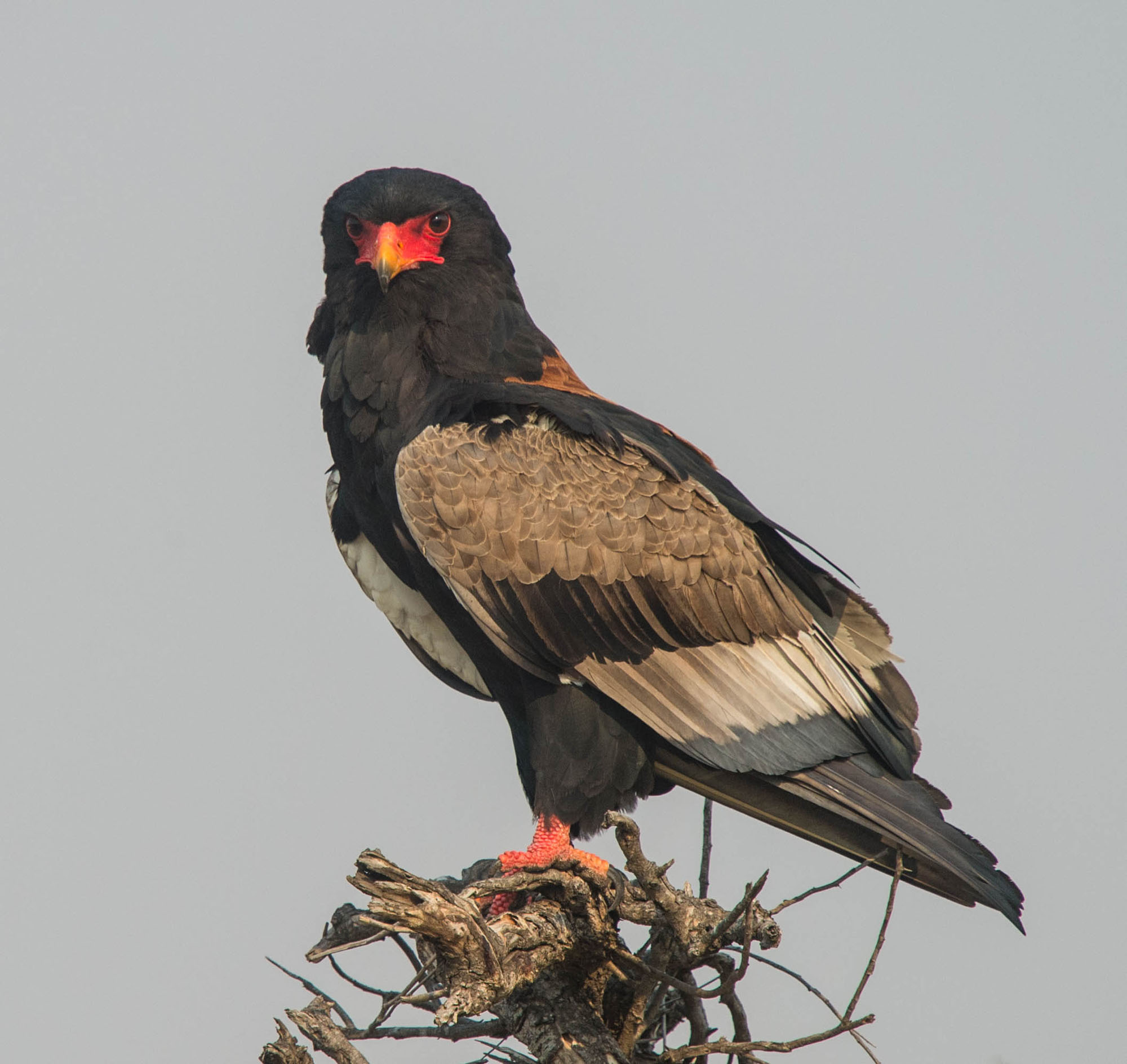 Birds of prey
Birds of prey are practically synonymous with an African safari trip.  Over the course of a week or two in the African bush, visitors are sure to see several of these most magnificent birds, such as the ubiquitous African Fish Eagle, the much heralded Bateleur, various Snake Eagles, the incredible Martial Eagle, and the sleek Verreaux Eagle.  Once you start paying attention to birds of prey, you'll soon realize that there is a confusing array of mostly brown eagles - several of which are summer migrants to Southern and East Africa.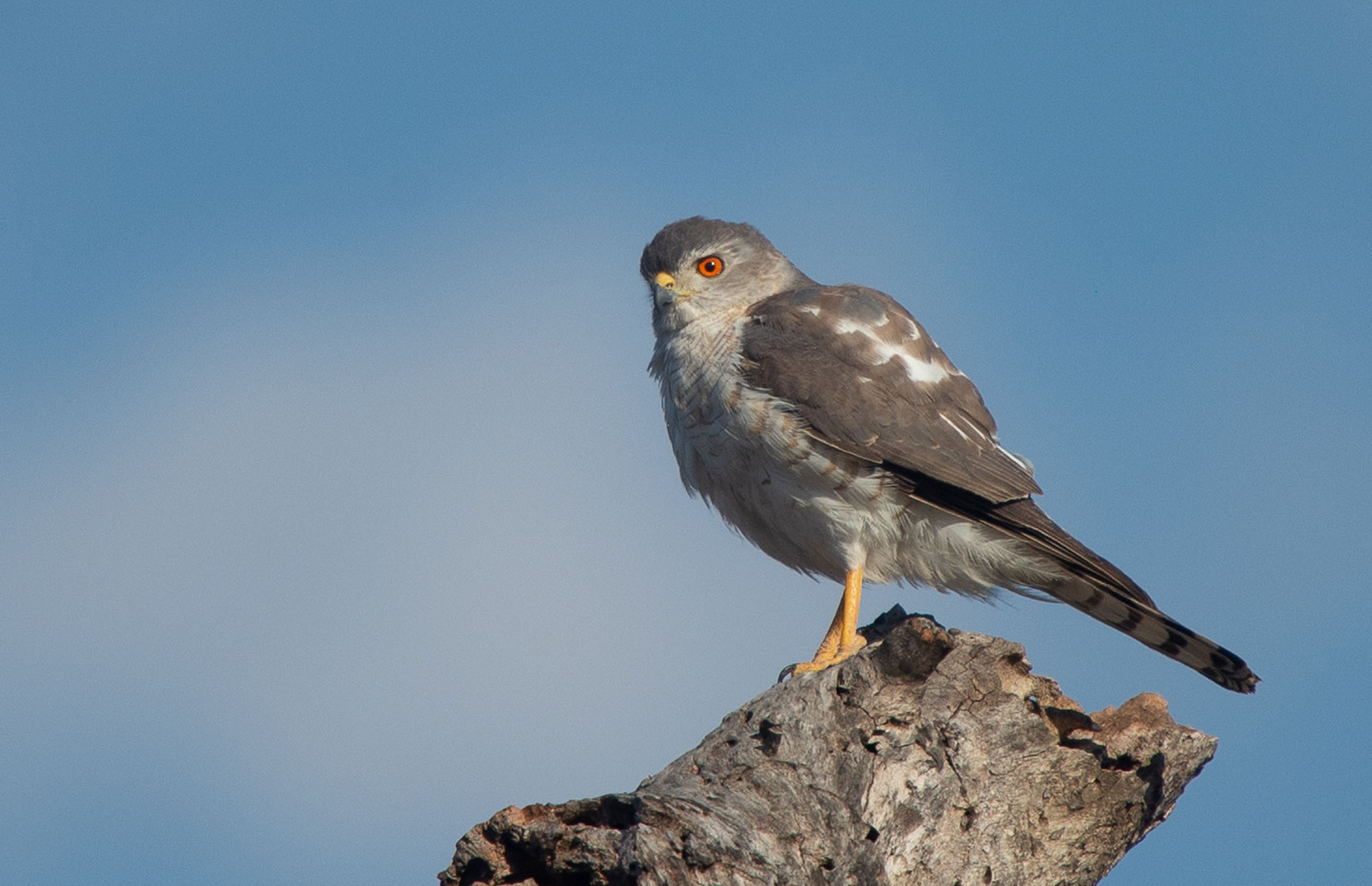 If you have a well qualified bird guide, you will also see several species of buzzards, harriers, kites, kestrels, hawks and falcons.  Some are common and easily seen, others shy and elusive, diving into the undergrowth or secreting themselves deep in a forest, at the first sign of human presence.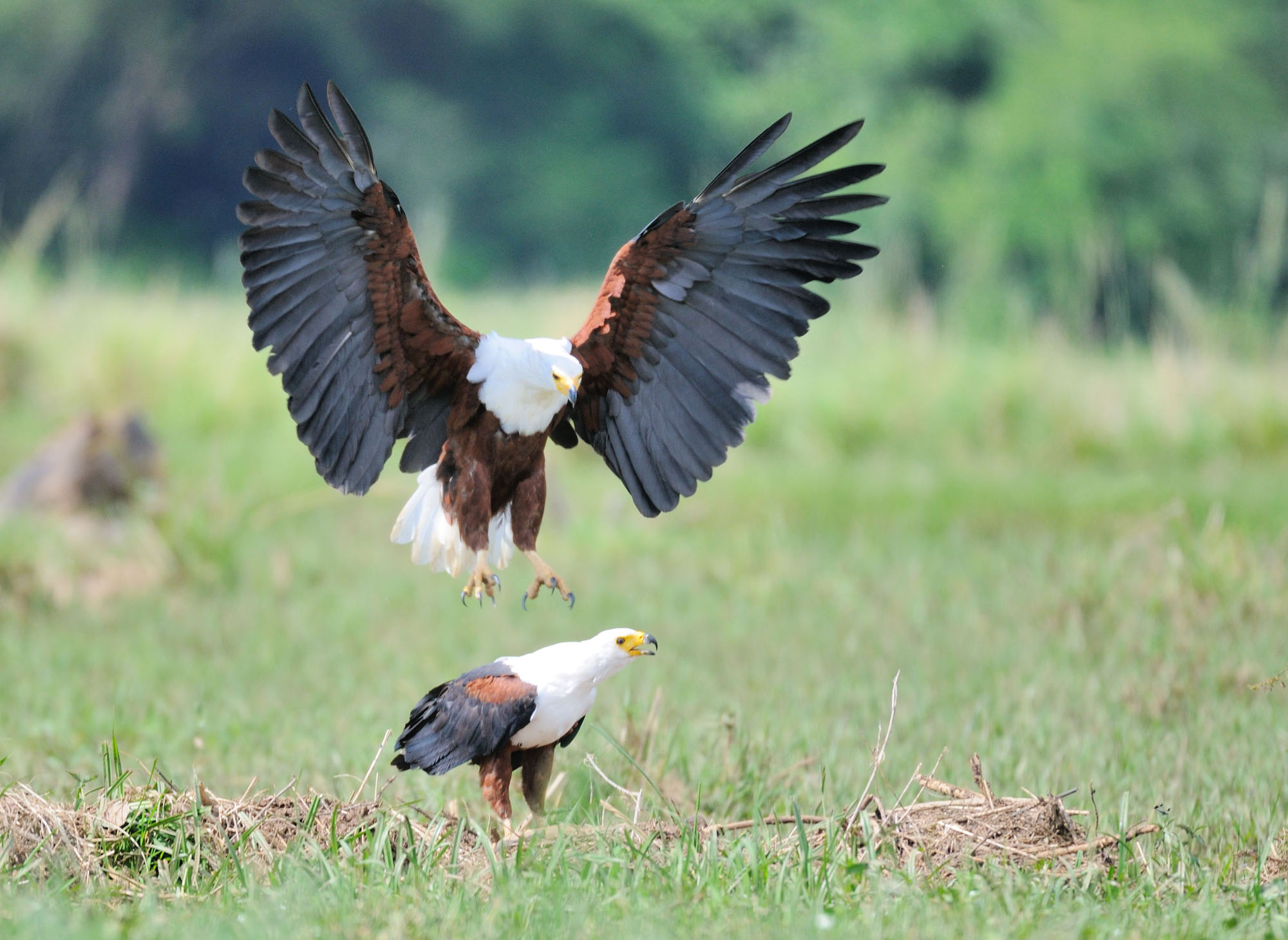 The African Fish Eagle is one of the world's eight species of fishing eagles, one of the other notable ones being the American Bald Eagle.  Superficially, it resembles the African Fish Eagle quite closely.  African Fish Eagles do live mainly on fish, but they are - like the Bald Eagle - also scavengers, eating carcasses of drowned animals and pirating fish caught by other birds like osprey and herons.  Fish Eagles are common all over Africa, and they can be seen close to almost any fair-sized river, lake or other aquatic habitat.  Their ringing call - often performed in a duet - can be heard all throughout the day and is one of the most typical, evocative sounds of the African bush.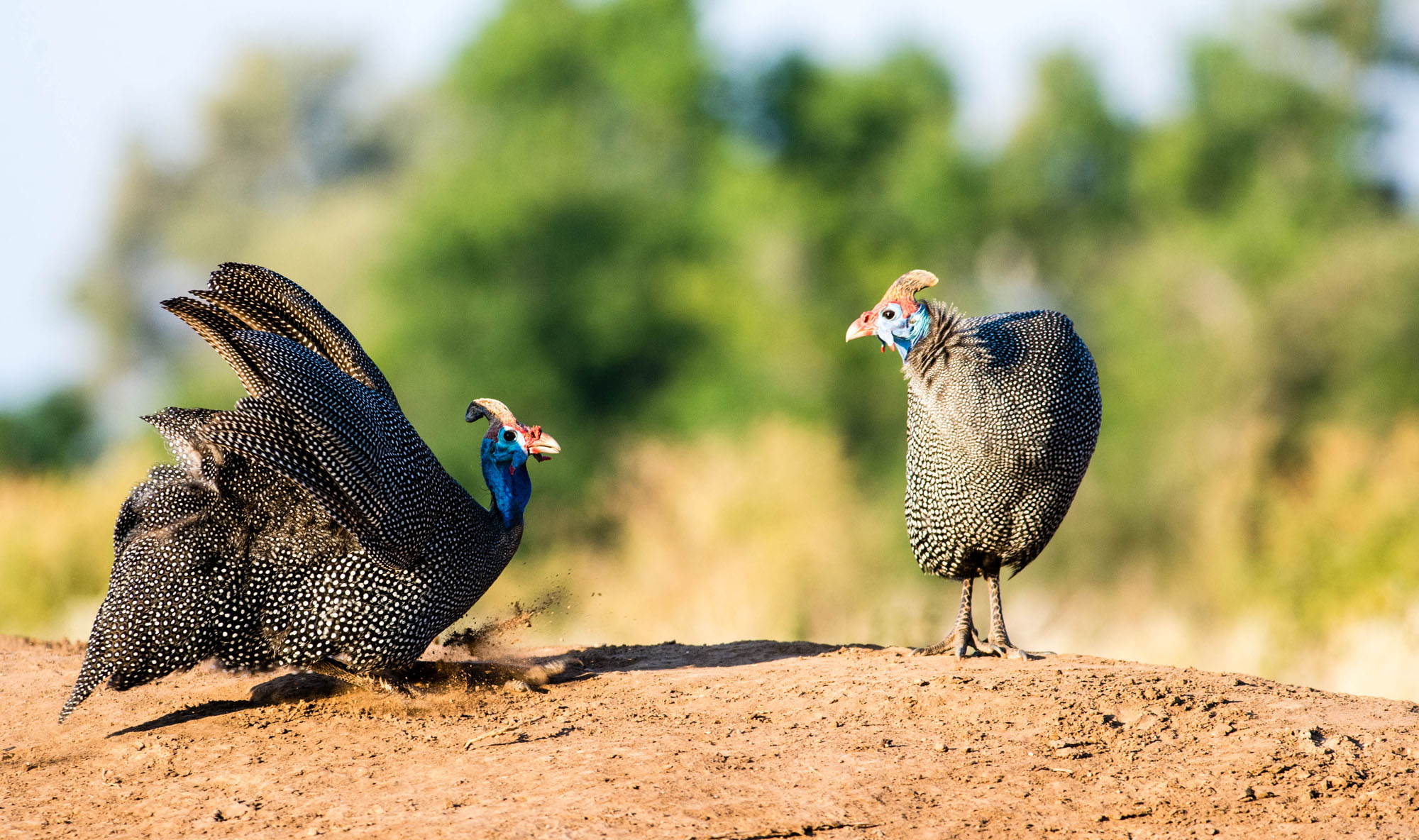 Guineafowls and francolins
Guineafowls and francolins - recently renamed as spurfowl - are easily seen, noisy ground-dwelling birds.  The most common of the guineafowl species - the helmeted guineafowl - is found all over sub-Saharan Africa, usually moving at a fairly good pace over the terrain, feeding non-stop with frequent contact calls keeping the flock in touch.  Unless they are hard pressed, guineafowl will keep running long before they take to the air.  The same is true of the spurfowl, which often run in the path in front of the game drive vehicles for long distances before dashing off to the left or right.  At night though, guineafowls can be found huddled together in the branches of a tree, away from predators.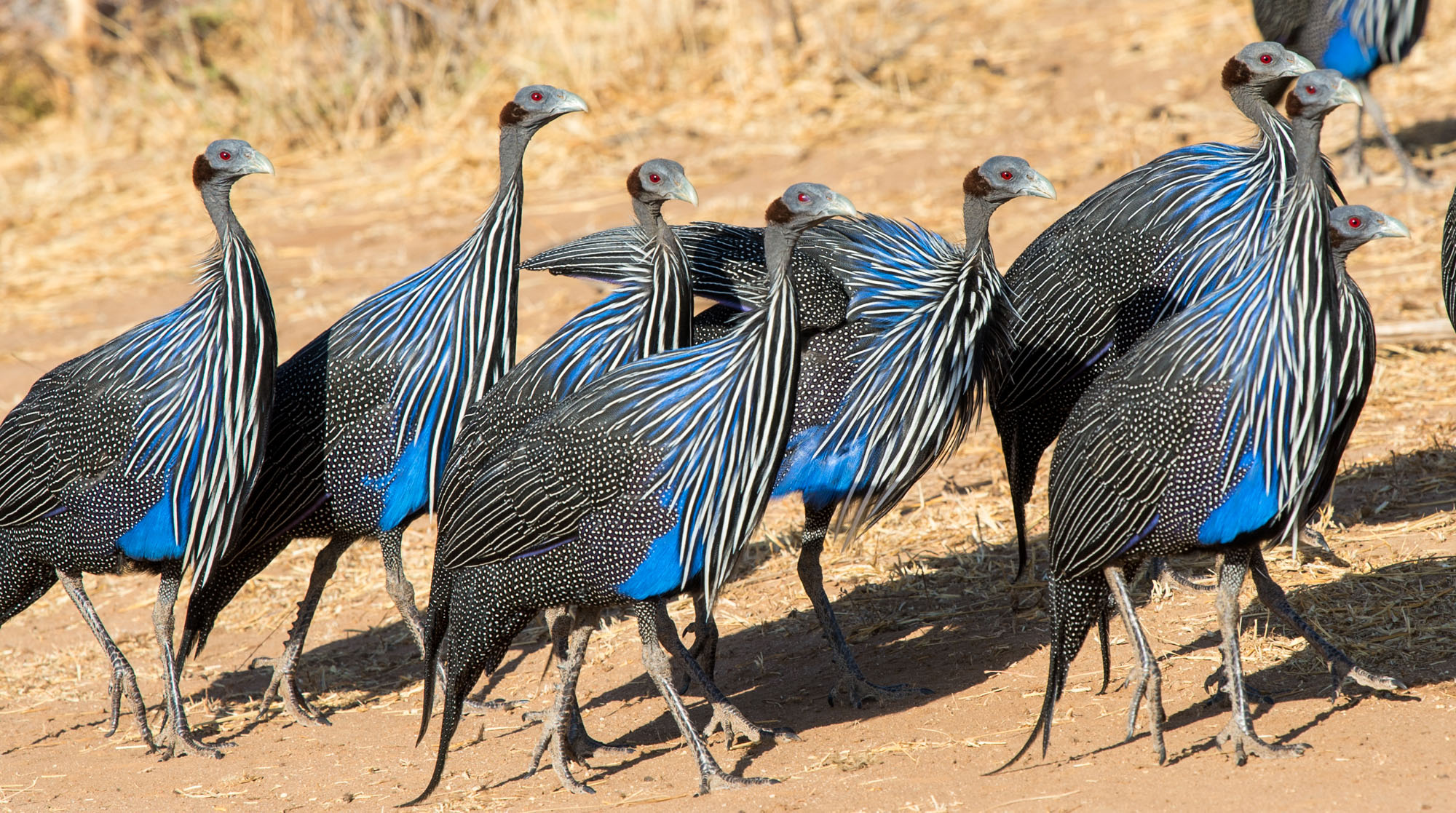 Keen birdwatchers are always thrilled to spot the striking Crested guineafowl - a bird of forests and dense thickets - and the even more striking Vulturine guineafowl, which is mostly seen in arid areas of Northern Kenya such as Samburu.  The spurfowl and francolins are superficially quite similar, with heavily barred or spotted feathers, but if you see them close-up, they can be easily identified on the basis of their bill, feet and eye color, and their breast, neck and face feathers.  Francolins and spurfowl are often heard well before they are seen, their raucous crowing or cackling calls reverberating through the African landscape in the mornings and again in the evening as they are settling down.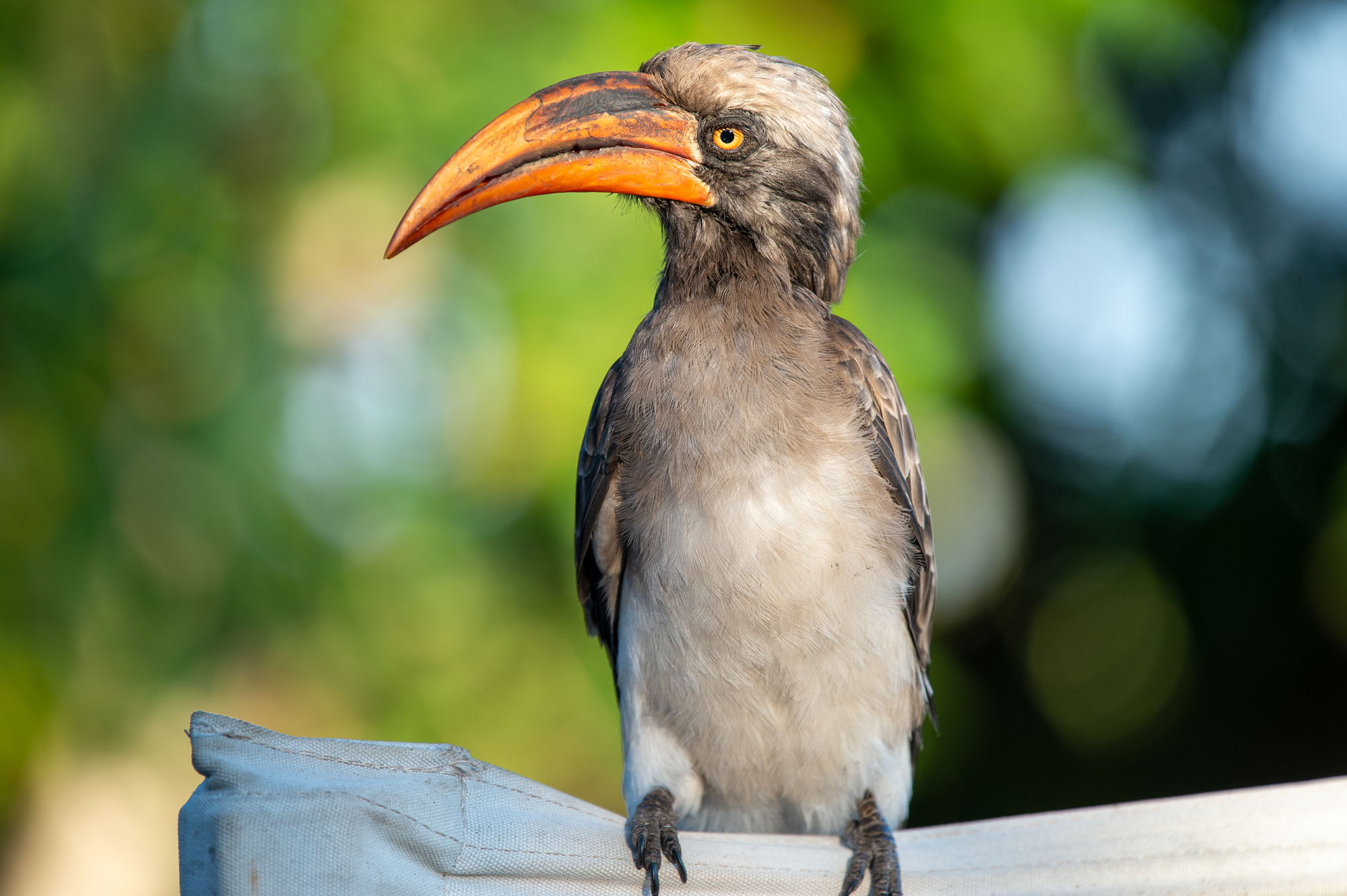 Hornbills
Hornbills are fascinating birds in many ways, but mostly because of their peculiar breeding behaviour, which start with finding a cavity in a tree, where the eggs are laid.  The female hornbill is then more or less incarcerated in the hole with the eggs and later the chicks, the opening to the outside being mostly closed up, with a mud wall.  Leaving an opening just big enough to feed the female bird and the chicks, male hornbills can often be seen flying to and from a nest site, all throughout the day.  Once the chicks reach a certain age, the female breaks out of the nest site and starts helping the male with the feeding duties.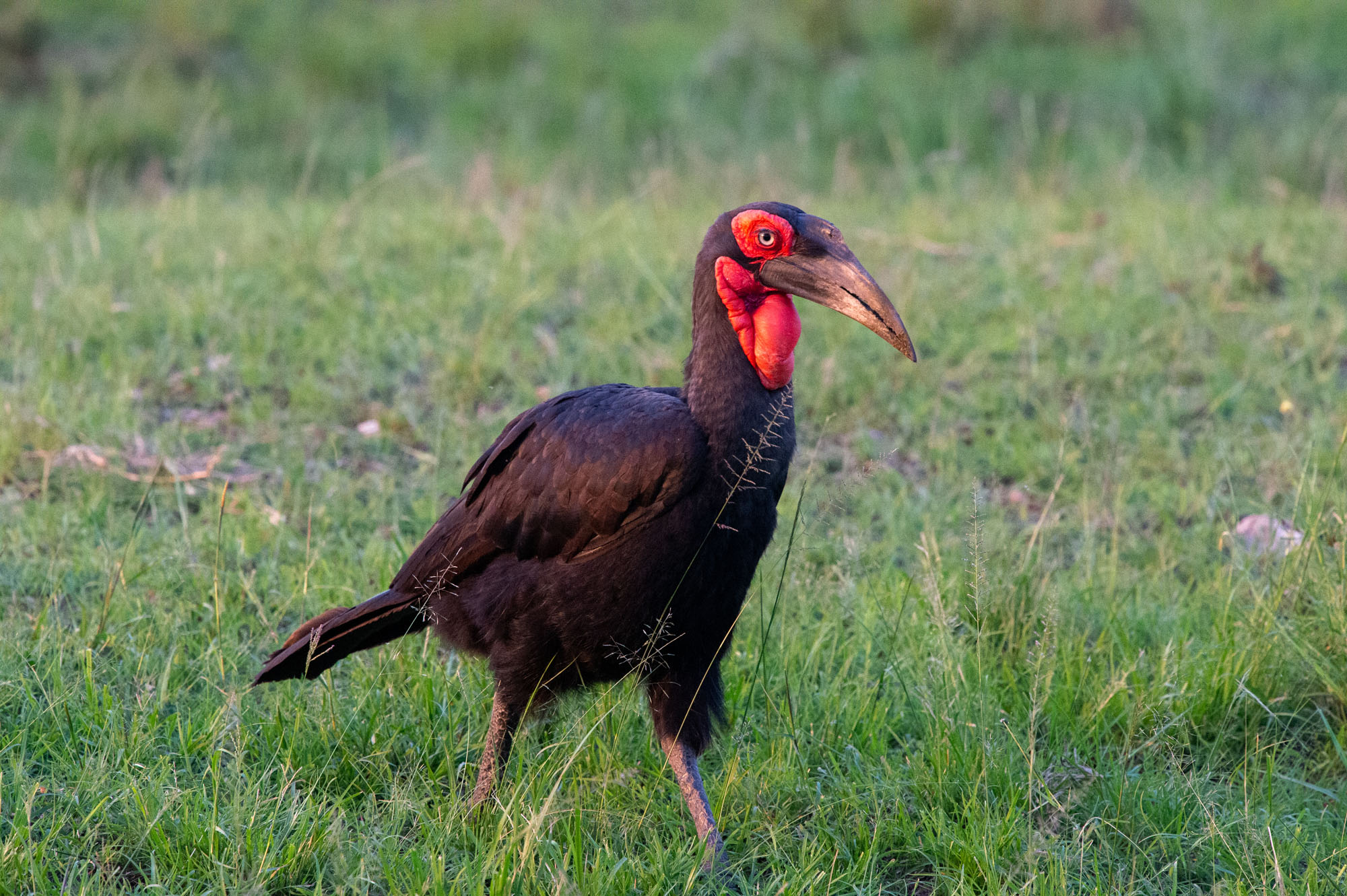 On a safari trip of 10 days or so, most visitors will see at least a couple of hornbill species, such as the ever-present redbilled and yellowbilled hornbills.  There are several other species of note though, including the loud, wailing trumpeter hornbill (a bird of moist, lowland forests), and of course the most impressive of them all, the huge ground hornbill.  To be sure, they are simply large, ground-dwelling hornbills.  Not 'turkey buzzards'.  Their deep, booming calls can often be heard over great distances, early in the morning.  Unfortunately, Ground Hornbills are becoming more and more scarce every year, their numbers  dwindling year by year.  This alarming development is closely tied to their slow reproductive rate and the same factors affecting so many other birds:  habitat loss, electrocution from power lines, accidental poisoning, and illegal hunting.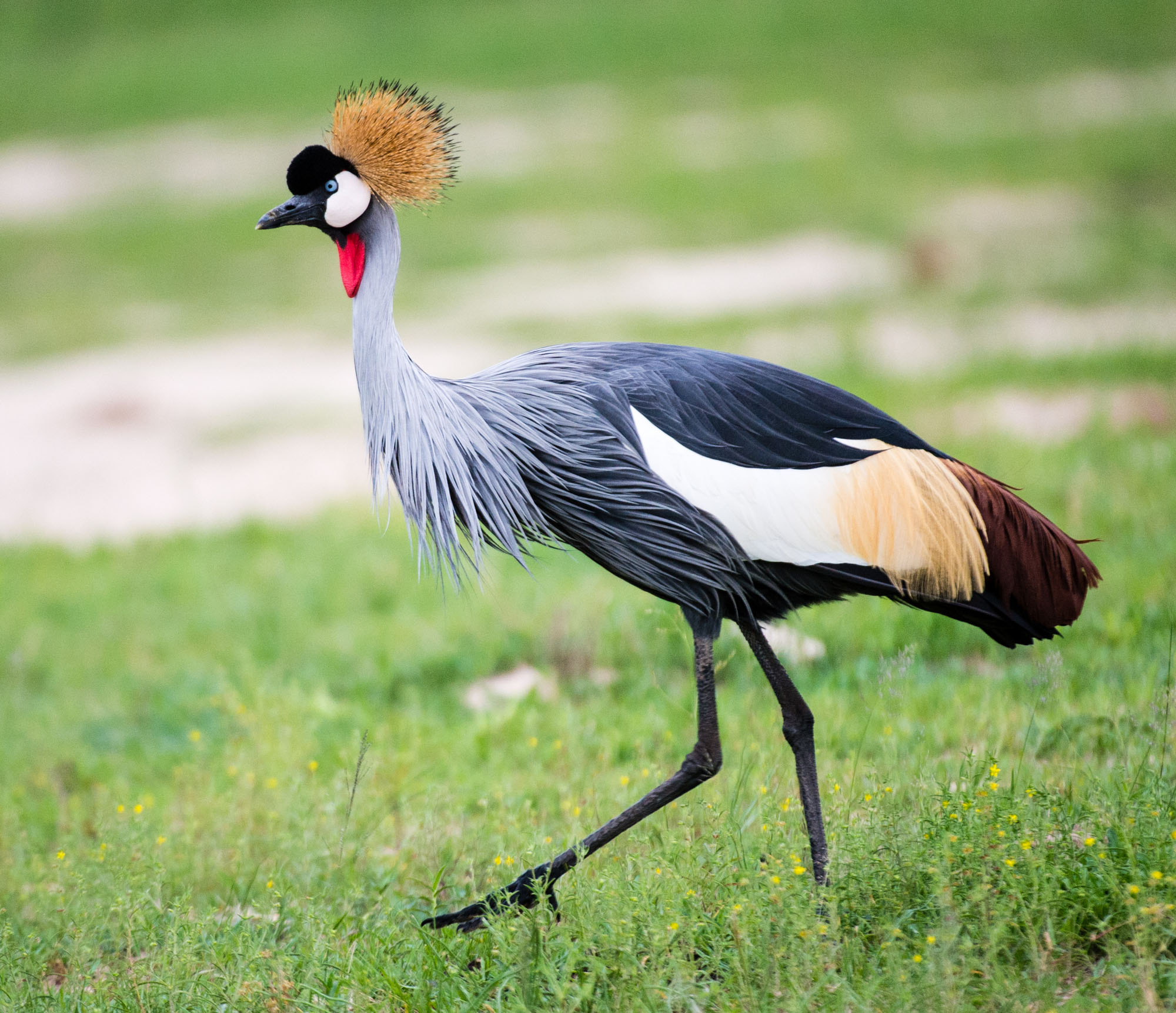 Cranes
As a family, the cranes of the world are in trouble.  No less than eleven of the fifteen species of cranes are threatened with extinction. Cranes are endangered or globally threatened due to a long list of reasons, the most prominent one being habitat loss. Crane breeding success is negatively influenced - more so than for many other species - by human encroachment and development in general.   Other factors include accidental and deliberate poisoning and hunting.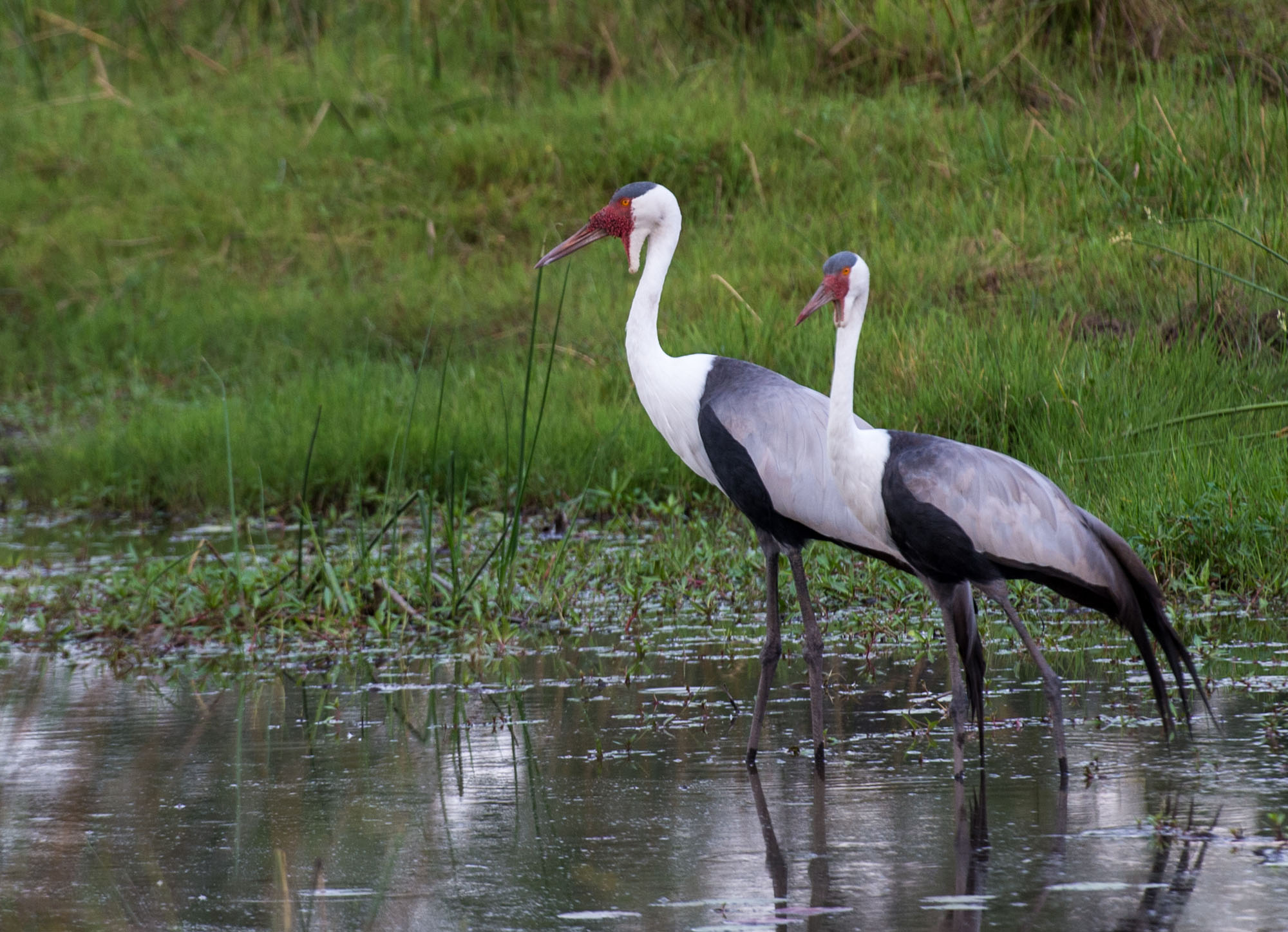 So when you find yourself in Uganda or Kenya, or in Northern Botswana, observing a family of stunningly beautiful Wattled or Crowned cranes, take some time to truly appreciate these special birds.  As the International Crane Foundation puts it, "...cranes continue to unite people throughout the world through their charisma and symbolism of fidelity and longevity."  By traveling to Africa and supporting companies and organizations who operate in a sustainable and ecologically sensitive manner, you can play a role in helping secure a brighter future for these beautiful creatures.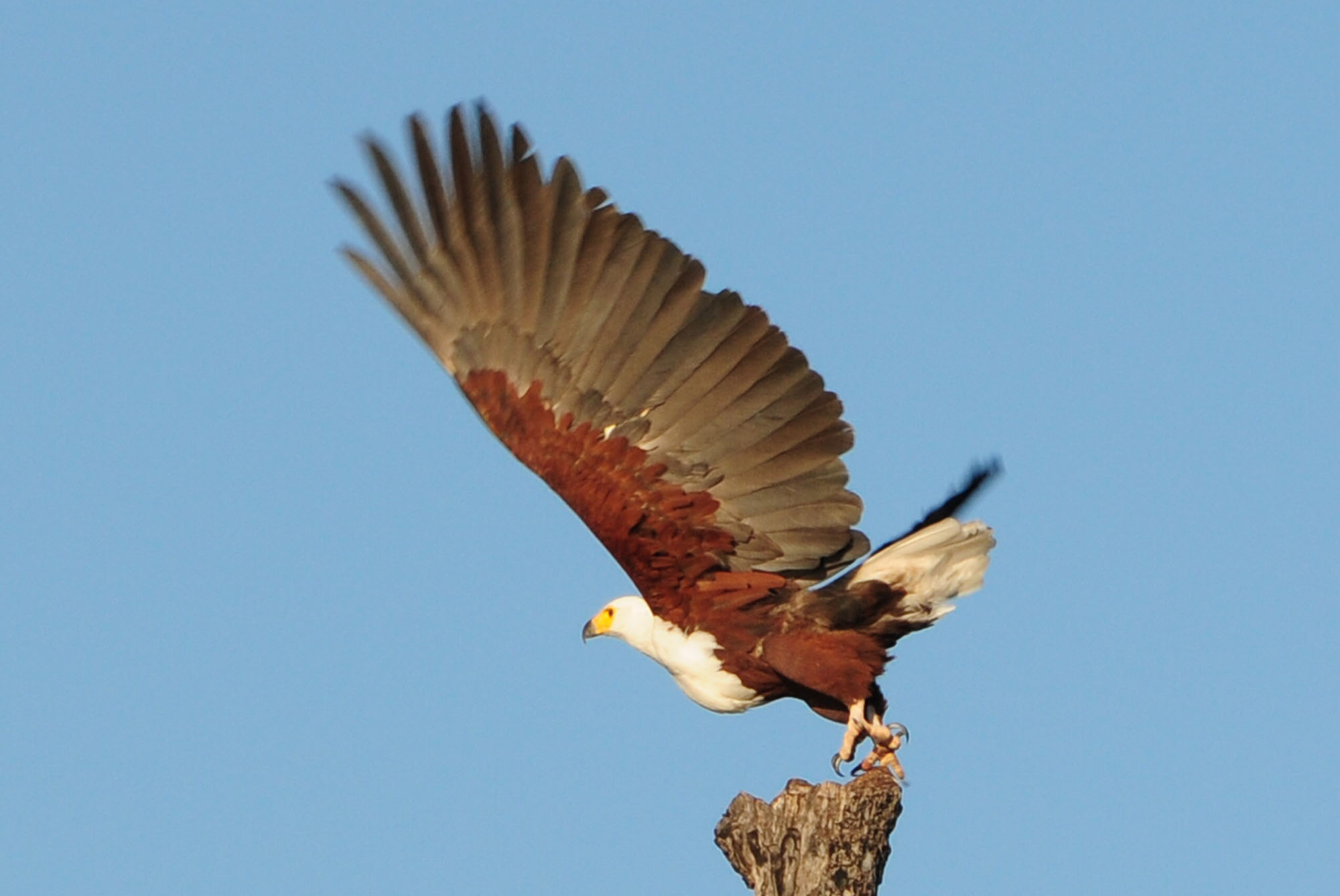 We will continue to focus on the beautiful birds of Africa in our blog post next Friday.  We will take a closer look at more fascinating and colorful species such as the Kori Bustard, various pigeons and doves, cuckoos, coucals, owls, nightjars and kingfishers.