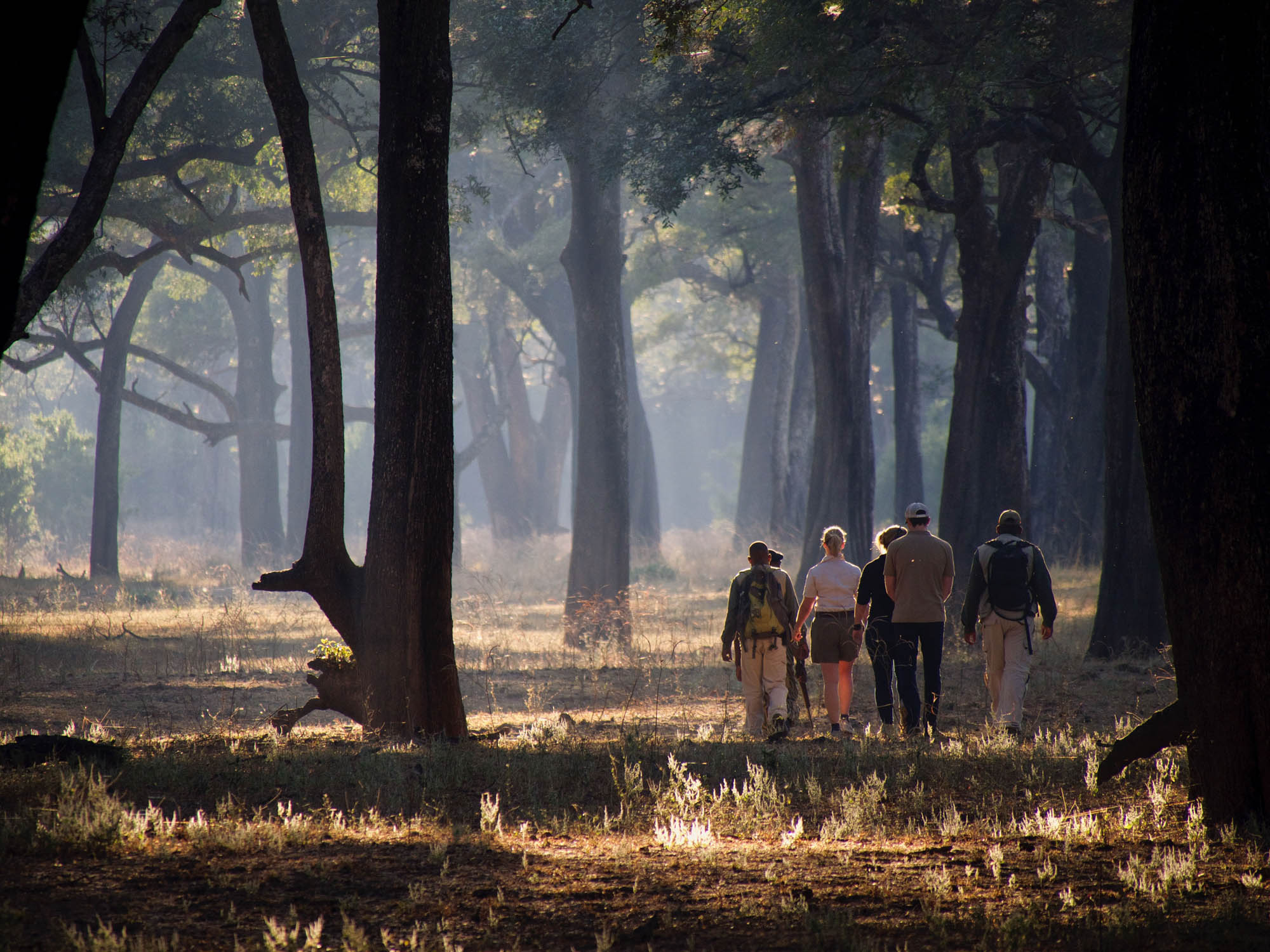 A walking safari in the South Luangwa, Zambia
The first of two walking safaris which we would do in the South Luangwa National Park in Zambia this July was perhaps a bit more adventurous than we had anticipated. Blame the hippos. There are thousands of them along the Luangwa River - at last count more than 60 of these behemoths per kilometer of river bank.  On the day, a handful of them were still making their way back to the water by the time we set out of camp. It made for a few adrenaline-charged moments.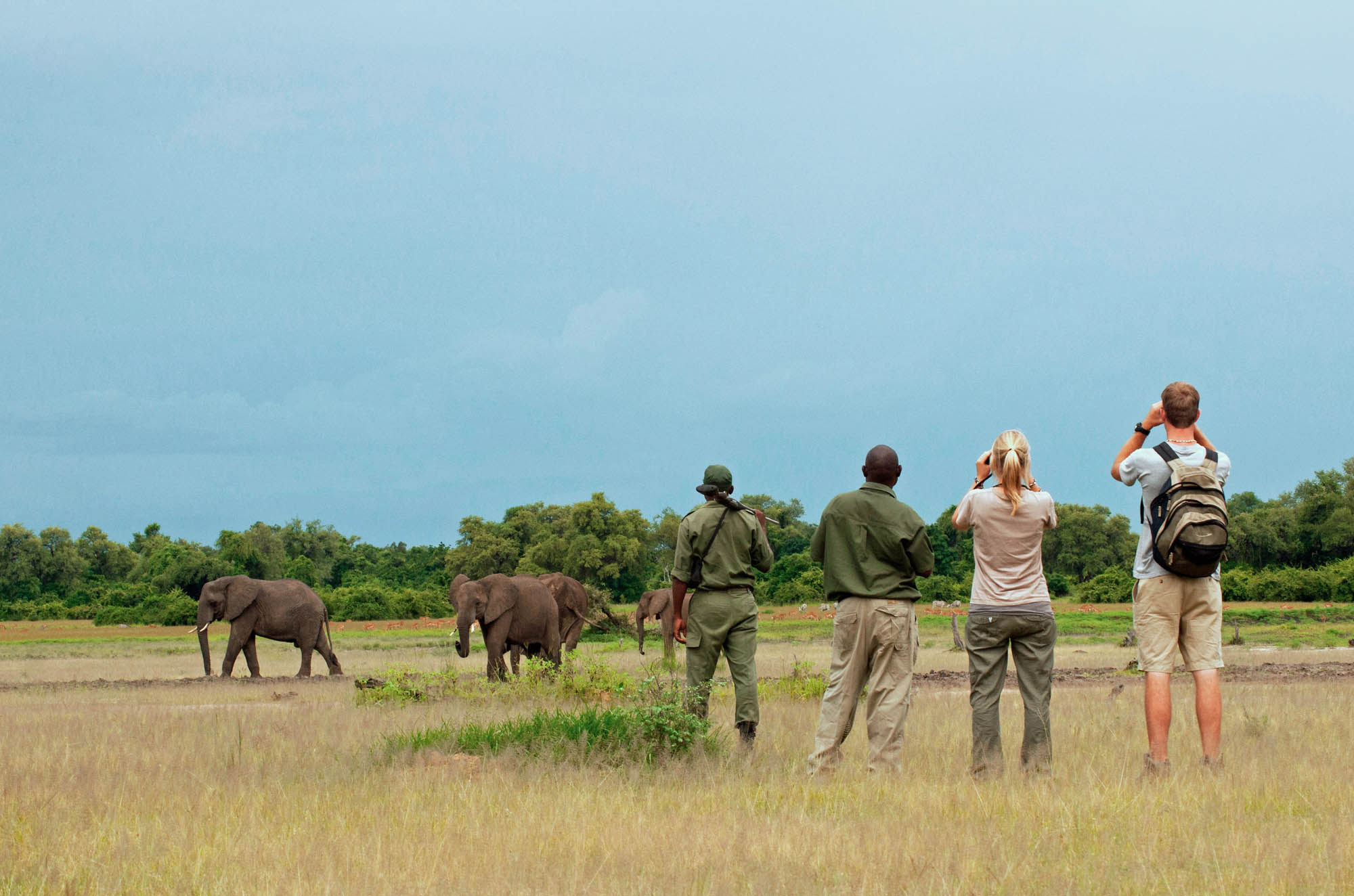 Earlier, back in camp, we were up before sunrise for a 530 am wake up call, accompanied by a cup of tea. By 6 am we were enjoying a full breakfast with eggs to order (all three of us opted for scrambled), toast made over the coals, fresh fruit, juice, and freshly made pancakes. Not to mention freshly popped popcorn.  I had to try a couple of pancakes with Lyle's Golden Syrup - the perfect combination!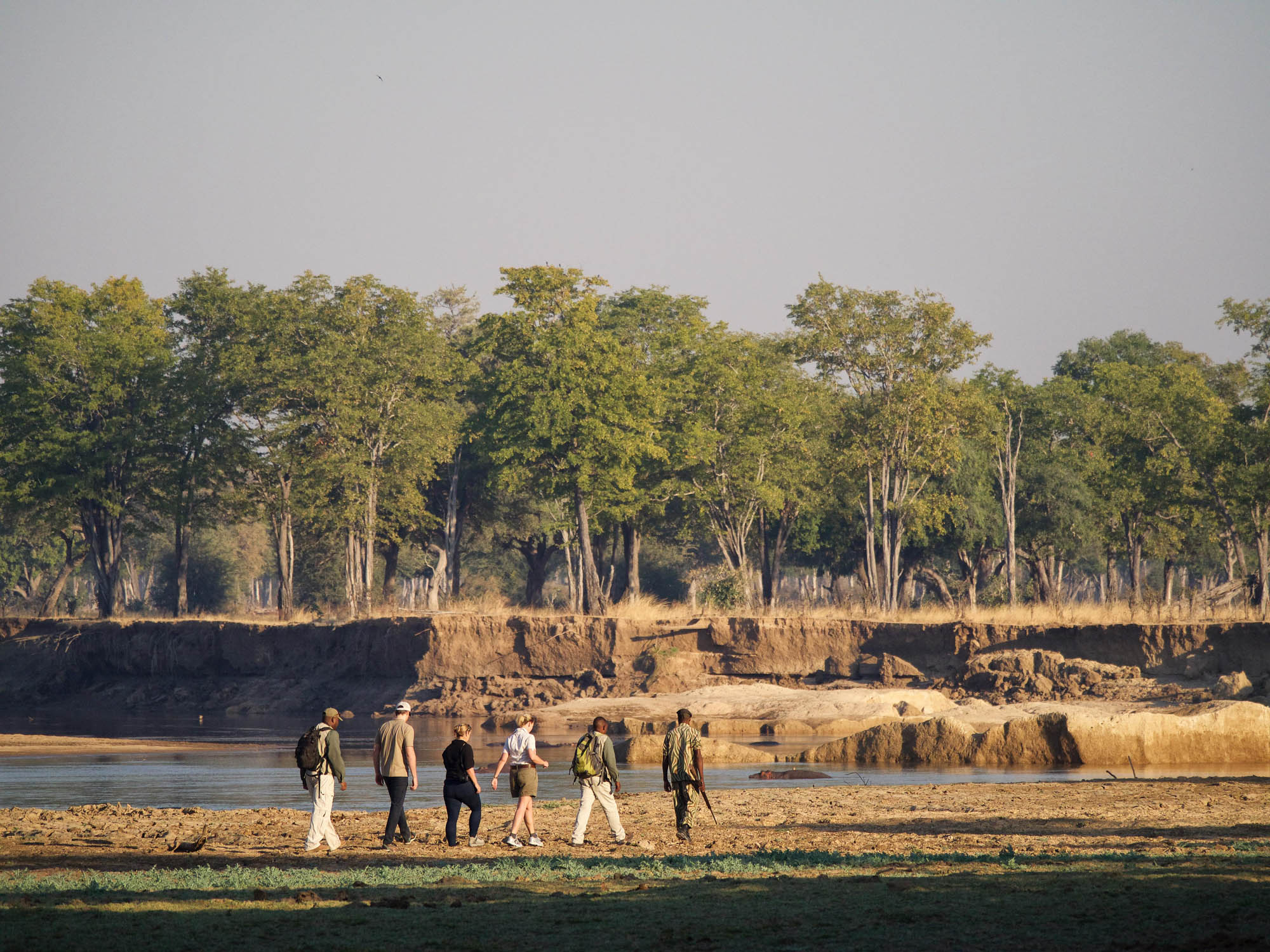 Walking directly out of Kakuli camp, we set out on our guided walk with our Time & Tide guide Innocent and parks guide Bottle. Our walk would take us all along the edge of the Luangwa River upstream towards Mchenja Camp.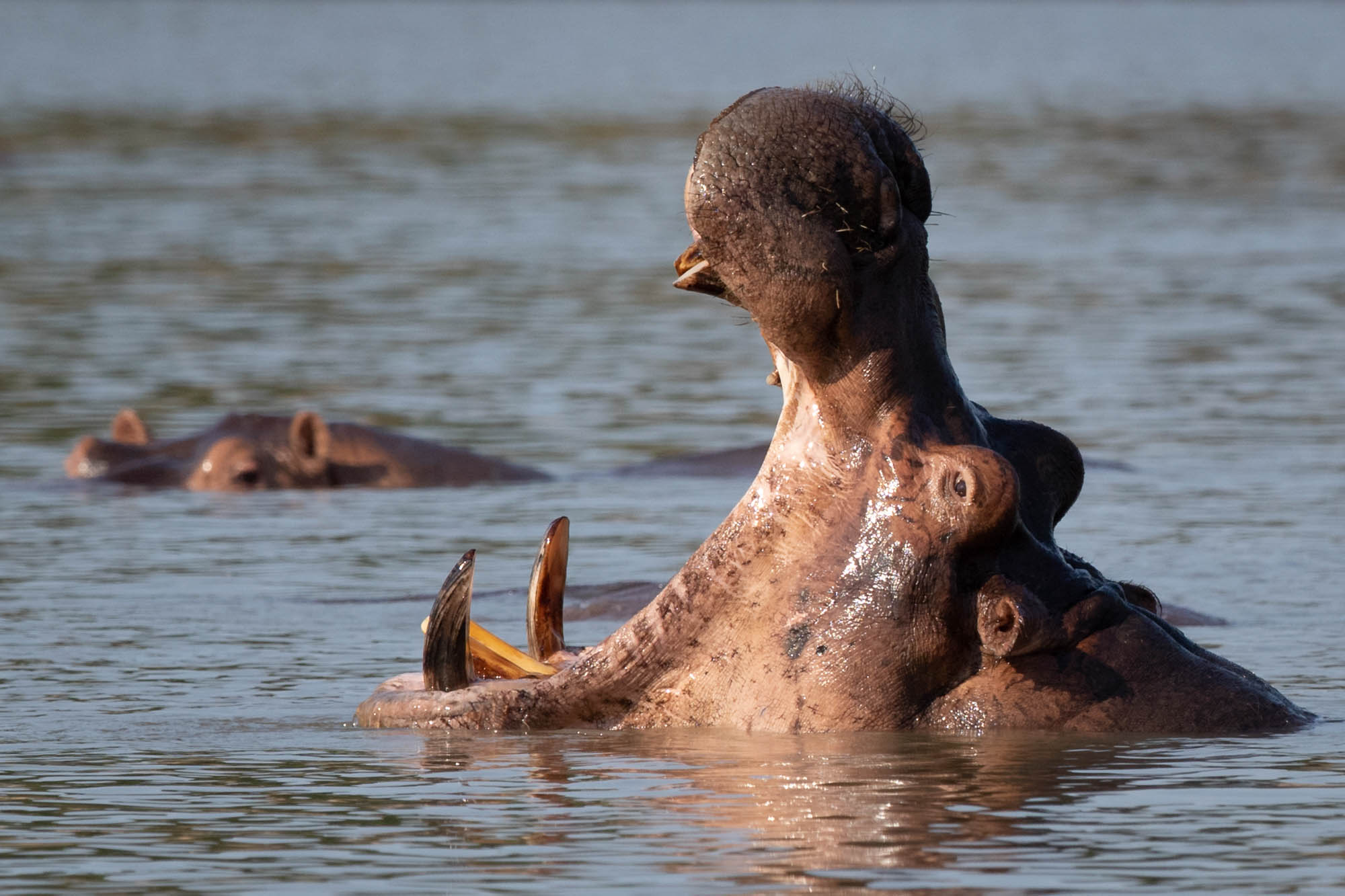 I had not done a 'proper' foot safari in quite a while and this one reminded me what I had been missing. It felt good to get out of the vehicle, into a pair of walking shoes and back on my legs for a while.  Other than the sound of our footfall, and some bird calls, the only noise was the near-constant grunting and bellowing of the hippos in the Luangwa River.  The noisy hippos in the river were not a threat.  The ones we had to worry about were the ones still making their way back to the water, after being out all night, grazing.  As it turned out, we were hardly ever out of sight of one or more hippos, for the first 40 minutes of the walk.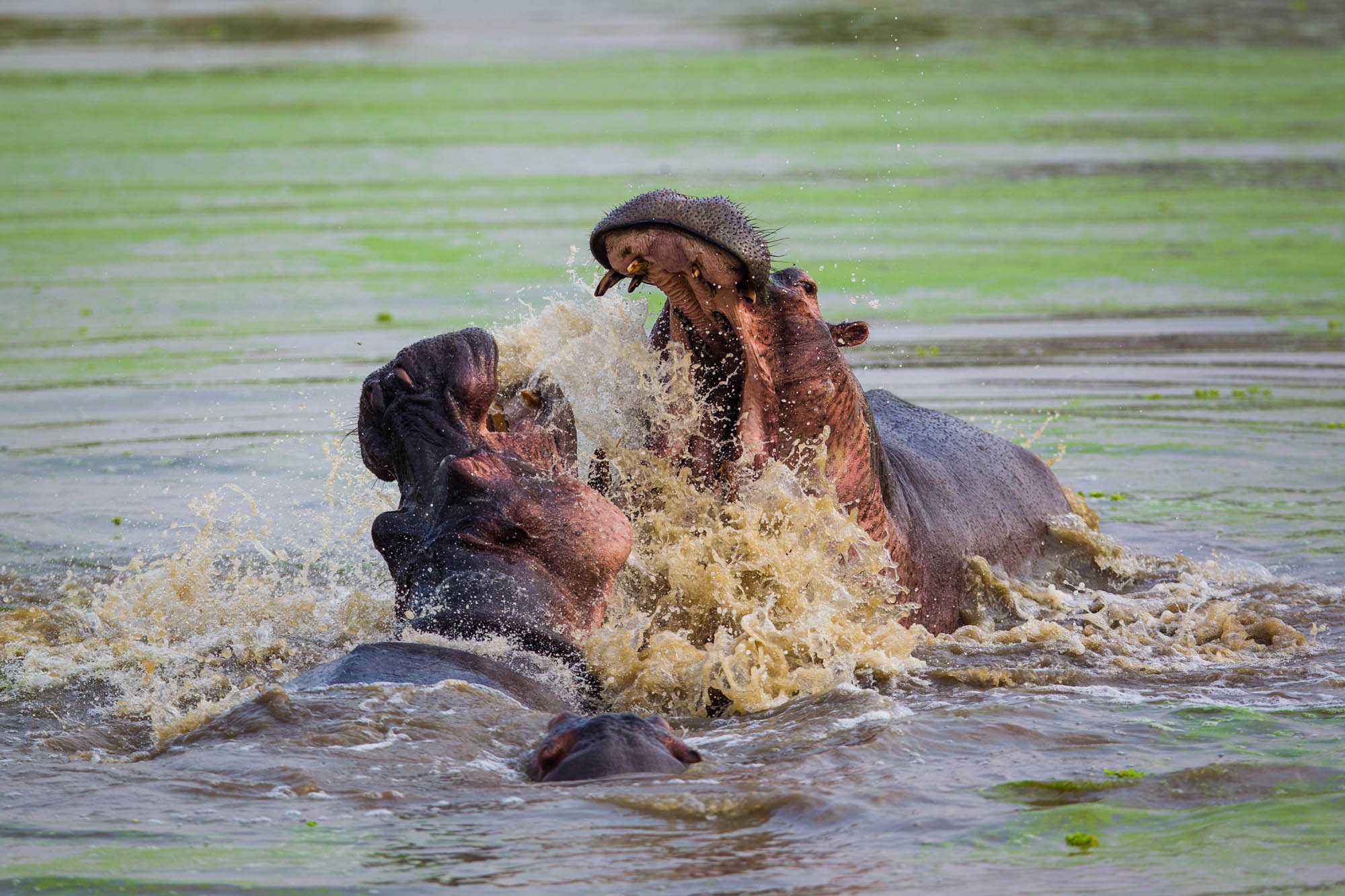 Once I realized that we would be mixing it up with the hippos, so to speak, the walk took on a completely different tenor.  We all started to pay a lot more attention to what was happening in front of us. And maybe even more so to our left, from where any potential 'problem' hippo would likely materialize.  The river itself being on our right.  'Don't get between a hippo and the water', is the generally accepted advice - and practice - in these parts.  We were not exactly trying to do that, but it is almost unavoidable when you are walking early in the day in an area with hundreds of hippos around.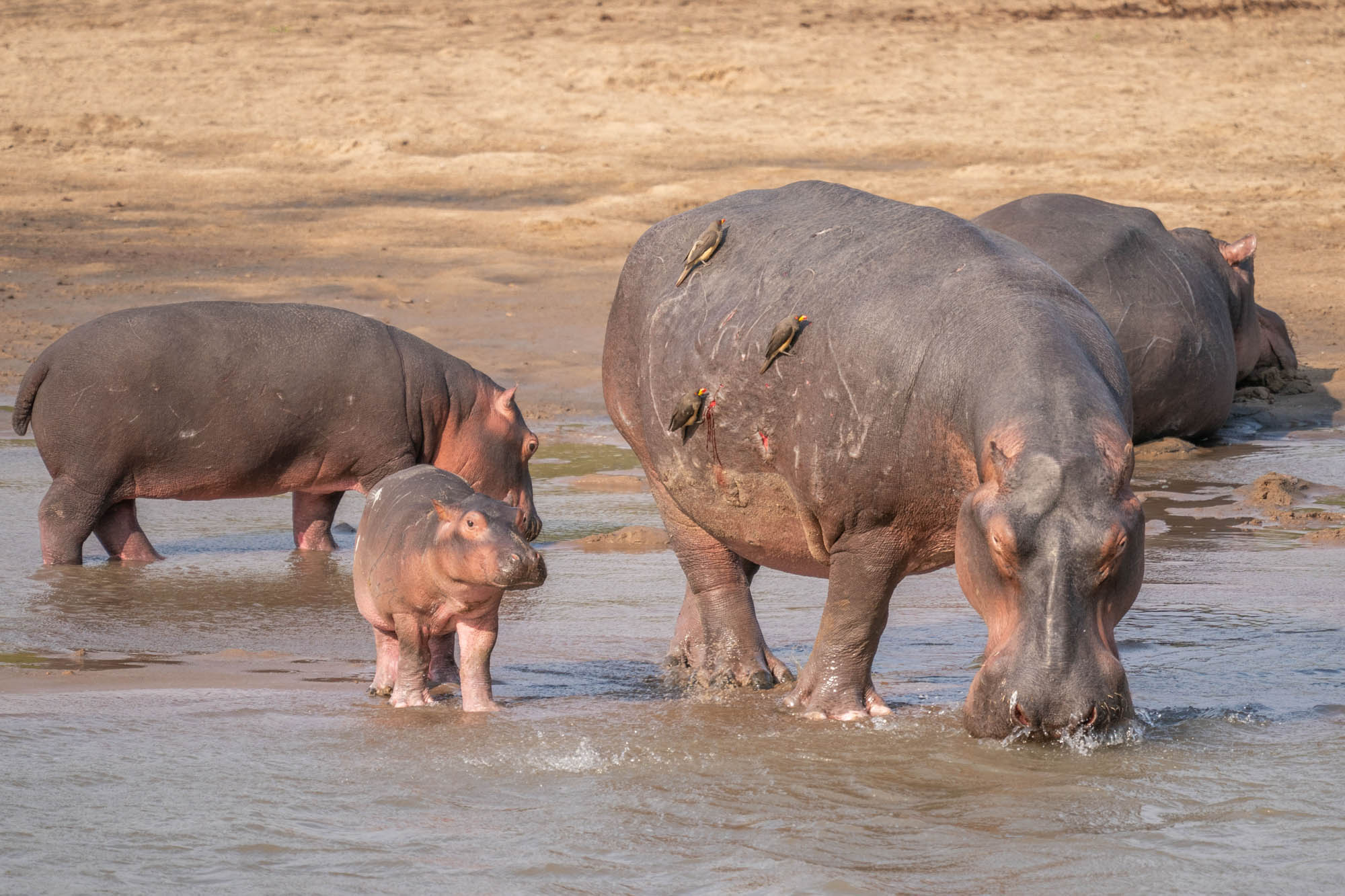 As it turned out the only close call was when we surprised one particular hippo when we inadvertently blocked the exit of his regular route down to the river. Fortunately for us, the hippo decided not to pursue the issue. It simply made a 180 degree turn, and went off in a different direction. We continued on our way, but only after making eyes at each other, at the conclusion of the momentary standoff.   
Along the way, Innocent drew our attention to some fascinating natural history highlights of the area, including several tracks and marks. One - which none of us had ever seen or recognized before - was the mark left by the hairy face and beard of a hippo. We learnt about the life cycle of the ivory palm, were informed about the status (active or dormant) of some giant termite mounds and we saw some fascinating bird species such as the African Fish Eagle, various bee eaters, coucals and kingfishers.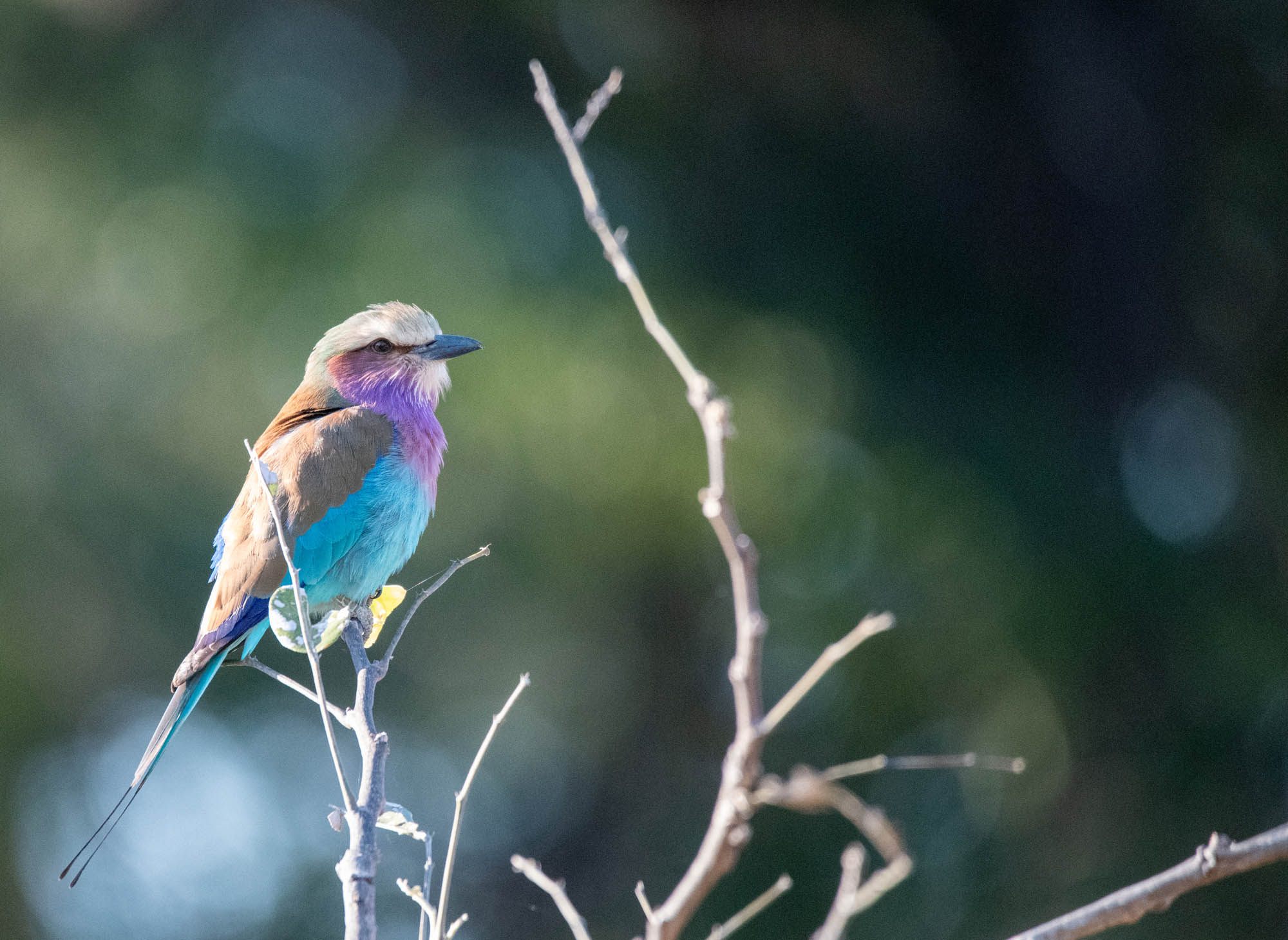 This being the South Luangwa there were dozens, maybe hundreds, of inquisitive hippo eyes intently fixed on us as we made our way upstream. What were they projecting?  If I had to take a guess, it would be a mixture of 'don't you dare come any closer' and - as we were moving away, 'good riddance'.   It was comforting to know that hippos would rarely - if ever - leave the water to pursue a real or imagined threat.
By mid morning we had made our way to a rendezvous point from where we drove a short distance to Mchenja Camp for a site inspection.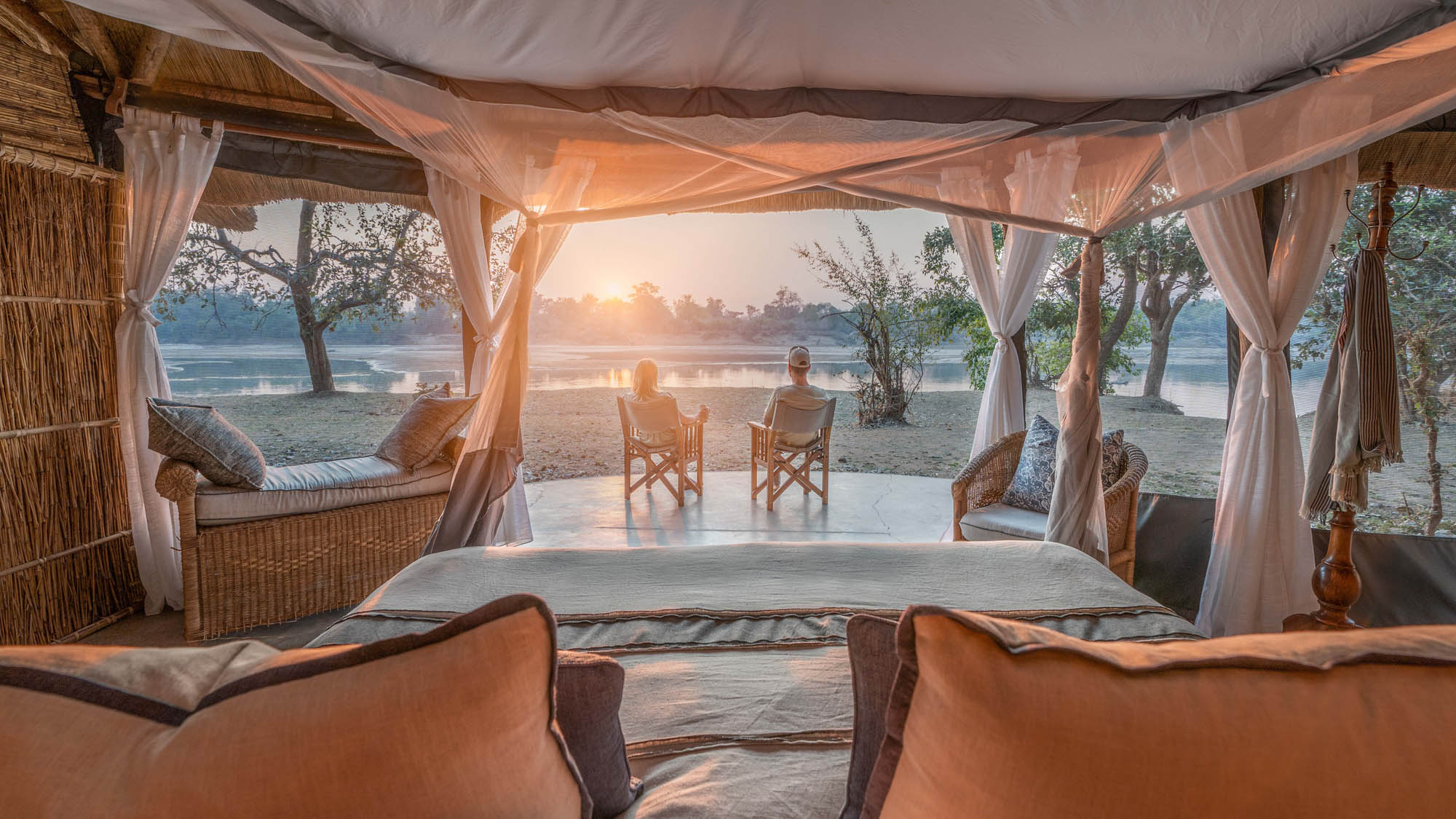 Mchenja Camp
Mchenja is the local name for ebony, and the camp is tucked into a shady ebony grove beside the Luangwa River in the heart of South Luangwa National Park.
Its five rooms (including a two-bedroom, two-bathroom family suite) are pure, natural elegance with grass walls, soft cushions and light-as-air curtains. Each has a feather-top bed, large picture windows and open air en-suite bathroom with a bath looking out onto the river.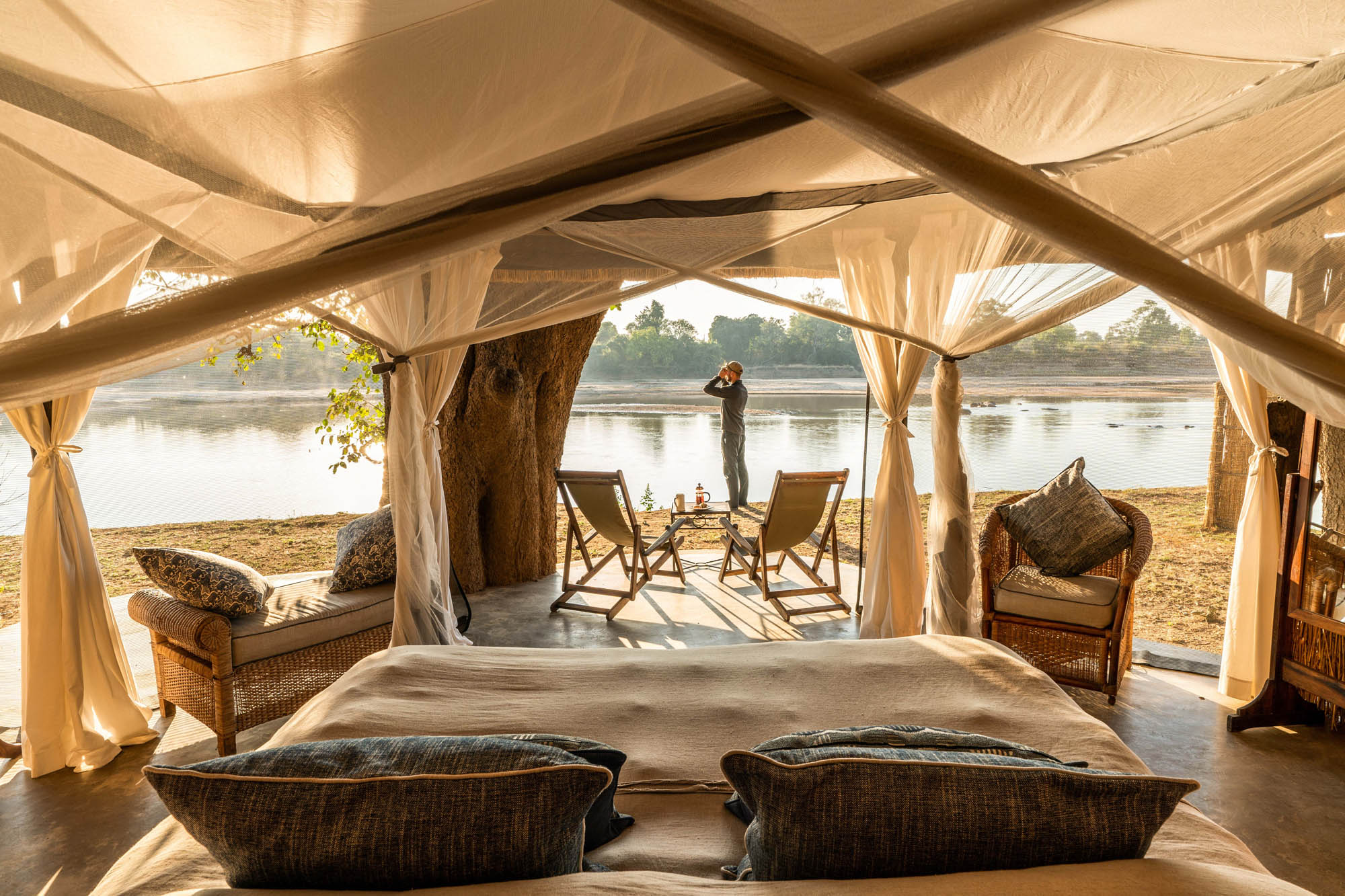 Built around a bent ebony trunk, the main lounge has the feel of a spacious treehouse. At breakfast, listen to a chorus of birdsong and laughing hippos. Between safari activities, relax in the refreshing pool overlooking the river.
Night drives are always rewarding, with the bush revealing a different nocturnal surprise every time. At the right time of year, from about August through March, this is one of the best camps in the park for seeing carmine bee-eaters.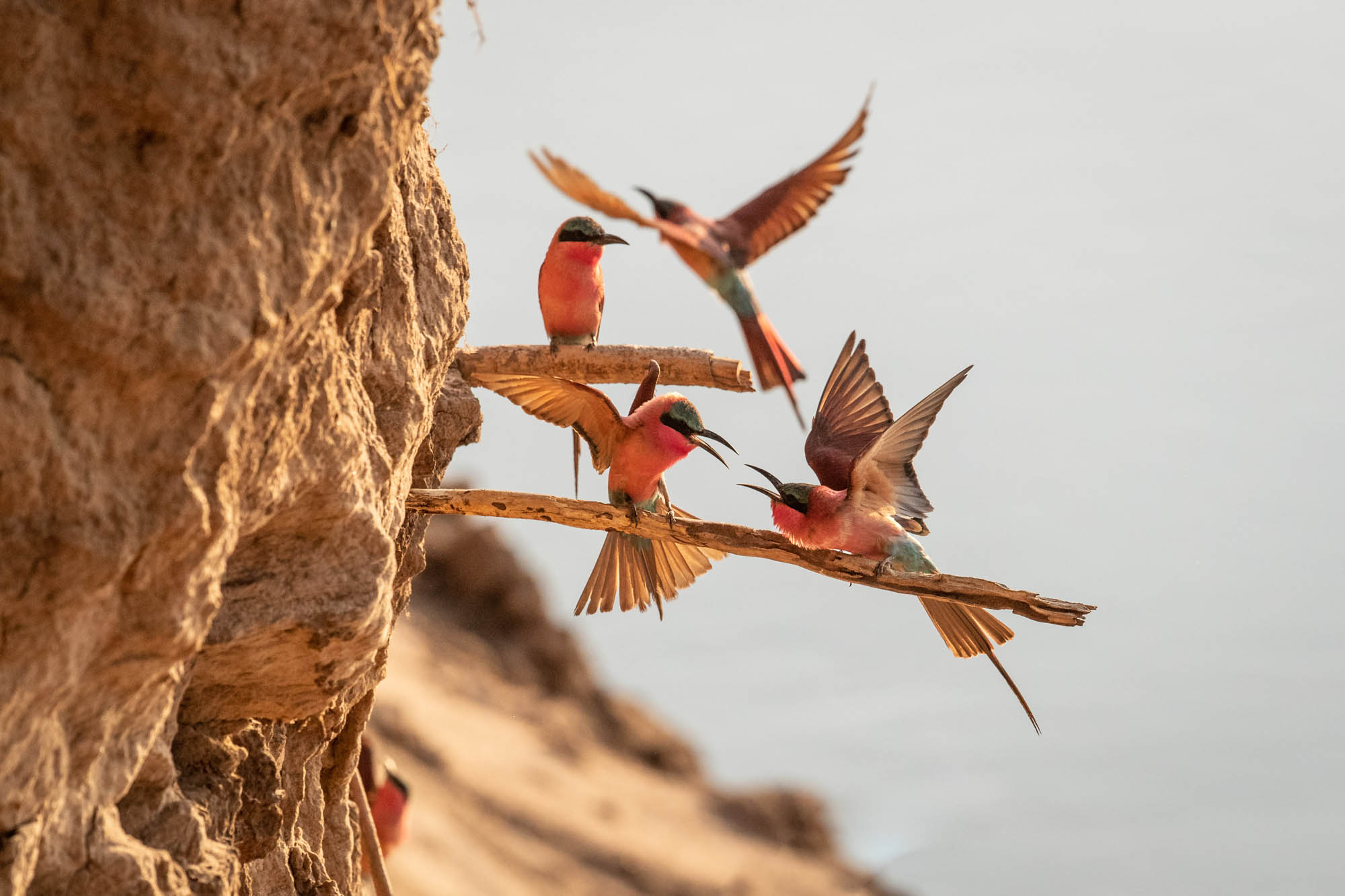 Fish Eagle Safaris' history with walking safaris
Our history with walking safaris goes way back to the 1980's when Bert and Kathy signed up for several of the - even then - legendary Kruger Park wilderness trails.  Joining up with a handful of other trailists, they completed the Nyalaland, Sweni and Olifants trails, spending several days in rustic, primitive camps and going on long hikes through the wilderness..  This is where they first experienced the African bush on foot and came to realize why many people consider walking to be the ultimate wilderness experience.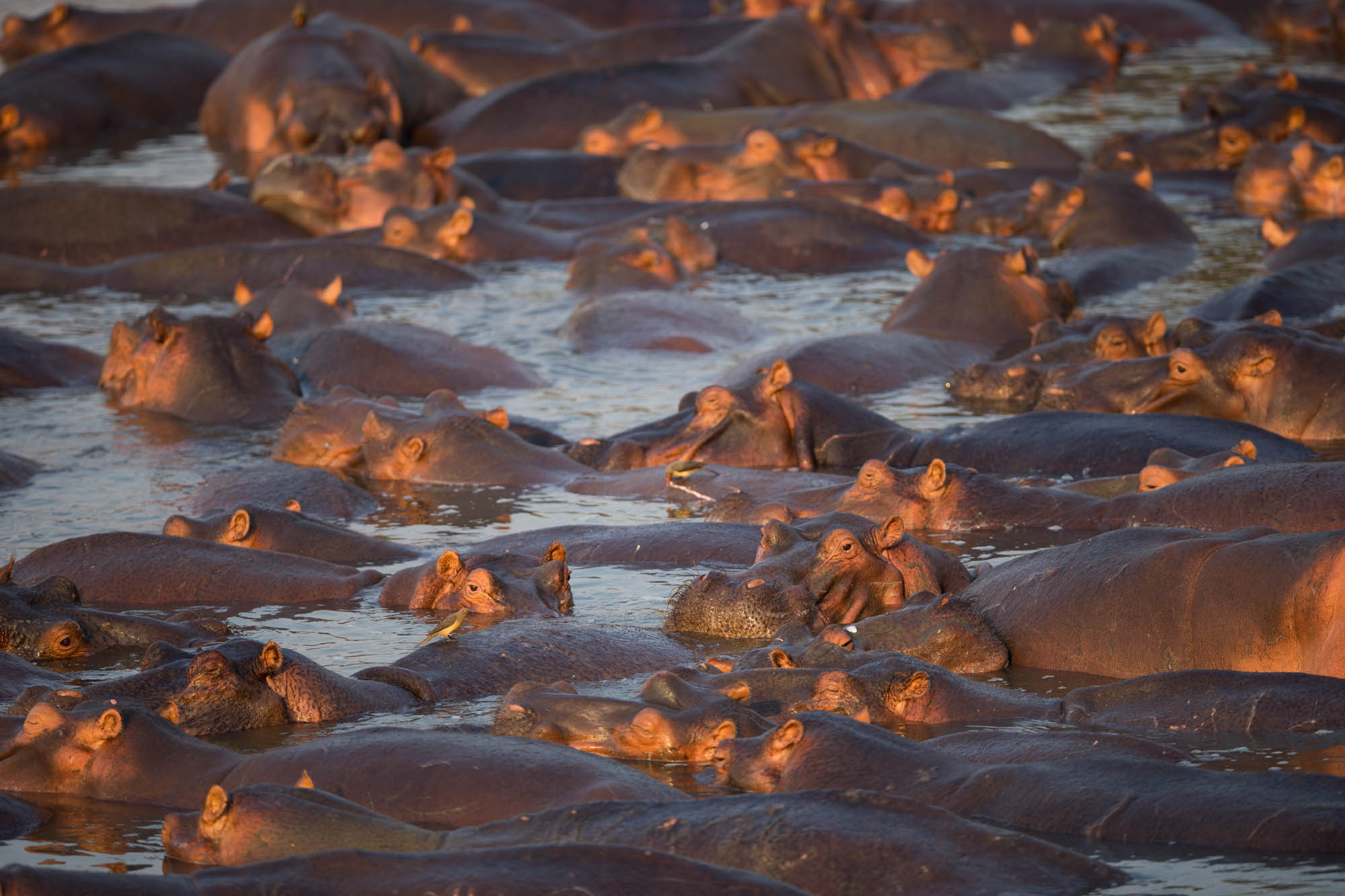 Since then, various members of the Fish Eagle Safaris team have participated in walking safaris in several destinations, notably in the Tuli Block of Botswana with Stuart Quinn of WalkMashatu, in Zambia's South Luangwa National Park with Time & Tide Safaris, in Zimbabwe's Hwange and Mana Pools National Parks, in Western Tanzania's Katavi and Mahale Mountains National Parks, in Namibia's Damaraland area tracking back rhinos, in Odzala-Kokoua National Park in the Republic of Congo, in Rwanda and Uganda on gorilla treks, in Kruger Park on a Rhino Walking Safari with Izibindi Africa, and Bushman's Kloof in the Cedarberg Mountains.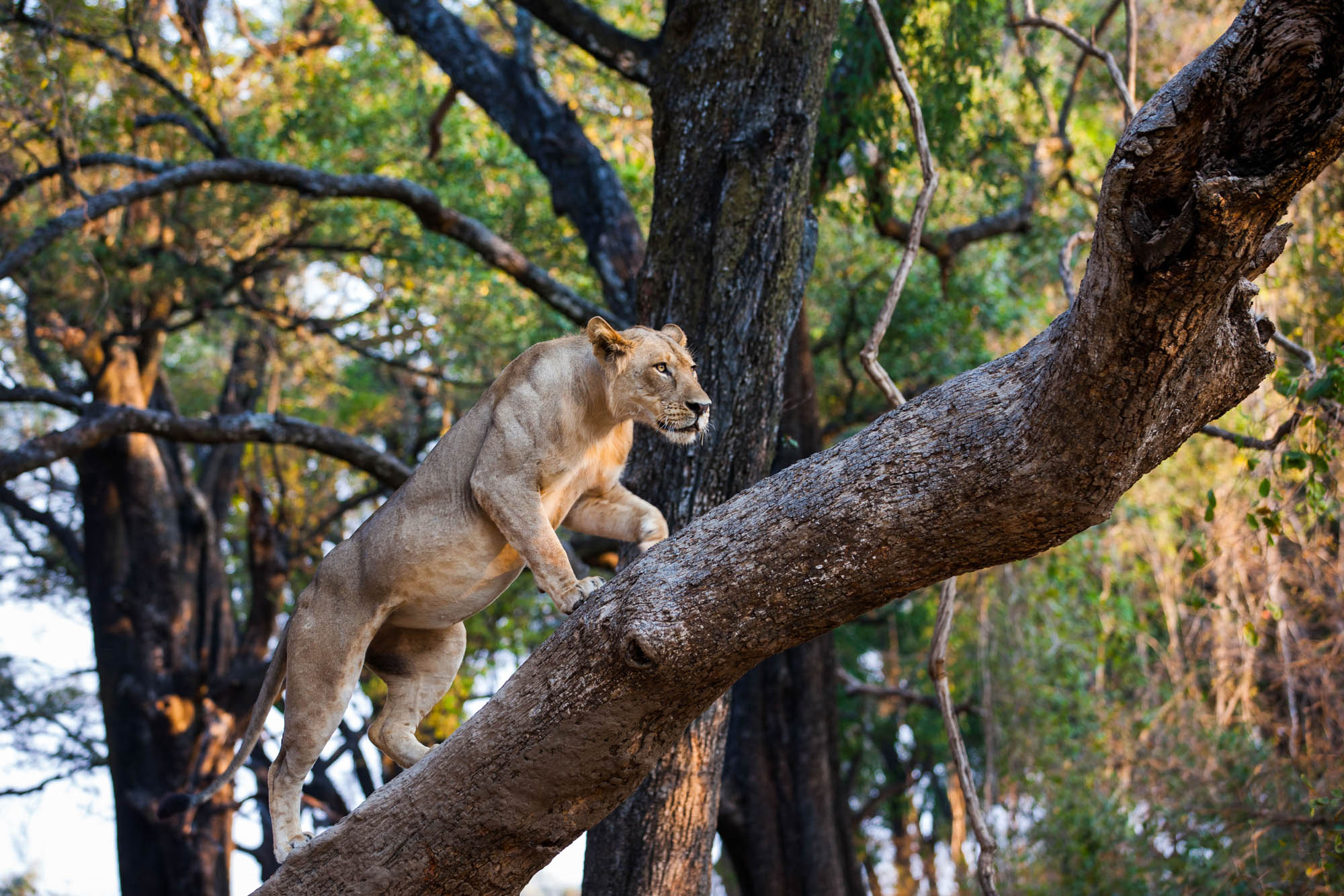 As one part of a multifaceted trip which also includes game drives and some water experiences such as boating or canoeing, a foot safari is for many the purest form of experiencing the African wilderness.  Free of the noise and intrusive impact of a vehicle and free to go just about anywhere, a walking safari is open-ended and unpredictable.  It is as close as one can get to the wilderness on many levels:  feeling the ground under your feet, touching the surrounding vegetation and listening for sounds while observing signs and tracks.  Being out of the vehicle adds a sense of vulnerability which is exciting and at times challenging.  Of course, you are quite safe in the presence of a careful, experienced, armed guide yet the possibility of an unplanned, unforeseen encounter is always hanging in the air.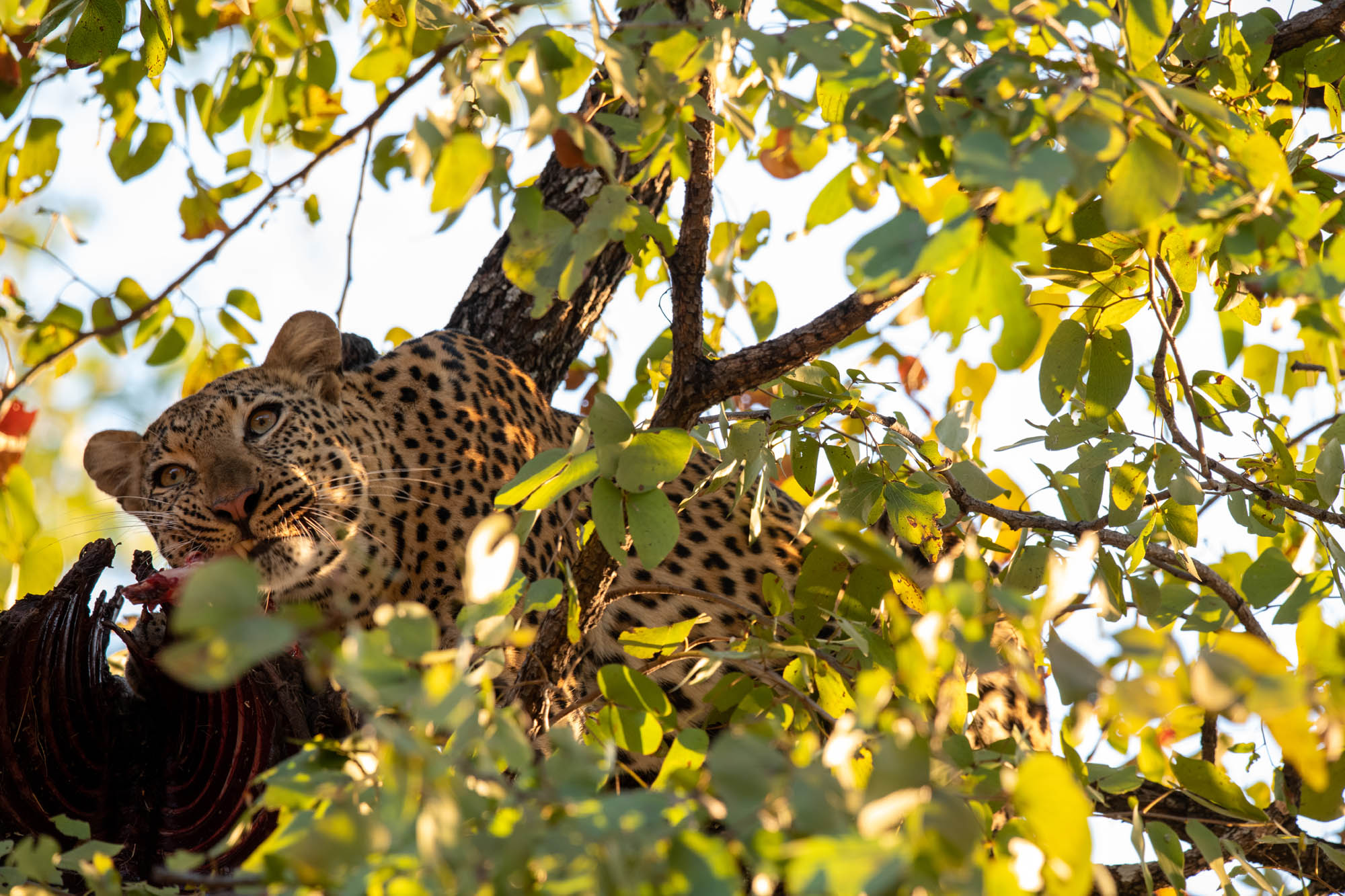 A foot safari always starts with the ground rules:  walk in single file, take turns to walk in front just behind the guide and keep the volume down.  Follow the head guide's instructions at all times. Most importantly – in the event of something untoward happening – don't run!