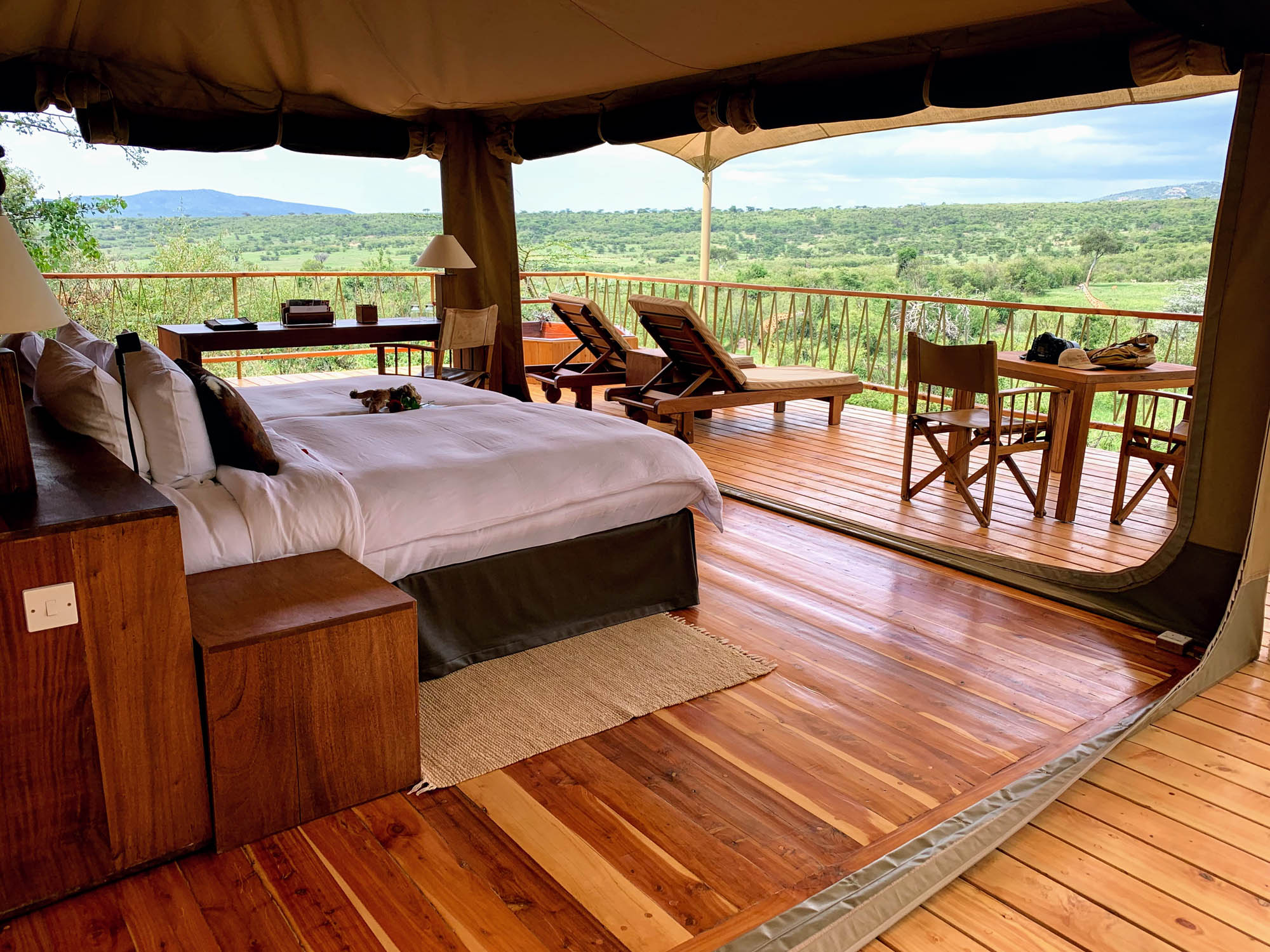 KENYA TRIP REPORT PART 1:
THE MASAI MARA
Since I first started traveling to Kenya in the 1990's, I have grown increasingly fond of this beautiful and incredibly diverse country and its friendly, easy-going people.  With every return visit, my previous perceptions about Kenya as a safari destination have been re-validated, notably that it is an ideal destination for a first African safari.  No doubt about that.  Kenya has lots of animals which are easy to see, it has remarkable diversity in terms of habitats, wildlife, scenery and activities along with a well-functioning tourism infrastructure.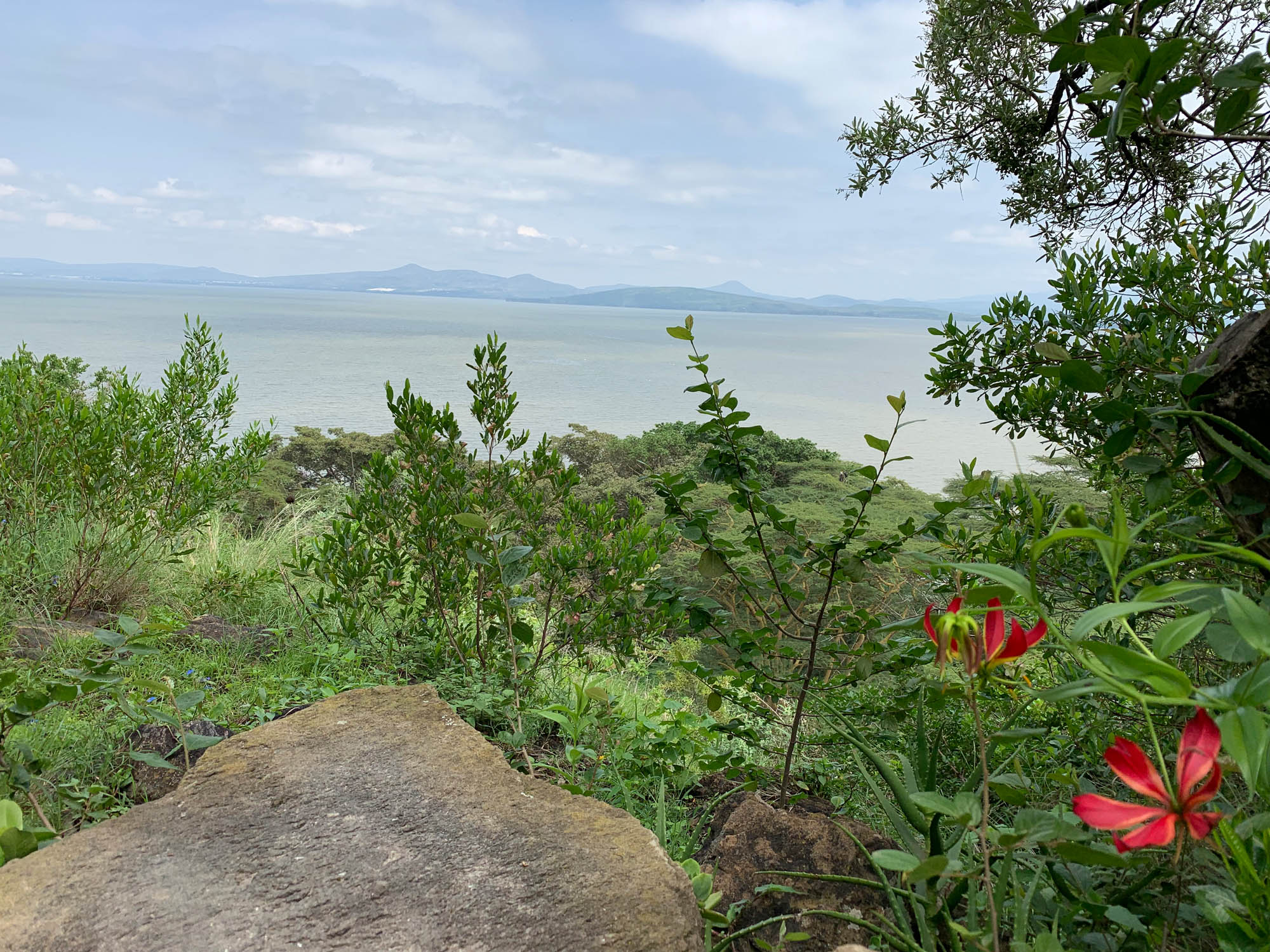 Culturally, Kenya is rich and diverse, it has excellent accommodation options in each area, great guiding and - like I said - friendly people who are genuinely interested in your well-being and happiness.  So learn a few Swahili phrases, get your E-visa online, and get ready for a fantastic experience!  Of course, if you've already been, you know most of this. But do keep on reading as there's lots of information here about some places you might not have been to yet, like the Lewa Wildlife Conservancy, or the Olare Motorogi Conservancy in the Masai Mara.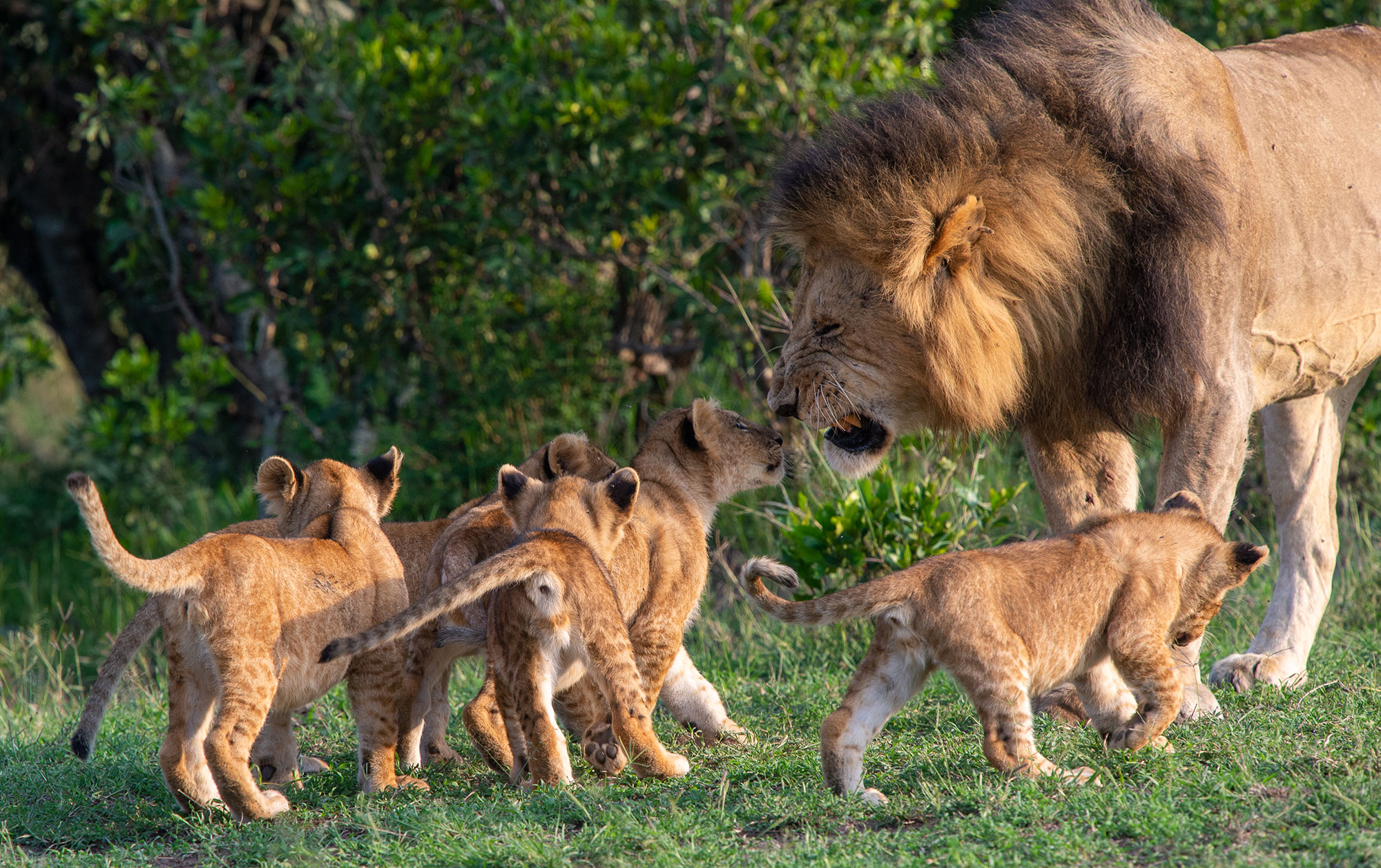 On my most recent trip, last June, I arrived at Nairobi's Jomo Kenyatta International Airport on South African Airways after an on-time, uneventful flight.  Getting a visa was a cinch - it literally took less than 10 minutes.  Then a gremlin appeared in the way of a long and disorganized, scrum-like line to get one's luggage scanned in an industrial-sized luggage scanner.  Of which there really should be more than one, clearly. To compound matters, traffic congestion caused a lengthy delay getting out of the airport and on to the road to downtown.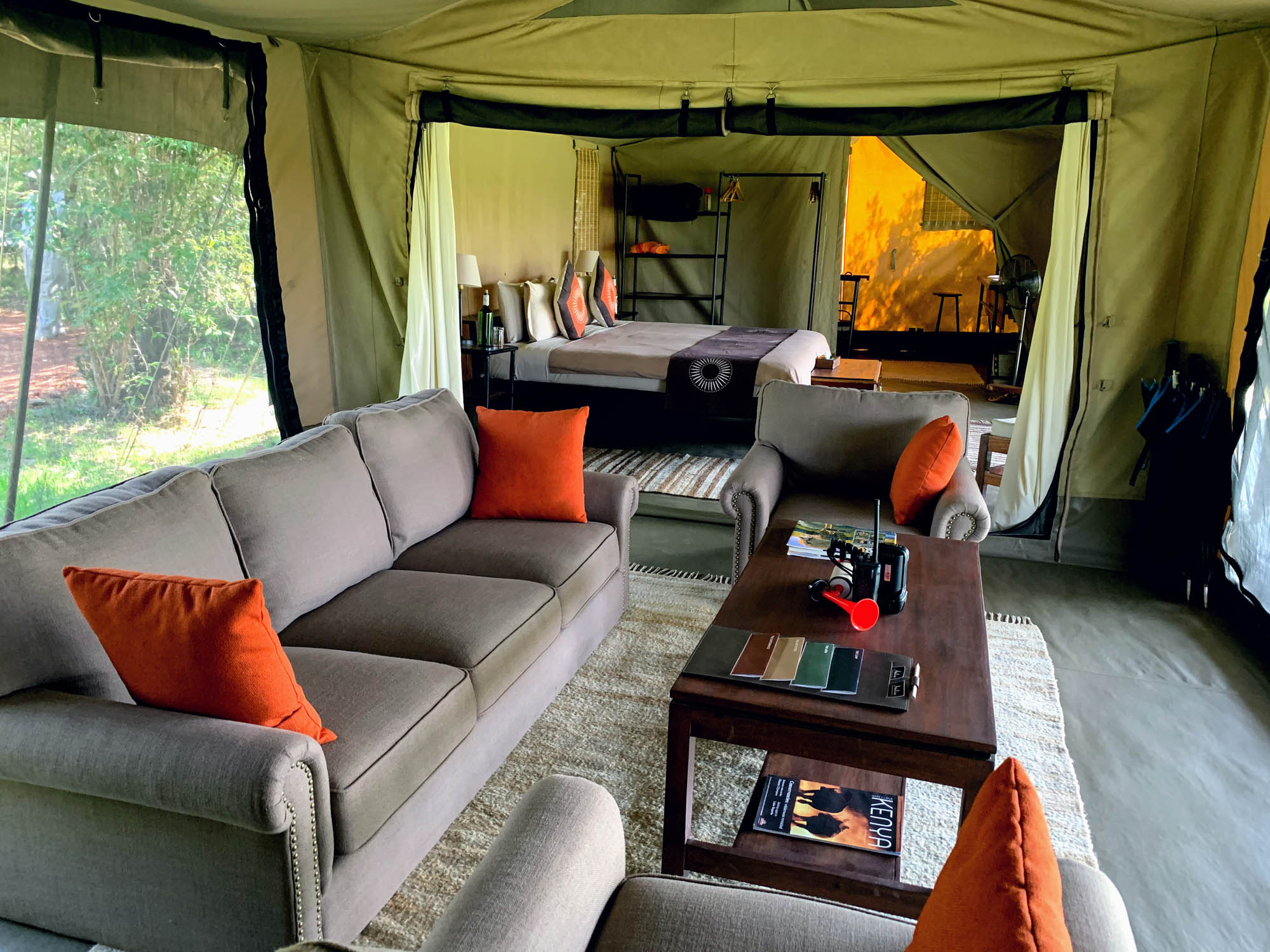 Even so, I remained in a good mood, just happy to be back in Kenya.  Here's a tip for African travel in general and specific to Nairobi and Kenya:  be prepared for a little bit of chaos mixed in with smiles from people who are genuinely pleased that you have decided to make your way there.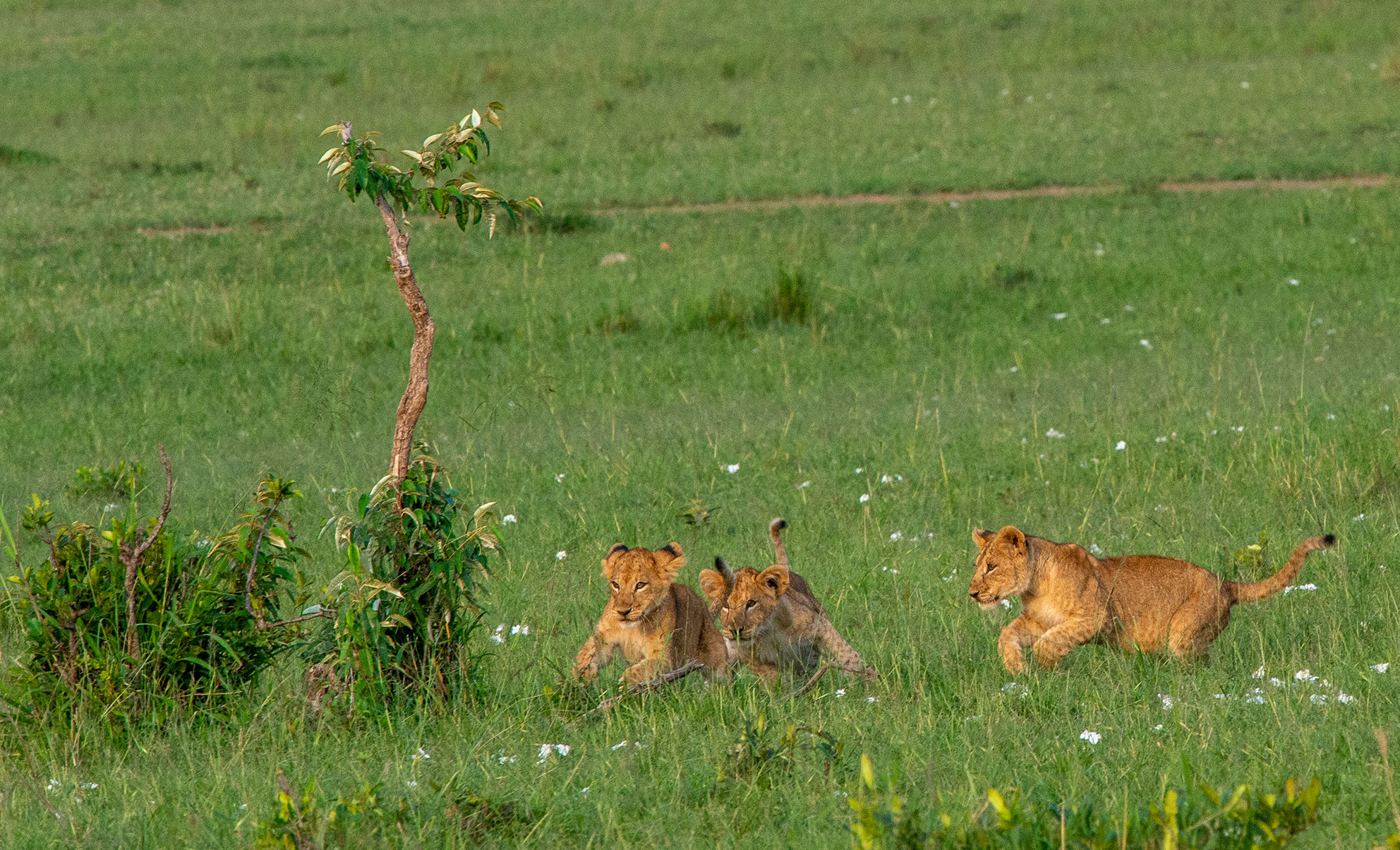 NAIROBI SERENA HOTEL
The security check on arrival at the Nairobi Serena Hotel was thorough, but not brusque.  I never felt rushed or intimidated.  A little bit of courtesy goes a long way.  Reception at the hotel was smooth and professional, as was my in-room briefing.  The room was luxuriously appointed, with the usual amenities including tea and coffee-making facilities, multi-channel TV, air conditioning, and thoughtfully designed charging facilities with a phone-ready cable for your iphone, and enough USB and universal plugs capable of accepting a US type plug without an adaptor.
I tried both the Asian fusion and traditional restaurants at the hotel for dinner and breakfast respectively, and they were both good.  Serena has a well-deserved reputation for their breakfast spread and the Nairobi Serena Hotel was no exception.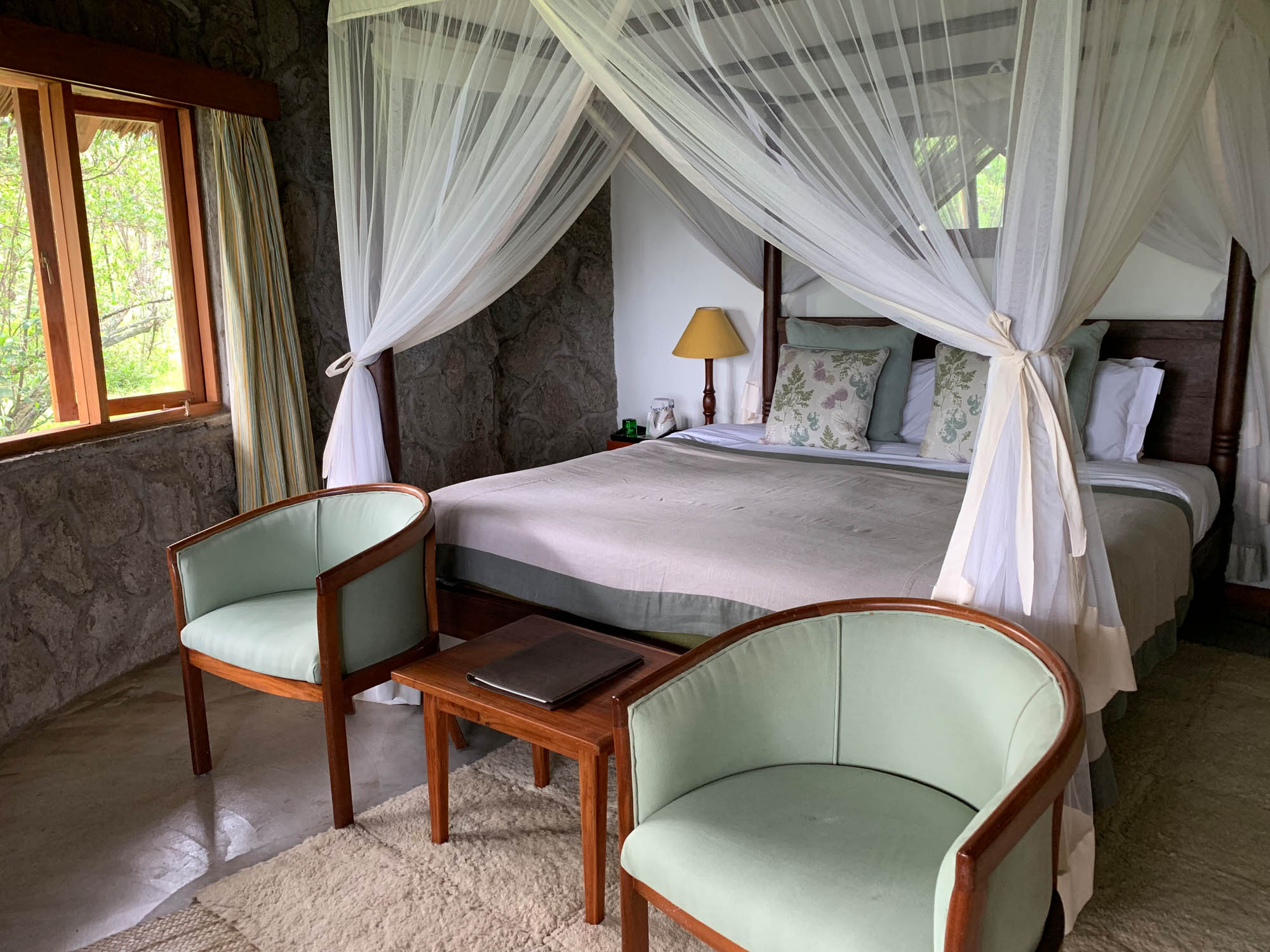 LOLDIA HOUSE, LAKE NAIVASHA
From this point on and for the duration of my trip to the Masai Mara, I was accompanied by Zachary Methu, an affable, extremely capable and hugely knowledgeable Origins Safaris guide.  What a difference a good guide makes!  It took about 3 hours by road to get to Lake Naivasha, where I would spend a couple of nights at Loldia House.  I had been looking forward to a return visit to this lovely old home which was built by Italian prisoners-of-war during WWII. Just like the last time, I spent a peaceful night in Room #1.  Being inside the main house, it is convenient, large, and has beautiful views over the garden and the lake.  The bathroom has been upgraded.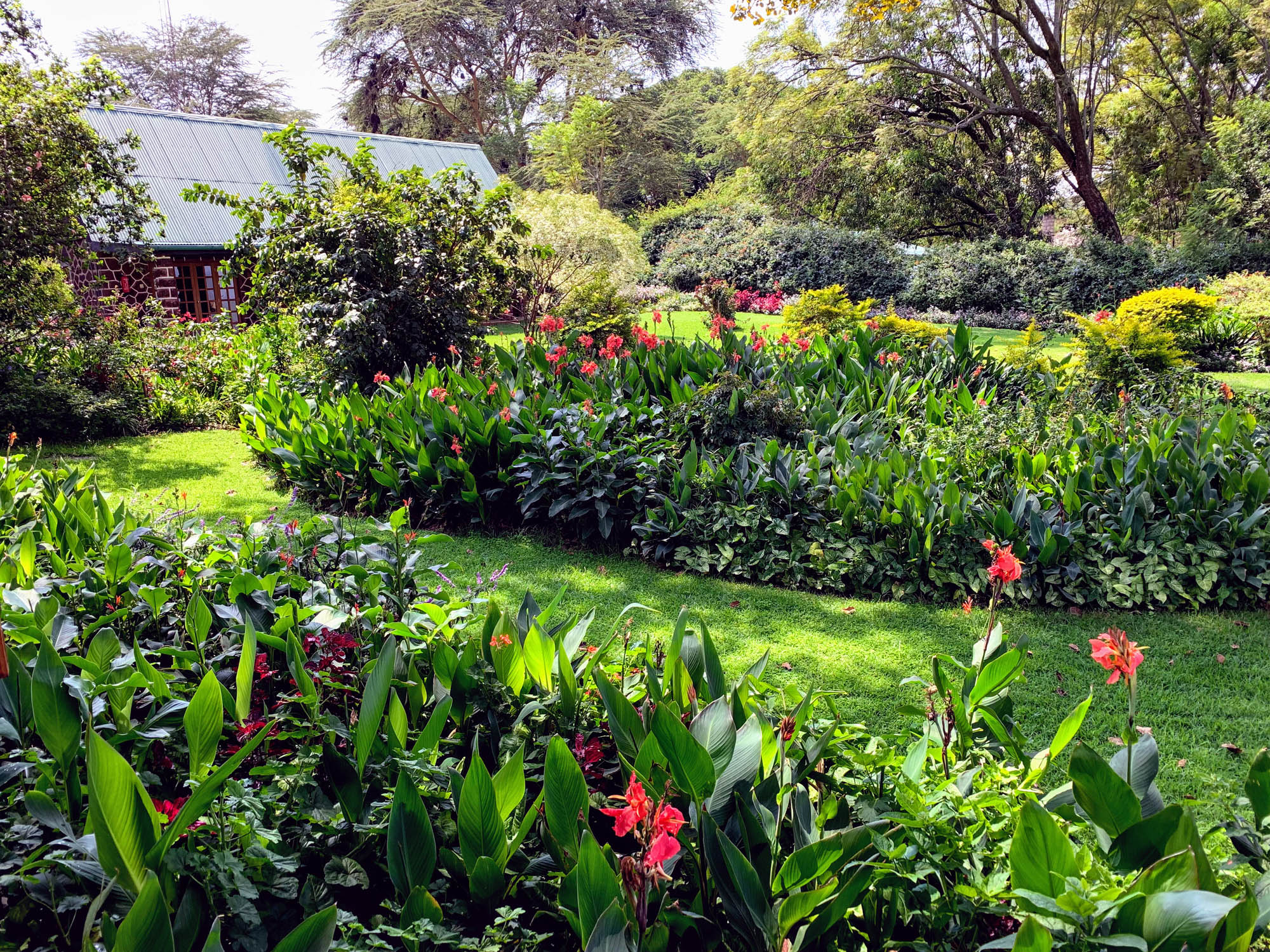 I enjoyed some bird photography and a delicious lunch, and went for a 5K run later in the afternoon in the cultivated (farm) portion of the estate.  That evening, we enjoyed a delightful dinner - table d'hote style - with 8 other guests and the manager.  The 3-course, plated meal was expertly prepared and served.  Breakfast the next morning was equally good, particularly the pancakes.
Loldia is the perfect place to spend one's first couple of nights in Kenya, prior to going on safari.  It's a great introduction to Kenya's wildlife with a good variety of game to be seen including buffalo, hippo, impala, gazelles and giraffe. On night drives hyenas, owls, and bush pigs may be seen.  
Included activities at Loldia are an afternoon game drive with sundowner drinks,  a boat cruise on Lake Naivasha early in the morning and a night game drive after dinner.  Beyond those,  Loldia offers a host of optional activities (at additional cost), such as guided trips to Lake Nakuru, Crescent Island, Hell's Gate, Crater Lake, Lake Ol Odien, Eburru Forest, Aberdare National Park, Lake Elementaita, and Lake Bogoria.   There's also golf available at the nearby Great Rift Valley Lodge, horse-riding and a tour of the nearby rose farm.
Room 1 at Loldia is in the main house; rooms 2, 3 and 4 (all upgraded) are in the garden.  Room 6 and 7 (thatched roofs) are also in the garden.  Room 8 and 9 are in the Top Cottage and room 10 is in the Top Cottage loft and has a separate/outside bathroom.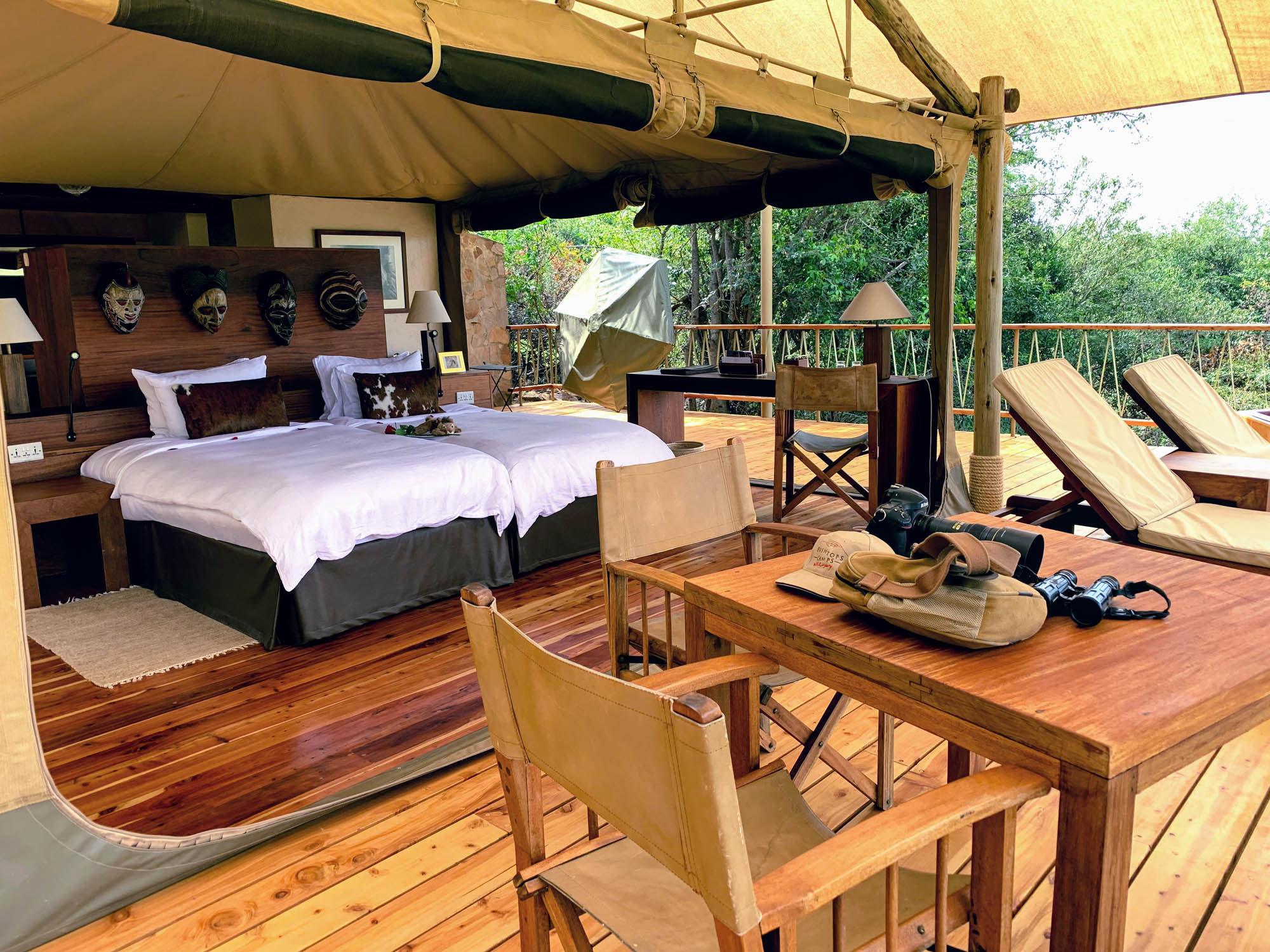 MARA BUSHTOPS, MASAI MARA
Fom Naivasha it was a solid 5 hour 30 minutes drive to Mara Bushtops, situated in a game-rich conservancy just to the north of the Masai Mara National Park.  The impressive tented rooms are solidly in the deluxe category with beautiful wrap around views over the surrounding bush.  There was an indoor and outdoor shower, Wi-Fi and an outdoor jacuzzi which can be filled in advance.  The room has a buzzer to summon your personal butler.  The room lighting wasn't quite up to my 'bright, clear, and easy to operate' expectations.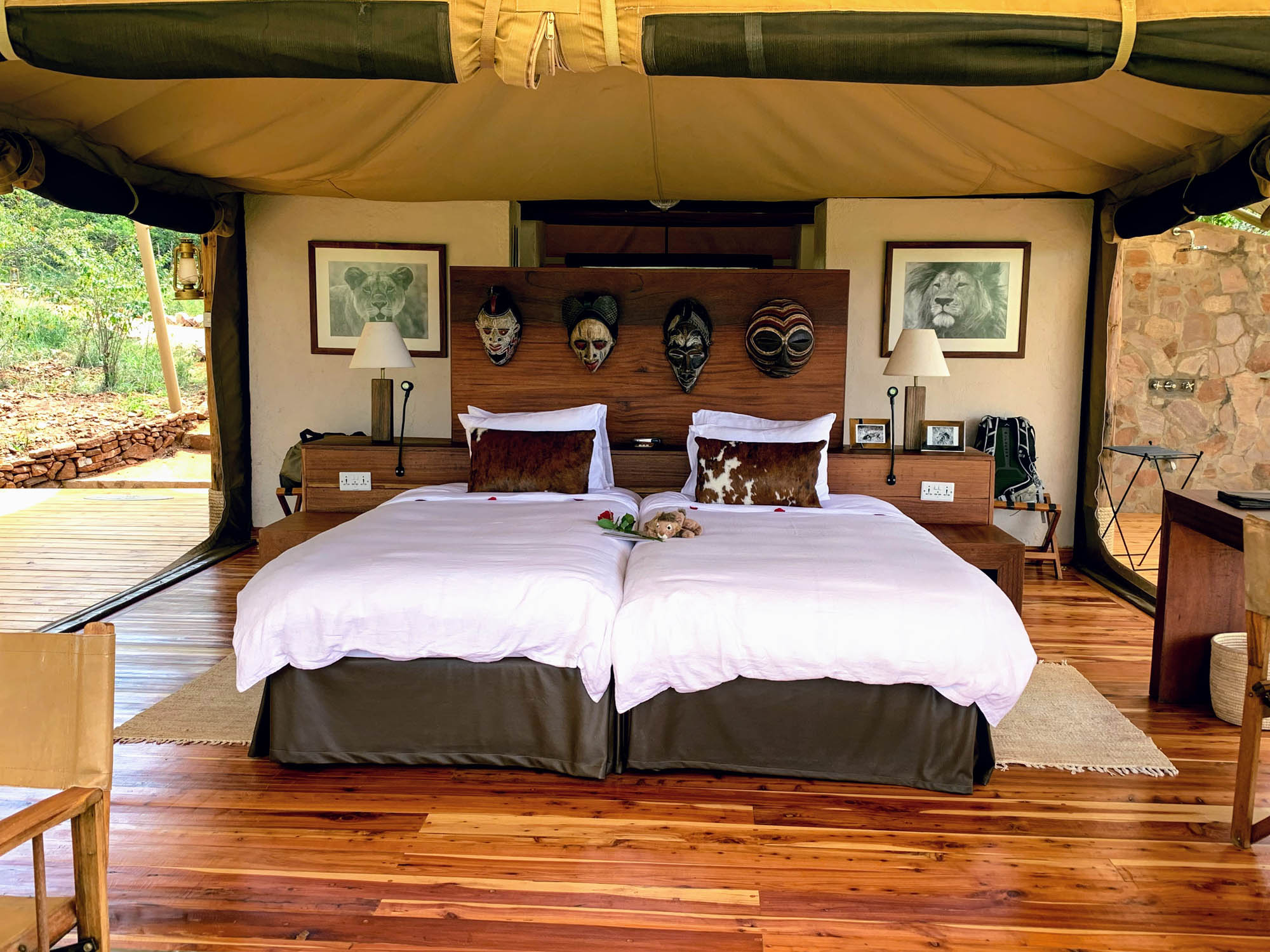 A two-hour afternoon game drive on the Isaaten Conservancy illustrated once again why Kenya is such a good choice for a first - or any - safari.  Without too much driving at all we notched up good views of elephants (lots of them!), giraffes all over the place, many zebras, scattered groups of wildebeest, impala, Thompson's gazelle, topi, eland, Kirk's dik-dik, vervet monkeys, warthogs and bat-eared foxes. Guests who spend three nights or more at Mara Bushtops will usually spend a half or full day inside the Masai Mara National Park; the lodge is only about 30 minutes from the Sekenani gate.  Dinner was first class in every way in what was essentially a full-blown restaurant with multiple starters, main courses and dessert options. No set hours:  you dine when you want to.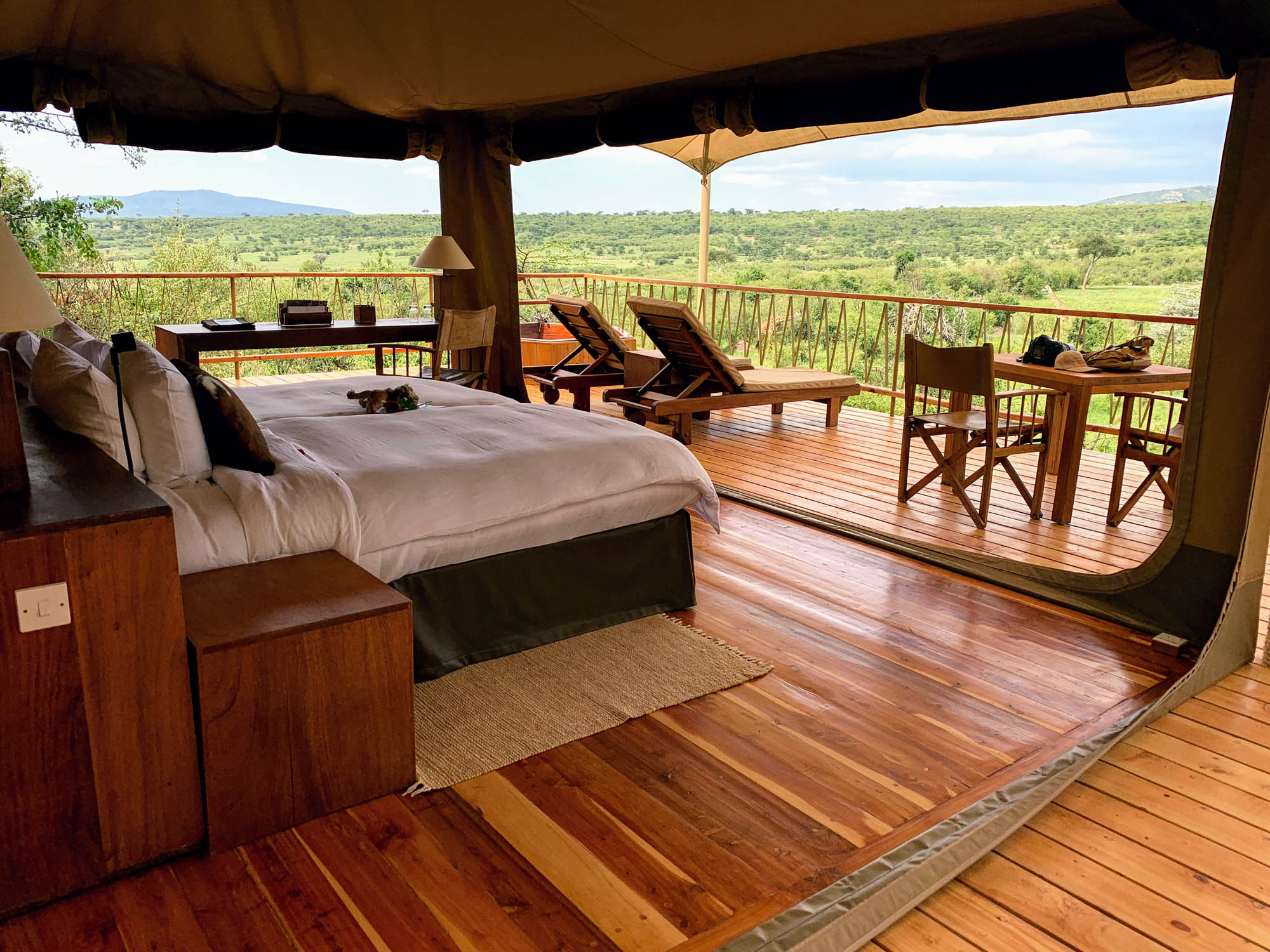 Exercise note:  Mara Bushtops caters for health enthusiasts more than most other camps.  They have a large pool with adjacent heated jacuzzi, a sauna, a small gym with weights and a treadmill.  The Amani Spa at Mara Bushtops has a wide range of beauty treatments and massage and rejuvenation treatment options, several of which cater for couples.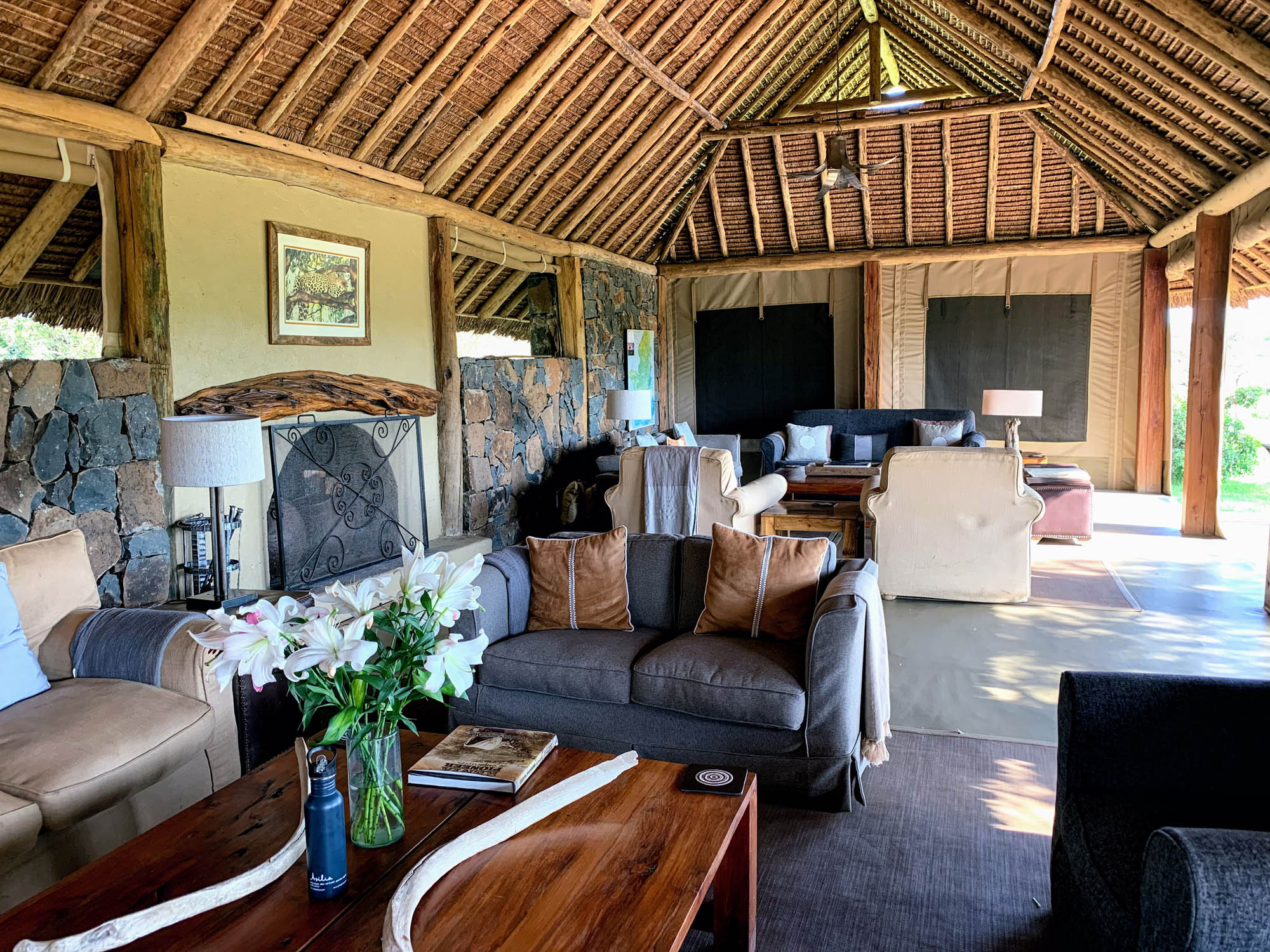 ASILIA NABOISHO CAMP, NABOISHO CONSERVANCY
It was a relatively short drive today to the Naboisho Conservancy where I spent the night at Asilia's Naboisho camp.  Naboisho is a well organized camp with friendly and attentive management and staff, superior guiding by Dickson Kaleku, and abundant wildlife.  I also did a site inspection at nearby Mara Encounter and liked what I saw, particularly the adventurous walk through a small, dense forest on the way into camp.   I can recommend both of these camps and the Naboisho area without any reservation.  The game viewing was as good as I've experienced anywhere - ever - with huge numbers of wildebeest around.  It  felt like the migration season, even though we knew it was not.  We saw many lions and enjoyed an exceptionally good cheetah sighting with three sub-adult cubs.  Plus elephants, eland, topi, gazelles, impala, zebra, giraffe and more.
Exercise note:   Not an ideal spot for exercise, but you can go on an extended walk of a few hours duration with an armed professional guide.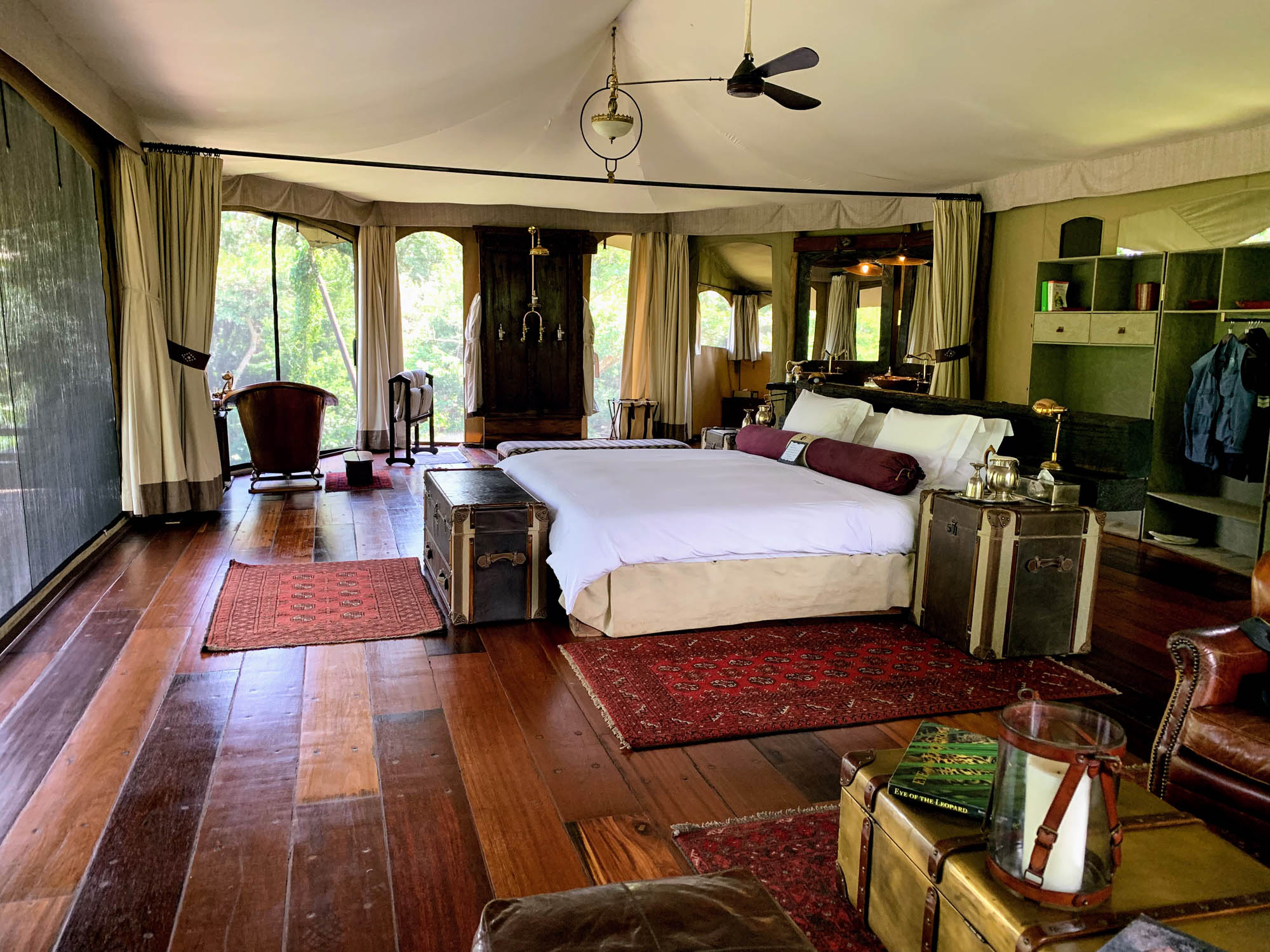 MARA PLAINS CAMP, OLARE MOTOROGI CONSERVANCY
The next day, it was on to Mara Plains Camp in the Olare Motorogi Conservancy.  This conservancy is a model of how local landowners and conservation-minded safari operators can work together for a greater goal, being the preservation of Kenya's wildlife heritage for generations to come.  In this huge area -  which otherwise would have been dotted with homesteads and overrun with cattle, sheep and goats -  wildlife is thriving and the local communities benefit with employment and cash income.  Mara Plains Camp is a Relais & Chateaux property and it shows on many levels from the impeccable quality of the food and beverage offerings to the attentive and competent management and staff.  I was wowed from beginning to end.  The massive rooms are dramatically set on the edge of a seasonal creek.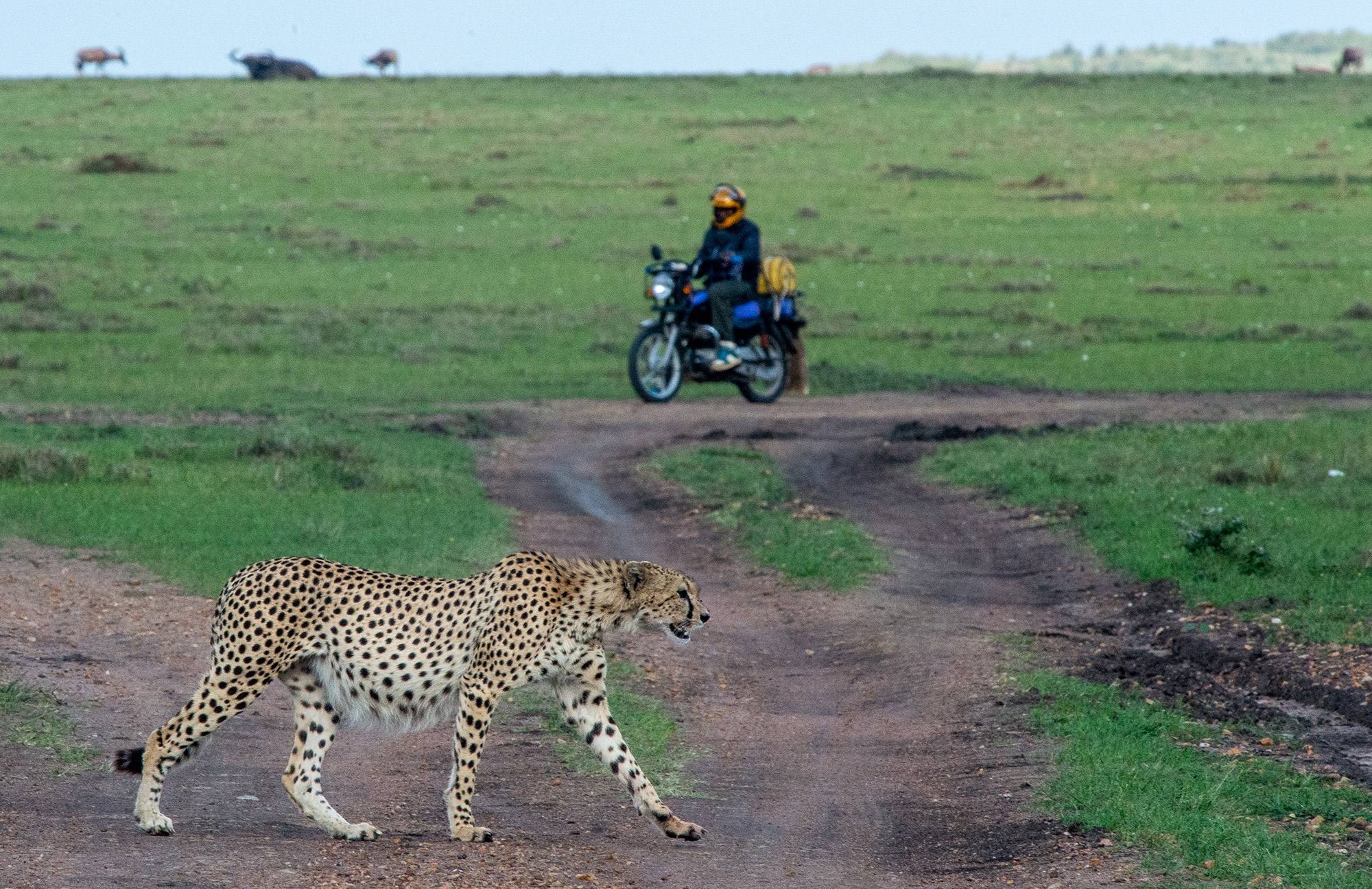 For the few days that you may spend at Mara Plains you will be in a cocoon of unadulterated luxury.  While guests no doubt appreciate the luxury touches and the property's high level of sophistication, the lasting impression is of a team of people with a clearly defined mission to be a force for good in both conservation and community.  The wildlife experience at Mara Plains on this trip was just as good as it was on a previous visit to the area, a few years ago.  At that time I recall seeing as many as seven different mammal species all at the same time.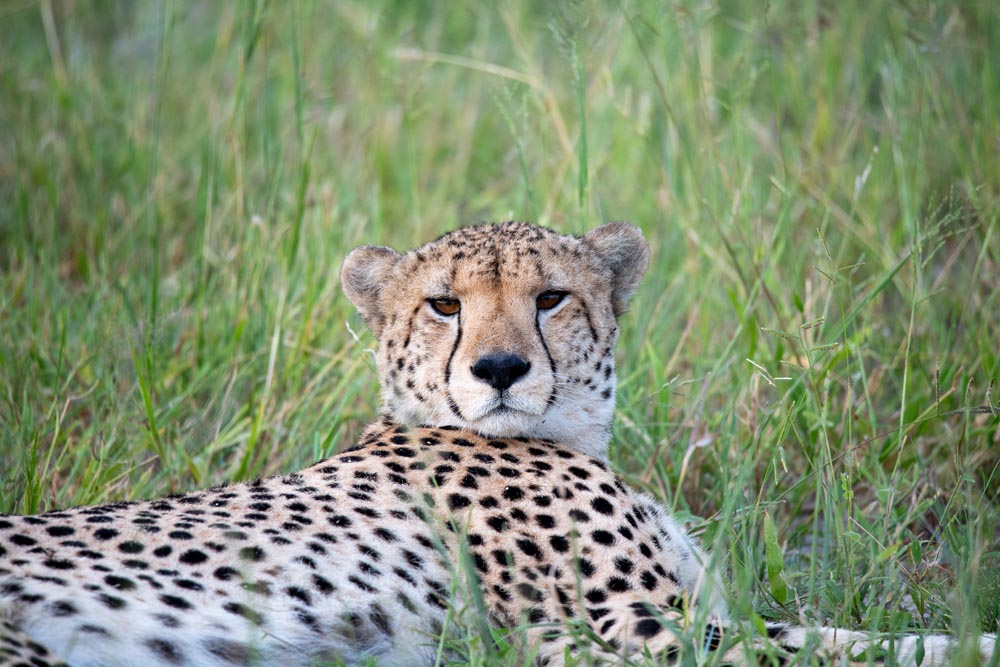 It would not be unreasonable to expect to see three big cat species - leopard, lion and cheetah - on a 3 night stay at Mara Plains; in fact we saw all three on one game drive, on this trip!  Most memorably, I photographed a cheetah crossing a small road within the conservancy, while a local resident on a motorbike (here known as a boda-boda) paused for a few minutes, to give the cheetah the space to do so without pressure.  Only in Kenya!  We also saw various prides of lions, some with cubs of varying ages, and a host of other mammals and birds.  My Mara Plains hosts Rich and Lorna - as well as Kyra - went out of their way to make me feel at home.
Exercise note:  Clearly not a good place to go jogging, but each room has a yoga mat and a  jump rope.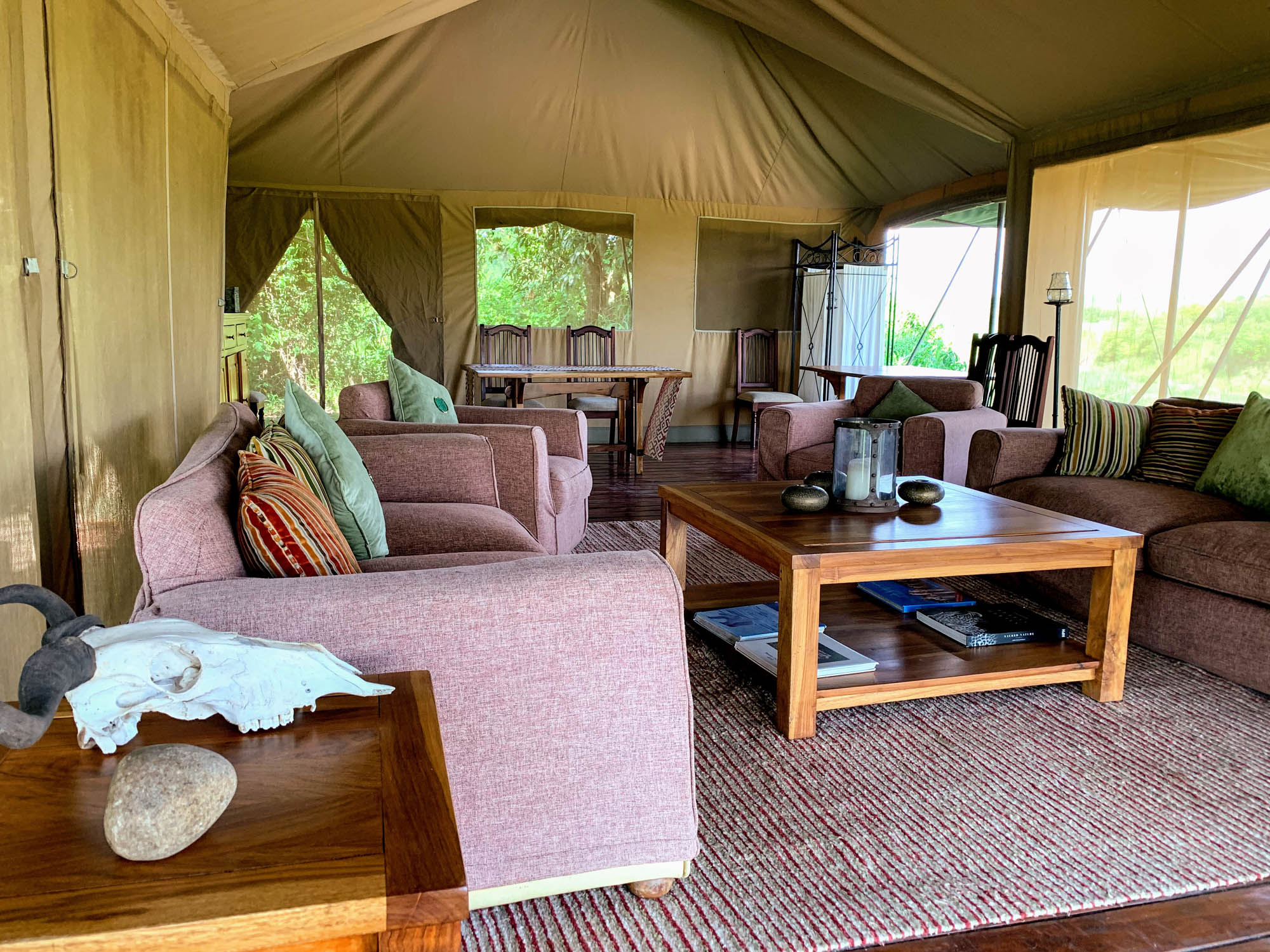 ASILIA REKERO CAMP, MASAI MARA
My next stop was Rekero - another Asilia property - located in an ideal spot on the Talek River with a great view down-river, inside the Masai Mara National Park. The huge deck is a perfect place to discover the coming and going of numerous birds including the rather stunning blue fly catcher which I tried to photograph with some success.  Rekero is so well hidden in the thick riverine forest along the Talek River that it remains completely hidden until you walk into camp, from the parking area.  There are nine tented rooms, two of which are family rooms; the tents are quite spacious with a separate en suite bathroom with plenty of hot water, a separate vestibuli with a day-bed and adequate lighting.  I slept soundly by the sound of water rushing over the rocks in the Talek River.  The food at Rekero was excellent and we enjoyed a wonderful dinner with a mix of South Africans, Texans and Kenyans and a couple from San Francisco.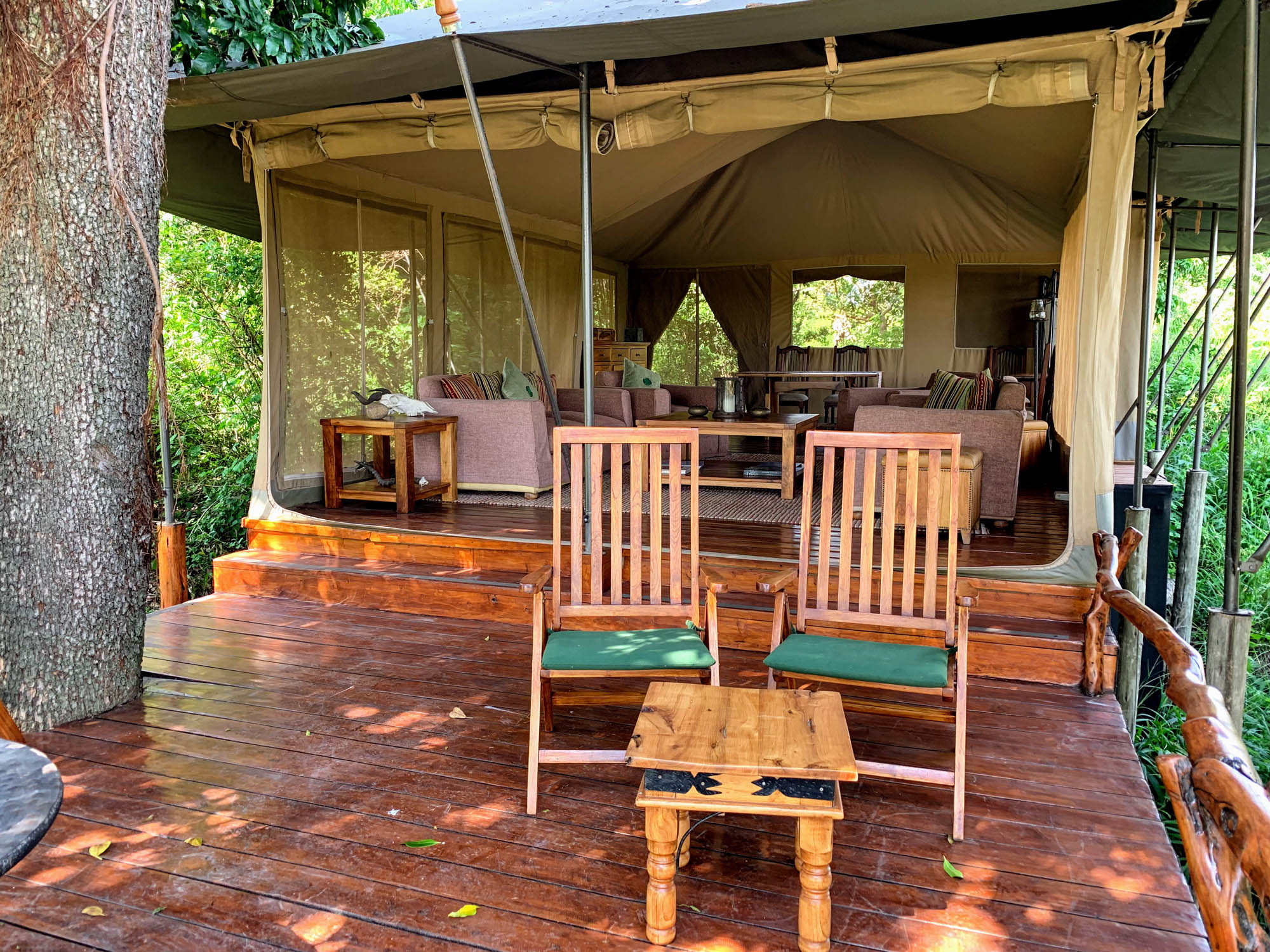 We enjoyed yet another superb day of game-viewing in the Masai Mara spotting a leopard with an impala kill in a tree, four different groups of lions, two prides with cubs (from literally 1.5 weeks to several months old) some handsome full-maned male lions, powerful females, sub adults and more.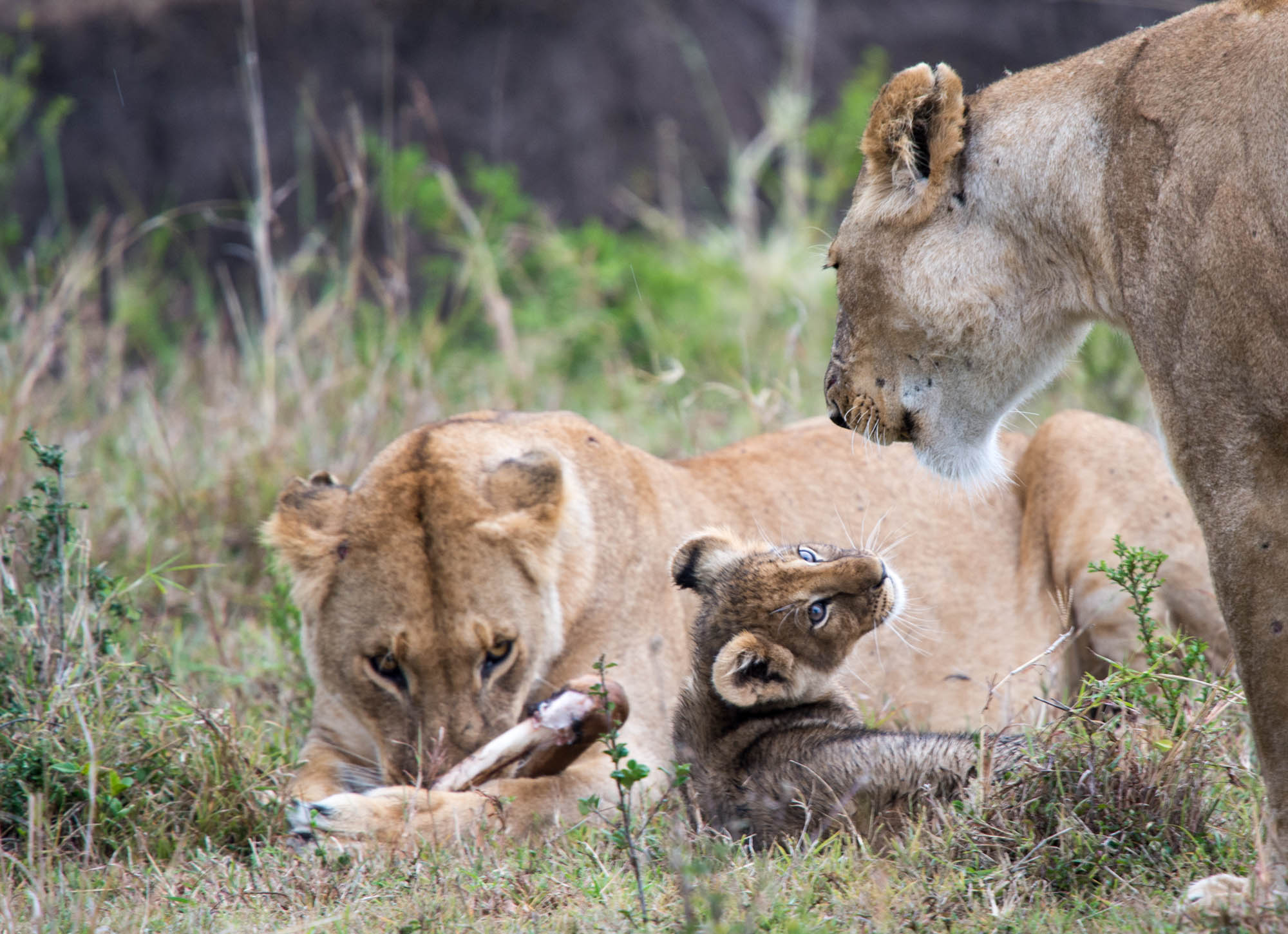 INTREPIDS CAMP, MASAI MARA
Intrepids camp, my accommodation for the following day, is quite large with 32 tents but with the rooms strategically spread out along the edge of the Talek River in thick vegetation, the camp does not have a 'crowded' feel.
The rooms are quite smart and nicely equipped with decent lighting, mosquito nets, a separate shower and toilet with door, a deluxe wash basin and ample mirrors. There is Wi-Fi everywhere in the camp. Each room has a small desk and ample storage and clothes hanging space. The bathroom area and particularly the shower of my room number 14 was starting to look a bit tired and is definitely in need of refurbishment.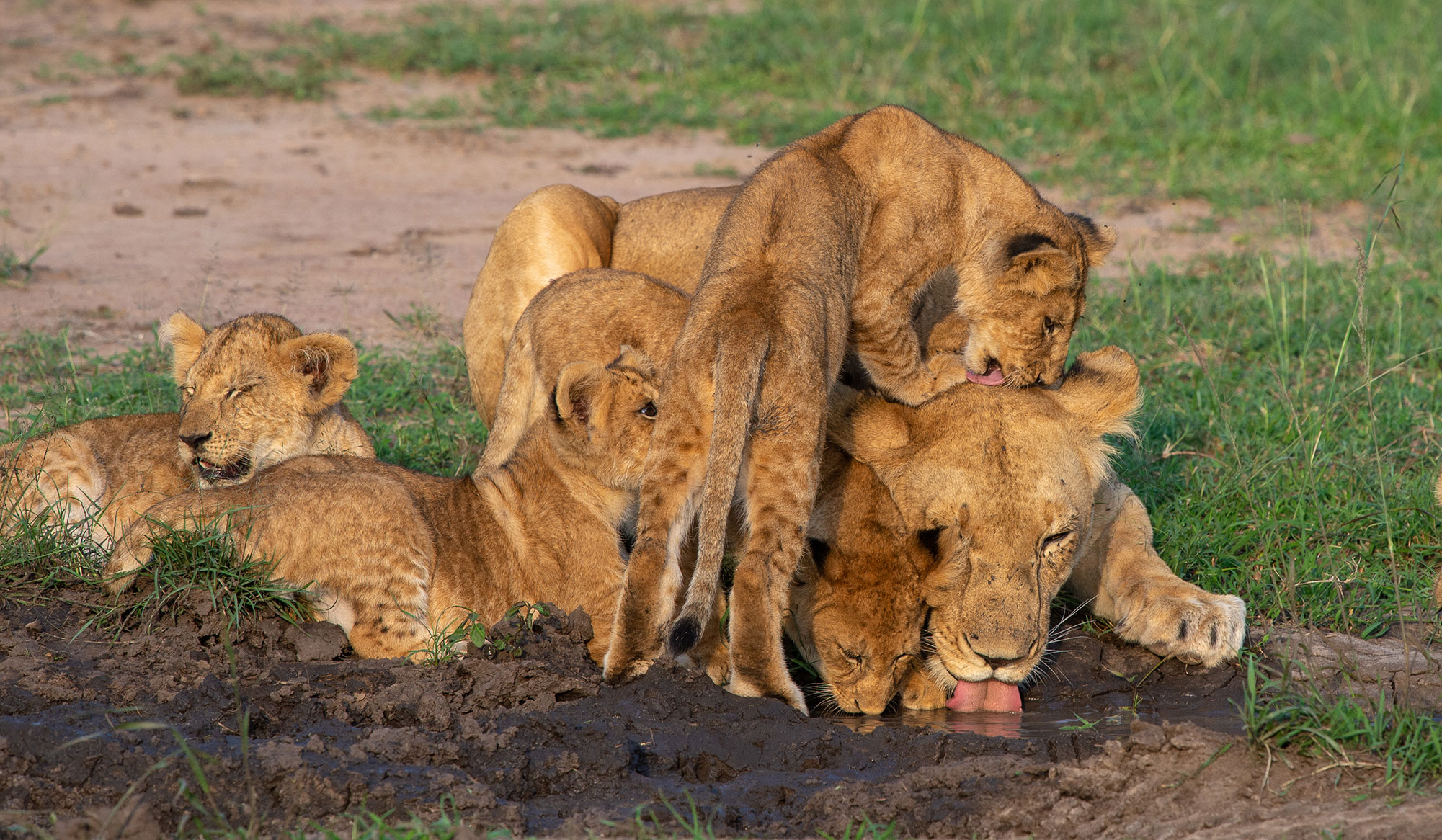 Hot water - provided by wood burning boilers - is available from 5 to 9 a.m. and 5 to 9 p.m. Lunch was served buffet-style with multiple choices and options including a wide variety of vegetarian items.  For dinner meals are plated with a substantial number of options for starters, main course and even for dessert.
What makes Intrepids a good choice though is the location.  It is ideally located in the heart of the Masai Mara right where the action is during the migration season.  From here your guide can take you towards the Musiara area if needs be, or to the main or Serena crossing over the Mara River, or even further afield to the southern section of the Mara in search of whatever is out there, including of course potential wildebeest crossings.
Exercise note:  Mara Intrepids has an extensive trail/walkway winding through the camp and past the vehicle maintenance area, so this is a property where you can plan on getting a few miles under the belt.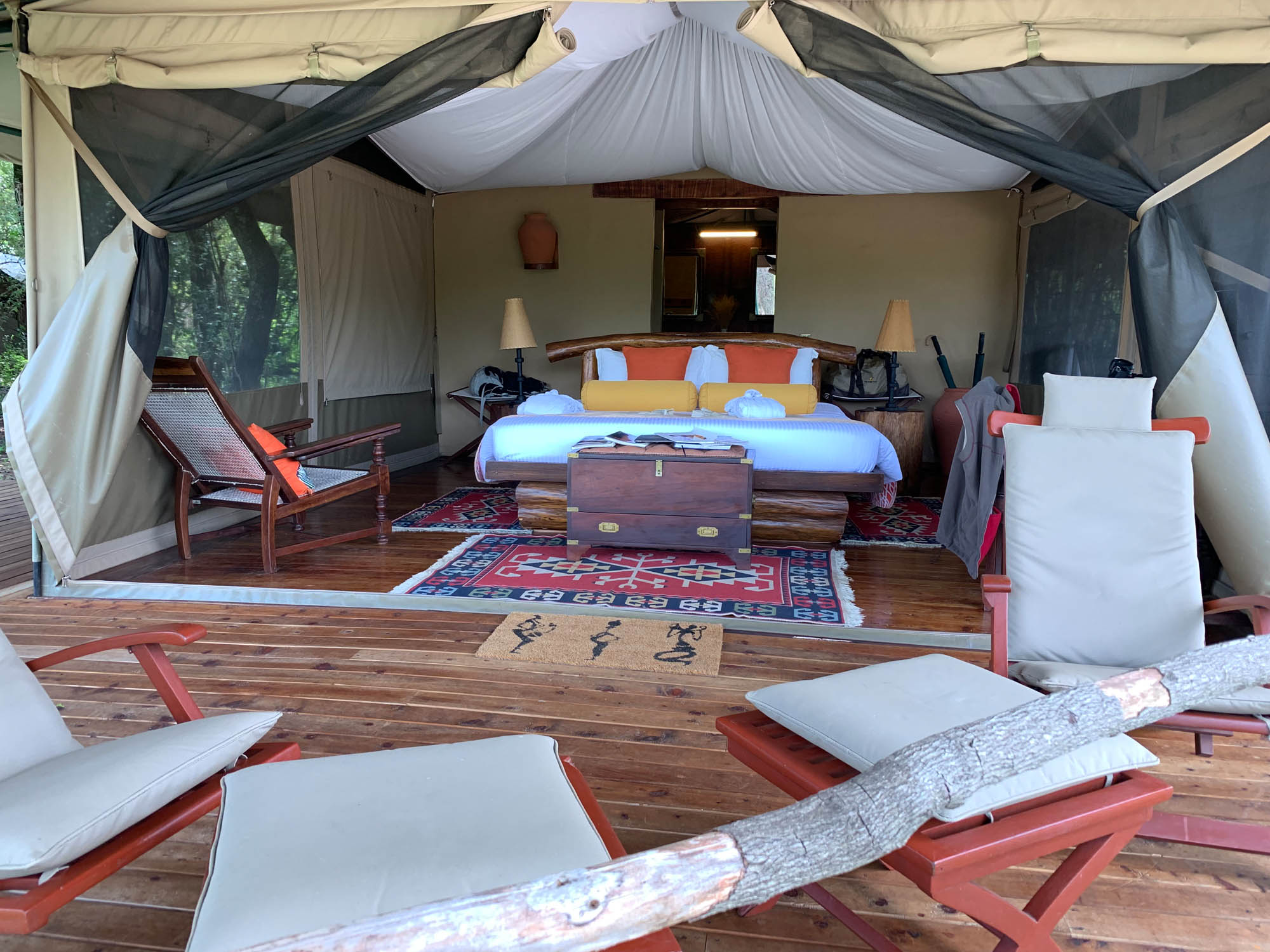 MARA EXPLORER CAMP, MASAI MARA
The next day my journey would take me on to Mara Explorer camp, Intrepids' smaller and more luxurious sister tented camp. Mara Explorer has just 10 quite elegant tented rooms, most with good views over the Talek River which was flowing quite strongly on the day.  The rooms are spacious with a separate indoor shower (shower head needed replacement), a  toilet with a door and an outside bath with a view.  Hot water available from 5 - 9 a.m. and from 5 - 9 p.m.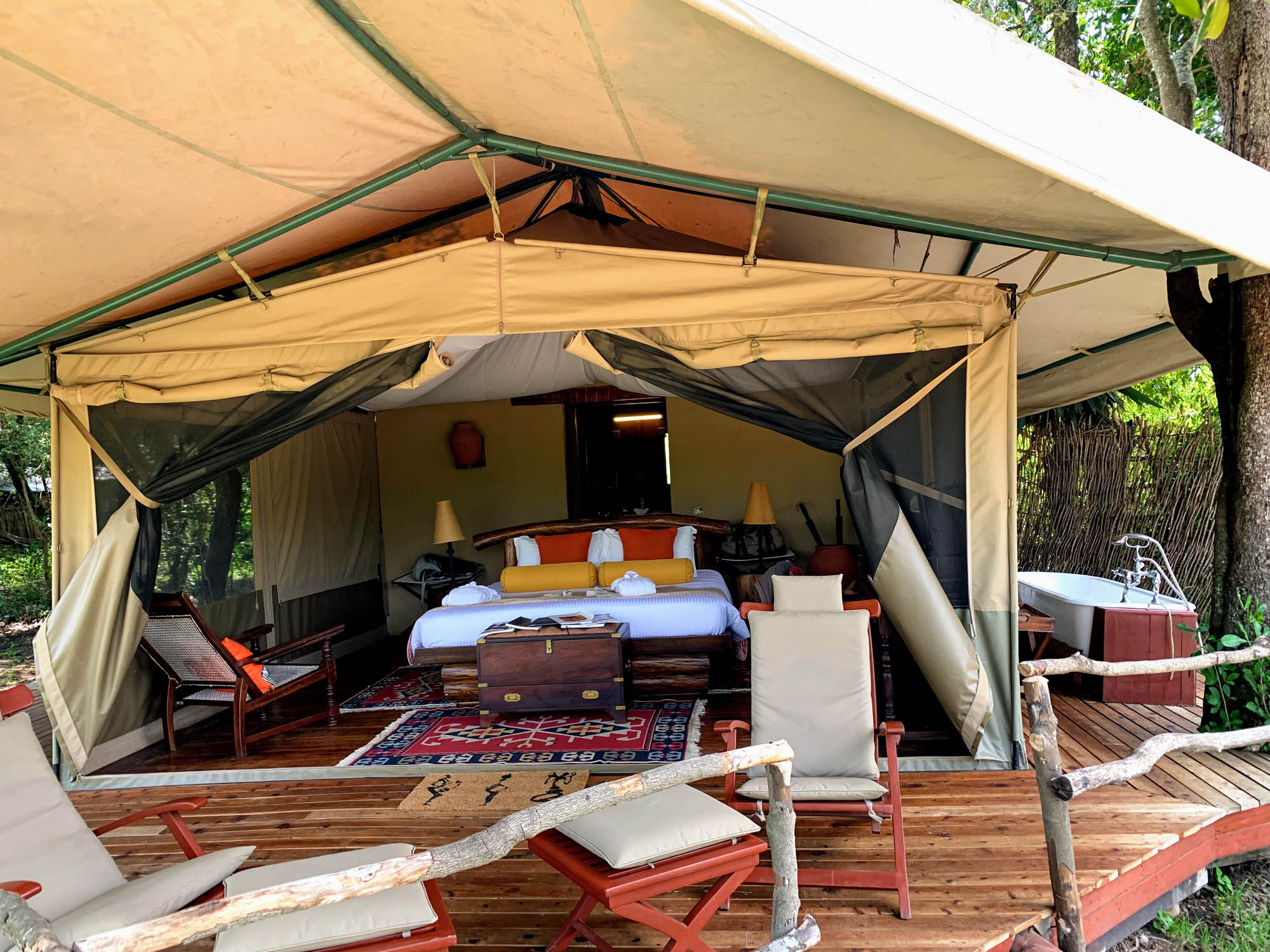 The rooms are on the edge of the Talek River and some of them, like mine (#4), are very close to a sizable number of hippos hanging out in a hippo pool in a bend of the river.  So if you really like hippos and don't mind them waking you up at around 5 a.m. when they go back in the water then this is just the room for you.  Our game drive today produced a sighting of an acclaimed coalition of four cheetahs, as well as some good views of lions and buffaloes.  The day was rounded off nicely with a surprise bush dinner.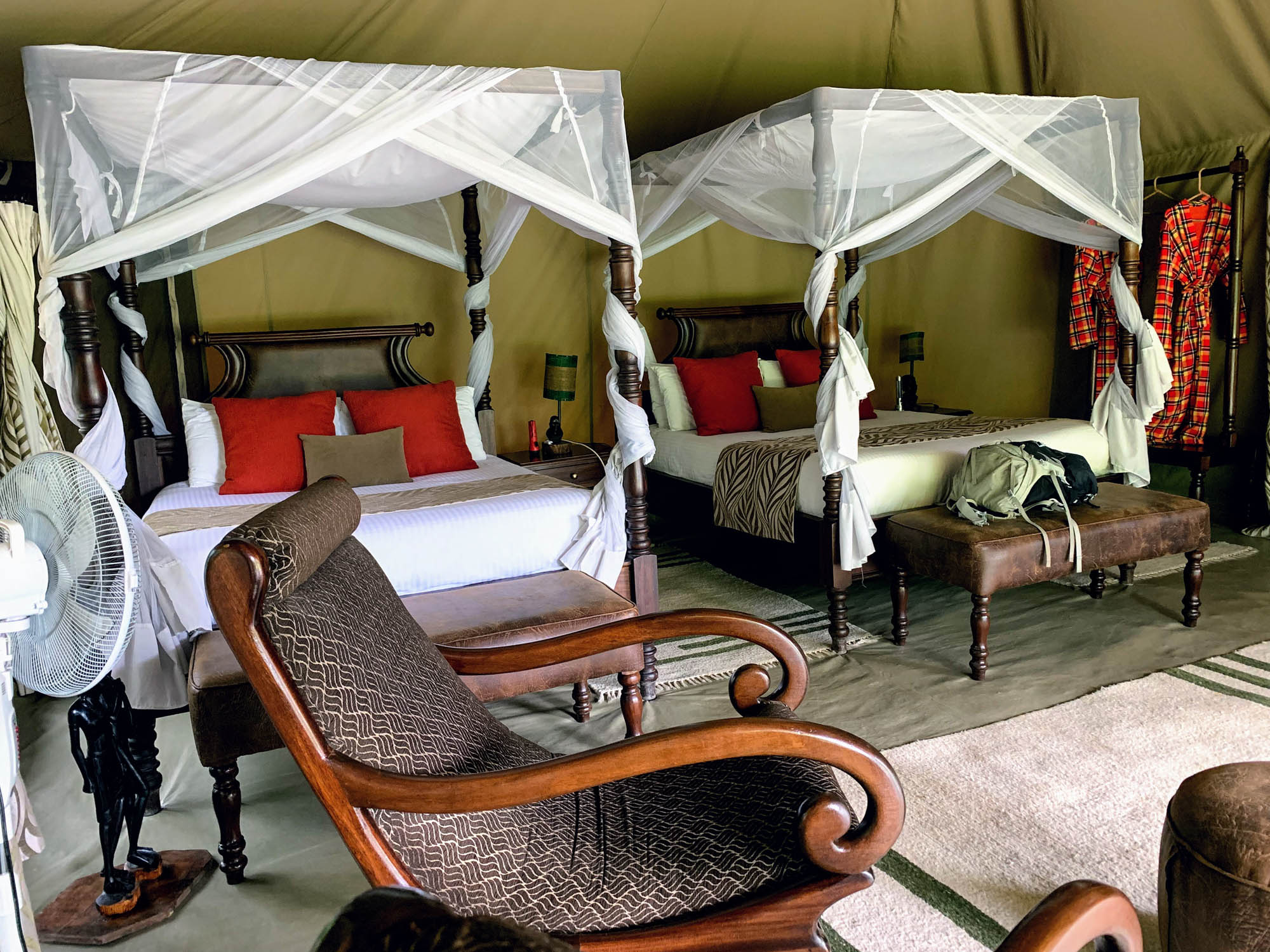 MARA NGENCHE CAMP, MASAI MARA
It was a shortish drive this day to Mara Ngenche, sister camp to Samburu's Elephant Bedroom camp.  The property is located in a prime spot at the confluence of the Talek and Mara Rivers with the rooms having views over either of the river beds.  My room was large with a comfortable king bed, decent lighting, indoor shower and bath and outside shower.  It also had a private plunge pool, lounge chairs and hammock.  The staff was friendly and attentive and obliged with a special local meal with items such as ugali and sukuma wiki.
The dining room, lounge and bar tents were likewise quite well done; food was superb and varied with several choices of starters, mains and desserts.  Game drives in the area were productive and we had a good morning with several sightings of leopards, among others.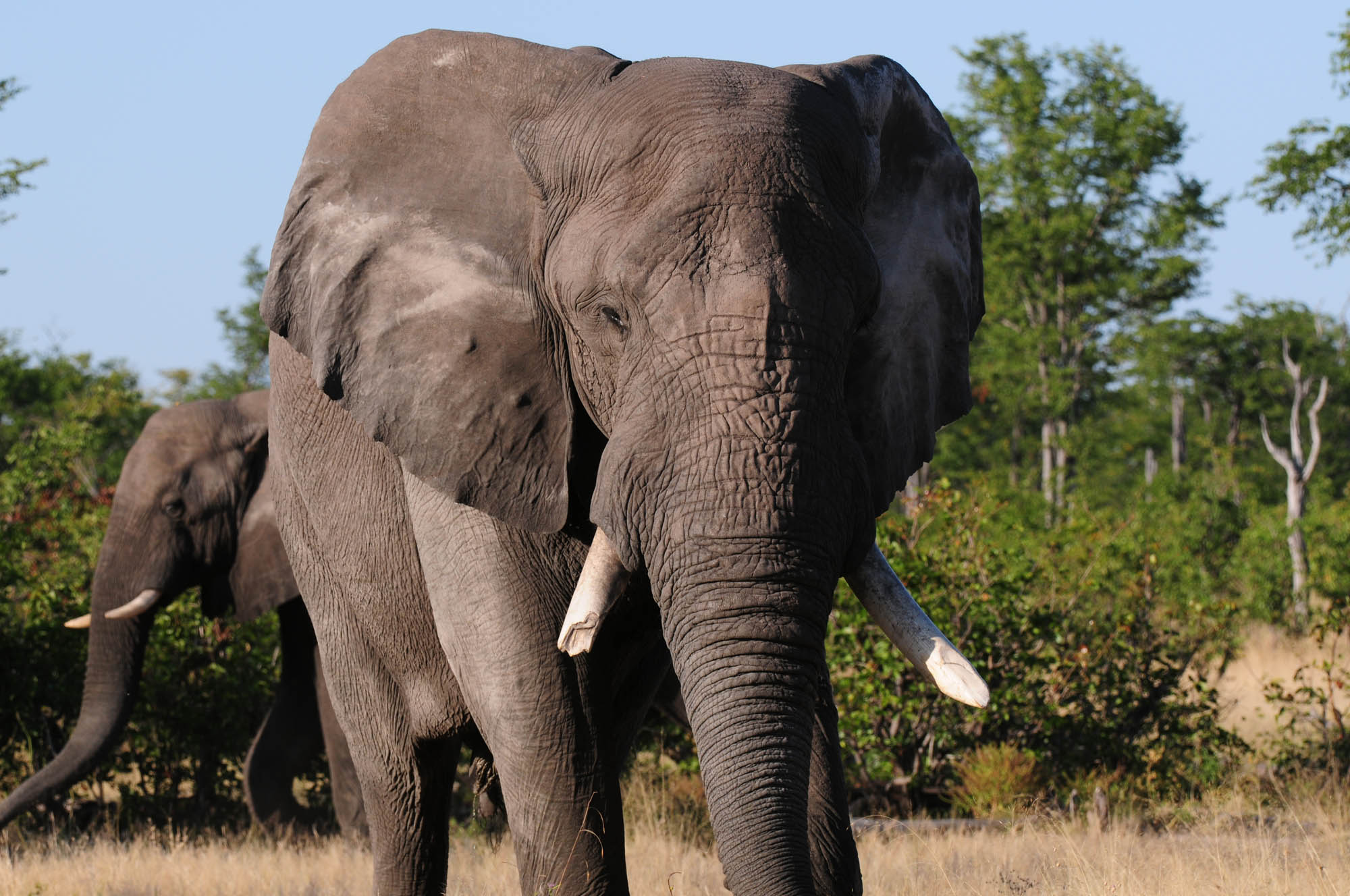 ELEPHANT PEPPER CAMP, MARA NORTH CONSERVANCY
It was a slightly longer drive today, leaving the Masai Mara National Park at Musiara gate into Mara North Conservancy.  I was initially somewhat put off by the presence of a large village not far from the gate, with several herds of cattle around.  However, by the time we got to our next stop, Elephant Pepper Camp, everything had changed.  It turned out to be a lovely and clearly well-run camp with energetic and friendly management, who made me feel welcome right away.  I liked everything I saw about Elephant Pepper from the camp layout, the nice rooms with good lighting, to the fun meal-times.  We arrived in the middle of a leopard sighting and that pretty much set the tone for the remainder of my stay.  It turned out that the game viewing at Elephant Pepper - particularly for the big cats - was terrific.  Zachary and I had some of the best views of the entire trip of cheetahs and lions on what was to be our last proper game drive in the Mara. A short spell of rain did nothing to dampen our spirits - in fact it set up an opportunity to get a photo of a wet lion shaking its mane.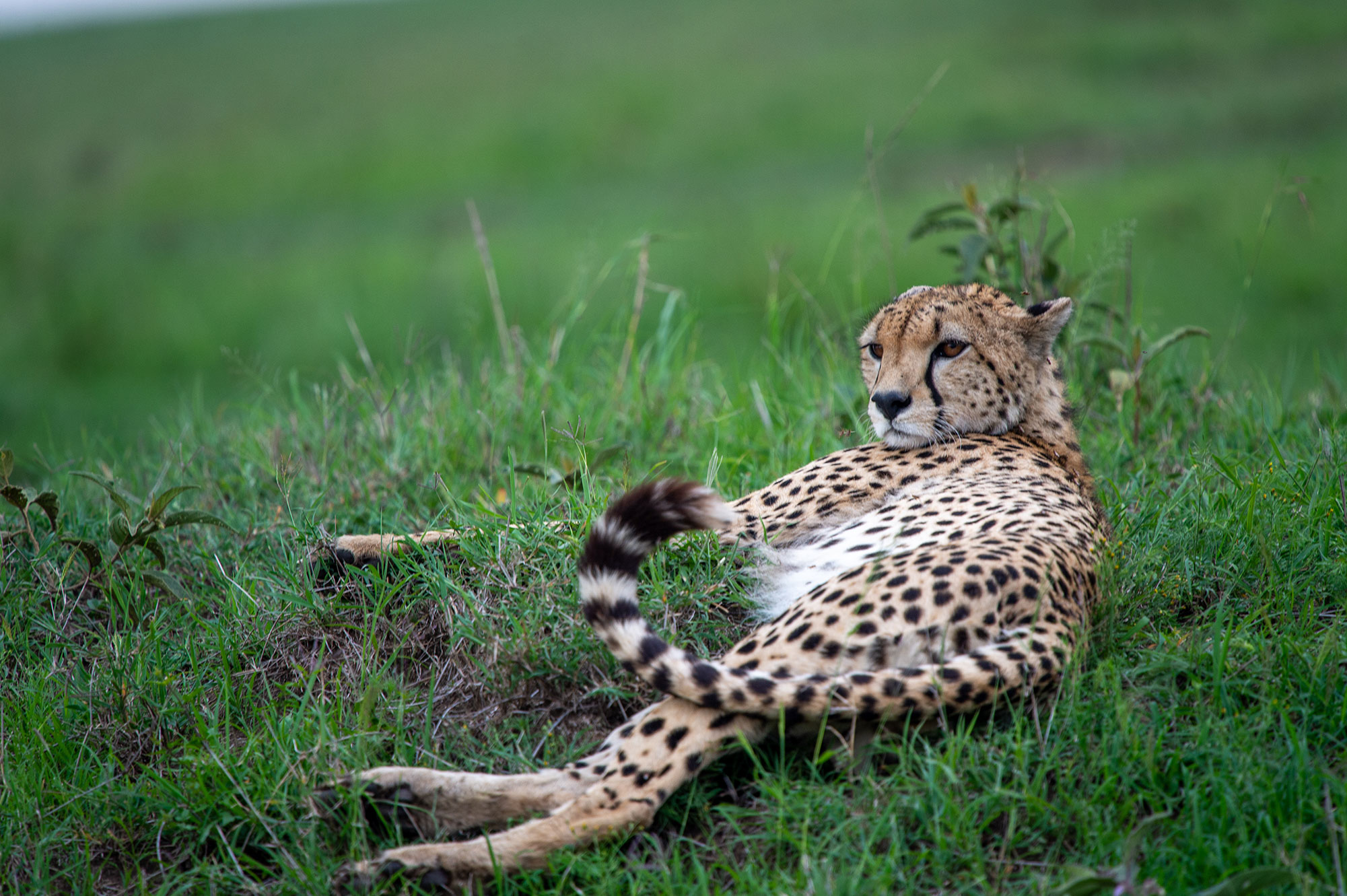 KAREN BLIXEN COTTAGES - NAIROBI
It took just over 5 hours to drive back from Elephant Pepper to the suburb of Karen on the west side of Nairobi. We encountered heavy traffic in spots with lots of 16-wheeler trucks, the road being the main artery from the port of Mombasa to the East African interior.  I was happy to have someone as experienced and patient as Zachary behind the steering wheel.  This evening, I spent the night at Karen Blixen Coffee Garden & Cottages.  Located in one of the oldest formal gardens in Kenya (with lots of great birds around), the hotel is convenient to the Karen Blixen Museum, Wilson Airport, Sheldrick elephant orphanage and Nairobi National Park.  In contrast to the historic main building, the individual cottage suites are quite modern and spacious with high-beam ceilings, fireplaces, verandahs, a bath, shower, and TV.  I enjoyed lunch and dinner at the adjacent Tamarind restaurant and could not fault the excellent ostrich burger and grilled tuna fillet, or the swift and friendly service.  I  took a cab to the nearby Karen Mall for some shopping at the Kikoy store and the well-stocked aisles of Carrefour grocery store (candy stop!).  The next morning I would be on my way to Lewa in the northern part of Kenya.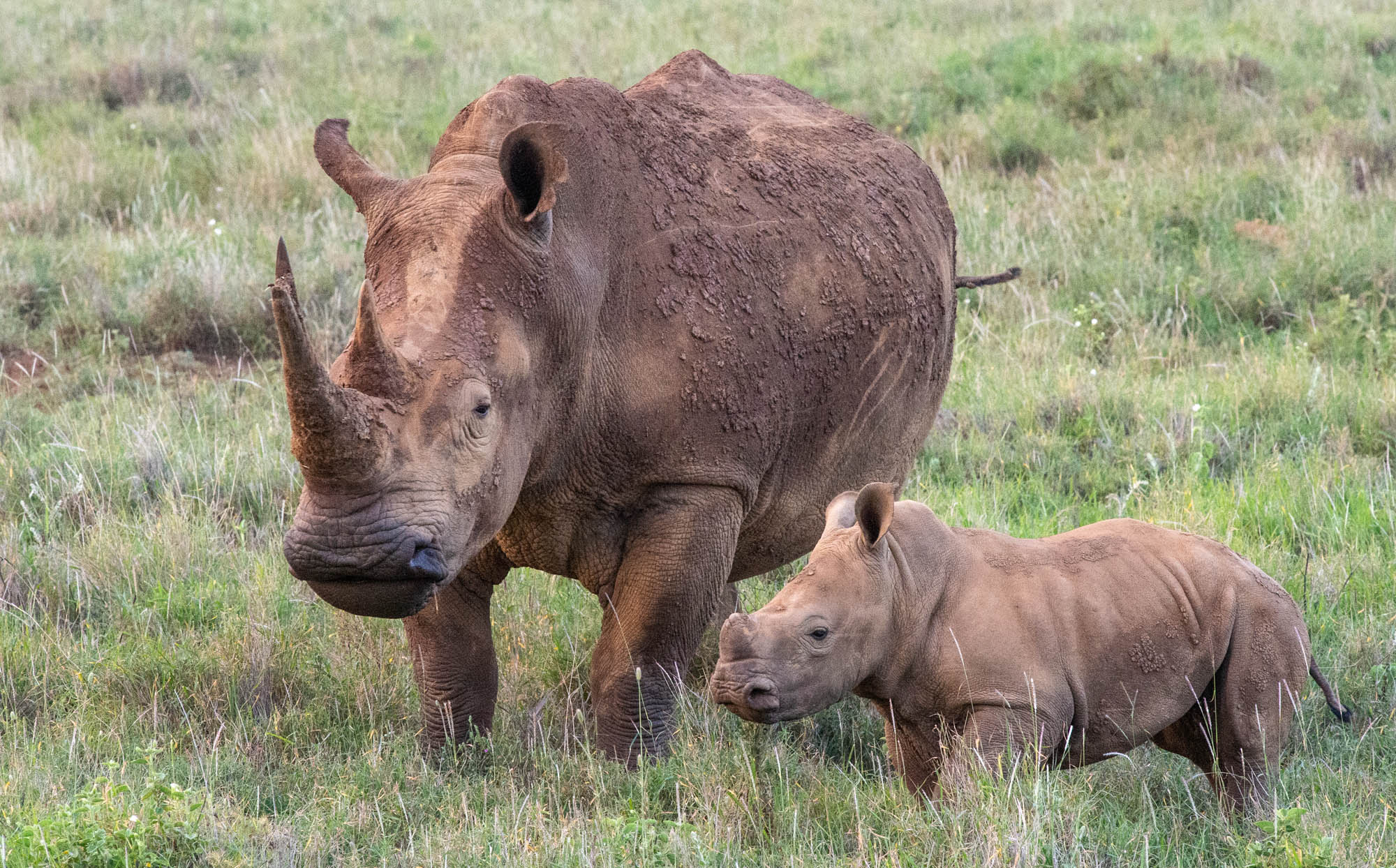 KENYA TRIP REPORT PART 2:
LEWA WILDLIFE CONSERVANCY
Every once in a while on my African travels, I discover a place that almost immediately appeals to me and which I soon realize, our guests will come to enjoy and appreciate as well.  The Lewa Wildlife Conservancy is one of those places.  Lewa is special on many levels.  Back when I first visited it in the late 1990's, it struck me as being almost sublimely 'out of Africa'.   On my most recent visit last June, I felt just the same way.  Mostly, the place just shouts 'Africa'.  Standing there, on a clear day, you can see the jagged peaks of Mt. Kenya to the south.  If you turn around 180 degrees, on the horizon to the north, looms the sacred mountain of the Samburu - Mt. Ololokwe.  Mountains, valleys, vast open plains and amazing vistas of blue foothills disappearing into the void.  We cannot all have a farm in Africa like Karen Blixen once did, but we can visit one - and there's none better than Lewa.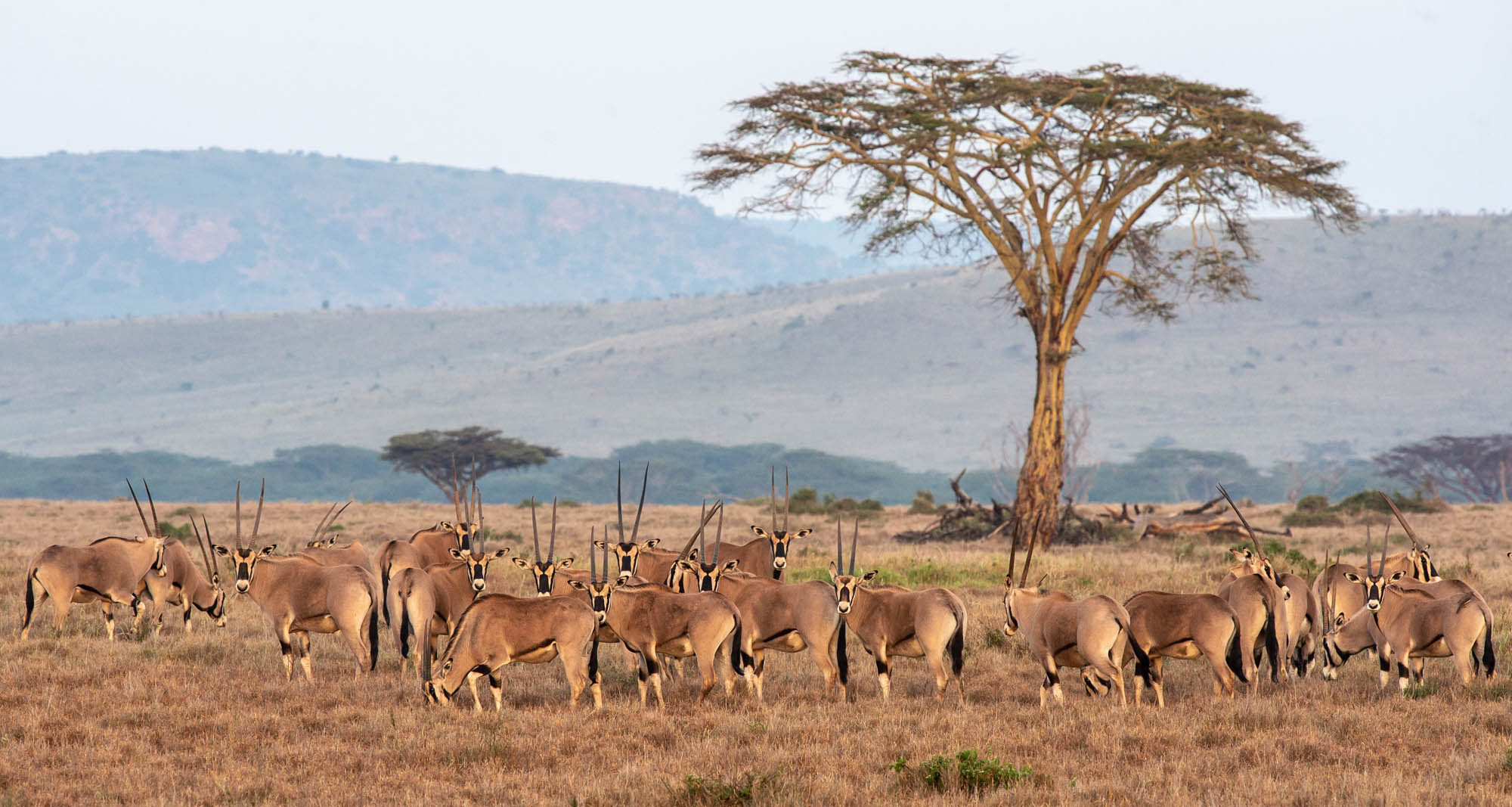 Other ways in which Lewa is special?  It harbors and actively protects more rhinos (white and black) than any other conservancy in East Africa.  Lewa's rhino population has grown from an initial 15 rhinos to around 170 rhinos currently, nearly 15% of all rhinos in Kenya.  Lewa also has a great mix of endemic species including Grevy's Zebra, Beisa Oryx and Reticulated Giraffe.  Some of these animals - like the Grevy's Zebras - are rare and endangered and they are all spectacularly beautiful.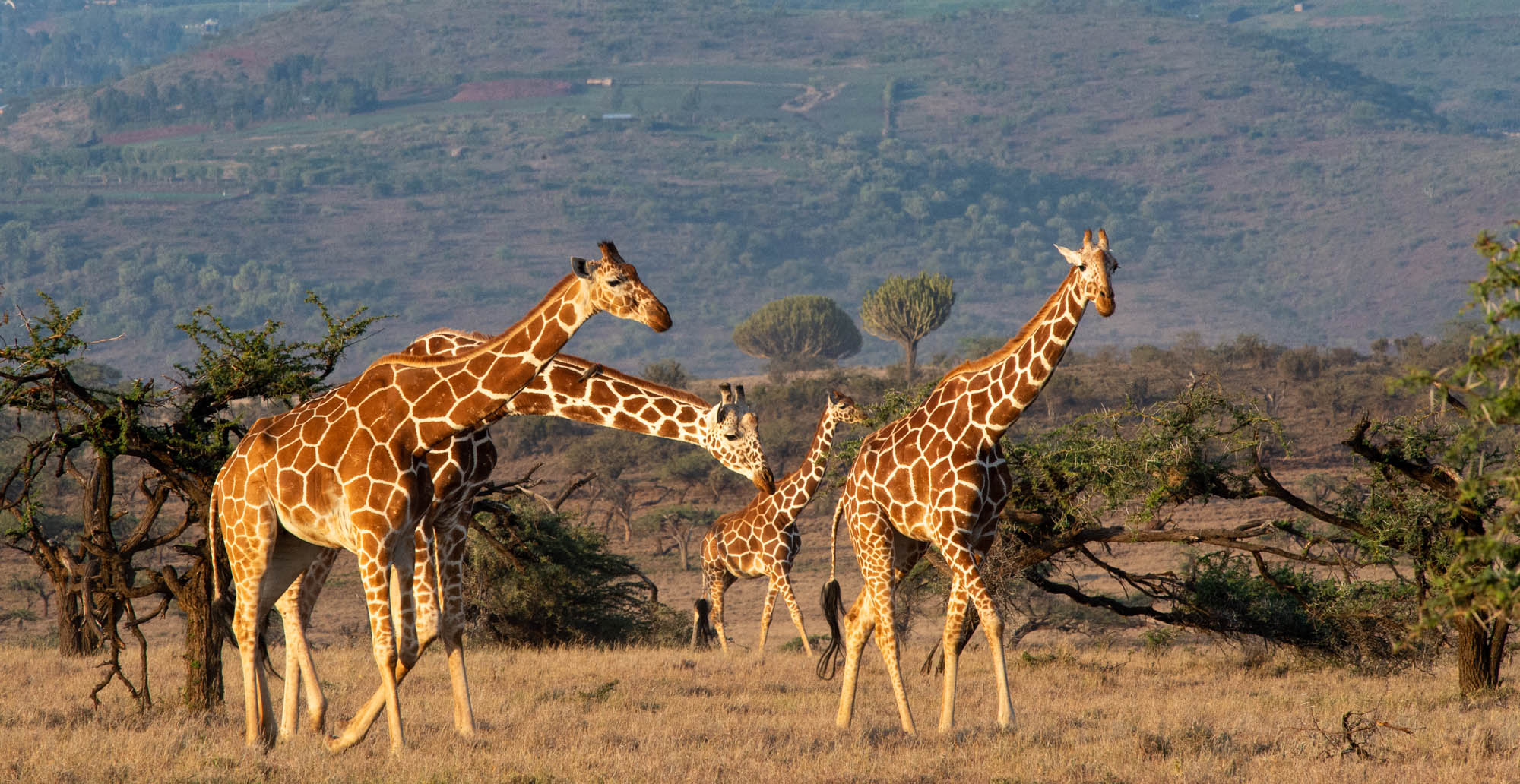 The Reticulated Giraffe I consider to be the 'oil painting' of giraffes, compared with the somewhat washed out 'watercolor' version seen elsewhere - the Plains or Masai Giraffe.  The Reticulated Giraffe is almost a dark orange with vividly demarcated lines between the color blocks.  Never to be forgotten, once seen.
Likewise the Grevy's Zebra.  Its finely striped black and white skin pattern - without the shadow effect visible on the Burchell's Zebra - and its white belly make it quite a handsome equine.  Its looks are marred only somewhat by the ridiculously large, mule-like ears.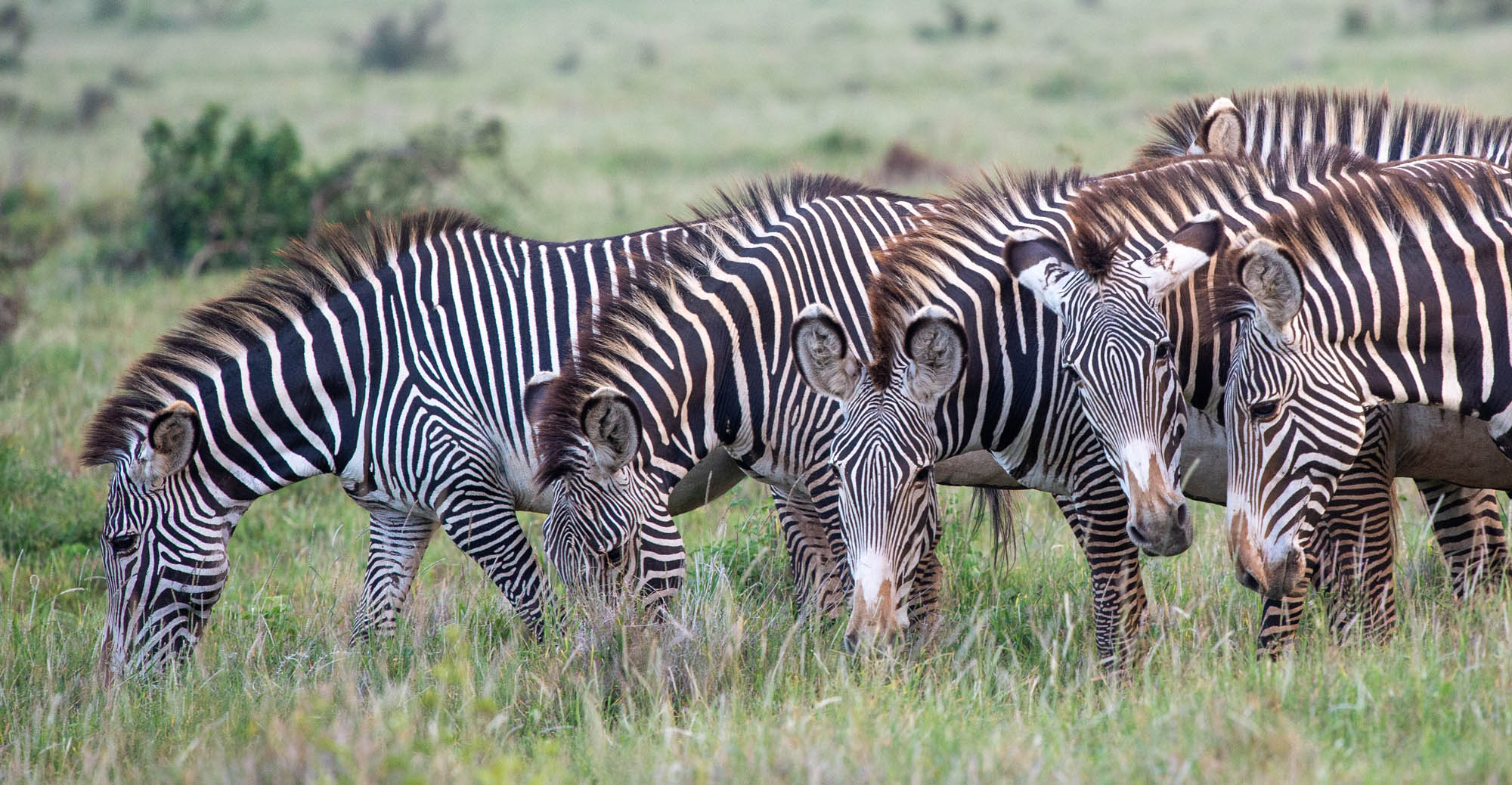 Beisa Oryx are amazing animals and while their status is also 'endangered', they are fairly common in Lewa. Strikingly beautiful with both males and females sporting long, thin ringed horns.  They are quite unmistakable when seen with mostly blue-grey bodies, offset by a white underside and distinctive black stripes along the side, the neck and on the face.
Finally, Lewa is special because of its remarkable achievements over the years in the field of wildlife conservation (notably rhinos and Grevy's Zebra), and its pioneering work in community-centric conservation.  Lewa has invested heavily in both the protection of endangered species and development of its neighbouring communities to create a future where both people and wildlife can flourish.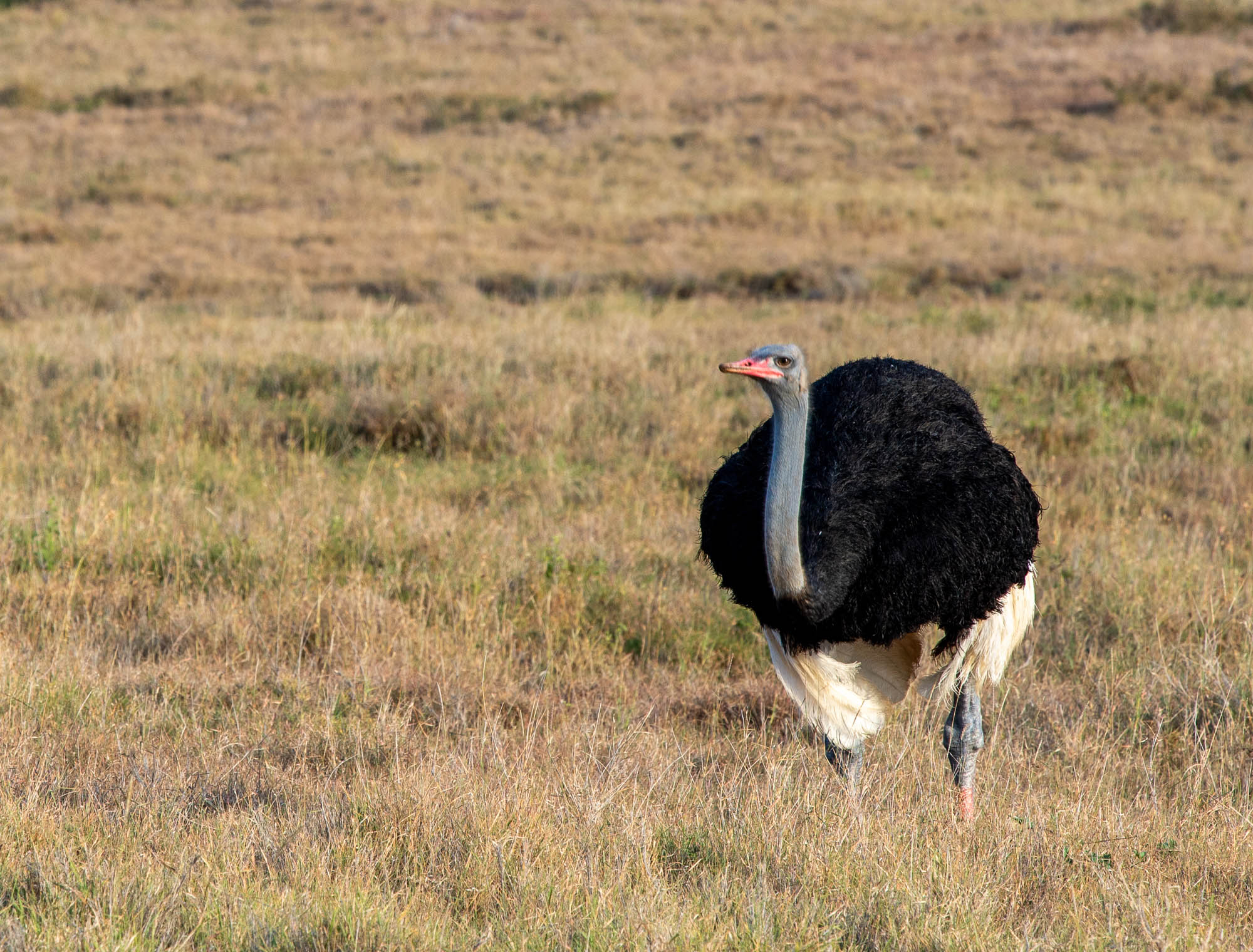 TUSK MARATHON - LEWA WILDLIFE CONSERVANCY
Late in the morning after my overnight stay in Nairobi, I was on a flight from Wilson Airport to the beautiful and very successful Lewa Wildlife Conservancy.  Having been established in 1995, Lewa/Borana is arguably Kenya's premier example of a wildlife sanctuary where wildlife conservation, community welfare, cattle farming and hosting guests from 9 tourism properties are successfully integrated and managed by a permanent staff.
For the next 3 nights my accommodation was a rustic tented camp - Maridadi - erected close to the Lewa Headquarters, for the annual running of the Tusk Half and Full Marathon.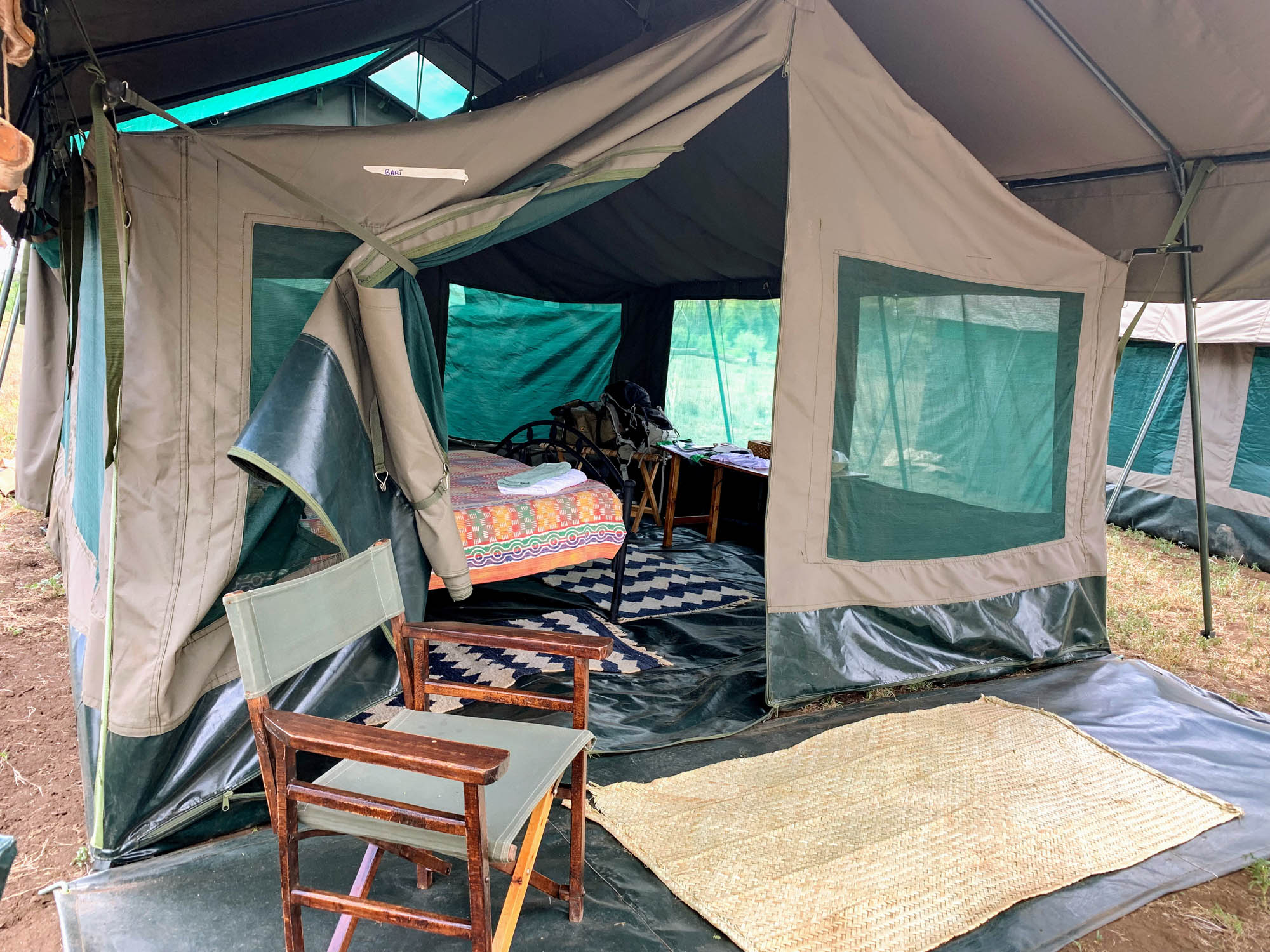 Late on the first afternoon, we did a short 3 km 'warm up' run and afterwards enjoyed sundowners on a beautiful hill.  A few of us went on a late afternoon game drive, which turned out to be surprisingly good.  In practically no time at all, we ticked off most of the Lewa specials like Grevy's Zebra, Reticulated Giraffe, Beisa Oryx and Somali Ostrich.  As well as Buffalo, Eland, and Burchell's Zebra.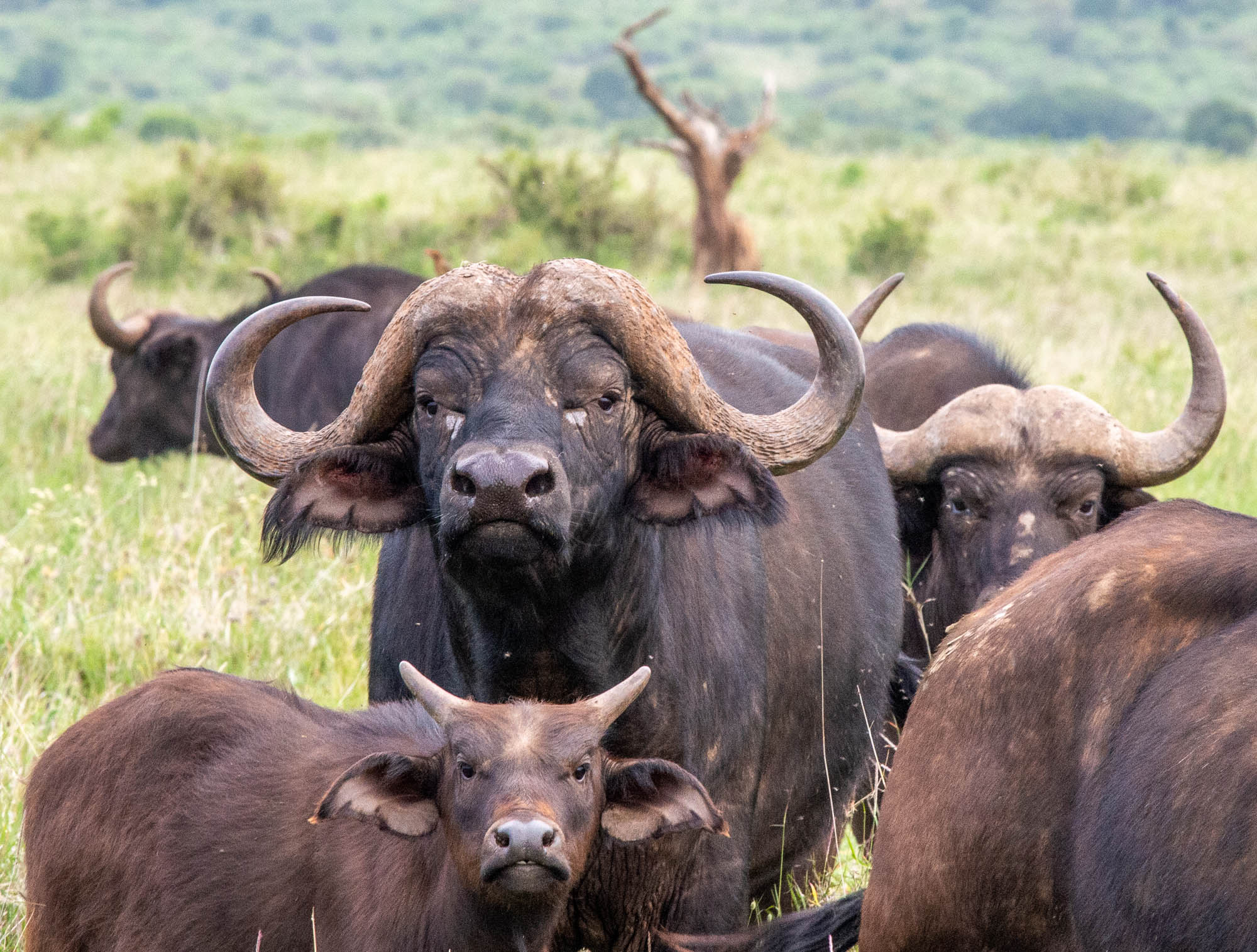 On the second day we visited several projects supported by the Lewa Wildlife Conservancy, through donations from charities such as the Tusk Foundation.  Among others, we visited a school and the Lewa Clinic. The Lewa Education Program works to provide access to quality education that improves students' economic opportunities, in the hope that it creates a new generation of environmental stewards. I was impressed by the degree to which electronics had been incorporated into the classroom we visited.  The electronic 'blackboard' and the presence of so many electronic tablets would be the envy of many a school district anywhere in the world.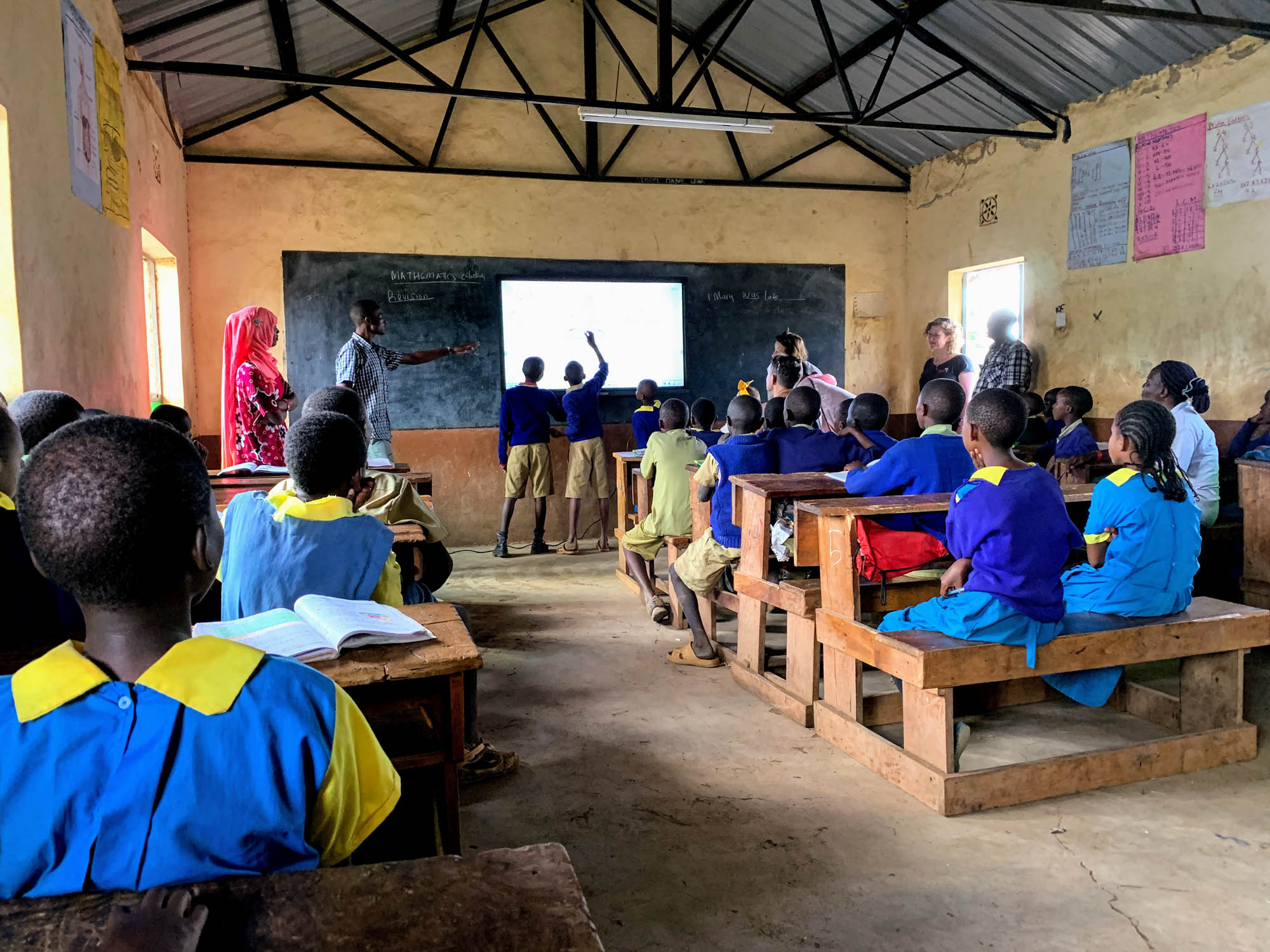 On the Saturday, some 1,500 runners lined up for the start of the 20th annual Tusk Lewa Marathon and Half Marathon, one of Lewa's major fundraising events.  The race is well organized and is a taxing, yet fun event.  It helps to be well prepared and at least somewhat acclimated to the mile-high altitude.  Add to that the heat - it was nearly 80 Fahrenheit at the start - the hills (plenty of them) and the uneven footing along rough trails, and all in all it makes for a super-tough race.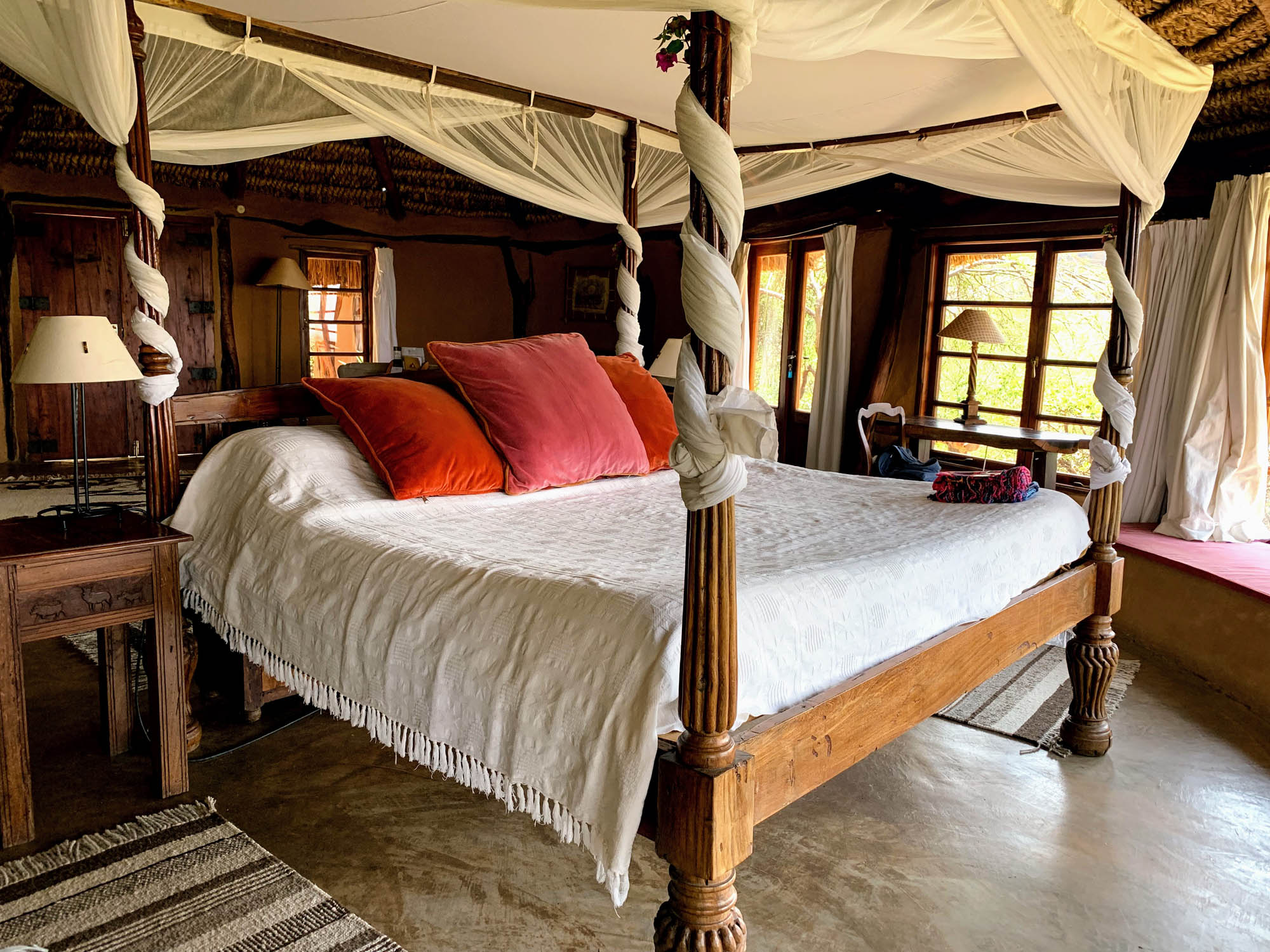 LEWA WILDERNESS
Late in the morning after the run, I was off to Lewa Wilderness on the north-eastern edge of the conservancy.  Lewa Wilderness, which is owned and operated by the Craig family, is a jewel of a lodge with gorgeous rooms, a stunningly beautiful setting in a lush garden, views over the valley below, and simply first-class all-round hospitality.
My room - #7 - had an expansive view, tons of space, a double bed with mosquito netting, adequate lighting (but difficult to find the right on and off switches), a shower and separate toilet, and a mini-bar with soft drinks, beer and ice.  Simply a splendid place to be on safari, as one of the English guests remarked over dinner later.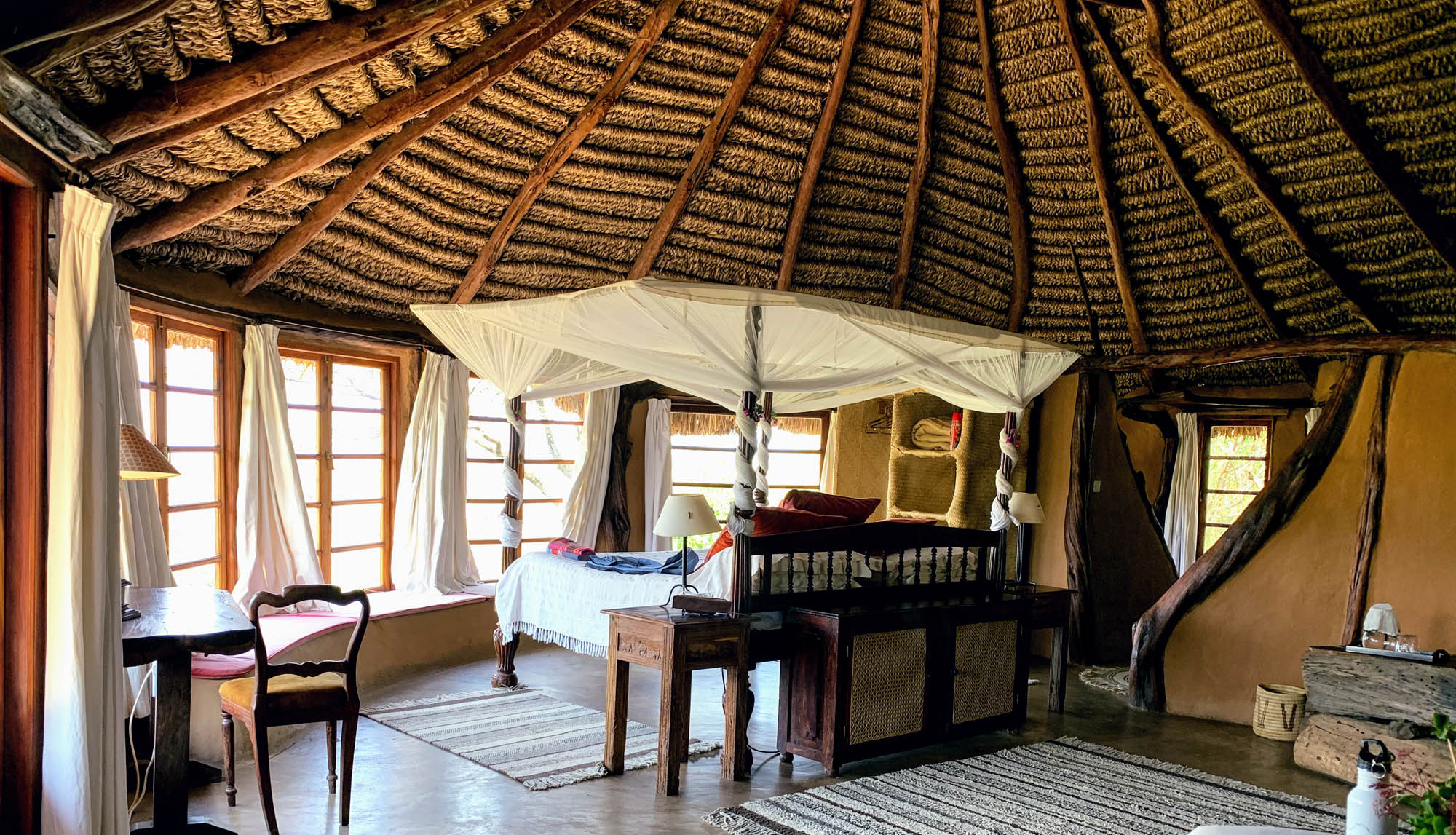 The food was excellent: I was introduced to all the other guests already in camp over a buffet lunch (curried chicken and curried vegetable dishes) with quiche, green salad, fresh bread and more.  The meal was served family style.
Dinner was roast beef with veggies, a potato dish and dessert, all delicious and perfectly prepared. Most dietary needs can be accommodated.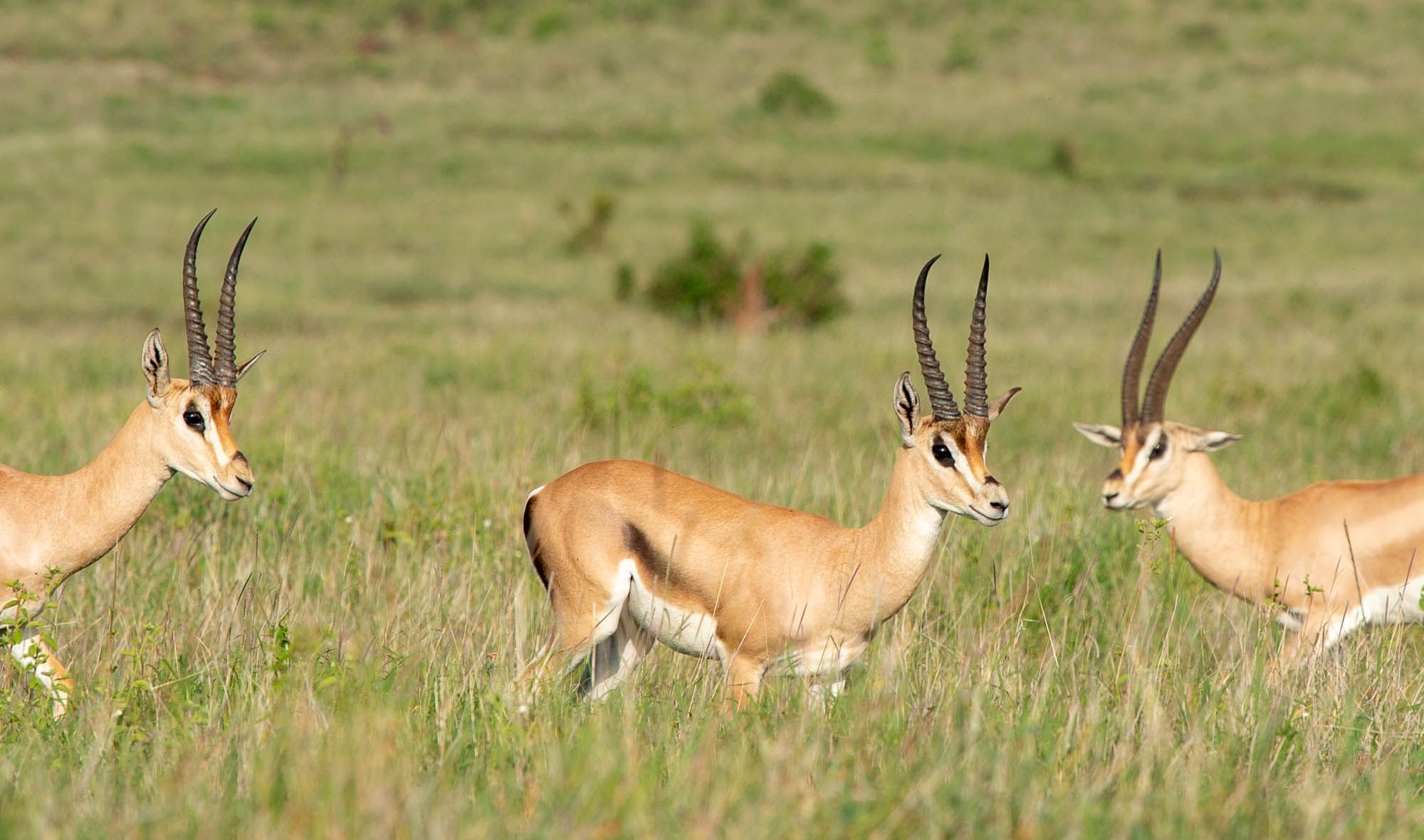 I experienced a couple of game drives from Lewa Wilderness and much to my surprise saw a cheetah on both outings.  One rather skittish young male (a newcomer to the area) and another older, much more relaxed male which was stretched out on a fallen tree stump, enjoying the morning sunlight.  Another sighting of note was a few gerenuk antelope, which are more abundant in arid areas to the north, like Samburu.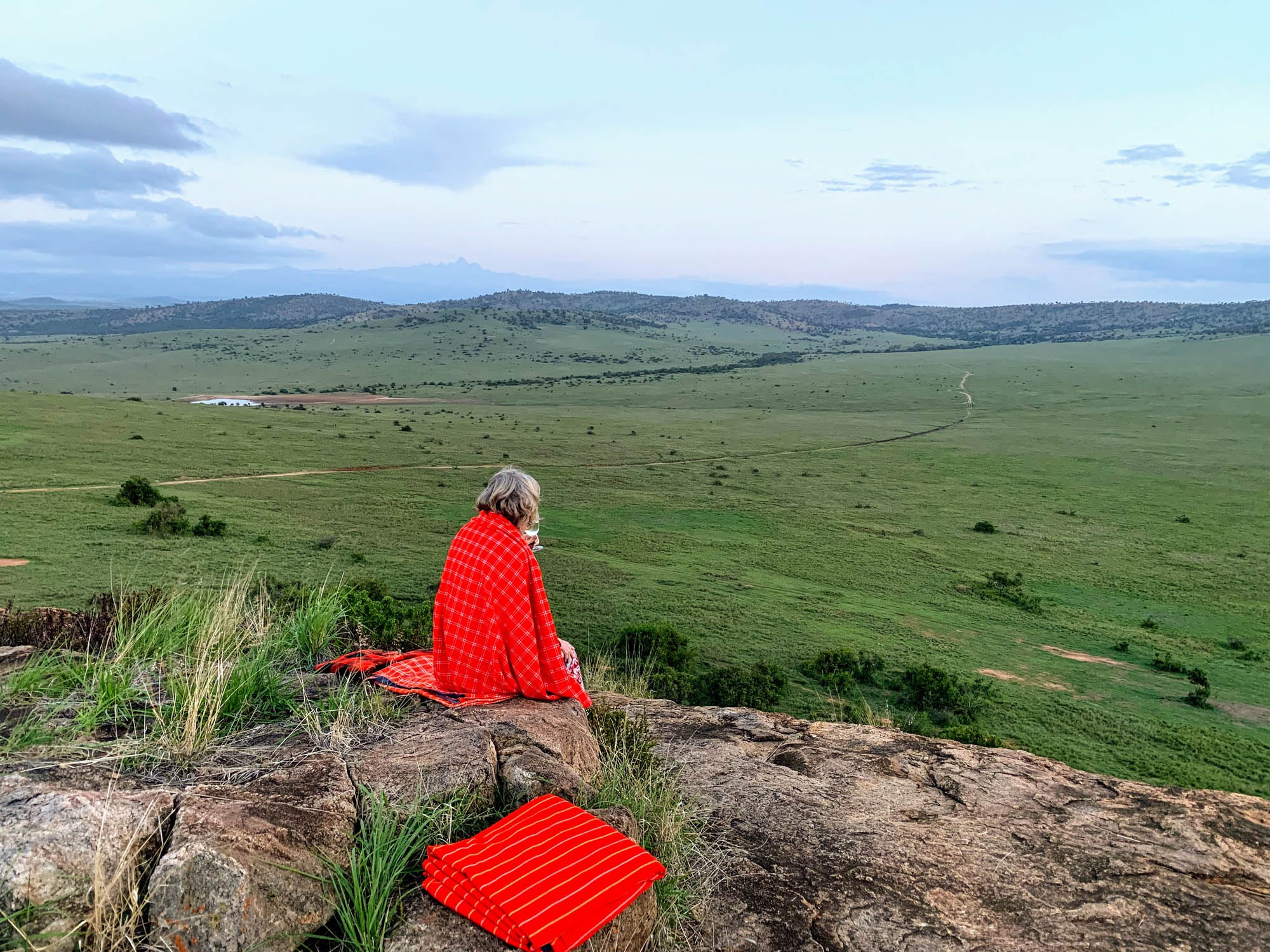 BORANA LODGE
The following couple of nights I stayed at Borana Lodge, a 9-roomed property set in the stunningly beautiful foothills of Mt. Kenya, in the Borana Conservancy, adjacent to the west of Lewa.  In 2014 the fence between the two conservancies came down, which opened up even more of a corridor for wildlife - notably elephant - for movement between Samburu in the north and Mt. Kenya in the south.  Over the last 30 years or so, elephants have impacted Lewa Wildlife Conservancy significantly, mostly by destroying huge numbers of acacia and other trees, effectively turning large tracts of mixed woodland into savanna grassland.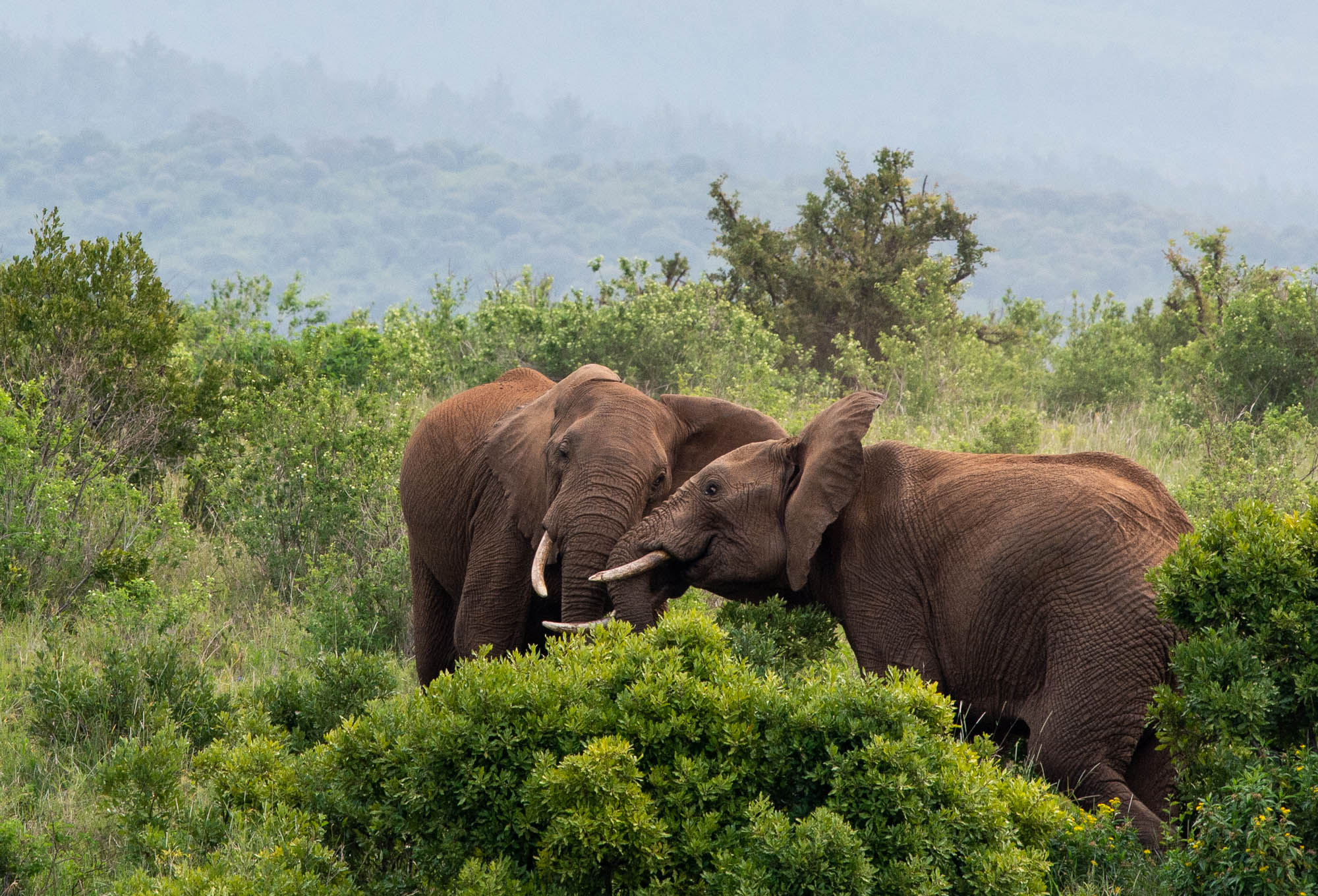 Opening up adjacent areas like Borana and in future hopefully the nearby Il Nguesi area, will help to alleviate the pressure on the habitat and reverse this habitat-changing effect.  Given time, trees like the yellow barked acacia and whistling thorn acacia will bounce back and forests will naturally re-emerge.  But only if the saplings are not constantly being hammered by the elephants.
Already - during my visit - the number of elephants in the Borana Conservancy appear to be increasing relative to Lewa.  Borana being much more heavily wooded will definitely relieve the pressure on Lewa.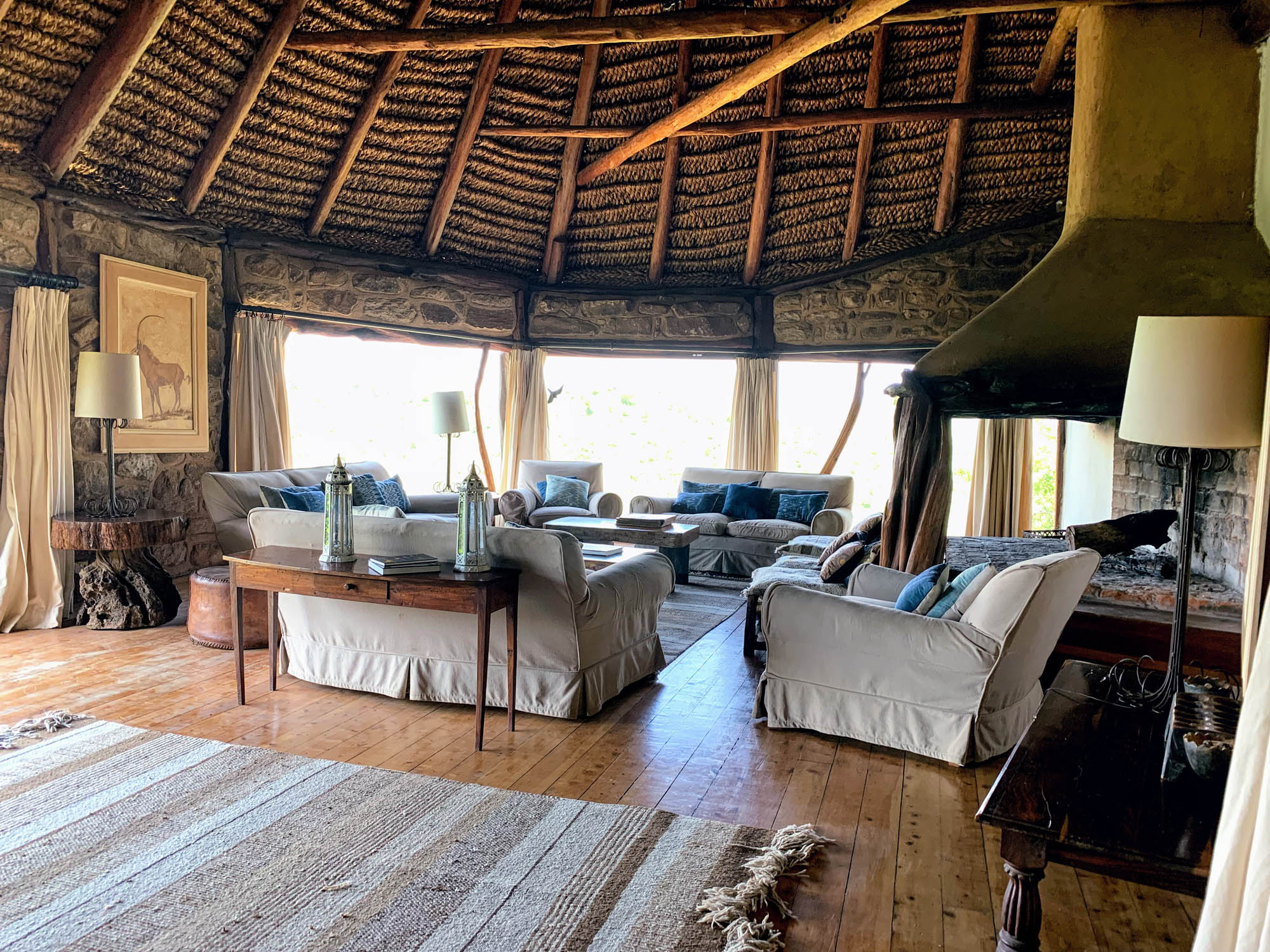 The Borana Conservancy is higher, hillier and greener than Lewa.  It also has even fewer cars and people around so if solitude, splendid views and montane scenery is your thing, Borana is your spot.  While I did see a black rhino in Lewa (after several days there), I saw several in Borana, starting with my very first game drive there.  My knowledgeable and enthusiastic guide Peter soon had a female and juvenile pair of black rhinos in sight and with some deft maneuvering, I got several good shots of them, without displacing or unnecessarily alarming them.
My experience at Borana Lodge for the two nights there was most enjoyable and fun, with a mix of game drives, sundowners in scenic spots, a fun bush dinner, and spending time over lunch and breakfast with the owner, Michael Dyer.
The lodge itself is perched on a slope of with beautiful views over blue-grey hills and verdant valleys.  Out of Africa, no doubt.  Plus the original 'Pride Rock' from the Lion King movie is just around the corner!  My room - #3 - was spacious with all the amenities including a bath, shower, fireplace, and two outdoor relaxation areas.
The room interior and soft finishings are due for a major 'freshening up': some paint, new tiles in the bathroom, new window drapes, a new color scheme - there are quite a few things which can be done to give the room a fresh look.
It is a minor point of criticism though.  The overall experience at Borana was most enjoyable with great food, friendly staff, management and expert guiding.
It appears that Borana's cattle management and rotation scheme is quite successful at keeping the vegetation vibrant and full of life.  There are practically no areas of moribund vegetation, but this may have had something to do with the abundant recent rainfall, at the time I was there.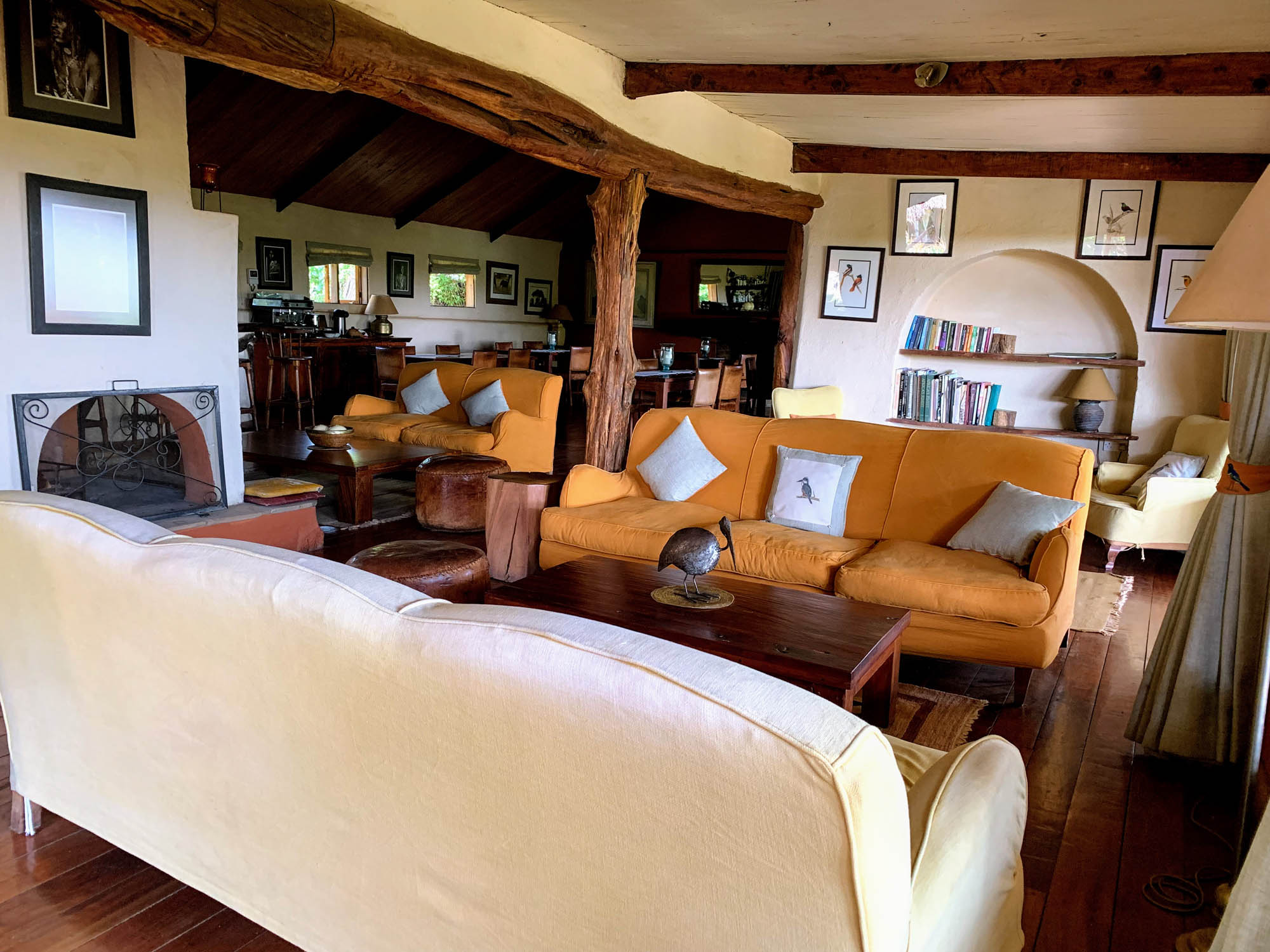 LEWA SAFARI CAMP
The penultimate stop of my mega familiarization trip was the popular and highly rated Lewa Safari Camp, also operated by Elewana, located inside the Lewa Wildlife Conservancy.  We do and will continue to use Lewa Safari Camp on future Kenya itineraries for many of our clients.  This visit made it clear to me why the camp works so well.  A lot of it has to do with the managing couple Sacha and Tamlyn.  During my all too brief overnight and one day there, Sacha devoted a lot of time to spend with me over lunch and dinner, talking about the area and what it has to offer to guests.  With such enthusiasm and energy as demonstrated by Sacha, it is clear to see why Lewa Safari Camp is so popular with guests.  My tented room #3 was spotlessly clean and well organized from lighting (easy on off switches), to having the best charging outlet of any camp on the trip, including no less than 4 USB charging points.  Lewa Safari Camp has an attractive pool with a view over the valley, and well-marked pathways.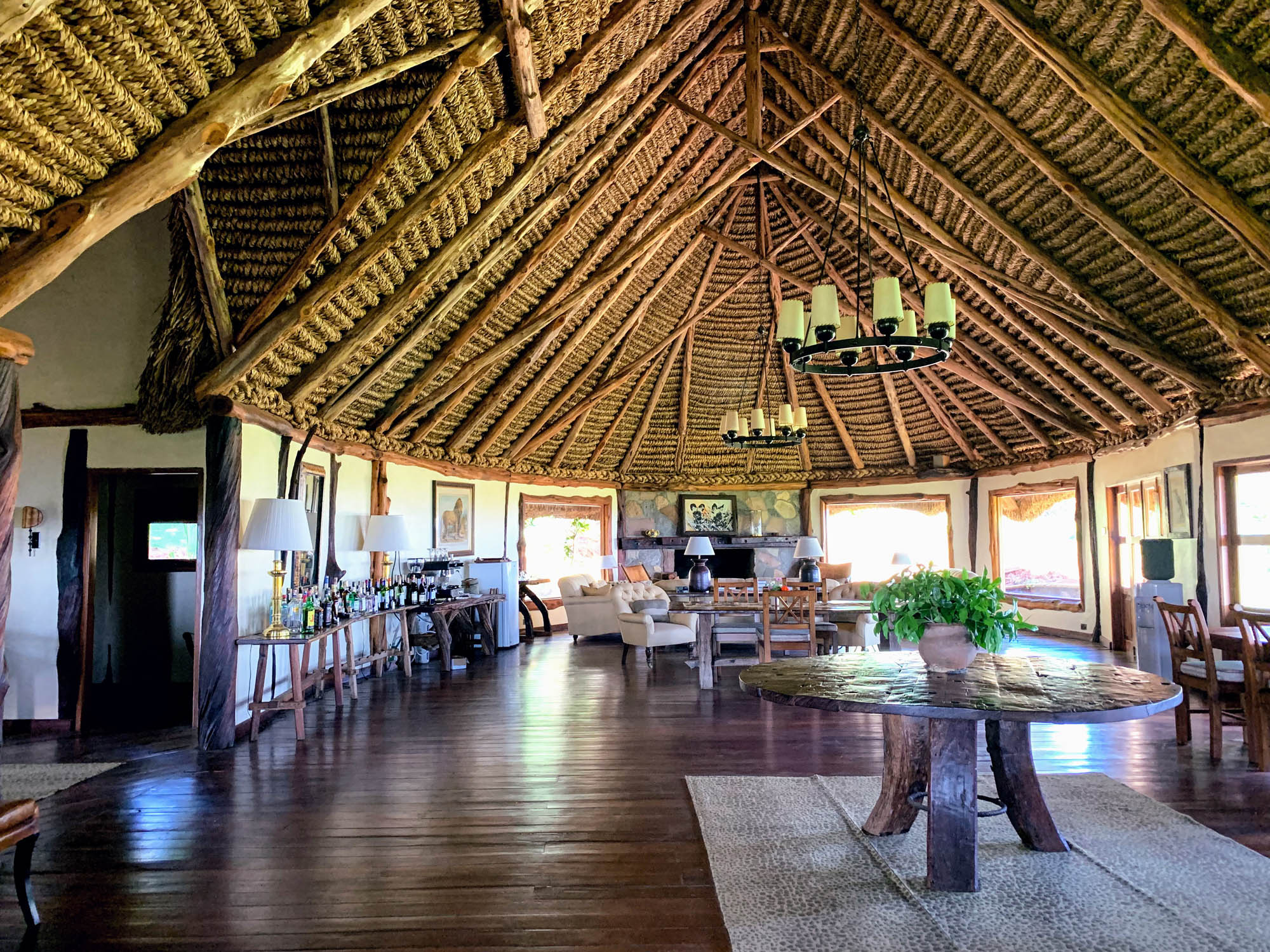 Exercise note:  It is possible to jog inside the camp perimeter on gravel pathways, along a loop totaling about 1 kilometer in distance.
En route to my final destination, I did a site inspection at Kifaru, Elewana's luxury 5-roomed lodge.  Compact and intimate, with camp manager Andrew giving me a concise yet thorough overview of the camp.  Kifaru has a great location on top of a hill, with large and well-appointed rooms, a beautiful central area and dining room.  Room #5 appears to be the choice spot to be.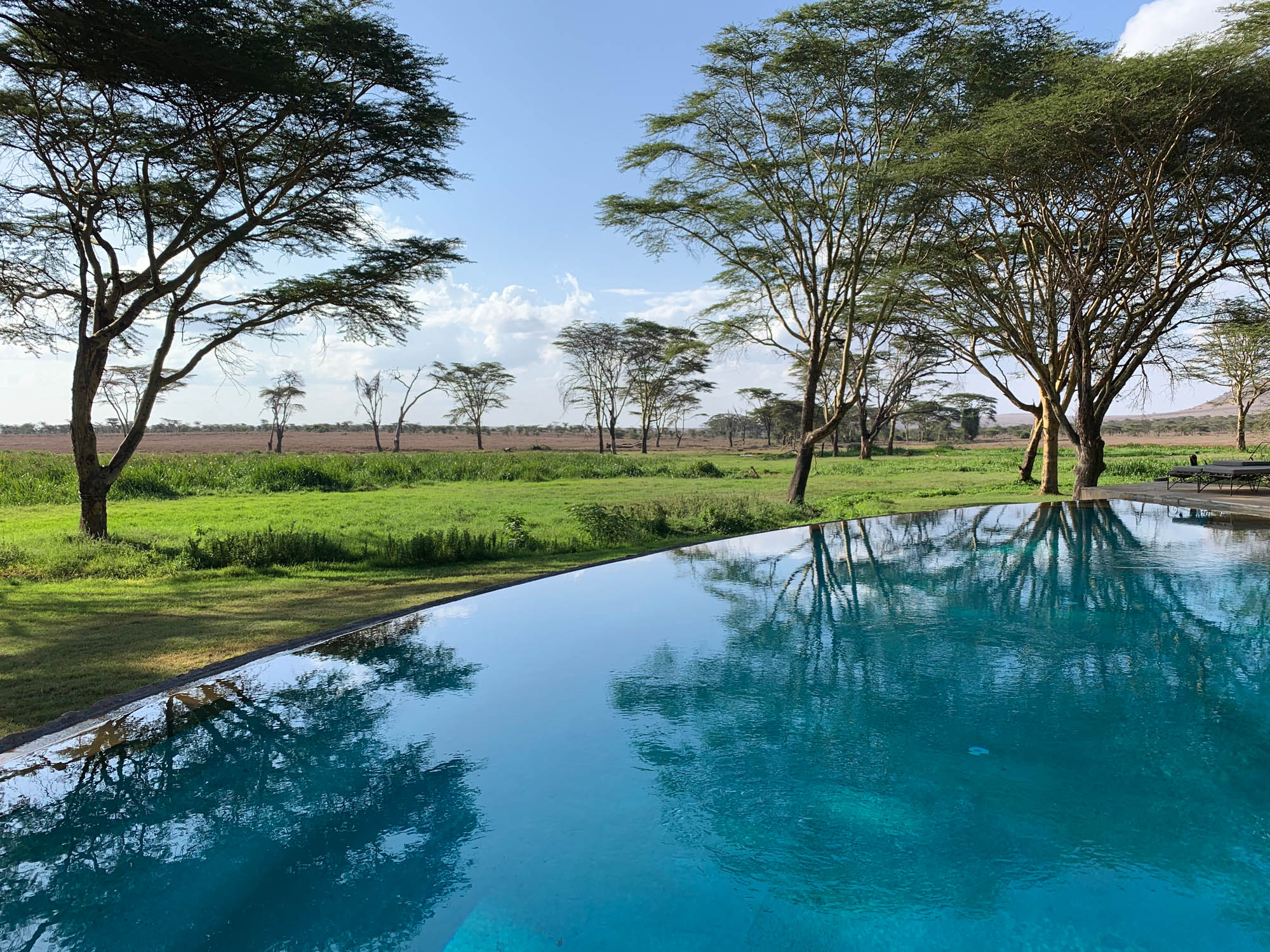 SIRIKOI LODGE
I had long looked forward to visiting Sirikoi, my planned 2017 visit having been derailed by Hurricane Harvey.  Sirikoi turned out to be worth waiting for!  It is an oasis like few others, from location to accommodation and management.  The tented rooms, main lounge and dining room areas are stylish and immaculately maintained, and the food and beverage service is of an exemplary quality.  While at Sirikoi, I took some time off from the game-viewing to scout out the property and surroundings a bit better.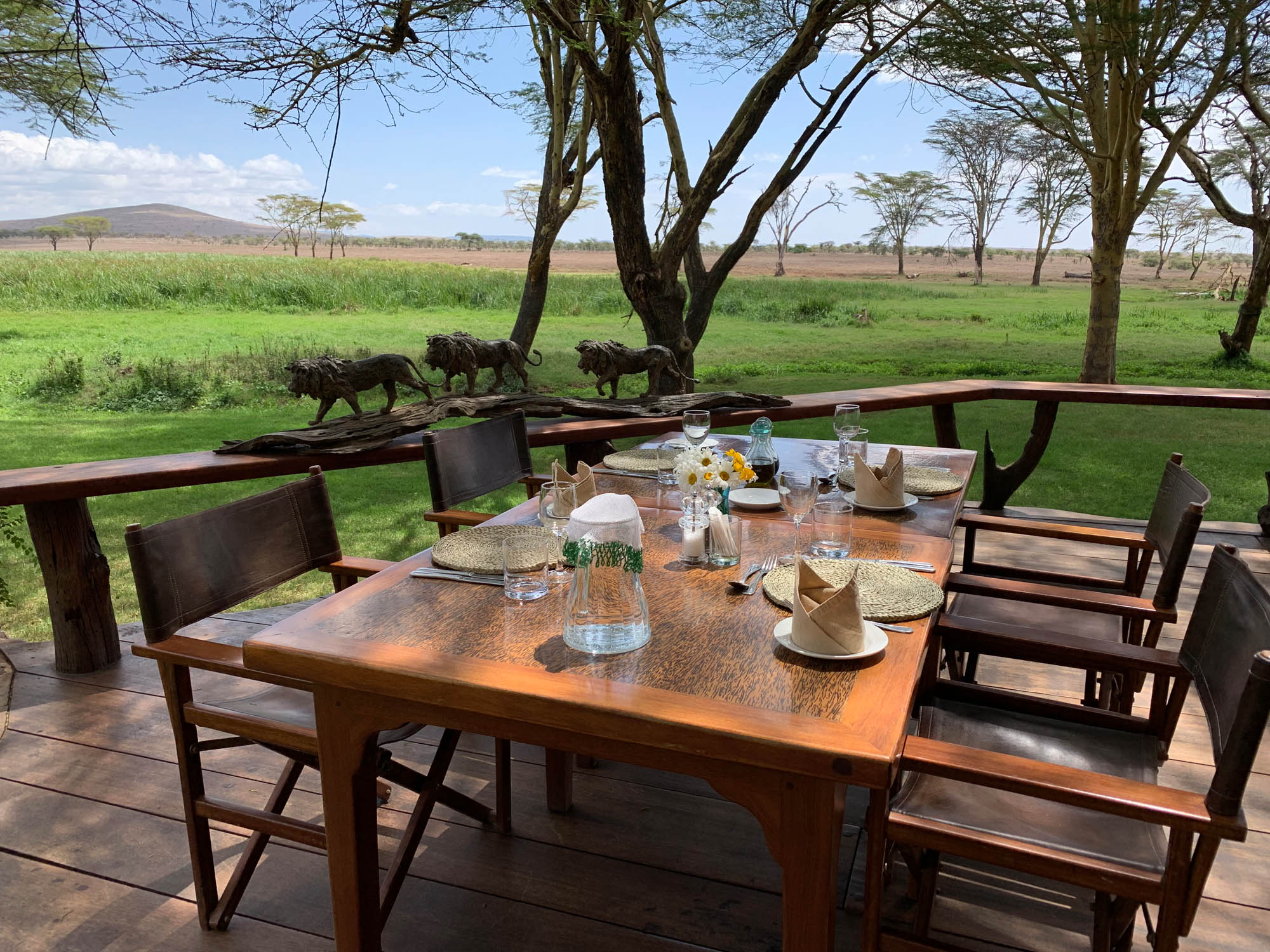 With its mix of four luxury tents and two exclusive use houses (with 2 and 3 bedrooms respectively), Sirikoi caters for discerning guests who like and enjoy comfort and luxury, but in an elegant, understated fashion.  There is nothing over the top or extravagant about Sirikoi.  It strikes a perfect balance between being luxurious and stylish, yet retaining the essence of a true Kenyan retreat.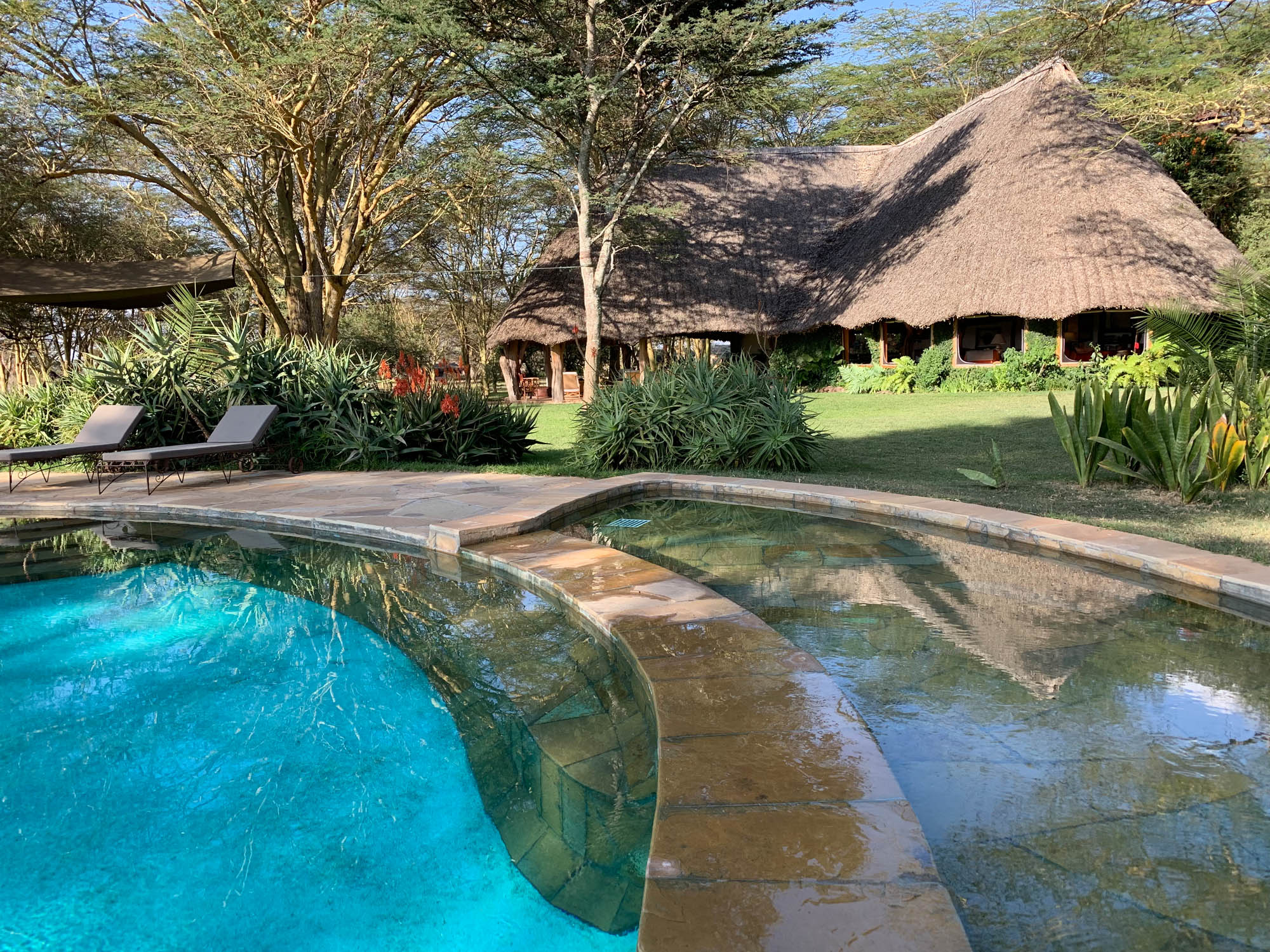 Sirikoi's location right alongside the Sirikoi stream, on the edge of a large swamp, results in wildlife often entering the property and being visible from the open dining deck in front of camp.  In the late afternoon and early evening, as the birds settle down and nocturnal creatures like bush babies start to get active, enjoying a sundowner at Sirikoi is as good as it gets on safari.  I experienced just that on my last night there.  One by one a family of seven Striped Kingfishers disappeared into a communal hole in a tree where they were to sleep for the night.  Guinea fowls started to gather high in a nearby tree, as did baboons (not without some squabbling), vervet monkeys and even crowned cranes which flew out of the swamp to the protection of an elevated roost.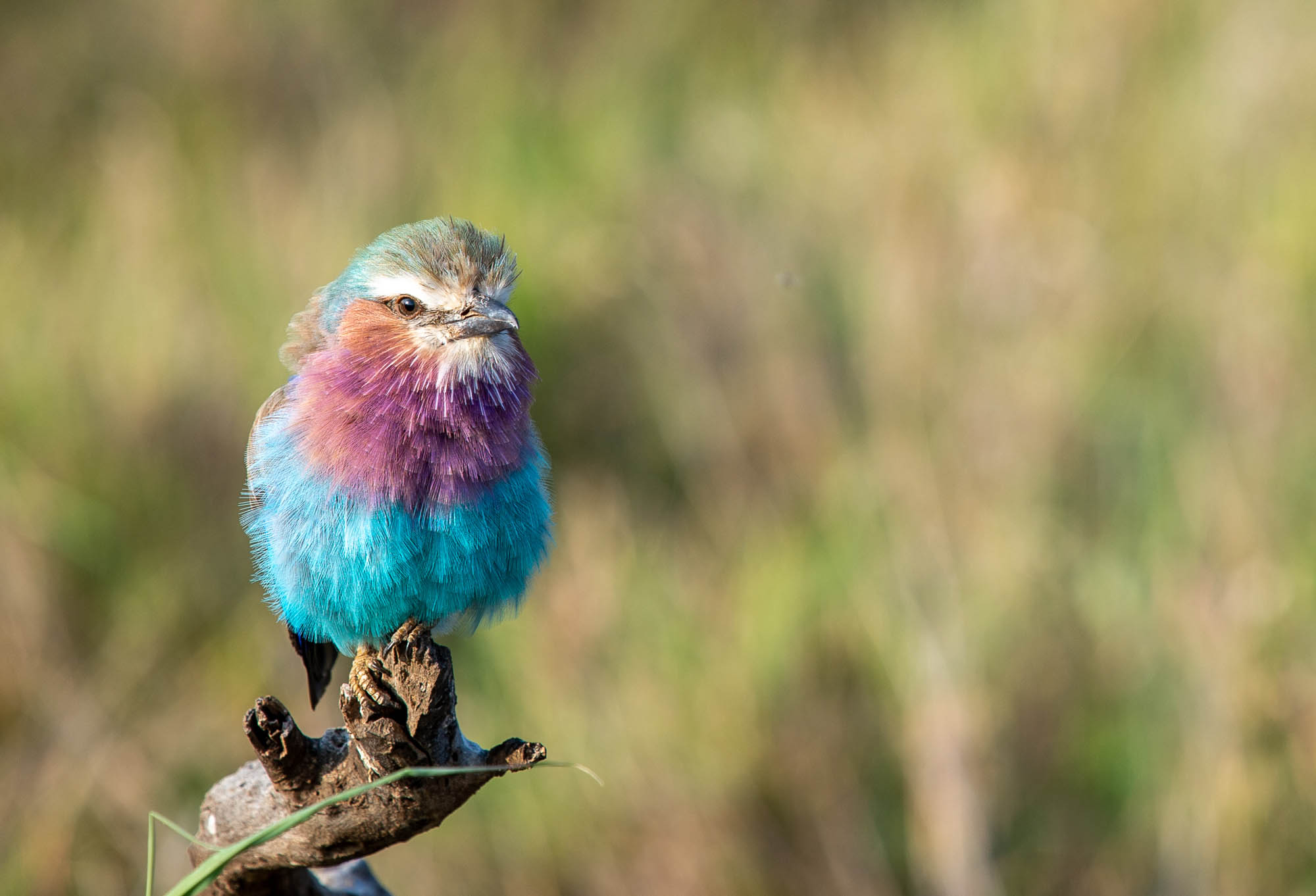 It became quiet as the sun set over the low hills to the west, the pinkish light remaining for a long time, with the trees perfectly reflected in the glassy surface of the pool.
I had the most fascinating conversation with the co-owner Sue Roberts over sundowners, finding out just how the Sirikoi property came to be in their possession.  Acquiring Sirikoi ended up being a pivotal piece in making Lewa Wildlife Conservancy the vibrant and successful model of co-operative conservation that it is.  Land-owners, local government, and most importantly the community, all working together to achieve shared objectives.