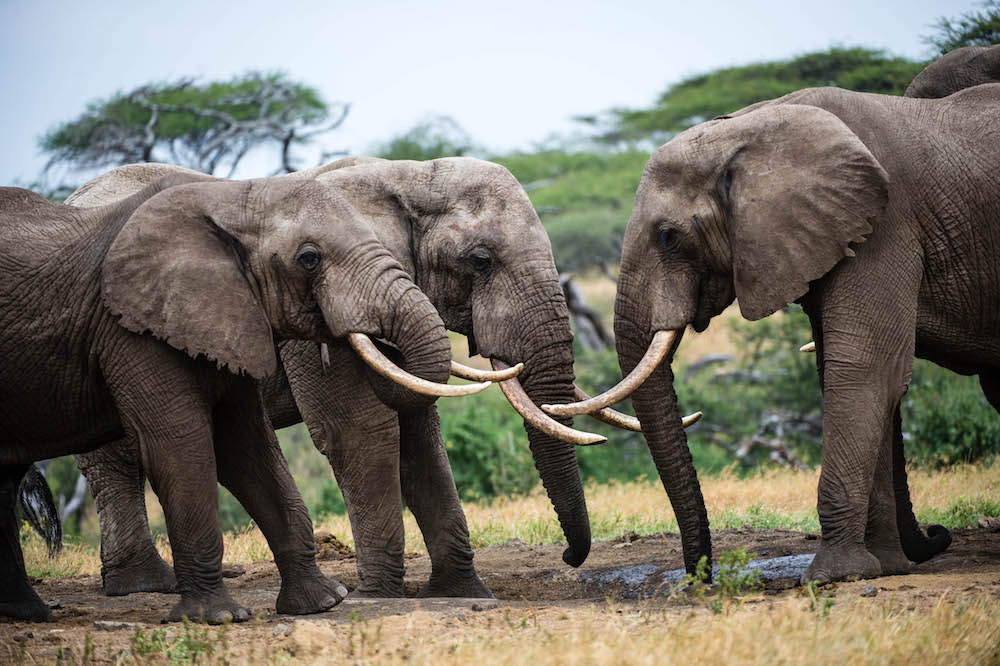 Botswana Trip Report December 2009
PART 1: OKAVANGO DELTA
I arrived at Kwara Camp in the Okavango Delta on Thursday December 3 2009 in an impressive thunderstorm. It reminded me of my first ever visit to Botswana in February 1990 when we landed in Maun just minutes before a massive thunderstorm briefly closed the (then) tiny airport. Maun has changed a lot since then. It is considerably bigger, as is the airport itself. Alas the quaint Duck Inn pub/bar which was a fixture right by the airport, is no more. I spent several hours there on my first day ever in Botswana, gawking at the parade of safari guides, hunters, tour operators, tourists, pilots, and assorted crusty characters hanging out at the bar. Maun is probably no less interesting now than then. Just a bit bigger and a lot busier. It is still a frontier town, but you can buy fresh herbs in the grocery stores. The roads are still dusty, but your Blackberry will work – if you have international roaming of course. This time around, there was no time to mix with the locals – we had a plane to catch. Having completed a minimum of formalities (flight vouchers issued on the spot) we were escorted to a waiting Cessna Caravan, climbed up the narrow rickety steps in the back and strapped ourselves in. Then it was full throttle, flaps down and blood pressure up (just a little!). Compared with the bush strips the runway at Maun is gigantic, so no sweat to take off from here.
The pleasant low level flight from Maun to Kwara took less than 30 minutes, and like most flights within the Delta, it was quite scenic (elephants on the left!) and interesting. Once on the ground at the airstrip, an approaching thunder storm which we had first noticed on approach, was all too visible. We quickly donned raincoat ponchos and set off down the sandy track for the bouncy trip to camp. We made it just in time. As we dashed into the lounge, a heavy storm lashed the camp, driving the rain sideways into the front of camp. Our small group of 6 huddled in a dry corner of the lounge, wondering how long this was going to last. Like most summer storms, it was impressive with heavy rain, wind and thunder but it blew through quickly. Soon enough, patches of blue sky started to appear on the horizon. As the staff scrambled to undo some havoc caused by the rain in the rooms, we enjoyed a cup of tea.
Before the fun could start, we had to sign a waiver and listen to the camp briefing. Stay in your room at night, don't walk between the lounge and your room unescorted at night, and don't use the emergency air horn to order a gin and tonic! Minutes later, I was settled into my room, a Meru style tented room on a raised platform with en suite toilet and outside shower. Like the others at Kwara, the room had a very nice view over a small lake in front of camp and some woodland behind and to the sides. The lake, as we were soon to find out, was home to some 80 hippo. While we never saw more than 20 or so at any one time, that was plenty and they certainly kicked up a ruckus at night. Waking up in the dead of night a day or so later, I observed three hippos grazing on the vegetation just meters in front of my tent. As they said in the camp briefing, don't go walkabout at night…
I found Kwara to be a very relaxed, comfortable camp with above-average game-viewing (for an Okavango Delta Camp), excellent staff and management, and nicely varied activities including twice daily game drives and boating. The rooms are nothing special though. They are on the small side and could do with a fan, better lighting, and somewhere to sit other than on the bed or the two chairs on the small verandah.There were a couple of other minor issues such as a broken toilet seat and a balky shower door. None of this affected our enjoyment of the camp.
I very much liked the lounge, particularly the area looking out over the boma (outdoor fireplace
area with camp stools) and beyond that, the lake. I spent the better part of the siesta break there
one afternoon catching up on my trip report, chatting with a couple of other guests.We agreed that
if our offices could have a setting like that, we might never go home. The covered dining room at
Kwara is separated from the lounge area by a bar area and partition; if the camp were to be reconstructed
or upgraded at some stage I imagine that the dining area would not be so distinctly separate
a room.
Breakfast at Kwara
Quickly falling into the safari camp routine, we met for tea at 1600. We were greeted with an excellent array of snacks and other items including a veggie roll, fresh fruit and a cake. Not to mention lemonade, iced ginger tea and your choice of regular Five Roses, rooibos or other herbal teas and of course coffee. Over the next few days I would find out that the catering at Kwara is of a very high standard. The food was consistently good and certainly more than ample. My vegetarian/vegan special diet was happily accommodated and other than for a lack of soy milk I couldn't fault it. Like practically everywhere else in Botswana,Zambia and even in Kenya and Tanzania, morning porridge at Kwara is usually made with milk instead of water, but by the second day there was a 'no milk' porridge available. I was not the only one who preferred it over the 'traditional' version. The important thing with dietary needs and preferences is just to let the camps know in good time. The more details you provide, the better. For example, instead of just stating that you are on a gluten-free diet, specify what you can eat, such as corn, potatoes, rice, millet, quinoa, sweet potato, yam, beans, soybeans, chickpeas, buckwheat etc.
Our afternoon game drive started out rather slowly but became quite spectacular when we successfully tracked and found a pack of 5 wild dogs passing through the area. This particular group (the alpha female had a dilapidated tracking collar around her neck) was apparently not well known in the Kwara area. They seemed to be searching for something, or possibly unsure of themselves, sniffing the air and fairly rapidly moving from one area to the next. We followed them for quite a distance, pulling ahead for an occasional photographic opportunity. Eventually the dogs tired a bit and lingered along the road, playing and making contact sounds. Just before they disappeared, the late afternoon light which had been pretty marginal from the get-go, improved briefly and we were able to capture a few really nice images. It was a magical experience. I had not bumped into wild dogs over the course of my last four entire trips to Africa. Little was I to know that this was to be the first of four different wild dog sightings over the next 10 days.
December 4
Up early at 0530, followed by a light breakfast around the campfire (fruit, porridge, muffins, tea/coffee) and eventually departing on a game drive at about 0630. Not far out of camp, we had some good views of a Black Coucal, a much sought after bird species in Southern Africa. It was the first of many exciting birding opportunities on this day. The most striking of these was watching two huge Spurwinged Geese pursuing each other in a circle around the vehicle. There's very little to no ambient noise out in the bush so the swishing sound of air rushing through their feathers was incredibly loud. As the two powerful dueling geese passed low over our vehicle, it reminded me of two jets flying over a stadium at a sporting event. There was no cheering crowd, just five of us staring at them from a small vehicle in the massive arena of nature.
The objective of this morning's game drive was to find some cheetah and at the end of a fairly long and bumpy drive, the mission was accomplished. We came upon three magnificent cheetahs resting up on the side of an anthill, in the shade. They momentarily lifted their heads and looked at us in what can only be described as an uninterested manner, and then went back to their nap. We took our time observing them, marveling at the gorgeous coloration and the impressive size and sleekness of these highly endangered creatures. What a privilege it is to see them out there, a truly unforgettable sight. Being diurnal cheetah hunt during the cooler hours of the day, but judging by their extended bellies, the three brothers we were observing had seemingly already had their fill for the day. Also it was getting warm by now so we took a last, long look at their permanently tearmarked faces, and started to head back to camp.
En route to this spot and on the way back, we came upon a wide array of general plains game, including giraffe, zebra, wildebeest, tsessebe, warthog, impala, kudu and lechwe.
After brunch and a refreshing nap, we took off by vehicle to a spot alongside an Okavango Delta channel, quite close (15 minutes or so) to camp. En route we had some good elephant sightings, including one bull which gave us quite a warning display and who was not at all impressed with us being there. At the jetty, we boarded a 10-seater aluminum double-decker skiff and set off along a winding waterway. I don't think I will ever tire of boat trips on the Okavango Delta. Despite the noise of the outboard motor, it is a serene experience, gliding smoothly along the channel as it unwinds in front of you, mostly narrow and enclosed but often opening up into beautiful lagoons, passing by reedbeds, large stands of ferns, and in this instance, eventually some impressive papyrus groves. We all marveled at the pristine quality of the watery environment in which we found ourselves. Invariably, it evokes thoughts and conversation about the sorry degraded state of so many other similar habitats elsewhere in the world. After about 20 minutes or so, we reached the Godikwe heronry. There were several species with chicks on the nest including marabou stork, yellowbilled stork, African darter and cattle egret and various other birds coming and going including sacred ibis and openbilled stork. Very impressive, especially when viewed from the upper deck of the boat.
We enjoyed sundowners in a glorious spot with the sounds and activity of the heronry right alongside, while the sun and the light were slowly slipping away behind us, towards the west. It was fascinating to listen to the busy noises of the roosting birds communicating with each other and their offspring. Hardly mellifluous – contrary to woodland species most water birds emit mostly squawks and guttural croaks – but certainly not discordant in this setting. The noise emanating from a nearby boat with some French tourists was the only harsh thing we heard all day. Keep it down people. Due to cloud cover the light was far from ideal but I took several photographs, and a few of these turned out well enough I thought.
We enjoyed a particularly nice dinner this evening with pap (local version of polenta), stuffed butternut squash and zucchini. The omnivores enjoyed a starter of corn fritter, and what looked like a hearty beef stew.
December 6
As always on a summer trip to Botswana, we were up early this morning, which was overcast and rather cool compared with the previous day. After the customary early breakfast, we got back into the boat for a short trip along the channel for some fishing. Kathleen and I struck out on the fishing but not everybody else did, and collectively our party caught several fair sized bream and one good sized barbel (catfish). It was a fun and relaxing outing. Brunch consisted of vegetable spring rolls, salad, fresh fruit and freshly baked bread. The bread at Kwara is outstanding!
The afternoon game drive was one of the best so far on the trip. We enjoyed excellent views of a group of about 12 giraffes, as well as several huge elephant bulls. The highlight of the day was a sighting of 3 female lions, with incredibly close up views of a one-eyed female devouring what was left of a warthog which she and her daughter and grand-daughter had just recently caught. We were sitting close enough to the lions to hear their rasping breath, and to study the rather weather-beaten face of the older lioness. It was a road map to the toughness of survival in the wilderness. I am sure we were all wondering how she had lost the other eye and acquired her many other scars, not to mention the torn nostrils. People who 'hunt' for food in well-stocked grocery aisles clearly have no concept of the day to day struggle for survival these predators have to deal with. One look at this lion speaks volumes though. It is a tough life out there! She was very amiable nonetheless, showing no sign of stress or anxiety despite the vehicle being just meters from her. We enjoyed our sundowners a little further down the sandy track but literally within sight of the lion, who was resting up just a few hundred meters from us. How cool is that! What a brilliant day – it is why we keep returning to places like these and why we have always been and remain so enthusiastic about Botswana as terrific safari destination any time of the year.
December 7
Another fantastic day in Botswana. Up very early at 0500, on yet another rather cloudy and cool morning. Breakfast as usual around the fireplace, with oats, fresh fruit and rooibos tea. This morning we set out on an expedition to find the pride of (seven) male lions, but met with little success. We initially heard them calling in the far distance, but driving through spectacular woodland and along marshy areas, they were nowhere to be found. We did find several other things of interest though, including a new bird species for our guide Steve, a Blacktailed Godwit.
En route to the Four Rivers area, we made what appeared to be a routine river crossing but which turned interesting very quickly. The vehicle was nearly drowned when it suddenly got deeper and then deeper still, with water flooding the floorboards. Steve ending up sitting in a puddle of water as water literally spurted into the front seating area. As we were crossing the river, the vehicle slowed down to a steady rumble. The four of us in the back were riveted, literally holding our breaths as we saw the water level rising around us, steam escaping from the engine compartment, and large bubbles of exhaust fumes breaking the surfaces immediately behind us. An inquisitive or perhaps startled hippopotamus appeared on the scene, approaching the jeep fairly rapidly from our right. Just as well that we didn't stall out – the hippo crossed right behind us and moved off into the distance. Whew!
Tea was enjoyed at a small waterhole at Four Rivers, where we watched several hippo who had apparently displaced or joined the solitary and rather cranky individual from the previous day (the one who chased Steve). We then started to slowly wind our way back along the sandy path, the vegetation changing all the time from acacia thornveld, to Kalahari appleleaf, then mopane woodland, sometimes a mix. Every now and then we would drive by a small waterhole with anything from a solitary hamerkop to a collection of whitefaced ducks, blacksmith plovers, spurwinged geese, comb and other ducks, jacana, ruff and many other bird species.
As we turned a corner in the road, Steve yelled 'dogs' and there they were, another small group of 5 – all female – wild dogs right by the side of the road. They were feeding on what remained of a small impala.One of the dogs, a rather badly wounded female with what looked like a broken left rear leg, was trying to hoard the last substantial piece but it was quickly grabbed by several of the other dogs, despite loud yelps of protest. Soon enough, the dogs started to trot away through the woodland and we promptly followed them, charging around and sometimes through small trees, over dead logs, bouncing headlong through the woodland, every now and then catching up with the dogs for a few quick photographs before they disappeared into the bush.
Eventually, the pack reached a small waterhole where they dashed right into the water to cool off and have a drink, proceeding to lie down and relax on the periphery of the waterhole, where we eventually left them behind. Quite a morning!
The afternoon game drive was equally interesting. Steve had intended to go back to the cheetah sighting of a few days ago, but we bumped into the three female lions (headed up by the older lioness known as One-eye) and spent quite a bit of time with them, as they lounged around the edge of a marsh, taking a snooze or just strolling around. By the time we were ready for sundowners, a report came in of a sighting of 5 male lions, and off we went along one of the sandy tracks, in search of more lions. It didn't take long to find them: there were two parties of very impressive maned lions, sitting or lying in the grass, their eyes reflecting the harsh light of the spotlight. After a fairly long wait, two members of the coalition started to roar in a duet of sorts. If this were an opera house, they would literally have brought the house down. The sound of lions roaring like that right in front of you is both incredibly loud and hugely impressive. There is simply no other natural statement of power and majesty that comes close to what he heard that evening from those two kings of the jungle. The sound literally reverberates in one's chest and no person can come away from that unchanged.
Reluctantly, we left the lions ahead and headed back to camp, but the night was not over yet. We were treated to some spectacular views of a serval cat, hunting for rodents as well as birds, hares, insects, even frogs and reptiles in the grass. This beautiful and graceful animal with its sleek long body and long ears is perfectly adapted for its nocturnal environment. Servals are apparently some of the most successful hunters of any of the cats, being successful about 50% of the time, and even higher at night. Happily, we were 100% successful at hunting for our dinner a little bit later, back in camp.
PART 2: KWANDO LEBALA
December 7 2009
Lions were roaring intermittently throughout the night at Kwara, and this morning they were found not too far away. Lions + hippo + assorted other night sounds = not too much sleep. Thank goodness for the siesta time! Kathleen and went across to Little Kwara on an inspection visit and found it to be a perfectly delightful spot. Little Kwara is an intimate camp sleeping only 10 persons in 5 elevated rooms. The rooms are very large with massive bathrooms, his and hers wash basins, a great verandah facing out over the floodplain, a fan and bath and double outside showers. All in all a very impressive camp, enhanced by an excellent common area with a nicely integrated dining room, lounge, bar and adjacent pool.
Little Kwara Lounge
At 1145 on the dot, we said our reluctant goodbyes at Kwara, to the sound and song and dance of several of the staff members, whom we had genuinely come to like and respect. Off we went on a 35 minute flight in a Caravan to Lebala Camp in the Kwando Concession. The camp was just a short ride from the airstrip, and once again we arrived in the midst of a thunderstorm. We were promptly shown to room 4 which was very similar to the rooms at Little Kwara. Quite luxurious with a large double bed & lounge area with two comfortable chairs. The room also sported a side table, a large vanity doubling as a desk with chair, and a huge big bathroom with separate toilet, foot and claw bath, and double outside showers. My only complaint?We could hear everything that was going on in the tent next to us.
That afternoon, we took off with our guide Spencer on an uneventful drive with good birding including 2 painted snipes, and several other species new to the trip list. We also enjoyed some good sightings of elephant, kudu, zebra and other general game. All in all, Lebala gets high marks for the rooms but the food was not quite up to the high standard set at Kwara. Perhaps it is best to be an omnivore and not a vegetarian at this camp. For someone who does not eat eggs, meat or cheese, brunch in particular was very disappointing, basically toast with baked beans, some mushrooms and fried tomato, every day. Fortunately there is also a selection of cereals including a pretty good muesli. Somehow none of the Kwando camps managed to procure soy milk which I found to be odd as it is readily available in Maun. To their credit, Lebala did prepare (from the second day onwards) a separate pot of porridge cooked without milk, in the mornings, as well as muffins without milk or butter. Their afternoon teas were excellent (better than either of the other camps) with one meat and one vegetable dish, an ample selection of fresh fruit, a cake of some sorts, and other items like bottled peppers and olives.
December 9
I randomly picked this day for a 'minute by minute' account of a typical game drive in Botswana. It ended up not being quite typical – due to the wild dog sighting – but otherwise I think it is fairly representative of a good morning game drive. Some will be quieter than this and some might be a bit more exciting, maybe with another predator species thrown in.
We started off from Lebala Camp right at 0600. It was a cloudless morning, cool until about 0900A and then a scorcher until about 1500 when a large thunderstorm rolled through the area. In the vehicle were our guide Spencer, our tracker P.D., Kathleen and myself and two Danish guests Paul and Kirsten.
00:1:00 A juvenile kudu chewing on a wild cucumber, rolling it in its mouth, the white 'lip gloss' and
white chin clearly visible. What massive ears! We spent several minutes with the kudus (several more
emerged from the bush).
00:5:43: A Blackshouldered Kite.
00:8:00: Six Egyptian Geese at a water hole; we witness a very intense squabble between two males, with lots of wing-flapping and chest-bumping, and even more noise. Soon enough one of them gave way and the victor strutted around for a bit to show everyone who's the boss.
00:10:00: Three Wattled Crane including one sub-adult, very close. Magnificent birds with elegant tails.
00:14:30: A massive hippo re-entering a waterhole. A family of Egyptian Geese with 8 ducklings.
00:16:00: Yellowbilled Storks and a pair of Namaqua Doves.
00:18:00: A solitary Hooded Vulture right at the top of a tree. Several Redbilled and Yellowbilled Hornbills, a flock of Helmeted Guineafowl.
00:19:49: A Redcrested Korhaan fly-by.
00:25:00: Ten Impala antelope and some warthogs.
00:26:19: Four giraffe at a distance.
00:27:00: A small group of Burchell's Zebra
00:28:41: An impressive Kori Bustard, the world's largest flying bird.
00:41:15: A juvenile Bateleur Eagle impersonating an owl, turning its head 360 degrees to look back at us.
00:46:00: A couple of Temmincks' Coursers, a new bird for the trip list.
00:50:26: A Tawny Eagle, first of many for the day.
00:56:00: 20 adult and 11 young Blue Wildebeest grazing with lots of Cattle Egrets following them around. A peaceful, almost pastoral setting.
01:00: Three ground hornbills in a tree. Massive birds.
01:03: A dainty Steenbok female in the grass close to the vehicle; a first for the trip.
01:07: An African Fish Eagle, Hamerkop, and a Little Egret.
01:16: A solitary hippo in a small waterhole, with a Hamerkop using the hippo as a mobile fishing platform.
01:17: A Giant Eagle Owl in a tree, at a distance.
01:22: A very nice mature kudu bull with massive spiraled horns.
01:29: A Sacred Ibis
01:30: We make a comfort stop, aka a bush break, pit stop, or checking the tires.
01:38: Two breeding herds; one of about 20 Blue Wildebeest and the other about 30 Impala. Both herds sport several youngsters, small but already firmly implanted with what makes up their species characteristics. Tiny impala darting off and making elegant leaps just like the adults. Tiny wildebeest just slightly less homely looking than their parents.
01:40: A duo of Wahlberg's Eagle, adults feeding young.
1:45: Greenbacked Heron at a pond.
01:48: A pair of Pygmy Geese in the same pond, first just one and then 5 altogether. Once seen, these compact, colorful ducks are unmistakable.
01:57: African Fish Eagle and Saddlebilled Stork, one of the most striking birds in Africa.
02:09: Three young Kudu bulls.
02:16: Two secretary birds on a nest in distance.
02:30: Two large adult kudu bulls close up.
02:32: We stop for morning tea. Redbilled teal at the waterhole. A solitary Wattled Crane. Tea, coffee and some snacks (rusks and cookies) are served.
02:40: During the tea break, I notice one and then several wild dogs running out of the woodland towards the water. The wild dogs have found us! We spend the next hour in their company. There are six in total.
03:40: Still following the six wild dogs, now resting up in a grove of Kalahari Appleleaf trees. There are 2 females and 4 males. Very handsome animals, quite oblivious to our presence. They engage in some horseplay, or perhaps more correctly canine capers. I shoot off about 200 mediocre shots of African wild dogs. A couple or so turn out ok.
4:01: We say goodbye to the wild dogs and head off in the direction of camp. I spot a woodpecker back at the waterhole where the dogs found us.
4:06: Bateleur Eagle, Tawny Eagle. We would have repeated sightings of both of these birds of prey during our stay at Lebala.
4:09: Breeding herd of about 30 wildebeest with 15 young. Also 5 Burchells's Zebra, one of which (a youngster) has 3 pretty bad lacerations on its flanks, apparently caused by a lion.
4:20: Breeding herd of about 60 elephants. We watch as they emerge from the woodland, feedingas they go. A very relaxed, peaceful scene. The elephants continue to feed as they move past us from our left to our right. We stay with the elephants for about 10 to 12 minutes, then head off back to camp for brunch.
4: 45: Burchells's Sandgrouse, a new bird species for the trip list.
4:48: Leopard Tortoise, our token reptile for the day.
December 10
This morning we set off in the direction of Lagoon Camp, the purpose being to combine a road transfer (two Danish guests from Lebala to Lagoon) with a game drive. The morning started slowly but it wasn't too long before we ran into several very nice herds of elephants. While looking for wild dogs, we first noticed some Yellowbilled Kites flying over one particular spot and then some vultures. And before we actually saw it, the smell hit us. "IT" was a dead elephant (apparently of natural causes) which was being fought over by two competing packs of hyena. There were probably 10 to 12 hyenas around, some with clearly distended bellies, having successfully gorged themselves on this bonanza. Later on one of the other cars would actually witness some sparring between the two competing clans. Thankfully we did not stick around too long: there are few things as pitiful and sad and upsetting a sight as a massively swollen dead elephant lying unceremoniously splayed out, several days dead. In the afternoon, we unsuccessfully tracked a leopard, following its tracks around and sometimes over a variety of trees, bushes and shrubs, from mopane to Kalahari apple leaf, Apparently we got very close, as the last sighting, just before we lost the light in the late afternoon, was where the leopard had spent quite a bit of time resting up. The tracks were very fresh. By then we were pretty beaten up from the jostling one takes especially in the back of the Uri game-viewing vehicle, so we were not entirely unhappy to let the leopard be and to stop for sundowners before making our way back to camp.
December 11
The morning game drive was initially a bit frustrating, as we were again unable to locate the wild dogs, whose tracks were all over the southern area of the concession. Even so, we were consoled by the sighting of two of the largest breeding herds of elephants we had seen on the trip yet. The first herd we saw as they came to a waterhole and it was – as always – most entertaining and enlightening to see them drink. They take in as much as 10 liters or more at a time, and the sound is not dissimilar to having a large bucket of water poured down the throat.
On the way back to camp, we were alerted by radio that Thabo, one of the other guides, had found wild dogs at a waterhole. Arriving on the scene about 15 minutes later, we realized that this was yet another different pack, which now made it four different wild dog sightings over the space of just 9 days. This time, we were lucky to find a group of 12 dogs, consisting of 6 adults and 6 pups, about 1 year in age. Just like puppies would, they made mock charges on each other, frolicked around and played tug of war with a dried branch. We stayed with them for a good 15 minutes or so, shooting off multiple exposures, before winding back to camp for brunch. By 1130A we were packed and ready for departure. A short trip to the airstrip was followed by a 35-minute flight to Maun where we disembarked from the aging (1972 vintage) Islander. Pilot Dale told me that the aircraft undergoes a minor servicing every 50 hours and a major service every 100 hours. So despite its shabby interior and the fact that it was sorely in need of a paint job, the critical components
of this workhouse were in good shape. It got us safely to Maun and then on to the airstrip
at Nxai Pan National Park, where we would spend the last 4 days of our Botswana trip.
PART 3: THE KALAHARI
I was immediately impressed with the spacious and attractive lounge, dining room & bar area at Nxai Pan Camp, with the entire front part of the building open to the outside. The large thatched structure, made of an innovative Styrofoam wall, covered with chicken wire and cement on both sides, somehow fit in quite nicely in this wide open environment, with a 180 degree view over a grassy plain fringed by acacia and purple pod terminalia. The nine rooms (including a family room and pilot/guide room) were equally spacious with high ceilings and extensive views over the plains through three large screened sliding doors. Inside, each of the suites have a separate sitting area with two comfortable wicker chairs, a built-in desk and leather chair, indoor and outdoor shower, large bathroom with his and hers washbasins and a separate flush toilet. The big double bed faces the plains and every day we briefly watched the sun rising over the horizon before getting ready for the morning activity. On our first morning there was some cloud cover present, making for a rather brilliant sunrise. Unfortunately I missed the peak color by about 3 minutes…
If there is any criticism of the rooms at Nxai Pan, it relates to the fact that the rooms, despite the seemingly well fitting screens in front, are not at all impervious to insects. On each night there, we were bothered by various small flying insects, mostly bugs and small beetles, which made reading before going to bed a rather tricky affair, trying to swat away insects and trying to prevent them from getting into bed with you. There were hardly any mosquitoes but that was small comfort. This problem can be taken care of by plugging up the two glaringly obvious gaps between the thatching and the walls. The door also does not fit well and should be adjusted. All in all I think mosquito nets would be a good idea, especially for the summer months.
After enjoying a late morning tea break at Baines Baobabs, we started driving back and immediately started to encounter some wildlife, first a couple of nice groups of Oryx on the saltpans not far from the baobas. Then en route, Kathleen had a good, albeit brief sighting of a cheetah. That was followed by an equally brief sighting of a large elephant bull, who was trying to get to a small waterhole by the side of the road. We also had some dung beetle action, watching several of these large insect trying to process a huge mound of fresh elephant dung. Once we got back to Nxai Pan, the area had undergone a transformation. There were dozens, actually more like hundreds of zebra to be seen everywhere. The same was true of giraffes; there were several large journeys, numbering upward of 30 in total. Very impressive.
The afternoon game drive was one of the best of the entire trip. It included a sighting of a cheetah lying up in shadows about 50 meters off the road, and then one followed by another excellent lion sighting. The first one was of a large maned Kalahari lion first lying down and then striding in the open plains, towards the middle of the pan. Just minutes later, we came across its brother, fairly close to the road, in good position for some very nice photographs of this particularly handsome male with its two-toned gold and almost black mane. Later on during the same drive we also came across ostrich, bat-eared fox, several jackals, scrub hares and earlier we saw several new bird species for the trip including doublebanded courser and blackwinged pratincole.
December 13
Our game drive this morning started extremely slowly, it was as if someone had switched off the light on the pan and had let all the zebras, giraffes and springbok out. It was really quite empty. However things would liven up very quickly when we came upon a female cheetah with her cub. Initially they skirted the road, walking in and out of shrubs on the west side of the westernmost road, partially obscured from view. However soon after they crossed the road and went to a waterhole for some good photo ops of both them drinking, and also of the cub running around, clambering onto stumps, into trees and pouncing on its mother as she playfully tried to run away from it. All the while a group of about 12 or so giraffes were practically standing on tiptoe staring at the cheetah, keeping a safe distance. Quite an amazing experience for all of us.
The rest of the day was fairly uneventful, although we did have some good views of springbok, oryx and zebra in the afternoon. The evening drive included yet another sighting of the two cheetahs, this time in a different more open area, where she seemingly was in the process of hunting, probably hoping to get within striking distance of some springbok. We had to leave the cheetah behind as it was getting late, and we had to return to camp.
The last two days at Nxai Pan were fairly quiet but quite enjoyable nonetheless. At times the plains would be seemingly bare of animals, only to be replete with scores of zebra, springbok and oryx the very next day. What is it that brings them out onto the plains one day and back into the woodland the next? Who knows. What I would suggest is that anyone intending to visit this area spend at least 3 nights so that if there's a couple of slow game drives – and there's bound to be some – it won't spoilt the entire trip. Being inside a National Park, there is strictly no off-road driving at Nxai Pan. All the more reason to spend several days here; you need to give yourself enough time to find the wildlife close to the roads. And definitely take a good pair of binoculars: Nxai Pan is one place where they are absolutely essential! In fact a small telescope would come in extreme handy here. Initially, we were disappointed not to be able to get closer to the wildlife; on our fist afternoon all of them seemed to be very far from the road. However on the very next day we got quite close to most of the species in the area, including zebra, springbok and to a lesser degree, oryx. Eventually, after 4 days at Nxai Pan, we ended up with ample opportunities for photography including excellent views of lion and cheetah.
I have always had a soft spot for the Kalahari and this visit to Nxai Pan reminded me what I like and enjoy about the area. This is truly big sky country with 360 degree views of nothing but blue sky and sometimes fantastic cloud formations. The sunrises and especially the sunsets are near magical – with the sunsets sometimes improving for many minutes after the sun had disappeared below the western horizon.
There is much here beyond just the usual mammals. It is not unusual to bump into less well known species such as bat-eared fox; jackals are very common as are various mongoose species. The birdlife is truly spectacular with several raptors to be seen including buzzards, bateleur eagles, snake eagles, chanting goshawk, yellowbilled kites in summer, various coursers, pratincoles, korhaans, thicknees, lapwings, rollers and the superb Crimsonbreasted Shrike. But it is much more than that. The Kalahari gets into your blood and it doesn't take long. Three or four days there and you'll know why this is such a special place. Crisp, clean air, warm days but glorious cool nights and the timeless appeal of wide open spaces. Remarkably, we saw only two other vehicles during our entire stay at Nxai Pan. On December 16 we bid farewell to the wonderful staff and guides at Nxai Pan Camp, braced ourselves for the hot and uncomfortable flight (35 minutes) to Maun in the old workhouse Islander and connected with the flight toJohannesburg. We spent the night at the Metcourt Suites at Caesar's Palace and then boarded our SAA flight for the long and arduous flight back to the USA.
Once again, Botswana had exceeded our expectations. Fabulous camps, superb game-viewing with
hardly any other vehicles to be seen and a very good array of habitats and activities, especially
with the addition of a Kalahari camp which was our first ever visit to the area in the green season.
This has been my fourth green season trip to Botswana and without exception, the experiences
have been good. Contrary to the conventional wisdom, the summer months are not unbearably
hot, in fact the evenings can be quite cool and it is always a good idea to take a light sweater or
fleece on any outing.
Highlights were many including the boat ride in the Okavango Delta at Kwara, the amazing lion roaring
duet also at Kwara and a spellbinding cheetah sighting at Nxai Pan, with a female and youngster
putting up an amazing performance for us. Of course the wild dogs take pride of place. I doubt that
I will ever equal such prolific wild dog viewing: four different packs in two different areas over the extent of just ten days. Two packs of live at Kwara, six more at Lebala and then the cherry on the
cake: 6 adults and 5 youngsters at a waterhole at Lebala. I'm a big elephant fan and there was
more than enough 'elephant action' at Lebala to satisfy even the most ardent elephant aficionado.
A FEW PRACTICAL ISSUES
We experienced a few hot days with temperatures in the 90's F but overall the temperatures were not exceedingly high. In fact the nights were mild to cool. Even if you travel to Botswana in midsummer, take a fleece for the early mornings and evening game drives. And take it with you on every outing! Rainfall was not a big issue. While we were inconvenienced a couple of times due to thunderstorms, we only missed one (entire) morning activity at Lebala due to heavy rain.
Other than at Nxai Pan, insects were not a problem. We hardly saw any mosquitoes anywhere. However at Nxai Pan the onset of the rain brings out myriads of small beetles and various other flying bugs. They are a big nuisance in especially the dining room (the camp will have to screen off the open dining area in summer) and in the room at night if you want to read as the light attracts them by the dozens.
There were intermittent issues with electricity at all 3 camps, notably Lebala where we and other guests were without power in the rooms for sometimes several hours due to battery/inverter problems. Take a flashlight!
The Kwando game-drive vehicles have two rows of (guest) seats each with 3 'bucket' type seats. So if there are 6 guests in a vehicle, two of them would have to be in a 'middle' seat. This was not a problem in our instance as there were not many people in camp. However I can foresee that in the high season (June through Oct) this may very well be a problem.