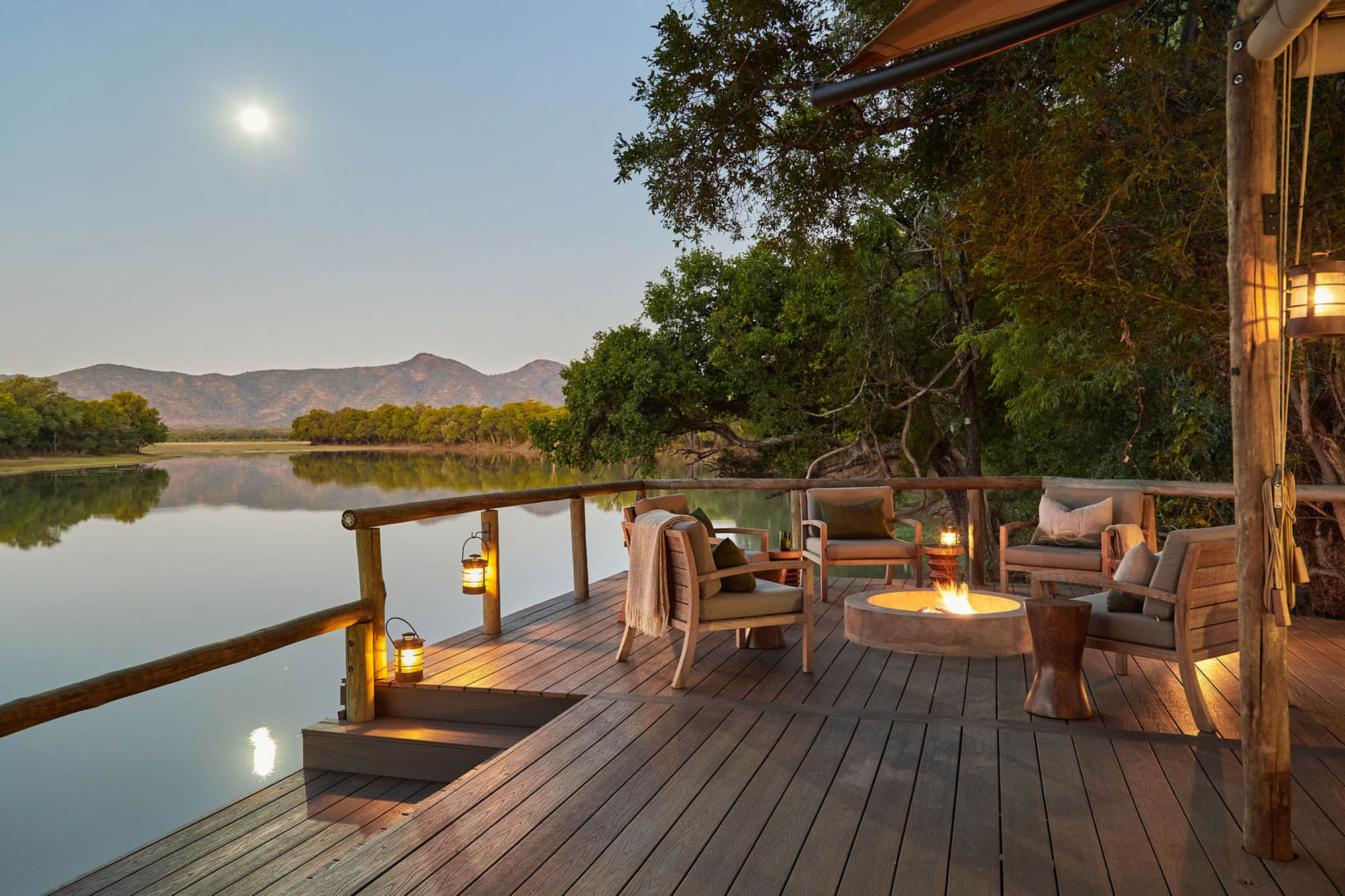 Photo courtesy of Bushcamp Company
Chindeni and the Bushcamp Company, Zambia
By late July we found ourselves at Chindeni, a small Bushcamp Company property with a simply idyllic location facing out over the Chindeni Lagoon, with the pretty Chindeni Hills in the background. Having first visited Chindeni a few years ago, when we had a marvelous time there, I had every reason to look forward to my stay.  
I'm happy to report that the return visit was even better than my first time at Chindeni.  Of course, there is a degree of bias and personal preferences, likes and dislikes involved.  Making a value judgement about a safari property is a subjective process and two people spending the same two nights at a given property may end up with quite different opinions, at the end of it.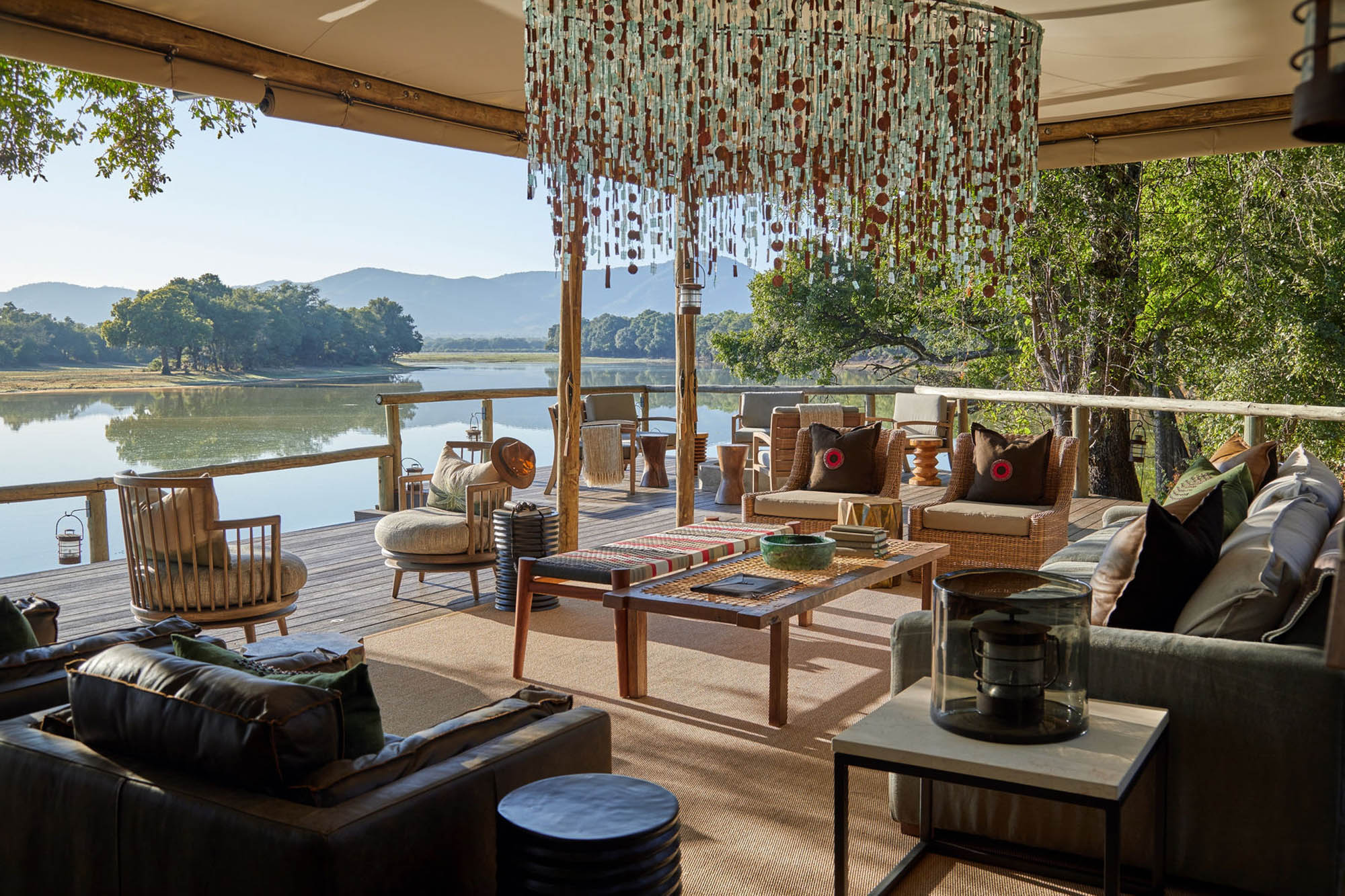 Photo courtesy of Bushcamp Company
Beyond the physical product (rooms, facilities, common areas, location, accessibility) I tend to put a heavy emphasis on the quality of the guiding and I also look at the staff dynamic.  What you want to see and experience are a bunch of happy, positive people who are always around and for whom nothing is too much trouble.  Not a good sign?  Staff that are aloof and hardly ever to be seen.  Chindeni cleared this hurdle with ease.  A happier, more content staff complement would be hard to find.  Clearly management is doing all the right things.  As we were to find out, our professional guide Peter Milanzi, was also the manager of Chindeni. You could not ask for a nicer person or a more competent, all-round guide than Peter.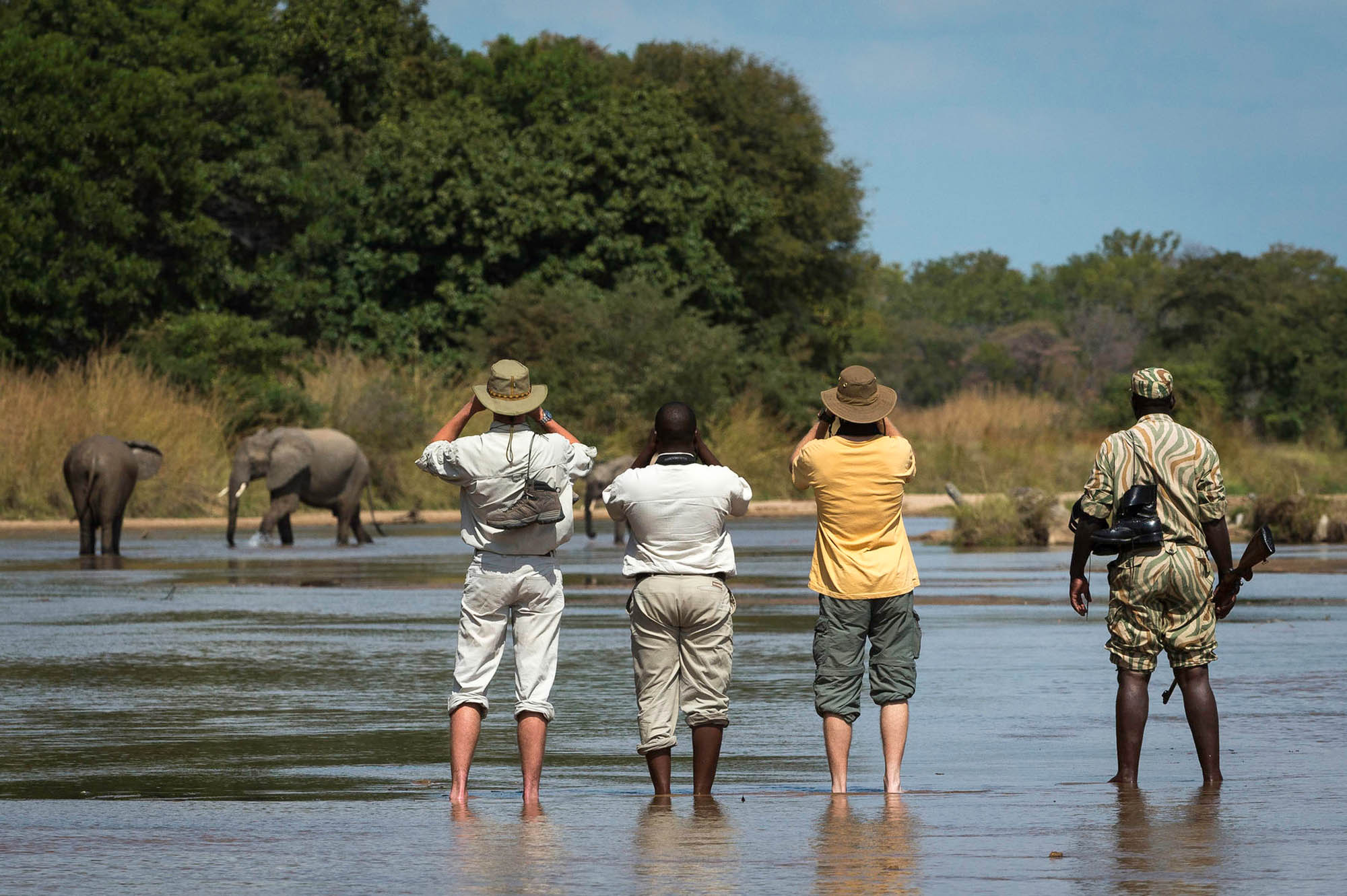 Photo courtesy of Bushcamp Company
How does a camp earn bonus points in my little black book?  Wildlife in camp.  Once again, Chindeni ticked the right box:  there were no less than four lions right along the path just outside the camp, upon our arrival, two of which happened to be a mating pair. Having big cats in camp definitely gets you a gold star!
After a cup of tea and a snack, we went back to the lions.  Predictably, they were sleeping.  Even so, there was a hint of excitement in the air as there was a good-sized buffalo herd crossing the road about 50 to 100 meters behind the lions.  All this barely 500 meters out of camp.  We were hoping that the lions would live up to their reputation of being opportunistic when it comes to hunting, but alas, we were disappointed.  As a consolation prize, I got some photographs of the buffaloes.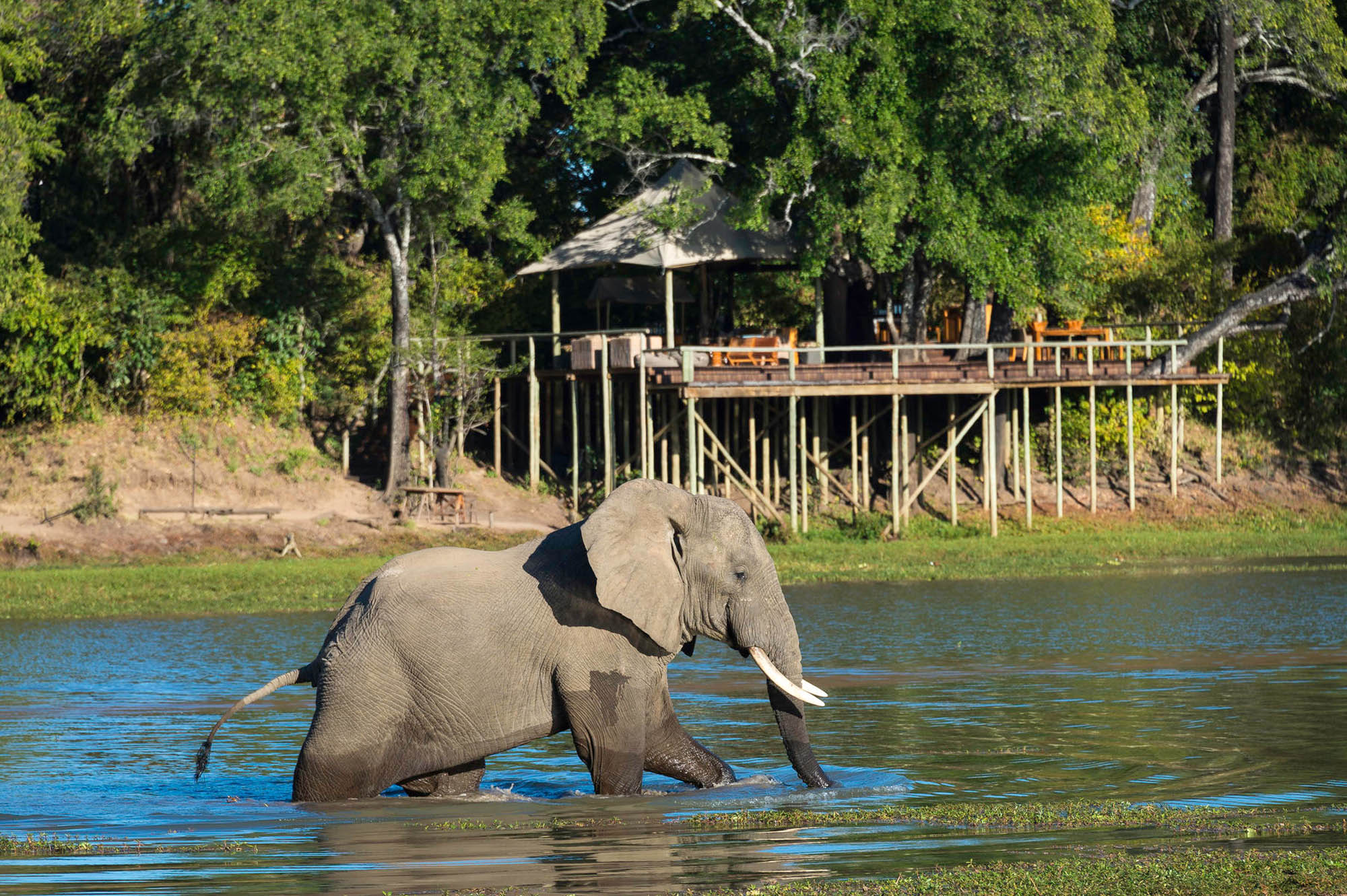 Photo courtesy of Bushcamp Company
A bit later we found a large male leopard on an anthill, in decent light.  More good photos, particularly after the leopard relocated from within a thicket to a more open spot.  Sometimes the safari gods play along.  Then it was time to enjoy sundowners overlooking an oxbow lagoon with the Chindeni Hills in the background.  Is there a better way to end a day on safari in Africa?  I doubt it. 
Remarkably, we experienced all of this without seeing even one other vehicle.  As we were to see here and again, later on our trip in Kafue and the Lower Zambezi, Zambia can still deliver a safari experience harking back to the Africa of old where 2021 might as well have been 1921.  If there's not a vehicle in sight, or any signs of modern civilization, time is reduced to where the sun is sitting at any given moment.  No villages or power lines, no cattle or goats.  Just the wilderness – and you.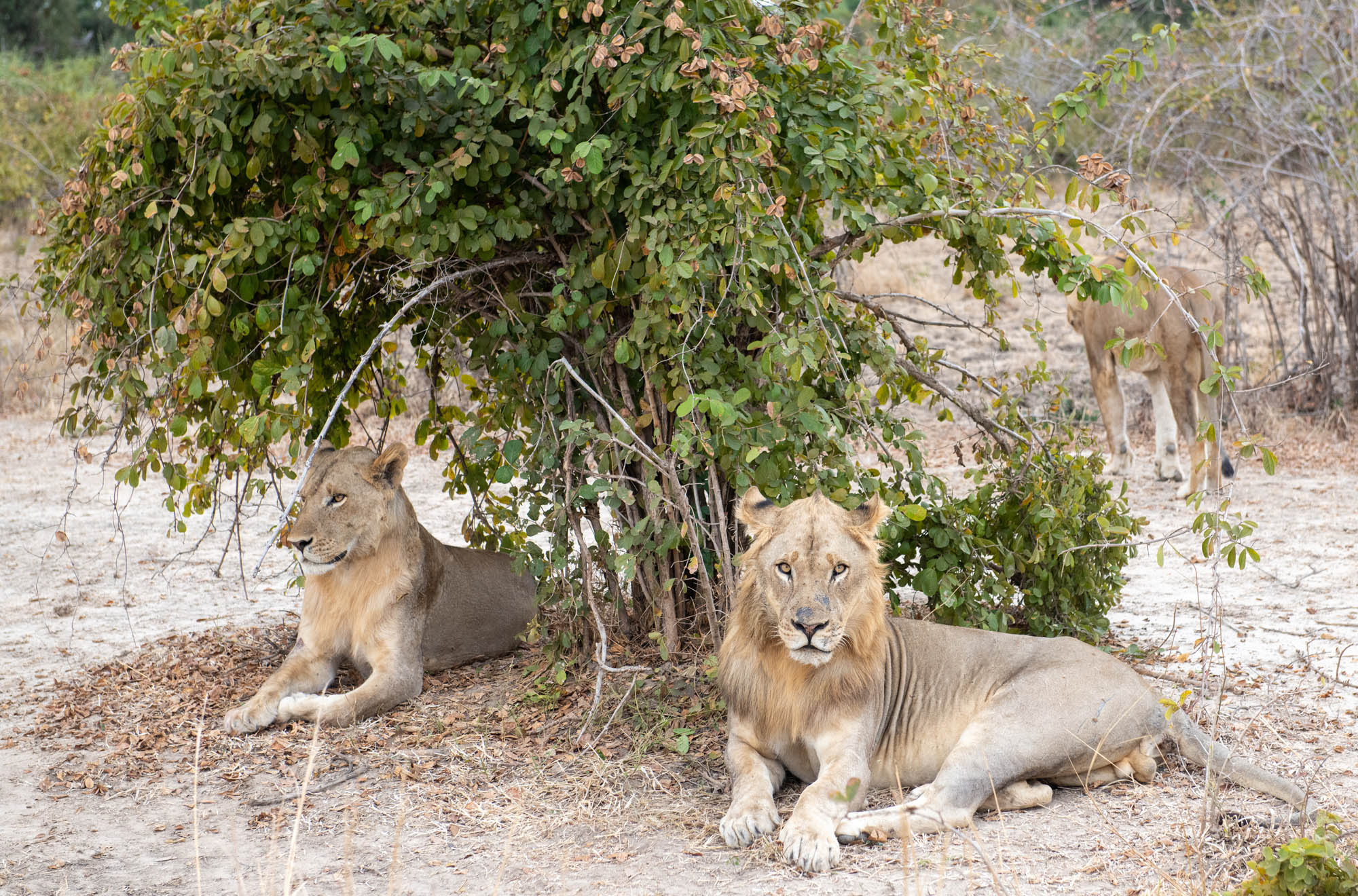 South Luangwa National Park is legendary for an abundance of leopards plus good elephant numbers, giraffe, zebra and of course hundreds of hippos along the Luangwa river. There are thousands of hippos on the Luangwa so you are almost always within hearing distance of their booming snorts and honking. Hardly surprising, given that they can be heard as much as a mile away.  Chindeni is well away from the main river but we could still hear them in the distance, at night.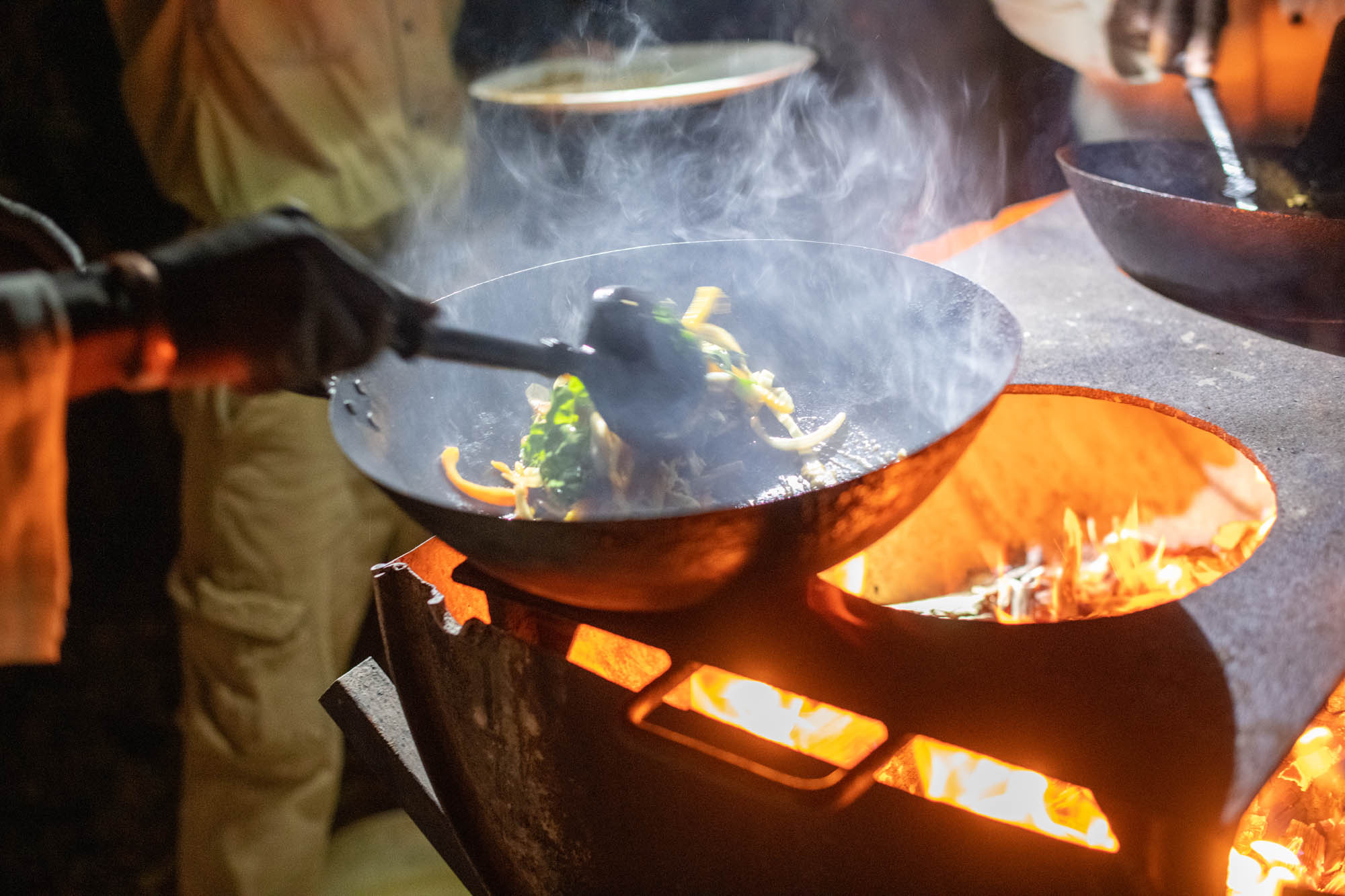 After a rather uneventful night drive, we were back in camp just after 7pm for dinner.  A delicious soup to start, served with freshly baked bread rolls.  The main course was an elaborate Mongolian stir-fry, a culinary and visual extravaganza.  This most memorable of meals was finished off with a tasty flan.  Of all the safari operators who hosted us on this trip, the Bushcamp Company was the clear 'winner' in terms of special events & surprises, such as sundowners served in a scenic location and meals prepared and served al fresco, in a bush setting.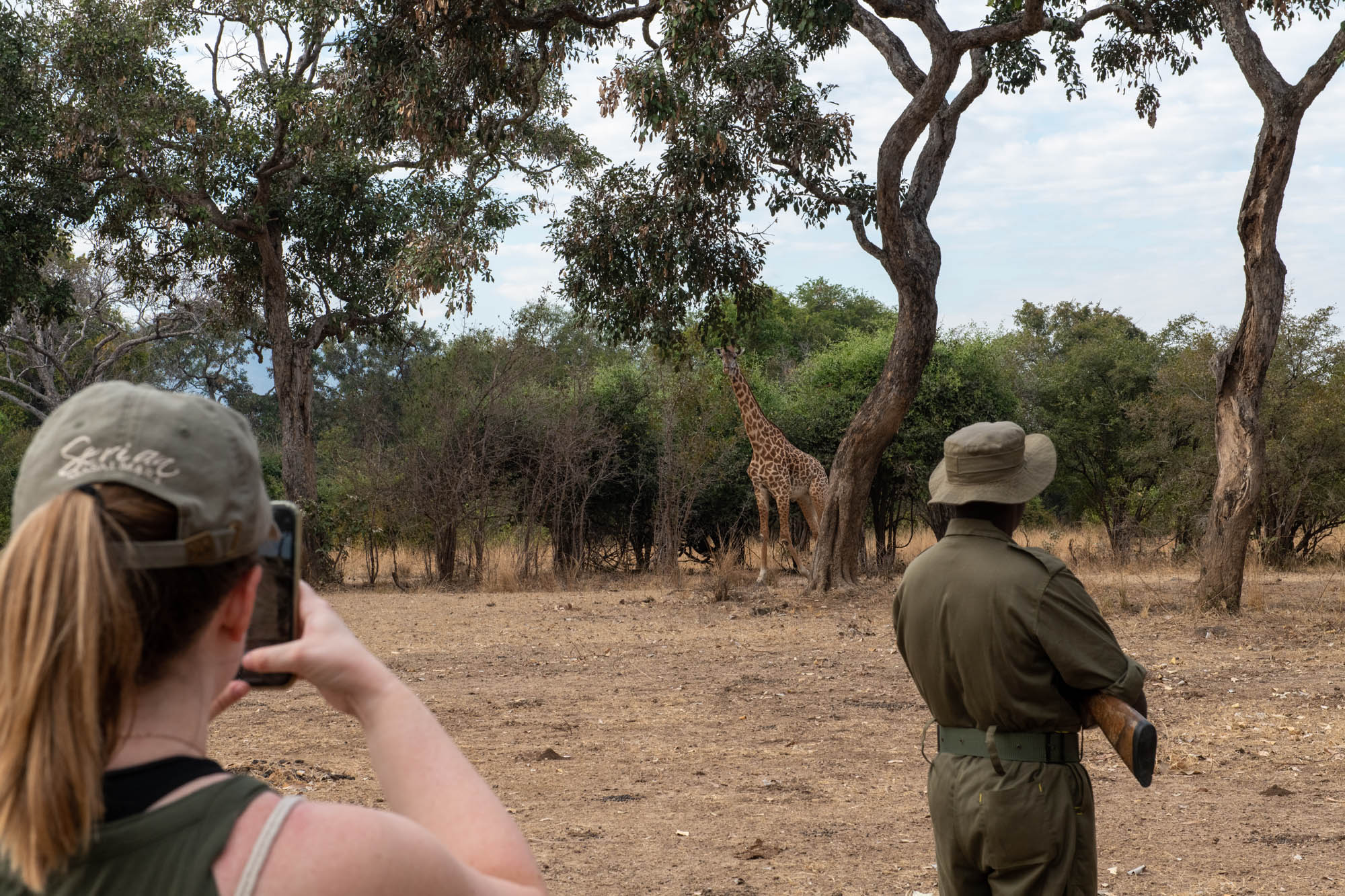 Walking is central to the safari experience in Zambia yet it isn't forced or mandatory. Most camps do the walking excursions early in the morning as it does get hot later in the day.  And so it was the following morning when we were up at 0530 for our second South Luangwa foot safari, this time with our guide Peter. After a long day in the car the previous day, it was really nice to be out on foot again.
If nothing else, a foot safari is always great exercise.  But there's more:  signs, tracks, plants, trees, birds – and animals.  On this two hour walk we saw giraffes (close up), elephants (we had to divert around some), lots of antelope including a kudu, and baboons.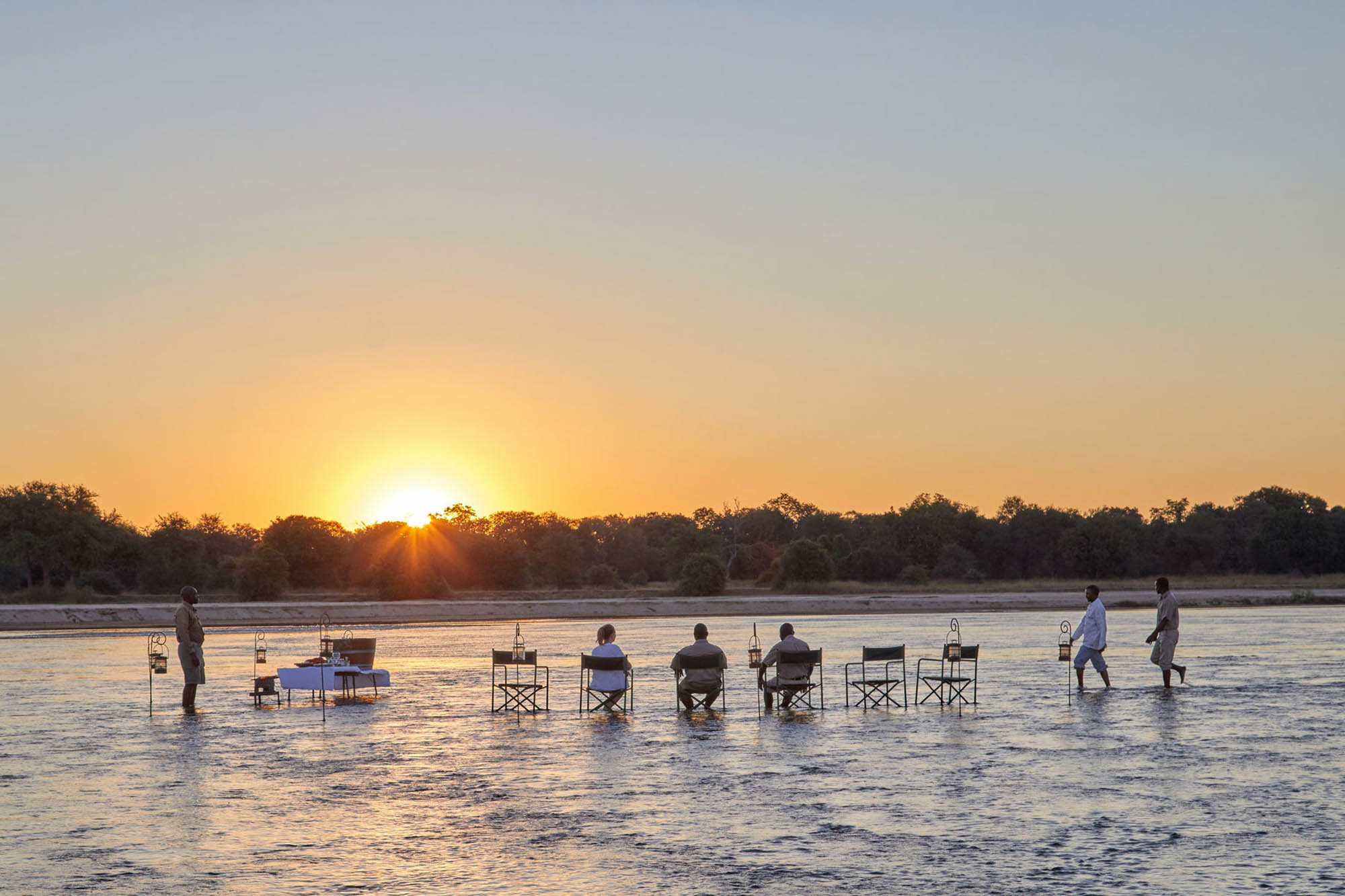 Sundowners this evening were served in the shallow waters of the Kapamba River, close to its confluence with the Luangwa.  It was fun and different.  Wading into the cool water and feeling the soft sand between your toes is a special treat.  I had seen many photographs of the Kapamba River sundowners over the years and it was really good to finally experience this myself.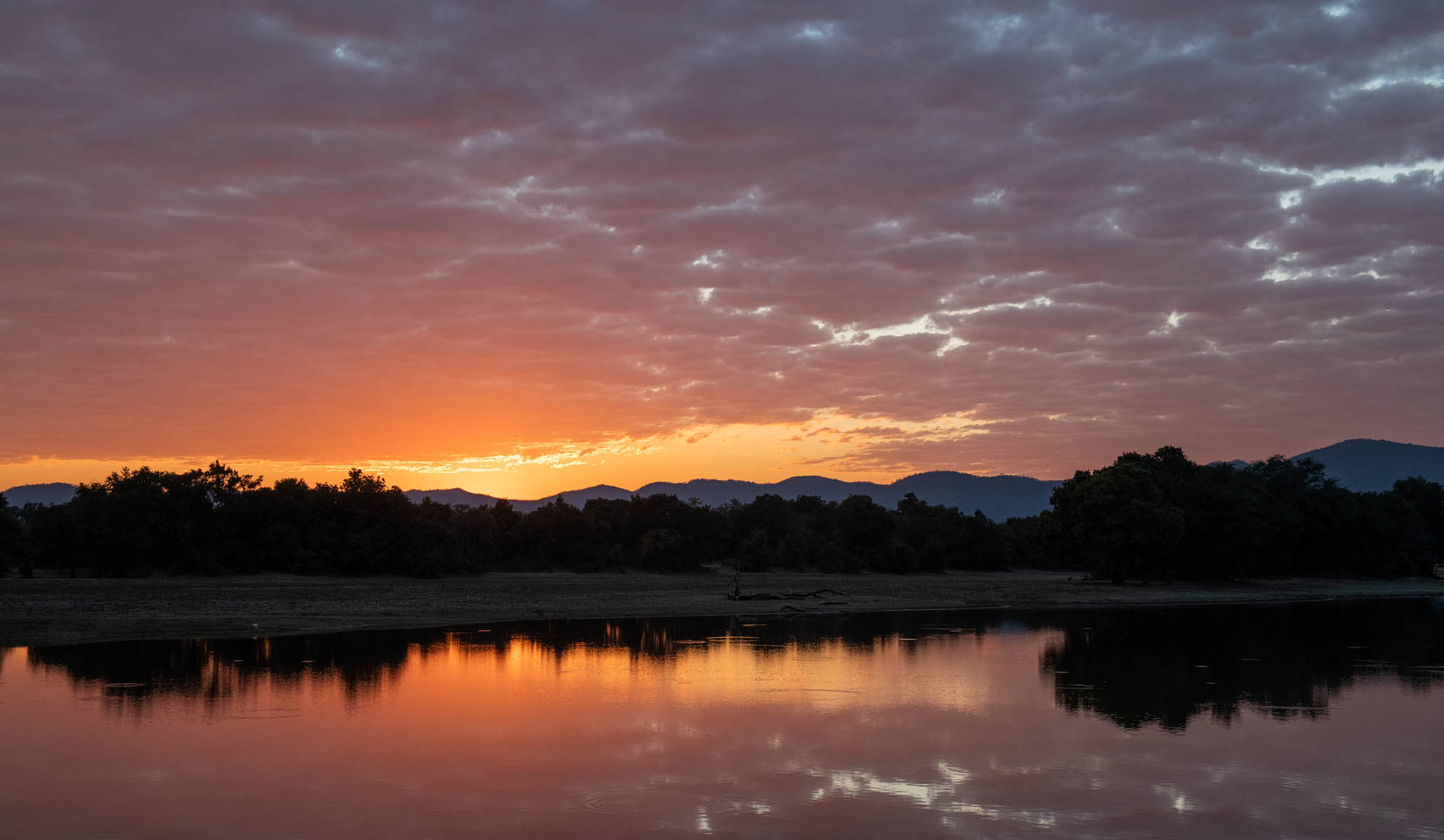 During the course of the two days or so which we spent in the Bushcamp Company area, we managed to find time for site inspections at four other bush camps and Mfuwe Lodge:  
Kuyenda:  This small 4-roomed camp is not right on the Luangwa River but close.  Set beneath shady trees by the Manzi River, it felt very intimate, a real bush camp.   Quite noticeably, there was plenty of wildlife around the camp.
Chamilandu:  This tiny bushcamp – which has just 3 stilted 'tree-house' rooms – is beautifully located  on the edge of the Luangwa River.    The usual sequence of activities is to do walking in the morning, and game drives in the afternoon.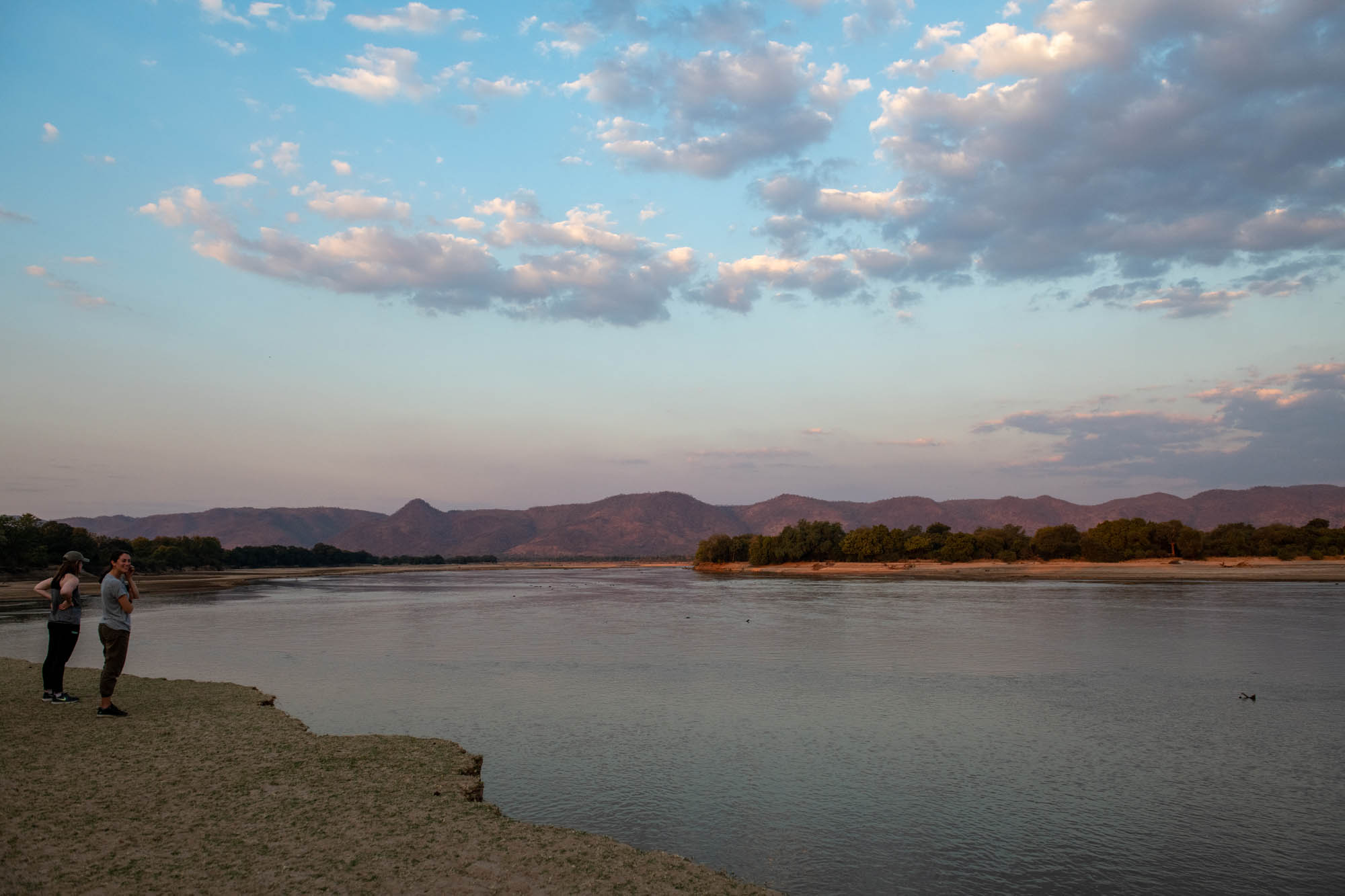 Kapamba: This 4-roomed bush camp combines the isolation and superb game-viewing opportunities of a true bushcamp with a touch of luxury.  Two of the rooms – on the outer edges of the camp – have sleep-out areas.  The rooms don't cost more, they simply have to be requested in advance.  Kapamba is known for getting a high percentage of return visitors.  Set on the banks of the shallow, spring-fed Kapamba River,  game drives are done mostly towards the south in the direction of the Luangwa River. 
Bilimungwe:   Set beneath a huge mahogany tree, the heart of Bilimungwe is the cool, shady lounge area that looks out over one of the camp's three waterholes.   The four raised thatched rooms are comfortable – even a bit luxurious – but retaining an authentic bush camp feel.  Like the other bush camps, Bili offers walking safaris, day and night game drives, and sundowners on the river's edge.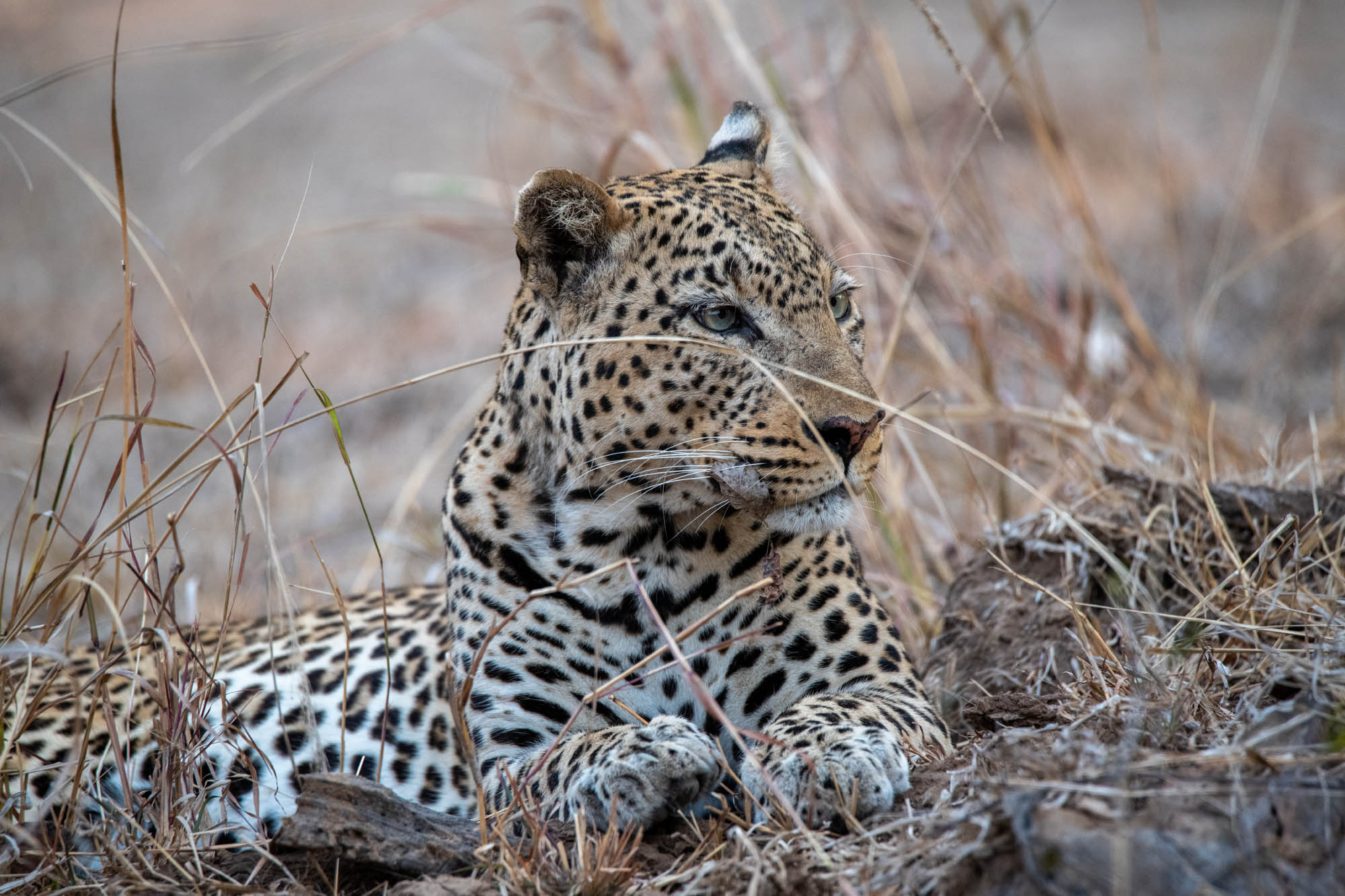 Mfuwe Lodge:  On our way out of the South Luangwa, en route to Kafue, we checked out Mfuwe Lodge, where Kathy and I had spent some time a few years ago.  Set in the most prolific game area of the South Luangwa National Park, Mfuwe Lodge is the perfect place to start and finish your journey to the bush camps.   Its  eighteen air-conditioned chalets are arranged around the banks of two lagoons where a stream of wildlife will keep you entertained.   The large, airy interior of the lodge blends quite seamlessly into its natural surroundings.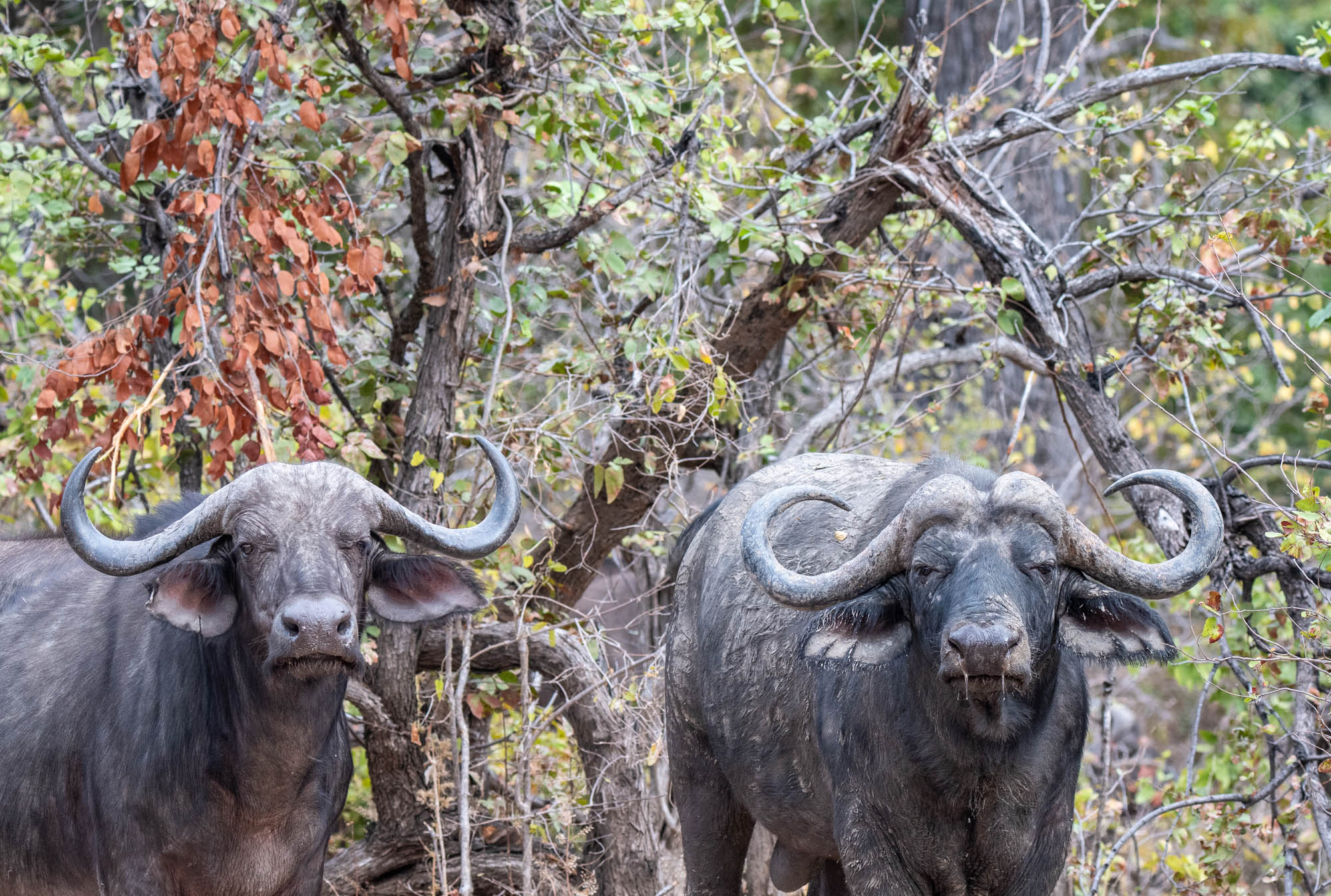 The Mfuwe region of the park is renowned for its prolific game, and as a result giraffe, hippos, buffalo, antelope, and crocodile are constant visitors to Mfuwe Lodge's lagoon.  In the month of November the local elephants regularly wander right through the lobby, lured by a nearby wild mango tree. Whether you stay overnight, or just have lunch en route to a bush camp, Mfuwe Lodge's relaxed charm and enviable surroundings make it the perfect stopover.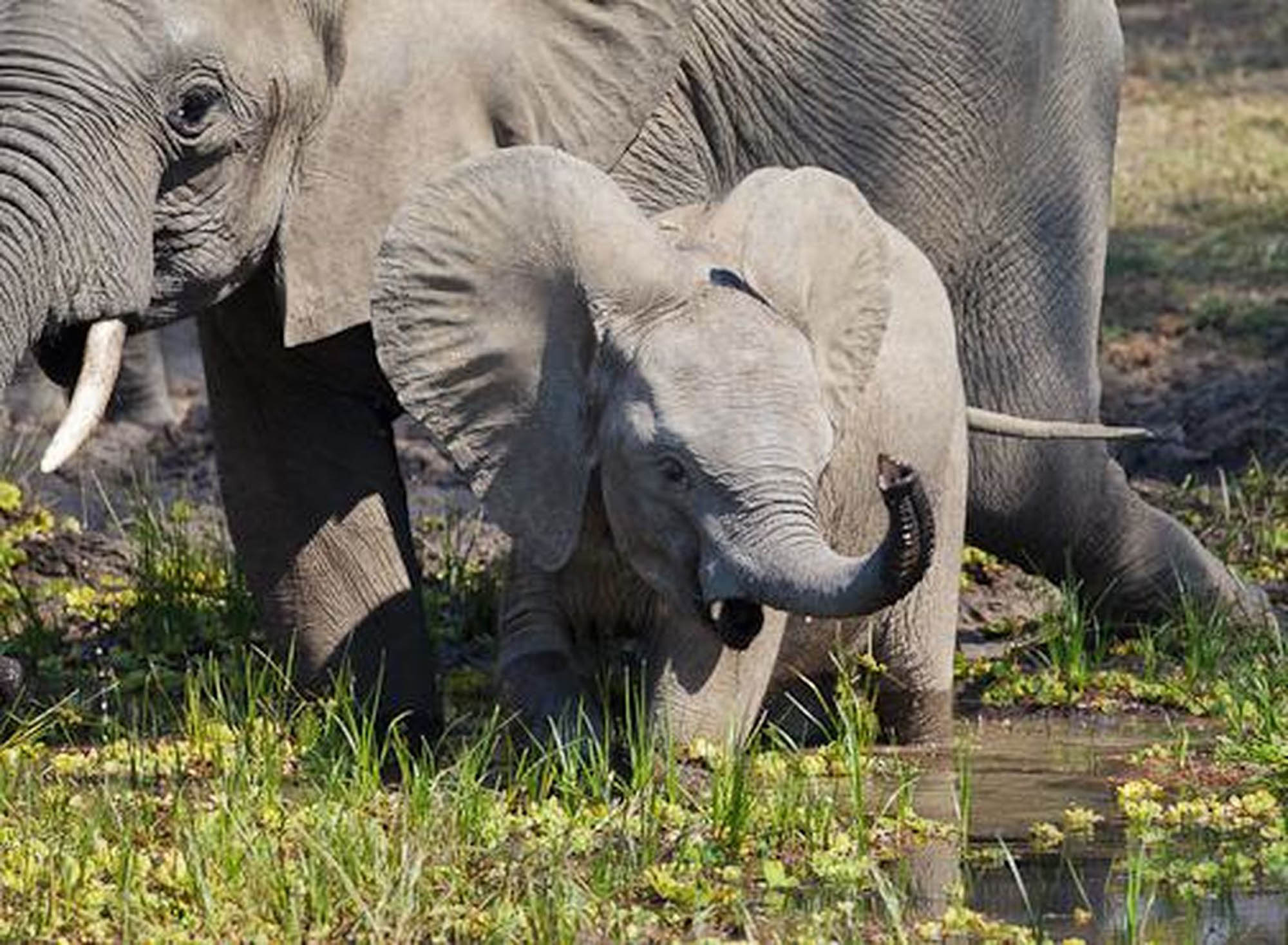 Photo courtesy of Bushcamp Company
A new addition to Mfuwe Lodge is the well-appointed director's room, a 2-bedroomed thatched unit which comes with its own swimming pool, private dining and private guide and is ideal for families or 2 couples who are friends wanting total privacy.   It also has a small gym.
YOU MIGHT ALSO BE INTERESTED IN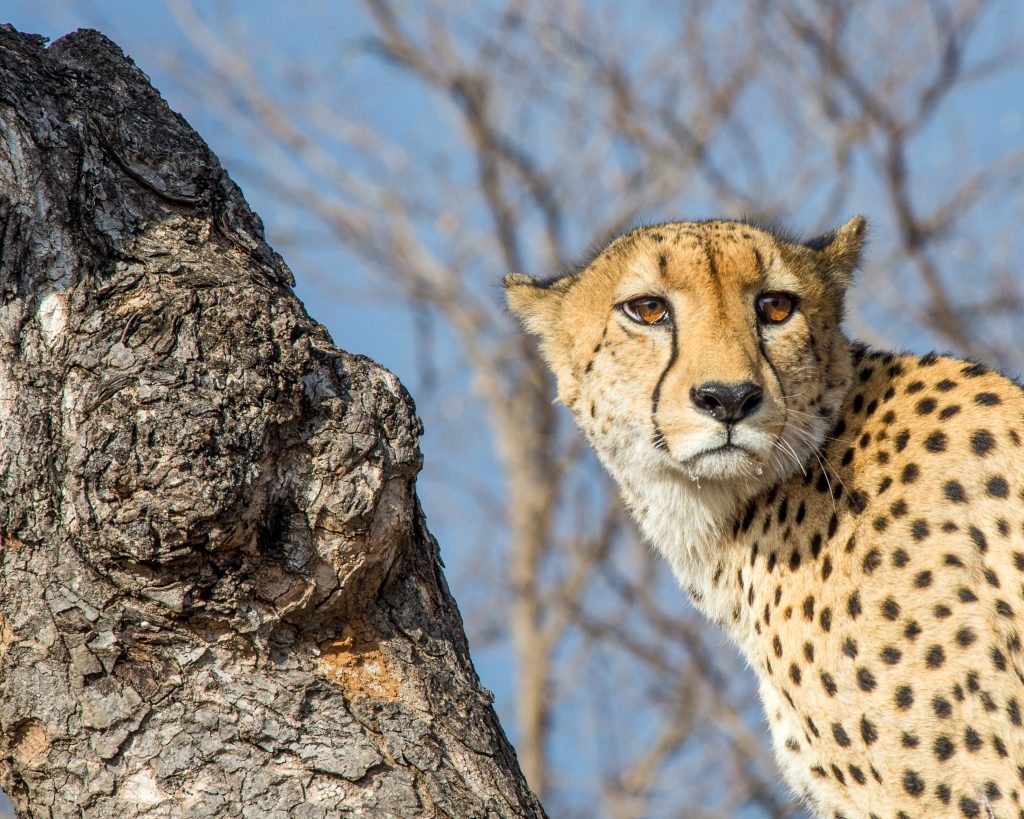 9th Oct 2020
Cheetahs, cheetahs, cheetahs
For many visitors to Africa, seeing the big cats is #1 on their wish list. Nobody wants to go home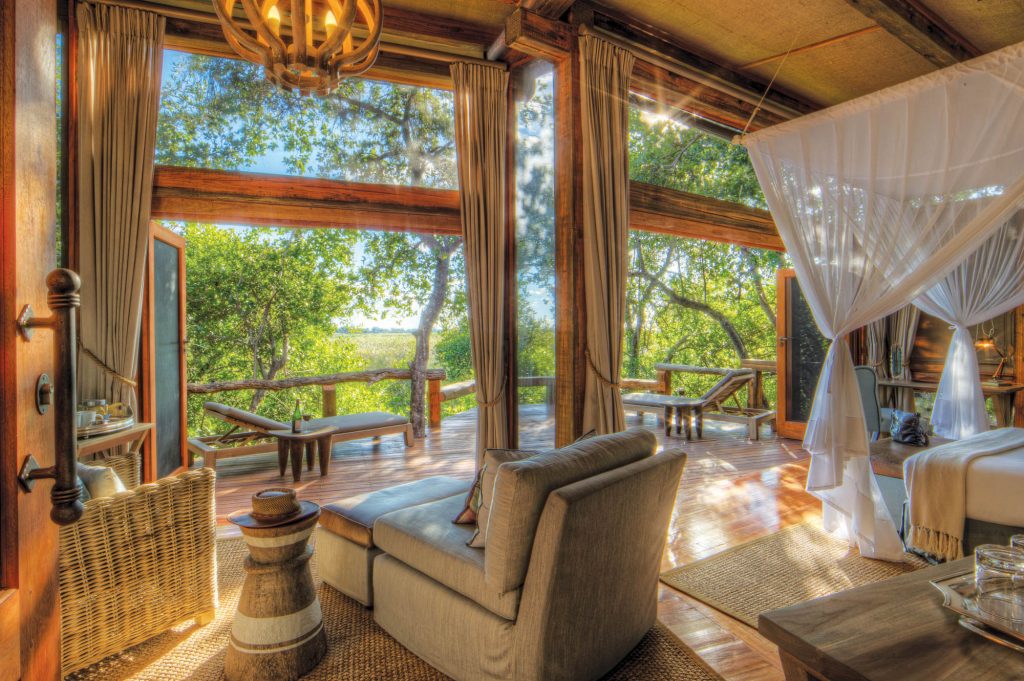 3rd Oct 2022
Camp Okavango, Botswana
Camp Okavango is in the heart of the permanent part of the Delta. In this idyllic setting there are no vehicles, and it is just a short walk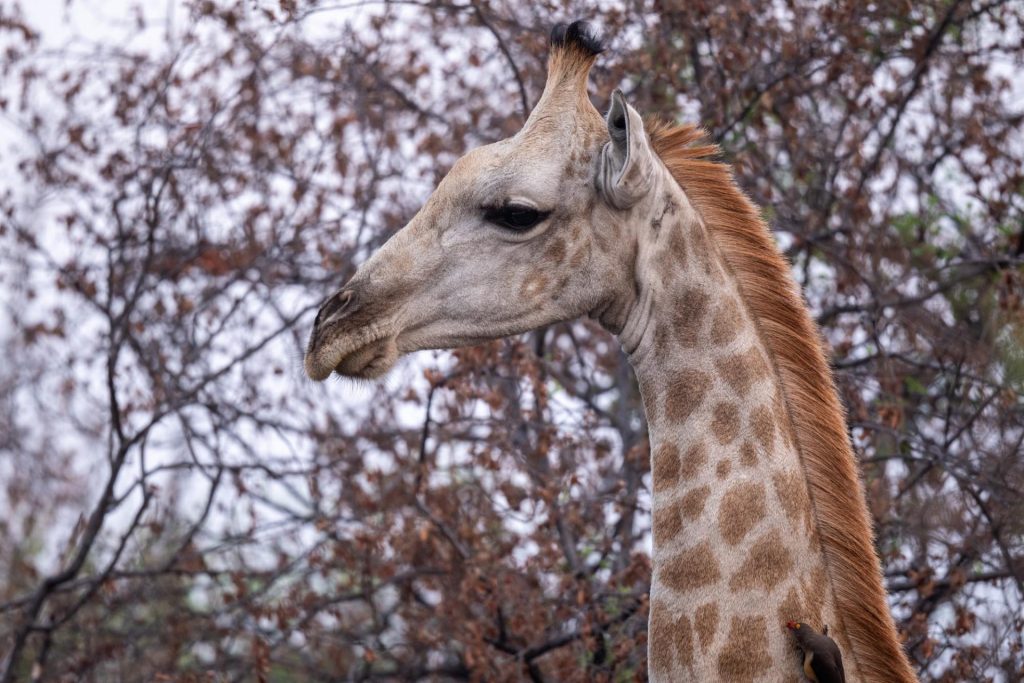 26th Mar 2023
Photography on safari
Fish Eagle Safaris was an early adopter of digital photography. Company founder Bert somewhat fondly recalls using a first generation Sony Mavica
SUBSCRIBE TO OUR NEWSLETTER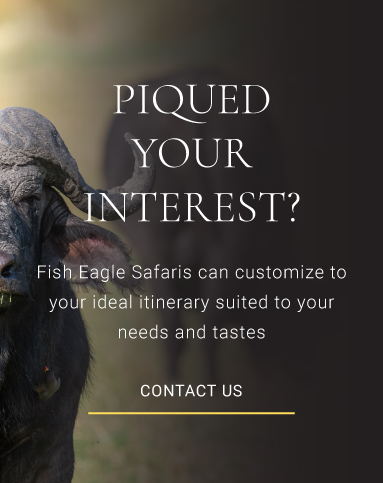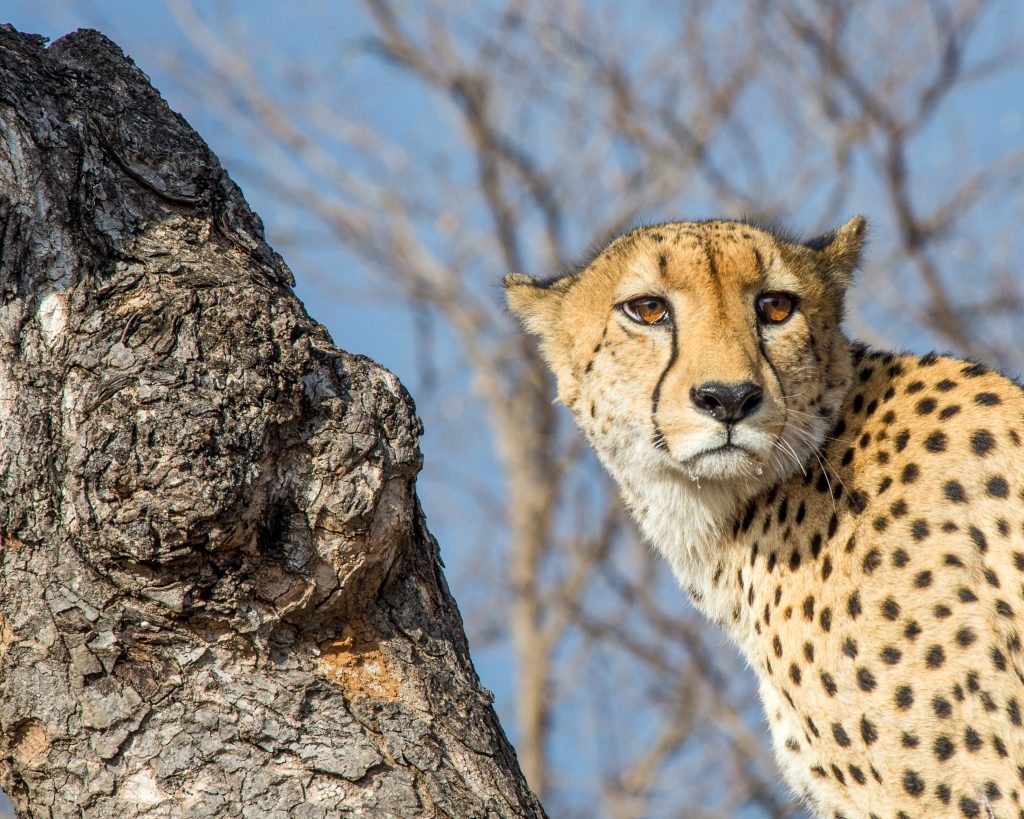 9th Oct 2020
Cheetahs, cheetahs, cheetahs
For many visitors to Africa, seeing the big cats is #1 on their wish list. Nobody wants to go home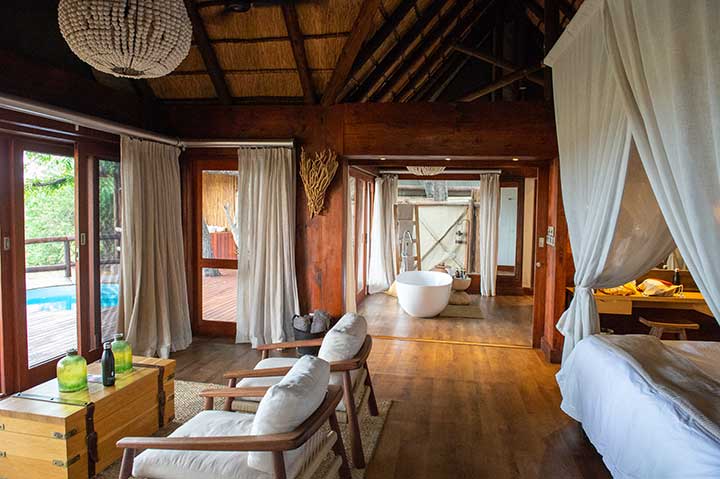 4th Aug 2022
On Safari At Belmond Eagle Island Lodge, Okavango Delta
What is the 'secret sauce' for an unforgettable few days on safari in Botswana? It starts with the animals, of course. The elephants, lions, giraffes, hippos