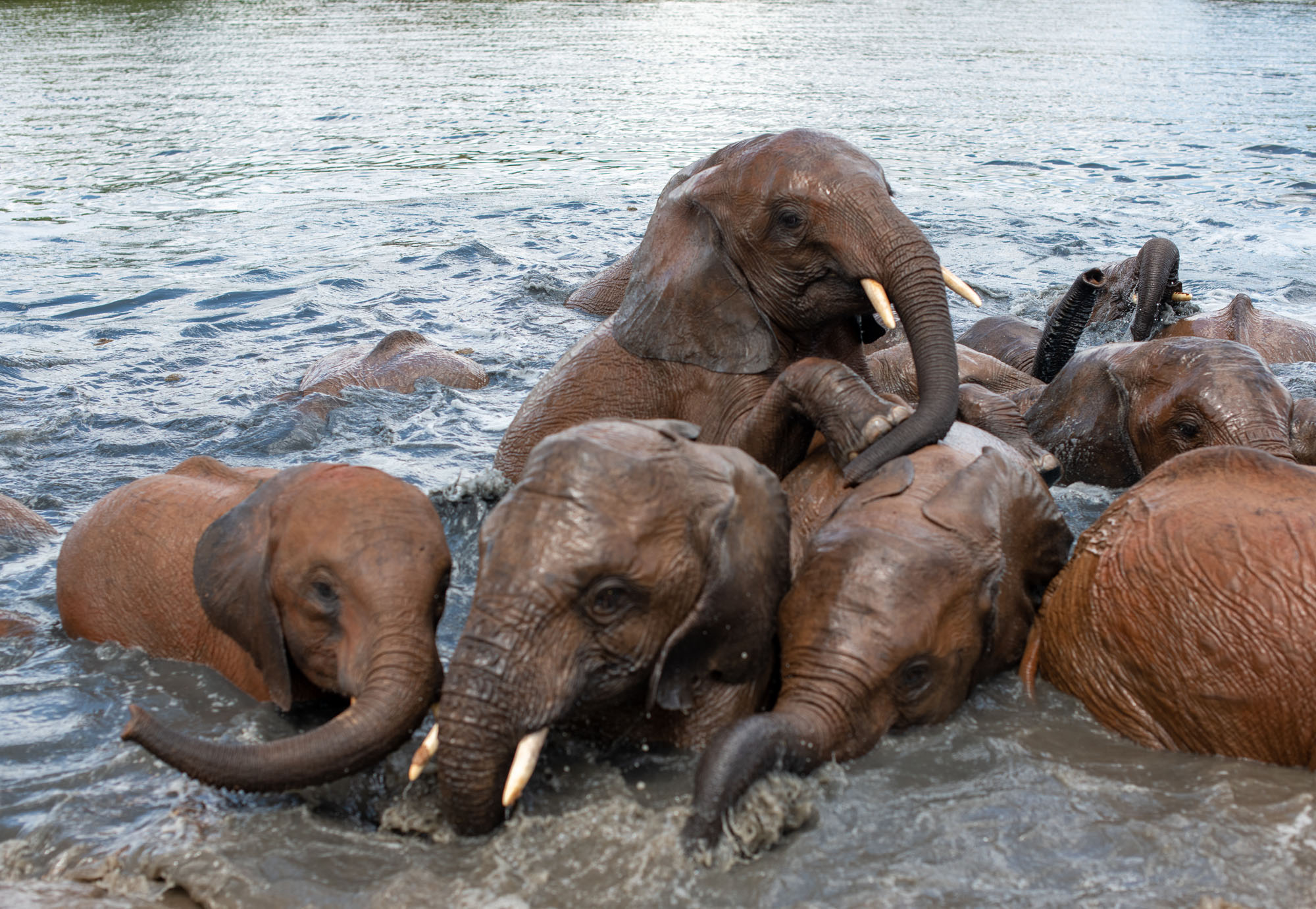 The orphan elephants of Ithumba, Kenya
At the foot of the Ithumba Hills in the thick green bush of Tsavo East, live 33 of the most fortunate, unfortunate young elephants in Africa. Most fortunate because they are now being cared for like royalty of the animal kingdom, honored guests of the Sheldrick Wildlife Trust. Unfortunate because they were once the victims of misfortune, greed and human cruelty, all starting out their young lives as orphans of the elephant world. They ended up abandoned, alone and in need of rescue as a result of drought, human-wildlife conflict, being trapped in a well, stuck in mud or because of poaching (illegal hunting).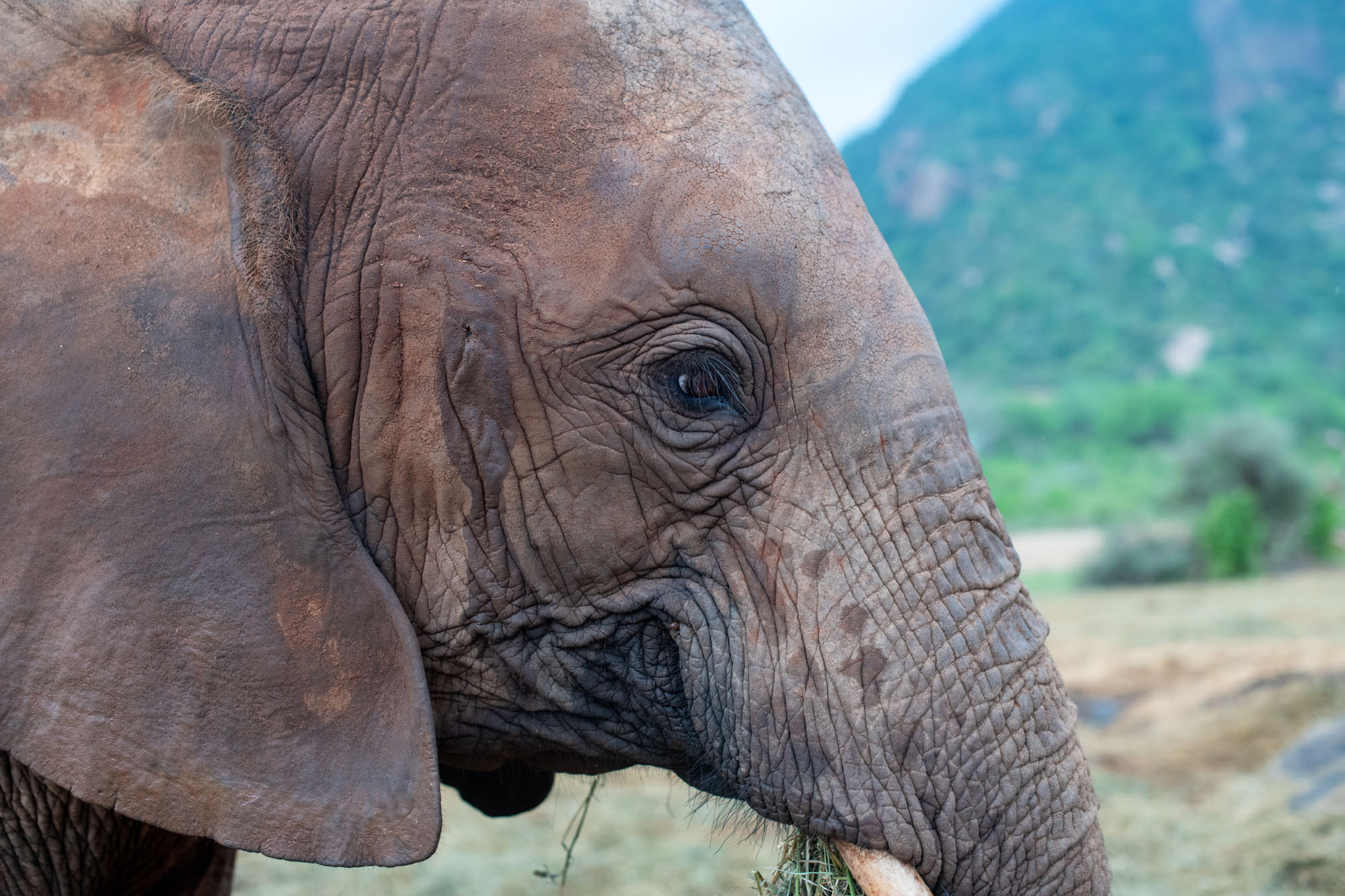 Tsavo East
We started our recent Kenya trip in the rugged landscapes of northern Tsavo East, specifically to interact with the orphan elephants at Ithumba. I had always wondered what happened to the baby orphan elephants when they 'graduate' out of the Sheldrick nursery in Nairobi, and are sent to Ithumba. We were soon to find out. At the time of our visit in late November 2020, there were 33 young elephants at Ithumba, being readied for release back into the wild. To say that it was a moving experience to get a glimpse into the life of the happy inhabitants of Ithumba, is a huge understatement.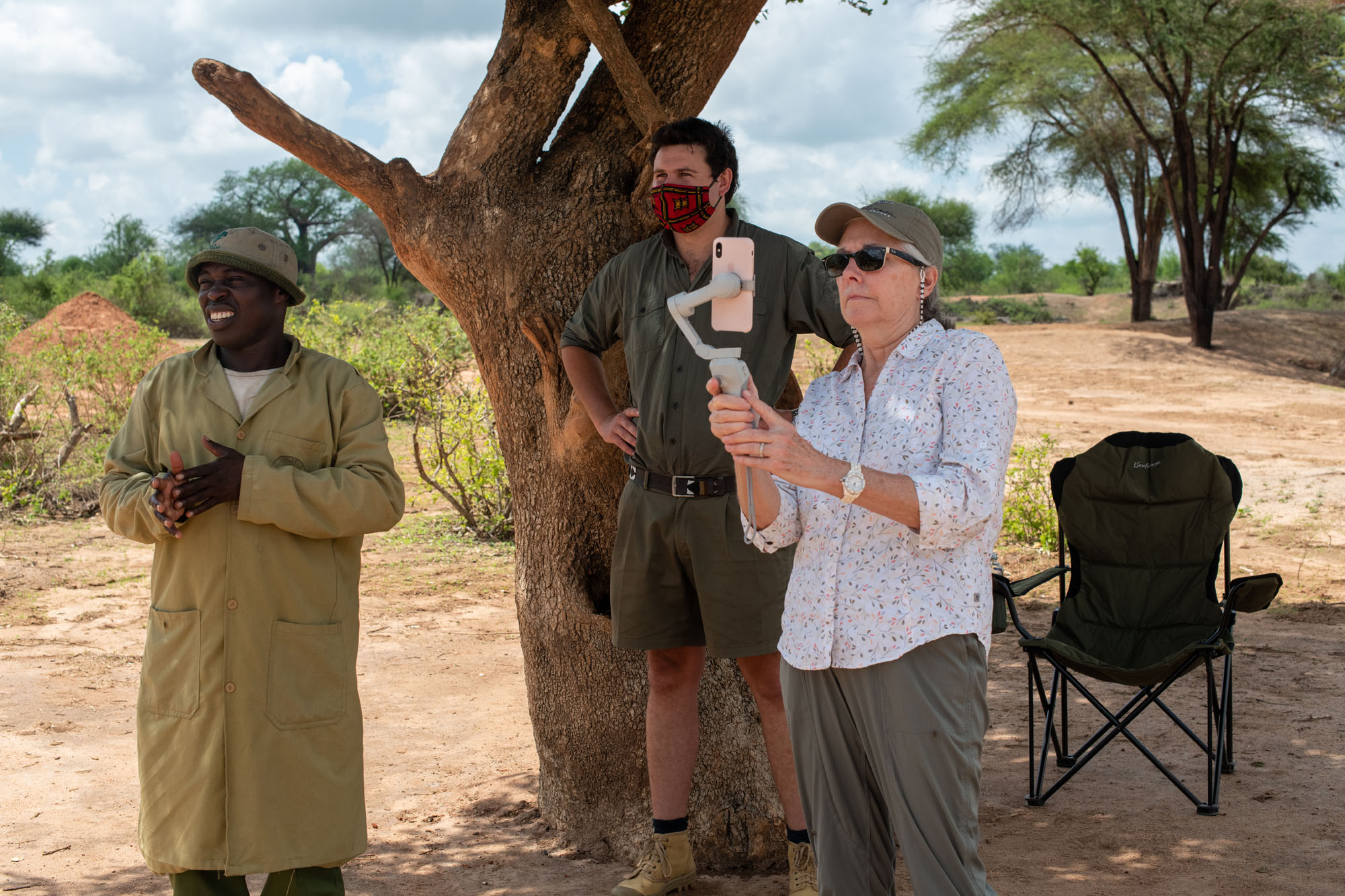 Flying from Wilson Airport in Nairobi on a Cessna 206, it took us just about an hour to make our way to Tsavo East, enjoying distant views of Mt. Kilimanjaro and the Chyulu Hills, en route. After being met by Steve and Richard Turner of Origins Safaris who were already on the ground in Tsavo, we took a short drive to Ithumba Hill camp, where we would spend the night. Ithumba Hill is a beautifully located tented camp with fantastic views over the reserve. The surrounding bush was thick, dense and green after significant recent rainfall.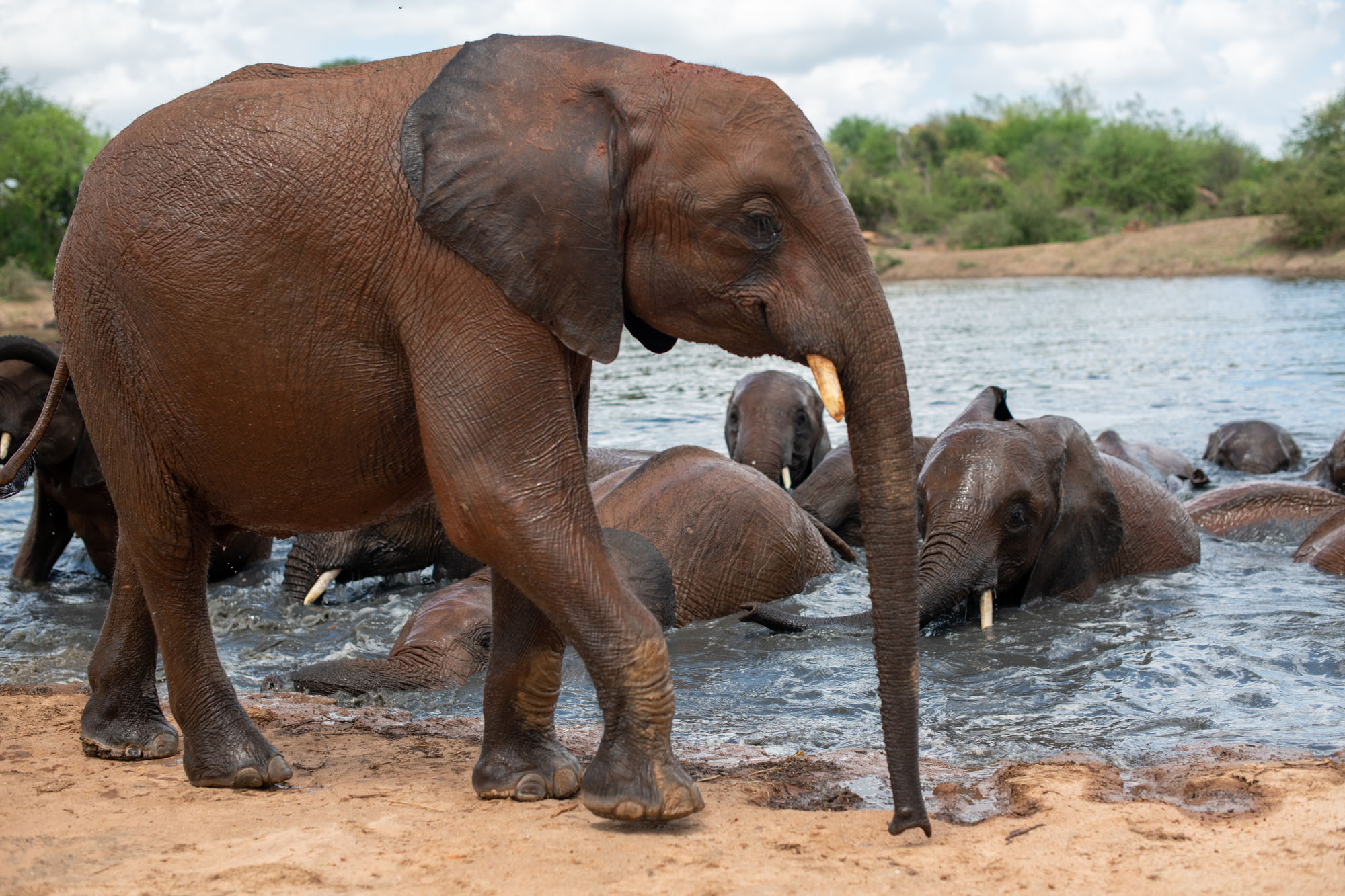 Tsavo East in the rainy season is not without its challenges and just maybe, not the ideal place for first time visitors to Africa. At least not at that time of the year; the dry season is fine. In summer, after the rains, the tsetse flies can be pesky. It can be hot and muggy. The rest of the world may be experiencing a significant decrease in flying insects, but that is not the case in Tsavo East. There were more than enough insects, particularly at night, attracted to any source of light. On the night we were there we experienced an irruption of flying termite alates which might startle someone used to life in a bug-free environment.
Getting up close with the orphan elephants
Once we had our first introduction to the elephants, all thoughts of flying termites and the temporary discomfort of a tsetse fly bite quickly faded. This is what we came for. Having been driven out to a small dam (filled to the brim with water after recent rain), we stood in the shade of a small tree, in an open area right in the bush, not quite sure what to expect. And then it started. One after the other, sometimes two or three together, and group by small group, the young elephants emerged from the bush, briskly bearing down on their handlers who were standing ready with their big plastic bottles of milk formula.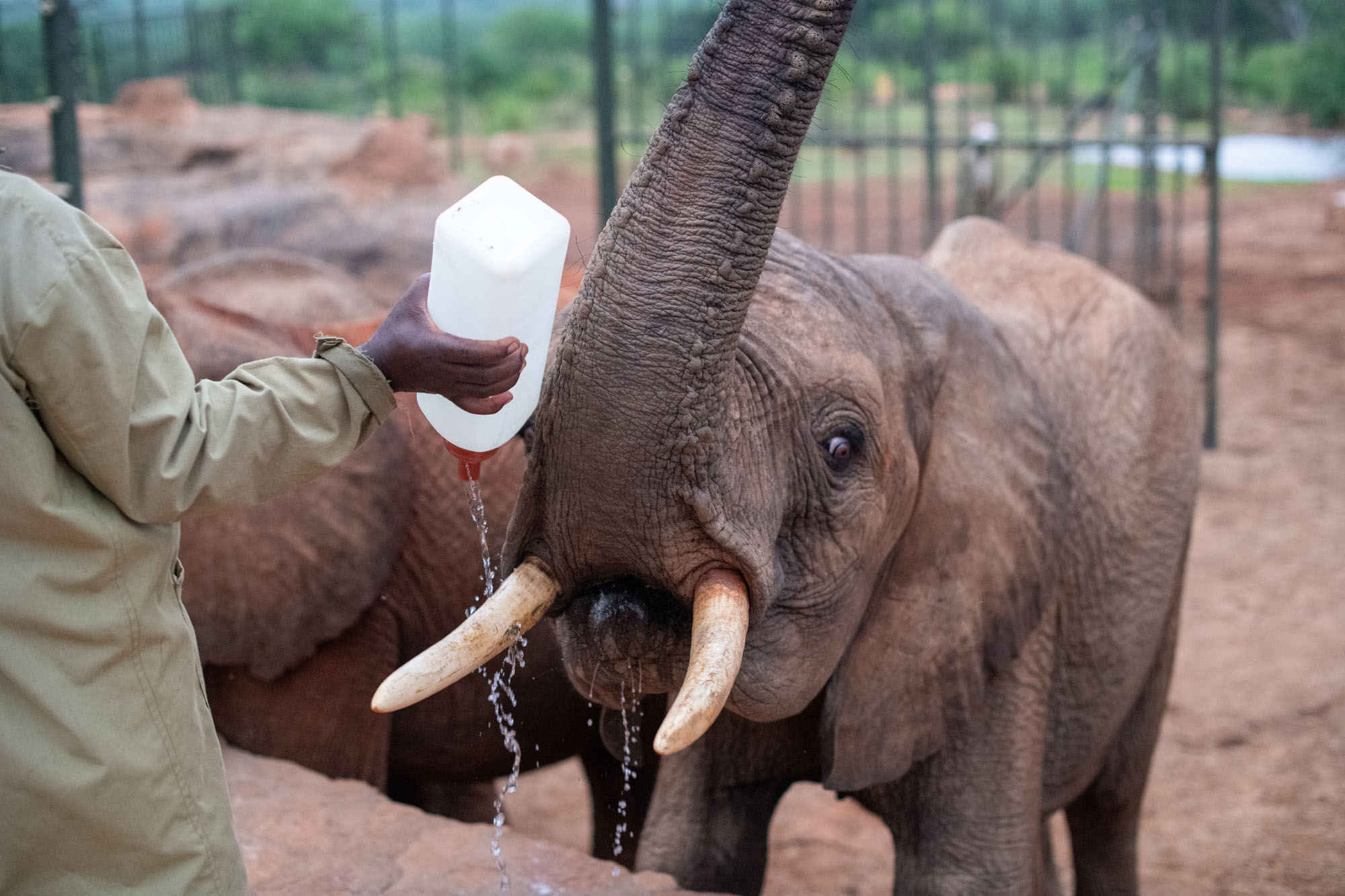 There we were, just the two of us and Richard, enjoying this amazing spectacle as the elephants downed the formula with gusto, some of them holding up the bottles by themselves, wrapping their trunks around it. Once they had drained it to the last drop, they stepped away and started to huddle together, waiting for the other small groups to finish up their feeding.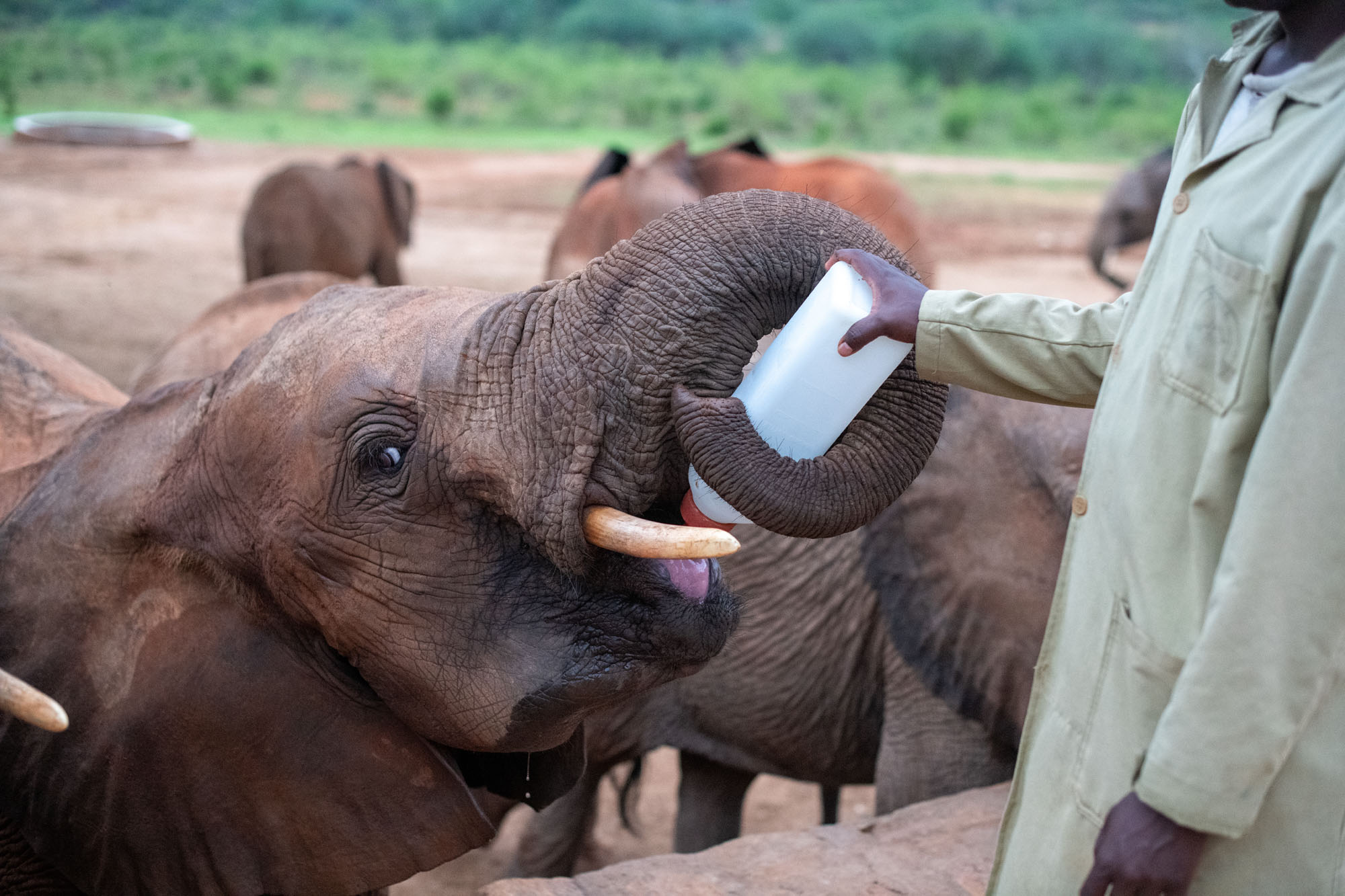 When they were all done, the elephants waded into a dam and in typical young elephant fashion, played and splashed with abandon, slowly making their way from one part of the dam to another where they enjoyed a mud bath of sorts, rolling around on the edge of the dam, as happy as larks. When they finally started to emerge from the water, a few of them playfully pushed one another around, before they almost reluctantly started to head back out into the bush.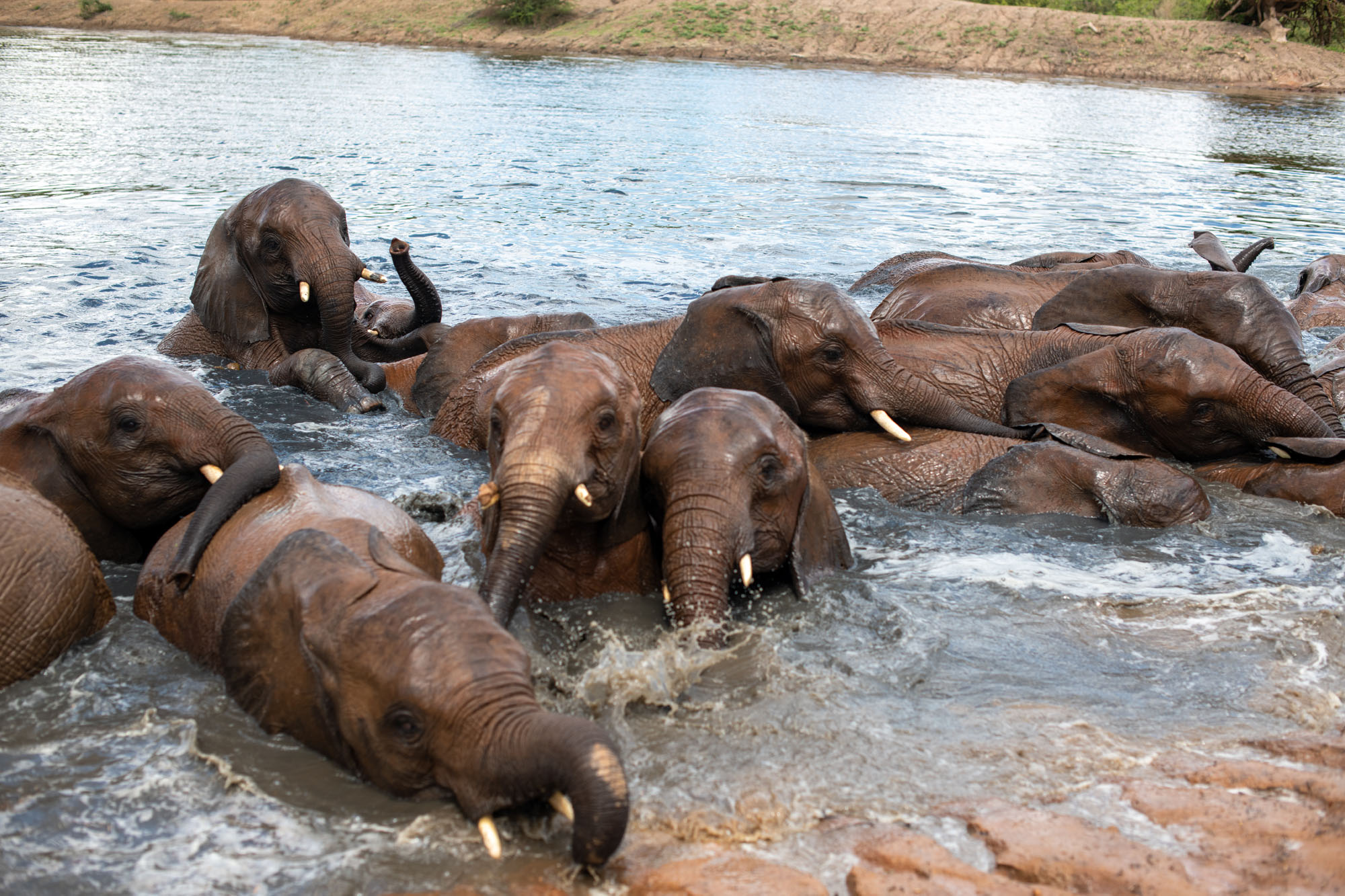 Later that afternoon we were in position at the elephants' comfortable stockade – where they sleep at night in separate enclosures as peer groups – waiting for them to return from a day of being out, browsing the vegetation in the wilderness. Together with their bunkmates, they were ready for another bottle feeding. Seeing them anticipate it and accelerate up to the feeding station was so much fun to observe. We felt fortunate and happy to be part of the proceedings, just about brushing up to the youngsters, several of whom reached out a trunk to touch us, clearly curious about our presence.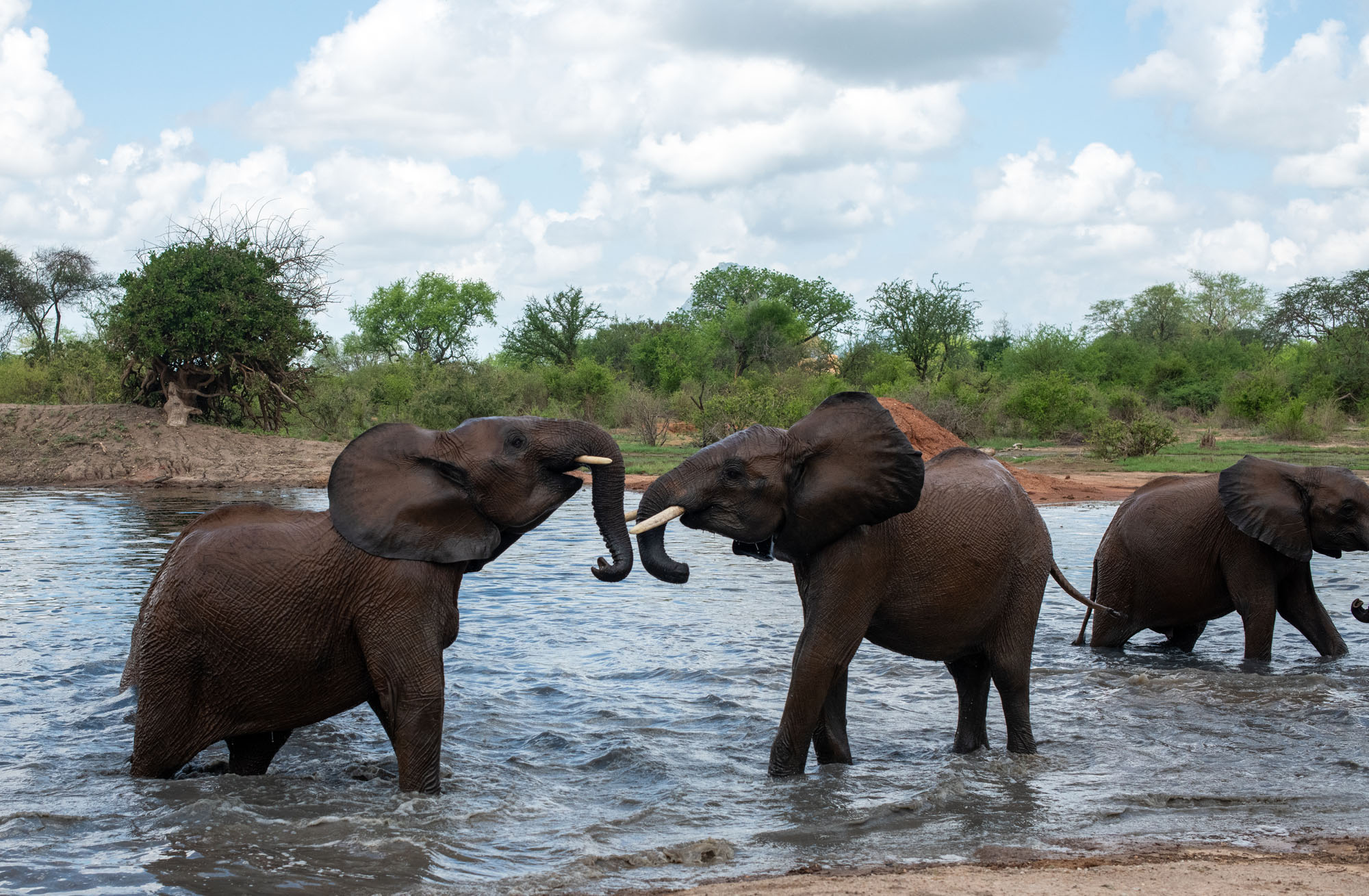 At 5 am the next morning we were up on a cloudy, steamy day. A quick cup of coffee or tea later, we drove back out to the stockade, this time to be with the elephants as they woke up. Once more, we observed the different dormitory groups being fed, leaving the stockade and then enjoying some bales of hay. Once they all had enough to eat and drink from a nearby water point, they started to disperse into the bush for more browsing. By this stage, our third interaction with the elephants, we were starting to notice their individuality and seeing which ones interacted more with each other.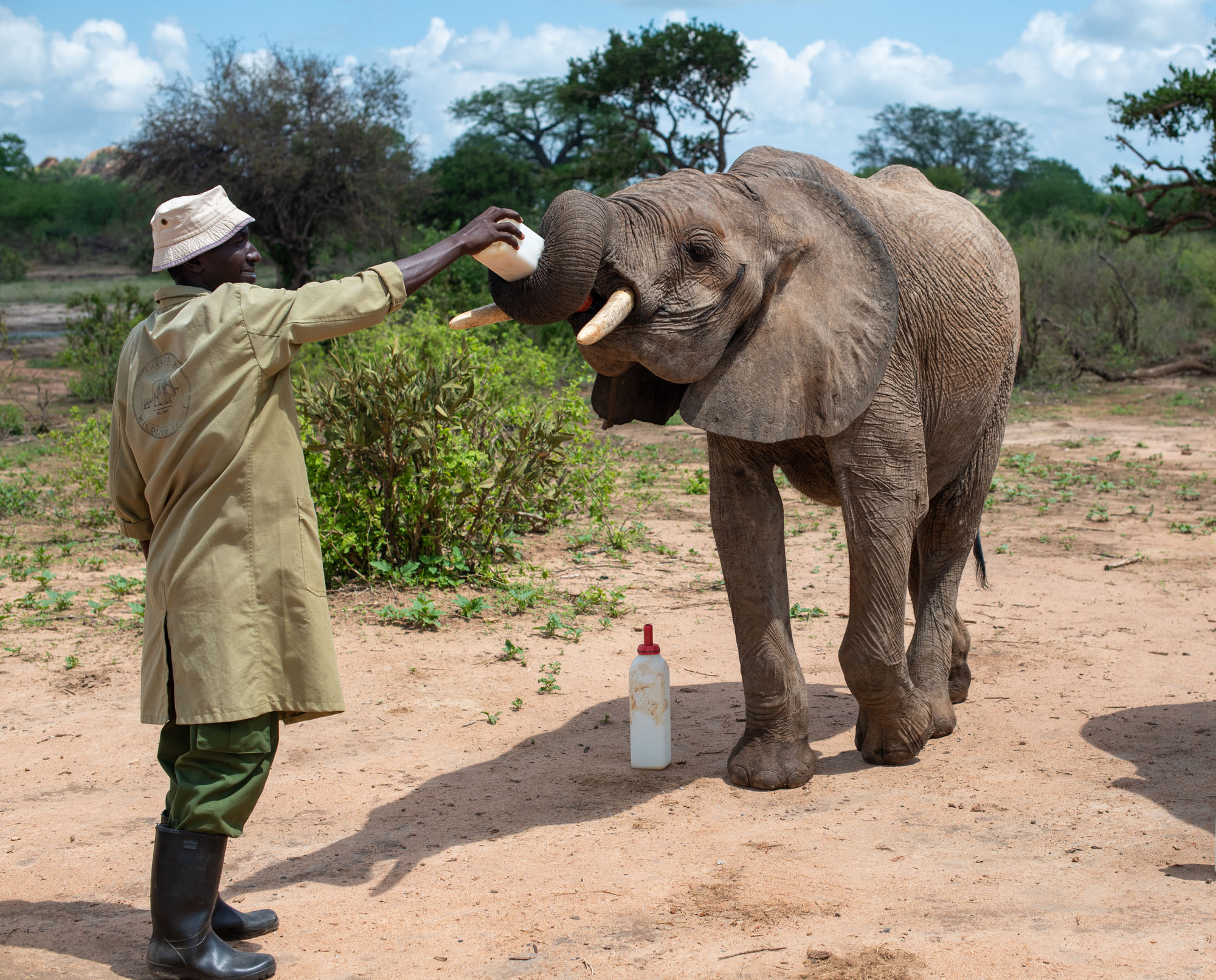 One little elephant – Ambo – stood out as he seemed to be the most subdued one, walking around with his big little elephant ears tightly clamped to his body, as if he didn't really want to stick out too much. We were told that he was being given some special treatment (more time to eat and pellets for extra nutrition) due to having been bullied by some of the other orphans. We immediately developed a soft spot for Ambo and we were happy to see him later on being comforted by a couple of the older elephants. I subsequently learned that Ambo was brought to Ithumba from Sheldrick Nairobi in June 2019, together with Jotto. Three of their Nairobi nursery bunkmates had arrived in Ithumba just ten days earlier, so they quickly re-united and Ambo and Jotto adjusted to their new surroundings seamlessly.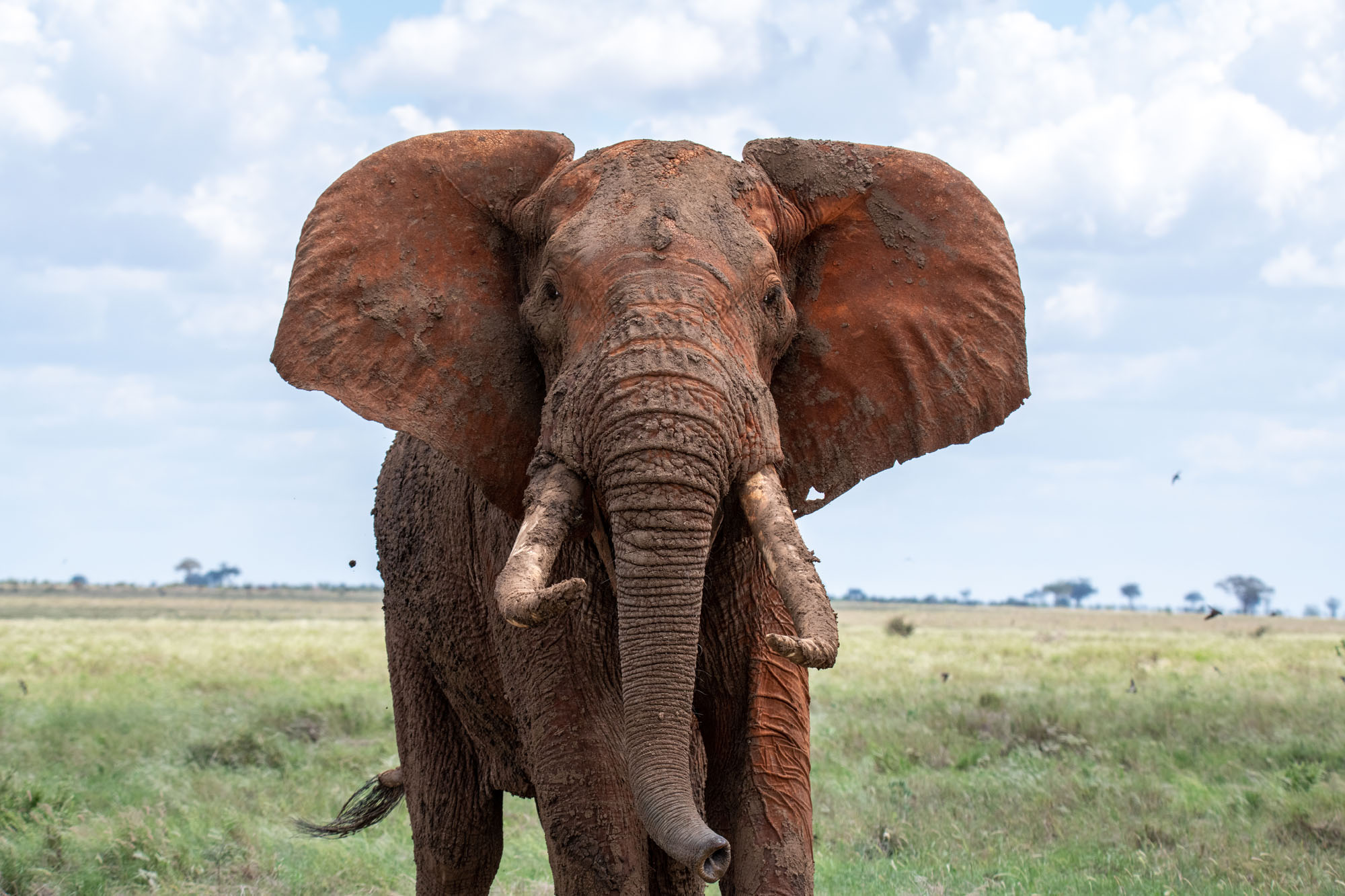 I asked Emanuel, the head keeper, about releasing the young elephants back into the wild. Is there a schedule or time-table? How do they know when the elephants are ready for the next step? Mostly, he said, the elephants will demonstrate themselves, when they are ready. Once they reach that point, they show a reluctance to go back into the stockade at night, they stop taking their milk, and they become more headstrong. If there are one or two in a group that are ready to be released, they have to wait a while until their peer group members are ready, and they are then released together, as a small herd.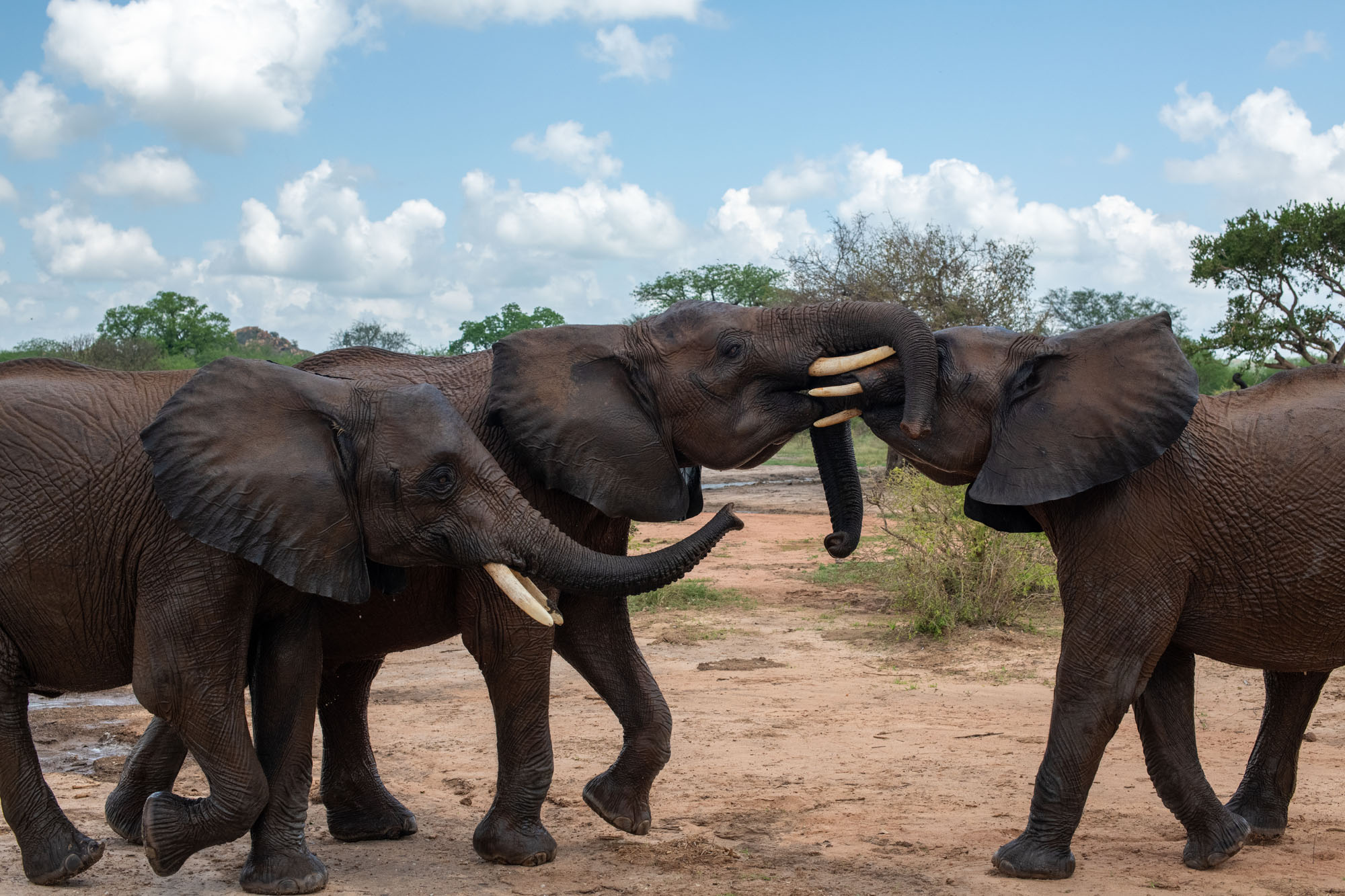 Wild elephant presence at Ithumba
One experience that we missed which apparently is the best of all, is being at Ithumba in the dry season. During the dry season when the natural water pans have dried out, the stockade water trough is a magnet, and seldom without big wild bulls as well as breeding herds who venture in with their babies. The wild elephants interact and mingle with previously released and now wild orphans and their babies, as well as the current orphans themselves. They are tolerant of and at ease with the keepers and foster parents visiting the unit. It is not uncommon to find as many as thirty wild elephants intermingling with the orphans at the stockade water. A good reason to return to Ithumba at another time!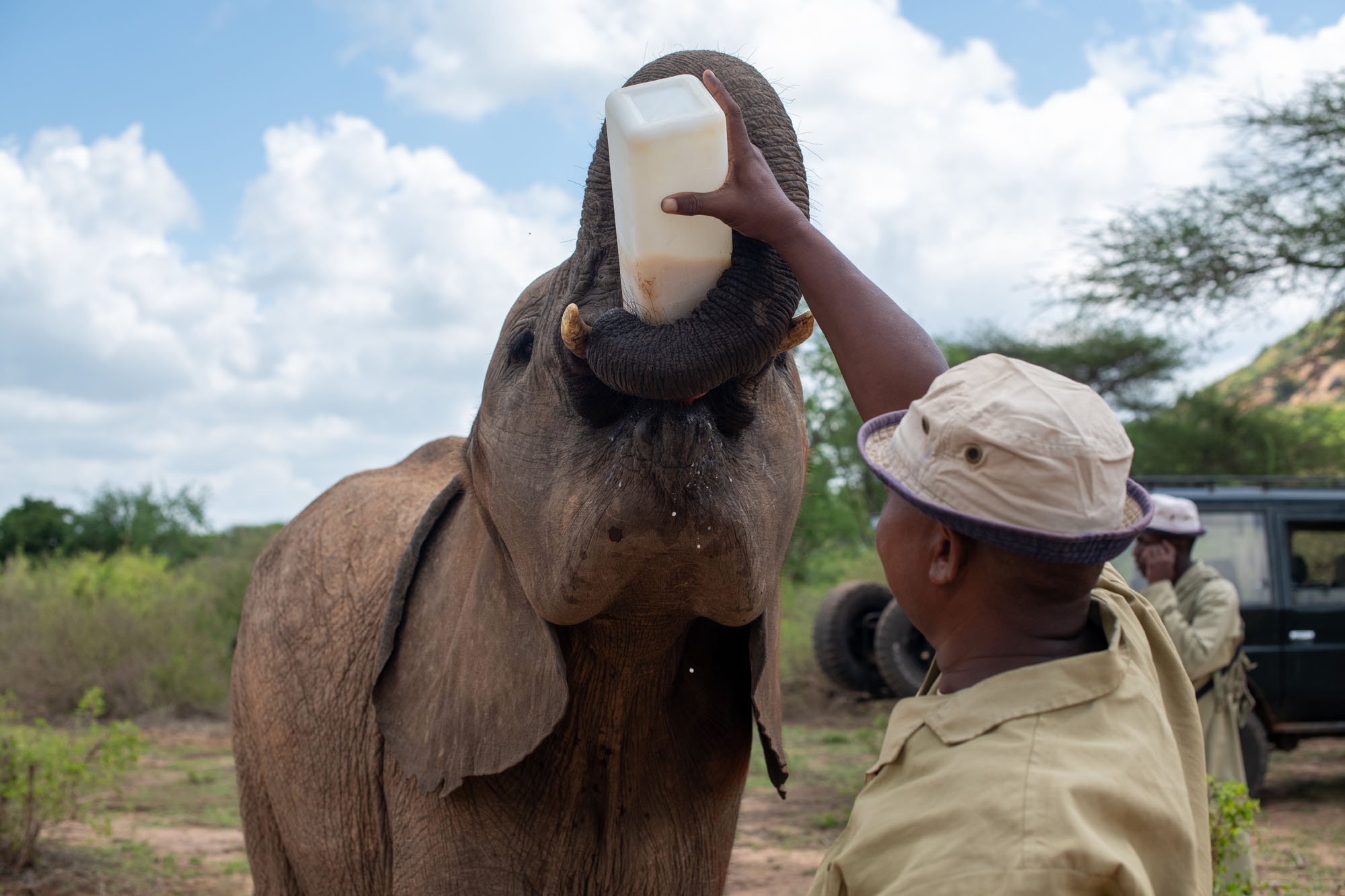 'Sole use' accommodation facilities in Tsavo
At Ithumba, and elsewhere in Tsavo, there are several mid range, sole use facilities which are ideal for families or other small groups of travelers. It can be an expensive undertaking for just one or two persons, but very affordable for a family of 4-6 or more. The Sheldrick Wildlife Trust operates several sole use properties in Tsavo. There are three camps in Ithumba: Ithumba Camp, Ithumba Hill and Ithumba Private. Then there is Umani Springs in the Chyulu Hills, nestled in Kibwezi Forest, the most luxurious homestay of them all, as well as Galdessa, on the Galana River, overlooking the Yatta plateau. Galdessa is similar to Ithumba Hill Lodge in terms of level of luxury, but it is larger with 10 tents, and it is likely the best choice for visitors who are keen to experience good game-viewing.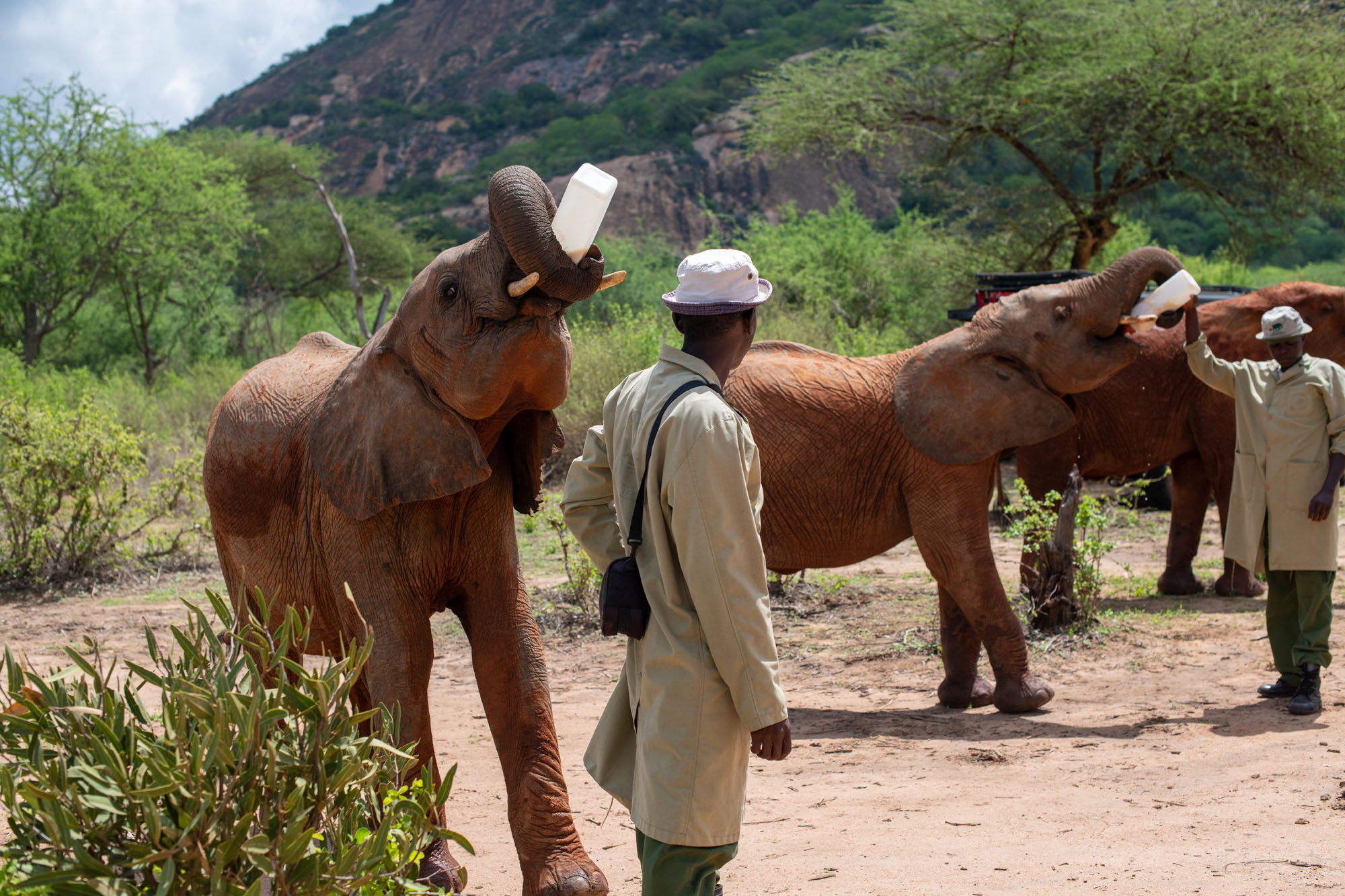 From Galdessa visitors only see the orphans twice daily, not three times. Due to the distance to be covered, the "morning wake up" is not possible at Galdessa. However from Galdessa it is only about an hour's drive to Satao Camp, where visitors can spend time with one or two of the big 'super tuskers' of Tsavo, on an outing with the Tsavo Trust.
Notes about Ithumba Hill camp
Ithumba has three camps: Ithumba Camp (a more rustic option), Ithumba Private and Ithumba Hill, the 'luxury' option. It has only four chalets on a boardwalk, a pool and lounge area, and pretty much from anywhere in camp there are fantastic views over the surrounding bush. Our tent had 2 ¾ size beds, a wrap-around patio, 2 lounge chairs, and outdoor sink, toilet and shower. Once inside the tent there were no worries about pesky bugs…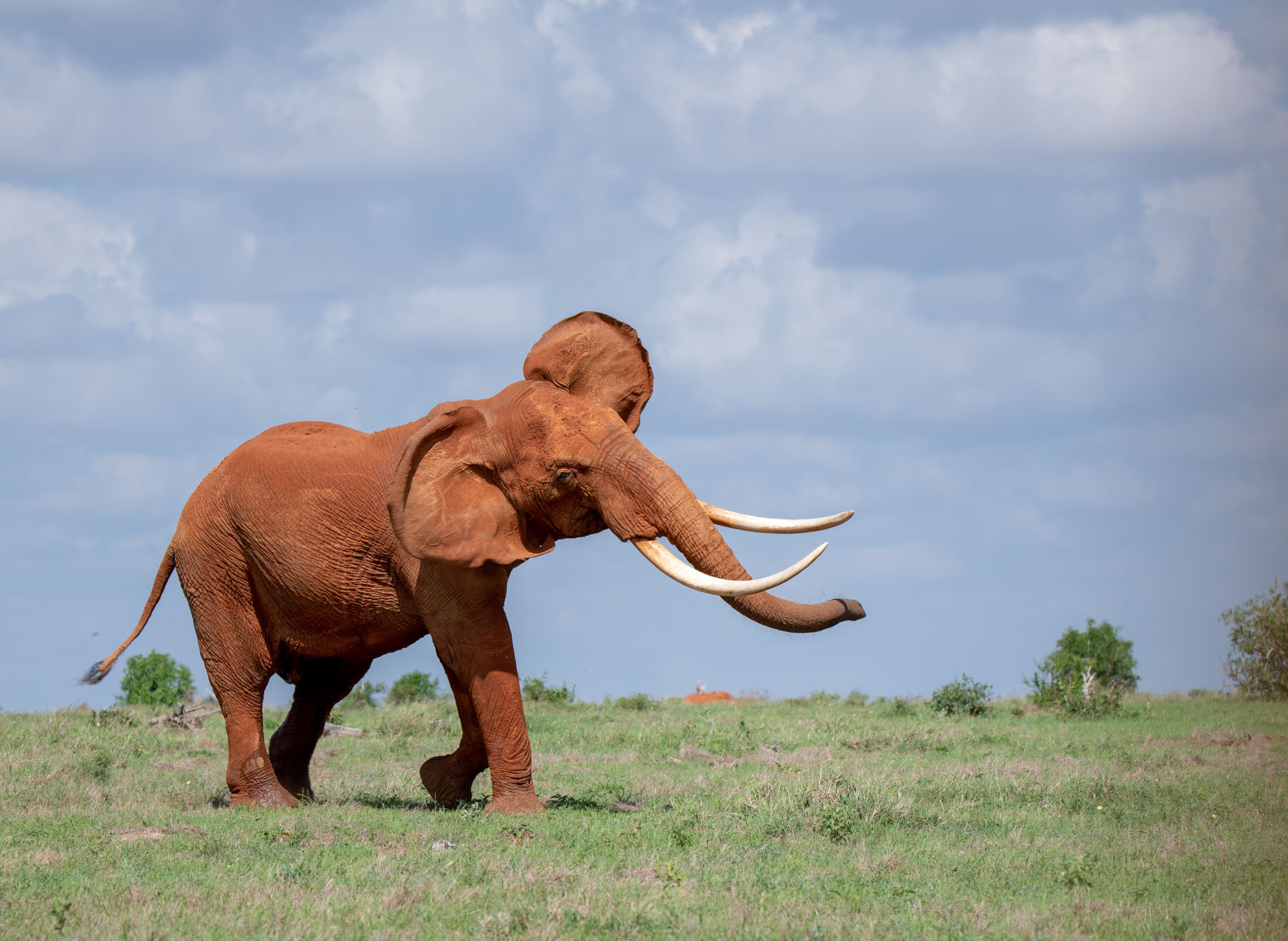 Ithumba Hill has an attractive pool with equally good views. On the day we were there, the nice cool water was the perfect antidote for the heat and the tsetse fly bites. If we'd had more time, we definitely would have spent some of it relaxing on the deck chairs and perhaps enjoying an al fresco meal at one of the picnic tables. The main lounge at Ithumba Hill is like a comfortable living room, with a lower deck – with a table and 6 chairs – serving as the venue for dinner.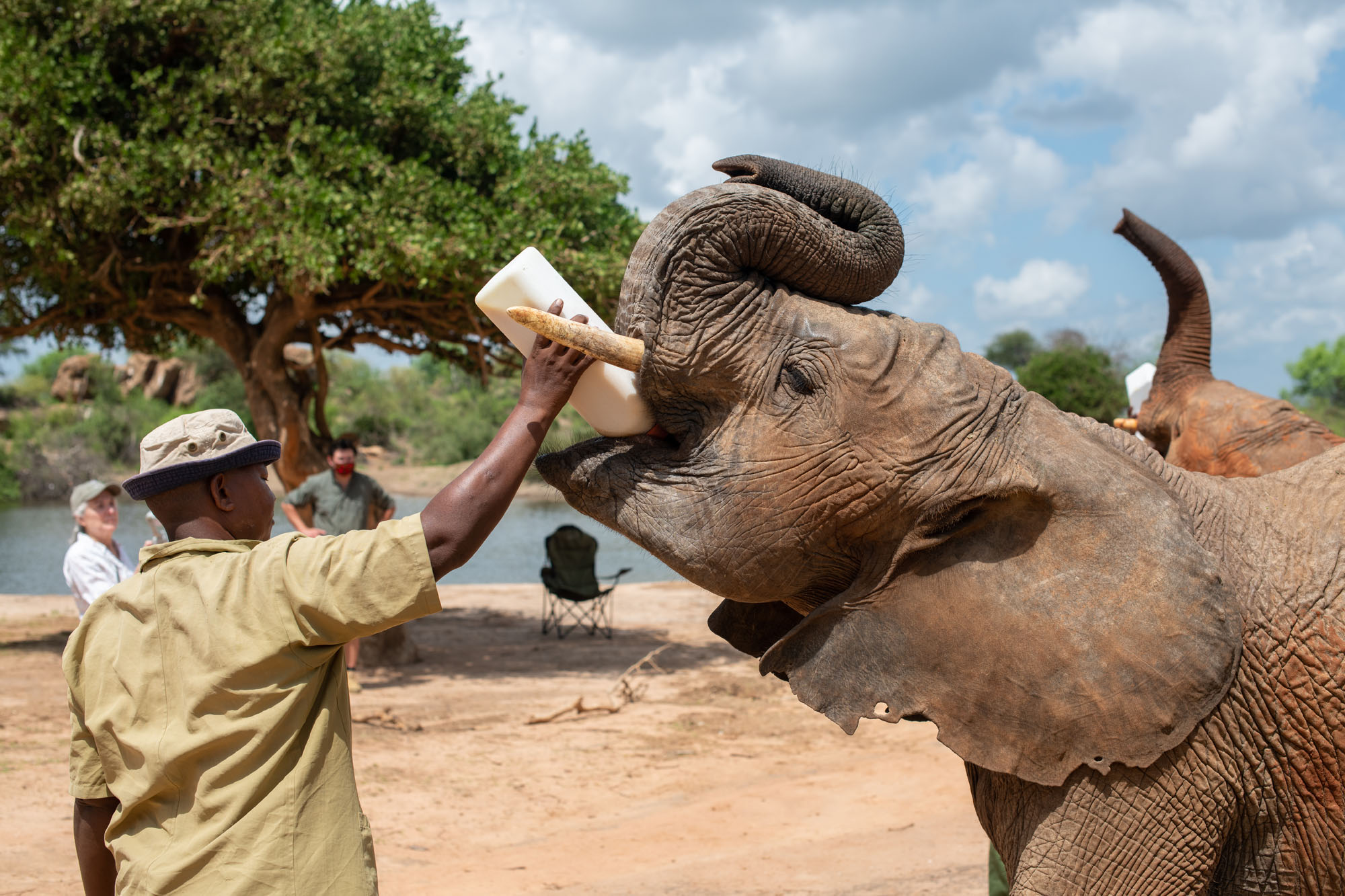 From there we could see a male hornbill fly back and forth to its nest in a nearby baobab, where the female and babies were temporarily holed up. Meals at Ithumba Hill were splendid; Kathy and I both enjoyed the mixed salads and a superb chicken curry for dinner. The camps are self-catering so visitors bring their own food which is prepared by a resident chef. Our clients contemplating a visit to Ithumba wouldn't have to worry about anything though; our Kenya partners Origins Safaris take care of all of this. The only prerequisite for a visit to Ithumba is to adopt one or more of the orphan elephants, easily done online at the Sheldrick website.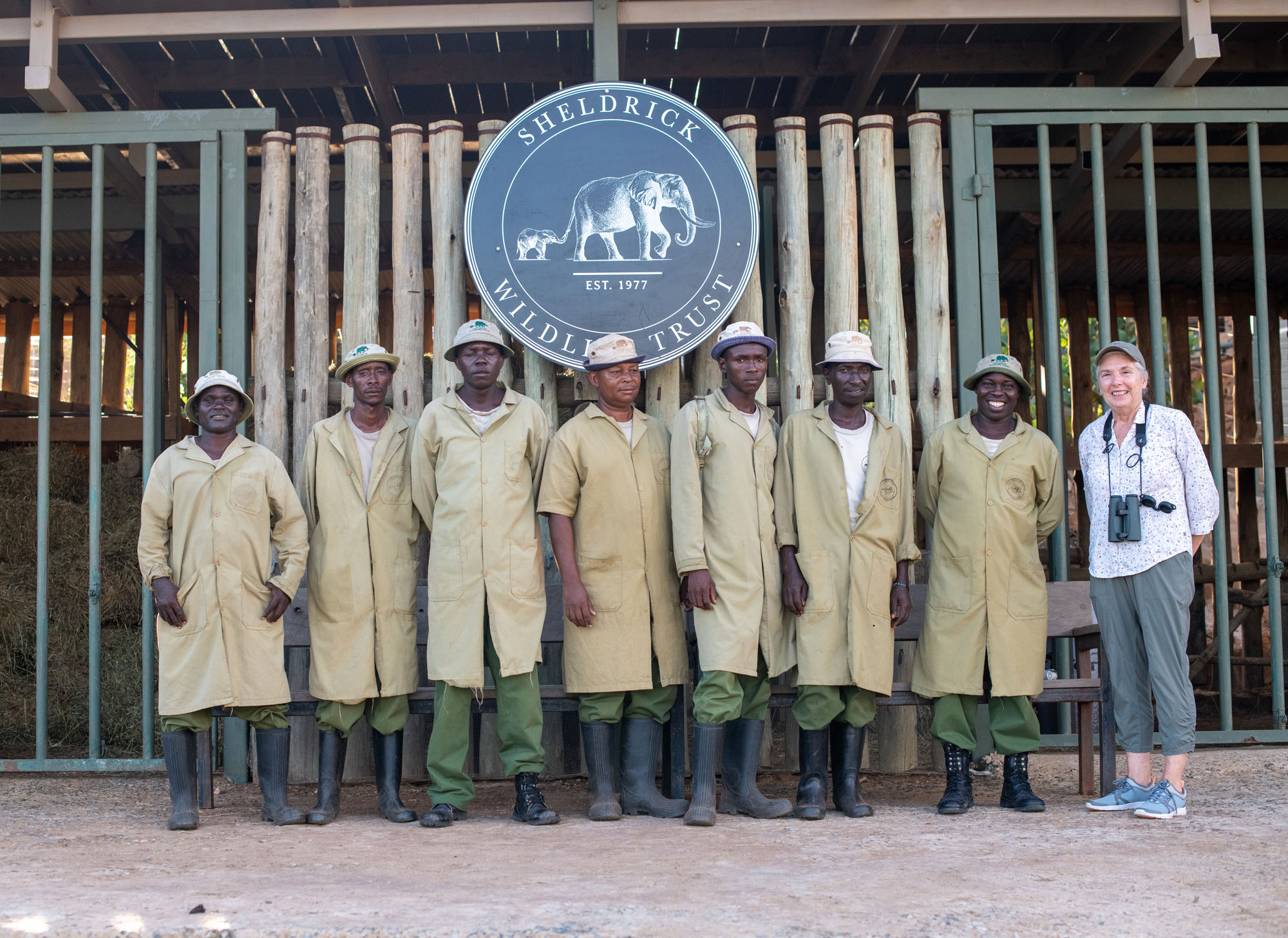 The Sheldrick Wildlife Trust
The Sheldrick Wildlife Trust and its counterparts elsewhere in Kenya – such as the Reteti Elephant Sanctuary in northern Kenya – have a well-functioning organization and procedures in place to rescue orphaned elephants and other big mammals, all over Kenya. At the heart of their conservation activities is the Orphans' Project, which has achieved world-wide acclaim through its hugely successful elephant and rhino rescue and rehabilitation program. To date, more than 260 orphan elephants have been raised; 17 rhinos have been successfully hand-reared and there have been 38 babies born to wild living orphan elephants.
The Trust is involved with many other projects, including the operation of several mobile veterinary units and a rapid response sky vet team. It funds and operates several de-snaring teams with the Kenya Wildlife Services, provides water in drought-prone areas by drilling wells, erects fences where necessary and conducts aerial surveillance. Sheldrick Wildlife Trust also deploys a canine unit as well as anti-poaching teams to protect elephants, rhinos and other wild species. Focusing mostly on the youth of Kenya, the Trust works to change attitudes towards wildlife through their Community Outreach Programs, the objective being to improve livelihoods and engage communities living alongside wildlife.
In our blog post next Friday, we will take a virtual trip up to the summit – the flat part – of Table Mountain. Not the easy way by cable car though: on foot, along one of the ravines which hikers use to climb the 1,000 feet or so from around the base of the cable car operation, to the top. We'll also discuss some other hiking options on Table Mountain and elsewhere in the Cape Peninsula, specifically for families and persons who may not be up to the rigors of a strenuous ascent.
YOU MIGHT ALSO BE INTERESTED IN
30th Apr 2020
"Only in Africa": How to improve your chances to summit Kilimanjaro
Having successfully reached the summit of Kilimanjaro twice in three years, most recently
30th Apr 2020
"Only in Africa": How to improve your chances to summit Kilimanjaro
Having successfully reached the summit of Kilimanjaro twice in three years, most recently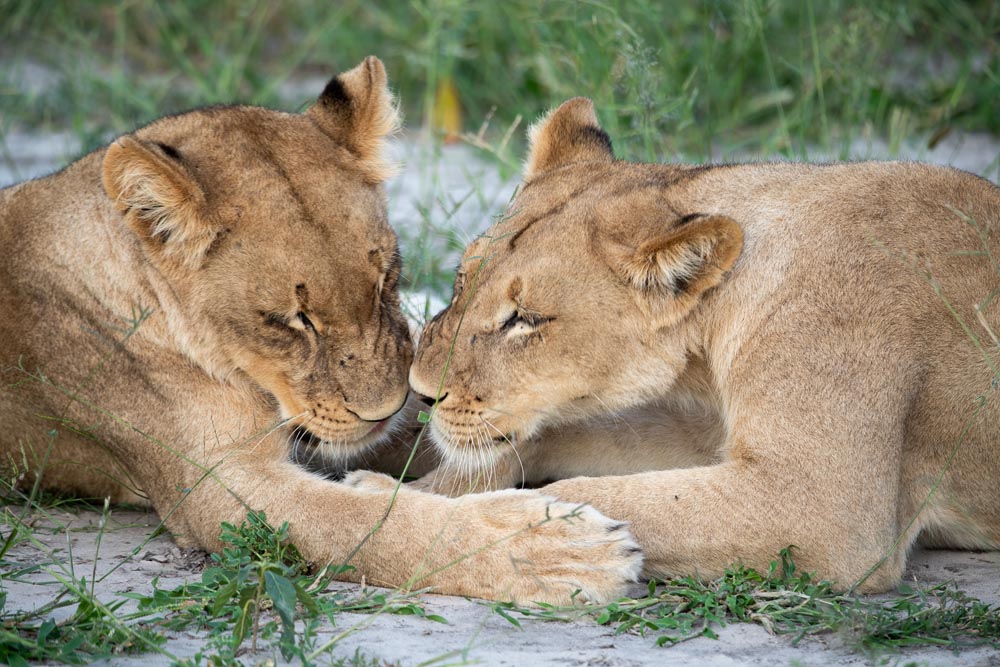 14th Apr 2020
Botswana's Okavango Delta, Then & Now
My first trip to the Okavango Delta – like all the subsequent ones – was quite unforgettable. 
SUBSCRIBE TO OUR NEWSLETTER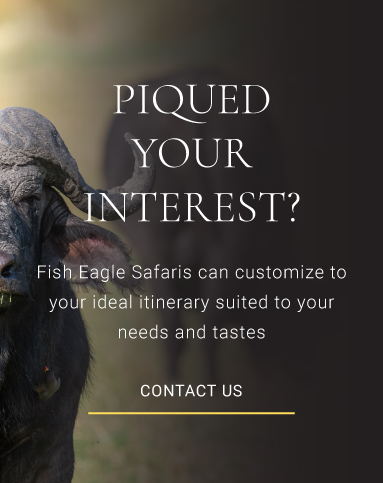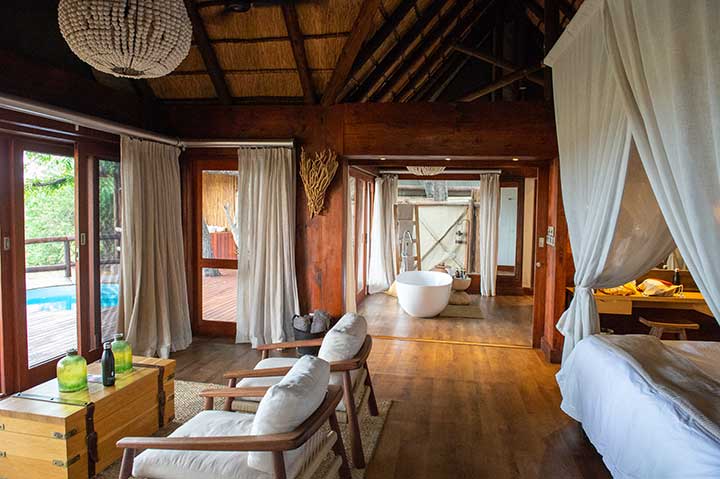 4th Aug 2022
On Safari At Belmond Eagle Island Lodge, Okavango Delta
What is the 'secret sauce' for an unforgettable few days on safari in Botswana? It starts with the animals, of course. The elephants, lions, giraffes, hippos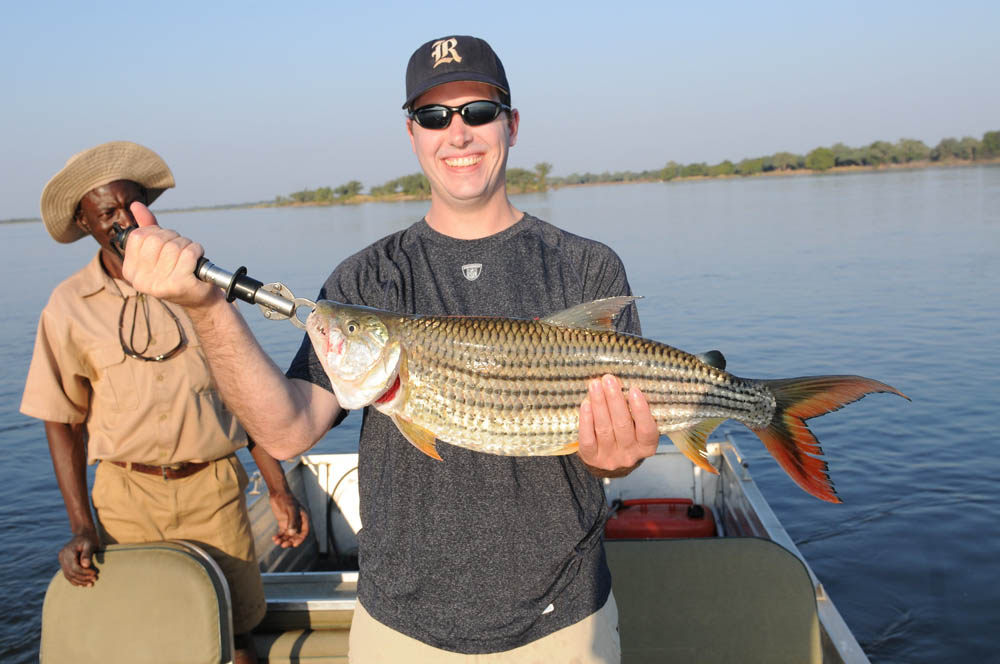 20th Apr 2020
"Only in Africa": Tiger Fishing
I believe the core activity on any great safari is the game drive.  The animals are, of course, the main attraction and there is no better