What is it like to spend a day on safari in Botswana? Mostly it is fun, involving and exciting. You're always seeing new things, even if you've been on many safaris before. It may be new or different mammals and birds, animal behavior, or unusual interaction such as between crocodiles and hyenas, or between eagles and herons. Even the most common of antelopes like the impalas and the gazelles of East Africa look different when seen in ideal light conditions, or when they are rutting or reacting to the proximity of a predator. No two African sunsets are ever the same and invariably visitors to the continent will experience a particularly gorgeous start or end to one of their days.
A day on safari in Botswana
What is it like to spend a day on safari in Botswana? Mostly it is fun, involving and exciting. You're always seeing new things, even if you've been on many safaris before. It may be new or different mammals and birds, animal behavior, or unusual interaction such as between crocodiles and hyenas, or between eagles and herons. Even the most common of antelopes like the impalas and the gazelles of East Africa look different when seen in ideal light conditions, or when they are rutting or reacting to the proximity of a predator. No two African sunsets are ever the same and invariably visitors to the continent will experience a particularly gorgeous start or end to one of their days. Occasionally there will be a 'slow' day. This is a euphemism for not seeing much at all. A great guide – one of the elements of a successful safari to which we pay special attention – can make even a slow game-drive interesting. They can liven it up with their insight about the environment or about the connectedness of it all. Sometimes they will focus on the lesser known aspects of the bush, like the medicinal plants, notable insects like the dung beetles or quirky reptiles like chameleons. Incidentally, if things like these start cropping up on a game drive, it is also a pretty good clue that the guide is having a tough time. Be sympathetic. Sometimes you have to simply appreciate the great outdoors, and be thankful for the privilege of being in one of the world's most amazing places, the African bush. Most of the time though, there's plenty of action, never-ending opportunities for photographs and a blizzard of new information, facts, trivia, and bushcraft (trails and tracks, animal droppings, bones etc.) to be experienced and savored
Activities on Safari
To be sure, each day is different – of course. What you will do, see and experience depends largely on where you are. If you're in northern Botswana's Okavango Delta, your day might include a mokoro outing (the local version of a dugout canoe), or a boating trip to explore some of the quiet waterways and lagoons of the Delta. In the Moremi or Savute, game drives would likely be at the top of the list of activities, but walking or simply observing wildlife from a blind or hide may also be possible. Chobe is famous for its boating safaris. This is where visitors observe elephants congregating on the banks of the Chobe river or standing or swimming in the river. Elephants are remarkably good swimmers and it is an amazing spectacle to see them chug along with not much more than trunk-tips showing, the adults giving the babies a bit of assistance every now and then. A boat outing provides a nice, steady platform for photography and just like a land vehicle, the animals see it as an inanimate object so its presence does not alarm them. Two other animals seen at their best on boating safaris are giant Nile crocodiles and of course, hippos. There are several other activities available at various camps in Botswana, including catch and release fishing (for bream or tigerfish mostly) and interacting with habituated meerkats at their den. At several properties, you will be invited to explore the culture of the San hunter-gatherer people, observing them making fire from scratch, demonstrating the amazing water-retention capacity of various plants with large subterranean roots or showing off their prowess with a bow and arrow. The main event of the day is the game drive which comes in two installments. The morning drive is from first light to around 10 am and the afternoon game drive, from around 4 pm to sunset and often beyond, in areas where night drives are allowed. For a 'blow by blow' description of what to expect on a typical game drive, scroll down to the end of the blog.
An early start
One thing that all days on safari have in common is that they start early. Often before first light when you are likely to be woken up – gently. No harsh alarms or startling phone calls here in the bush. Rather, a gentle voice calling out a greeting and often delivering a steaming hot cup of tea or coffee.
Once you're up and ready to roll, the custom is to take everything you will need on your morning outing with you. So that would be your water bottle which you can refill at the lodge, your hat, suntan lotion, a jacket if it's cold, your binoculars and all your photographic equipment. Whether it's an iPhone or a professional full-frame DSLR camera and several lenses. Or something in-between. Most Botswana camps offer a light breakfast before the morning activity. It may be as simple as a cup of coffee or tea and a rusk. Rusks are distant cousins of biscotti but just better, less dense, not as sweet, more dunkable and without the heavy dose of aniseed flavoring. Freshly baked muffins are often available, as is toast grilled over the coals. Most properties will also have some fresh fruit, fruit juice, some kind of porridge (like oats) or a couple of cereals. Muesli is a popular item. Depending on the season (earlier in summer, later in winter) your guide will pull away from camp anytime from about 5:30 am. Don't be late – it is a cardinal sin to keep the other people in the vehicle waiting while you make a dash back to your room for a left-behind item.
Safari etiquette and 'rules'
Once you settle down in the safari vehicle – which may be totally open or have a roof with struts – you will notice that there are three rows (for the passengers), with two persons per row. Many of the latest model game-viewers have a 'box' with a lid in the middle, between the seats. For all your stuff other than your binocs and camera which you need to keep handy. The unspoken rule is that guests rotate seats at the start of each subsequent game drive. Last row moves to the first row. First row moves to the middle row, middle to back. And repeat. Any other rules on game drives? Nothing too onerous, just common sense. The single most important one is not to stand up in the vehicle as it may draw unwanted attention from predators. If you stay seated they won't recognize you as a separate entity. In which case the vehicle is just one inanimate, non-threatening (if somewhat noisy) object. Which most of the animals tolerate quite well and all but ignore completely.
Other 'rules' are to keep the sound level down, don't get on your phone, don't make any clicking or lip-smacking or other silly noises to attract an animal or bird's attention, and that's about it. If you need to make a comfort stop, say something and the guide will find a safe spot. The guides will often have their own colorful 'code' phrases for this that you can feel free to use such as needing to 'get out and check the tires'. There's usually at least one mid-morning stop for tea and coffee and to stretch the legs. The afternoon game drive often ends with sundowners when guests exit the vehicle in a scenic spot, such as on a hill or overlooking a water hole, to enjoy a beverage and some snacks. The ride back to camp will be in the form of a night drive, with the guide using a spotlight to check for nocturnal mammals and birds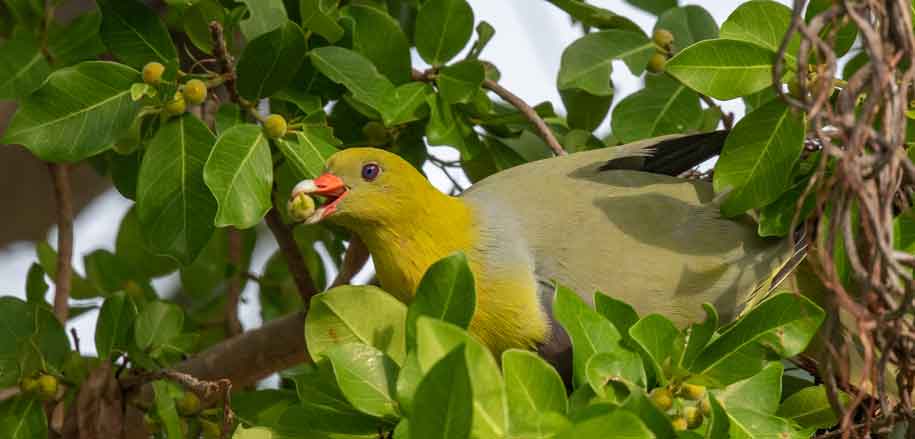 In-camp relaxation and meals
When you're not out driving or participating in a different safari activity, there are lots else to do and experience. During the siesta period over the warmest hours of the day, between 11 am and 3 to 4 pm, you may rest up in your room or in the public areas, take a dip in the pool, enjoy a spa treatment or work out in the gym. Currently, not many safari camps have properly equipped gyms, but it is a growing trend. Meals and drinks? A day on safari in Botswana is not complete without several opportunities to partake of what is usually an array of delicious foods and beverages, served over brunch (some camps have a proper lunch instead), afternoon tea, sundowners and dinner. Add in the light early morning breakfast and a stop for tea (with scones or something) during the morning game drive, and you have what we often refer to as the 'eating safari'. Return to the USA five pounds or so heavier? Almost guaranteed. All dietary requirements and preferences are catered to, whether it's gluten-free, vegan or keto. Evenings are fun and entertaining. Over pre-dinner cocktails or a local beer, the events of the day including of course memorable sightings are discussed, and new arrivals announce themselves. A multi-course dinner – often al fresco – is served from around 7:30 to 8:00 pm. Plated dinners are becoming a standard offering, but a few camps still serve only the starter and dessert, with the main course items being available in a buffet format. A handful of guests may linger around the campfire, enjoying a beverage such as Amarula, a sweet liquor in the style of Bailey's Irish cream, but flavored with the fruit of the marula tree.
Best ever days on Safari
I asked the members of the Fish Eagle Safaris team about their recollections of special days or sightings on safari in Botswana and here are some of their fondest memories:
Lyndon: "One of the most memorable safari experiences I ever experienced in Botswana occurred on my first official trip for Fish Eagle Safaris after graduating from college. My brother and I visited multiple camps in Zimbabwe, South Africa, and Botswana. While in the Linyanti area of northern Botswana we came across a couple of big male lions very early one morning. Our guide had heard them roaring from quite some distance before they went silent for a period of time. As we sat there in the early morning silence the lion closest to the vehicle (and he was quite close) suddenly started roaring. Since then I have heard lions roaring close up multiple times but none of them will have the same effect on me. This sound was so loud, different than I imagined in its guttural glory and you could feel it in your bones. I will always remember thinking to myself then and there that people need to come to Africa and experience this for themselves because there is nothing else like it".
Jason: "In 2014 I was at Duba Plains in the Okavango Delta. We had already seen some great lion interaction with buffalo and impala, but I was very interested in how the lions handle being in such a wet ecosystem. We managed to find a lioness with her three male cubs, two of which were nearly full grown. The two older cubs were playfully fighting with each other, as brothers do. Within a few minutes the mother stood up and started towards the floodwaters, all three cubs followed closely behind. She waded in with water just to her feet, then to her mid leg, then belly deep. The cubs were a bit more timid but eventually followed. Carefully they made it deeper into the water towards where our vehicle was parked on the opposite bank. This was a dangerous spot for them, out of their element and vulnerable to crocodiles. Luckily I took one of my favorite photographs while on safari with the whole family scanning in different directions for threats. A moment I'll always remember and a photographic souvenir to show off".
Kathy: "Elephants, the African gentle giants. I can spend all day in Botswana at a water hole watching elephants. This is especially rewarding in the winter during the dry season. Get your camera ready because here they come! A breeding herd with their young calves racing in front of the herd and always first to reach the water. After a long day of walking and foraging for food their excitement is on full display, as they approach the water hole. The young calves often run ahead, eager to start drinking and frolicking, followed by the matriarch and her family. Baby elephants can be seen shadowing underneath or behind their mothers and dipping their trunks in the water, splashing around and trying to learn to control their trunks which have around 150,000 muscle units. Young calves often seem to use them as toys, swirling them around and splashing them in the water. They look like they are having so much fun. When it's time to drink they kneel down and drink the water through their mouths. The big bulls come to the water slowly and with dignity. Sometimes, if you are lucky, you will see them approach other bulls. You'd almost think a fight is imminent, but that's quickly dispelled as they stretch out their massive trunks and gently twist them together. An elephant handshake is always special and a very intimate sight to behold. Might this be their brother, relative or an old friend they have not seen in a while?
Some of the water holes have freshly pumped spring water from a borehole beneath the ground. The elephants love to put their trunks over the source of freshwater and drink it in. The bigger elephants hog the freshest water and the less dominant ones have to wait their turn.
Elephant herds leaving the water hole are refreshed and the young continue to frolic. My fondest memory is of two young calves walking downhill, one behind the other with one putting his front legs on the other's backside. It honestly looked like a circus performance. They were
having so much fun!"
A typical game drive – minute by minute
On a recent Botswana trip, I randomly picked one day for a 'minute by minute' account of a typical game drive. It ended up not being quite typical – due to the wild dog sighting – but otherwise it is representative of a good morning game drive. Some will be quieter than this and some might be a bit more exciting, maybe with another predator species thrown in.
We started off from Lebala Camp right at 0600. It was a cloudless morning, cool until about 0900A and then a scorcher until about 1500 when a large thunderstorm rolled through the area. In the vehicle were our guide Spencer, our tracker P.D., Kathy and myself and two Danish guests
00:1:00 A juvenile kudu chewing on a wild cucumber, rolling it in its mouth, the white 'lip gloss' and white chin clearly visible. What massive ears! We spent several minutes with the kudus (several more emerged from the bush).
00:5:43: A Black-shouldered Kite.
00:8:00: Six Egyptian Geese at a water hole; we witness a very intense squabble between two males, with lots of wing-flapping and chest-bumping, and even more noise. Soon enough one of them gave way and the victor strutted around for a bit to show everyone who's the boss.
00:10:00: Three Wattled Crane including one sub-adult, very close. Magnificent birds with elegant tails.
00:14:30: A massive hippo re-entering a waterhole. A family of Egyptian Geese with 8 ducklings.
00:16:00: Yellow-billed Storks and a pair of Namaqua Doves.
00:18:00: A solitary Hooded Vulture right at the top of a tree. Several Red-billed and Yellow-billed Hornbills, a flock of Helmeted Guineafowl.
00:19:49: A Red-crested Korhaan fly-by.
00:25:00: Ten Impala antelope and some warthogs.
00:26:19: Four giraffes at a distance.
00:27:00: A small group of Burchell's Zebra.
00:28:41: An impressive Kori Bustard, the world's largest flying bird.
00:41:15: A juvenile Bateleur Eagle impersonating an owl, turning its head 360 degrees to look back at us.
00:46:00: A couple of Temmincks' Coursers, a new bird for the trip list.
00:50:26: A Tawny Eagle, first of many for the day.
00:56:00: 20 adult and 11 young Blue Wildebeest grazing with lots of Cattle Egrets following them around. A peaceful, almost pastoral setting.
01:00:00: Three ground hornbills in a tree. Massive birds.
01:03:00: A dainty Steenbok female in the grass close to the vehicle; a first for the trip.
01:07:00: An African Fish Eagle, Hamerkop, and a Little Egret.
01:16:00: A solitary hippo in a small waterhole, with a Hamerkop using the hippo as a mobile fishing platform.
01:17:00: A Giant Eagle Owl in a tree, at a distance.
01:22:00: A very nice mature kudu bull with massive spiraled horns.
01:29:00: A Sacred Ibis.
01:30:00: We make a comfort stop, aka a bush break, pit stop, or checking the tires.
01:38:00: Two breeding herds; one of about 20 Blue Wildebeest and the other about 30 Impala. Both herds sport several youngsters, small but already firmly implanted with what makes up their species characteristics. Tiny impala darting off and making elegant leaps just like the adults. Tiny wildebeest just slightly less homely looking than their parents.
01:40:00: A duo of Wahlberg's Eagle, adults feeding young.
1:45:00: Green-backed Heron at a pond.
01:48:00: A pair of Pygmy Geese in the same pond, first just one and then 5 altogether. Once seen, these compact, colorful ducks are unmistakable.
01:57:00: African Fish Eagle and Saddle-billed Stork, one of the most striking birds in Africa.
02:09:00: Three young Kudu bulls.
02:16:00: Two secretary birds on a nest in the distance.
02:30:00: Two large adult Kudu bulls close up.
02:32:00: We stop for morning tea. Redbilled teal at the waterhole. A solitary Wattled Crane. Tea, coffee and some snacks (rusks and cookies) are served.
02:40:00: During the tea break, I notice one and then several African painted dogs running out of the woodland towards the water. The dogs have found us! We spend the next hour in their company. There are six in total.
03:40:00: Still following the six African painted dogs, now resting up in a grove of Kalahari Appleleaf trees. There are 2 females and 4 males. Very handsome animals, quite oblivious to our presence. They engage in some horseplay, or perhaps more correctly canine capers. I manage to take about 200 mediocre photographs of African wild dogs. A couple or so turn out ok.
4:01:00: We say goodbye to the dogs and head off in the direction of camp. I spot a woodpecker back at the waterhole where the dogs found us.
4:06:00: Bateleur Eagle, Tawny Eagle. We would have repeated sightings of both of these birds of prey during our stay at Lebala.
4:09:00: Breeding herd of about 30 wildebeest with 15 young. Also five Burchell's Zebra, one of which (a youngster) has three pretty bad lacerations on its flanks, apparently caused by a lion.
4:20:00: Breeding herd of about 60 elephants. We watch as they emerge from the woodland, feeding as they go. A very relaxed, peaceful scene. The elephants continue to feed as they move past us from our left to our right. We stay with the elephants for about 10 to 12 minutes, then head off back to camp for brunch.
4: 45:00: Burchell's Sandgrouse, a new bird species for the trip list.
4:48:00: Leopard Tortoise, our 'reptile of the day' and one of the 'small five'. The others being the rhinoceros beetle, the ant-lion, the elephant shrew and the buffalo weaver.
YOU MIGHT ALSO BE INTERESTED IN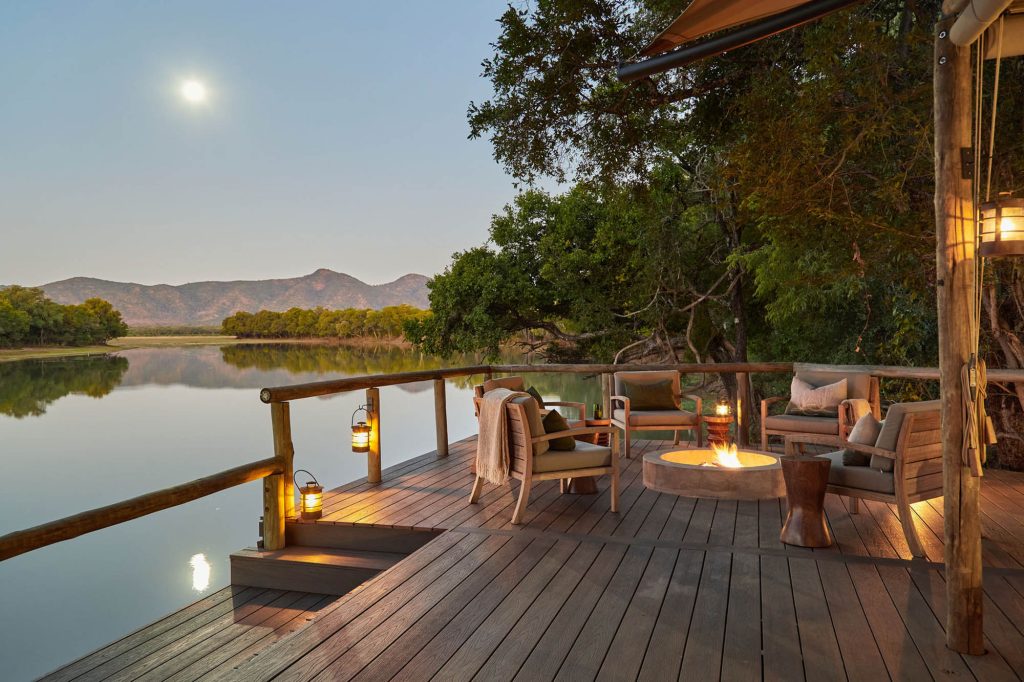 10th Sep 2021
Chindeni and the Bushcamp Company, Zambia
By late July we found ourselves at Chindeni, a small Bushcamp Company property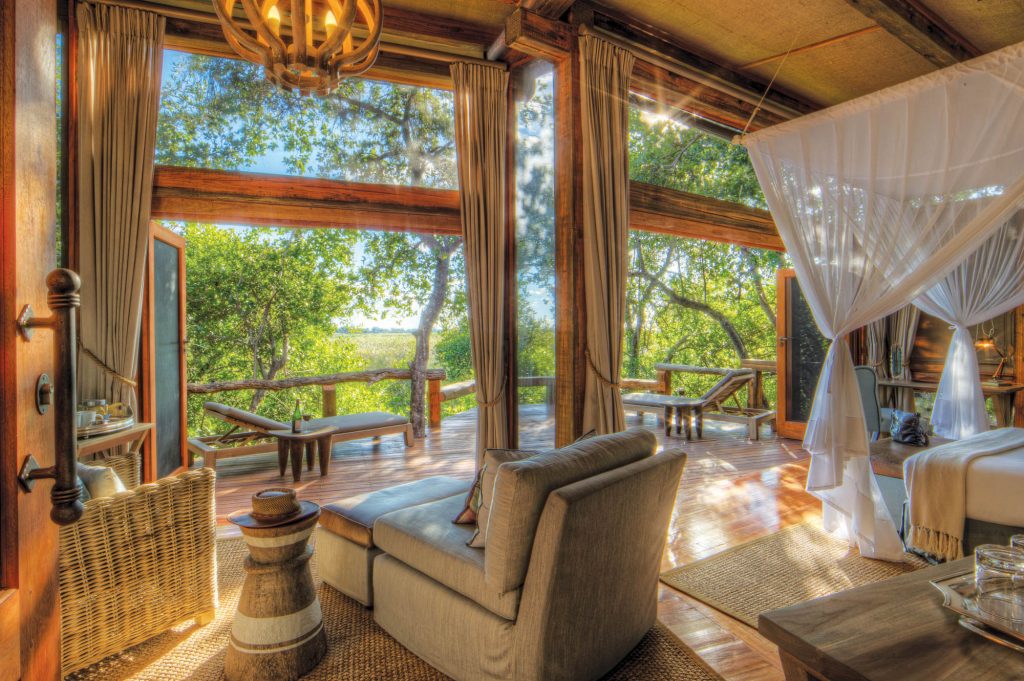 3rd Oct 2022
Camp Okavango, Botswana
Camp Okavango is in the heart of the permanent part of the Delta. In this idyllic setting there are no vehicles, and it is just a short walk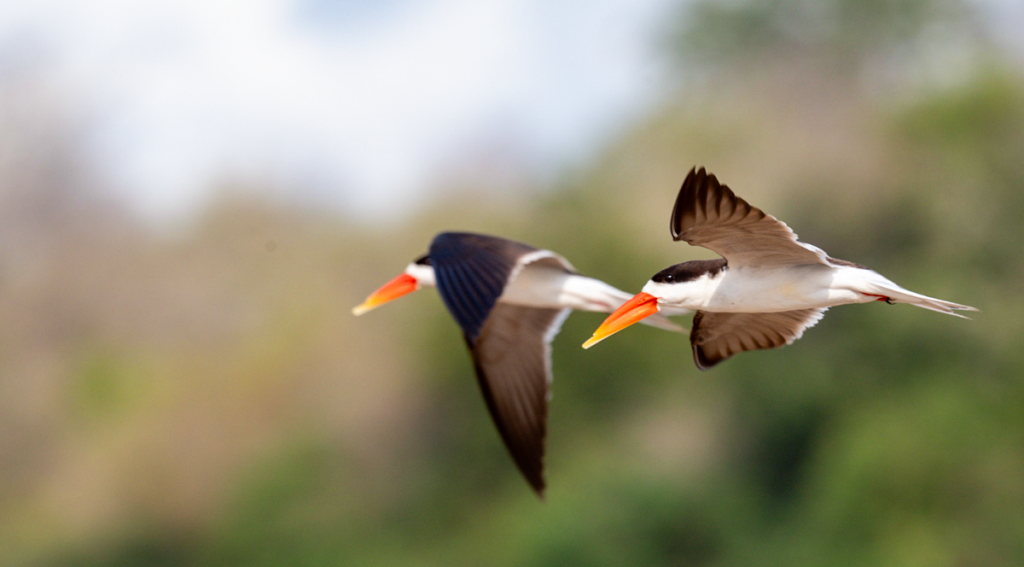 14th Oct 2023
From My Safari Notebook: Wildlife Photography
Birds in flight and wildlife photographers have an uneasy relationship. Things go wrong as often as they go right. Getting focus-lock on a moving subject
SUBSCRIBE TO OUR NEWSLETTER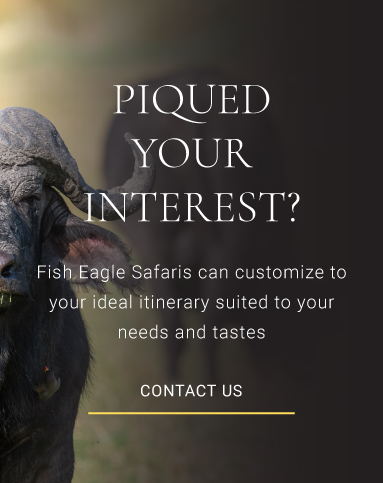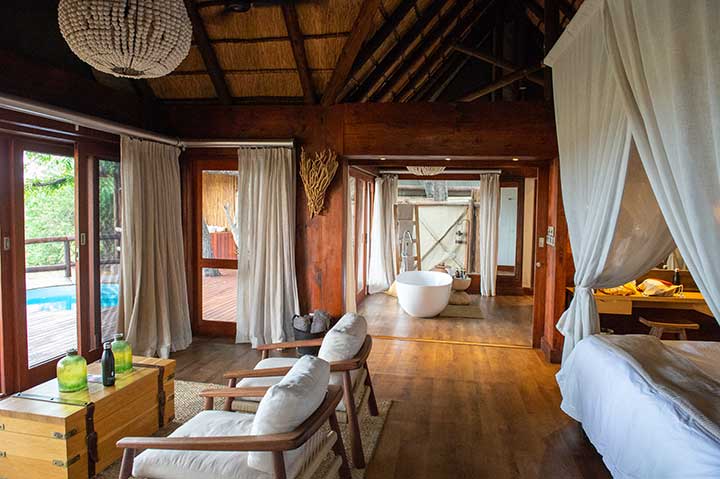 4th Aug 2022
On Safari At Belmond Eagle Island Lodge, Okavango Delta
What is the 'secret sauce' for an unforgettable few days on safari in Botswana? It starts with the animals, of course. The elephants, lions, giraffes, hippos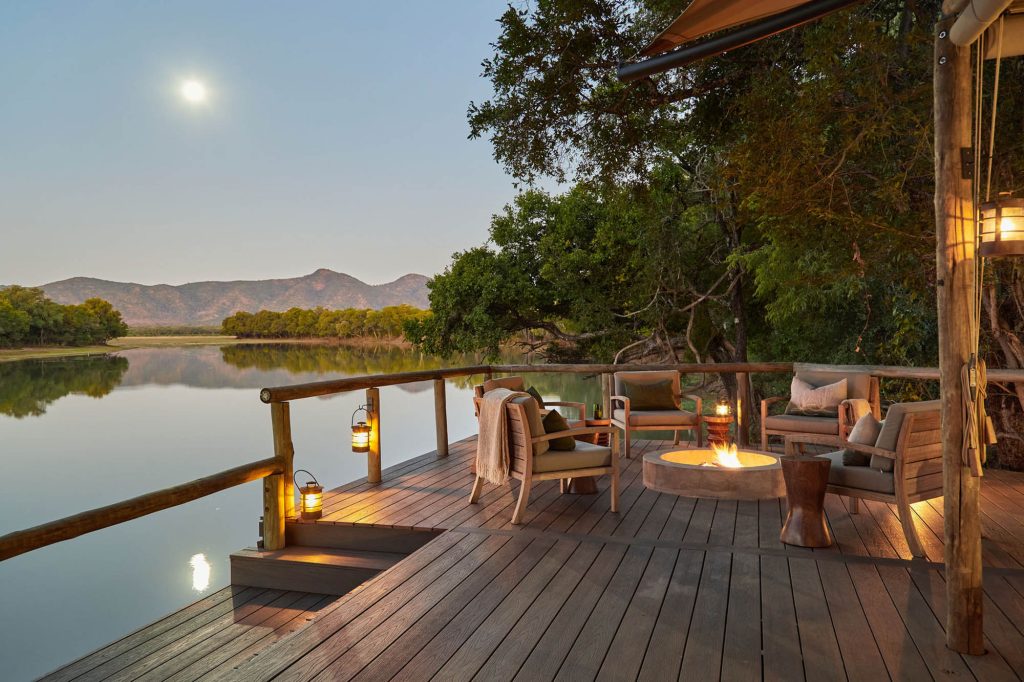 10th Sep 2021
Chindeni and the Bushcamp Company, Zambia
By late July we found ourselves at Chindeni, a small Bushcamp Company property