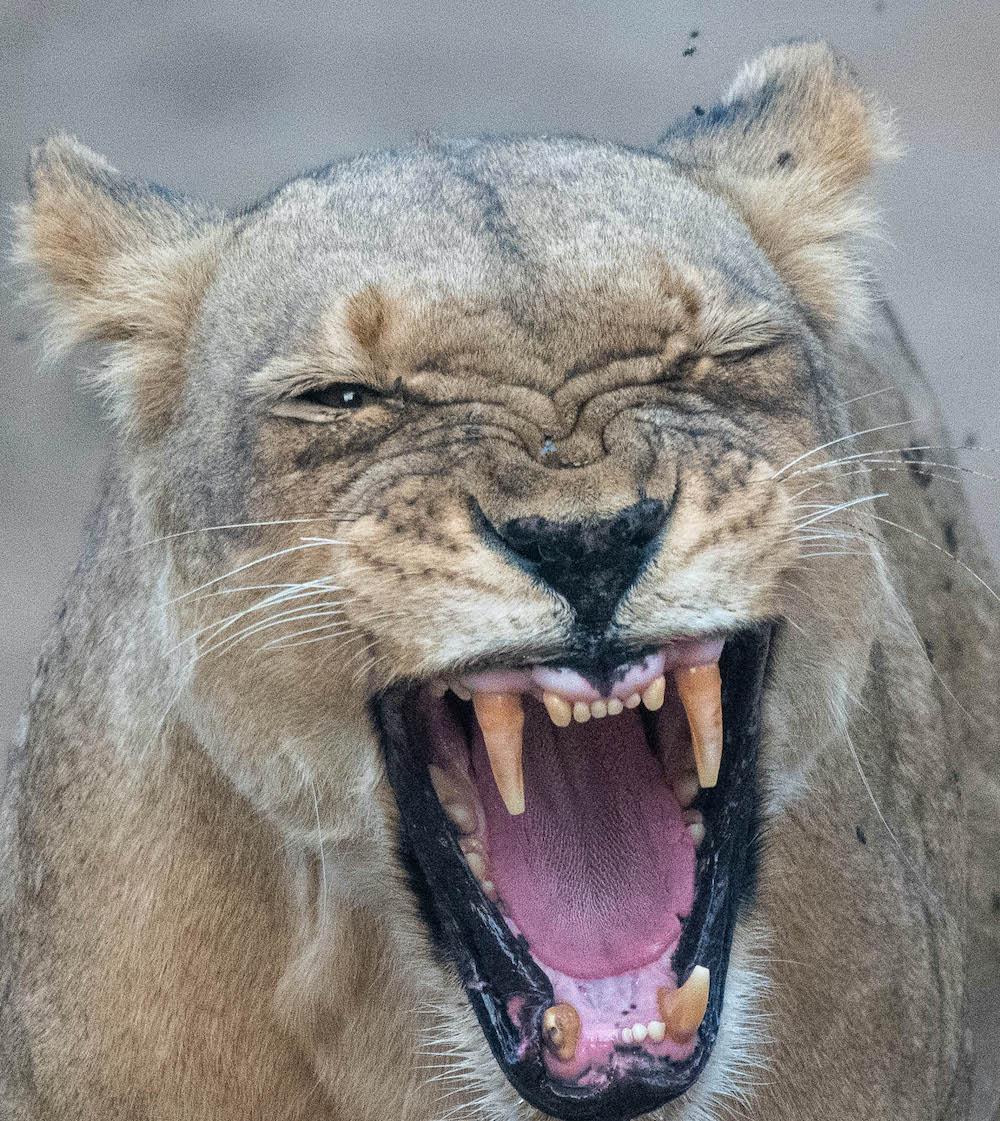 Sausage Tree & Chiawa Camps, Lower Zambezi
Over dinner some years ago at the River Club upstream from Vic Falls, I was gently corrected about a comment I had made about the Zambezi River. "It is the Zambezi. Not the Zambezi River". So it is. This most African of rivers makes its way all the way from far northern Zambia, right on the border of the Congo, down-stream from west to east, to eventually spill into the Indian Ocean some 1,600 miles from its point of origin. Having carved its way through some of Africa's most spectacular places such as Victoria Falls, Mana Pools and the Lower Zambezi.
Sausage Tree Camp
This is where I found myself on the last day of July, on my way to the western portion of the Lower Zambezi National Park, where we would have brief overnight stops at Sausage Tree and Chiawa Camps. Appropriately, we arrived at Sausage Tree by boat, after an entertaining 20-minute cruise upstream on the Zambezi, from the jetty at Jeki Airstrip. Practically never out of sight of at least one, sometimes more than one pod of hippo. Just giving us the intense hippo stare as we moved past them.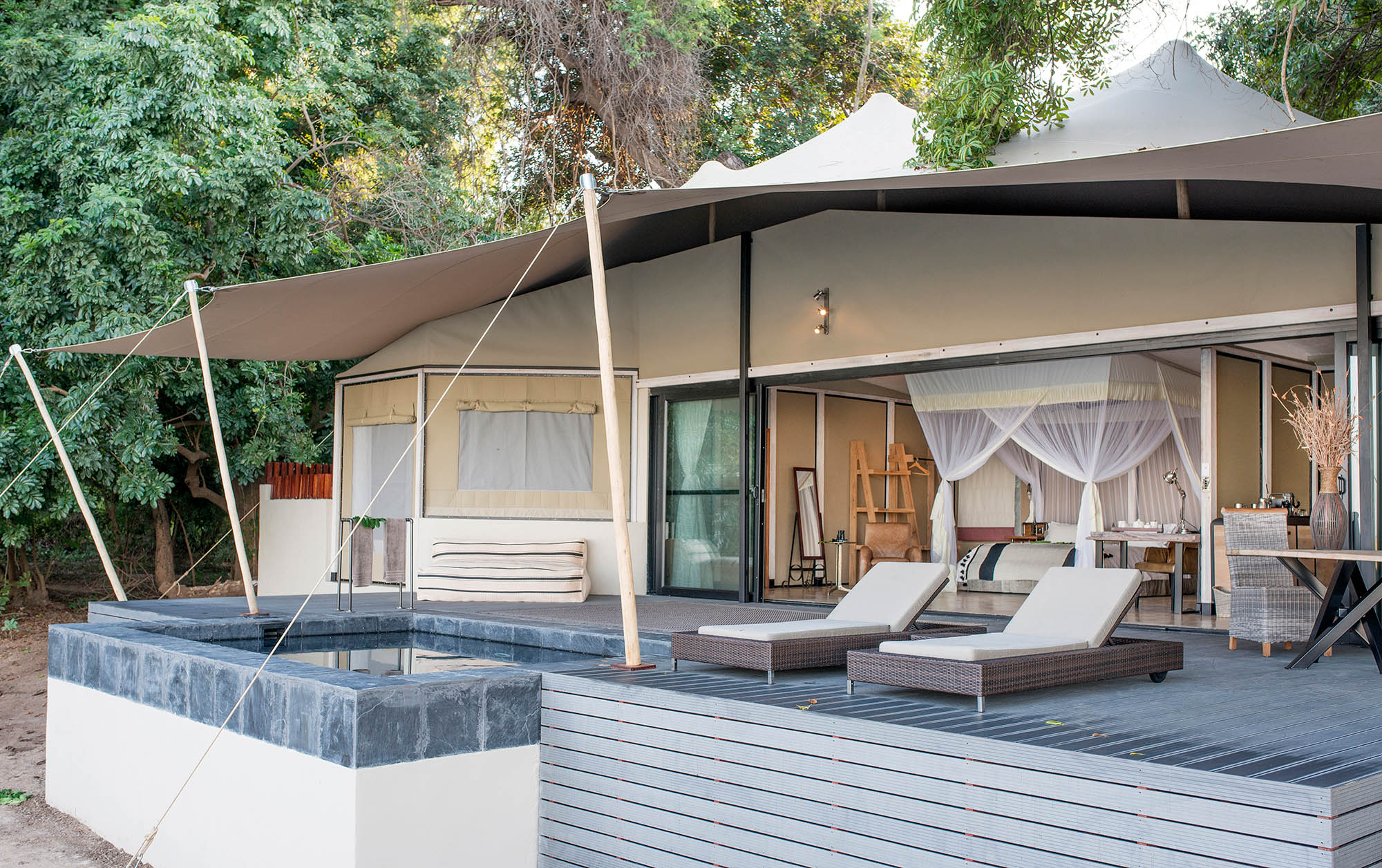 The rooms at Sausage Tree were beautiful and spacious. More like suites than rooms, they are luxurious custom safari tents with massive gauze windows and sliding doors, with more than adequate fresh air circulating. Nearly hidden from one another, and shaded by mature sausage and mahogany trees, the tents are cool, private sanctuaries to return to for an afternoon siesta or good night's rest.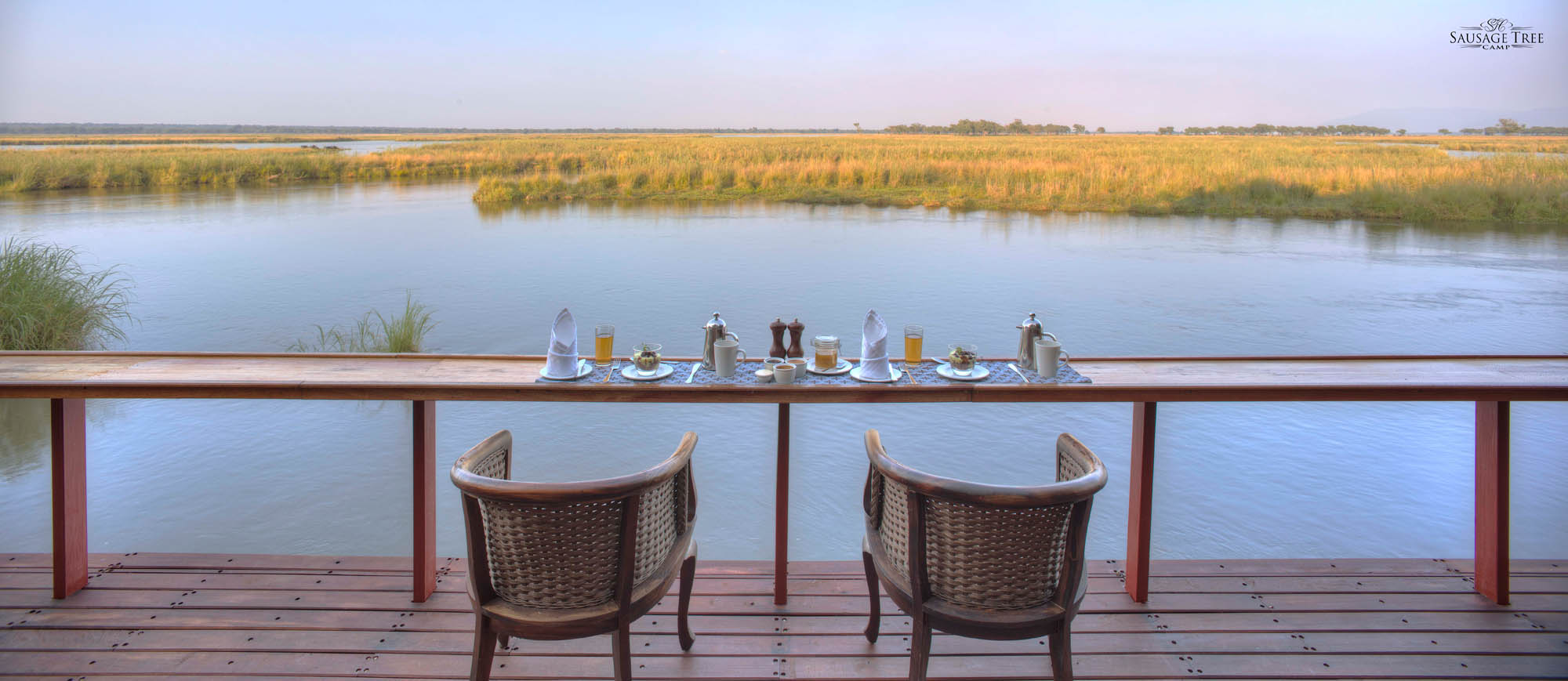 Sleeping only 18 guests, Sausage Tree Camp offers a civilized approach to a true bush experience with lavish attention to detail. The central dining and bar area is fronted by an enormous teak deck overlooking the Zambezi. The 25 meter Lap-pool is situated right on the edge of the riverbank, under shading mahogany trees with outstanding views.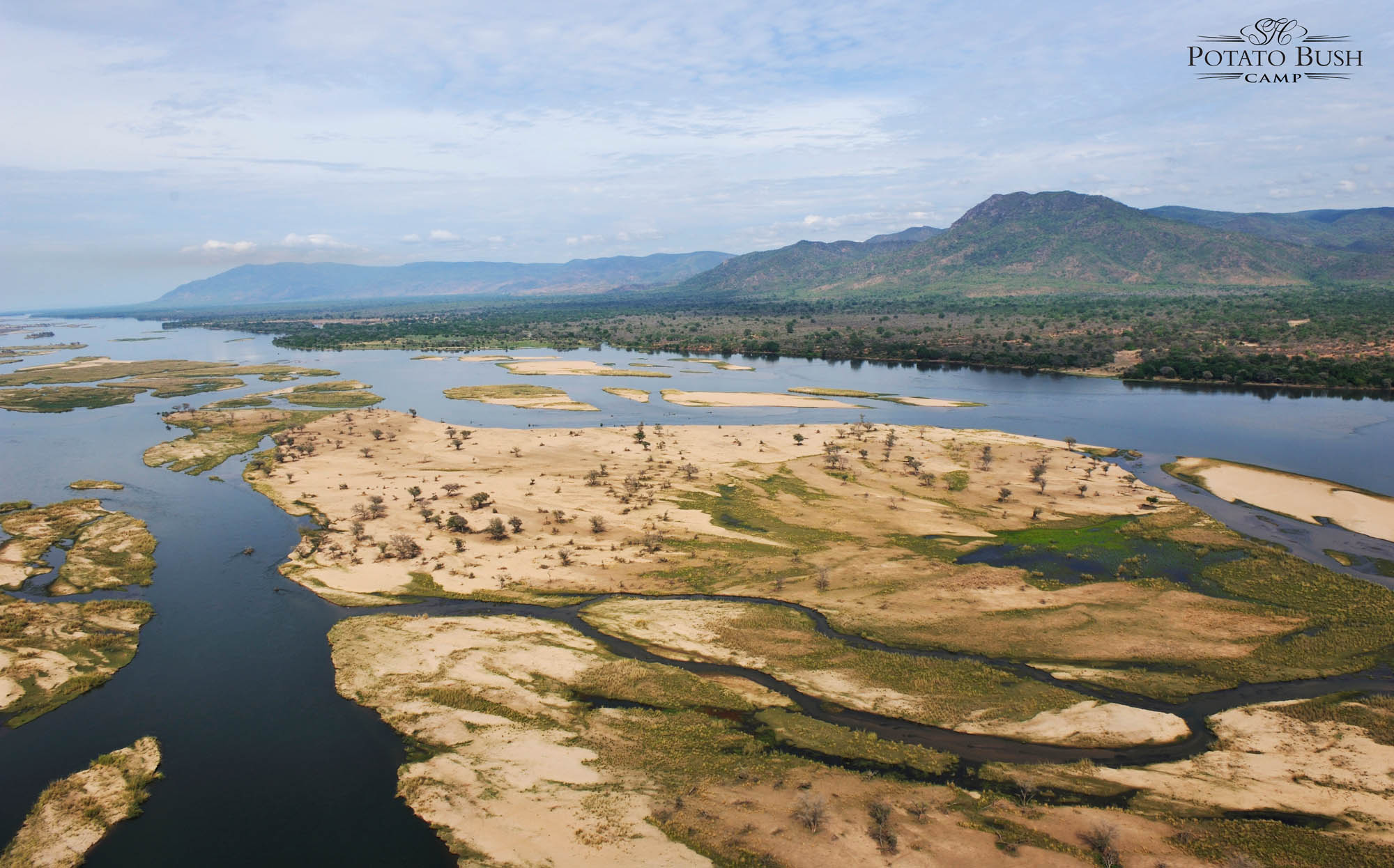 Canoeing at Sausage Tree Camp
Our afternoon activity, a canoeing outing with head guide Ryan Wilmot, was a highlight of the entire Zambia trip. I had a comfortable seat in the sturdy Canadian canoe, I stayed totally dry throughout, and did not have to do any paddling. The camp practice is to have just one guest per canoe, with the paddling done by Ryan (my canoe) and two other canoeing specialist guides, in the other two canoes.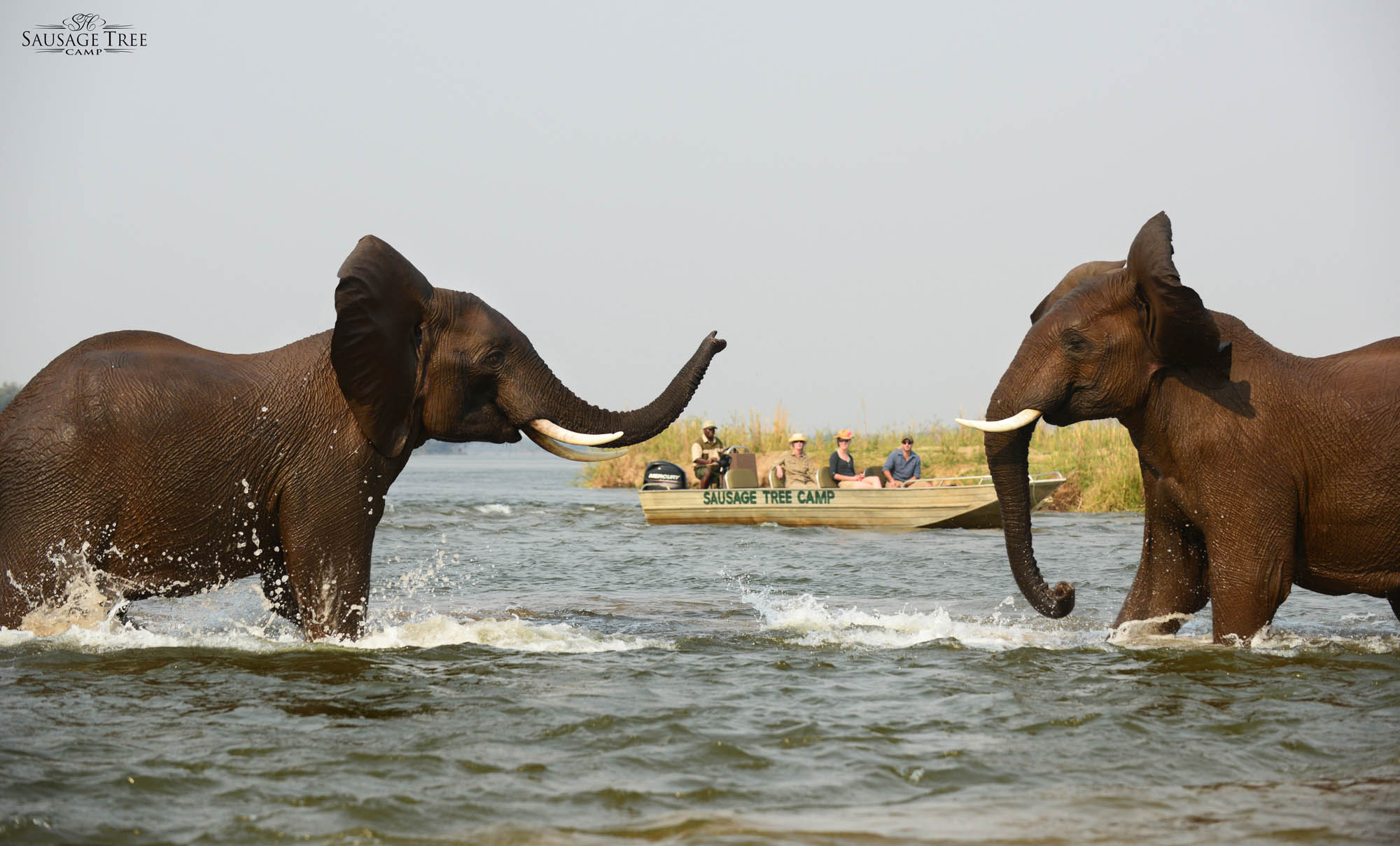 The canoeing was simply a fantastic experience. From beginning to end, participants traverse breathtakingly beautiful surroundings, with a profusion of birds, lots of hippos of course, elephants, buffaloes, impala, baboons and monkeys – and more.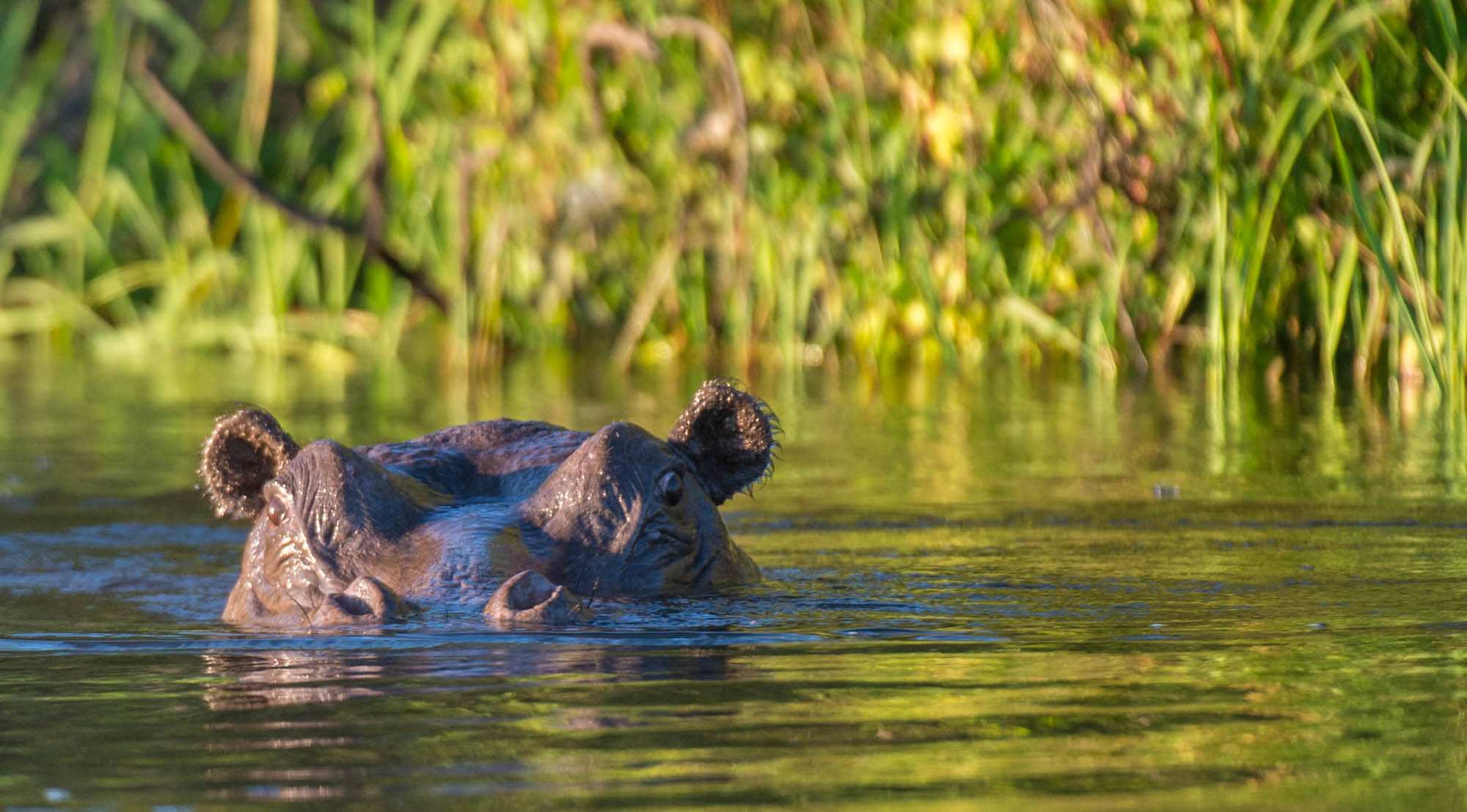 It was exciting and a little intense at times, but I always felt safe. Clearly, the highly experienced guides were firmly in control. We did have a couple of relatively close encounters with some hippos, including one brief 'mock' charge. Even so, nothing too alarming, just enervating.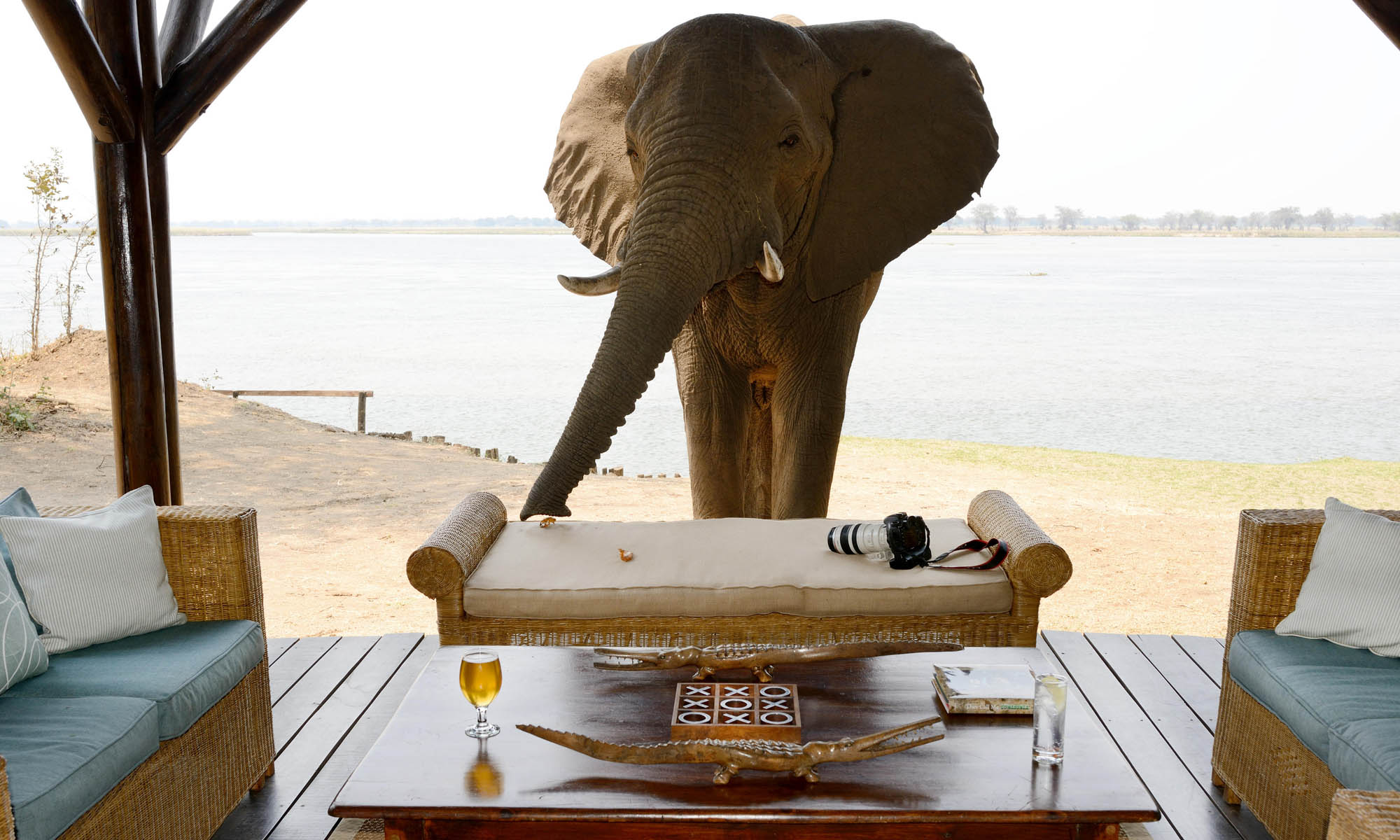 Chiawa Camp
It took only 15 minutes or so – again by boat, further upstream – from Sausage Tree to Chiawa Camp. Almost predictably, we could not get to our rooms along the regular path because of elephants in camp. It happened on my previous visit as well. I hope to visit Chiawa one more time before I finally put away my binoculars. Maybe then I can complete a hat trick of having an elephant diversion on arrival!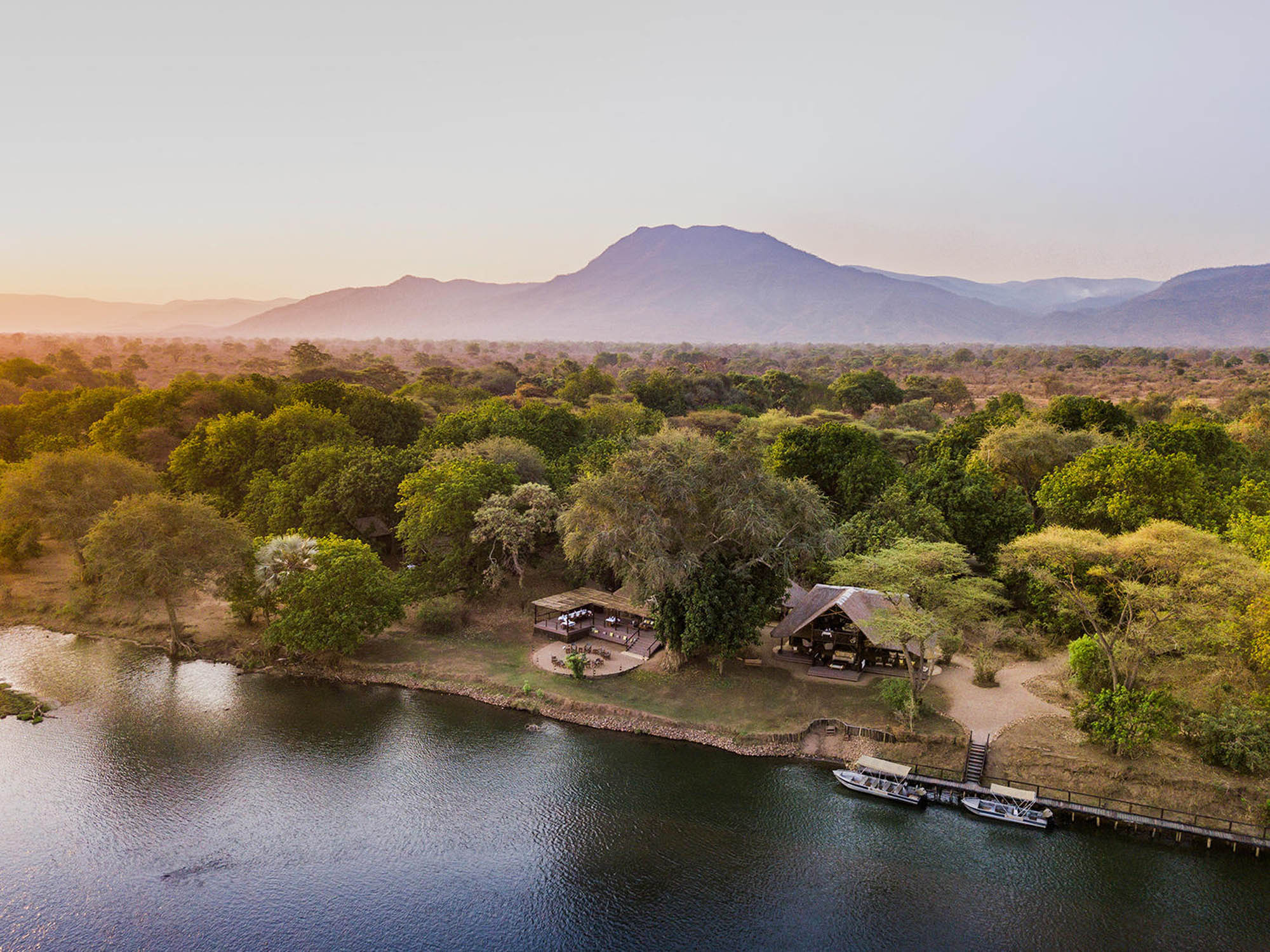 As I told camp manager Simon Douglas when we made our way around the front of the rooms (on the river-side), I always give extra credit to a camp if there are animals around on arrival. Animals which prevent you from getting to your room? A double gold star.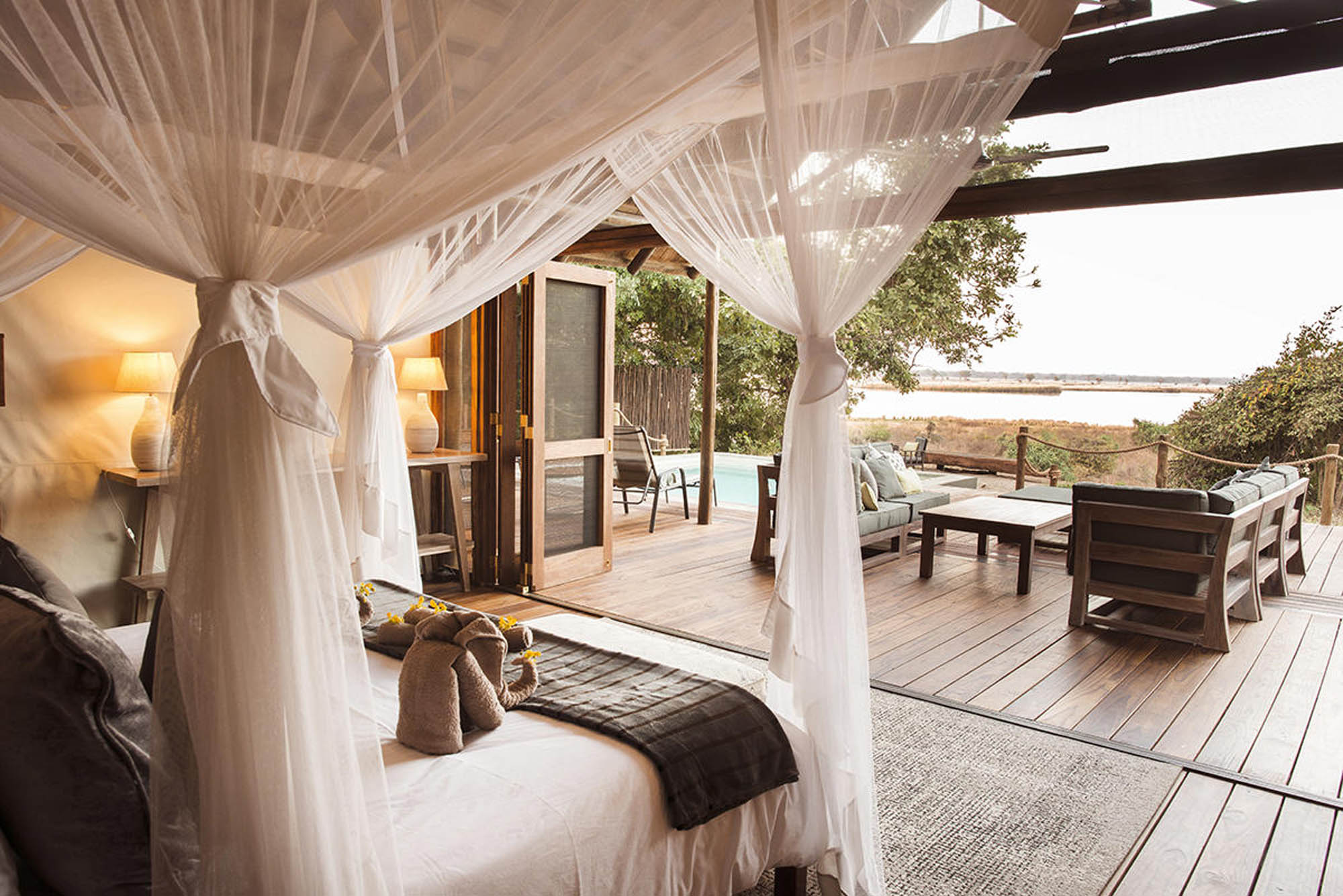 My room #7 at Chiawa was even bigger and better equipped than when Kathy and I spent a couple of days there a few years ago. Same great views over the Zambezi, same great range of activities (game drives, boating, canoeing, fishing and walking), same superb hospitality and friendliness from everyone whom you meet.
Our stay at Chiawa started with a surprise lunch served while drifting down the Zambezi, on a boat. A three course meal with perfectly roasted chicken, salad and a dessert. Simply a delightful experience.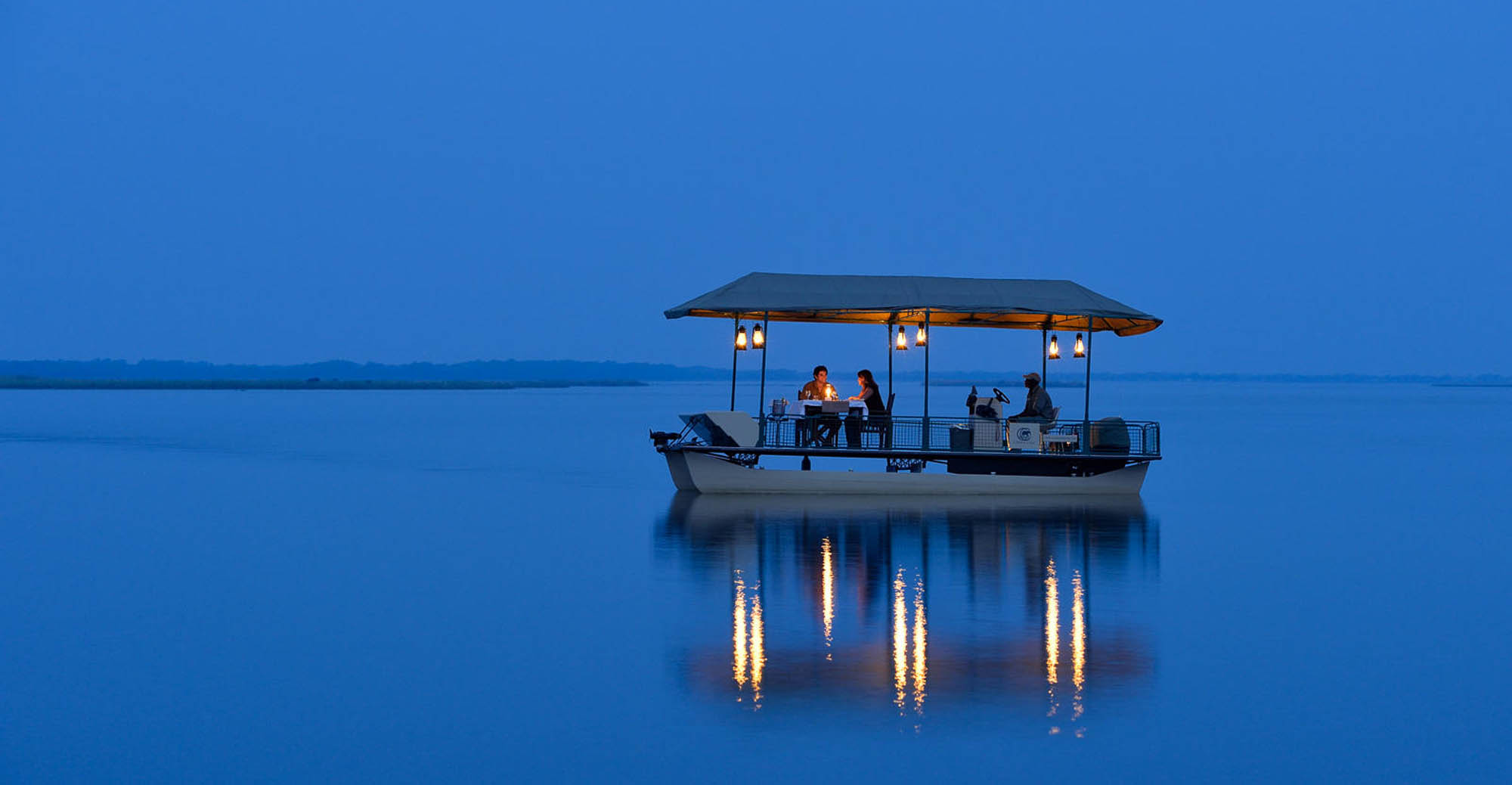 In the afternoon we did a game drive which started slow but ended with a bang. It started with seeing lots of elephants, then a female leopard, followed by two female lions and on the way back an exceptional sighting: two males leopards getting into a territorial spat, the older, more powerful male chasing the younger one high into a tree. Once the dominant male got back onto the ground, he gave chase to an inquisitive hyena which hastily beat the retreat.
Chula Pool Sunset Tusk & Mane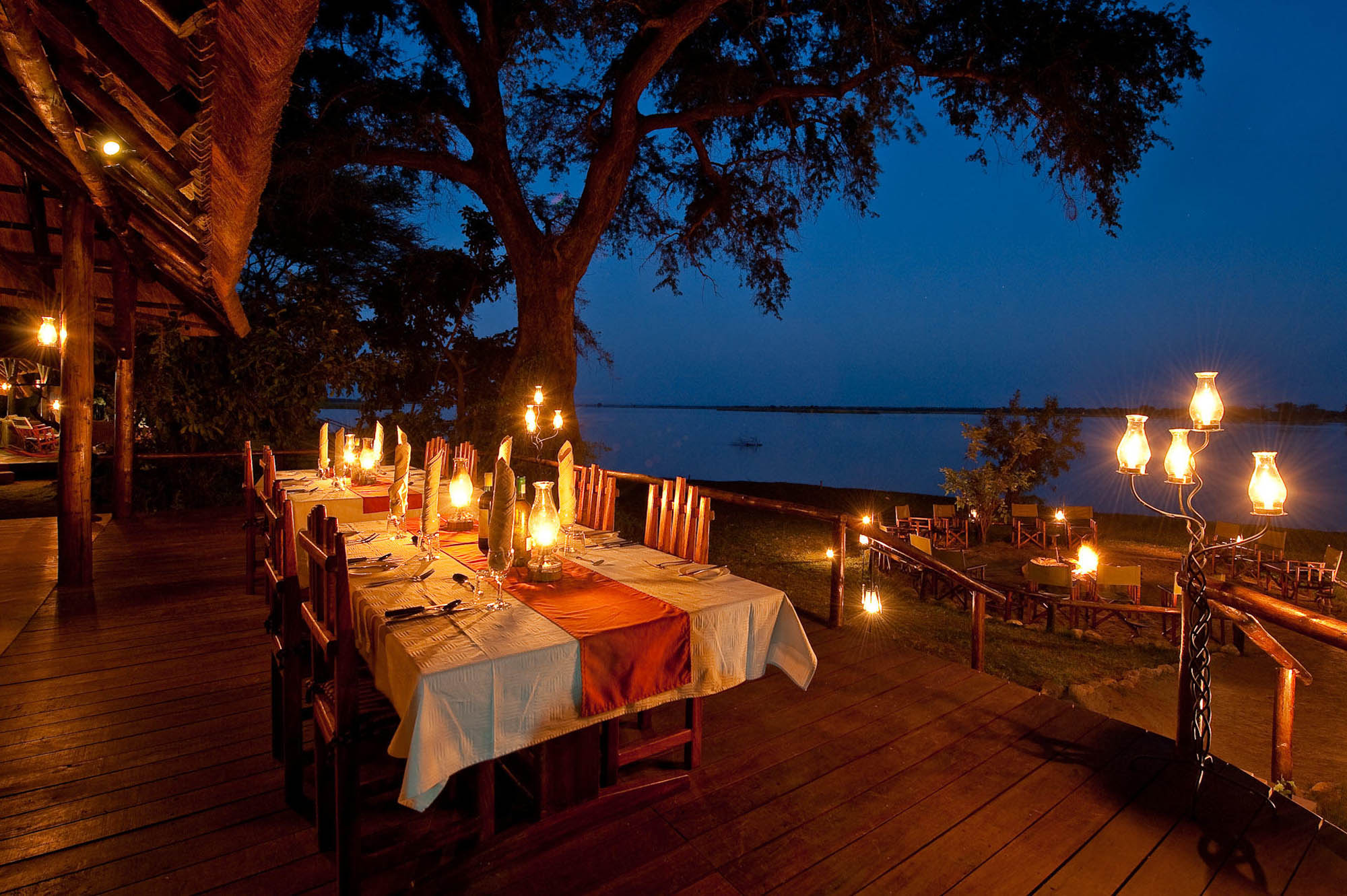 That evening, we were entertained with a few of Chiawa choir's favorite songs, and then enjoyed our final dinner on safari, in the Chitenge upstairs. It felt cozy and private – and special.
On our second but last day in Zambia, we were up early for Chiawa's signature fireside breakfast. Yoghurt and fruit 'parfait', cheese, cold meats, peppadew, hard-boiled eggs, toast over the coals, and oats porridge from a potjie. That pretty much sets you up for the day.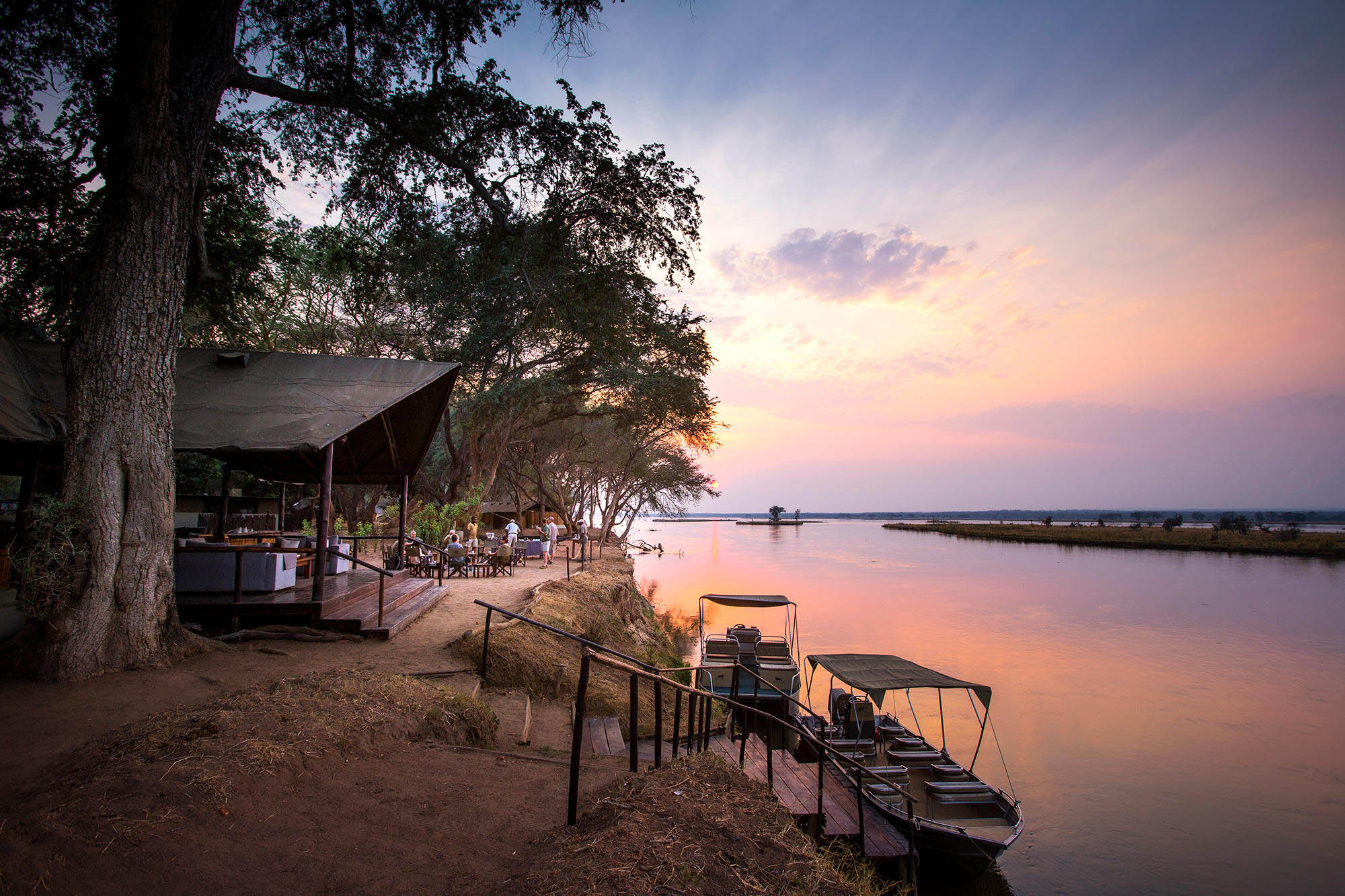 Old Mondoro
Just after 6 am we took off on a 45-minute boat ride to Old Mondoro for a site inspection. Old Mondoro appears to be an excellent choice for a typical small (5 room) Zambian bush camp. The rooms are constructed of treated reeds and canvas, with enough space and with regular toilets and showers (hot water any time). The camp has an exceptionally appealing dining/lounge area which is open to the river as well as to the rear, facing the bush. There is almost always something going on inside the camp in terms of wildlife.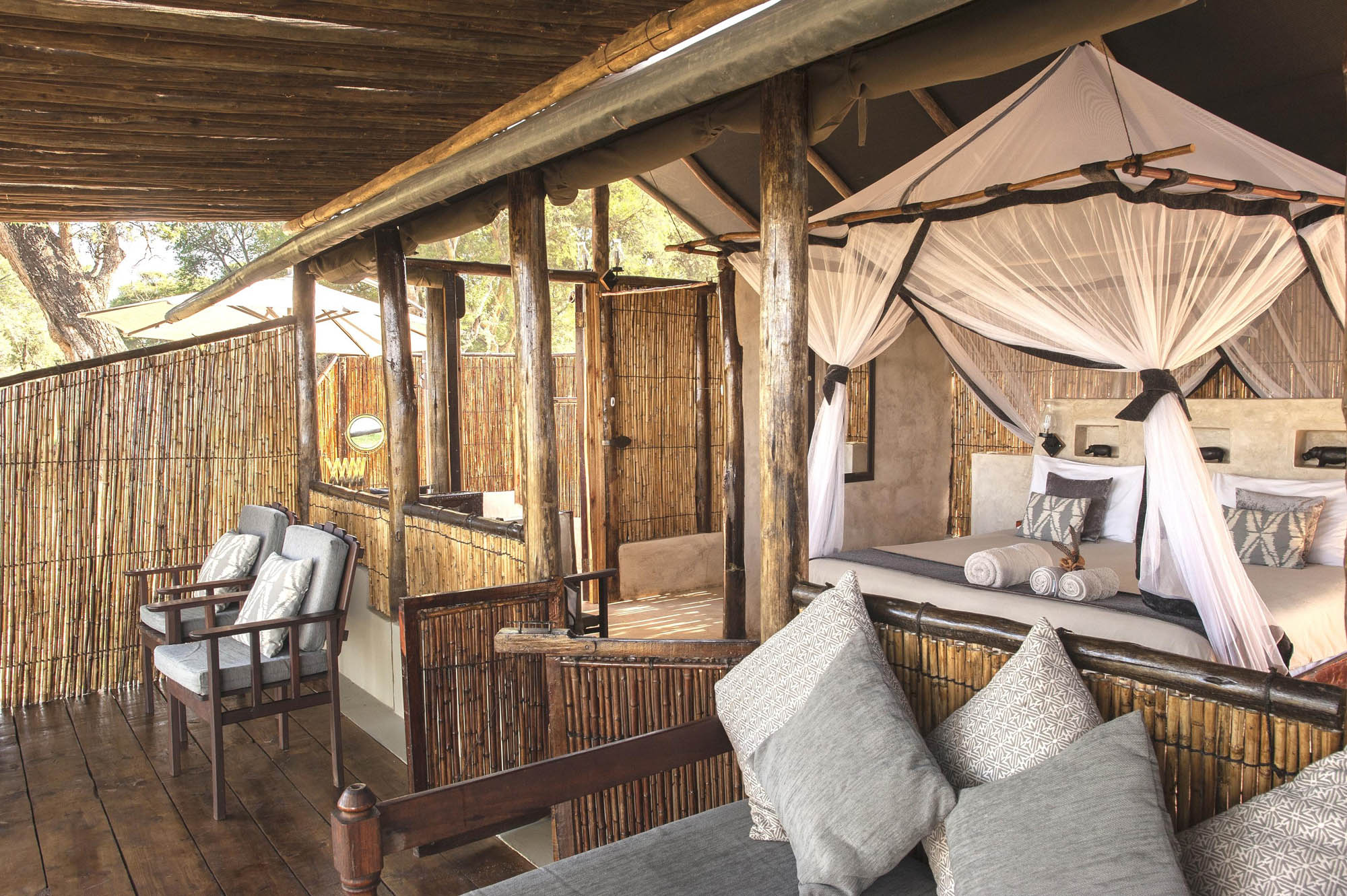 And so it was on the day we were there. Several elephants were just walking into the camp as we arrived. This is something which gathers momentum in the August-Sept-Oct time frame when the winter thorn trees (Albidas) start to drop their nutritious pods, much sought after by elephants as well as by impala, kudus, & baboons.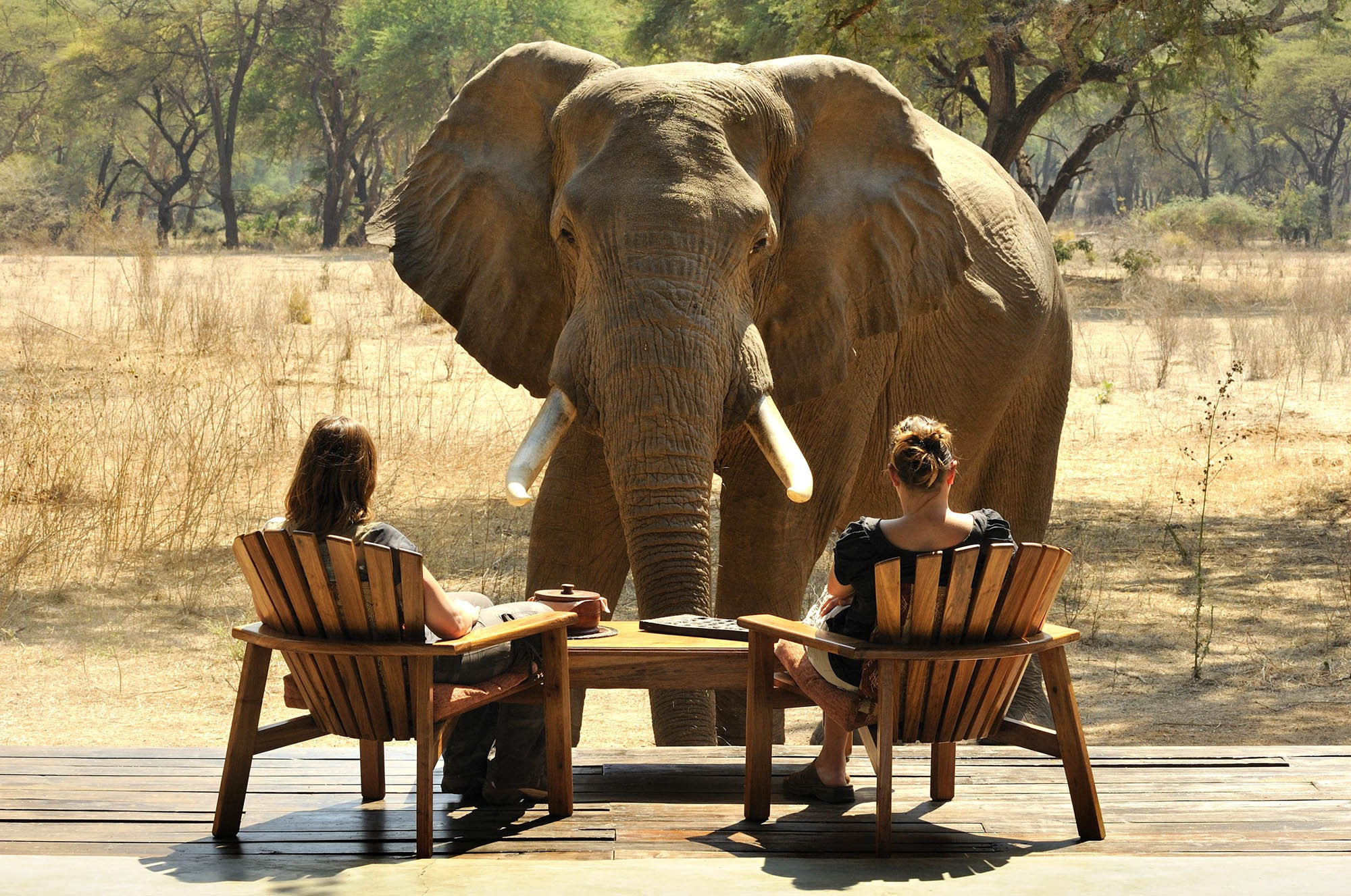 The camp manager took us around and showed us a couple of rooms along the river on the 'left' side of camp, looking from the river to the north. We particularly liked rooms #4 and #5 and those are the ones we'd recommend for our guests, in future.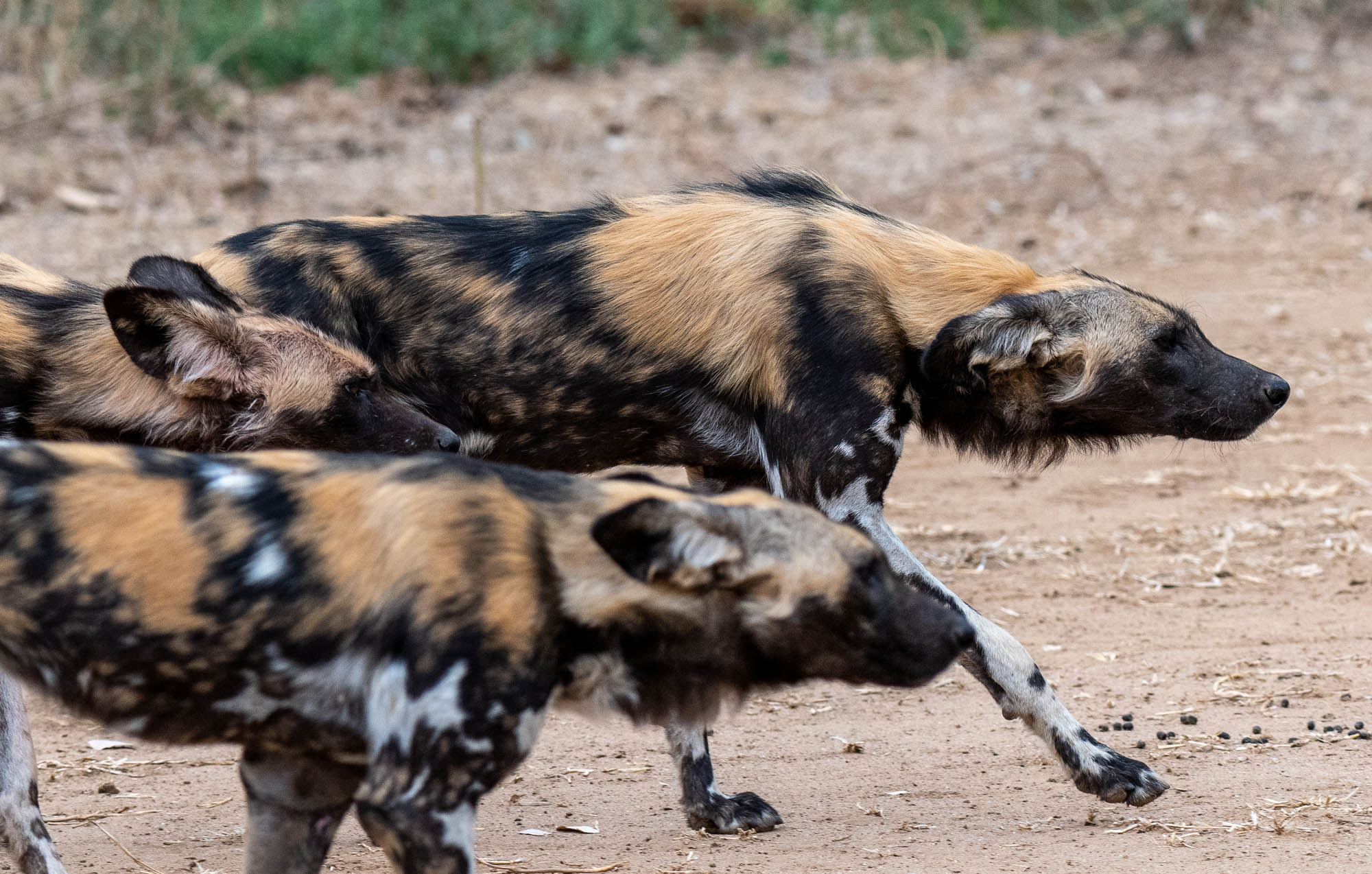 An African painted dog kill
Eventually, after a cup of tea, we started to make our way to the Jeki airstrip to connect with a charter back to Lusaka. Along the way, Pearl spotted the same pack of 23 African painted dogs which we had seen three days earlier, upon our arrival in the Lower Zambezi. They appeared to be in a hunting mode, all of them walking in the same direction with their heads down and their ears back. And then – action! The dogs accelerated as if one, running through the woodland at speed, in pursuit of a group of impala which we could just barely see in the distance.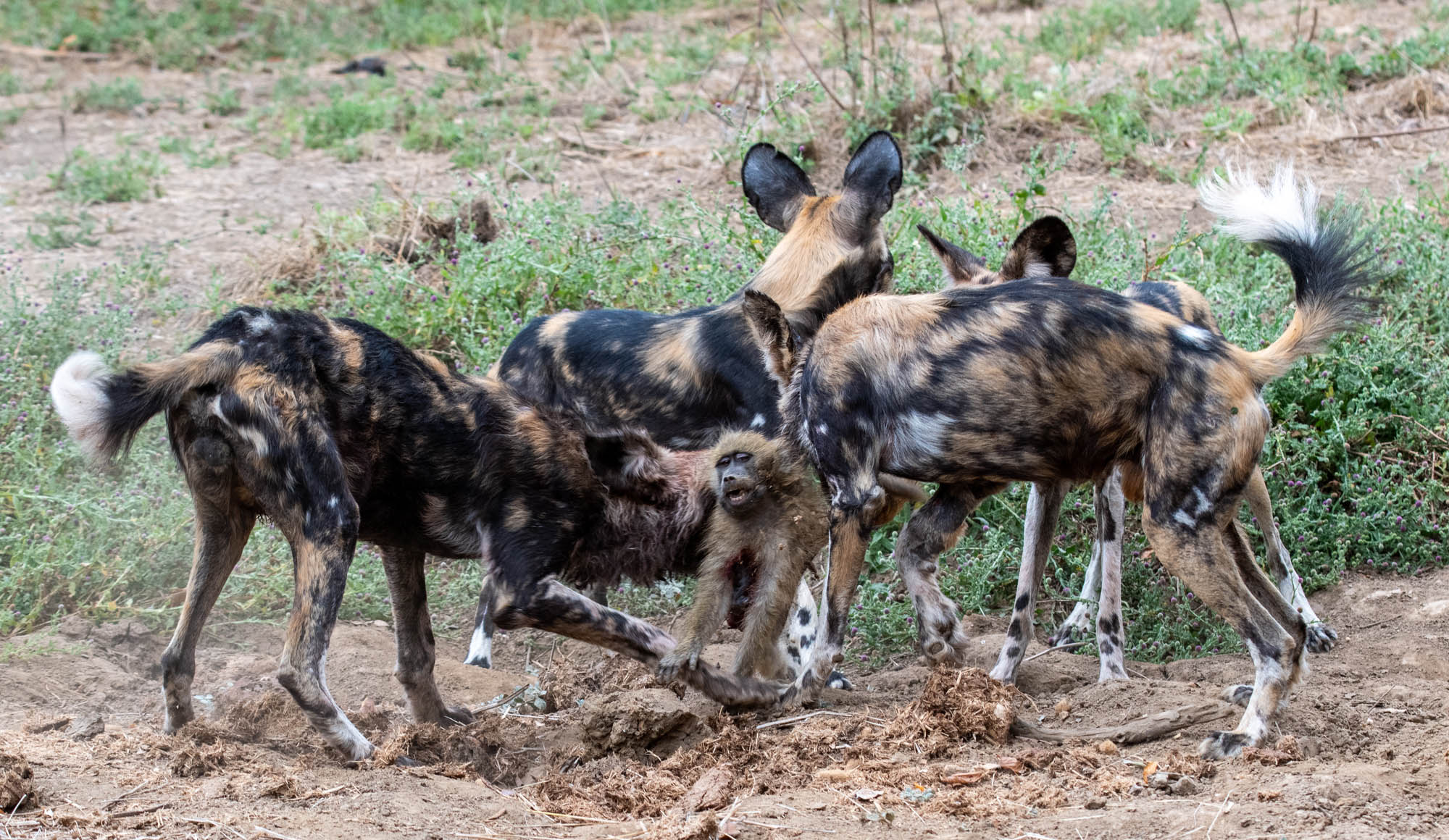 And then the unexpected happened. A troop of baboons panicked and got in the way of the hunting painted dogs. Which resulted in a disaster befalling one young male baboon which was grabbed by one of the running dogs. Right in front of us and in a rather graphic and shocking manner, the unfortunate young baboon was torn apart by about four to five African painted dogs. In a manner of minutes there wasn't much left at all, of the hapless creature. Rather an unexpected and unusual turn of events. We had one last interesting sighting when we had a brief view of a leopard, quite close to Jeki Airstrip.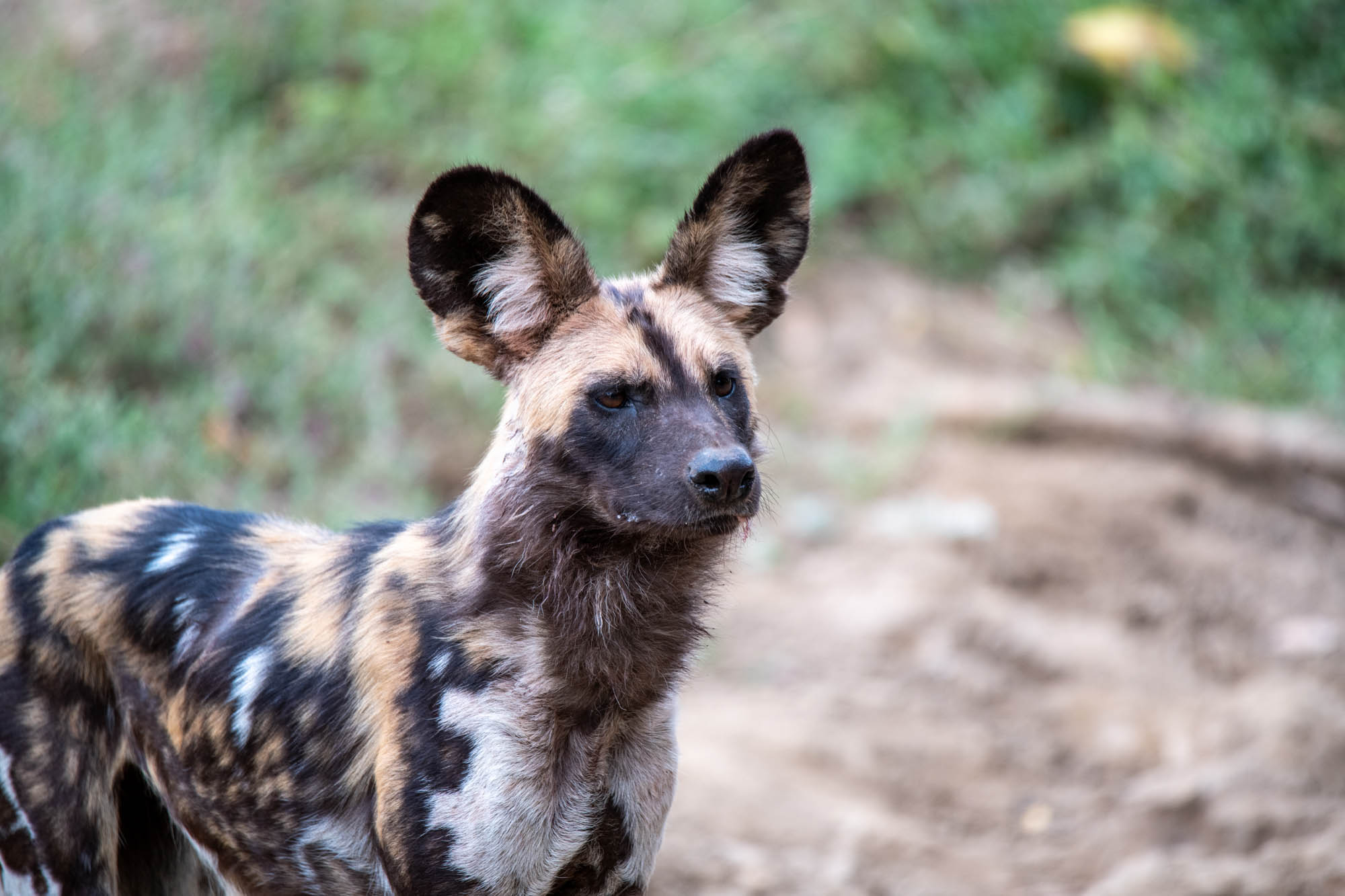 Our great Zambian adventure ended with an uneventful flight back to Lusaka. We had to spend the last night there at the pleasant Latitude 15 hotel, await the results of a Covid test, and then we would head out the following morning. To Cape Town in my case – to climb Table Mountain along the India Venster route – and back to the USA for the other two participants on the trip.
YOU MIGHT ALSO BE INTERESTED IN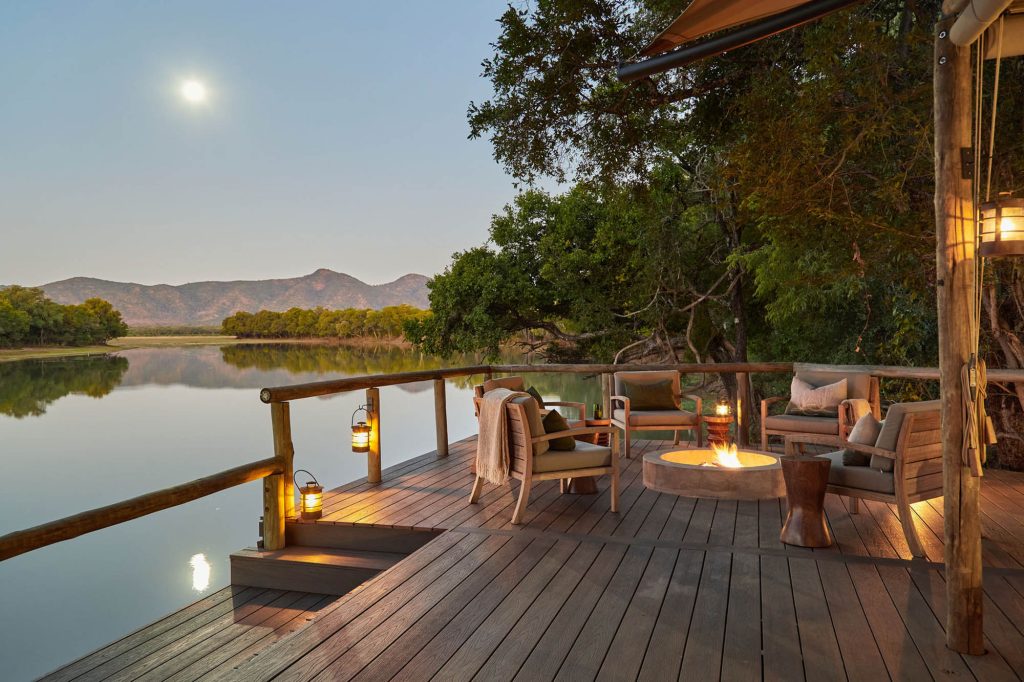 10th Sep 2021
Chindeni and the Bushcamp Company, Zambia
By late July we found ourselves at Chindeni, a small Bushcamp Company property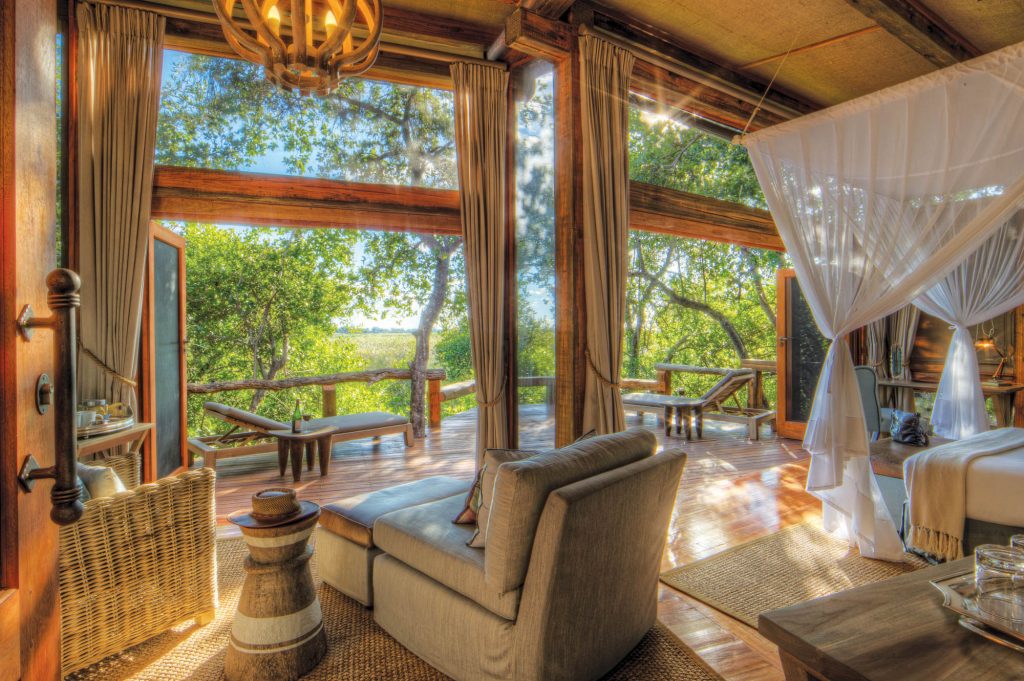 3rd Oct 2022
Camp Okavango, Botswana
Camp Okavango is in the heart of the permanent part of the Delta. In this idyllic setting there are no vehicles, and it is just a short walk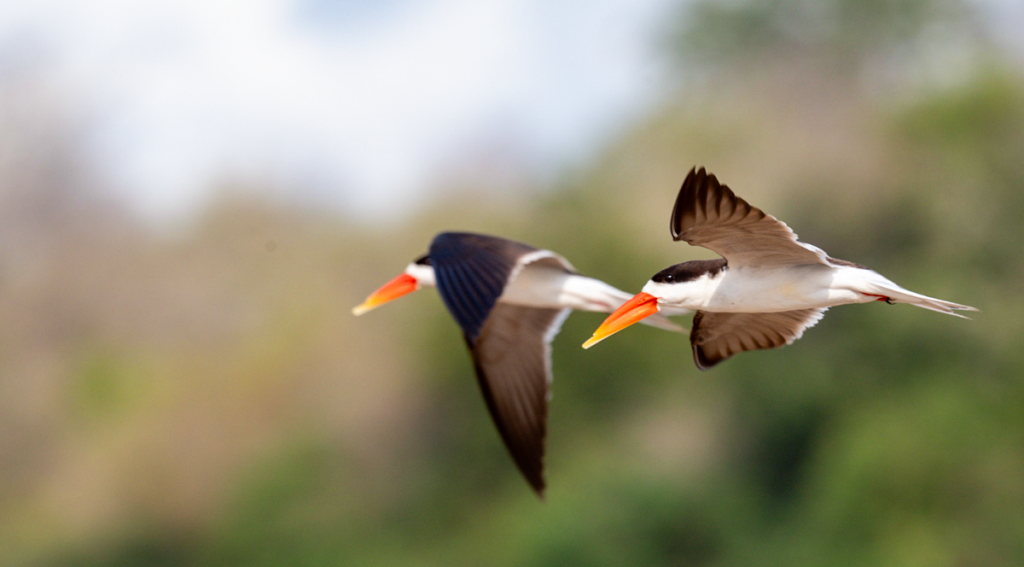 14th Oct 2023
From My Safari Notebook: Wildlife Photography
Birds in flight and wildlife photographers have an uneasy relationship. Things go wrong as often as they go right. Getting focus-lock on a moving subject
SUBSCRIBE TO OUR NEWSLETTER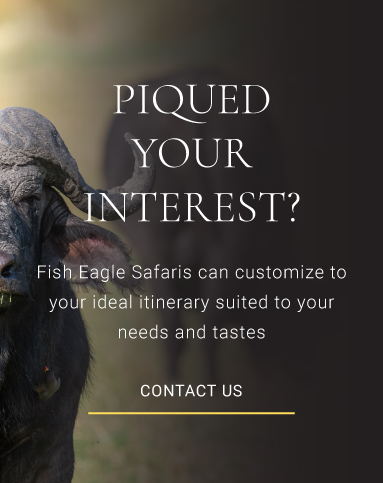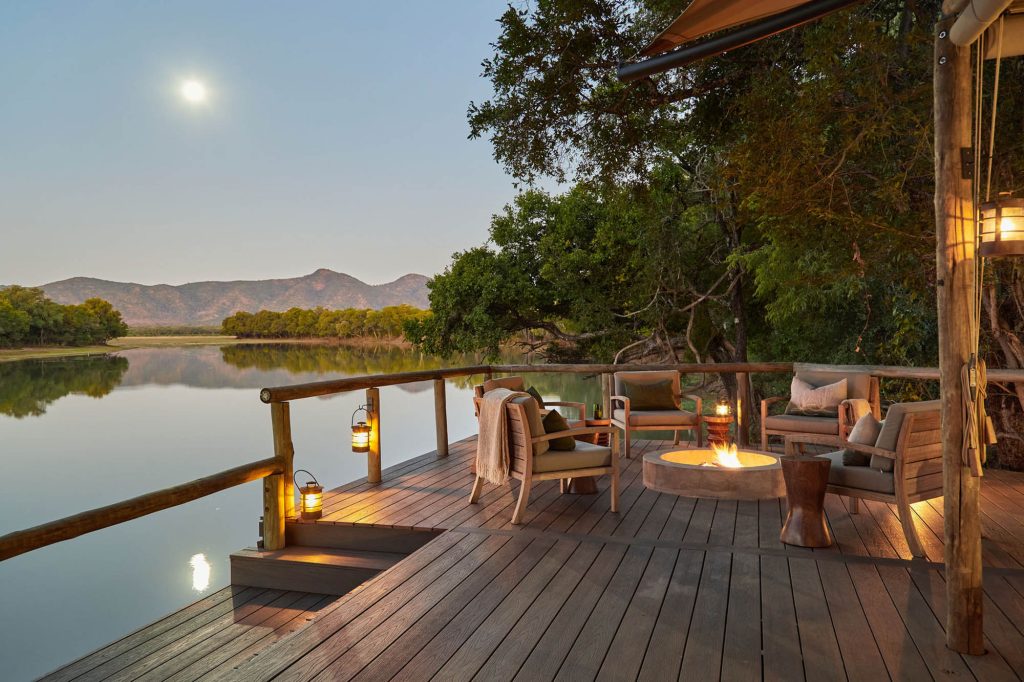 10th Sep 2021
Chindeni and the Bushcamp Company, Zambia
By late July we found ourselves at Chindeni, a small Bushcamp Company property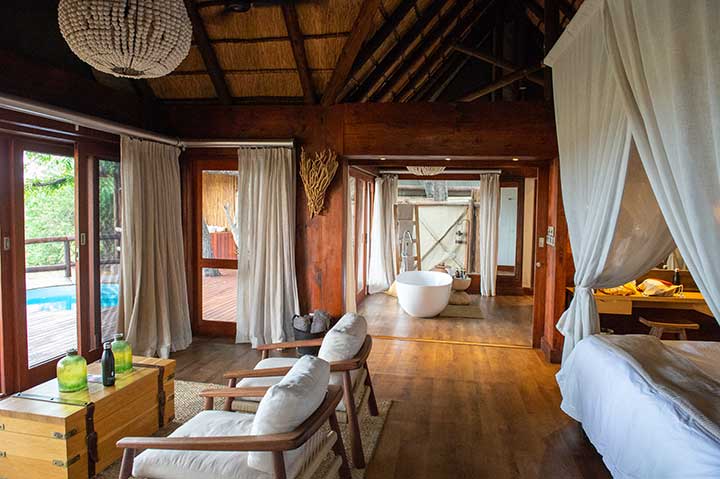 4th Aug 2022
On Safari At Belmond Eagle Island Lodge, Okavango Delta
What is the 'secret sauce' for an unforgettable few days on safari in Botswana? It starts with the animals, of course. The elephants, lions, giraffes, hippos