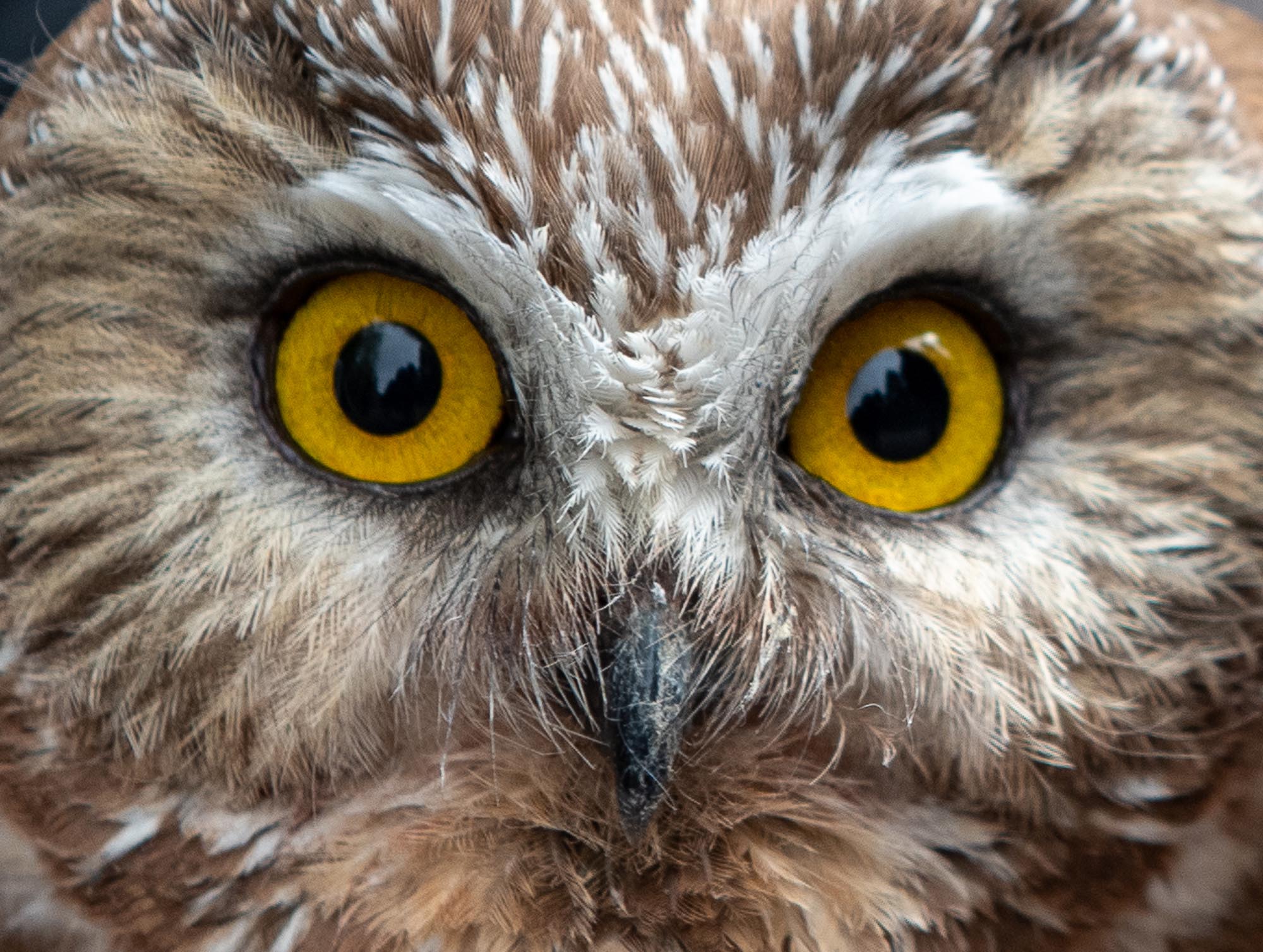 Montana Owl Workshop
Not everybody measures the success of a trip to Montana by the number of owl species you get to observe and learn about. If you're a participant in one of the long-running Charlo, Montana Owl Research Institute (ORI) Owl Workshops, you do.
Led by the redoubtable Denver Holt, North America's foremost owl researcher, ably assisted by ORI Wildlife Biologist Beth Mendelsohn and summer intern Chloe Hernandez, we had the opportunity to learn more about the natural history of five different owl species, and to make a direct contribution to on-going field research studies conducted by the ORI.  Over the course of a 5-day long weekend which started with arrival in Missoula on a Thursday afternoon and ended on Monday morning with an early flight home, we spent a considerable amount of time in the company of these five amazing owls:  the rarely seen Northern Pygmy Owl, the more common but no less impressive Great Horned Owl, the simply incredible Short-eared Owl, the perfectly adorable Northern Saw-Whet Owl, and the undisputed stars of the weekend, a breeding pair of Great Gray Owls.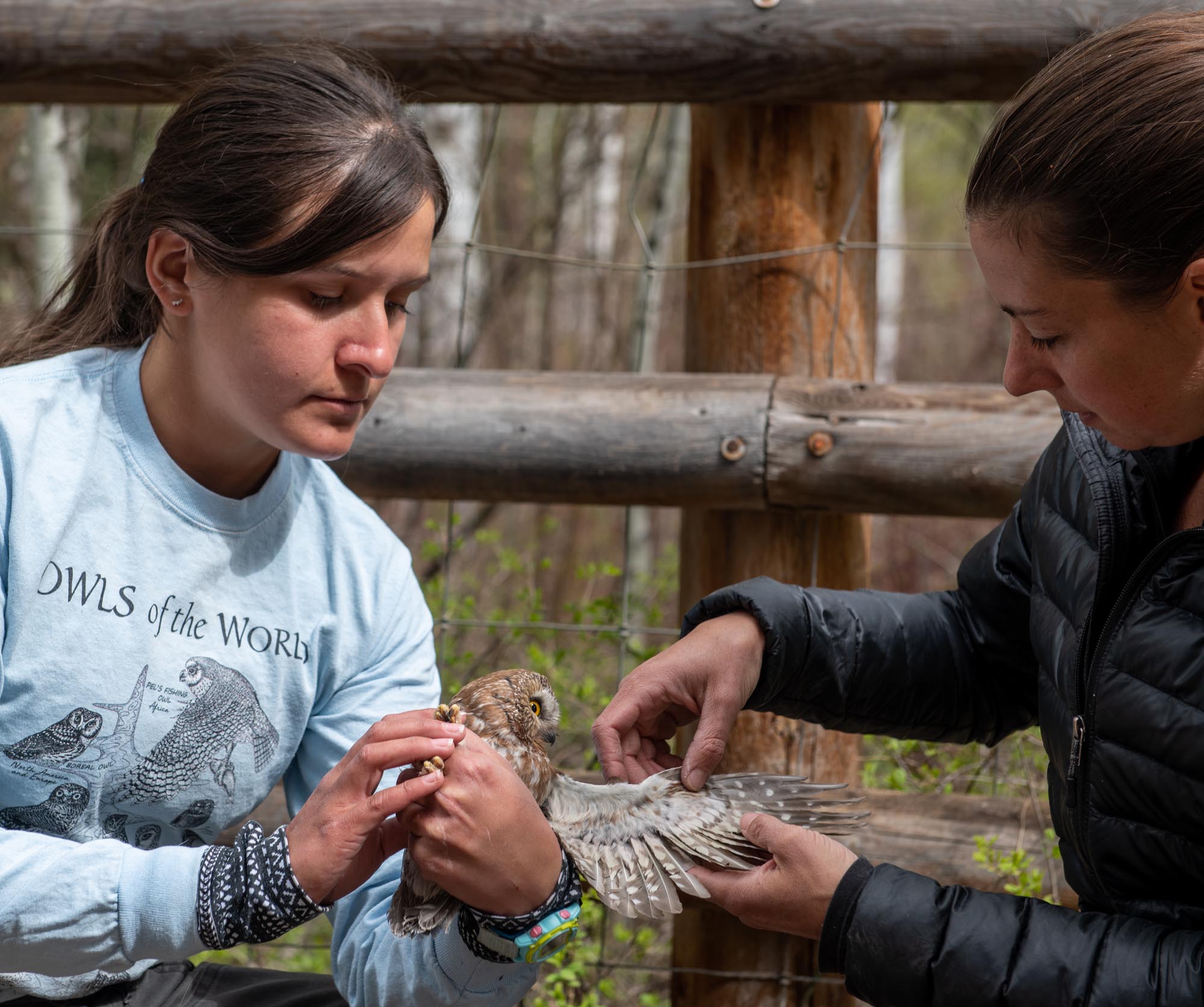 The purpose of the ORI's Owl Workshops is to introduce visitors to the remarkable variety and abundance of owl species in western Montana, and to involve them in research work aimed at better understanding of the behavior, breeding patterns and success of these inconspicuous animals, many of which are facing growing threats and challenges to their long-term prospects.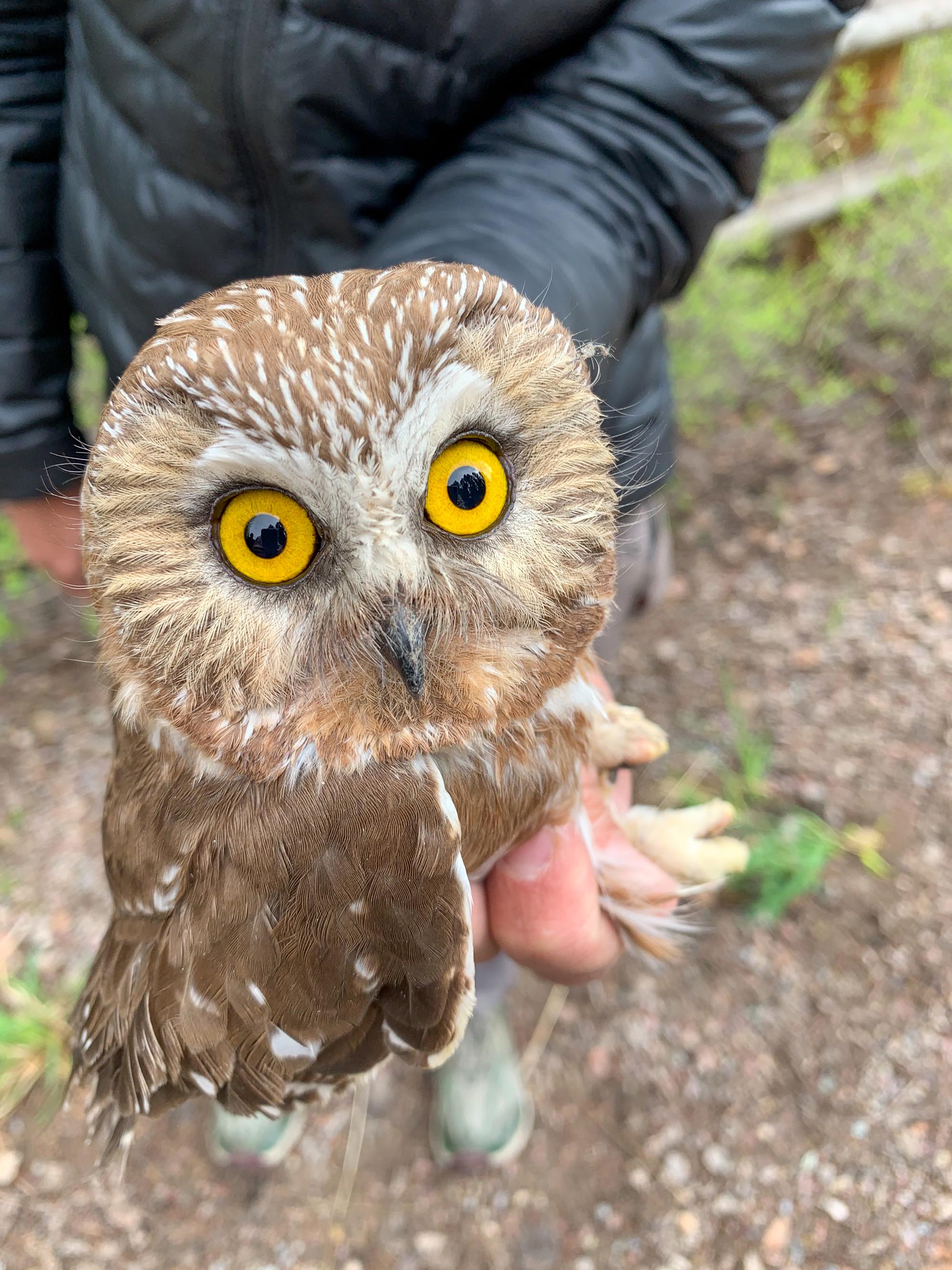 YES ON NORTHERN PYGMY OWLS, NO ON LONG-EARED OWLS
On our first day in the area, having spent the previous night at the Doubletree Hotel on the edge of downtown Missoula (good running trails, beautiful river views, superb Finn restaurant), we were ready to go out in search of our first study object:  the Northern Pygmy Owl.  Aptly named, these tiny creatures – which weigh barely two to three ounces, less than a deck of cards – had been heard calling in a pine forest just outside of Missoula.  A few minutes after hearing Denver's uncannily realistic rendition of a Pygmy Owl call, one of our party spotted the bird – it turned out to be the male – flying high through the forest.  It perched briefly at the top of a tree, then crossed a trail and settled in a tree behind us.  Denver was quick to get a powerful Nikon telescope trained on the bird, which enabled us to positively identify it and observe its distinctively striped breast, its diminutive size, relatively long tail and its conspicuous false eye marks on the back of its head.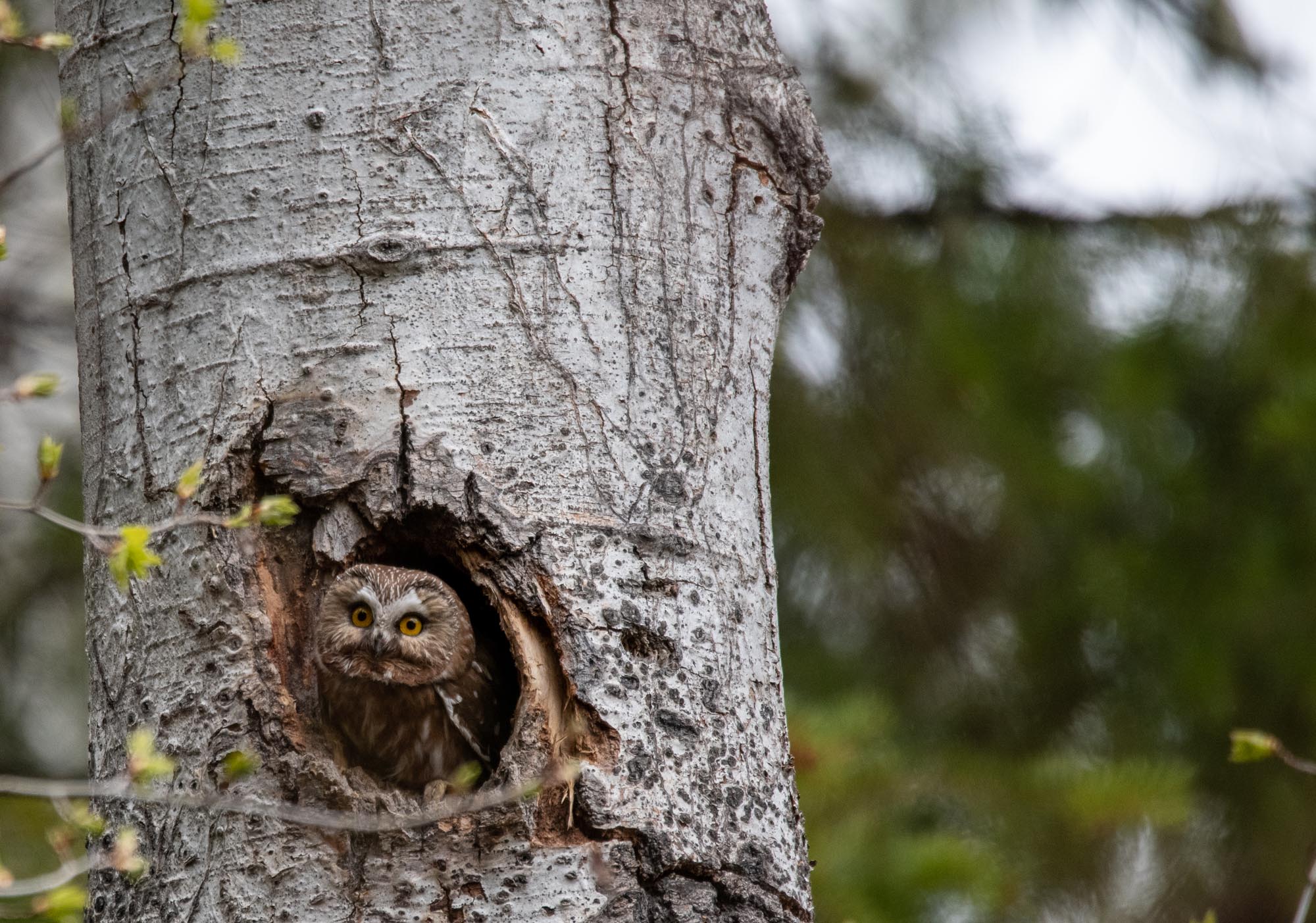 The objective of the outing was to identify a nesting site which we knew had to be in the immediate area, given that there was a male around.  Chloe and Beth proceeded to use a telescopic 'peeper camera' to peer into appropriately sized nesting holes.  The first few holes were not quite right but in attempting to insert the peeper camera into another promising looking hole, a female Northern Pygmy Owl flew out of the nest and settled nearby.  Identifying active nesting sites is of major importance so we were all quite pleased.  In order to minimize any potential stress to the female, it was decided that the researchers would return on a different day to check the nest itself.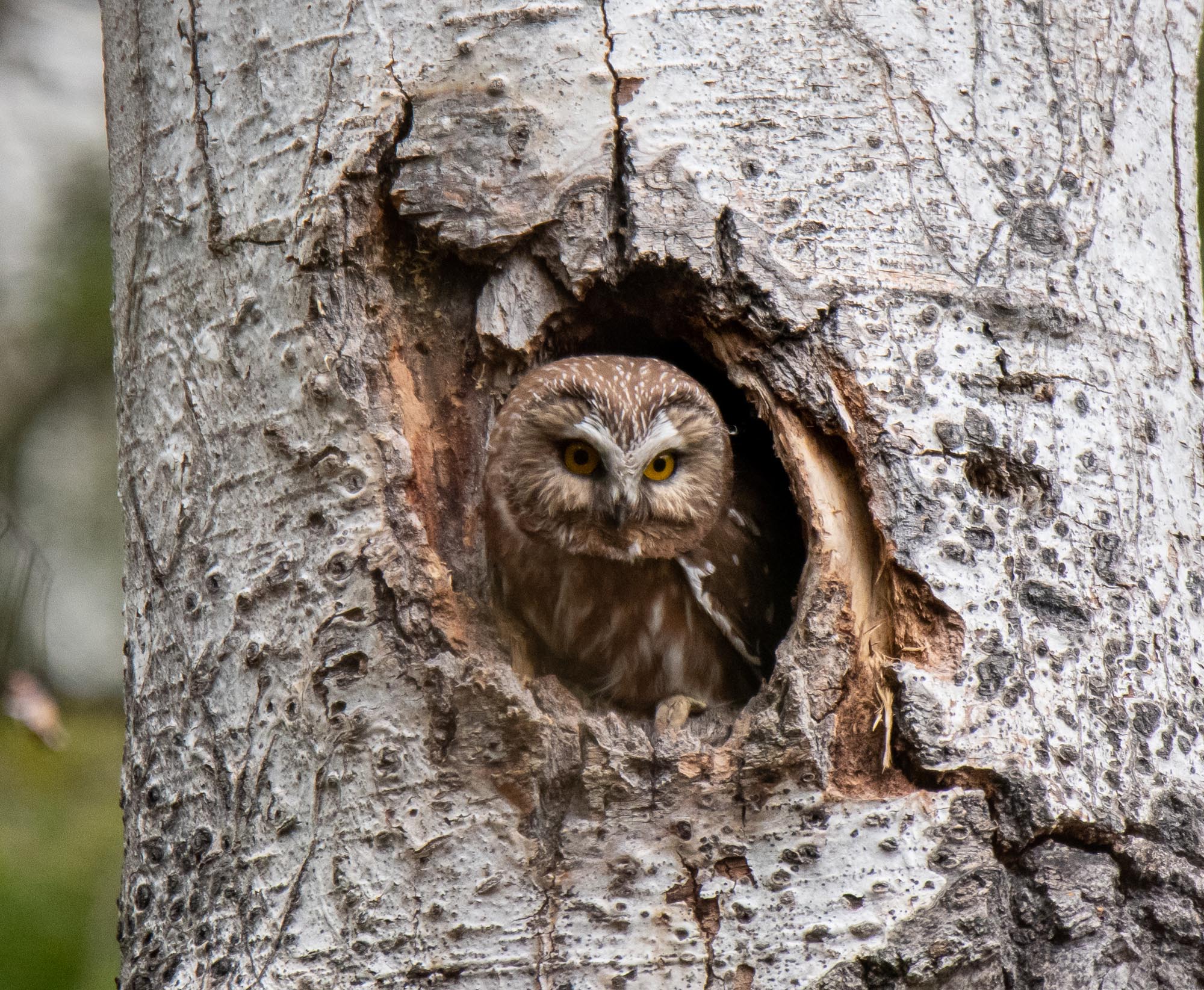 After lunch, we continued to a different site where we worked as a team to locate nesting sites of the Long-eared Owl.  Over the years, the number of confirmed nests of these lanky owls had ranged from zero to a record number of 15 in 2020, in the Missoula study site.  On this day, despite diligently covering several wooded draws and systematically checking for nests in thick, thorny brush, we came up empty.  No nesting Long-eared Owls.  It was disappointing to us but in its own way, of course, not finding breeding pairs tells its own story.  The owls had likely left the area some time ago, probably because there were not enough of their favored prey species which are small rodents like voles and deer mice.  
It was fascinating to observe Beth and Chloe dissecting a Long-eared Owl's regurgitated pellet, which contained the fur and intact bones of several of these tiny rodents.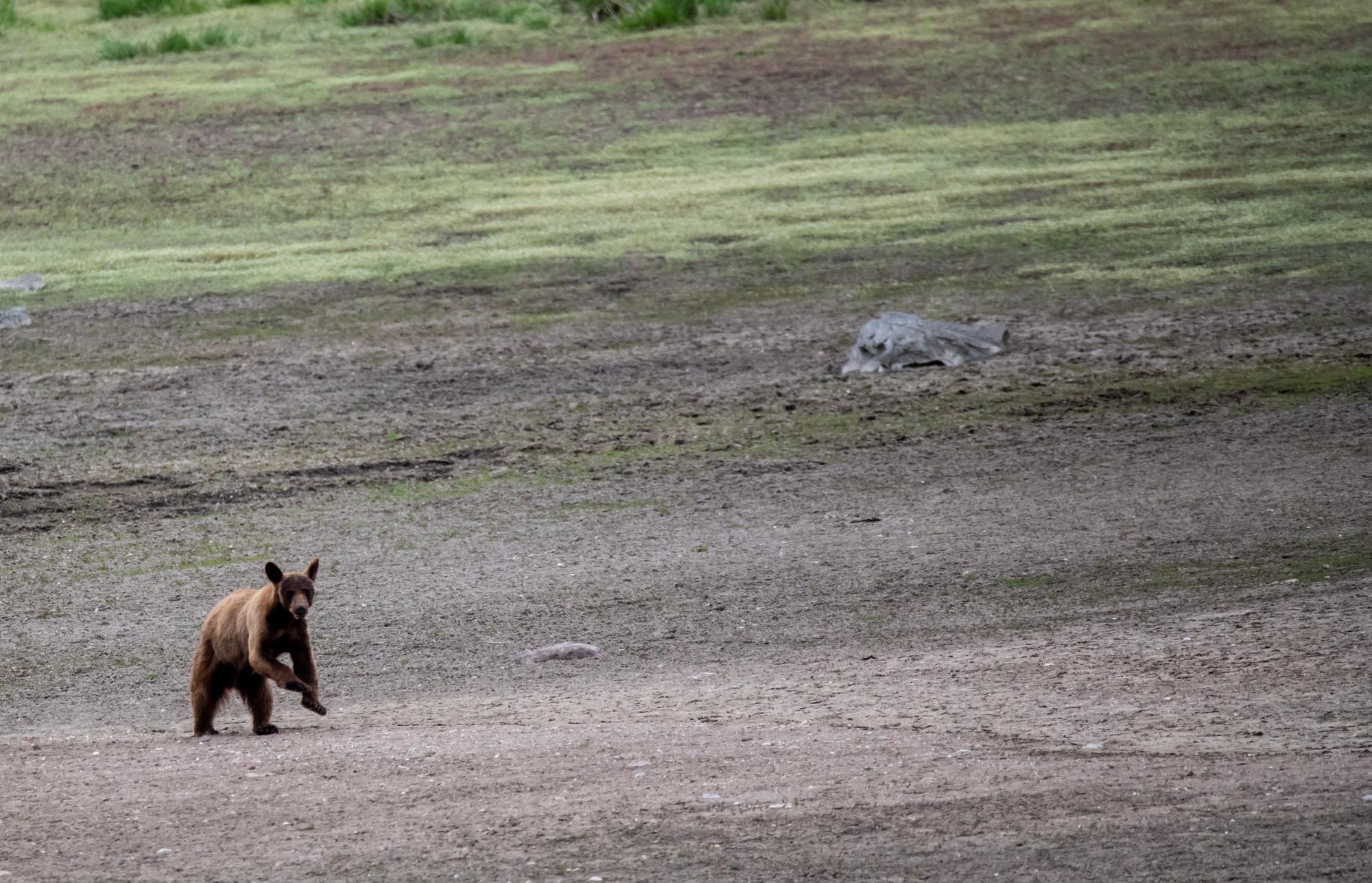 A BEAR BEFORE CHECK-IN
A bit later in the afternoon, we headed out on Highway 93 north, our destination being the beautiful Mission Valley where the snow capped peaks of the Mission Mountains dominate every view.  At a brief stop en route, we observed a small breeding herd (there were several brown babies) of American Bisons at the National Bison Range, before making our way to our hotel for the next two nights, the Ninepipes Lodge in Charlo.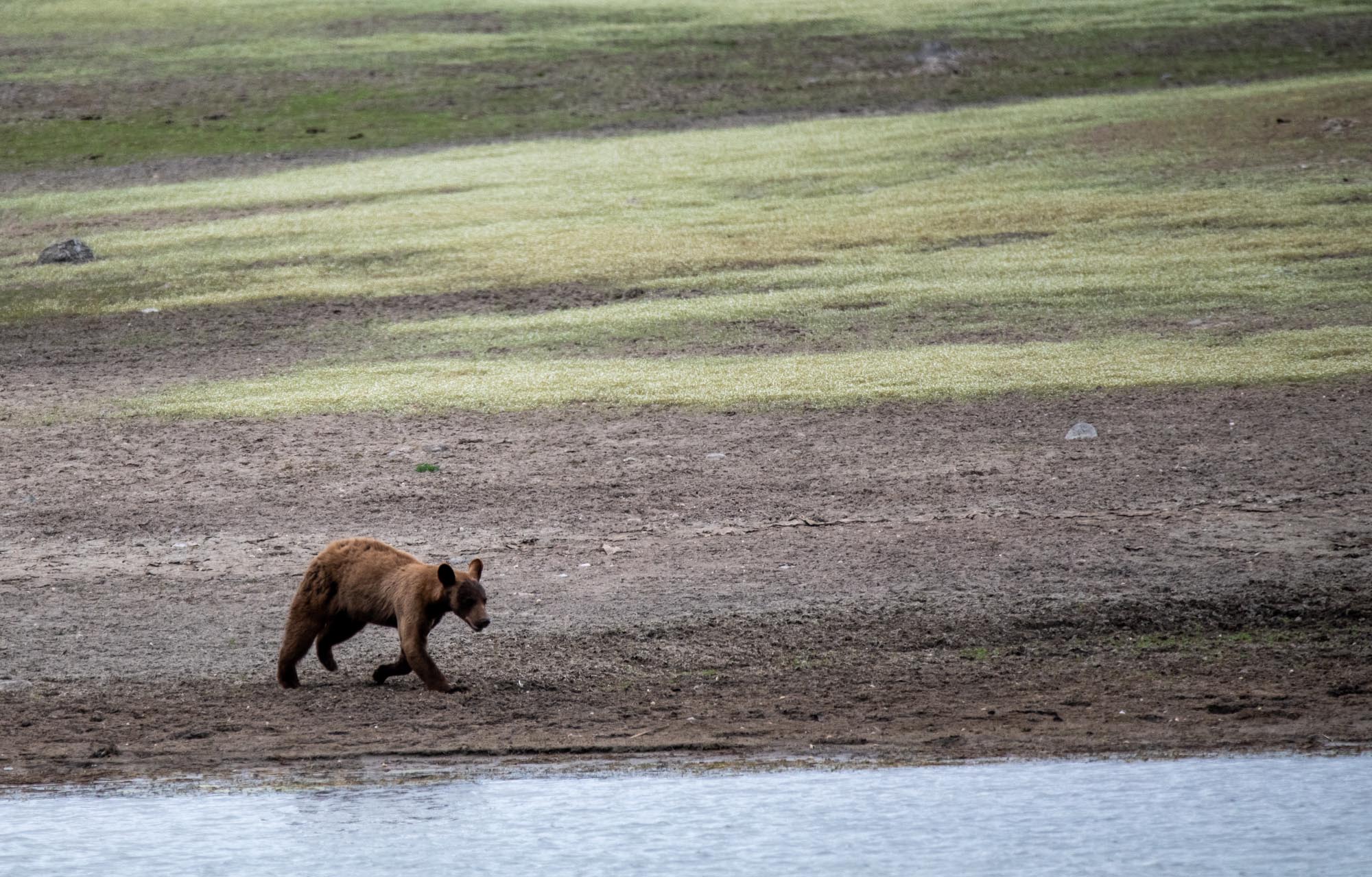 We were just getting our stuff together to check in, when Denver glanced at his cell phone and changed plans on the fly.  "Get back in the car!", he exclaimed.  "My neighbor just texted me that there is a bear near my house!"  So naturally off we went.  Back down Route 93 for a bit, and then left on a small country road.  Not even five minutes later, on a reservoir dam, we spotted it.  A large brown bear, which is a color variant of the black bear.  At first just loping and then scampering, it spotted our vehicle on the road and promptly entered the water in the reservoir.  Slowly but efficiently it made its way across, emerging on a small spit and walking to a dense clump of willows where it could conceal itself, at least for a while.  For us city slickers seeing a real live bear walking about in broad daylight was a pleasant surprise, a first for some of us.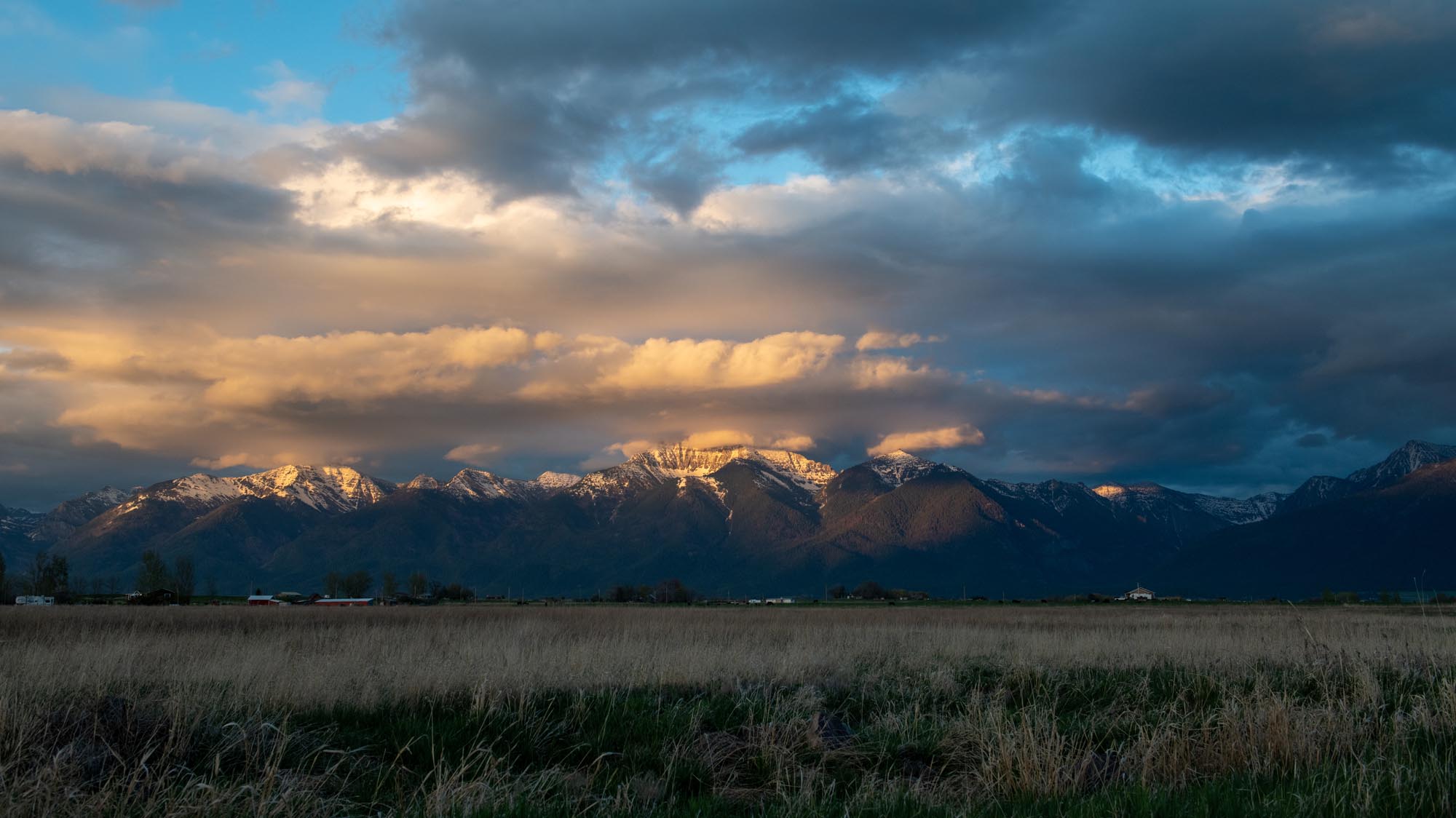 After a good dinner that evening, we went out again in search of the ground-nesting Short-eared Owls, known for their buoyant, agile flight patterns and their 'sky-dancing' courtship displays.  We were fortunate to find and observe a couple of them, and we returned to the area the next evening, when we had even better views of their moth-like flight.  There were a couple of males involved in an altercation of sorts, swooping over the grassy fields and displaying some powerfully acrobatic flying.  Denver got the scope on one of the Shorties which had perched on a post, enabling us to get a look at its rounded head.  Another great sighting that afternoon was a Peregrine Falcon which demonstrated its awesome speed.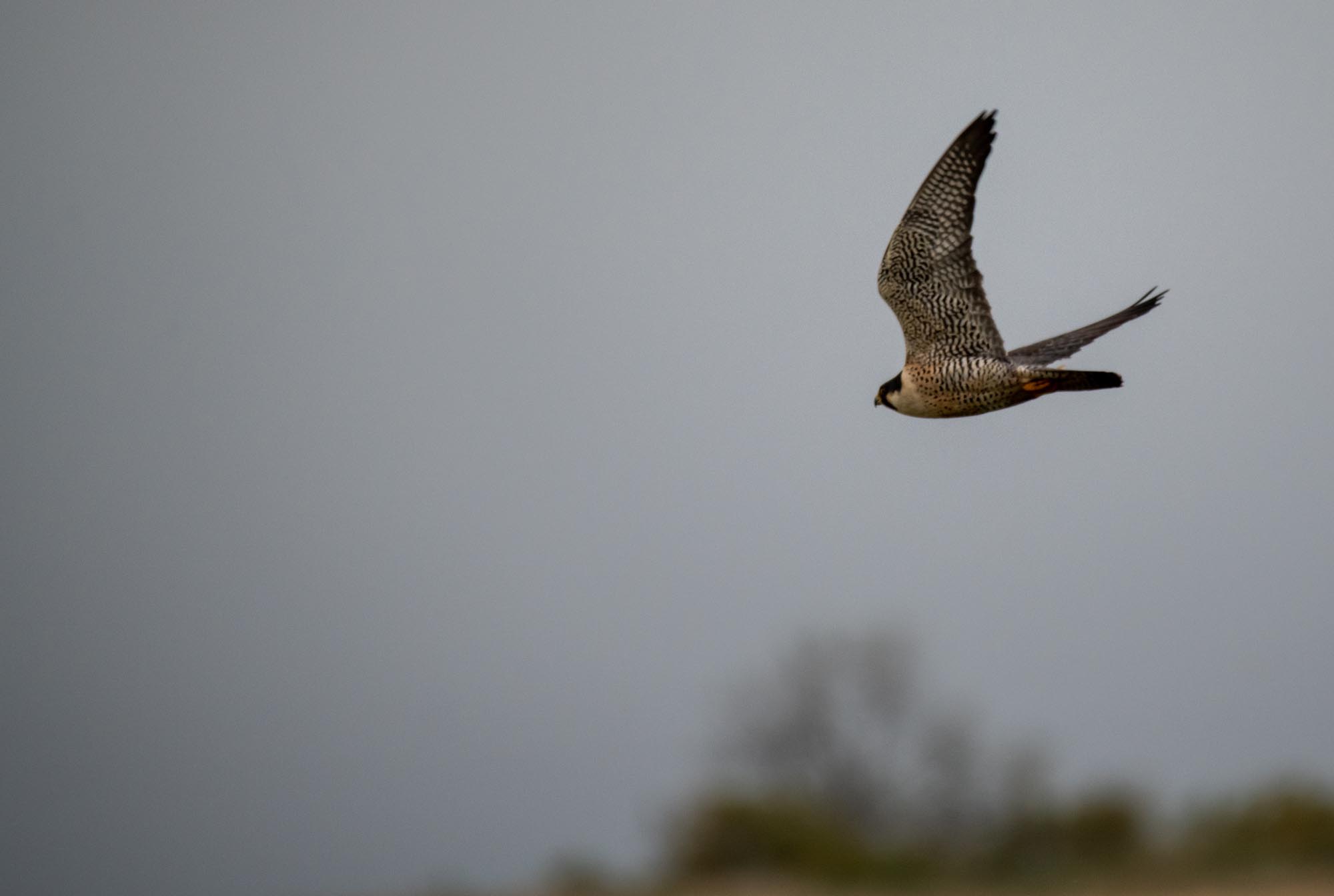 A GLOBAL BIG BIRDING DAY AND GREAT HORNED OWLS
Despite rather cold, blustery conditions, we managed to see and identify just short of 50 species of birds as our contribution to Global Big Day, which Chloe duly reported to the E-Bird site.   The Global Big Day is an annual 'celebration of the birds around you' and the aim is to encourage mass participation in a worldwide bird count, even if it's just 10 minutes of checking the species in your own backyard.  We did a bit better than that!
Our main objective for the day was to find and observe nesting sites of one of the Mission Valley's more common owl species, the Great Horned Owl.  We were quite successful in the endeavor, finding several nests and many Great Horned Owls, some solitary, others in pairs and yet others in small family groups with the youngsters not far from the nest.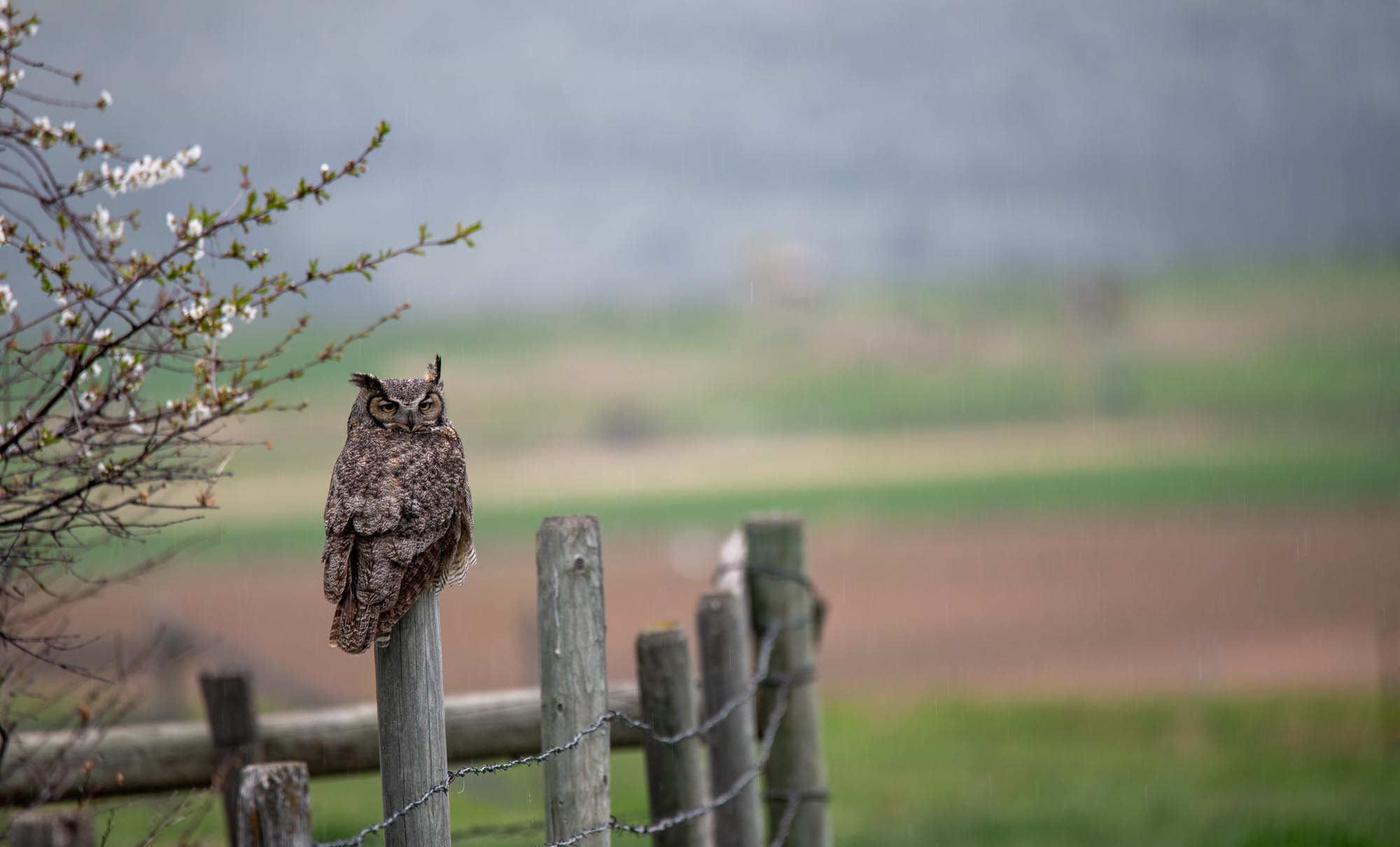 Our lunch was enjoyed picnic-style at a scenic overlook, high on a bluff, looking down over the peculiarly aquamarine water of the strongly flowing Flathead River.  The surroundings were pure Montana and we were not at all surprised when a couple of cowboy-clad locals on horseback showed up as we were scanning a cliff-side for bird nests.
Back at the Ninepipes Lodge we enjoyed yet another fine meal in a dining room which ranks right up there at the top of my all-time 'best views while eating' list.  Just a drop-dead gorgeous view over a tree-lined pond with the majestic Mission Mountain range in the background.  Some fresh snow from the previous night had accumulated on the peaks and dusted the vast forest on the slopes, making it even prettier than usual.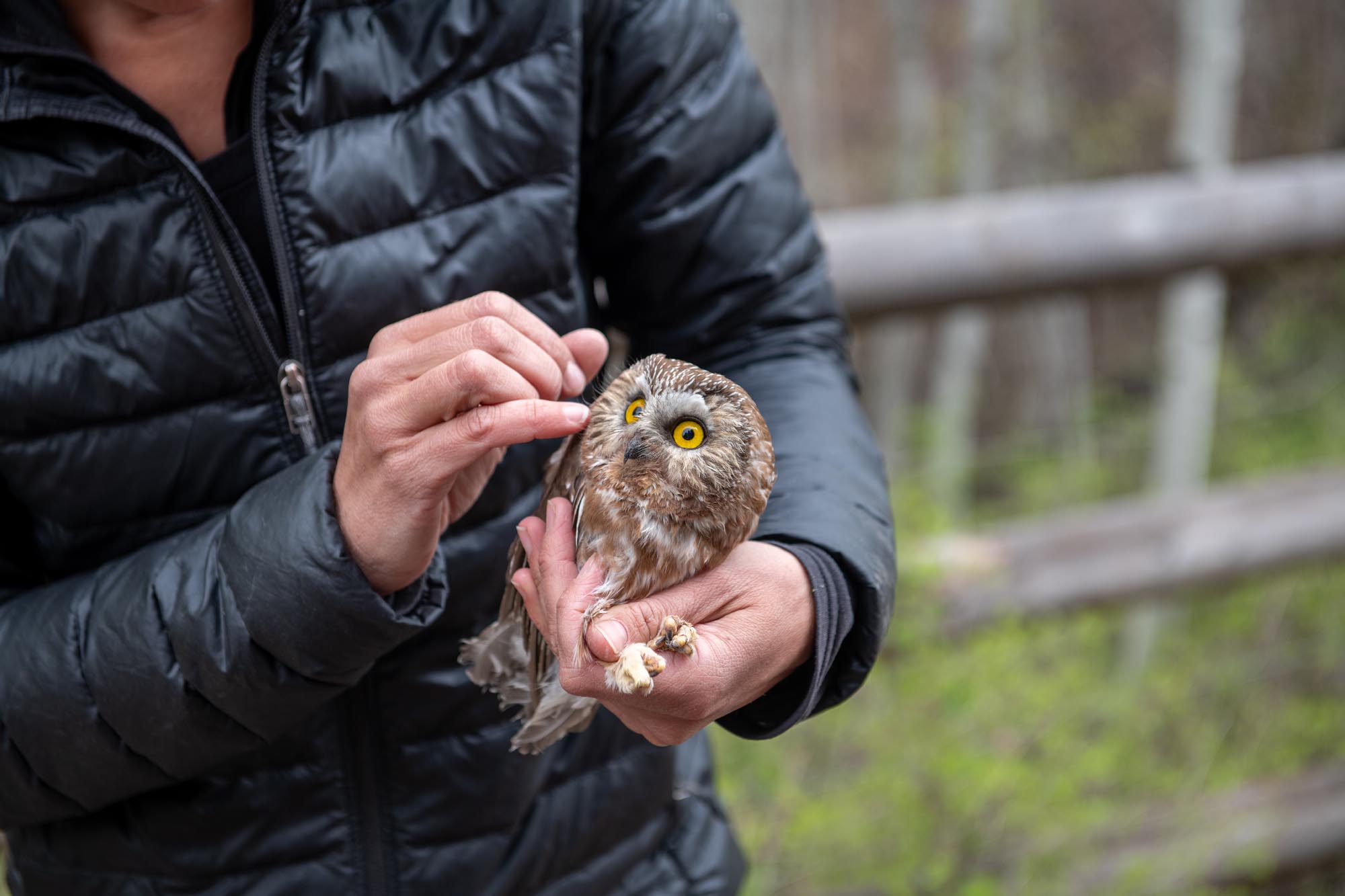 A SAW-WHET OWL IN THE HAND
Our final day in the Mission Valley turned out to be simply spectacular.  It started with a bang when we went out to an impressive Aspen forest tucked away in a quiet neighborhood.  Admittedly, our team of researchers from the ORI and the three of us got lucky when we found a nesting site of a Saw-Whet Owl.  Often, it can take hours of checking and knocking on dozens and even hundreds of trees to find one of these charming creatures popping its head out of a breeding cavity.  This time?  Not even five trees in, and we had a winner.
This particular female Saw-Whet Owl didn't even wait for a proper thump on her tree, to see what was going on.  She popped her head out of the nest even as Chloe was clearing some brush from the base of the tree, getting ready to give it a whack.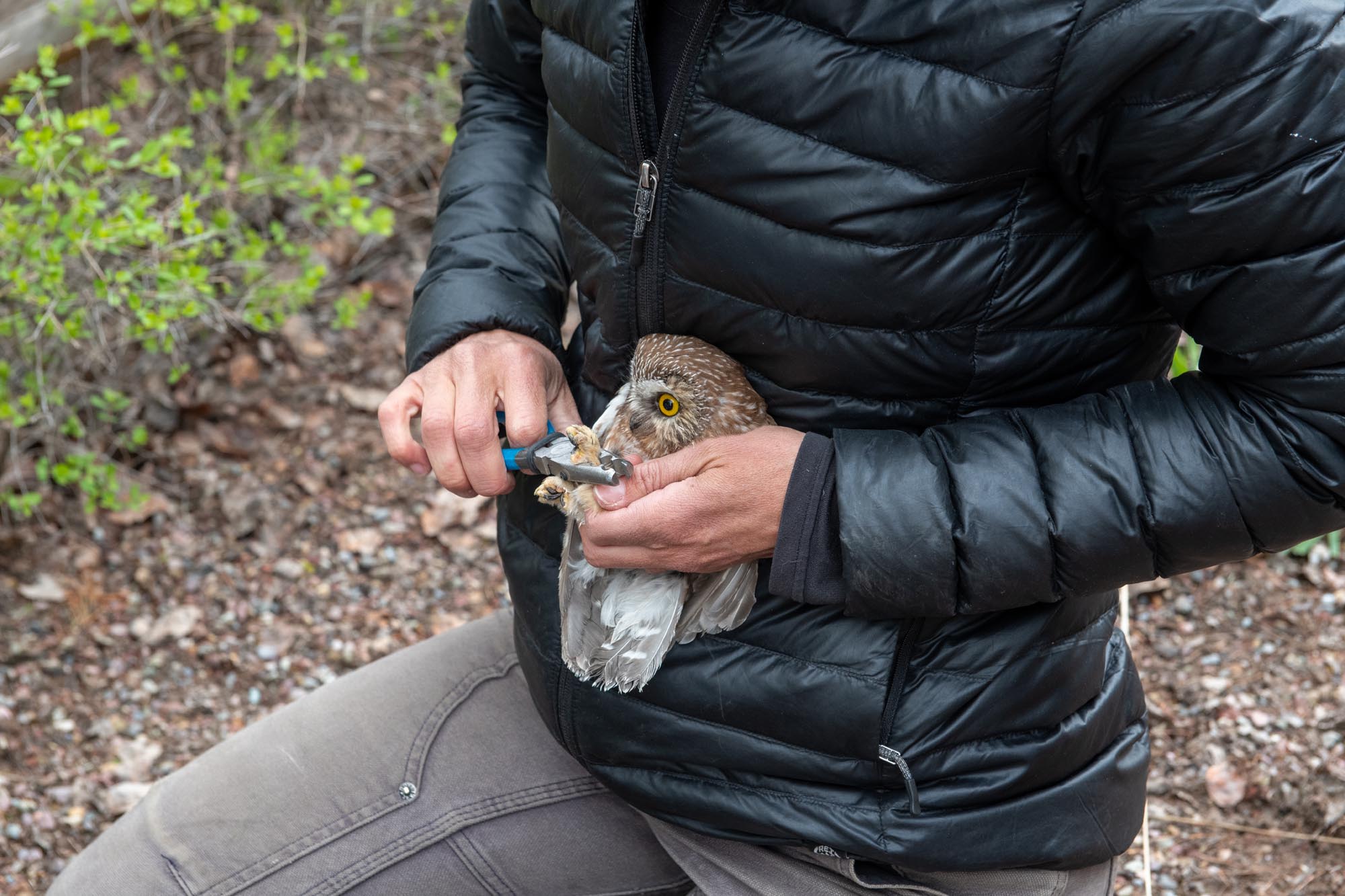 Plans were immediately and effectively put into place to position a ladder alongside the tree, a suitable net was selected, and gloves were donned.  Perhaps 15 minutes or so later,  and voila – Denver briskly and firmly trapped the tiny owl in a hand-held net.  Chloe took some photos of the nestlings – there were three youngsters in the nest – and then joined Beth on the ground to log the bird's statistical details, age it and ring-band it. 
Keeping careful records, they inspected, measured and weighed the owl before carefully fitting the ring-band  and then it was released back into the nest.  
We were rapt observers, remarking on how the little owl seemed totally nonplussed and relaxed, being gently yet securely handled by Beth and Chloe.  
We all thought  that it would be near impossible to equal or top the excitement of the morning.  We were wrong, as the afternoon's adventure would reveal.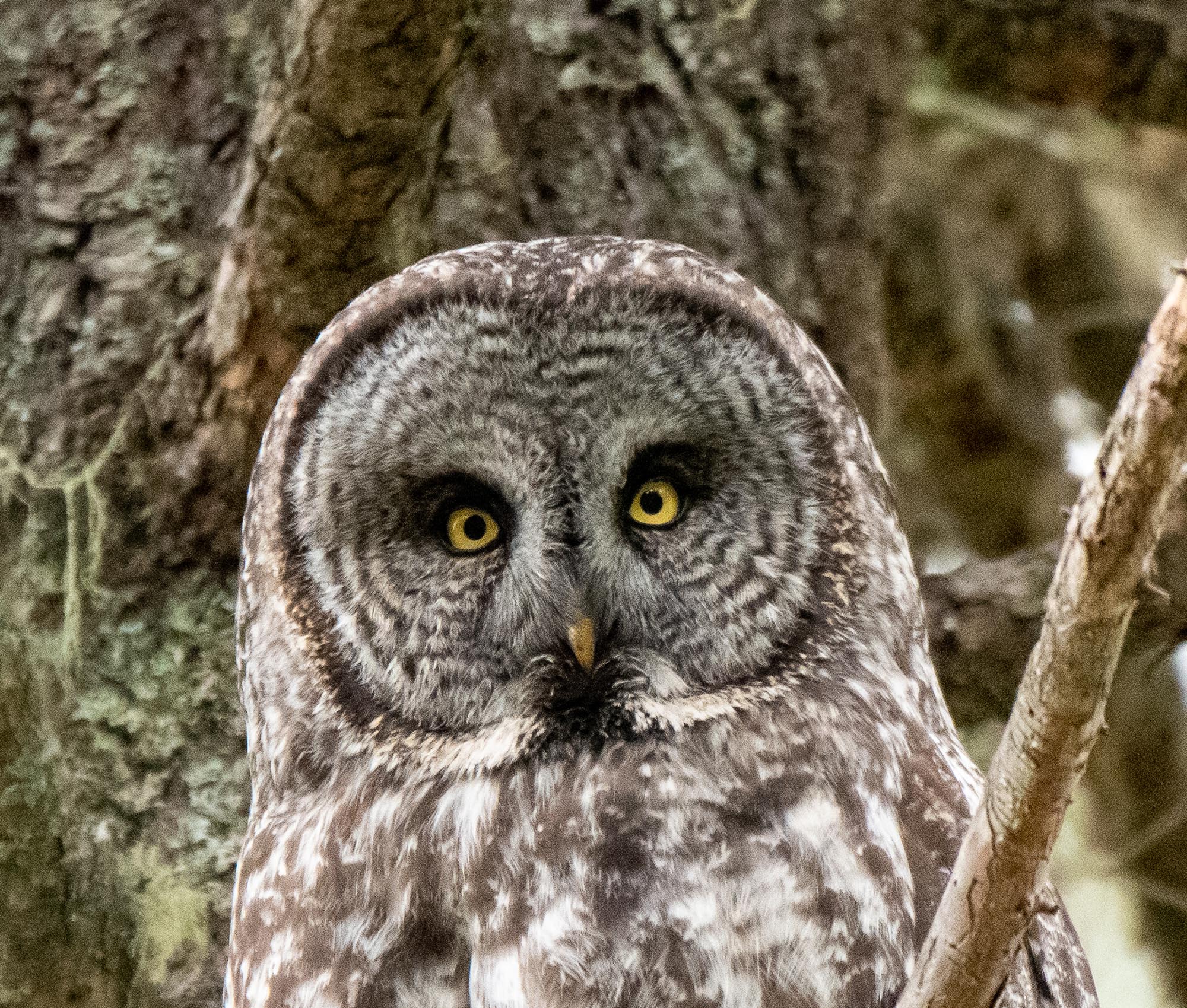 A GREAT GRAY SURPRISE
Turning off Route 93, we headed straight for the foothills of the Mission Mountains.  Bear Country.  This fact being all too evident considering that every person present – except us out-of-towners – sported a canister of bear repellent on their hips.  
A couple of miles down a mountain road which followed the contour line along an irrigation channel, we stopped inside a large pine/fir forest, proceeding on foot for another 500 meters or so, before heading into the forest proper.  
The objective this afternoon was to find a nesting site of one of the most enigmatic, rarely seen owls of North America, the spectacular Great Gray Owl.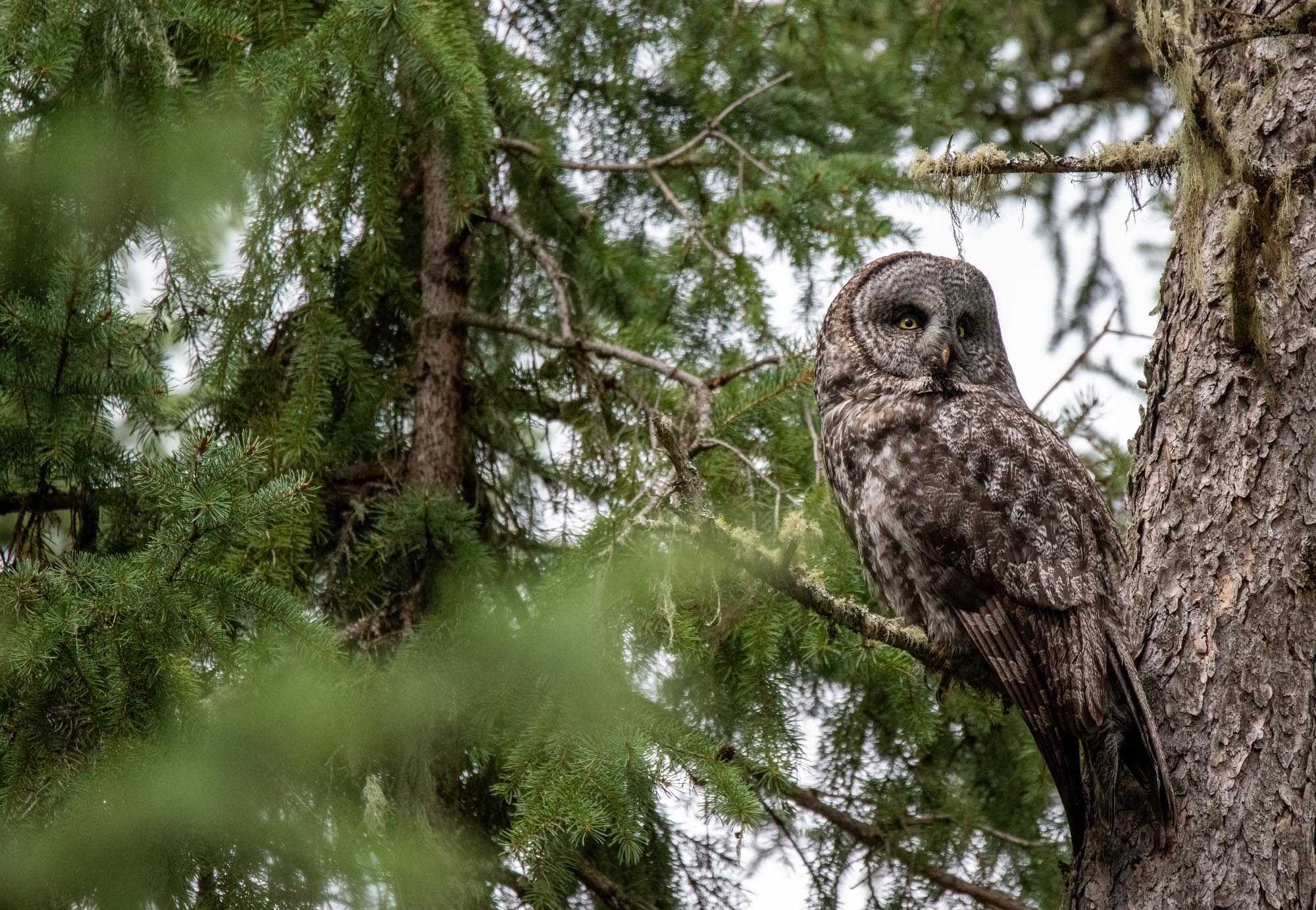 We were told that the Great Grays had been heard in the area we were to visit, but not yet seen.  To locate them and more importantly their nests, was of course a horse of a different color.  We were in a huge forest in a massive wilderness area.  The owls could be anywhere.  Even so, we couldn't help getting excited.  Maybe we could get lucky.  Maybe this would be our day to actually see a Great Gray… As we worked our way deeper and deeper into the forest, occasionally having to squeeze through a gap in the vegetation or clamber over some huge fallen tree trunks, the anticipation grew.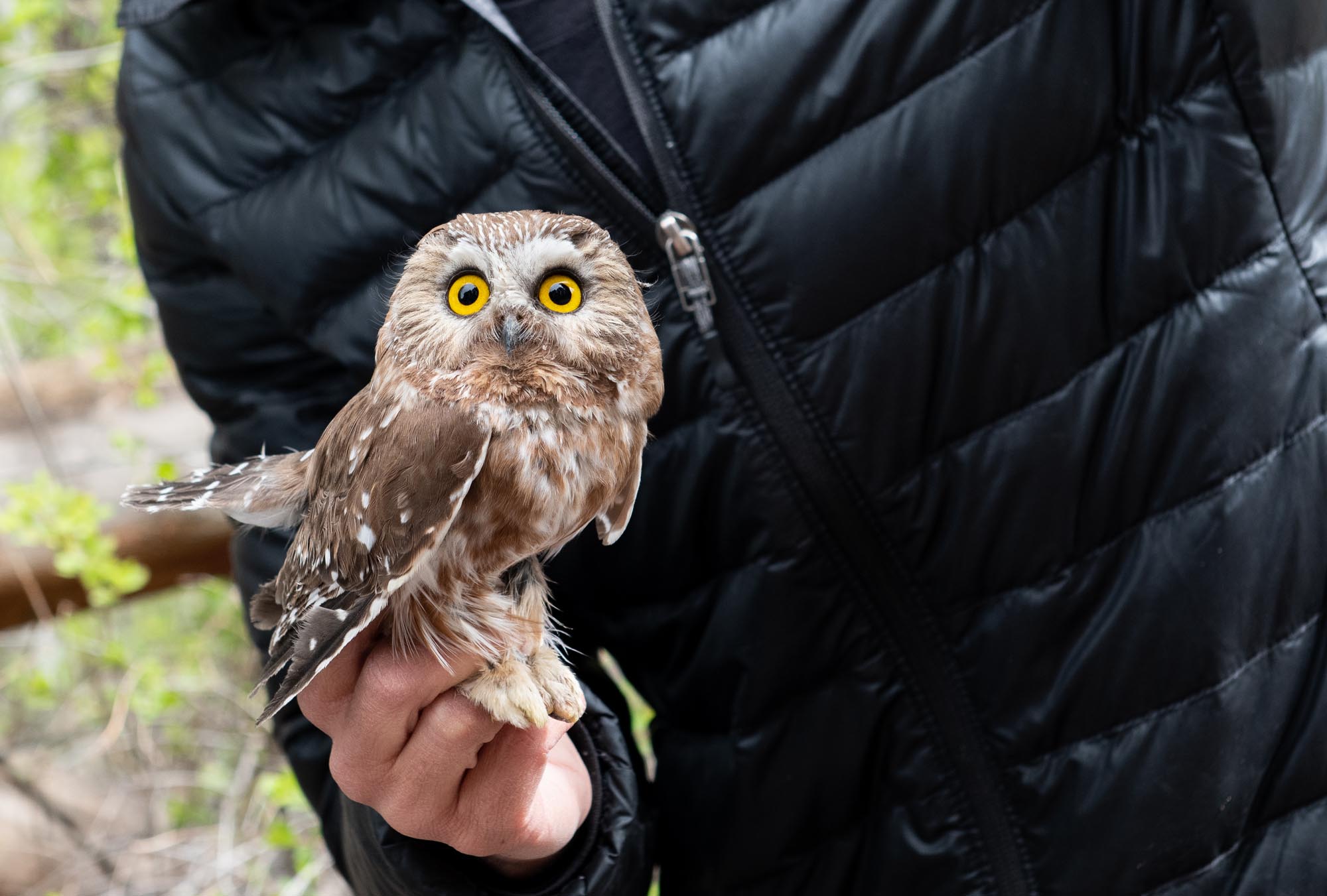 Appropriately and maybe somewhat predictably, everything fell into place in what seemed to be the perfect spot.  Utterly remote and private, away from any source of noise or other human intrusion, we had reached Great Gray Owl nirvana.  It was swampy and heavily overgrown in spots, yet there were some open glades as well; ideal hunting grounds for – you guessed it – Great Gray Owls.  In fact, we found ourselves in textbook Great Gray Owl habitat.  Under the expert instructions of Beth, we started checking several promising snags (essentially dead tree stumps) and hit the jackpot on snag #3.  It was the perfect height – around 20 or maybe 25 feet or so – providing safety from bears and other potential clambering predators.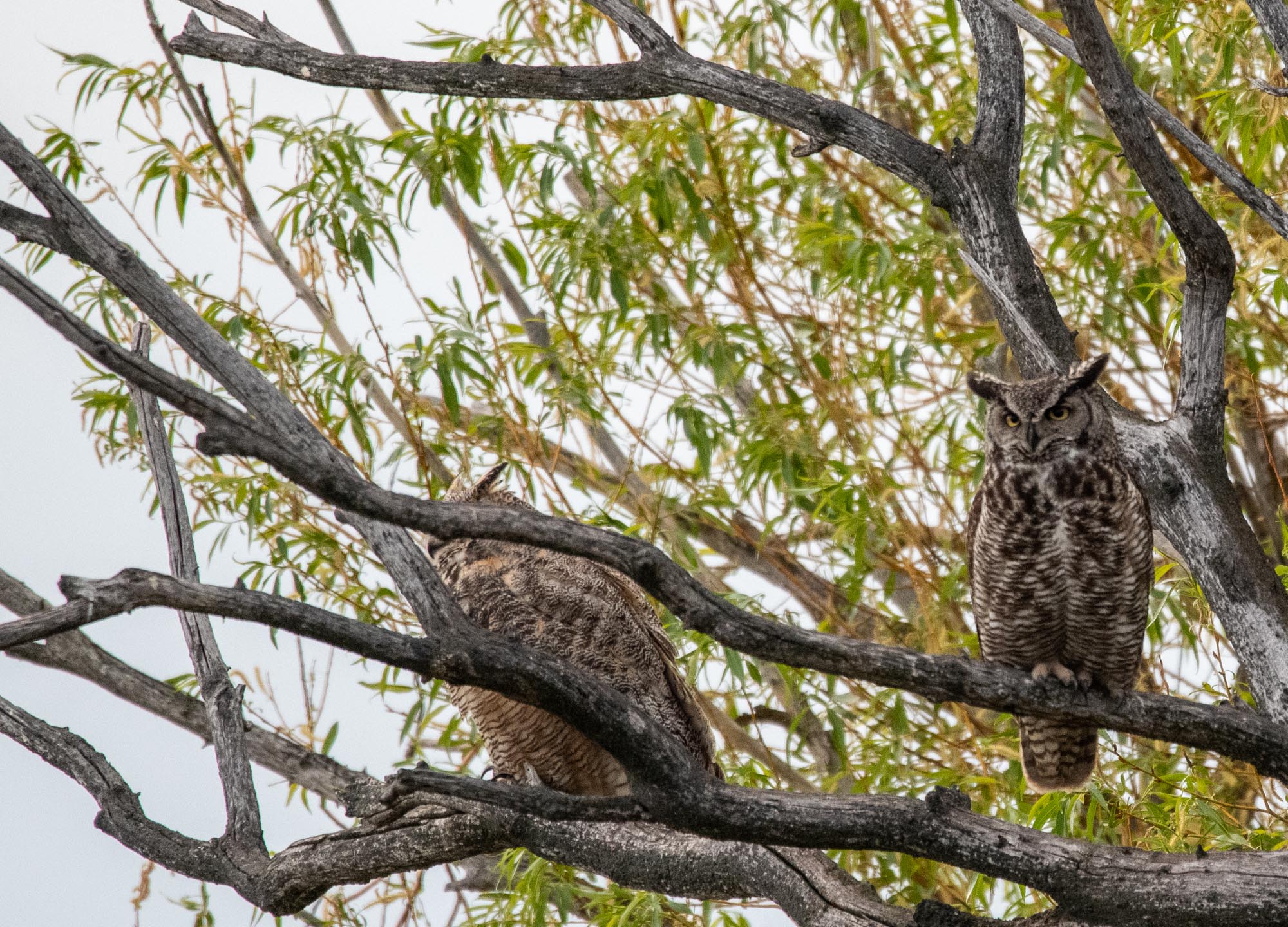 Sure enough, as we trained our binoculars on the tip of the snag, there were at least two gray fluffy balls to be seen.  Success!  Not long after, Beth spotted the female Great Gray Owl perched nearby.  Perhaps 20 minutes later (after the female had returned to the nest), we observed the male flying in and delivering a dead vole for his fast growing family.  We had seen it all!  Truly an unforgettable, once in a lifetime experience.
It was a happy band of adventurers who returned to Missoula – on Mother's Day – for a fine farewell dinner and wrap up.  We said our goodbyes and even before we got onto the plane for the trip back to Houston the next morning, we started talking about a return trip to Montana.  Yellowstone National Park early next spring?  Why not!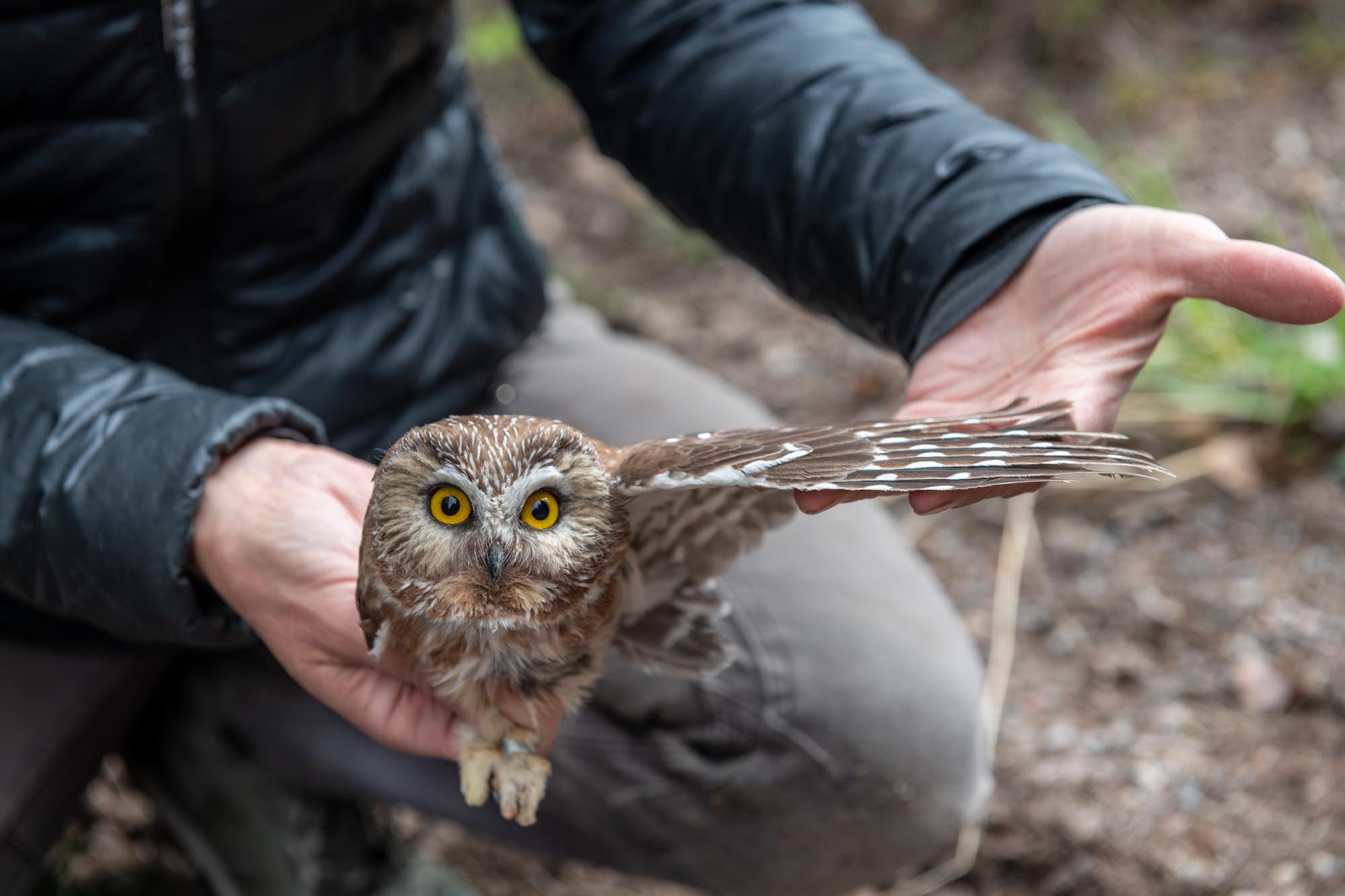 In our blog post next Friday, we will be taking a closer look at Namibia's best known sight, the spectacular Sossusvlei red sand dunes, on the edge of the Namib Desert.
YOU MIGHT ALSO BE INTERESTED IN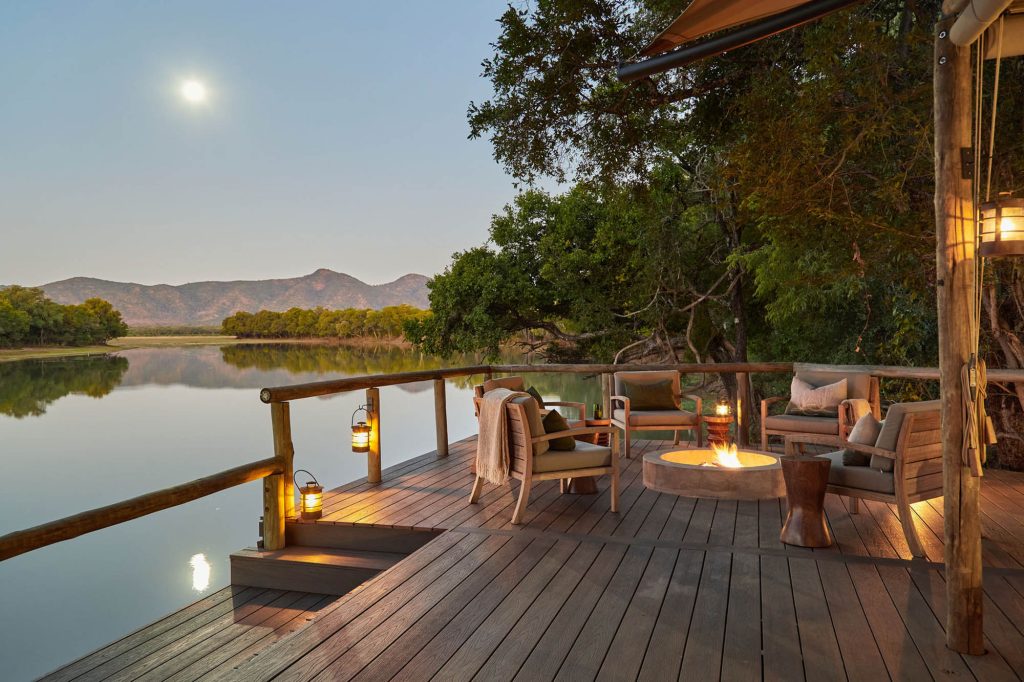 10th Sep 2021
Chindeni and the Bushcamp Company, Zambia
By late July we found ourselves at Chindeni, a small Bushcamp Company property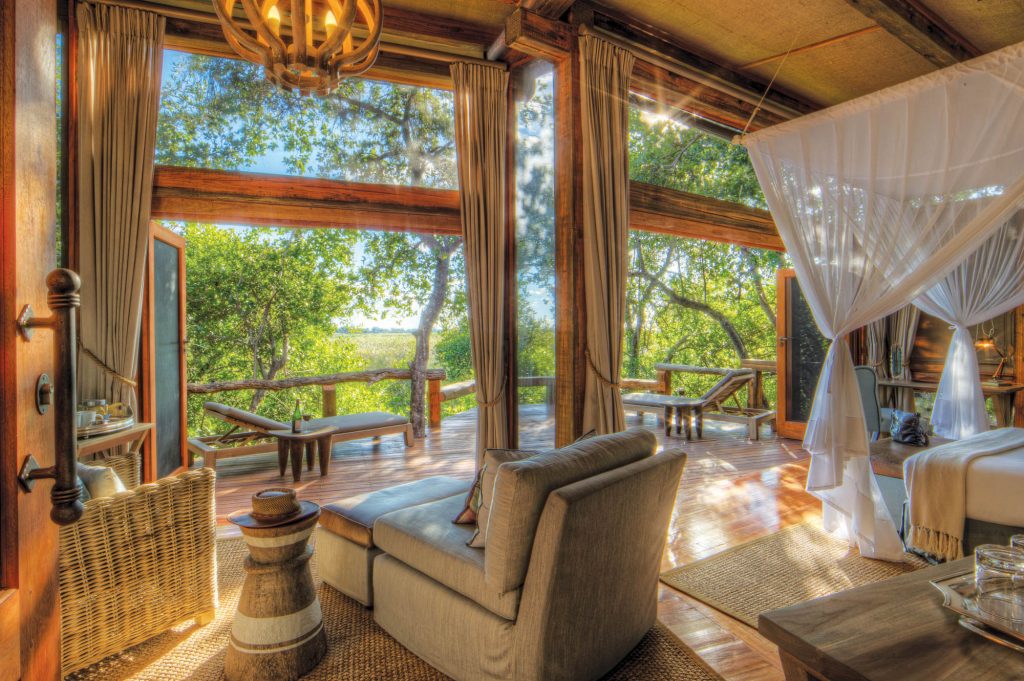 3rd Oct 2022
Camp Okavango, Botswana
Camp Okavango is in the heart of the permanent part of the Delta. In this idyllic setting there are no vehicles, and it is just a short walk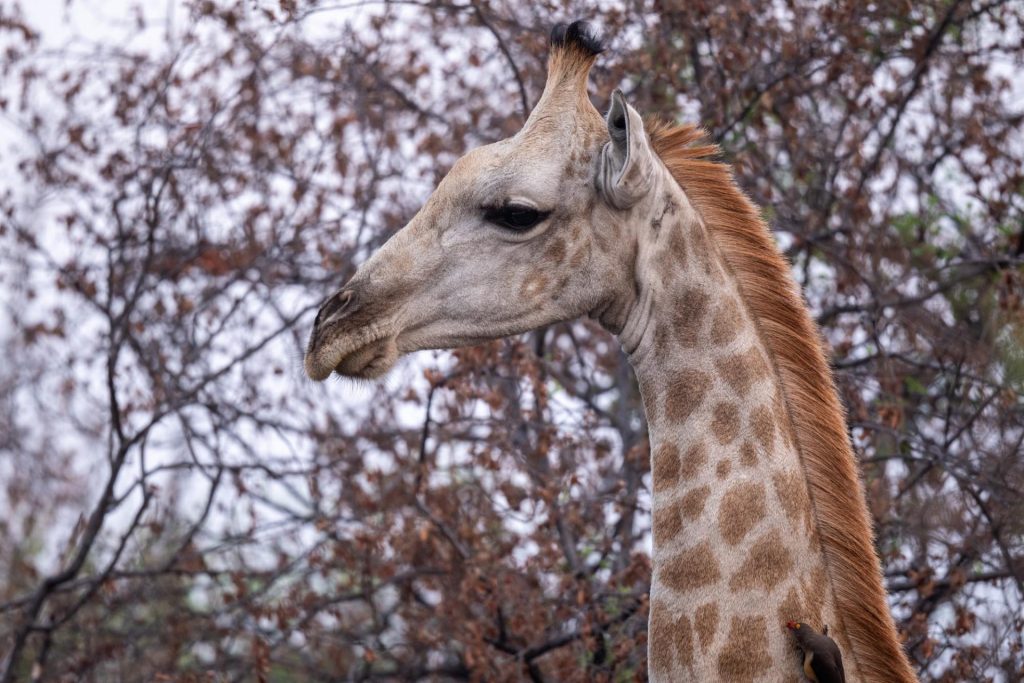 26th Mar 2023
Photography on safari
Fish Eagle Safaris was an early adopter of digital photography. Company founder Bert somewhat fondly recalls using a first generation Sony Mavica
SUBSCRIBE TO OUR NEWSLETTER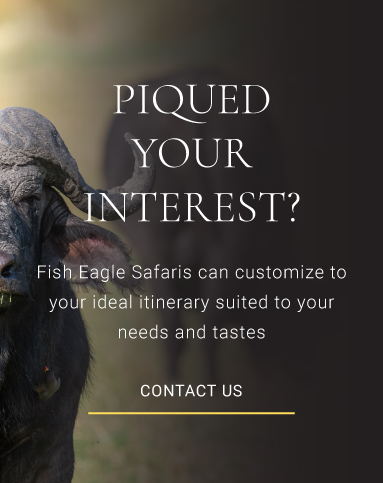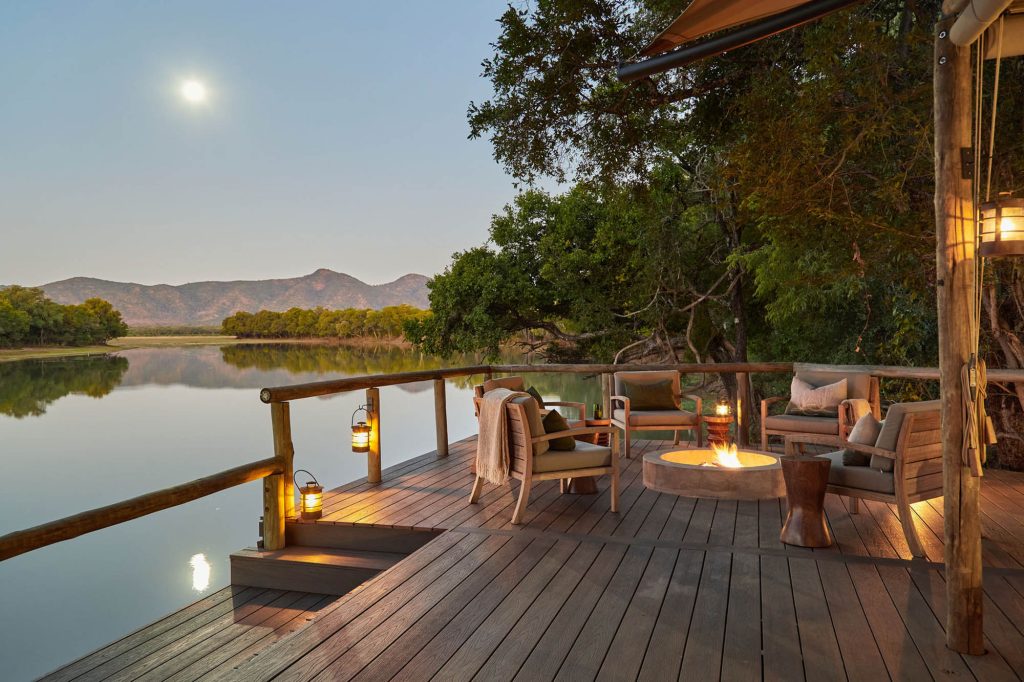 10th Sep 2021
Chindeni and the Bushcamp Company, Zambia
By late July we found ourselves at Chindeni, a small Bushcamp Company property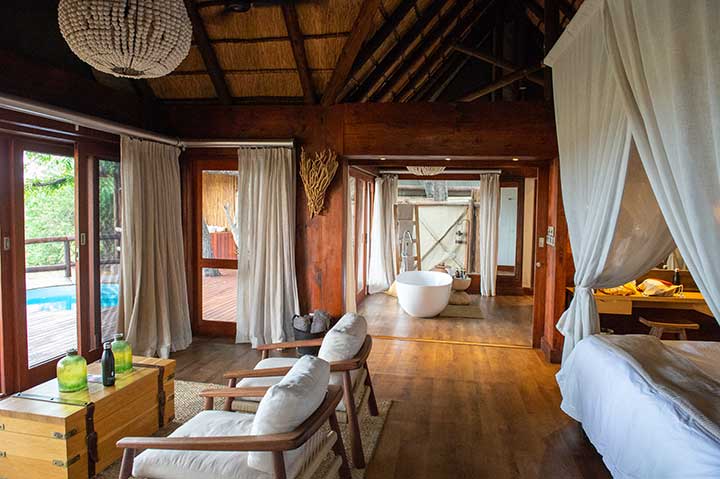 4th Aug 2022
On Safari At Belmond Eagle Island Lodge, Okavango Delta
What is the 'secret sauce' for an unforgettable few days on safari in Botswana? It starts with the animals, of course. The elephants, lions, giraffes, hippos