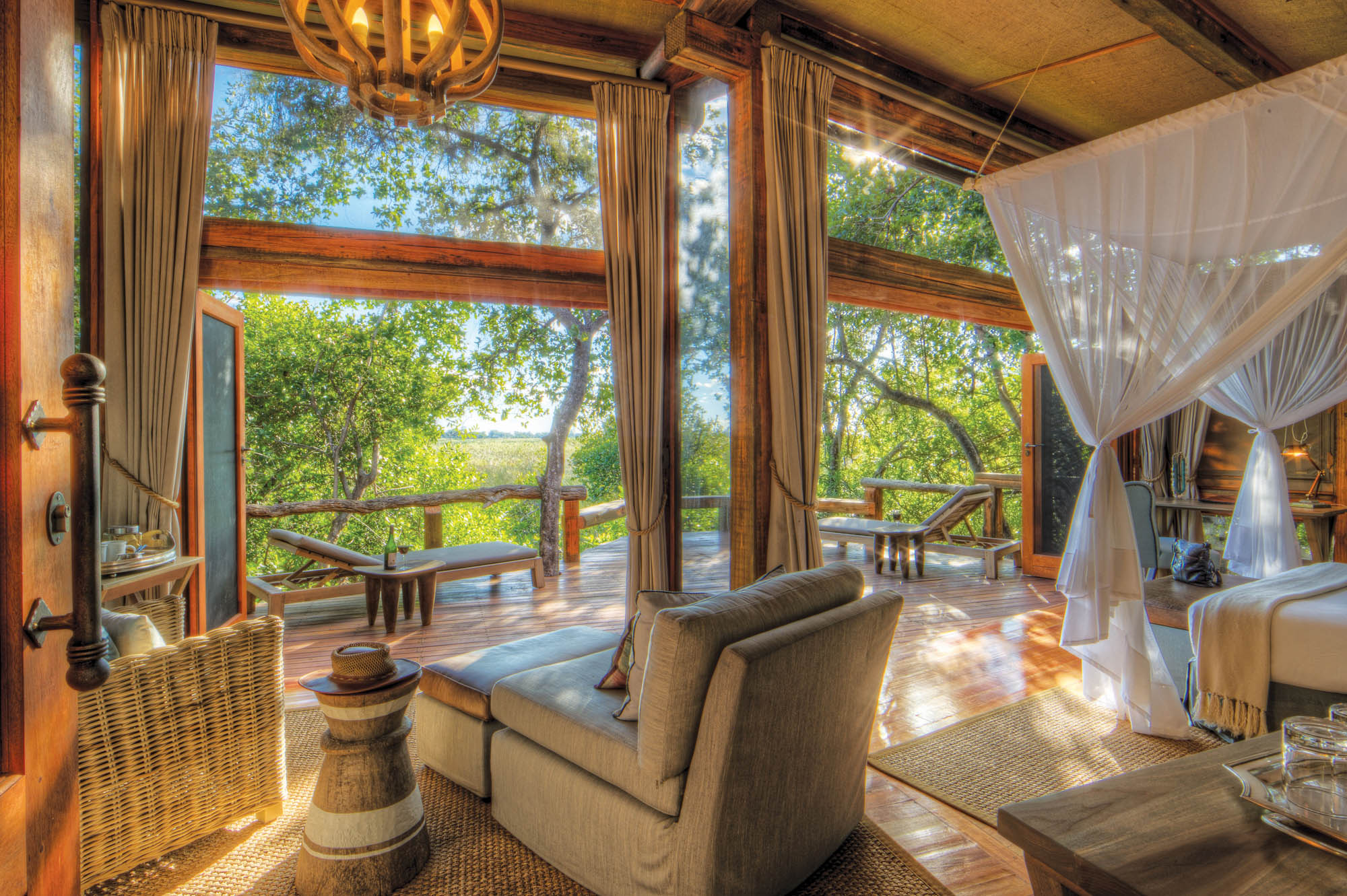 Photo: Desert & Delta Safaris
Camp Okavango, Botswana
Camp Okavango is in the heart of the permanent part of the Delta. In this idyllic setting there are no vehicles, and it is just a short walk from the airstrip right into camp.  My colleague Lyndon, who just returned from a visit to Camp Okavango, described it as "a flooded, flat and lush paradise."  Camp O made a great first impression on me, too, when I first arrived there.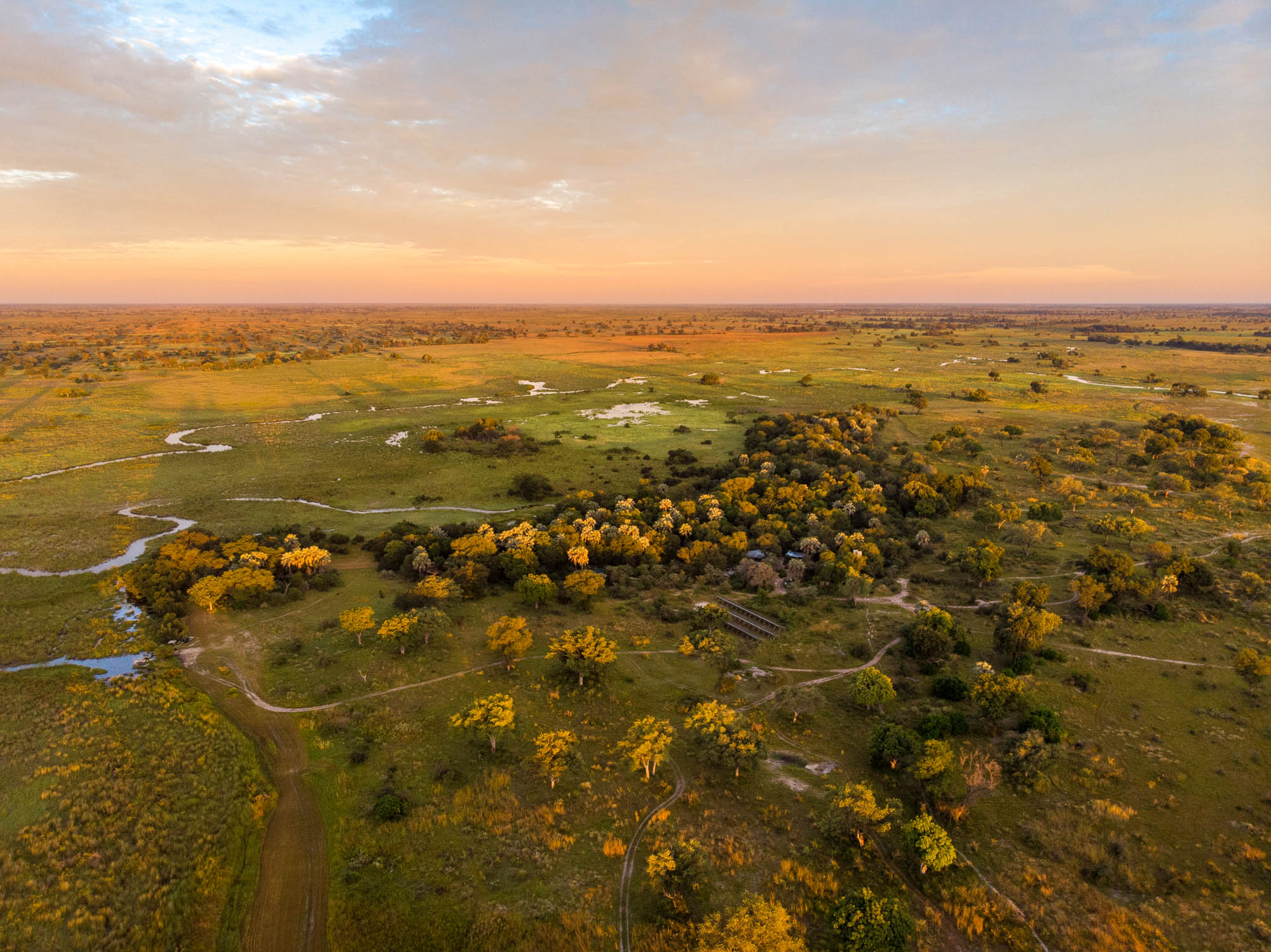 Photo: Desert & Delta Safaris
Starting with the well-maintained and manicured airstrip and the campgrounds,  heavily vegetated with some massive trees right in front of the  dining, lounge and patio complex. The huge garden harbors tons of birds, but unfortunately I did not have enough time to do it justice with some 'serious' birding. We did see a Paradise Flycatcher flitting about; it had a nest just off the boma (fireplace) area.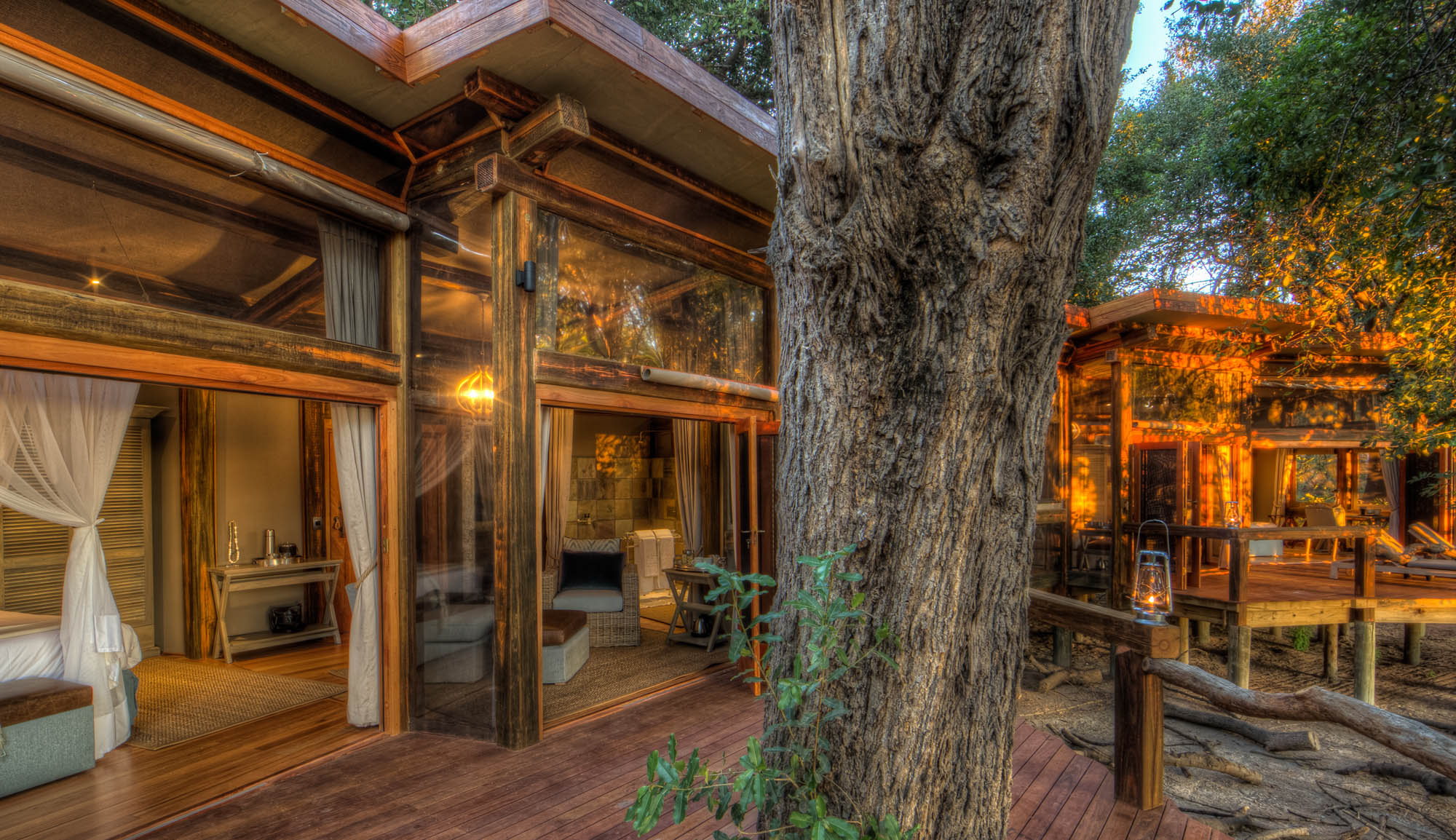 Photo: Desert & Delta Safaris
One of the other guests and I took off with our guide on a short fishing excursion in an aluminum skiff. Even if we never reached the area which we did (for fishing) the journey itself would have been worth it. What an amazing experience it was to glide through this narrow waterway, with high 'walls' of papyrus and reeds on either side, avoiding shallow sandy spots, and observing many birds, as well as a few small crocodiles, and water monitors en route.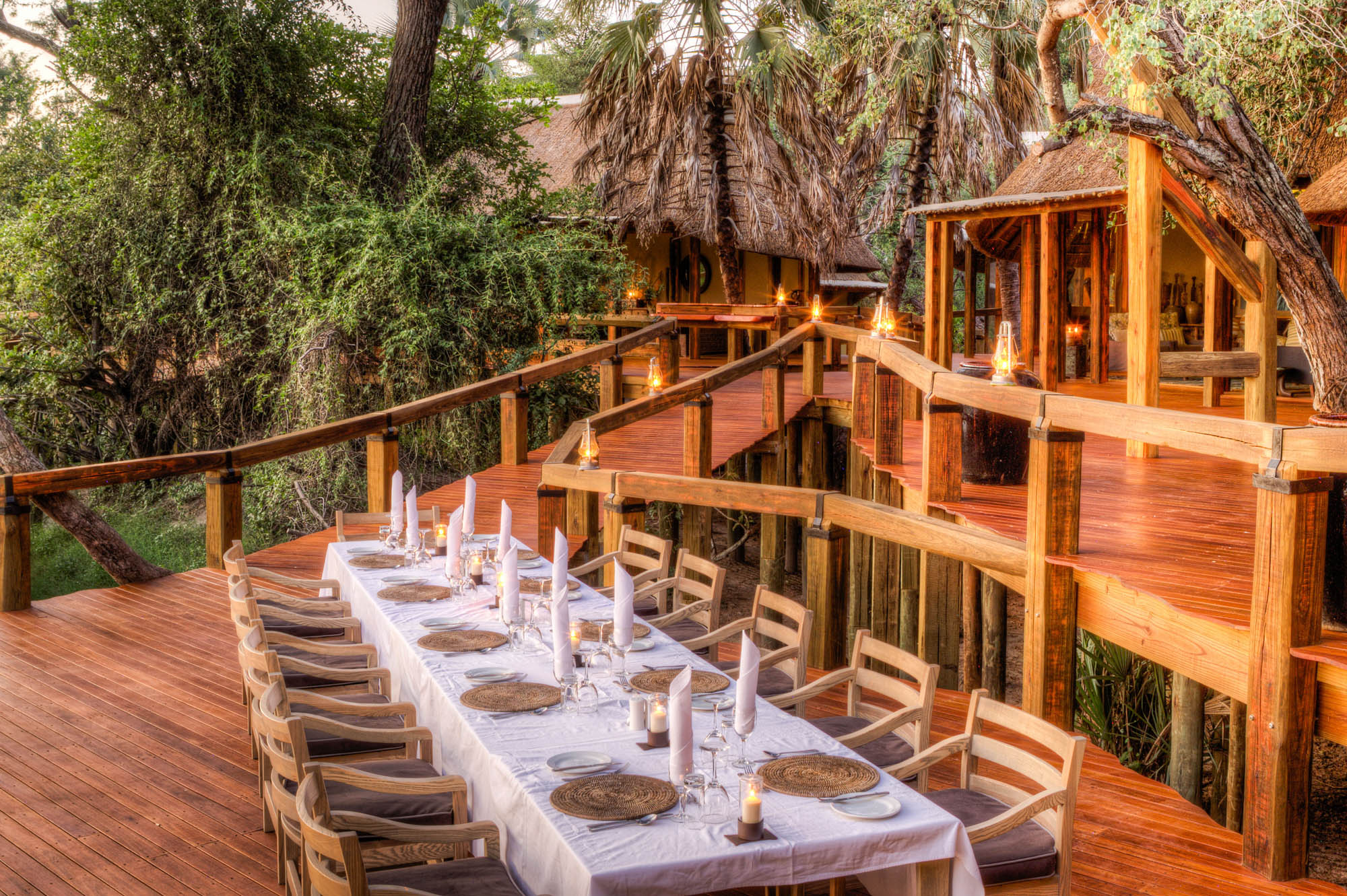 Photo: Desert & Delta Safaris
Then suddenly, there was a hippo, completely out of the water, right in our way. Our boatsman was fortunately properly trained for such an event. Instead of slowing down or stopping, which could have led to a nasty confrontation, he barreled on. The hippo submerged and dove out of our way, and we pretty much went right over the spot which it had occupied just seconds earlier.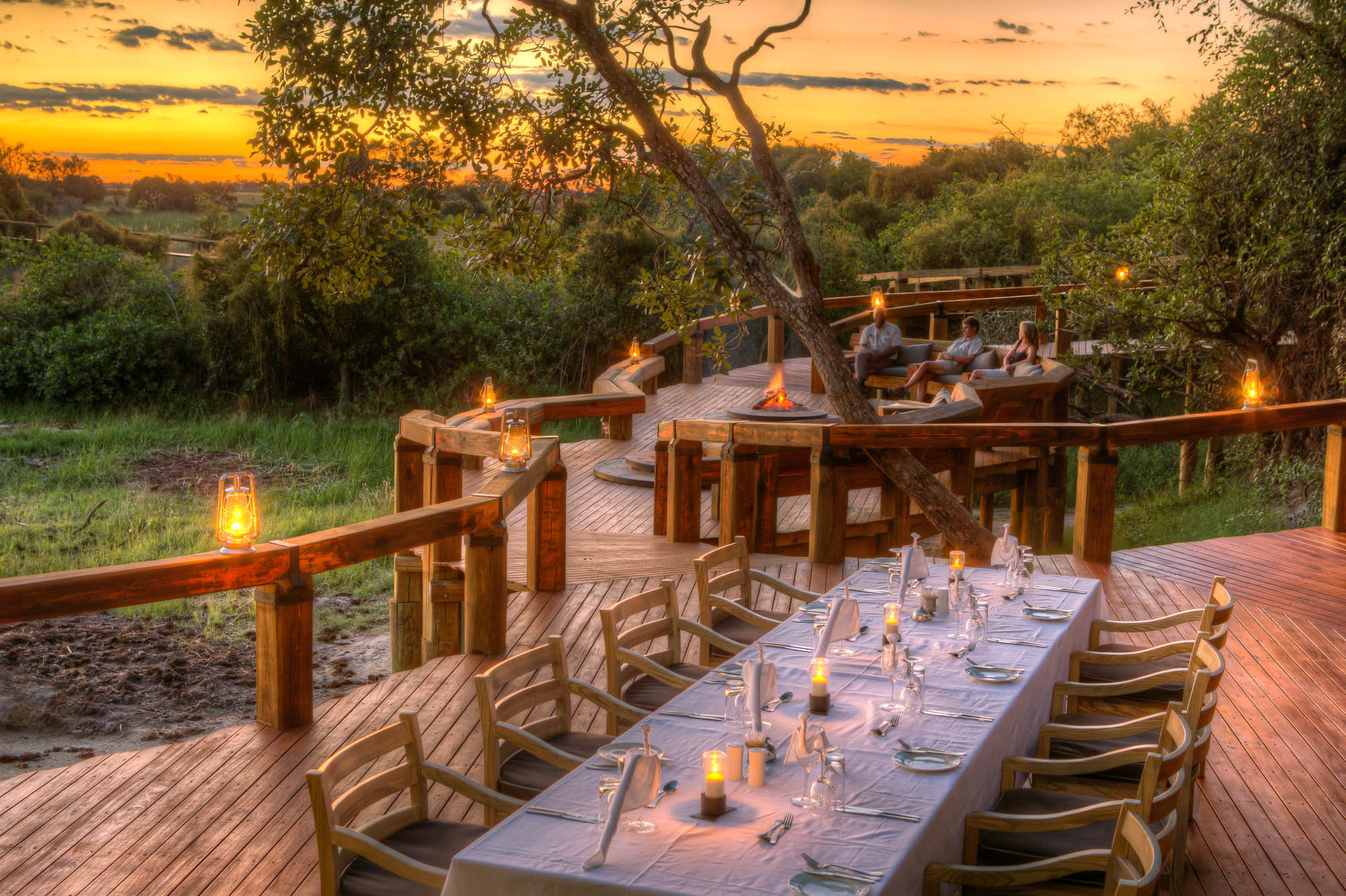 Photo: Desert & Delta Safaris
Looking back we saw that the hippo had resurfaced and was giving us the hippo version of the upturned middle finger in the form of a belligerent posture and stare. That was almost too exciting. And it happened much too quickly for photographs! As for the fishing, I'm afraid despite our best efforts we were unsuccessful.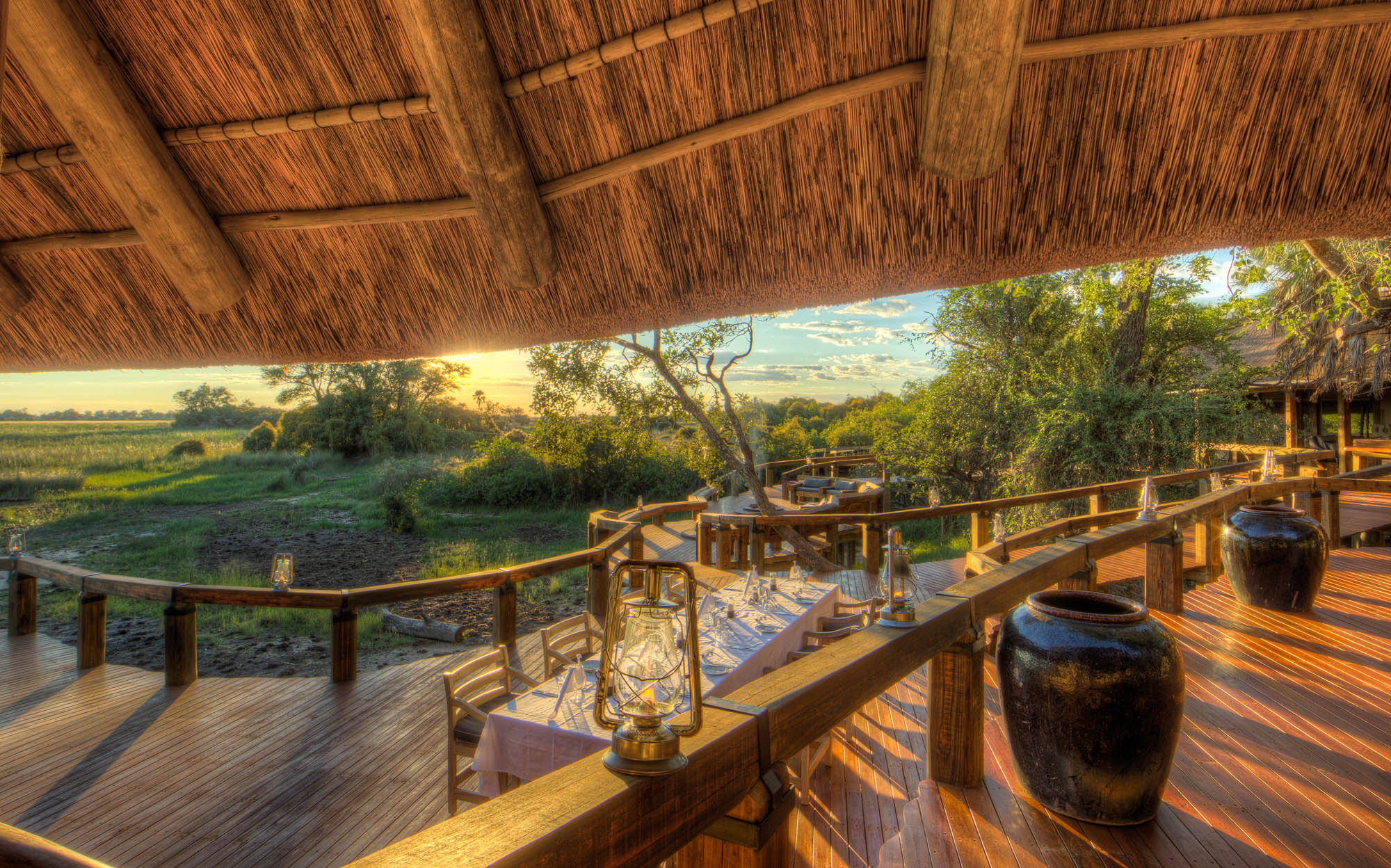 Photo: Desert & Delta Safaris
In the afternoon we observed a basket-weaving demonstration by some of the local staff who do their weaving after hours and in their spare time, with the items being sold at the camp curio shop.  At around 4:00p, our group went out on a dugout canoe/mokoro outing to an area not far from the airstrip, for our afternoon activity.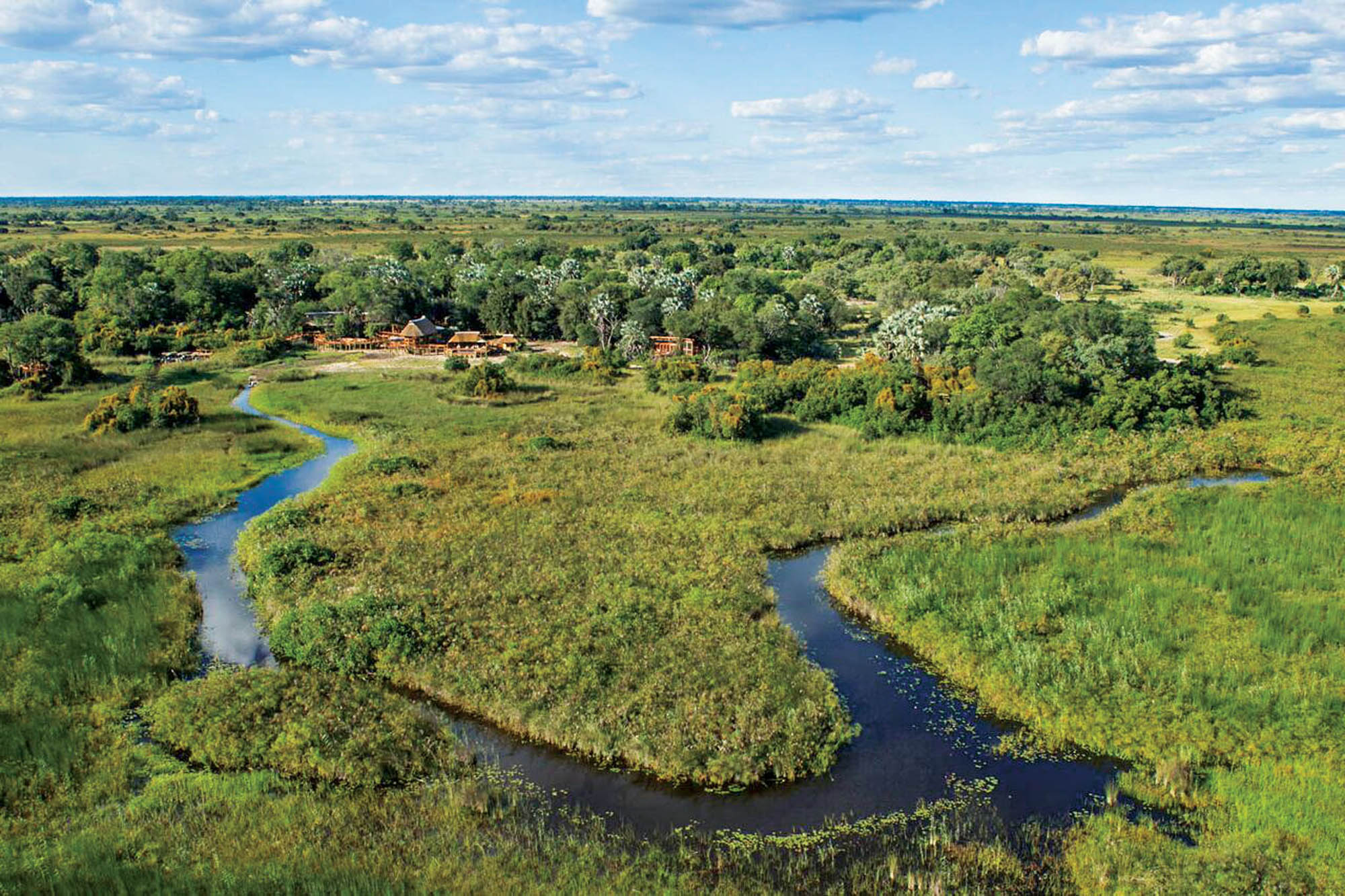 Photo: Desert & Delta Safaris
It was a fun and relaxing outing with sundowners being served on a small island, complete with an 'island bar' setup. During the outing we saw many different types of birds, including the rare and highly endangered Wattled Crane, as well as some water-adapted mammals and many of the spectacular plants found in the Okavango Delta, such as the beautiful water lilies.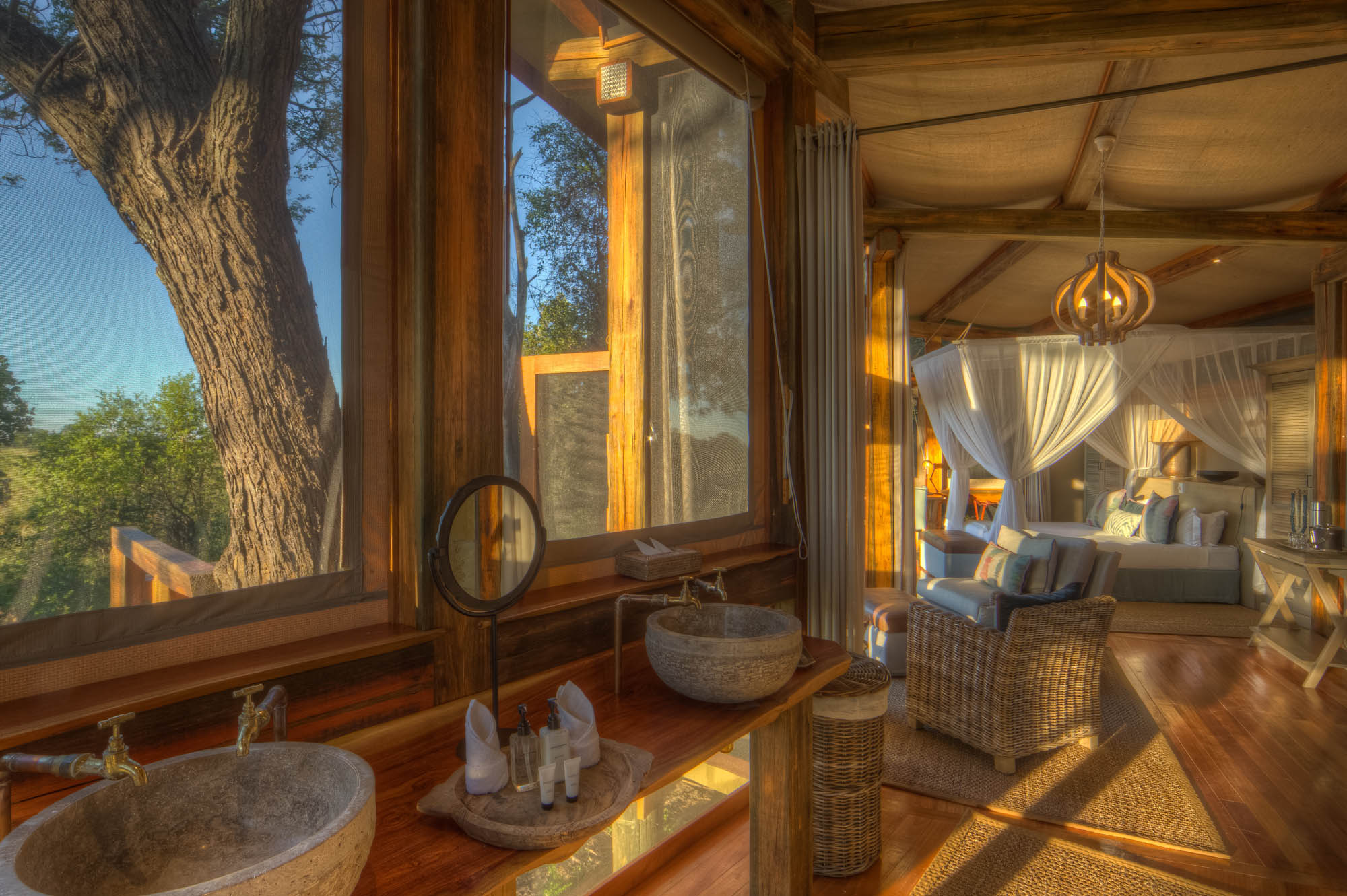 Photo: Desert & Delta Safaris
The following morning,  we were up early for a walking excursion from Camp Okavango. Before we got underway by boat, there was time for a healthy breakfast consisting of muesli with rice milk, a fresh fruit salad and some toast, with rooibos tea on the side. All the camps also serve eggs to order, usually with beef or pork sausage, bacon and other side dishes.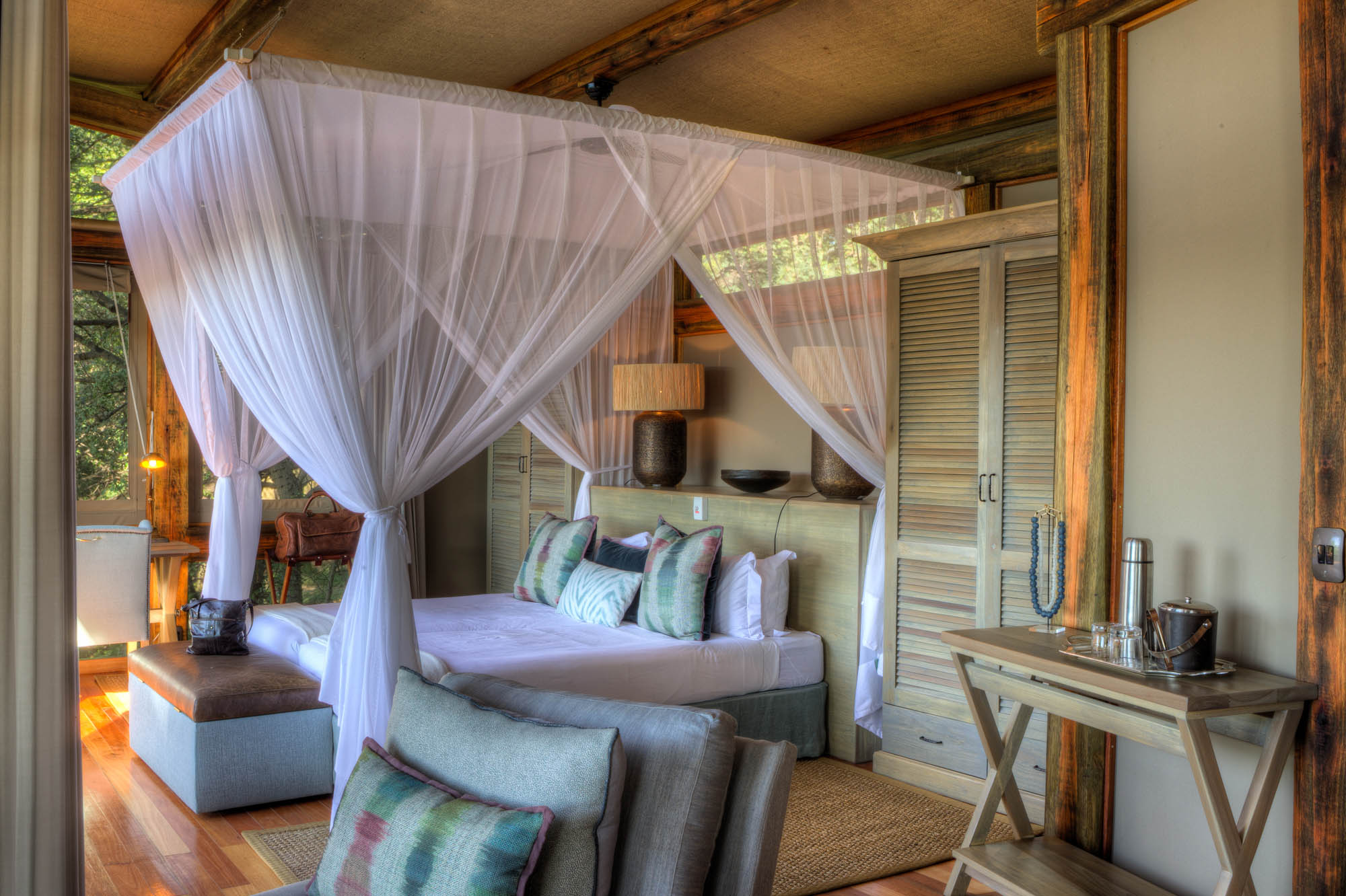 Photo: Desert & Delta Safaris
Refreshed and energized, we enjoyed yet another exhilarating boat ride (same route as on the previous day's fishing excursion) to an island about 30 minutes away. This time around, we had our cameras ready but there was no hippopotamus barring the way.  We did make a small detour into a backwater area where we observed a pod of hippos, though. And inquisitive they were too, coming closer and closer to the boat until our skipper decided it was time to move on.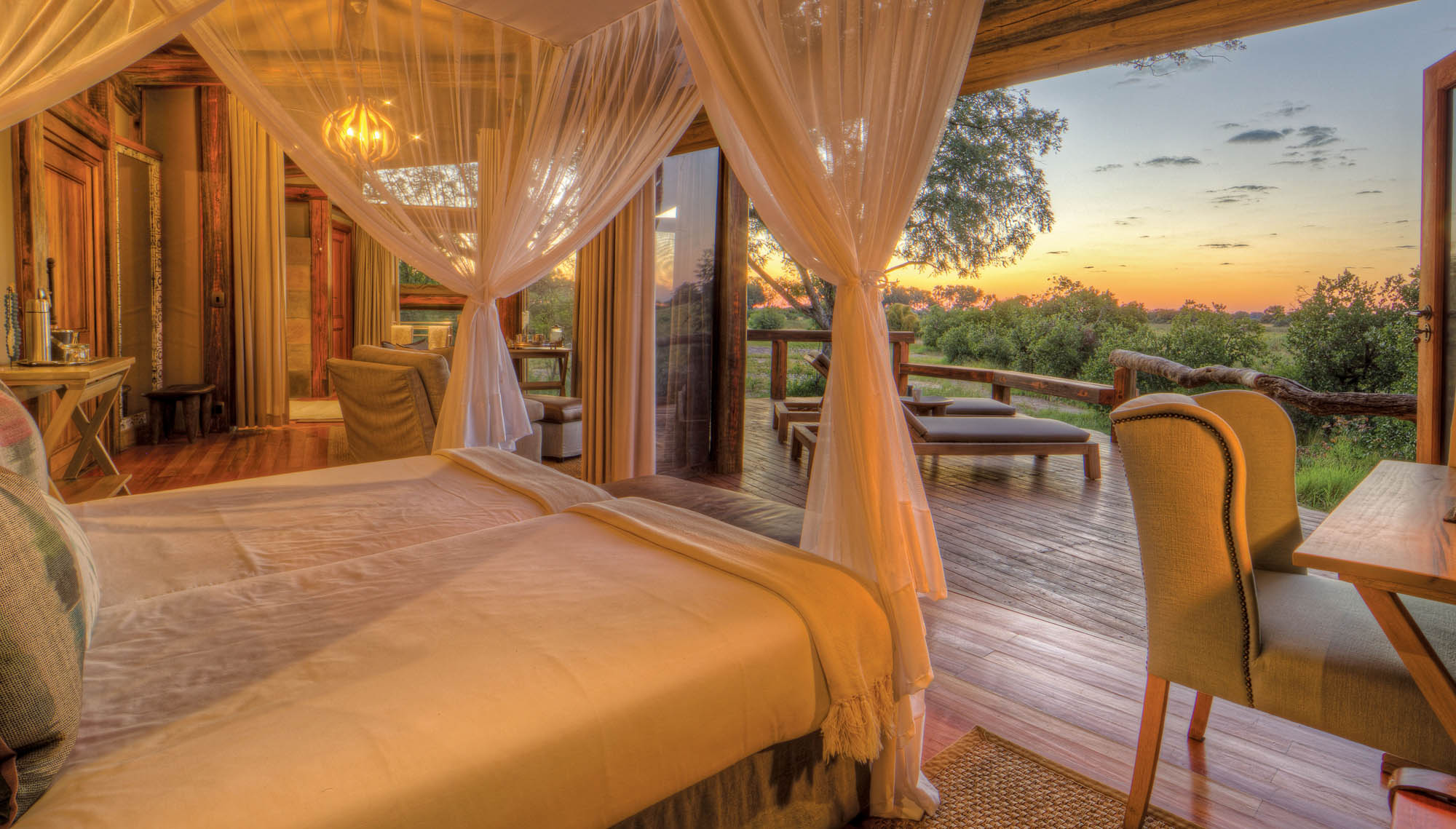 Photo: Desert & Delta Safaris
The island where we walked – I believe it is called Lopis Island – has some very diverse habitat consisting of open floodplain, with patches of woodland, and a nice strip of fairly dense riverine forest with sausage trees and large mangosteen trees amongst others. We saw a few elephants at a distance and walked towards a group of giraffes who no doubt saw us coming a long distance away. To make the walk even more interesting, the guides drew our attention to several interesting plant species and talked about their medicinal and other uses.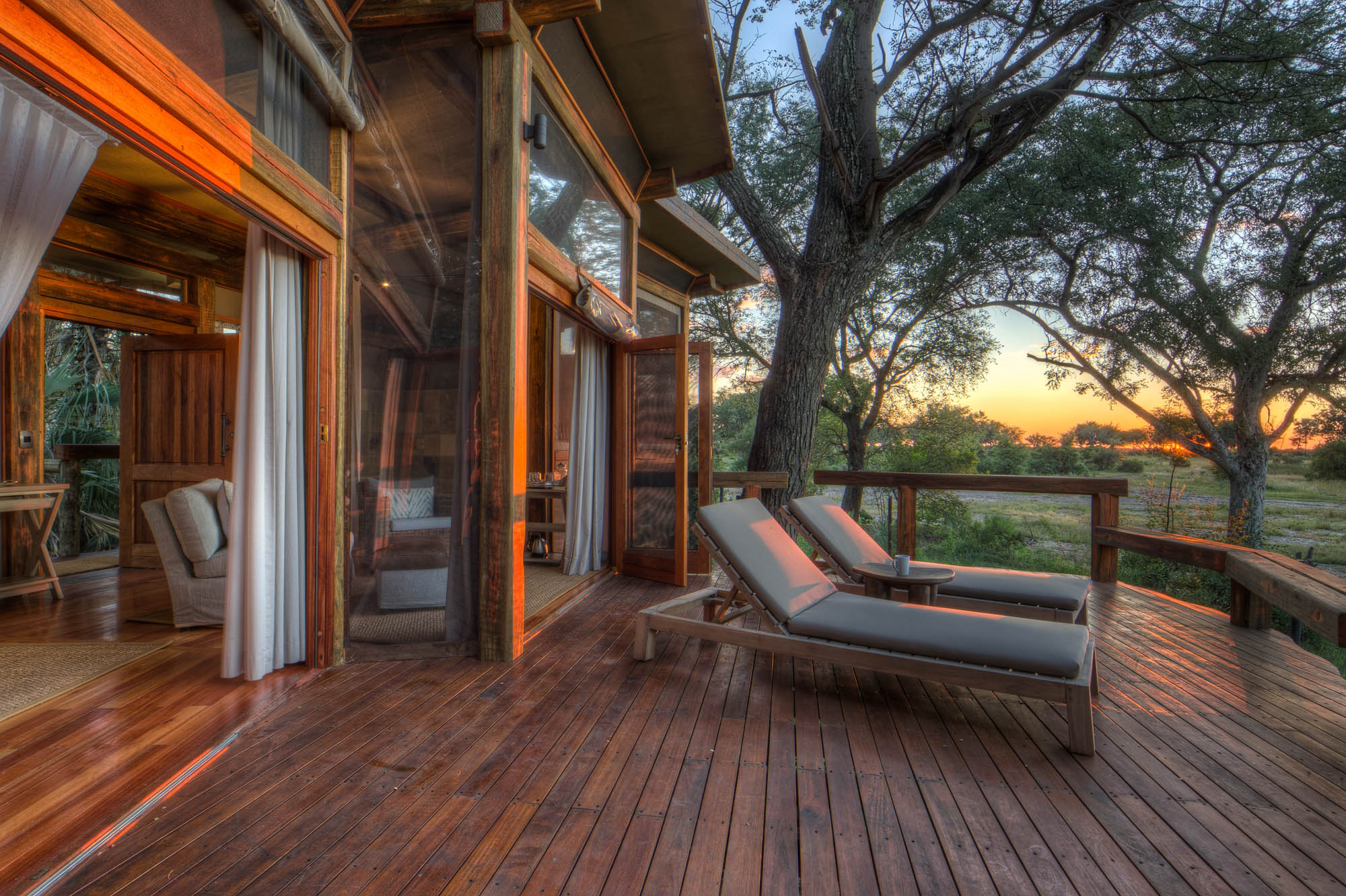 Photo: Desert & Delta Safaris
Back in camp, it was time for — lunch! As always, the vegan & vegetarian members of the group were more than adequately catered for with salads, an excellent and flavorful lentil dish with rice, a fruit salad and a vegetarian tart.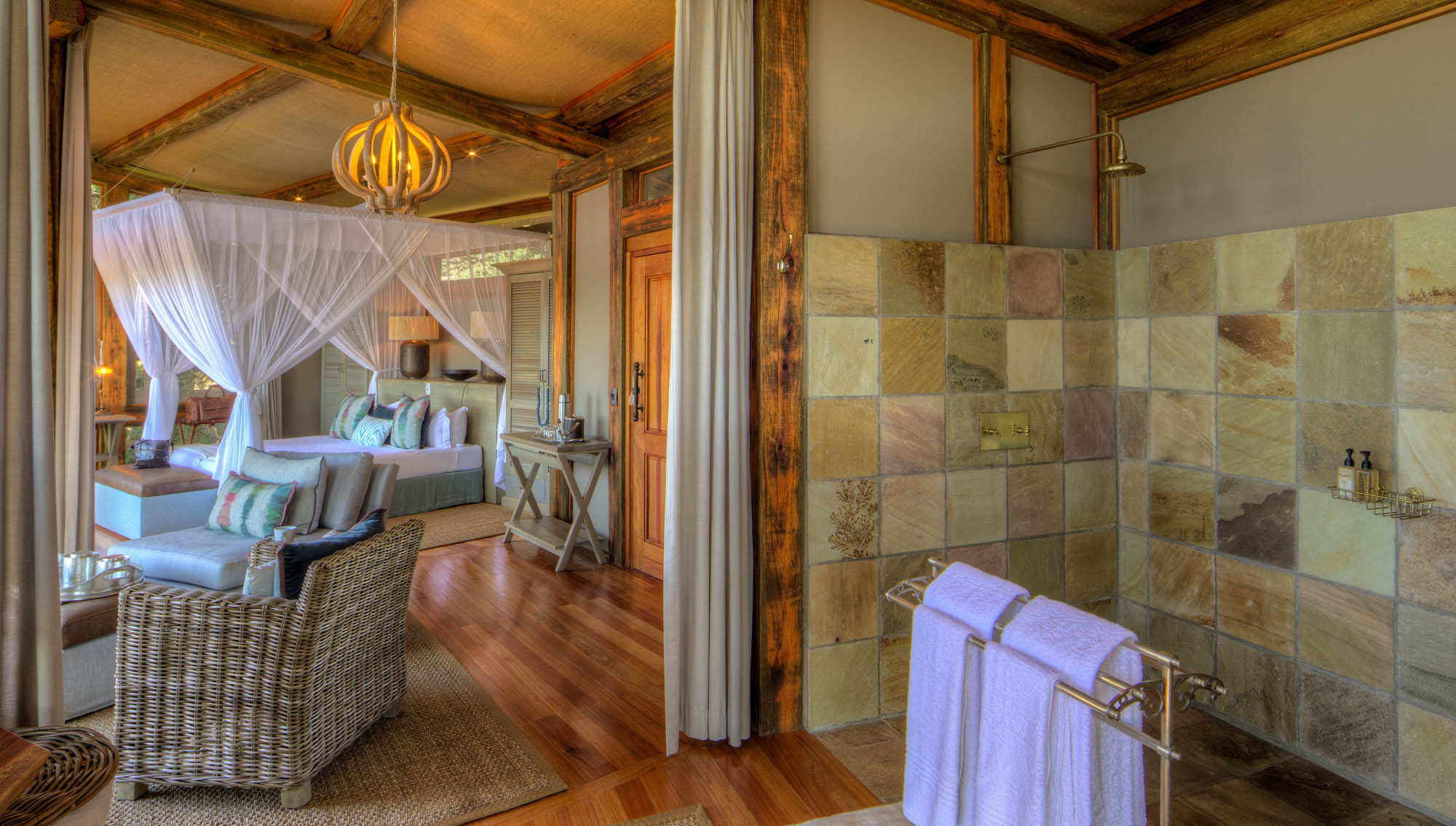 Photo: Desert & Delta Safaris
Lyndon's recent stay at Camp Okavango was quite similar to mine.  Here is what he had to say:  "Camp Okavango is a typical Delta camp with water activities such as mekoro outings and boating, plus walking.  The rooms are spacious, and the property has an exceptionally large main area.  It is rather a long walk to the rooms at the end of the boardwalk on either side of the camp.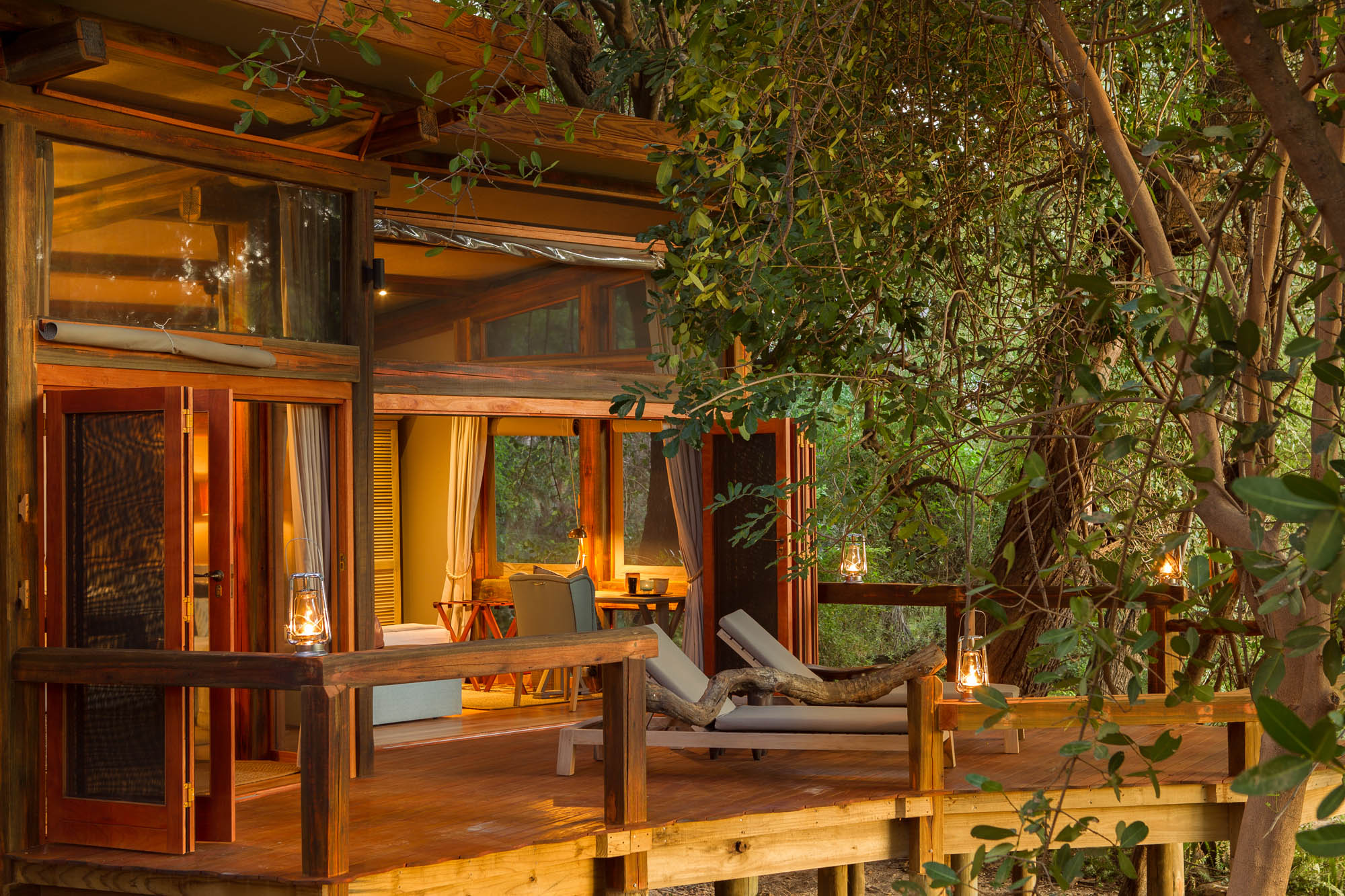 Photo: Desert & Delta Safaris
We did a mekoro outing in the afternoon, utilizing a lovely area just adjacent to the camp.  Even though it was mid-winter it was hot and sunny.  Seeing some painted reed frogs close up was a highlight, otherwise the outing was quiet.  
For dinner we had a surprise bush dinner.  A very elaborate setup with lanterns, the lot.  We were entertained with some energetic singing and dancing – great fun.  The barbecued pork and beef were both excellent.  The sticky toffee pudding was better than at Savute.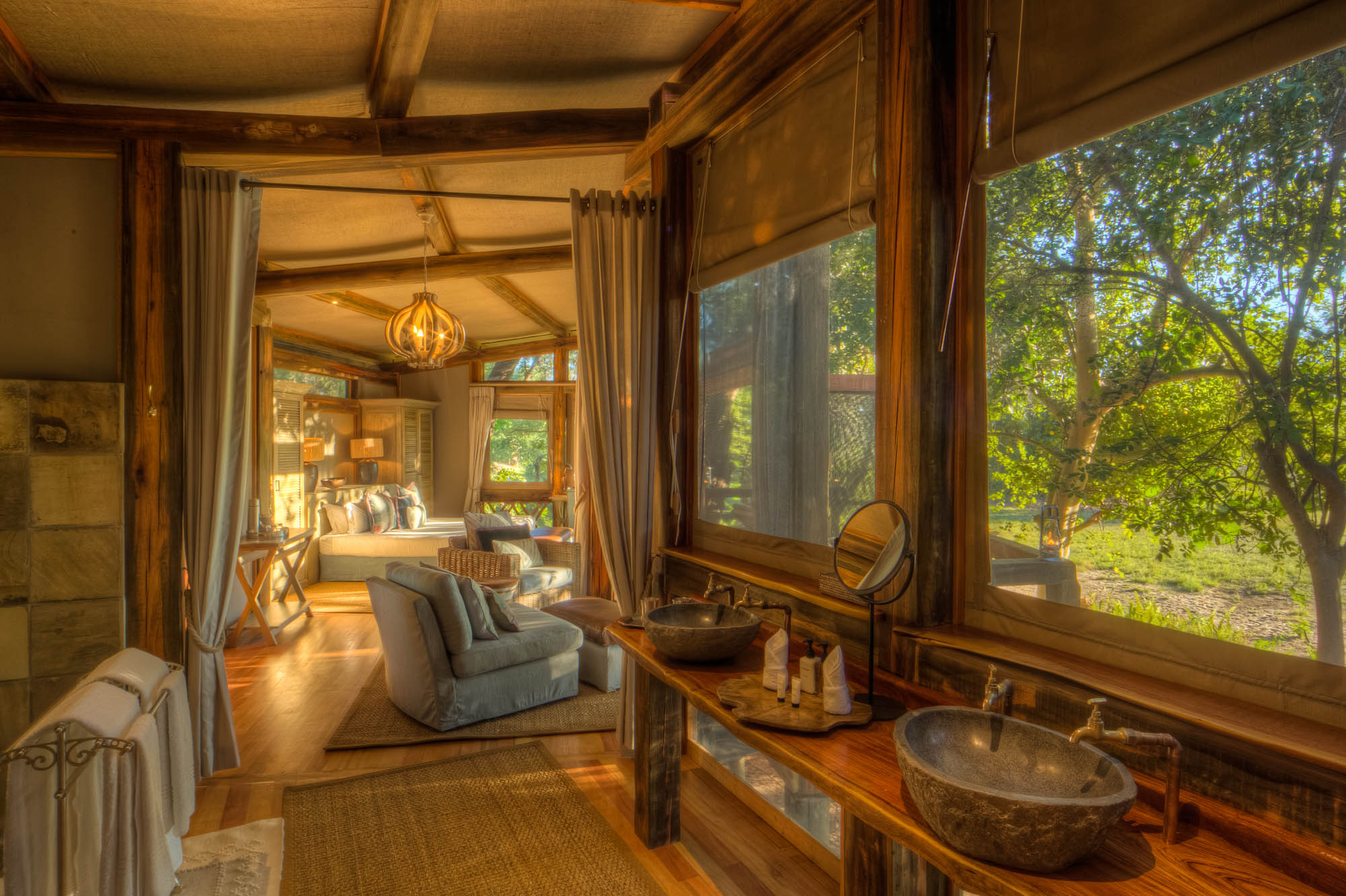 Photo: Desert & Delta Safaris
In the morning we did about a two hour game walk.  Although we heard lions roaring in the distance we did not encounter them.  We did see a side-striped jackal though, and plenty of pretty birds.  As a surprise the night after the mokoro outing Andrea Hugo (who represents Desert & Delta Safaris in the USA), arranged for Helicopter Horizons to take us up for a flight-seeing excursion by chopper.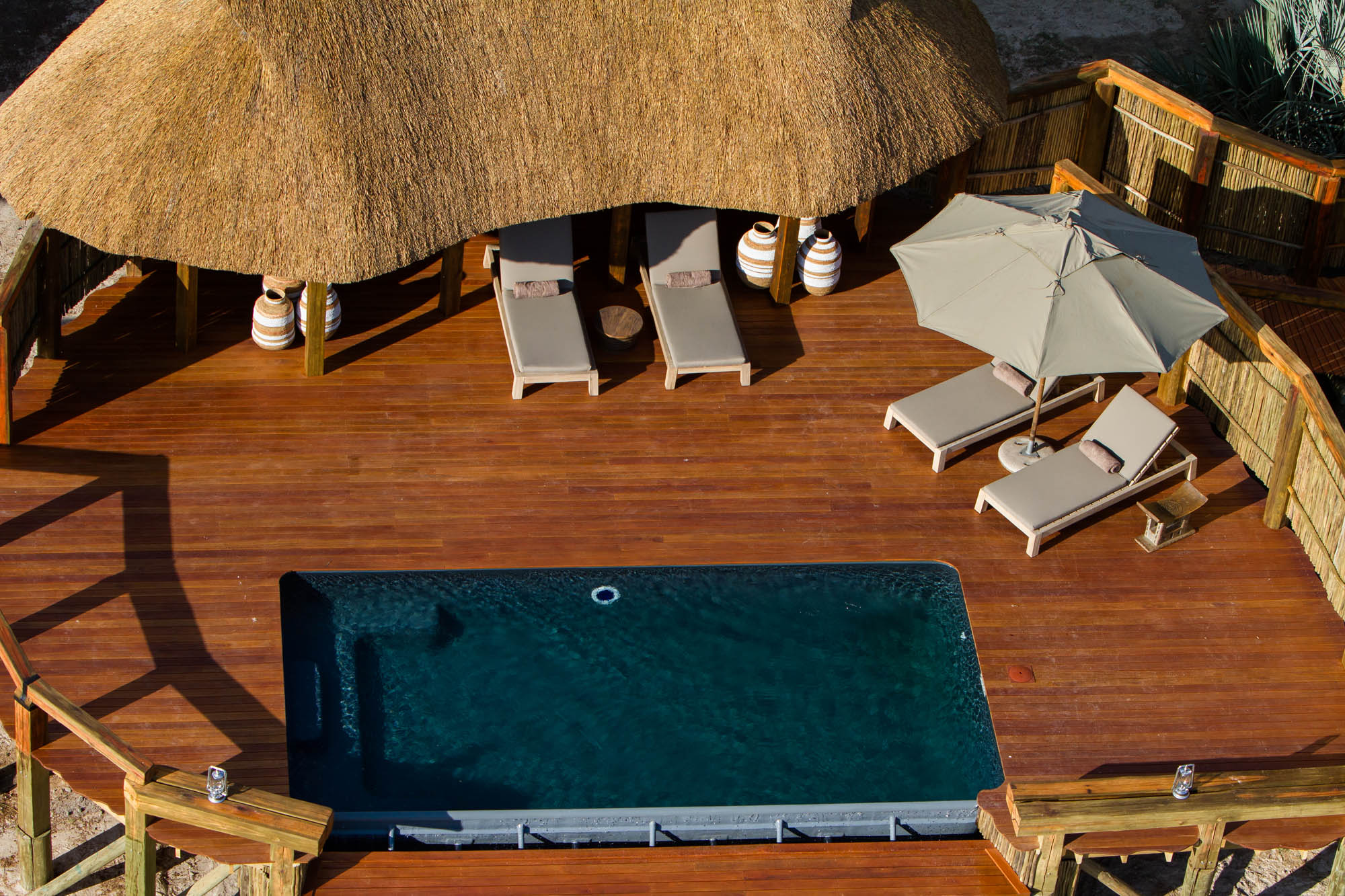 Photo: Desert & Delta Safaris
They took the doors off a 4-seater helo and flew us around three at a time, for about 15 to 20 minutes.  Such a great perspective from the air, over the Okavango Delta mosaic of islands, channels, lagoons and floodplains.  A helicopter flight is included free of charge with any 10-night Desert & Delta safari."
YOU MIGHT ALSO BE INTERESTED IN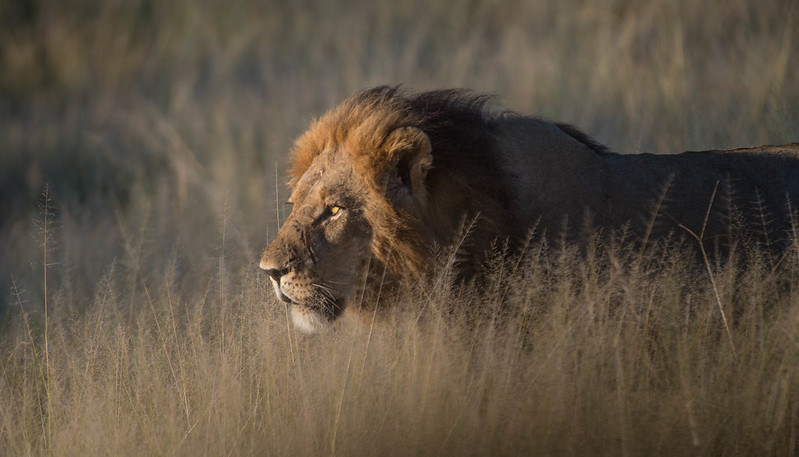 12th Oct 2023
Zimbabwe & Botswana special offers – low-demand season 2023-2024
We've got several special offers available for the coming low-demand season in both Zimbabwe and Botswana. The specials are available for a range of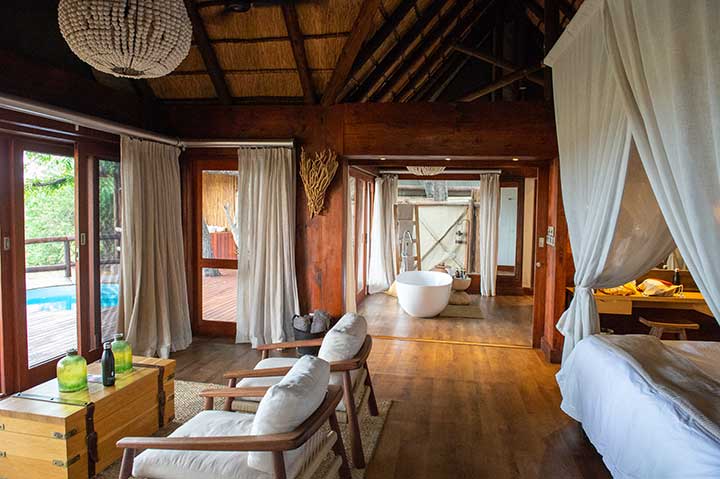 4th Aug 2022
On Safari At Belmond Eagle Island Lodge, Okavango Delta
What is the 'secret sauce' for an unforgettable few days on safari in Botswana? It starts with the animals, of course. The elephants, lions, giraffes, hippos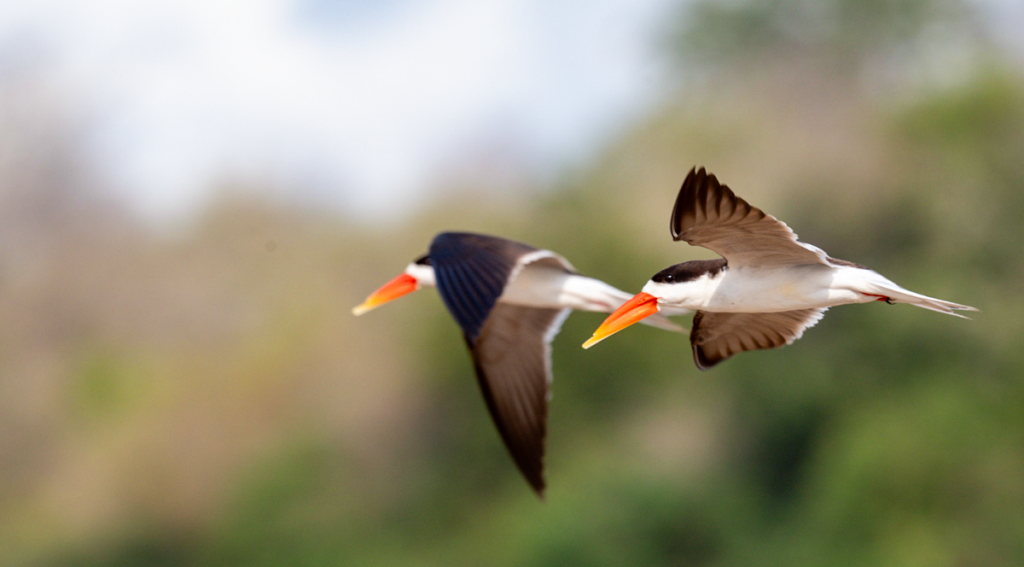 14th Oct 2023
From My Safari Notebook: Wildlife Photography
Birds in flight and wildlife photographers have an uneasy relationship. Things go wrong as often as they go right. Getting focus-lock on a moving subject
SUBSCRIBE TO OUR NEWSLETTER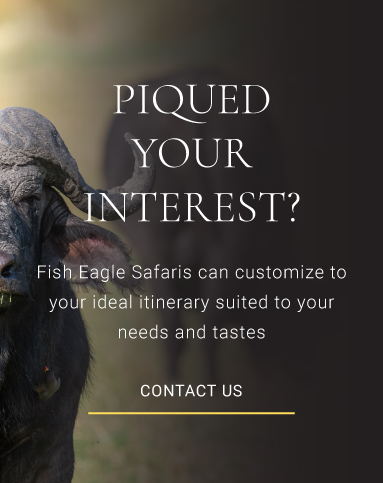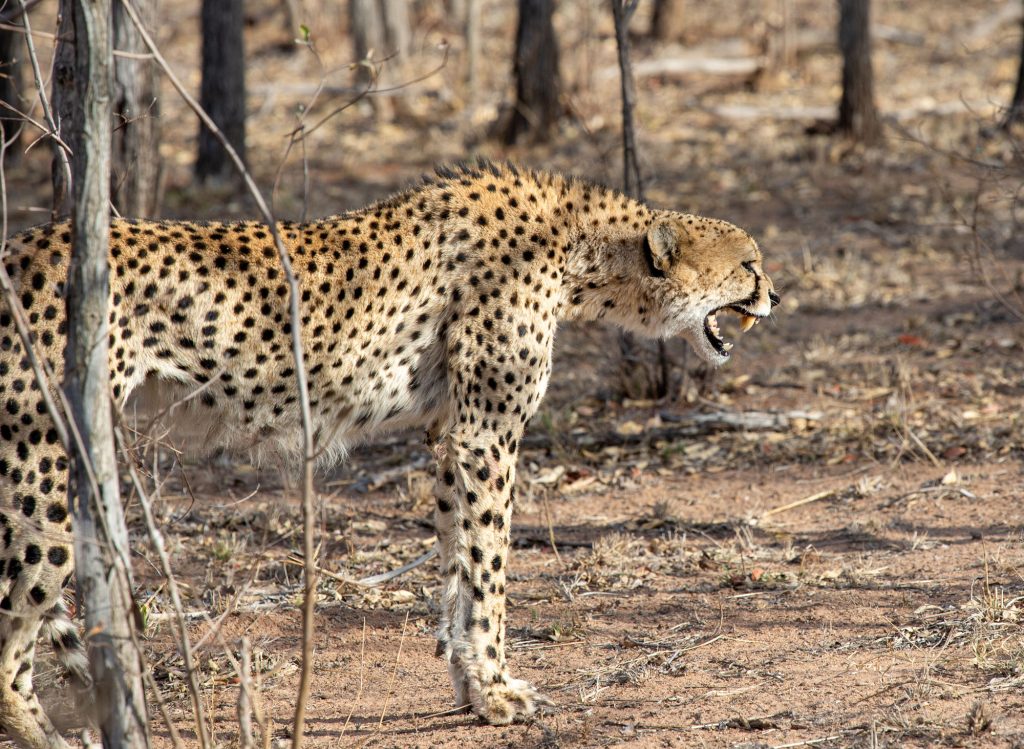 17th Sep 2020
Kruger Park & Sabi Sand Reserve South Africa (Continued)
I wrapped up an extensive educational trip in Kruger Park and in the northern, western and southern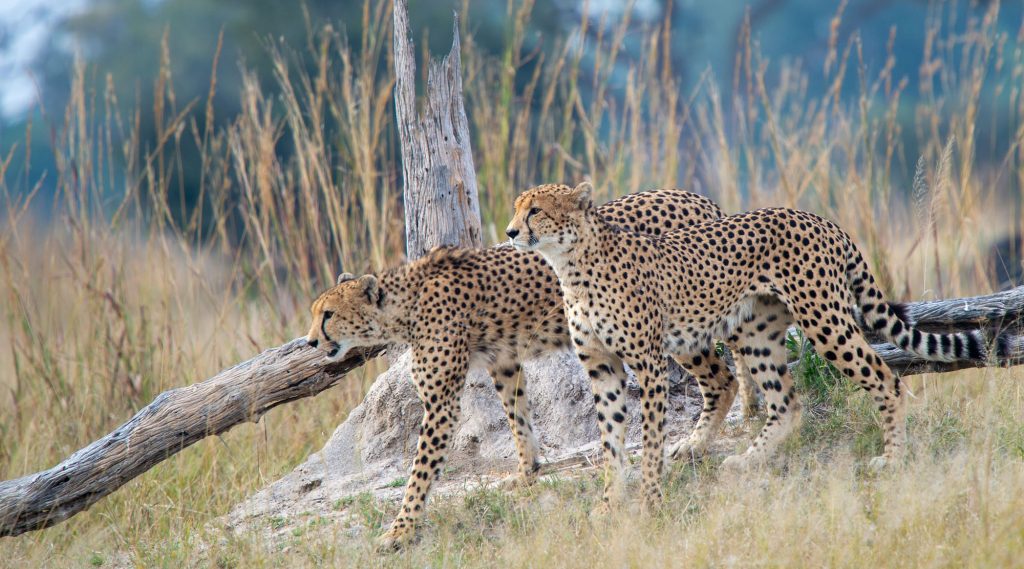 20th Aug 2020
A Visit to Hwange Game Reserve, Zimbabwe
After spending several days in Victoria Falls, my next destination was Hwange National Park.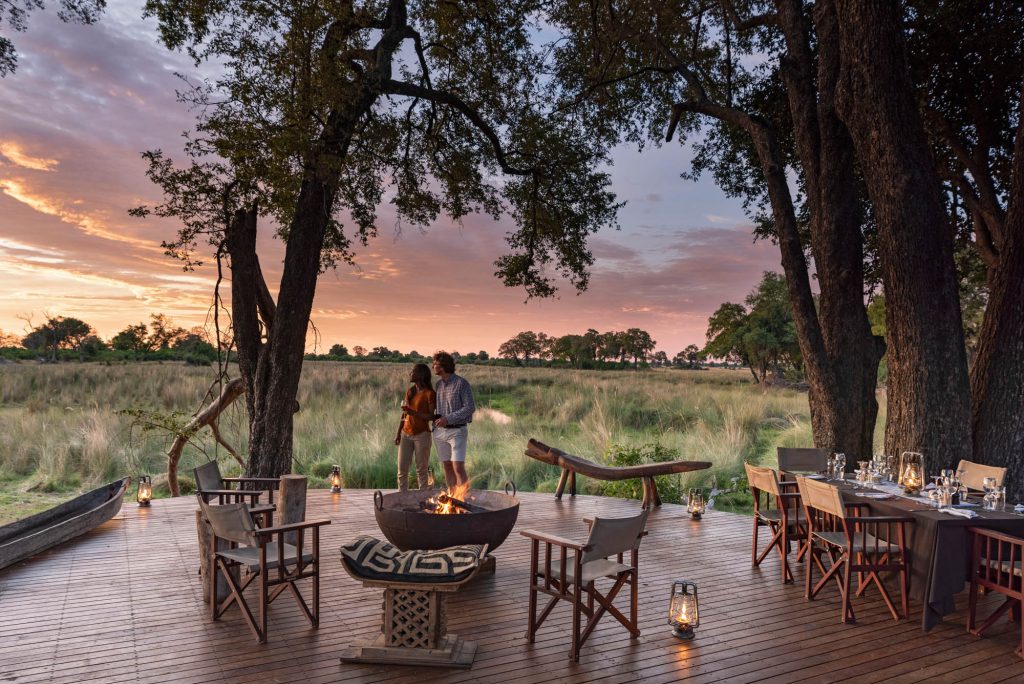 30th Jul 2021
Duba Explorers & Duba Plains Camp, Botswana DUBA EXPLORERS CAMP
Great Plains' Duba Explorers Camp is located in the northern part of the Okavango