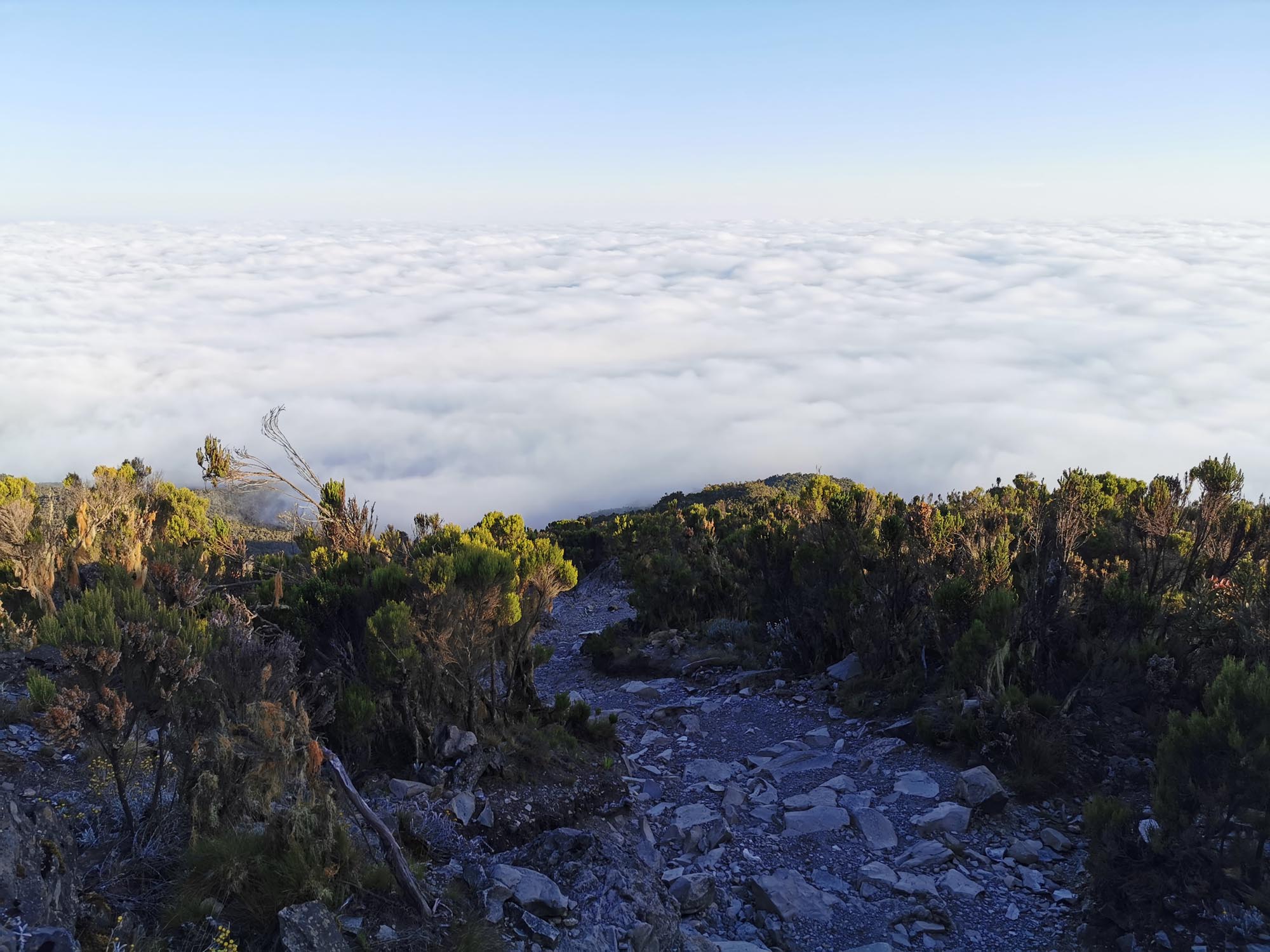 Marangu Route, Kilimanjaro - Part 2
FROM HOROMBO TO KIBO HUTS
Fortunately for us and purely by chance, we still had a full day ahead of us on the Marangu Route, before summit night. Which is how we came to dodge a nasty weather bullet. Very early this morning- at around 1 am - I was woken by a ferocious wind howling through Horombo Campsite, rattling the door to my hut and shaking the windows. Concurrently, there was a heavy downpour with thunder in the distance. My thoughts immediately turned to climbers out on the mountain just then. I wondered to what degree the weather event was impacting their ascent. At the time, they must have been an hour or two out of Kibo Camp, on the way to Gilman's Point. We were to find out soon.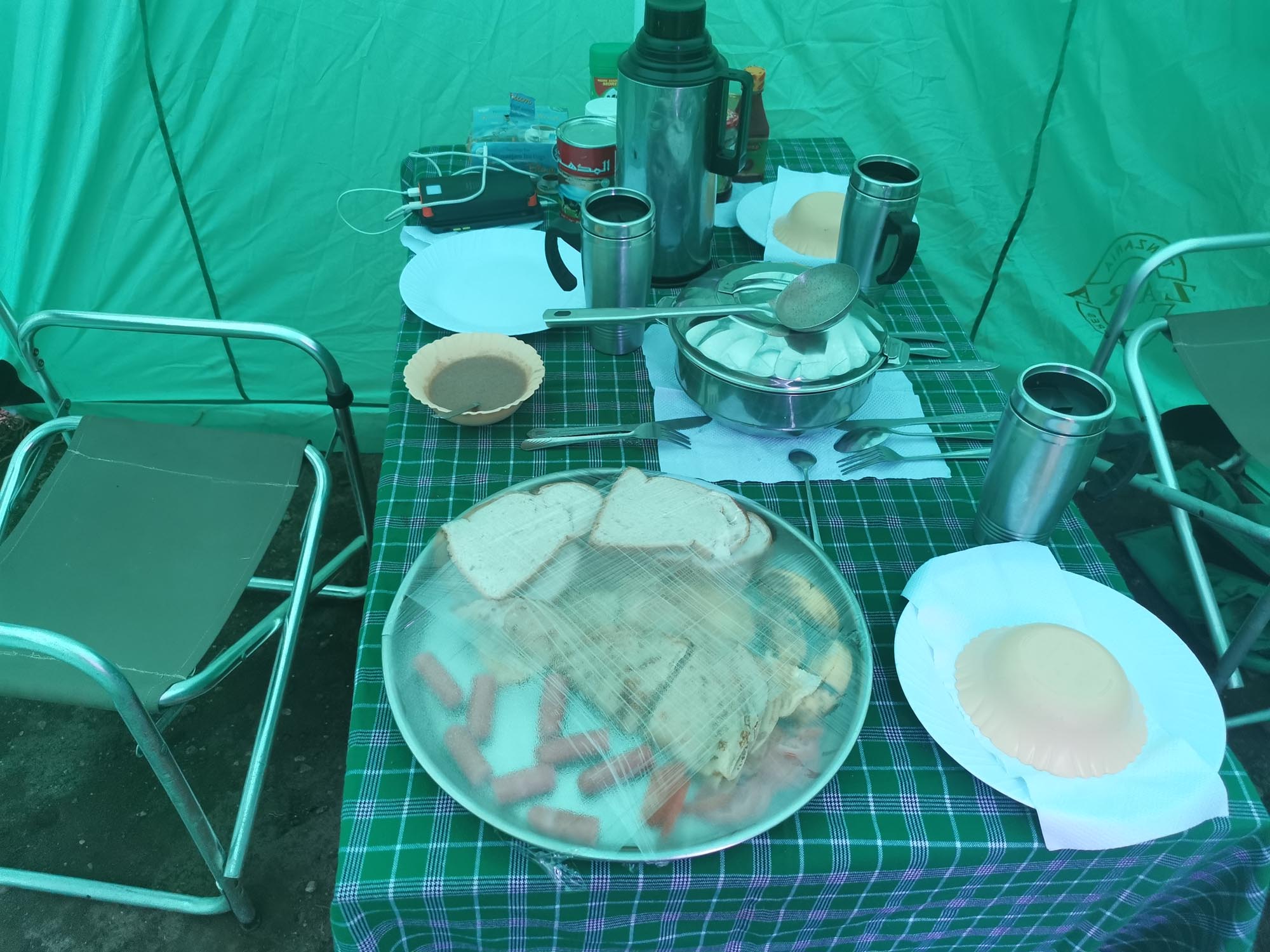 The next morning we gathered our stuff, enjoyed breakfast and then set off for Kibo Huts. It is a 9-kilometer hike which turned out to be quite tiring, mostly due to its length. There were a couple of fairly challenging stretches before we reached the more gentle slopes of the saddle area. 
As we got closer to Kibo Huts, at the point where the trail joins up with the Rongai Route trail from Mawenzi Tarn, we stopped and chatted to two couples on their way down from the summit. As we had anticipated, they said that the strong wind - accompanied by snow, lightning and thunder - hit them on the trail just as they were starting their push to the top.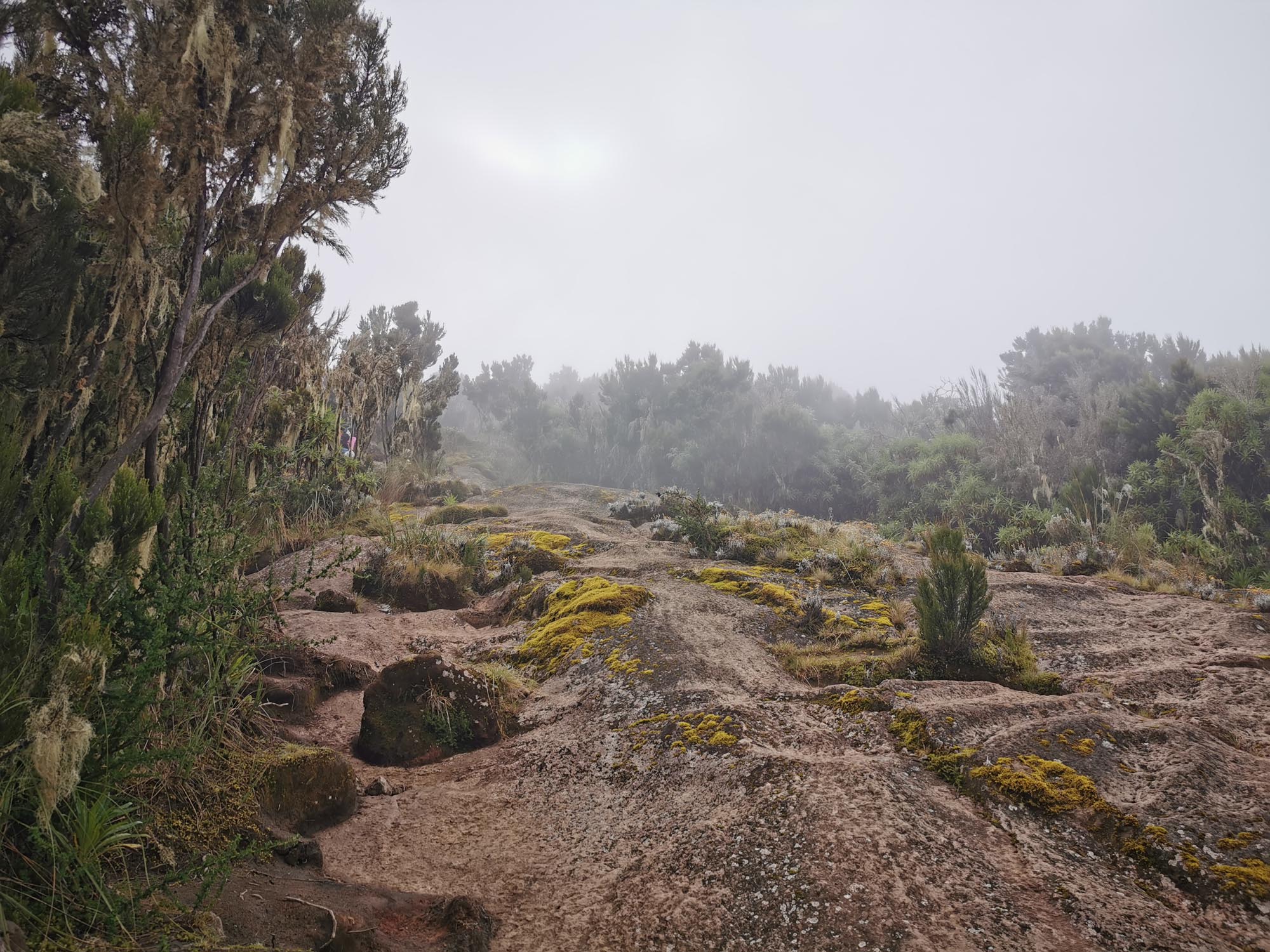 This is pretty much your nightmare scenario:  to have the single most difficult part of the climb affected by atrocious weather. It's only about 4 kilometers from Kibo Huts to Gilman's Point but this stretch may push you to your very limit.  Should you find yourself out there in adverse weather like these climbers, there is not much you can do.  Just be prepared with the right gear and have an expert guide making the decisions. 
The good news?  Both couples who recounted the circumstances of their early morning struggles made it all the way to Uhuru Peak. Everything was clear by the time they reached the summit.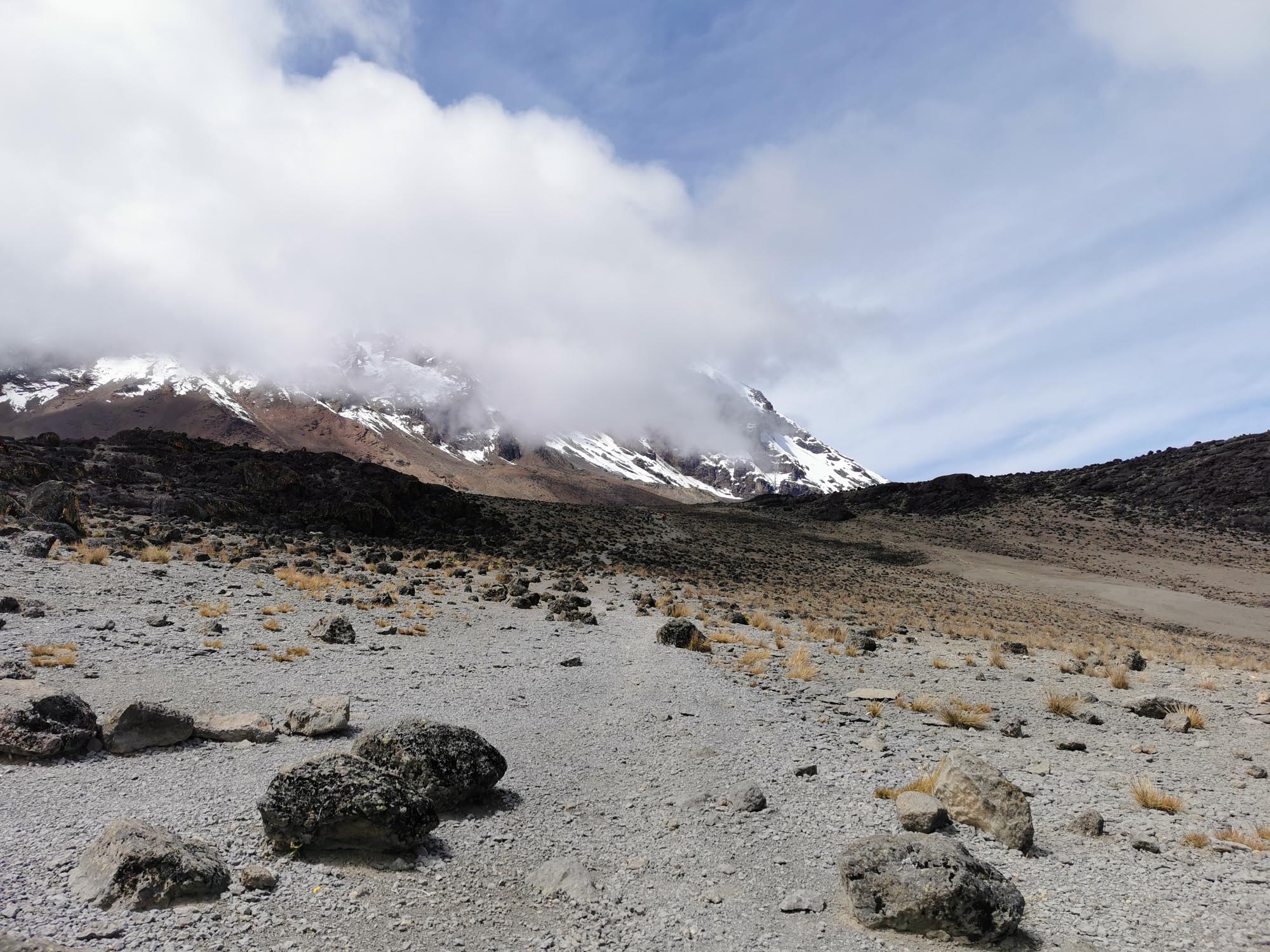 Once we reached Kibo Huts, I was struck by just how cold it was. Outside, inside, everywhere. The wooden cabin offers more protection than a tent but I could feel the cold coming in through the floorboards, through the closed windows and through the shut door.
Warmly ensconced in my sleeping bag, I rested up for a while but never fell asleep; we were getting close to crunch time. When I exited the hut around 11 that night, the importance of being adequately protected from the cold became apparent once again. 
Here's what I had on:  lightweight REI brand long sleeve underwear (top and bottom), heavier smartwool long sleeve thermal underwear, top and bottom. A pair of light exercise pants, a pair of trekking pants, a pair of water resistant pants,  a short sleeve t-shirt, a lightweight long sleeve technical running shirt and a heavy jacket with detachable inner liner.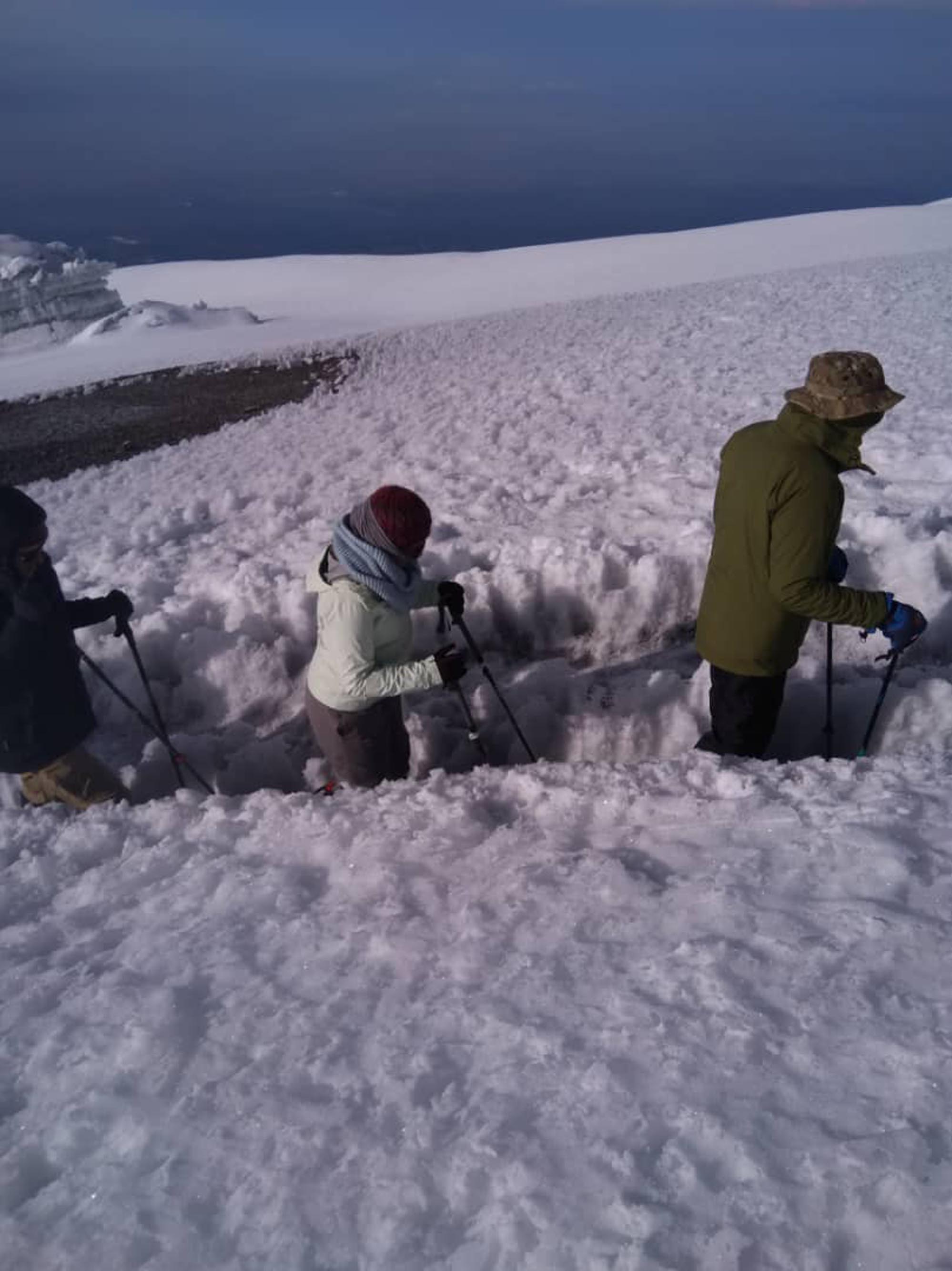 KIBO HUTS TO GILMAN'S POINT
At least initially I needed all of the layering as snow was falling heavily when the three of us started up the trail. Myself, head guide Joseph and his assistant Davis. From the word go we were hiking in two to four inches of fresh snow, crunching under our hiking boots. It was eerily silent with mostly just my labored breathing and the occasional sound of a hiking pole striking a rock. 
The Kibo trail out of Kibo Huts is a moderately difficult hike until the halfway point, at Hans Meyer Cave. It is a fairly gentle incline along what is usually a gravel trail. Not this time. With so much snow on the ground it was much heavier going.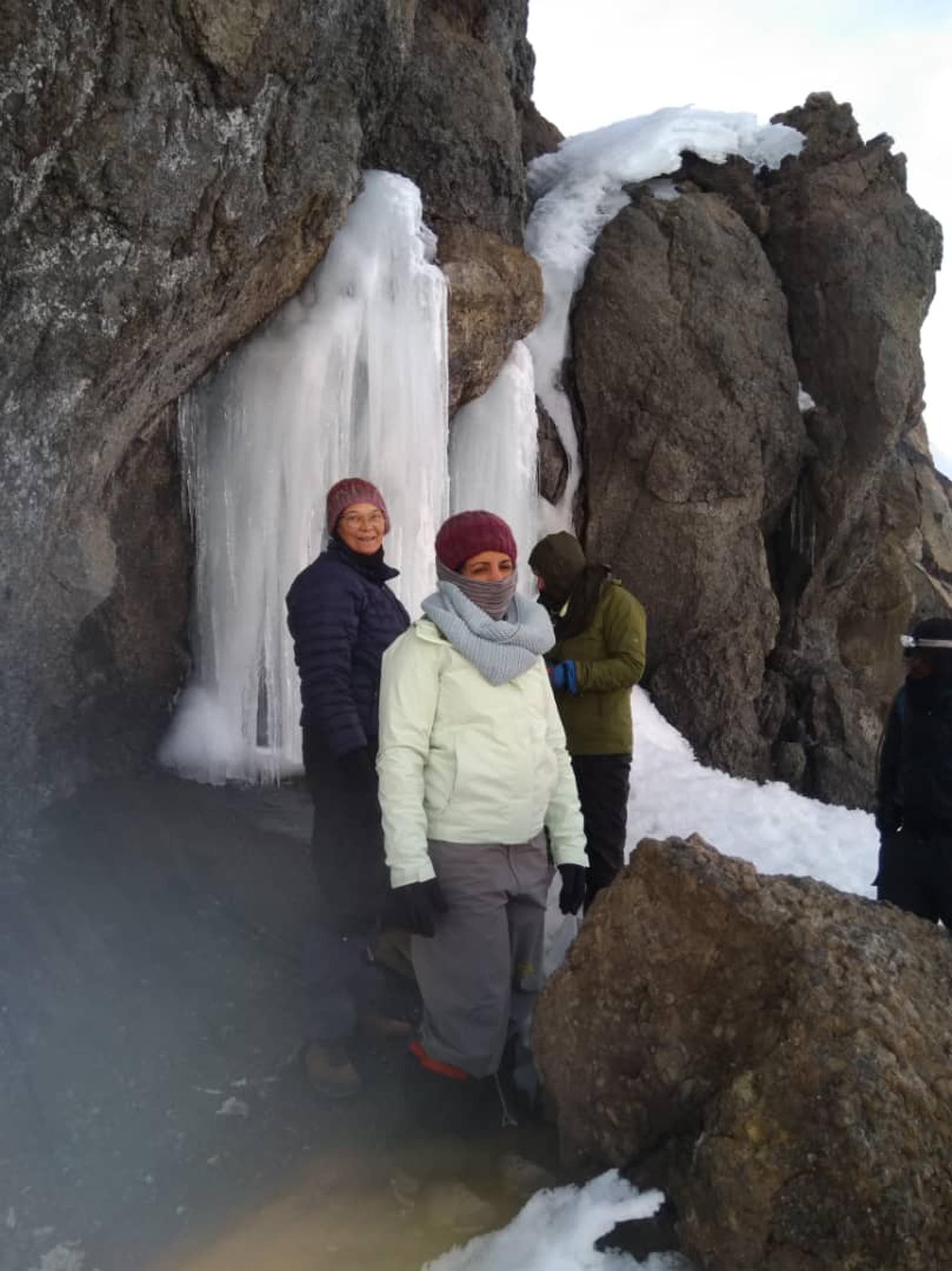 From Hans Meyer Cave onwards, the trail gets quite a bit steeper and it quickly becomes a series of seemingly endless switchbacks. The last third of the trail involves some stepping onto rocks and ledges, and generally negotiating one's way around some giant boulders. 
It can be tricky under normal conditions and was downright treacherous in heavy snow. In the semi-darkness, with just a headlight providing illumination.  Fortunately Joseph provided me with a pair of clip-on crampons, which made all the difference. It changed much of the hike from what might have been a dangerous and ill-advised attempt to something which was exceedingly tough but doable.
It took us almost four hours to reach the first official milestone on the climb - Gilman's Point - at 5756 meters or 18,885 feet above sea level. If you reach Gilman's Point and no further, you will earn a certificate for reaching one of the three summit points on Kilimanjaro. The other two being Stella Point and Uhuru Peak.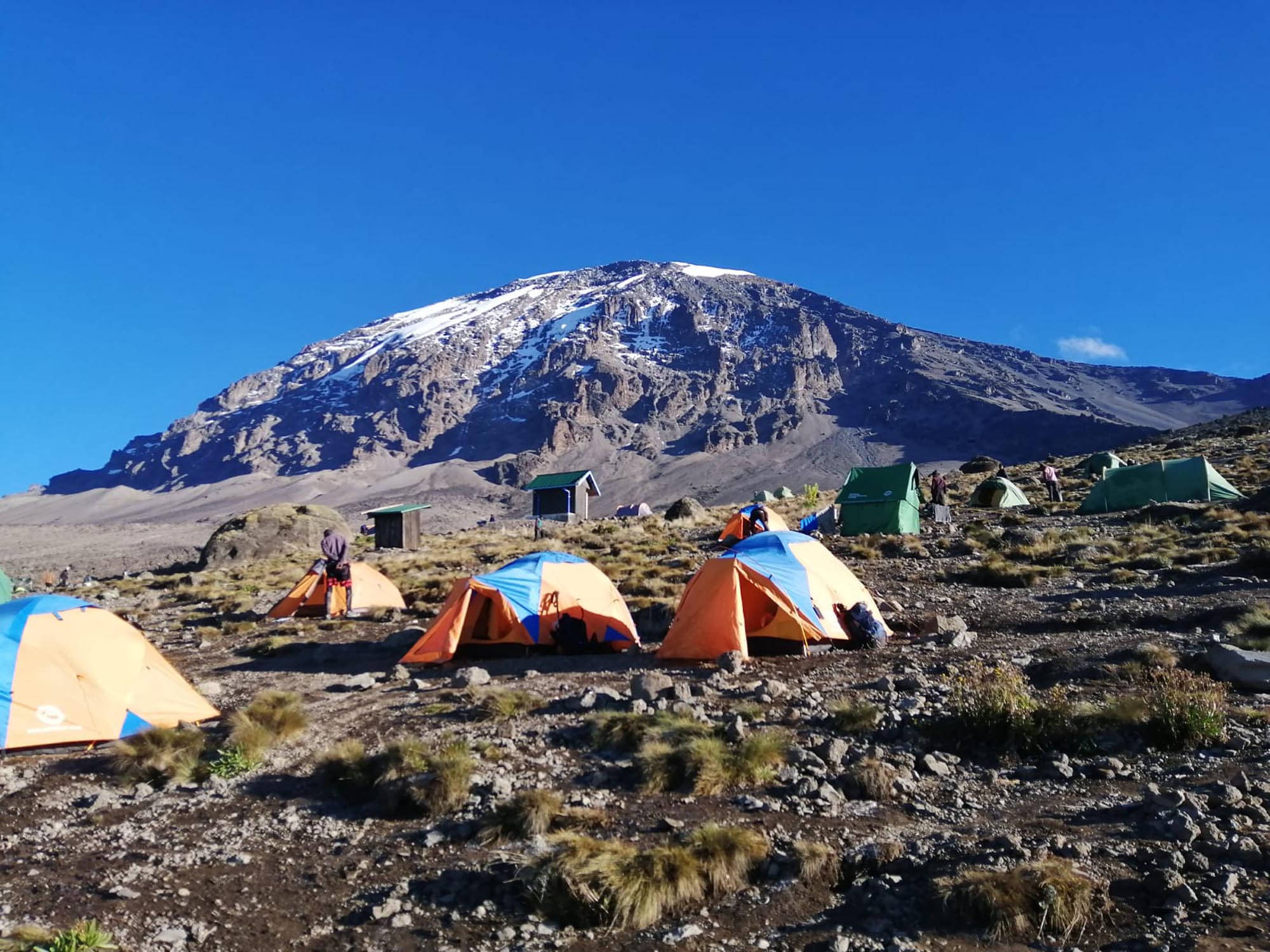 GILMAN'S POINT TO STELLA POINT - AND UHURU PEAK
From Gilman's Point we hiked along the crater rim over, in and through thick layers  of impacted and fresh snow, to Stella Point, the second Kilimanjaro summit point. On the one kilometer hike between the two points, the trail often runs perilously close to the edge of the crater. This is where you concentrate and refrain from doing anything silly. 
At Stella Point we met up with several groups of hikers coming up from the Machame and Lemosho Routes. All of us had just one objective in mind:  the well-known signboard at Uhuru Peak, another 1.5 miles from Stella Point.
By this time even the slightest hill elevates the heart rate and breathing to just shy of the redline. Throughout the hike and usually after any particularly punishing bit, Joseph would call for a break and we'd take a few minutes to have some water, a snack or to just catch our breath.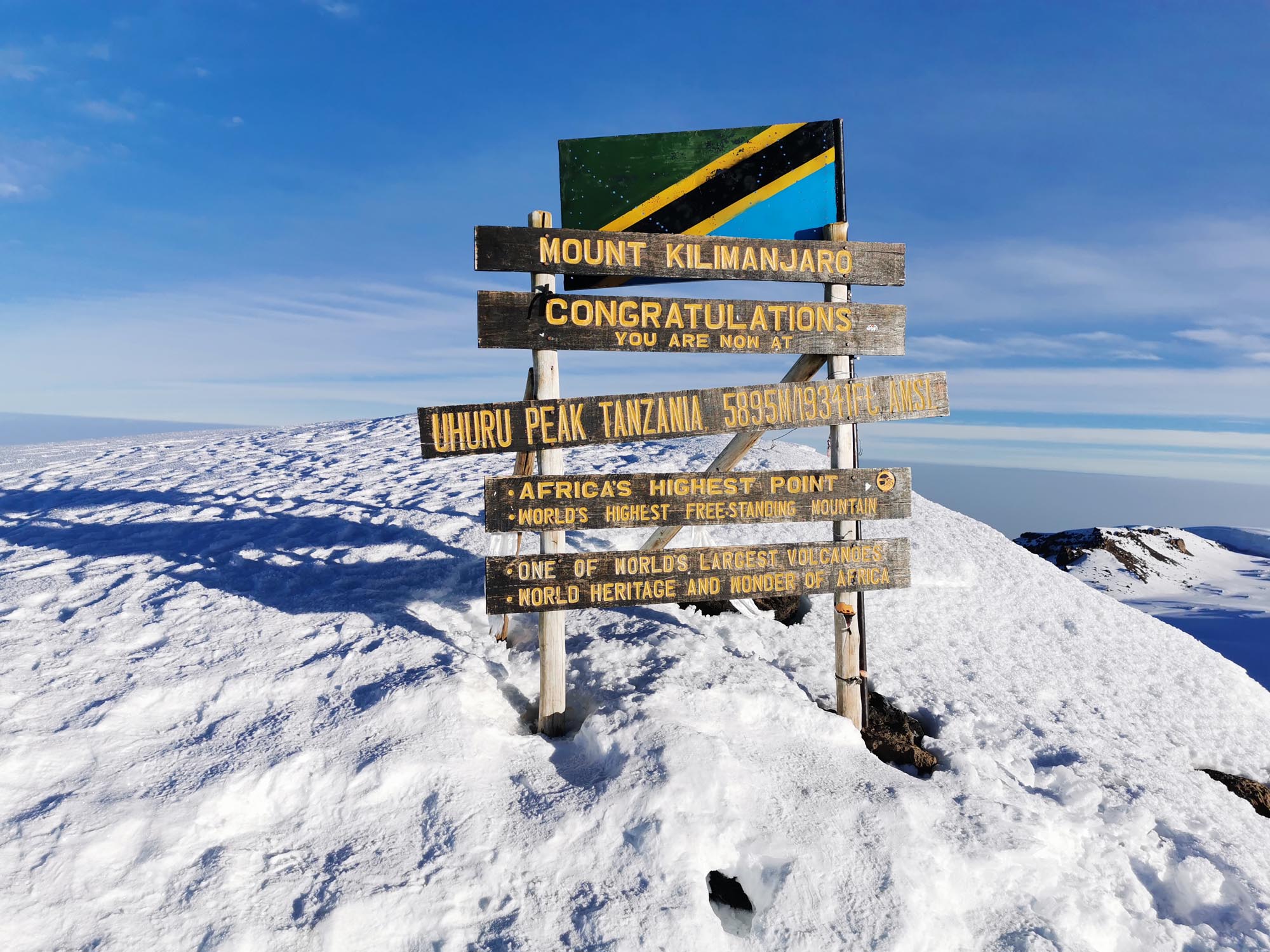 And then, finally, as we emerged from behind a rocky outcrop, there it was:  the famous Uhuru Peak sign. This time there wasn't a line for photo ops and we took our time taking some pics, enjoying the moment and smiling at complete strangers. And having them smile back. 
The sense of achievement of making it to the roof of Africa does not grow old. Even though this was my third- and hopefully not the last - time to stand here above the clouds looking down, I was no less thrilled and excited - and relieved - to get it done. 
Of course, the day was far from over.  We still had to make our way all the way back down to Horombo, where we would spend the last night.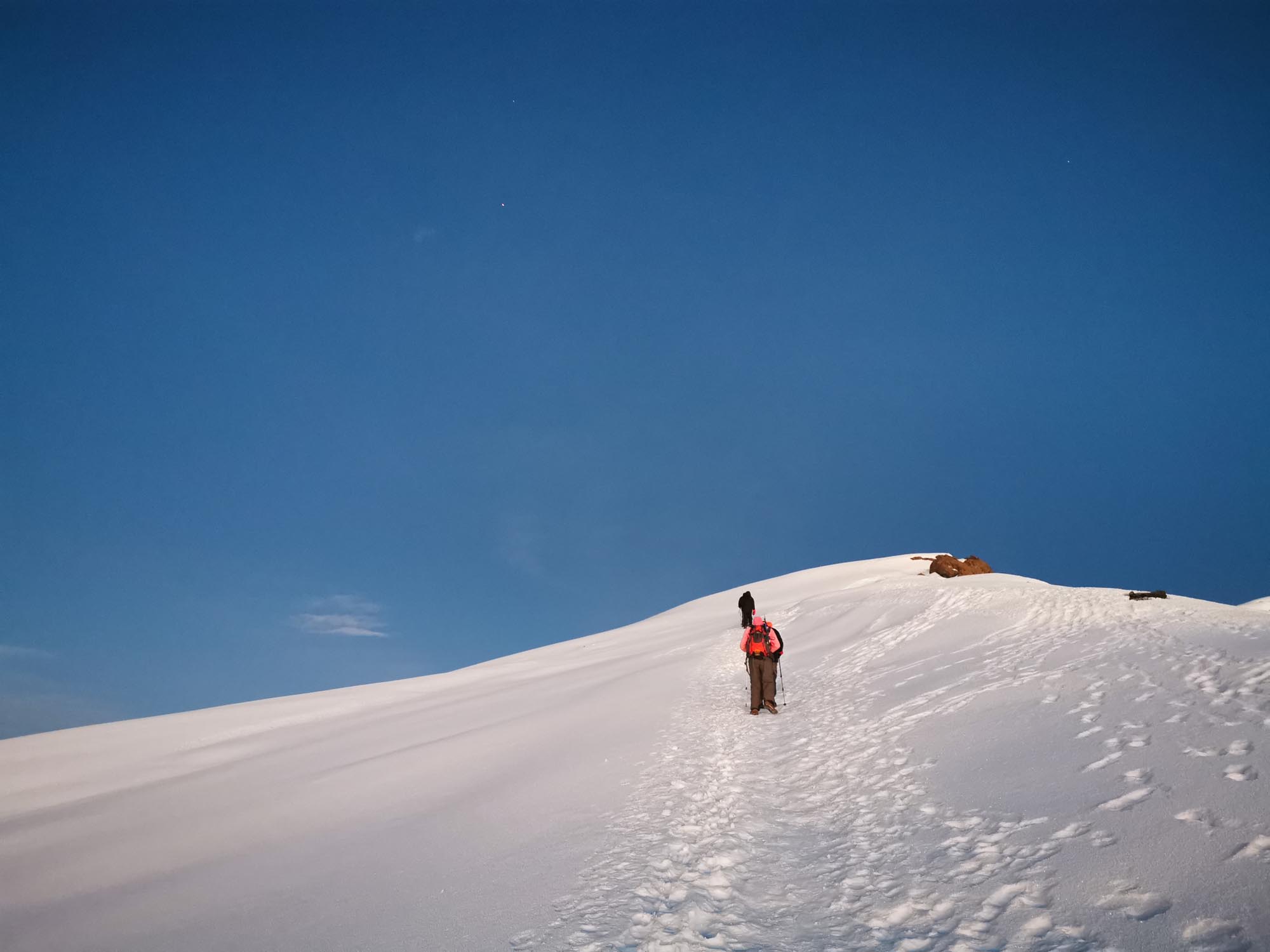 At around 10:00 a.m, just as we reached Stella Point - while taking a short break - I saw an older gentleman with a distinctive beard coming up the trail.  He and his guides also took a break and snapped a few photographs of the Stella Point sign and the amazing views over the snow-laden surroundings.  The  bearded climber looked to be in good shape but his party was running a bit late. In fact, I said to my guide Joseph that this group would likely not make it back down to their last overnight camp, until after dark.
Little did we know that the man was 74-year old Aleksandr Doba, a famous Polish adventurer who had crossed the Atlantic Ocean three times solo, in a kayak.  Most recently when he was 70.  What we also couldn't have foreseen was that Doba would reach the summit of Kilimanjaro a couple of hours later, celebrate and then shortly after lose consciousness, never to regain it.
I subsequently learnt that Aleksander Doba had long wanted to climb Kilimanjaro and had put in some serious training for the event, including tackling some staircases with a weighted backpack.  In a long obituary published in the New York Times, Mr. Doba's son is reported as saying that his father died as a result of high altitude pulmonary edema.  
We will be returning to Kilimanjaro in February 2022, to hike to Uhuru Point and back along the Lemosho Route.  At the top, we will take some time to reflect for a moment, in memory of Aleksandr Doba.  Who ended his journey of life as he had lived it, in pursuit of adventure and with a sense of optimism and determination.
Our blog next Friday will take a detour from Africa to the US State of Montana where Bert and Kathy are currently spending a long weekend on an owl research workshop with Denver Holt of the Nine Pipes Owl Research Institute.