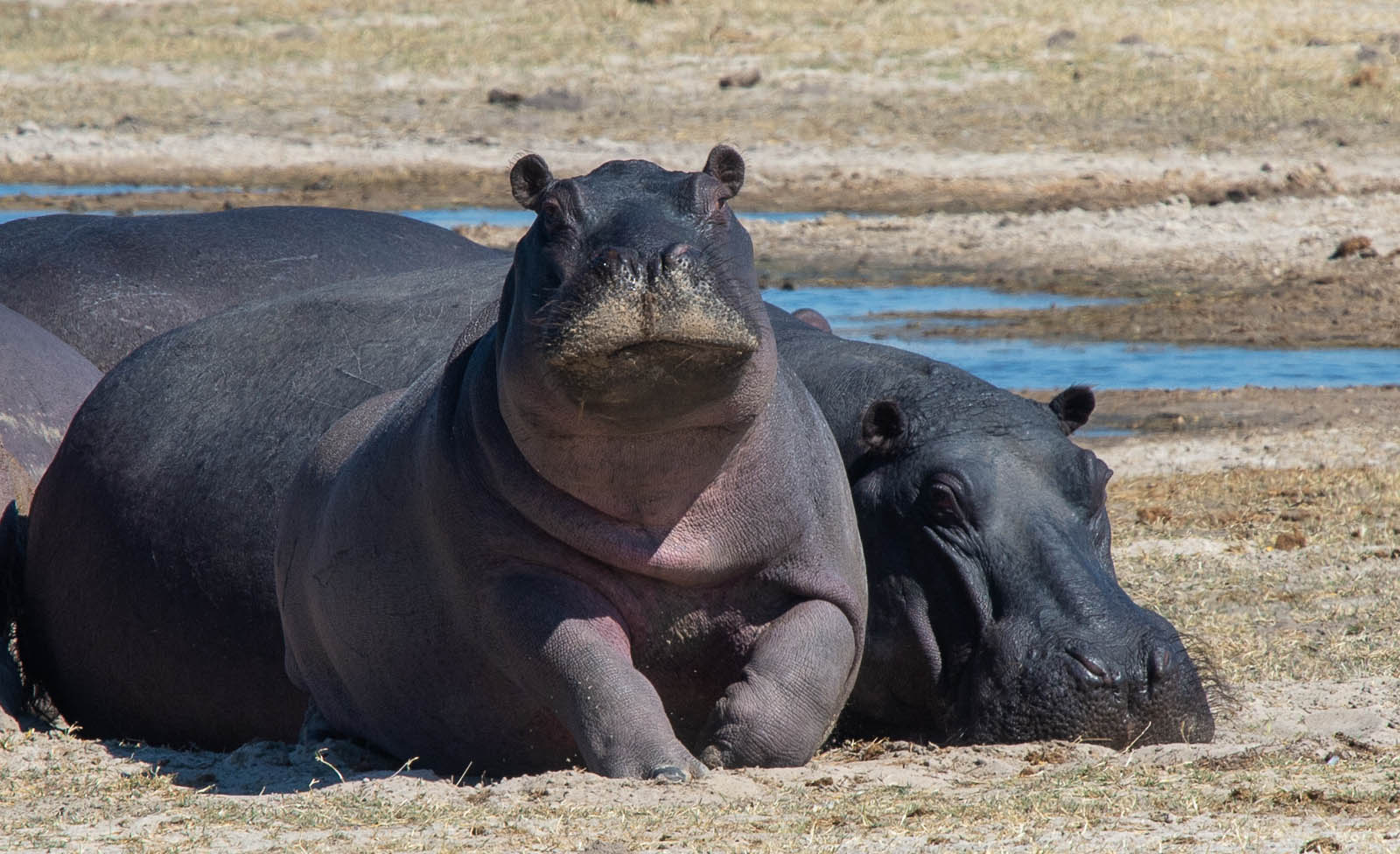 Hwange & Mana Pools
The last week of our Zimbabwe educational trip was spent at four different properties in Hwange and Mana Pools.  Overall, we rate Zimbabwe highly as an excellent value for money destination, particularly in the high season months from June through October.  It is also an attractive proposition for the shoulder season (April, May and November).  We often include some days in Zimbabwe with a South Africa or a Botswana trip; the well-known Chobe area in Northern Botswana can be added to Zimbabwe without having to use any additional charter flights.  There is also a great combination trip starting in south-eastern Botswana (Mashatu, one of the best big cat destinations in Africa), followed by the Matobos and then Hwange, and ending with Victoria Falls.  The guiding in Zimbabwe is the best in Africa with the Zimbabwe 'pro' guiding licence taking 5 to 7 years to obtain.  It sets the gold standard for the rest of the continent.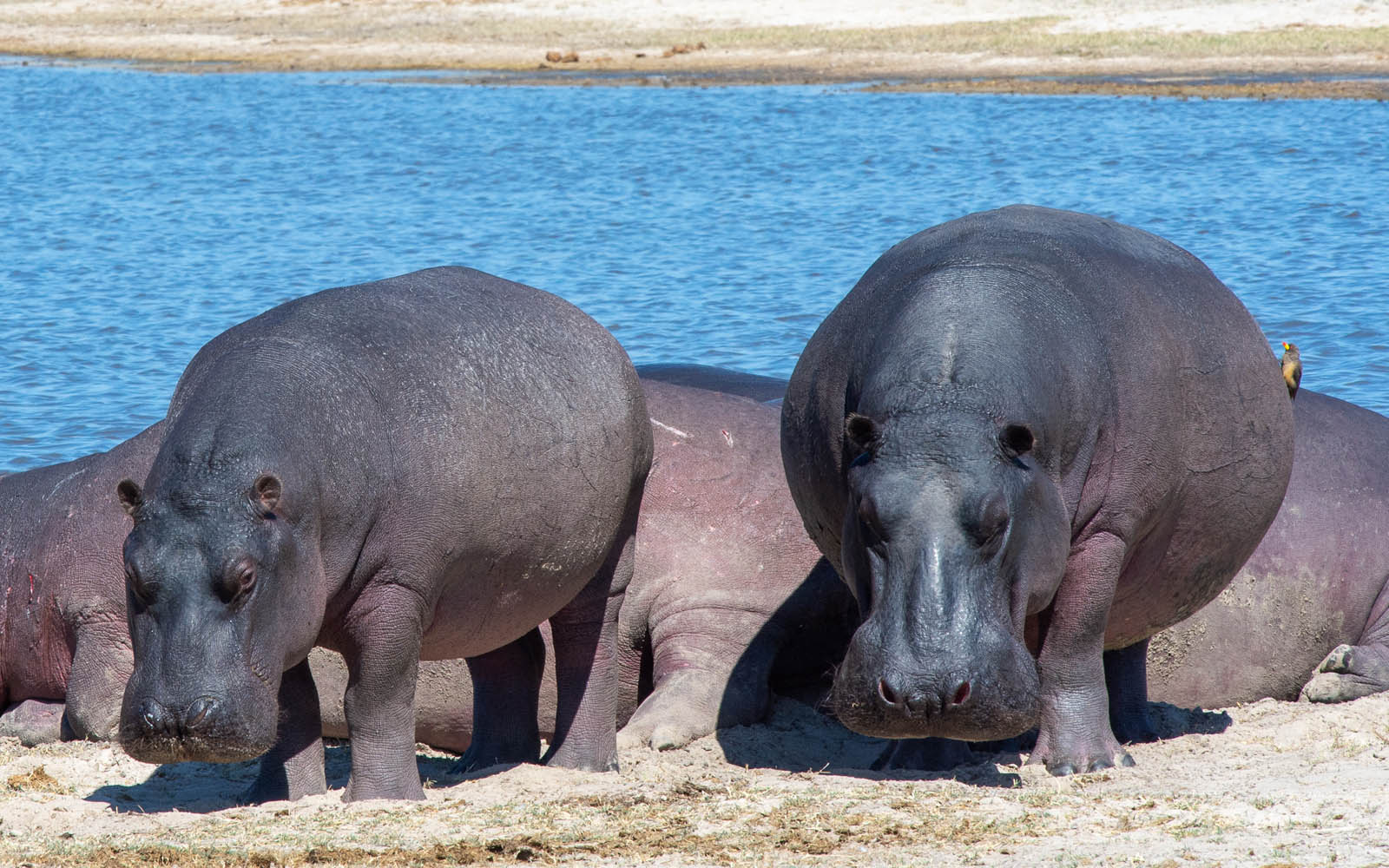 HWANGE NATIONAL PARK
Zimbabwe's massive Hwange National Park is one of the most important elephant sanctuaries in Africa, with as many as 30,000 elephants resident in the greater Hwange area.  In addition to the elephants, Hwange has good populations of giraffes, eland (largest antelope in Africa), zebra, wildebeest, and a good variety of predators including lions, cheetahs, leopards and also African painted dogs.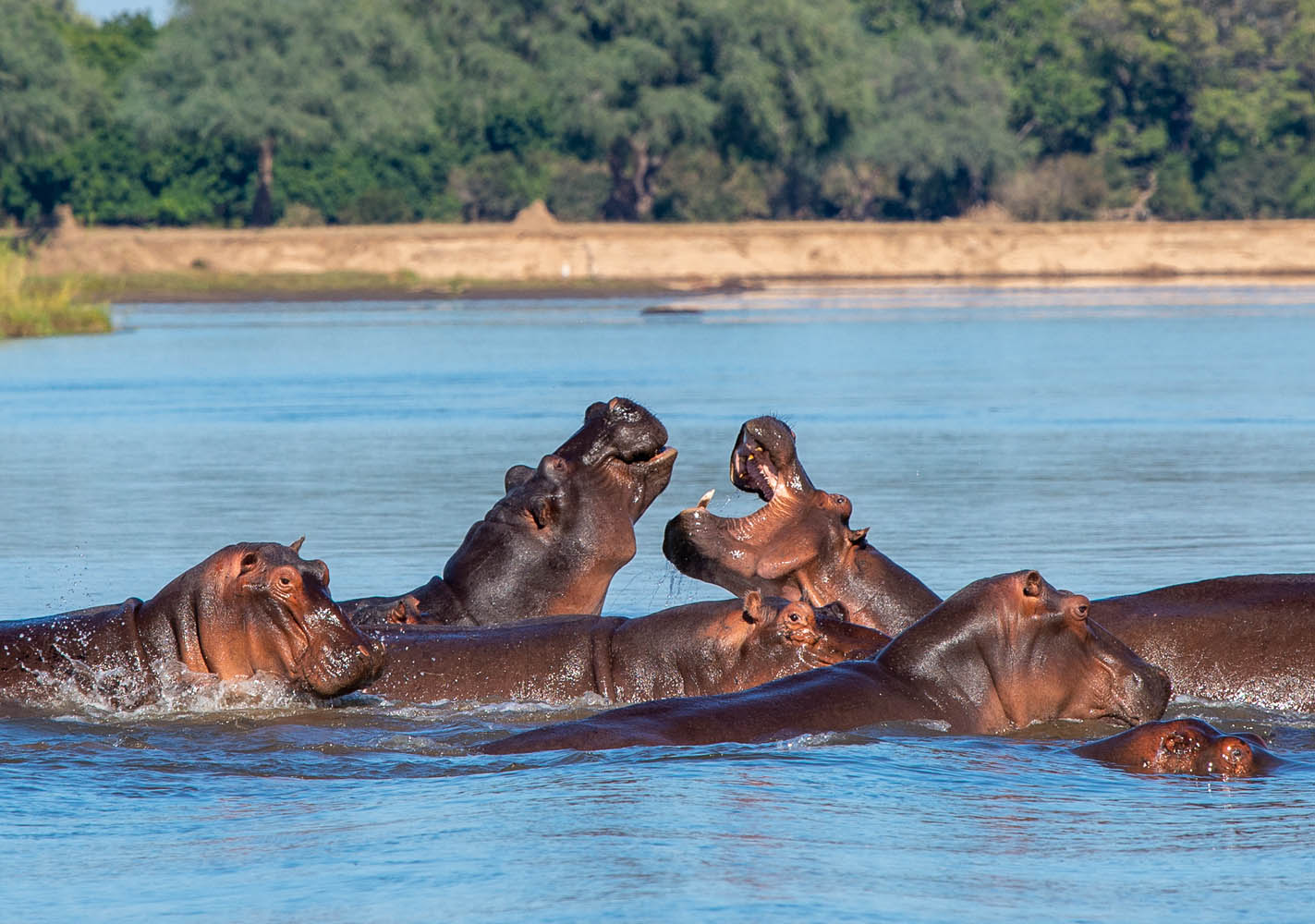 Hwange also has a couple of very special antelopes not generally seen elsewhere in Southern Africa, namely the majestic Sable antelope and the equally interesting Roan antelope, plus literally thousands of impala and various other smaller mammals.  The birdlife is superb with many birds of prey and colorful bee-eaters, rollers, shrikes, and dozens of other families of birds.  Hwange is a prime walking area where you can spend a couple of mornings or afternoons on foot, with a professional guide introducing you to the fascinating safari experiences which can be enjoyed outside of the vehicle.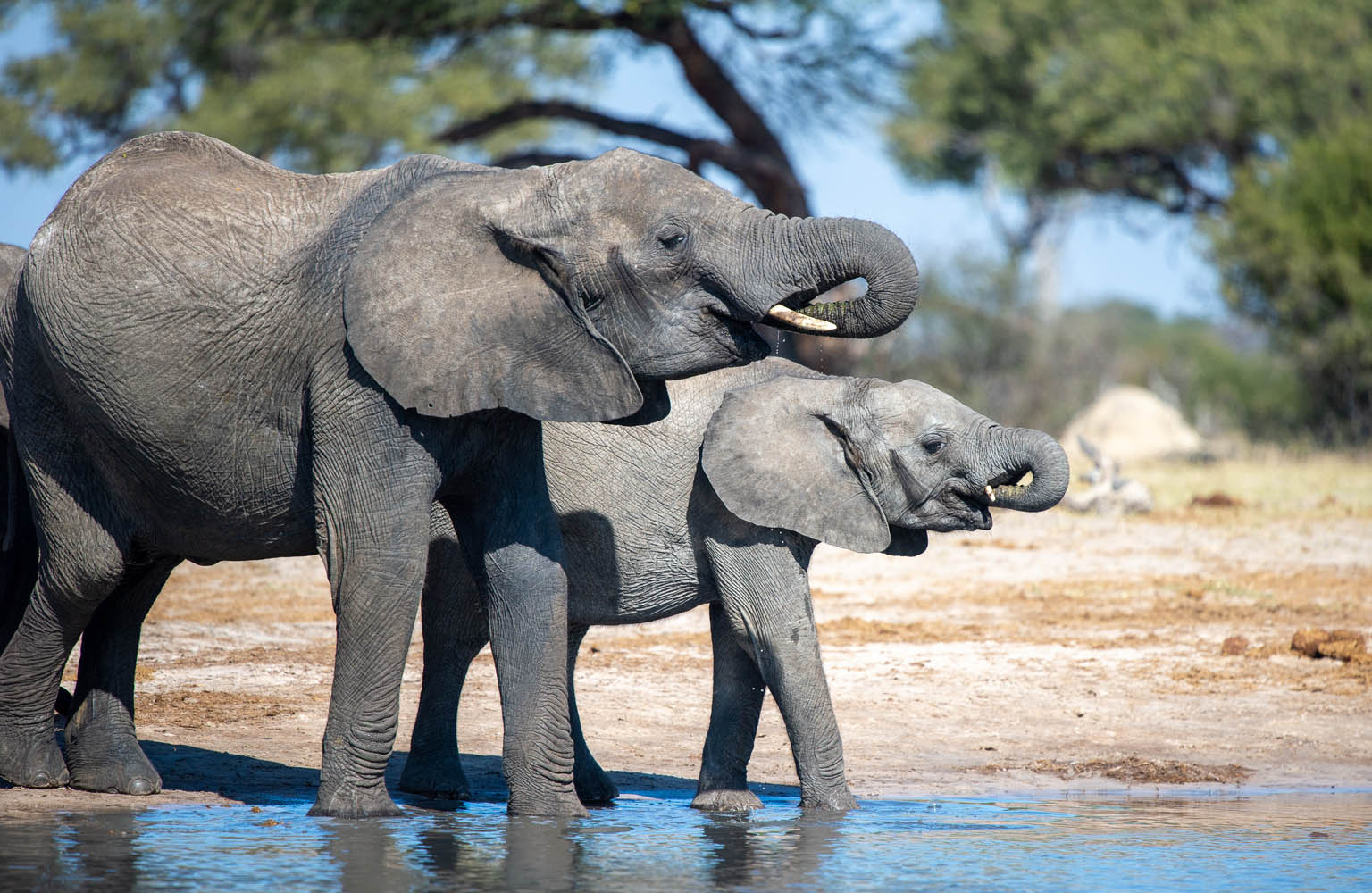 MANA POOLS NATIONAL PARK
Mana Pools is a near-legendary National park which lies along the lower Zambezi River in far north-eastern Zimbabwe.  Renowned for its game-viewing (elephants, big cats, buffalo, plains game & African painted dog), the area is highly atmospheric and for many seasoned safari goers, Mana Pools is the holy grail.  Being on the Zambezi river with the Zambian escarpment visible in the background (across the river), the setting is very special. Including Mana Pools makes a trip a bit more expensive on a per diem basis, due to the cost of flying there.  From time to time we do offer trips which include the flying at no cost, for a minimum stay of 3 nights at three different camps.  Mana Pools is well-known as an ideal park for foot safaris.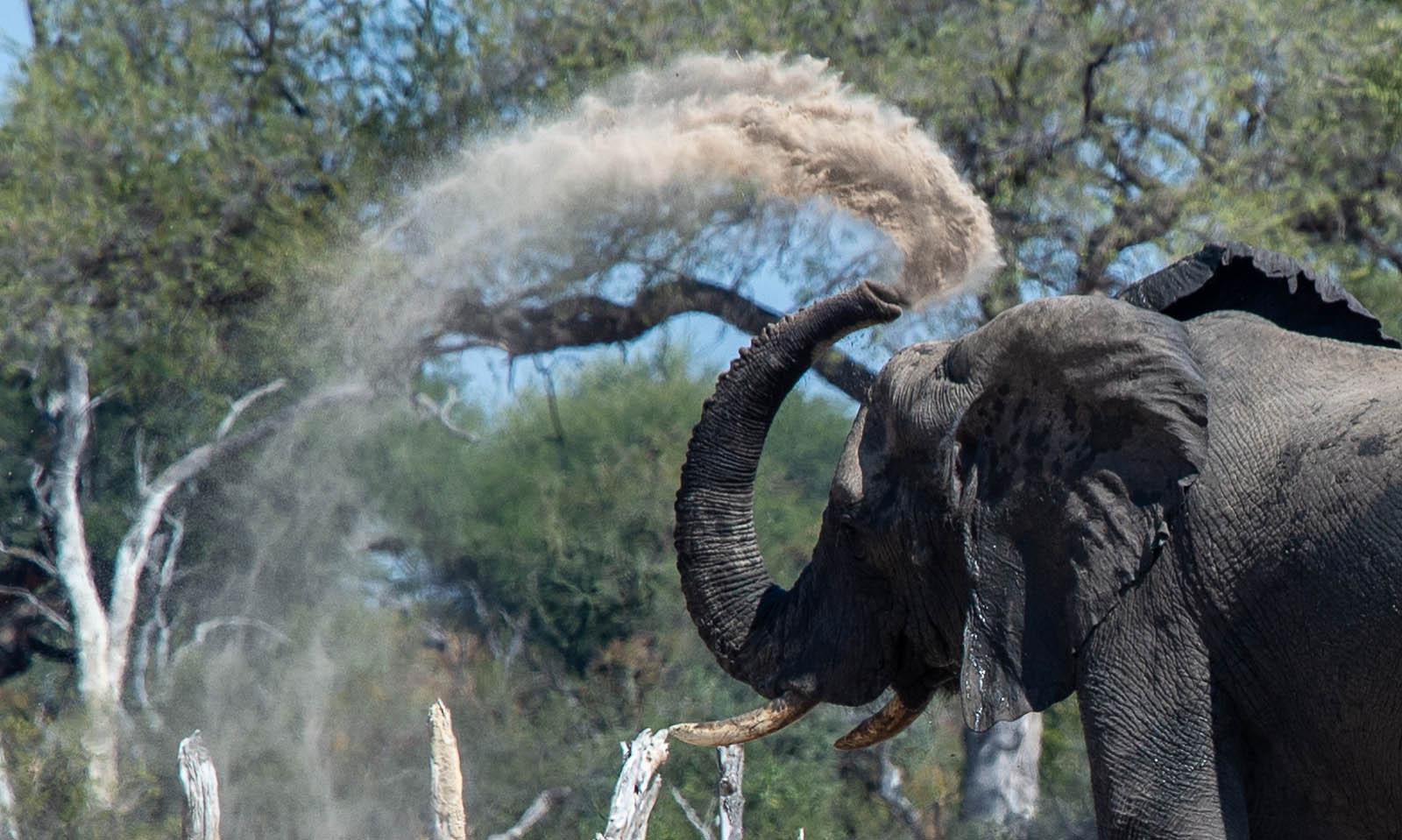 ELEPHANT EXPRESS RAIL CAR
Trundling along the western boundary of Hwange National Park in Zimbabwe on a rail car last June was a first-time experience for us.  Over the years, we've traveled from one African safari camp to another by road, air - including helicopter a few times - and by motor boat.  We were even poled from one Okavango Delta camp to another, in the local version of a dugout canoe, a mokoro.  Never by rail though, which made the Elephant Express trip into Bomani Camp quite special and certainly unforgettable.  Earlier that morning, we'd been driven from Vic Falls town to the Dete siding, covering the 110 miles in about 3 hours.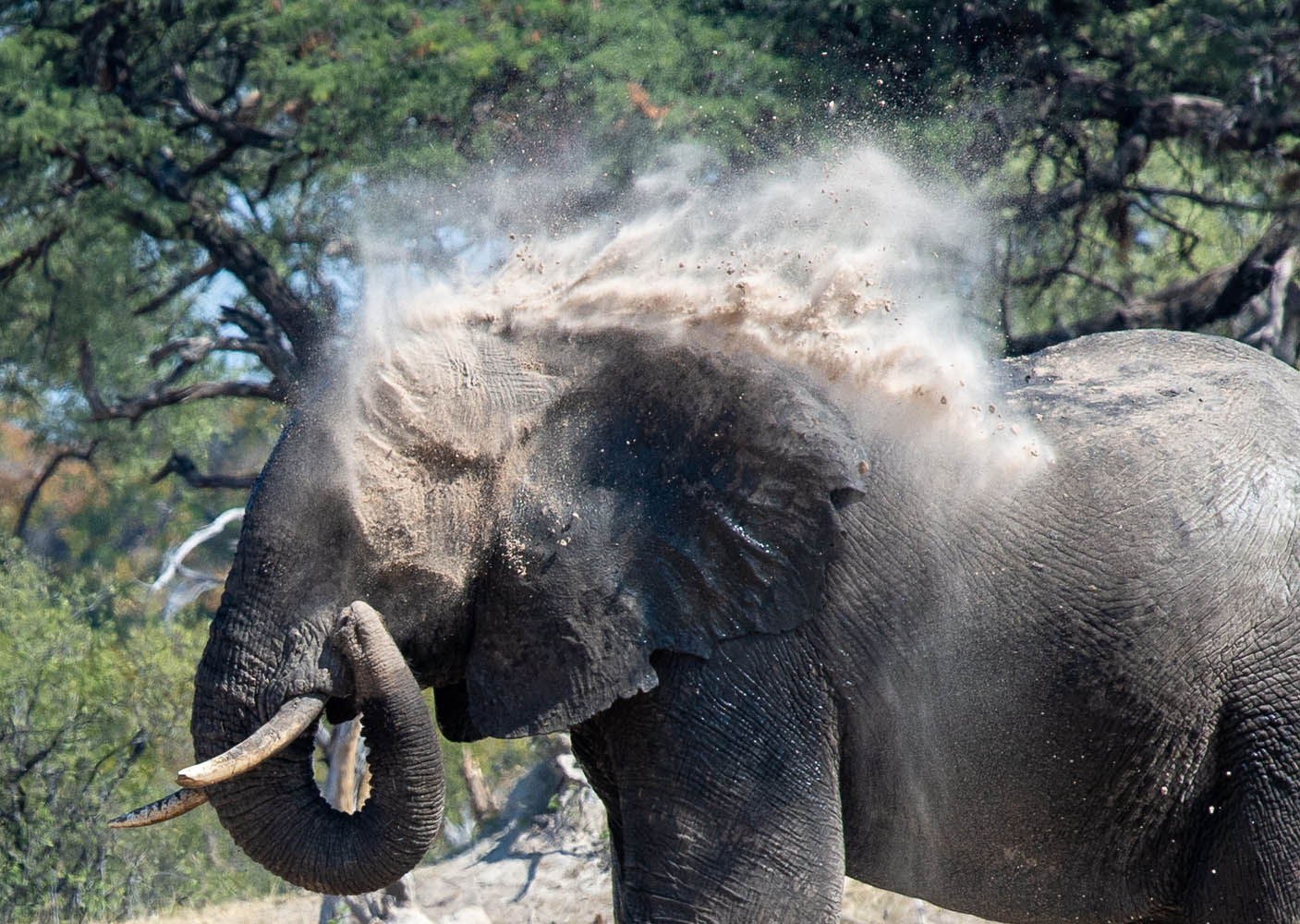 The next 50 miles or so would take another 3 hours but we would be traveling at a sedate 20 miles per hour along one of the longest stretches of straight railway line in Africa, making several stops for game viewing en route, seeing zebras, wildebeest, roan, sable, elephant, baboon and more.  A fun and enjoyable outing, which included lunch, rather than just another run-of-the-mill transfer.
The Elephant Express is a dual-engine single car tram which can seat up to 20 or so passengers in comfortable 'captain's chairs', complete with a toilet, lots of room to move about while the tram is underway, and great visibility for game viewing. Imvelo Safaris - who operate the Elephant Express - also provide drinks and delicious snacks en route.  Safety features include a design which makes travel possible either forward or backward, with an independent engine and gearbox at either end of the vehicle. The experienced railway engineers in charge are in constant communication with other trains in the area, there are sidings to allow traffic to pass, and because of the dead-straight line, there is visibility of 15 miles in either direction.  All in all a safe and entertaining way to spend some time in the bush, and particularly appealing for families with children.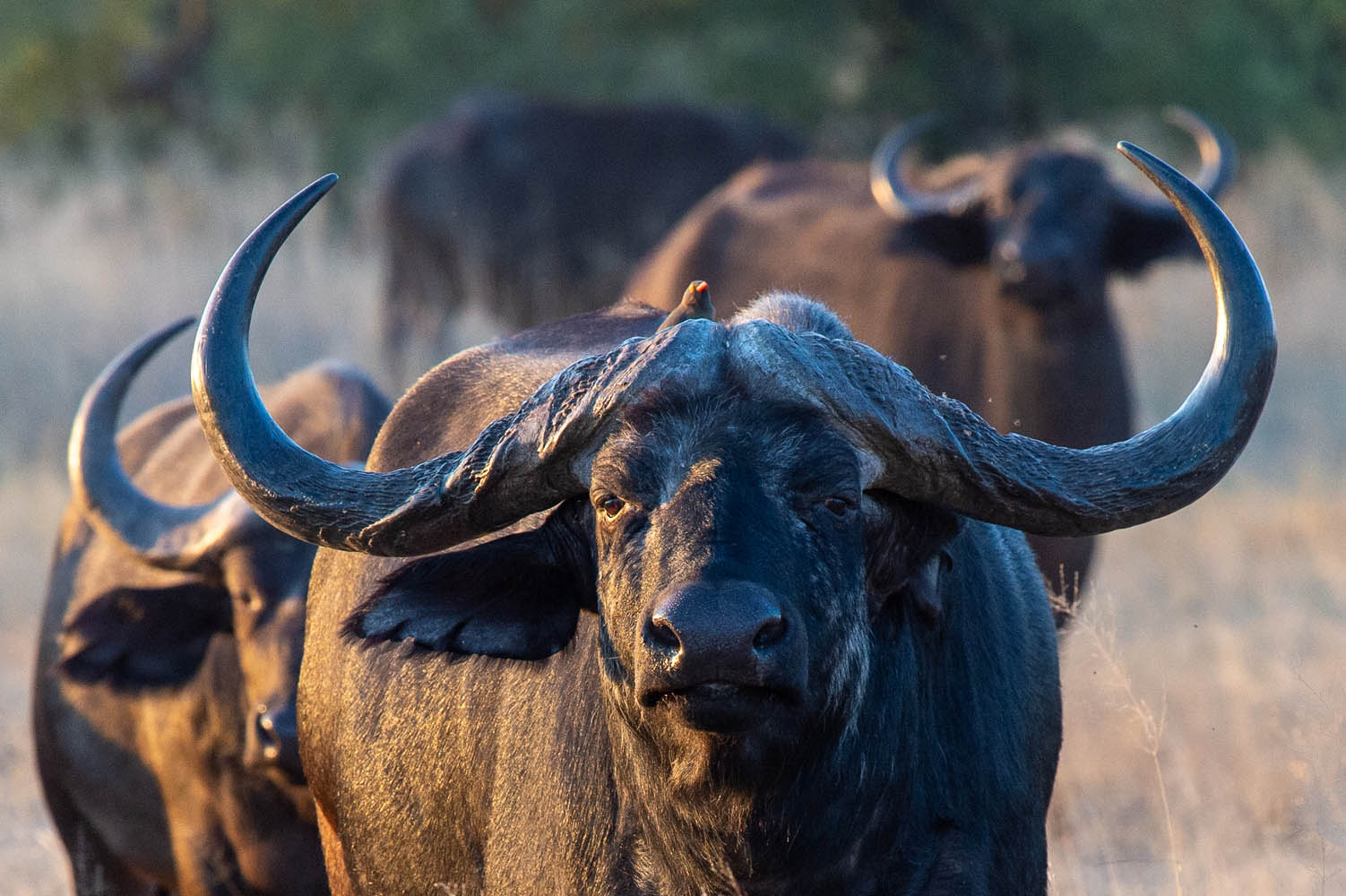 BOMANI TENTED CAMP, HWANGE
We arrived at Bomani at around 5:00 p.m. and went straight into a game drive.  Almost immediately, we were on the scene of a kill, with three lionesses feeding on a huge male kudu which had been taken down the previous evening.  The cats were active, walking around and giving us quite a thrill.  What a welcome to Bomani!  Not long afterwards, we were enjoying a delightful dinner around the campfire at Bomani, where the four of us shared Bomani's 2-bedroom family unit.  The spacious and well-equipped unit has two bedrooms; each with a bath, outdoor shower and adequate lighting.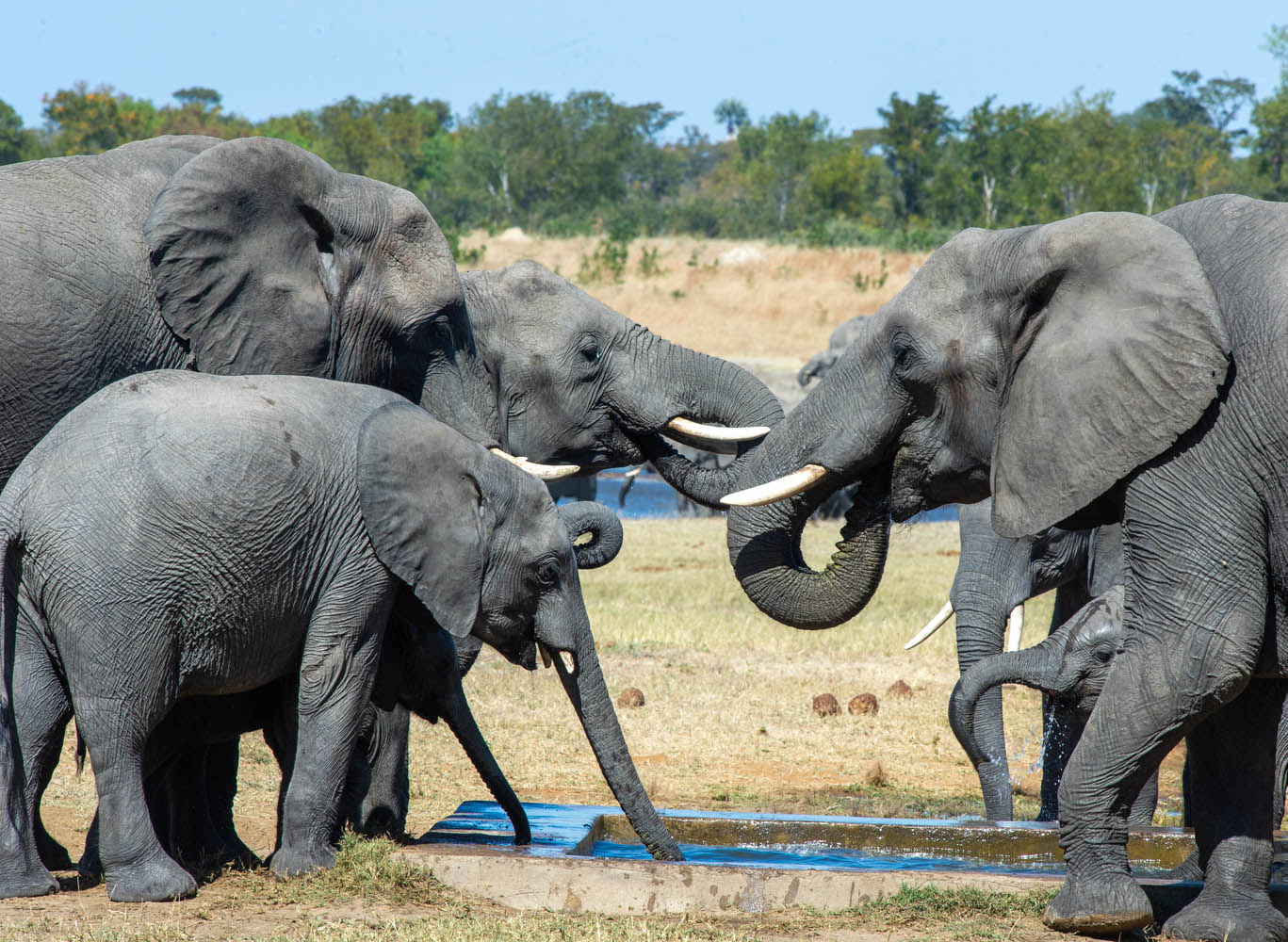 At first light the next morning, we went back to check on the lions.  As many as five of them were feeding on the kudu at the same time; the sense of urgency and survival of the fittest was palpable, with the lions just barely tolerating each other as they tore away pieces from the rapidly decreasing supply of raw meat offered by their kudu prey.
Simultaneously - and then more so once the lions departed the carcass - we watched the antics, anticipatory squabbles and opportunistic behavior of a host of scavengers in waiting.  Several hyenas - on the scene when we first got there - soon beat a retreat when it became clear to them that they would be no match for this ferocious gang of female felines.
Several black-backed jackals kept hanging about on the perimeter of the action, hoping to dart in when there was a chance.
Much more visible and obvious were the several dozen or so vultures and a few eagles and storks perched in nearby trees.  They were a mix of whitebacked, hooded and white-headed vultures, with a couple of tawny eagles and marabou storks as well.
A melee soon developed around and on top of the kudu carcass as the horde of vultures swooped in and greedily tore at what remained of the once noble antelope.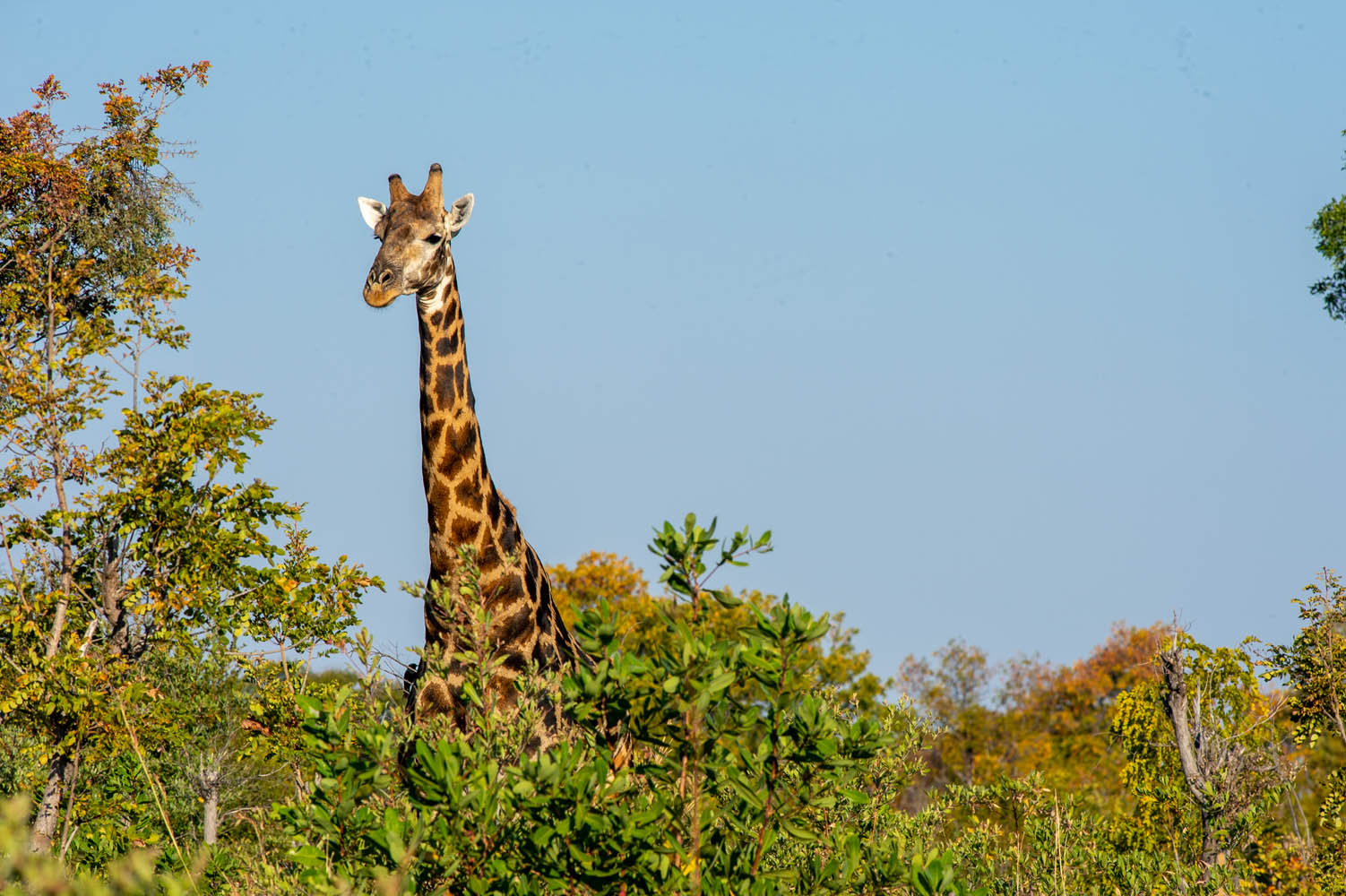 From there we drove to Ngamo village for a 40-minute visit with Mr. Johnson, the Ngamo village headman, and his wife Dorothy Ncube.  They talked to us about the village and the extent to which Imvelo assists them with funding for clinics, school rooms, kids' school fees and other projects. As cultural activities go, this is one which we enjoy ourselves and we highly recommend it to our guests. 
Then we were off to Stoffie's Pan where we watched and photographed dozens of elephants while enjoying lunch under a huge tree.  A bit later, we got a lot closer to the ellies, observing them from within a sunken blind.  We came away with some great photos and videos but more importantly memories of an unbelievable close up experience, like being in the stable with the horses.  Indeed, as we have seen and experienced several times, herds of elephants coming to pans to drink is a special and highly predictable Hwange experience in the dry season.  All you have to do is show up and make yourself comfortable at one of the water holes.  The elephants will come.  Sometimes by the dozen and even in the hundreds with one herd replacing another, day in and day out.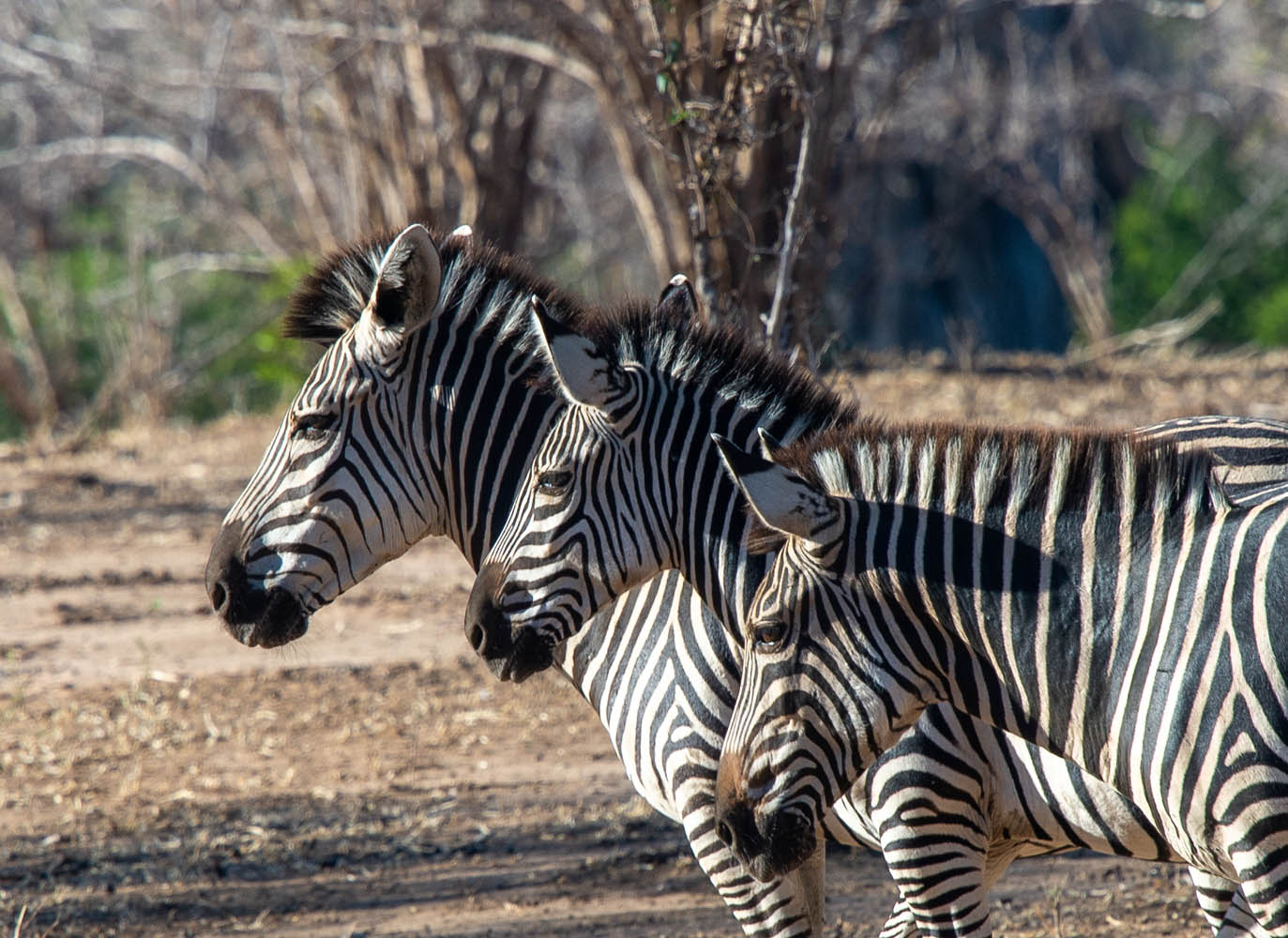 In the afternoon we took a short drive around Bomani camp, observing buffalo and lions.  That evening for dinner, we literally could not go down to the fireplace for 30 minutes due to hundreds of buffalo grazing within 20 meters of the front of camp.  When we finally did make it down to the seating area, the main course - some breaded pork chops - turned out to be worthy of a 'buffalo delay'.
DAVISON'S CAMP, HWANGE
From Bomani, we transferred to Davison's Camp, in the Wilderness Safaris concession in southern Hwange.  On the way we drove by a rather quiet Ngamo Pan, but we did see a couple of majestic Sable Antelope en route, as well as elephants, wildebeest and zebras.
Once we had settled down at Davison's it was time for brunch.  Davison's is an 'adventure category' camp, which puts it among Wilderness Safaris' best value properties.  We were in room #1, a family room which had two connected tents, each with a bedroom, shower and toilet; the latter being more private in the second bedroom.  The rooms had decent lighting, a good hot water supply and plenty of space.  All of the rooms at Davison's face a large and active water hole.  
The afternoon game drive was initially slow, but ended up being great when I managed to capture a nice photo of a Lilac-breasted roller, and we saw some elephants in near perfect light, as well as a coalition of two male lions, again with good light.  We also got lucky with a glimpse - not much more than that - of about 6 African Painted dogs running at a steady clip.  Plus there was a bonus on the way back:  an African wild cat in the road. 
Dinner was excellent:  carrot soup, roasted duck, ratatouille, steamed vegetables and baked  sweet potato.
The next morning we did a guided walk of about 90 minutes with our guide Mike, in tall acacia woodland on the edge of Ngamo Pan.  We went in search of elephants but had no luck with them.  It was an interesting outing nonetheless.  That evening we were the guests at a 'local night' dinner which featured the best steak of the trip thus far, together with sadza (the local version of ugali/pap/polenta) with some interesting sauces, corn, spinach and a traditional malva pudding to round things off.  Did I say that going on safari is not a good time to concurrently go on a diet?  
The next morning we did a 'do over', embarking on a  second walking excursion with Mike to Ngamo Pan.  This time, after a short walk, we successfully got close to a large bull elephant.  After lifting his head in our direction momentarily, he relaxed and continued feeding.  From a safe vantage point behind a large fallen tree trunk, we watched and listened to him feeding, got a few photos and videos and then departed single file leaving everything 'status quo'.  Which is of course the ideal outcome with any approach to dangerous game:  success means not displacing the animals.  
A bit later we found ourselves back in camp, enjoying brunch with a large herd of sable antelopes in the background, quenching their thirst at the camp waterhole.  En route to the airstrip, we watched two male sables dueling, after first walking around in a circle as if they were ritualistically preparing for battle.  The duel ended up becoming rather heated but we had to leave the two boys behind, for fear of missing our flight.
RUCKOMECHI CAMP, MANA POOLS
The next stretch of our journey would be by Cessna Caravan to Kariba airstrip (1 hr 15 minutes) for refueling, 20 minutes on the ground, and then another 20 minutes to Mana West airstrip.  From Mana West it took about 20 minutes to drive to Ruckomechi Camp,  arriving there at just about 4:00 p.m.  A little later we went out on a short game drive with our guide Kamba.  He was friendly and helpful and quite effective in finding the wildlife, coming from a tracking background.  In the Ruckomechi area, there was a fair amount of general game around, the highlight being a  group of four lions including a handsome blackmaned male.  It turned out that the male and one of the females resting close by was a mating pair, so we observed the rather brief but intense mating activity a couple of times.
Dinner at the camp was served 'family style', except for one family party of 5 who opted for their own private table.  The choice is up to the guests.  The food at Ruckomechi was good and ample, served buffet-style.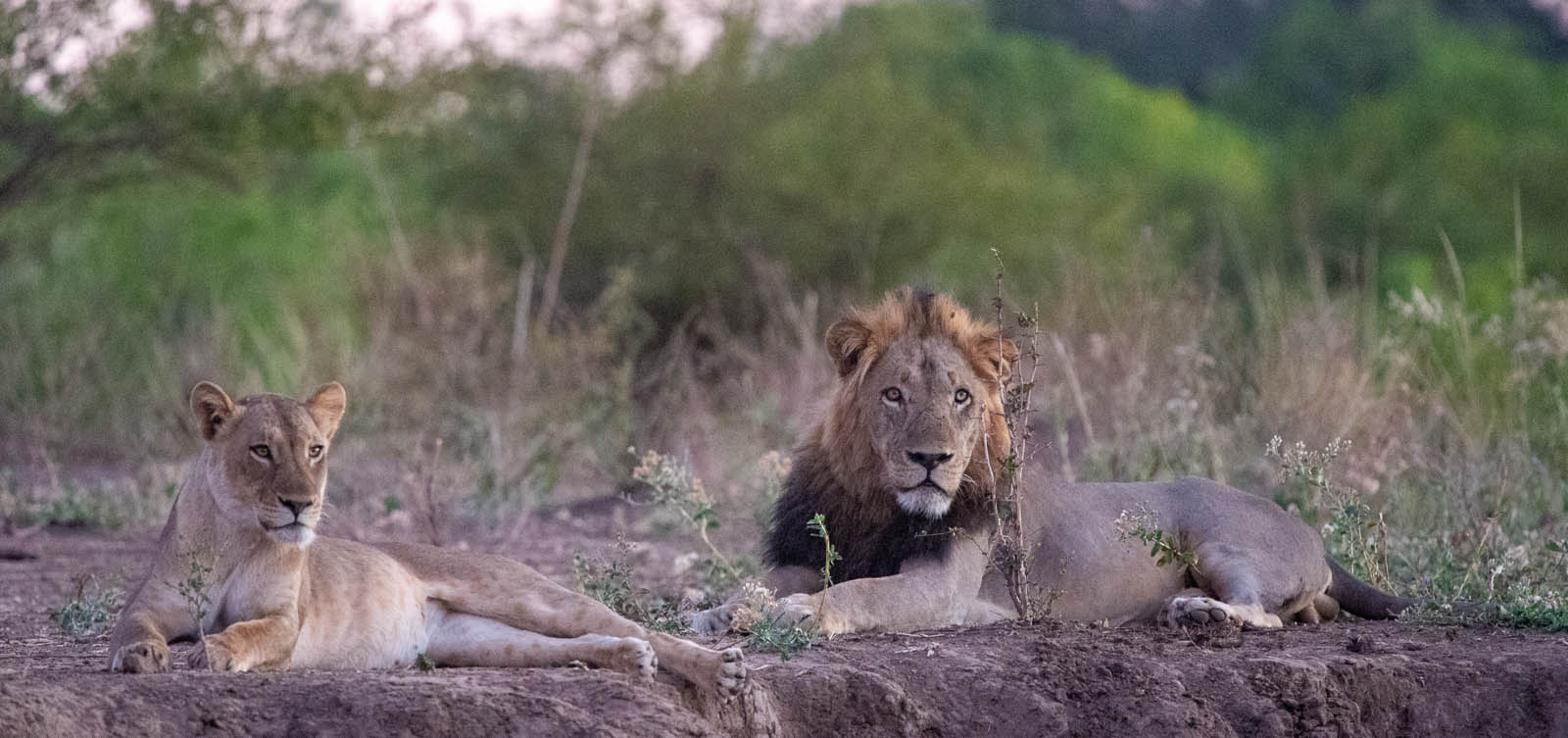 Our morning game drive the next day was fairly quiet but we did see a few elephants, some kudu, impala and zebra and finally, a good-sized herd of eland.  It was fantastic to be back in the beautiful Mana Pools area.  There are few places in Africa which rival it for setting, natural beauty, game-viewing and atmosphere.
In the afternoon we opted to take to the water, for a boating and fishing outing on the Zambezi.  The fishing was not the best, with a few strikes but nothing landed.  The highlight of the day was a herd of about 12 elephants (including two tiny ones estimated at about 7 to 8 months old) swimming across the main channel of the Zambezi through deep water in excess of 20 feet.  At times, just the tips of their trunks were visible.  It made for an amazing, dramatic spectacle and we were all relieved to see them clambering out on the Zimbabwe side, the older ones assisting the smaller individuals and the babies.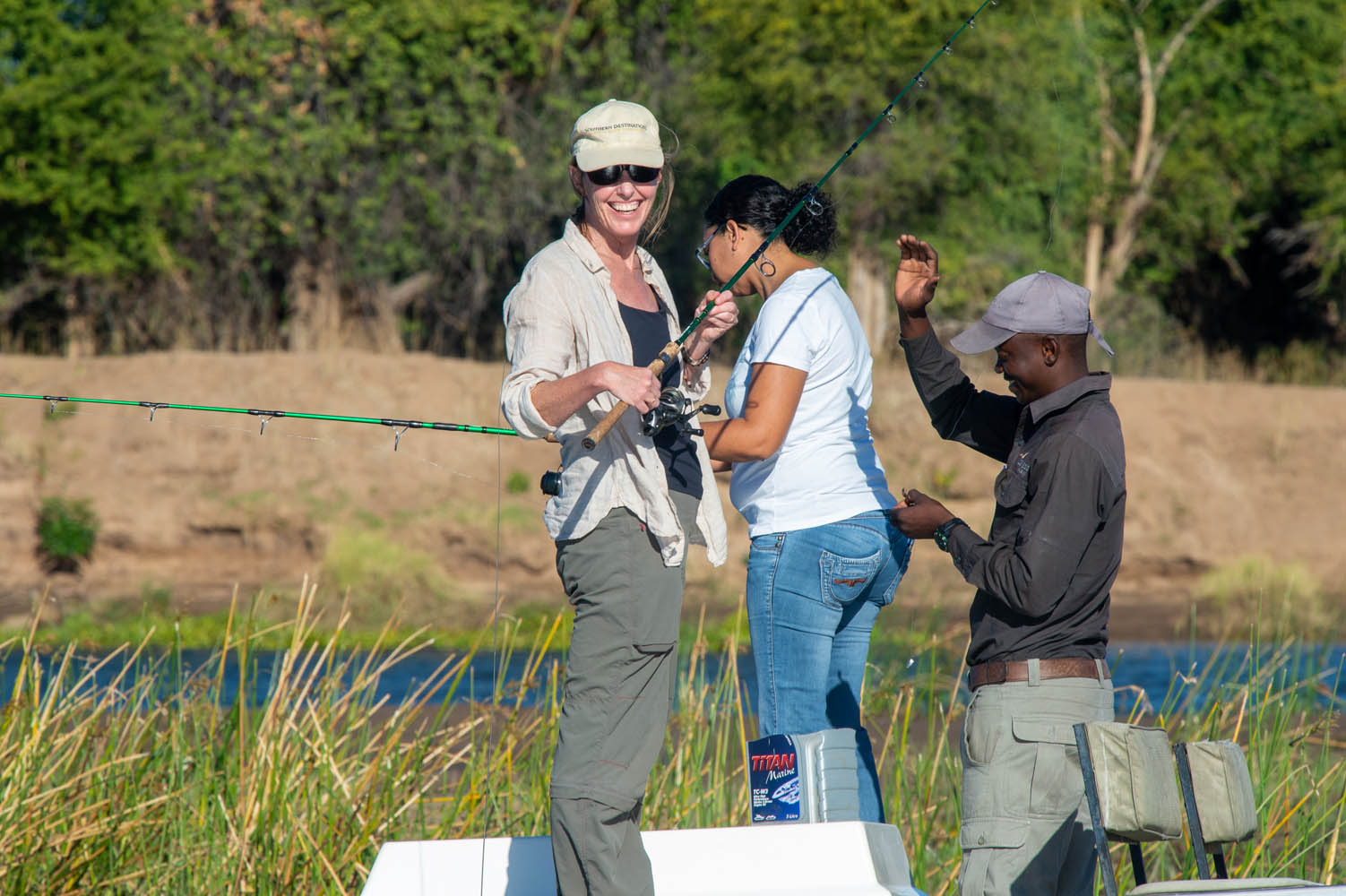 CHIKWENYA CAMP, MANA POOLS
We took an early morning flight from Ruckomechi to Chikwenya of about 50 minutes total duration, pretty much due east, following the direction of the Zambezi.  From the all-weather airstrip - with asphalt surface - it was a short drive to camp.  We liked what we saw of the new Chikwenya:  the setting on the Zambezi, a large and comfortable lounge and dining room and separate bar area.  Stylish and 'safari chic' but tasteful.
Our large room had a 6-panel door which opens to a superb view over the Zambezi and the Zambia escarpment in the background.  It had an indoor and outdoor shower, bath, decent lighting, a huge bed with mosquito net, and a verandah with comfortable seating.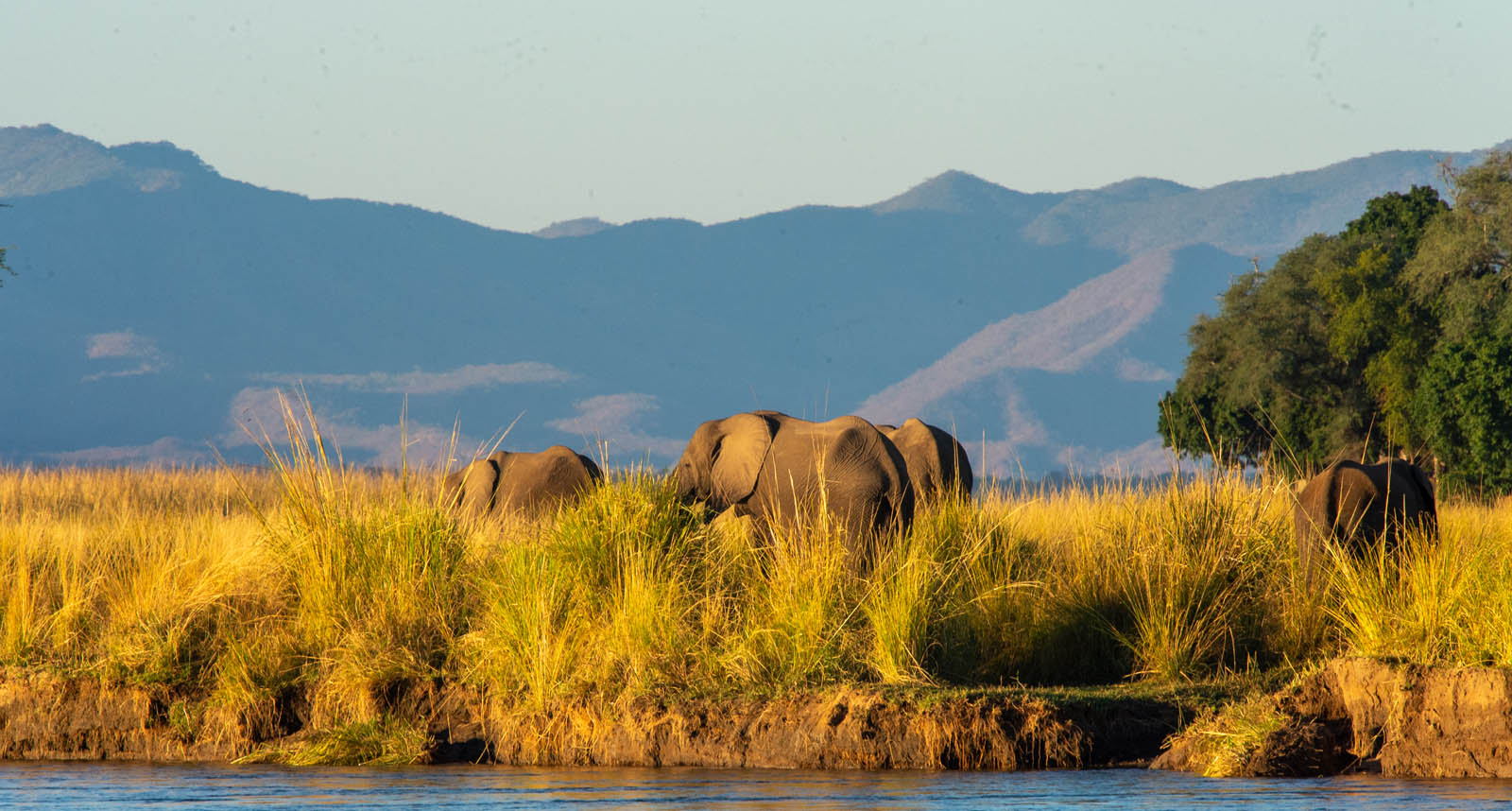 The following morning we went on a walk of about 90 minutes with our legendary guide Foster Siyawareva, who has been a professional guide for 30+ years.  We checked out some interesting terrain with a prominent red clay cliff, observing a huge troop of baboons playing and looking down at us from the top of the cliff.
That afternoon's game drive out of Chikwenya covered the area around the camp and it left a lasting impression that the concession is one of the most visually striking safari areas of any we had ever been to.  Driving through what feels like an orchard of magnificent albida trees, the views over the Zambezi and the Zambia escarpment elevate the experience into the pinnacle of natural beauty and visual impact.  There were animals everywhere:  impalas, kudu, zebra, eland by the dozen, and elephants around every corner.  Mana Pools is simply the best!  We did not see any big cats that afternoon but it really didn't matter.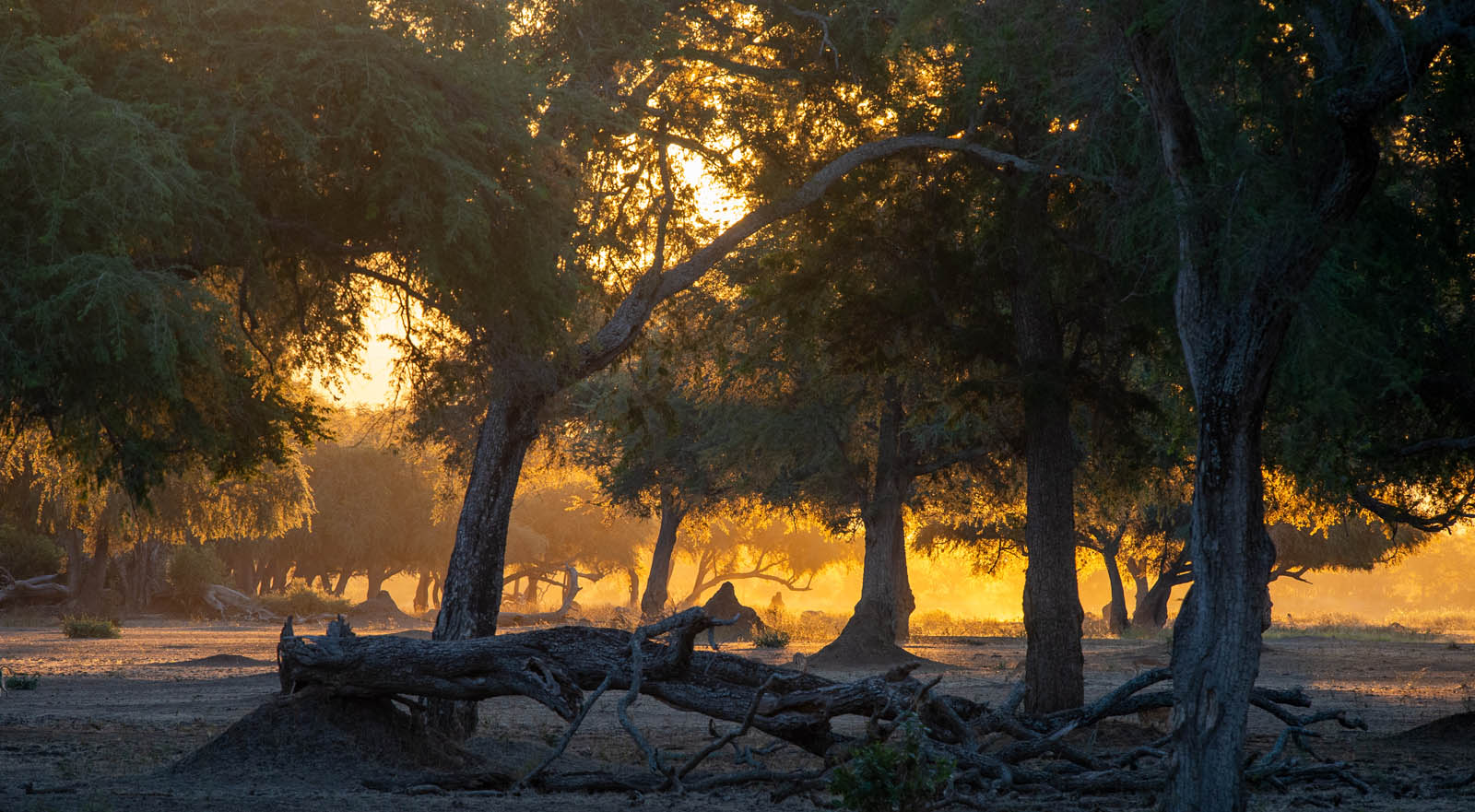 Early the next morning we were back on the water for another stab at tiger fishing.  This time around with better effect with one of our party landing a trophy-sized (larger than 10 lbs) tiger.  It was quite exciting for her and for all of us on the boat!
In the afternoon, we enjoyed yet another good and productive game drive at Chikwenya with two separate lion sightings, together with some special displays by two elephants who reached up into the lower branches of the Albida trees, just about standing on their hind legs.  It seemed fitting that this most typical of Mana Pools scenes would conclude our memorable stay at Chikwenya, and in the Mana Pools area.