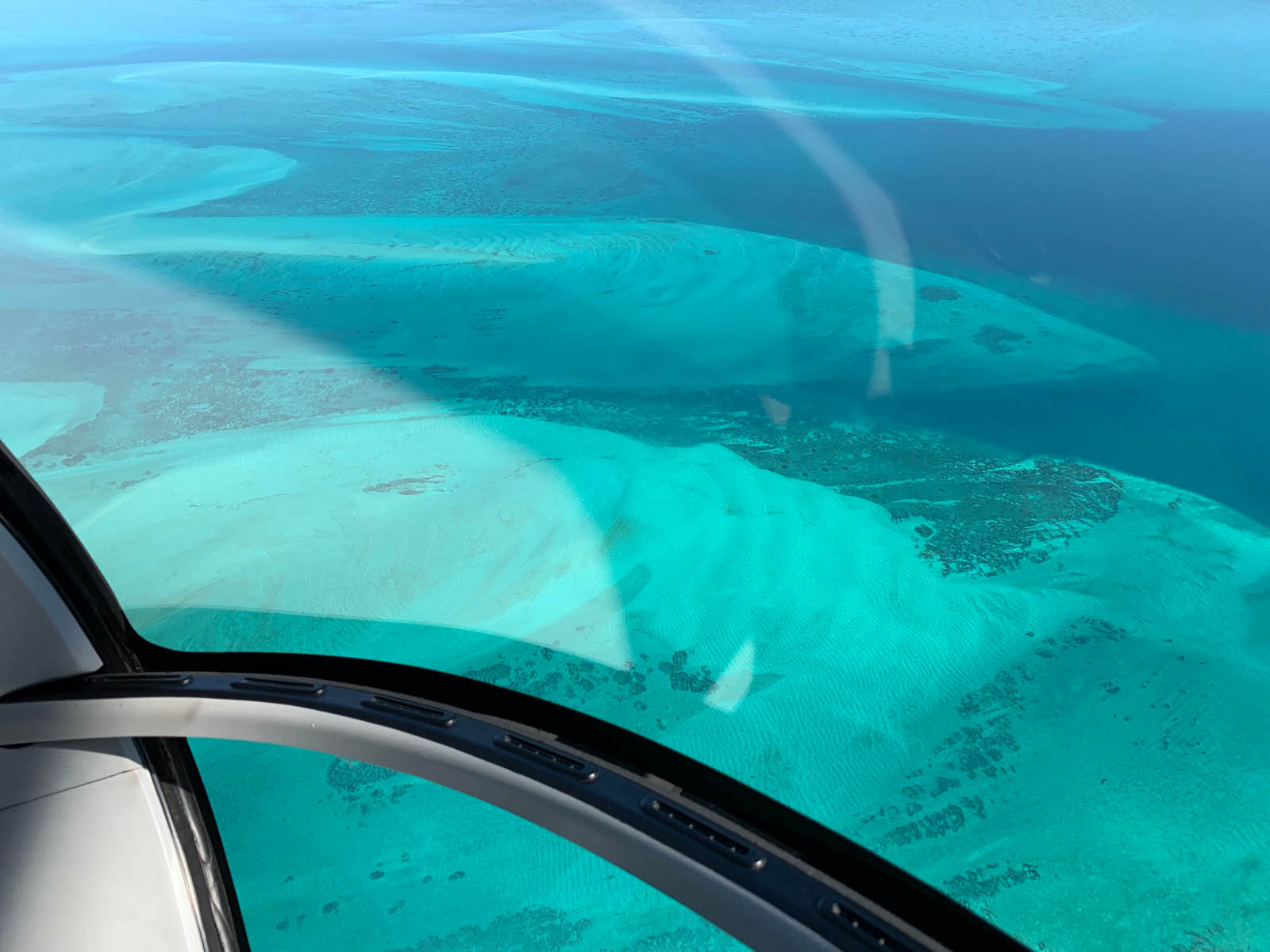 A Visit to Benguerra Island, Mozambique
In June last year, we made our first visit to Mozambique, spending three perfect days at Azura Benguerra, a secluded, beautiful spot with stunning views over the clean, blue water of the Mozambique Channel. Together with two other couples – both on their honeymoon – we arrived in a glass-bottom helicopter, after a short flight from the mainland. Even though we were airborne for a mere 8 minutes, the visual impact will stay with us forever. It's like having all your imagined visions of an Indian Island resort come to life, right in front of your eyes. A tiny, heavily forested island ringed by a seemingly endless, brilliantly white beach.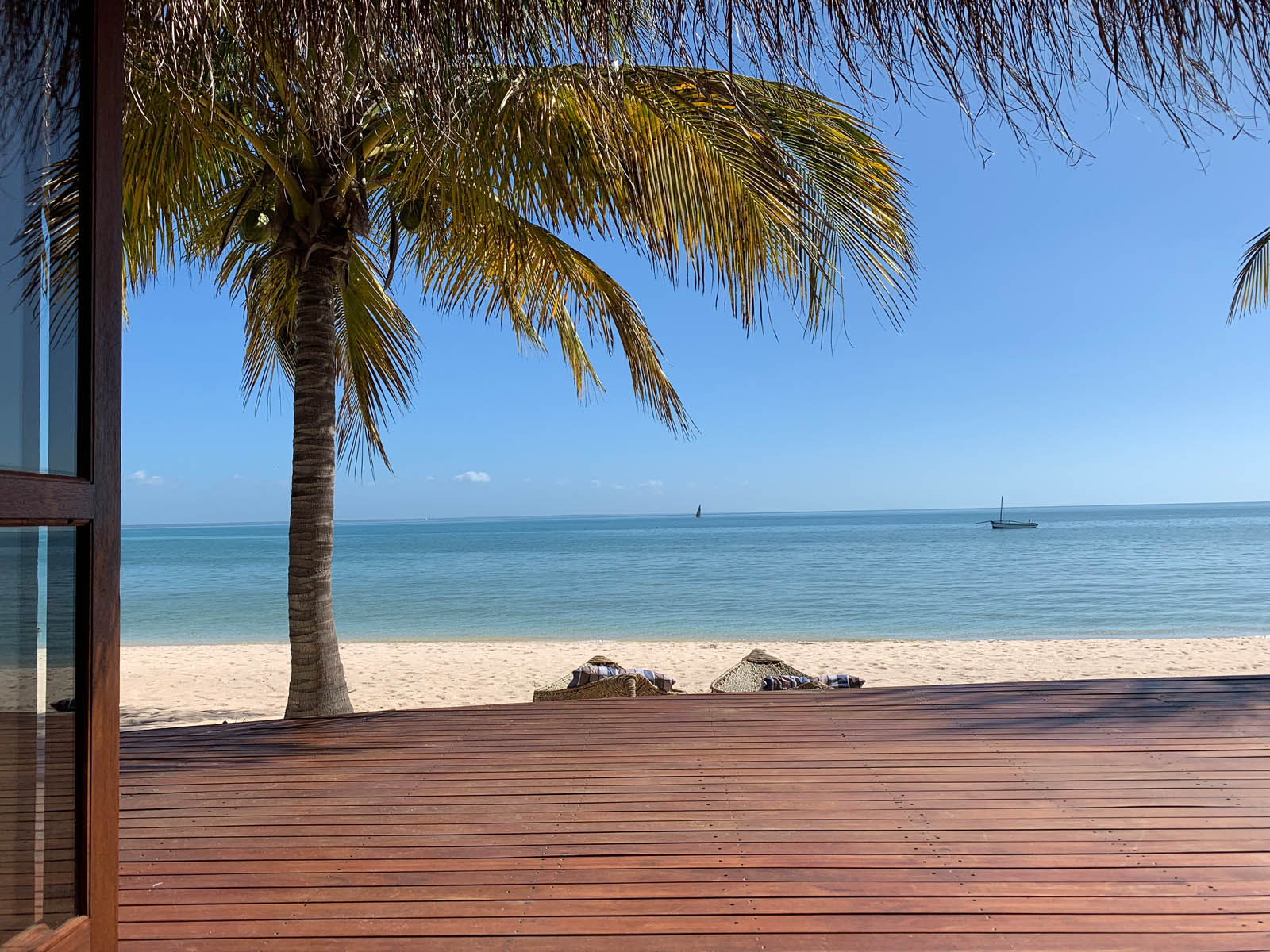 Around it, a huge expanse of blue and turquoise water, with sandbanks and reefs creating a shimmering underwater mosaic. We would soon find out that our first impressions of Benguerra were right. It is a barefoot paradise. Miles of soft, white sand, a 'get away from it all' setting and ambiance and with the added bonus of being eco-friendly and part of a community based project where the local islanders benefit as much as the visitors.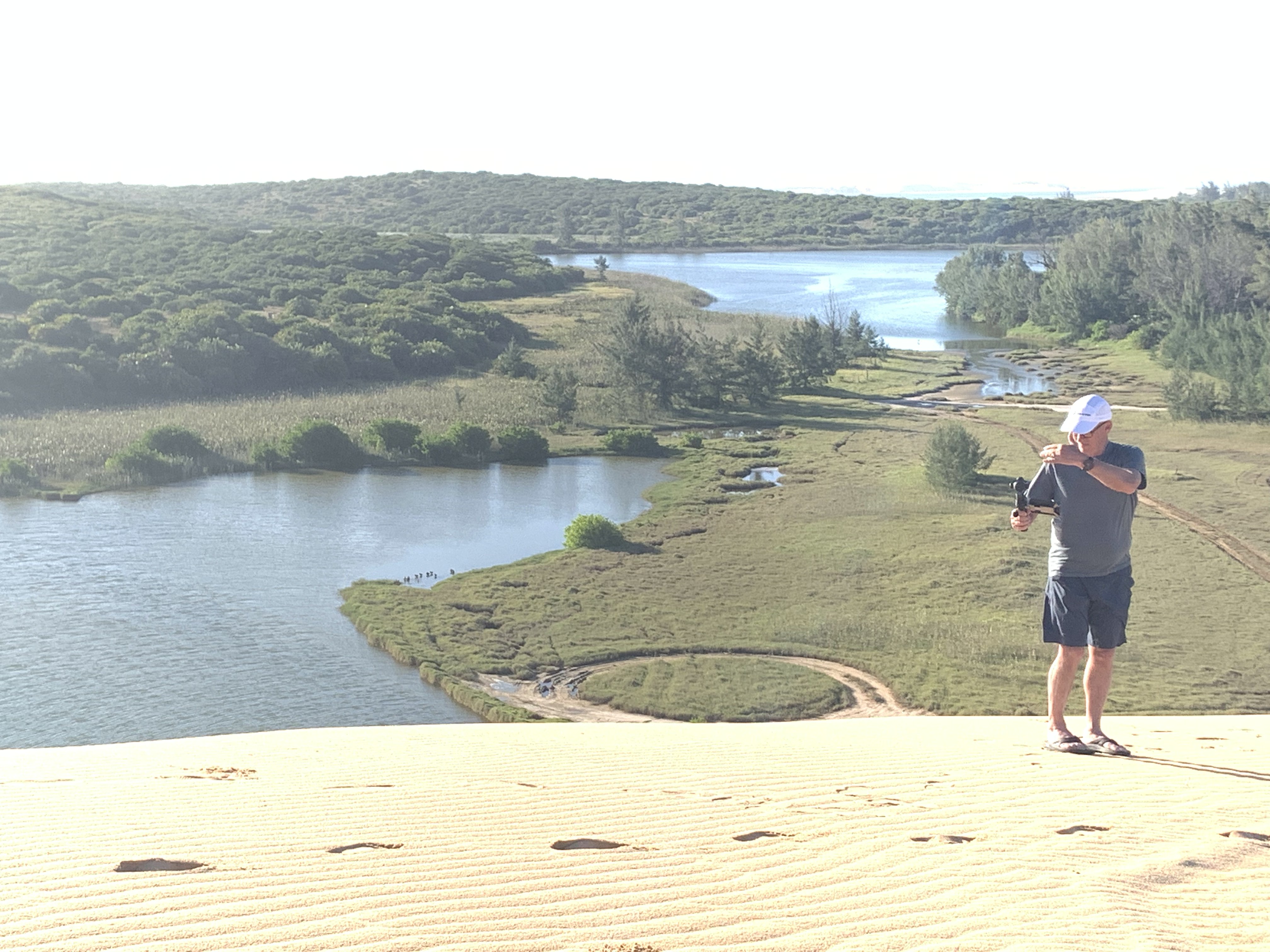 At Azura Benguerra, just 20 villas are nestled along a picture-perfect stretch of beach, with all the creature comforts you could wish for including private pools, a Mozambican butler-host to look after your every need, fish and seafood fresh from the ocean, a great range of activities and experiences, and an African spa to relax in. What is more, Benguerra Island is blessed with hot and sunny weather year round. Temperatures are generally in the low to upper 80's Fahrenheit, and rarely fall below 68 degrees even at night. The water temperature is gloriously warm, and ranges from 75 to 85 degrees Fahrenheit.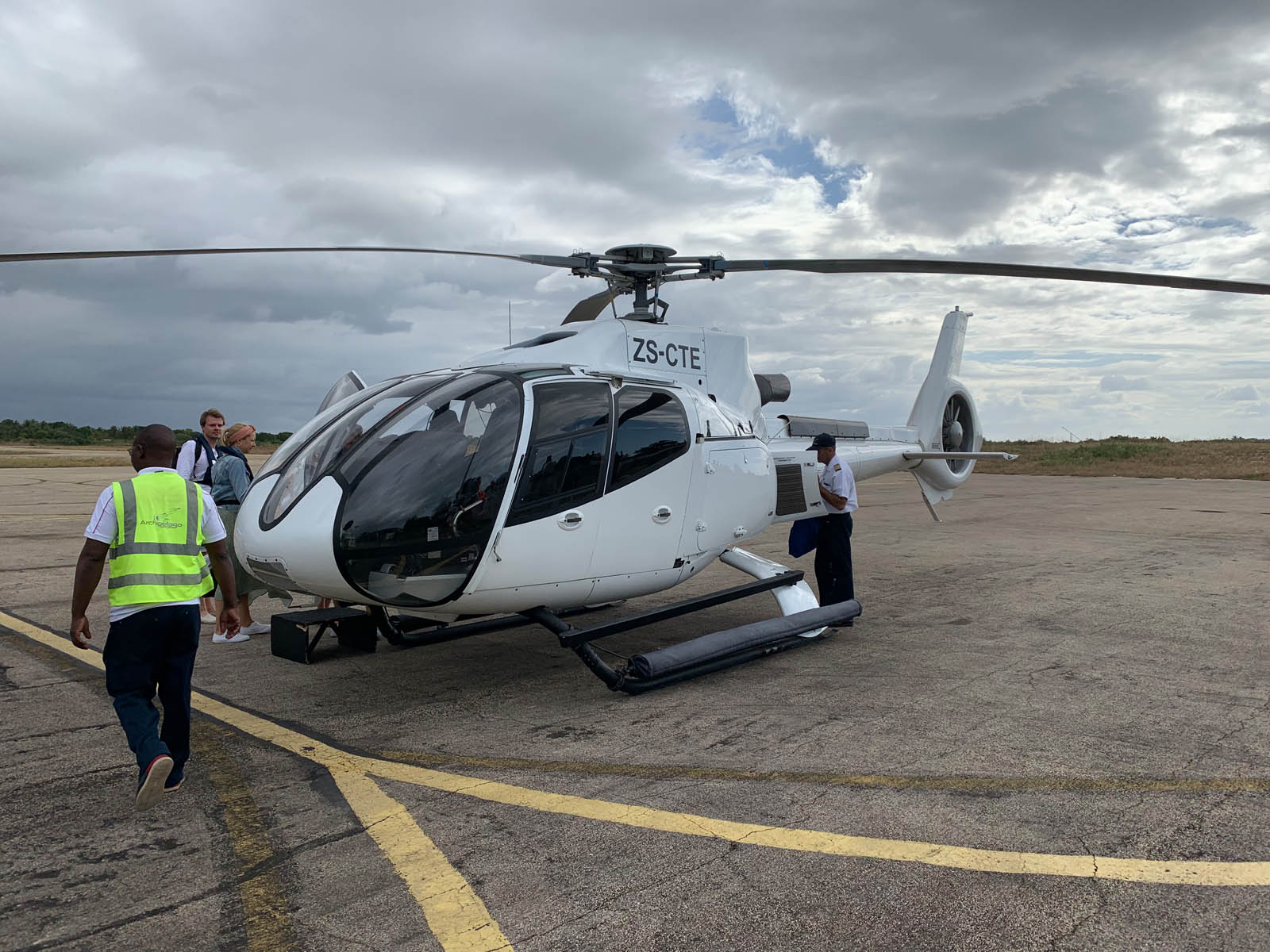 All of the villas are just footsteps from the beach, yet designed with seclusion in mind. Tucked into an indigenous and surprisingly 'birdy' garden, the villas are a haven of rest and relaxation, where you are truly in tune with the environment. We were in villa # 15. We found the bedroom to be quite spacious; we loved the view from the large king size bed right to the sea, the abundant birdlife, and we made ample use of both the indoor and outdoor shower as well as the bathtub. If you really need it, there is a desk with plenty of workspace. We didn't see any mosquitoes. The days were one long highlight, with a little bump at 5 pm which was complimentary cocktail hour, with your private butler coming around with the drink of the day.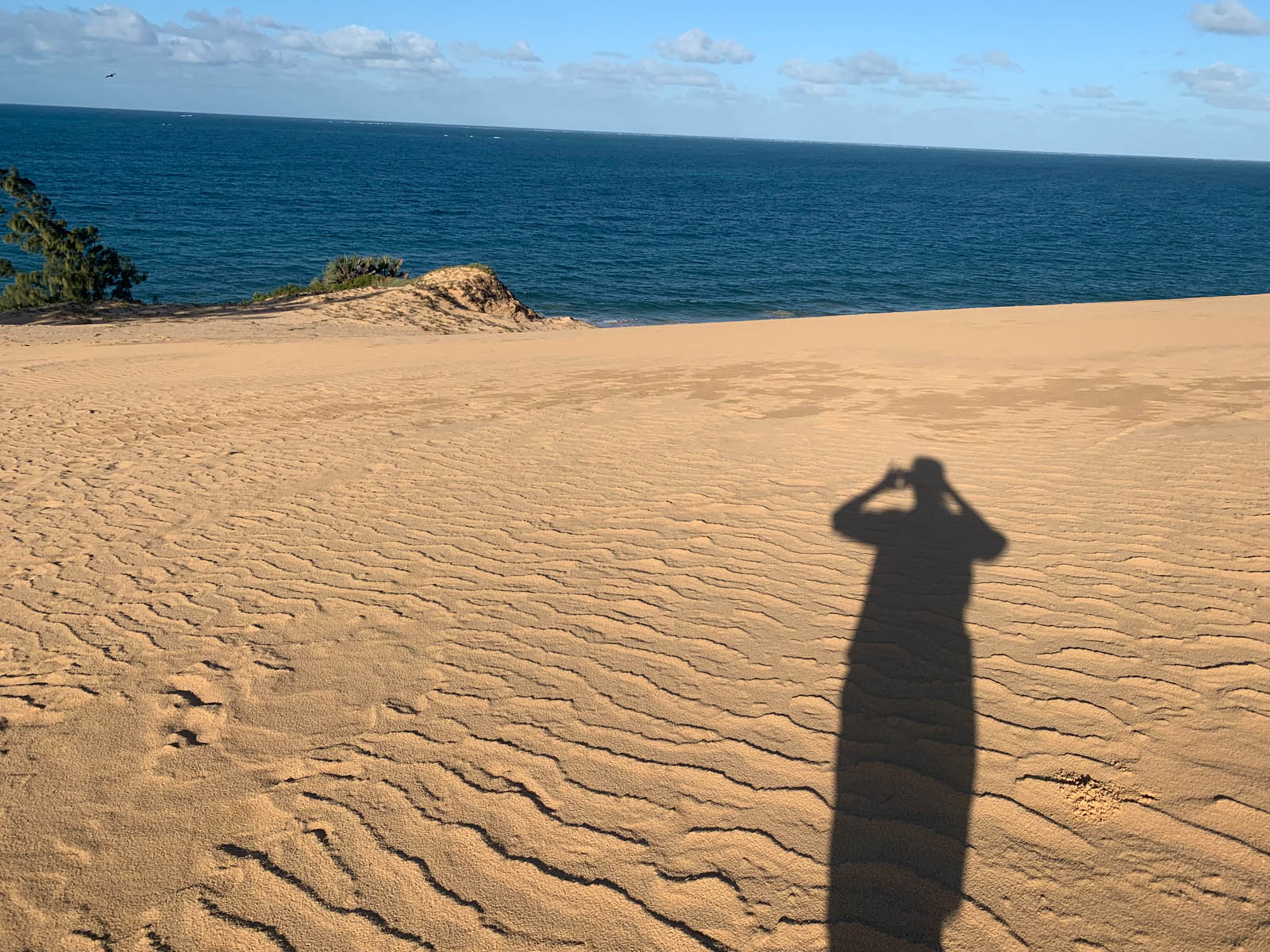 EXPLORING THE ISLAND
Activities (some of which we did not have time for) include scuba diving, snorkelling, island-hopping by boat, an interesting island drive (safari-style) and a sundowner dhow cruise.
Azura's signature activity is a short hop to Bazaruto Island to hike up Bazaruto Dune for panoramic views of the Archipelago. From there, guests often head to Two Mile Reef where there are hundreds of species of tropical fish, coral, rays, as well as the possibility of seeing turtles, dolphins and even humpback whales during their annual migration. After snorkelling, guests are taken to North Point for a picnic, and to cool off in the clear water.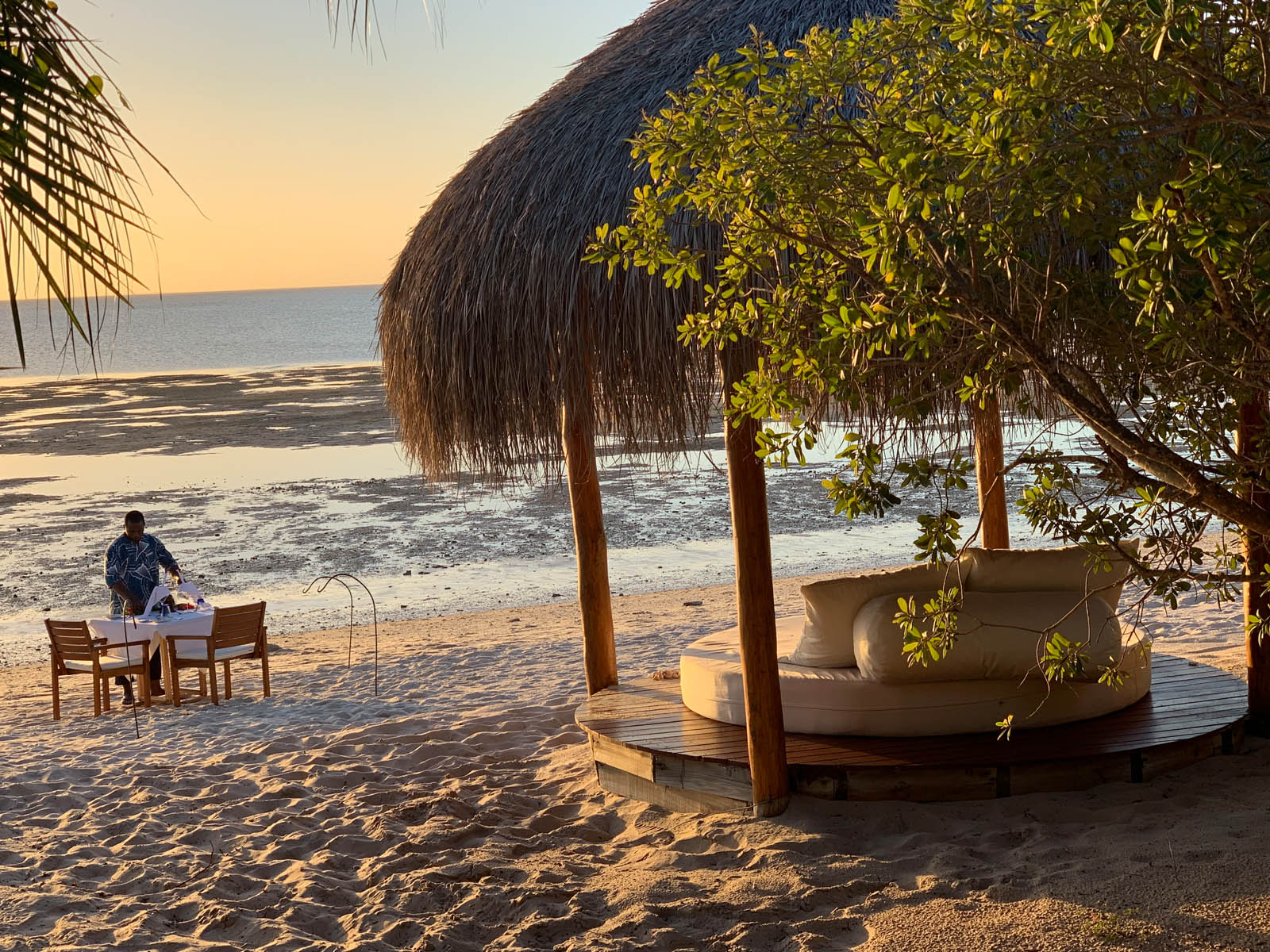 On the Red Dune & Crocodile Lakes Drive, guests jump into a game viewer vehicle for an island adventure. On this outing we drove by a couple of villages while our driver-guide filled us in on Azura's close relationship with the local island communities. We were amazed at the abundance of diminutive Red Duiker antelope which we kept seeing. In addition to some great birds, we also saw a couple of the large Nile crocodiles which live in several fresh-water lakes on the island. Eventually, we got to the island's 'wild side' where you walk along the beach and hike up Red Dune, an easy climb, for amazing views of Benguerra Island.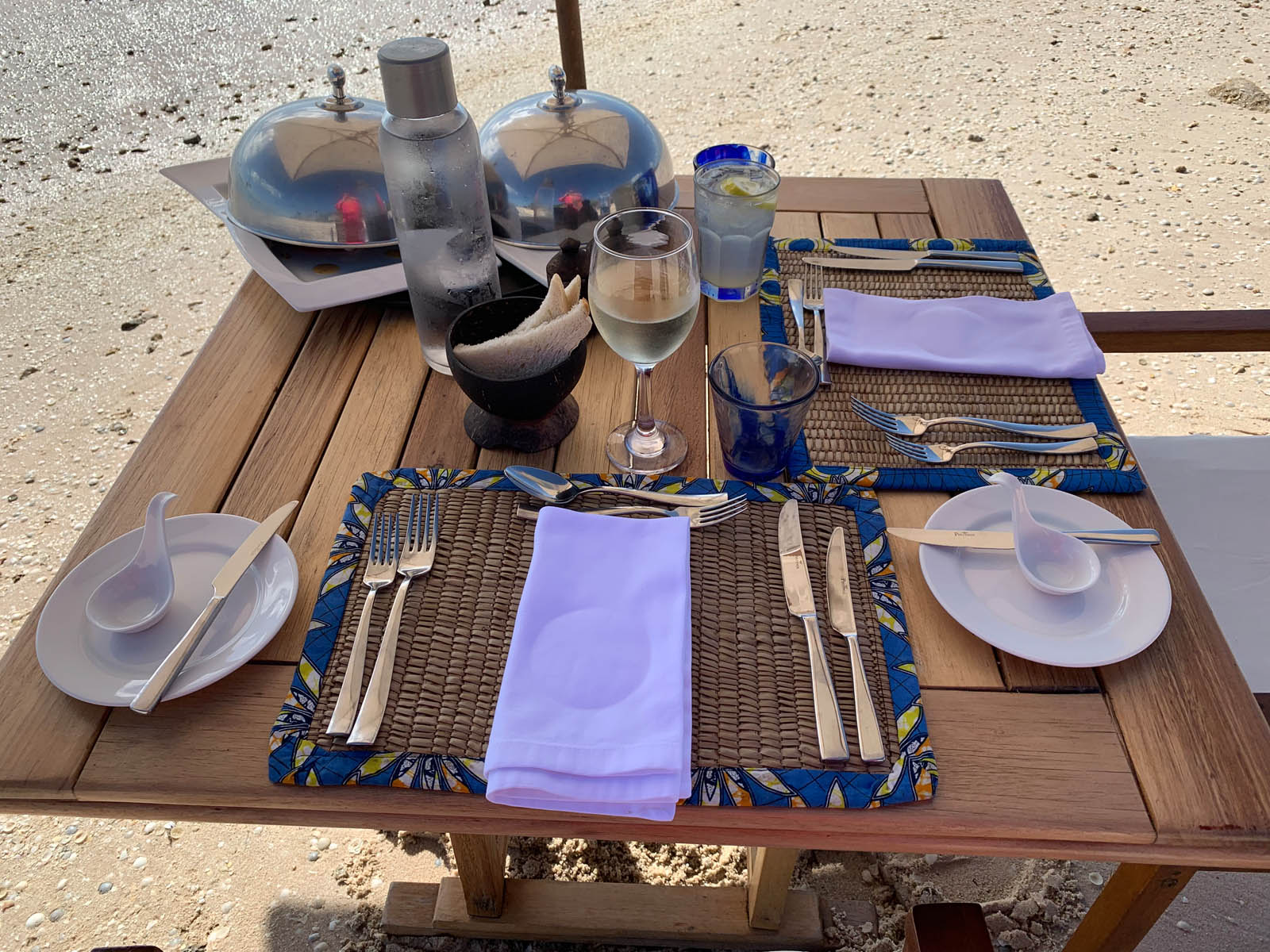 Dining & Hospitality
The food at Azura was quite good with two choices (starters and mains) in addition to dessert. We personally would have liked to have seen more freshly grilled seafood, but can't fault the tasty array of dishes including a seafood paella, pork stir-fry, curried prawns, breaded and sauteed calamari, and pasta with lobster.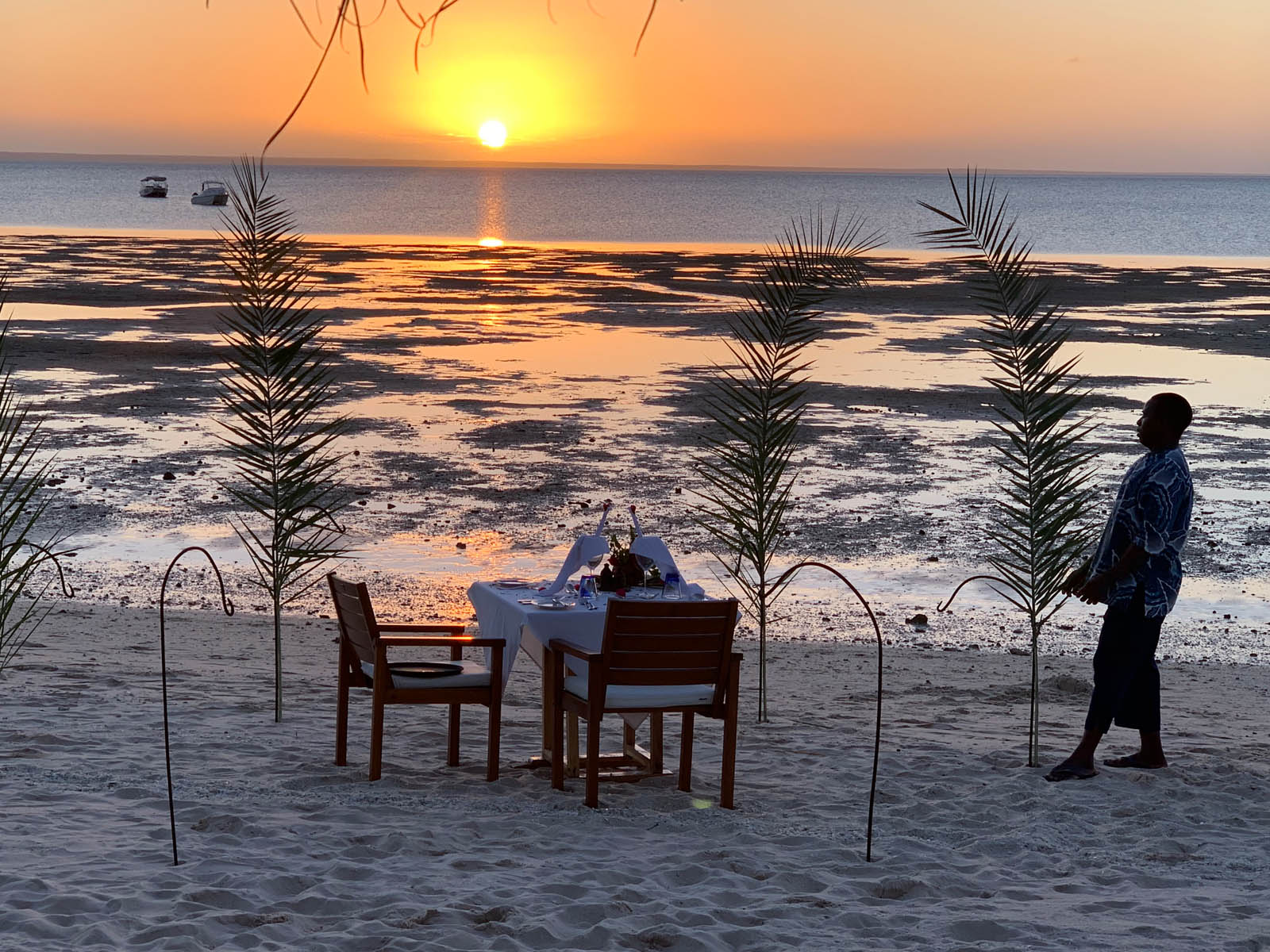 Desserts were consistently good including a chocolate ganache, chocolate souffle and coffee panna cotta with local ice-cream and crepes with fresh fruit.
At Azura, dining is very much part of the experience and I can't recall eating in the same spot twice. We had breakfast at the water's edge, we dined by candle light beneath the stars and enjoyed another cozy meal at the main restaurant. It was clear that our hosts take huge pride in their innovative dining set-ups, and adding little touches to make one's stay special.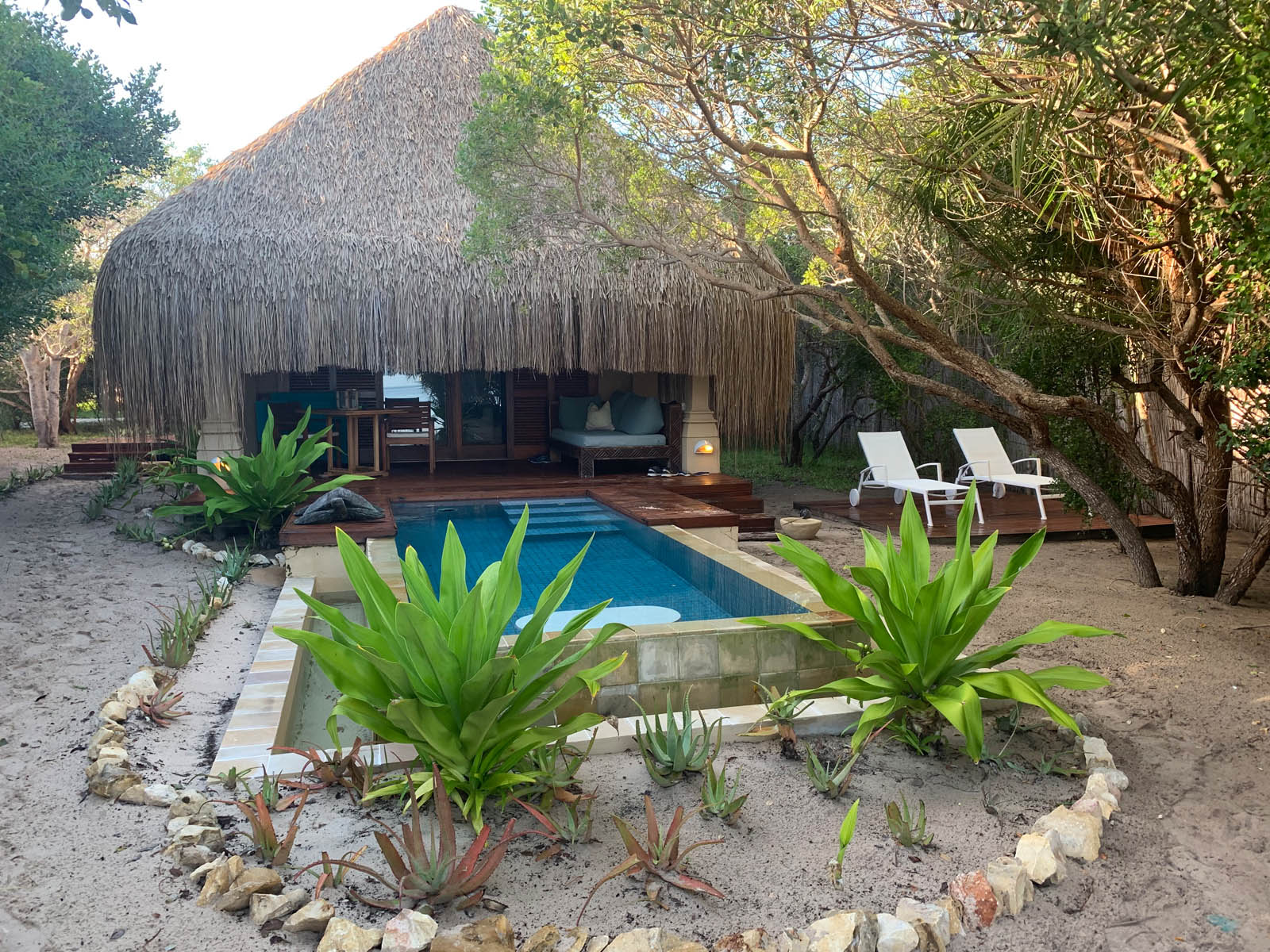 Breakfasts were huge with a full array of eggs to order, a daily special (such as breakfast tacos with eggs, chorizo and cheese), guacamole and salsa. Also omelettes, eggs benedicts, various sausages, bacon, fresh fruit, pastries, juices and more. There was a choice of more than one healthy drink such as a special juice or smoothie, every morning.
What really made the Azura experience as enjoyable as it was, was the extraordinary degree of personal attention we received from our personal hospitality assistant Manuel. He was there all the time to assist with every request we had or might have had. Manuel was our waiter at every meal, helped us with arranging activities and really made our stay special. Never intrusive but always there and keen to assist with a Portuguese word when we needed one. Muito Obrigado!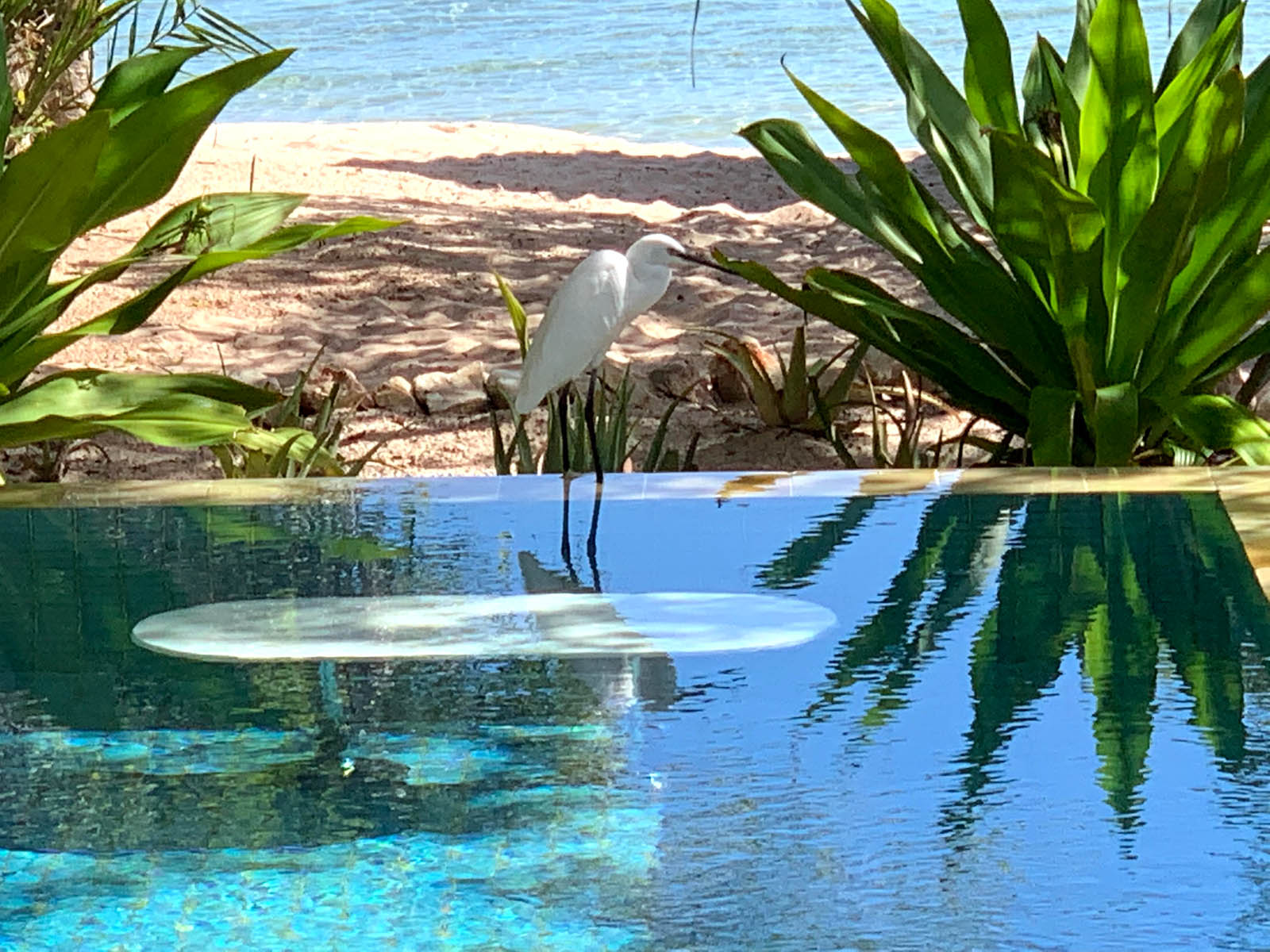 A training run around the island
In a somewhat rash moment, I decided to run around the entire Benguerra Island, which turned out to be almost 30 kilometers or just over 18 miles if you more or less stick to the shoreline. I wouldn't advise this for any but the most intrepid travelers. It turned out to be a fascinating experience, even if it ended up being much more challenging than anticipated. The distance was nearly three times what I had in mind and there were long stretches which ended up being a slow slog through deep loose sand and puddles of sea water. Even so, to see and experience the island in this way was fascinating. The changing landscapes, the dunes, beaches, forests with birds calling and the open marshy areas laid bare by the receding tide. In contrast with the rather calm and tranquil beachfront conditions in front of the lodge, the southern and eastern beaches have waves crashing directly off the Indian Ocean, and portions of the beach are littered with massive driftwood tree trunks, likely dumped there by a hurricane.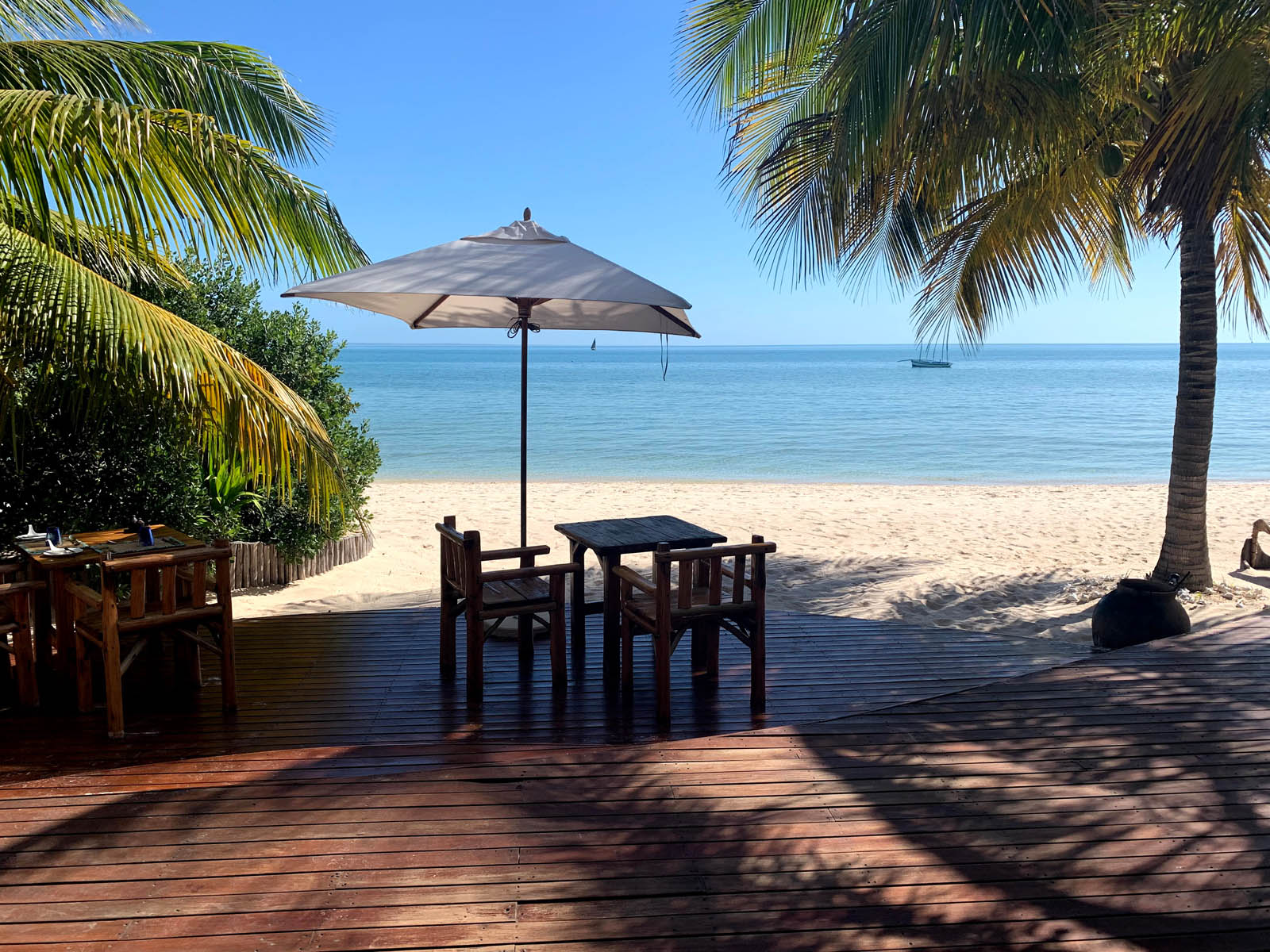 At one stage I ran out of water which – as runners know all too well – poses the threat of dehydration. Fortunately a passing boat made its way to the shore and the skipper was happy to share some of his drinking water with me. It was with a sense of relief that I finished up the last mile or two in familiar terrain, along the west side of the island.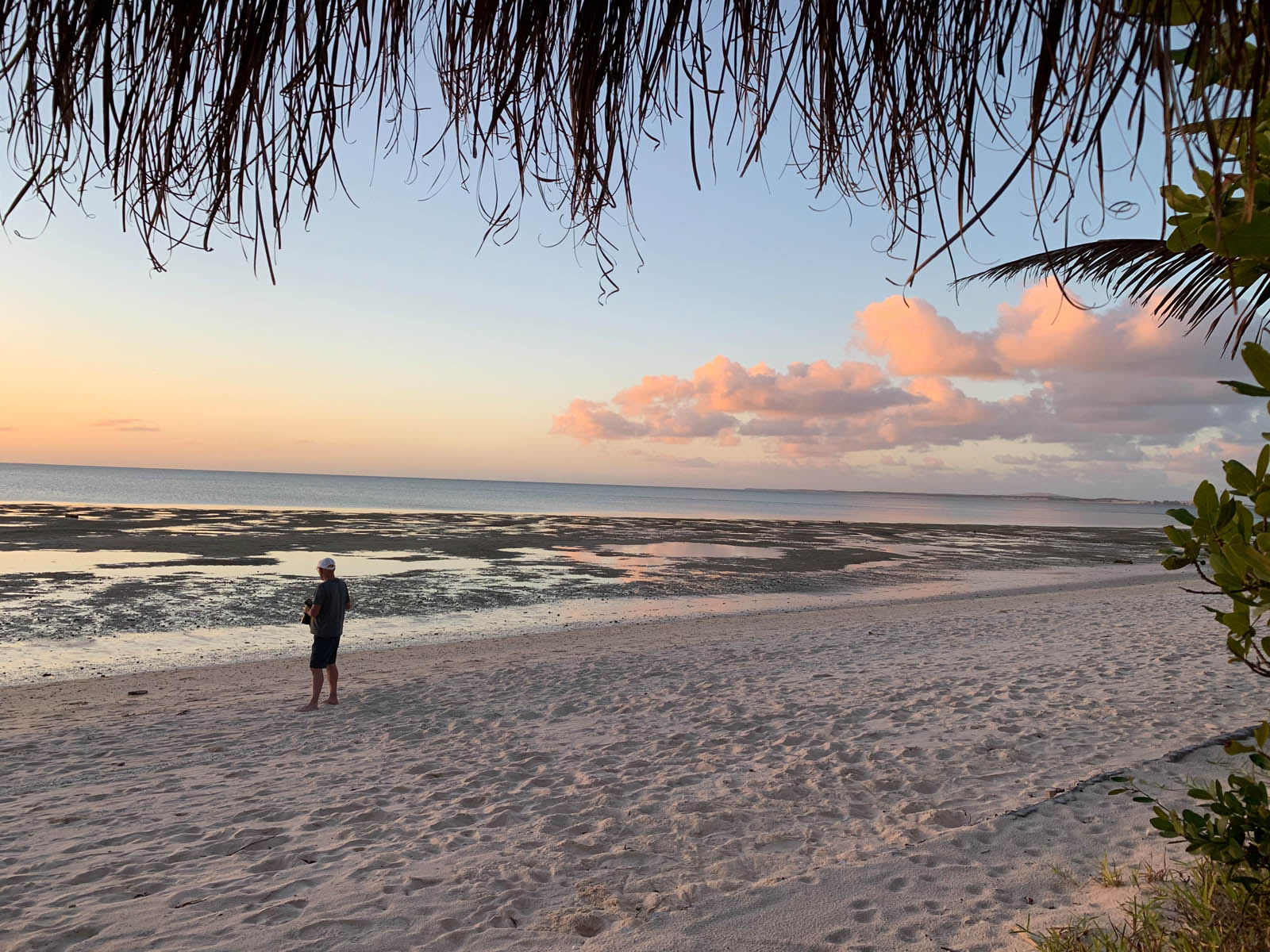 How to get there:
From Johannesburg's Oliver Tambo International Airport, there are regular non-stop flights of about 1 hr 15 minutes to Vilanculos in Mozambique. After a somewhat slow visa procedure (US$50 per visa), you board an 8-minute helicopter flight (we were 6 persons plus the pilot) to Azura Resort on Benguerra Island. Kathy and I also did a site inspection to AndBeyond Benguerra Lodge; we were favourably impressed with the location and the rooms. The garden area in front of the main lodge was particularly lush, with lots of trees.
YOU MIGHT ALSO BE INTERESTED IN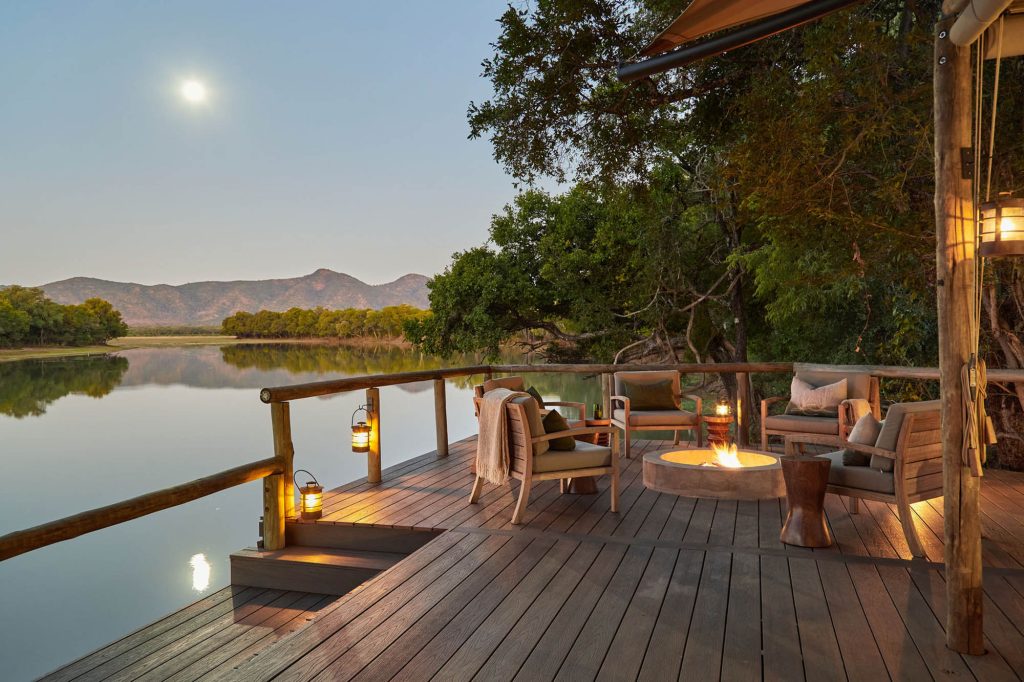 10th Sep 2021
Chindeni and the Bushcamp Company, Zambia
By late July we found ourselves at Chindeni, a small Bushcamp Company property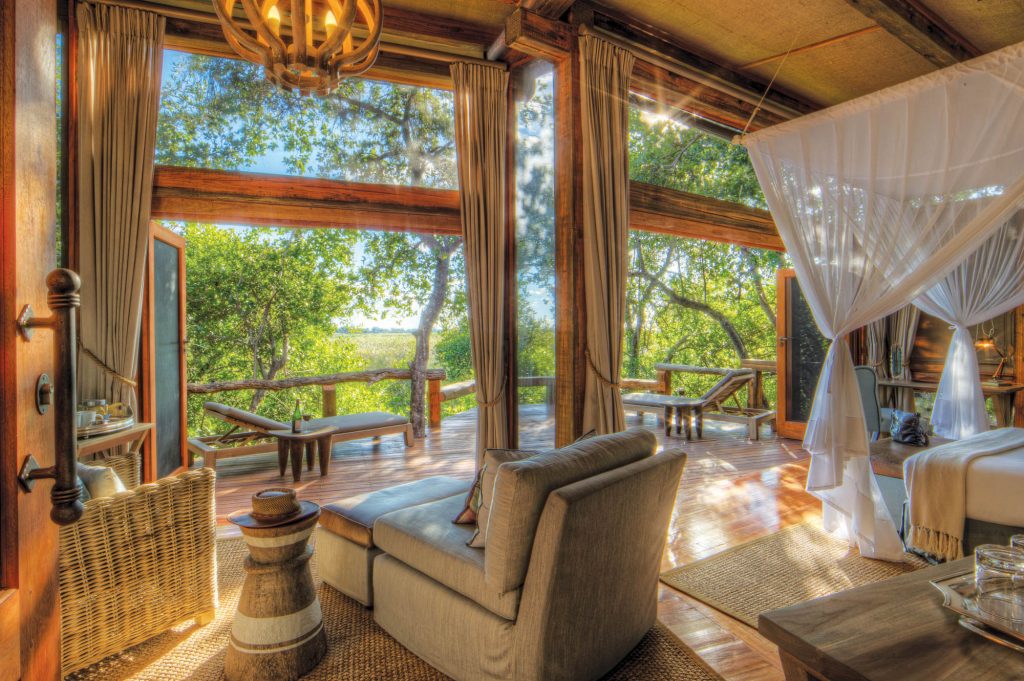 3rd Oct 2022
Camp Okavango, Botswana
Camp Okavango is in the heart of the permanent part of the Delta. In this idyllic setting there are no vehicles, and it is just a short walk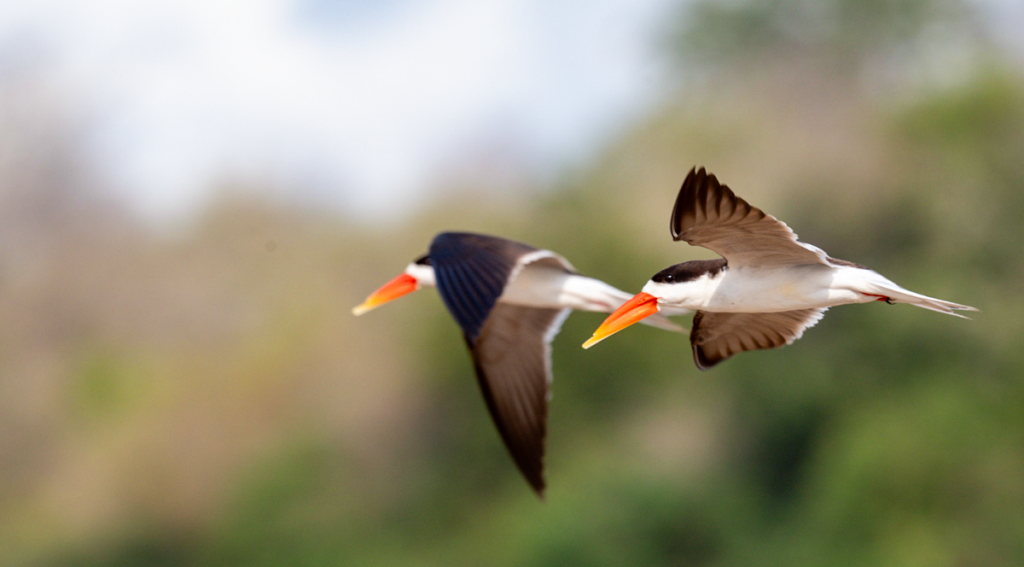 14th Oct 2023
From My Safari Notebook: Wildlife Photography
Birds in flight and wildlife photographers have an uneasy relationship. Things go wrong as often as they go right. Getting focus-lock on a moving subject
SUBSCRIBE TO OUR NEWSLETTER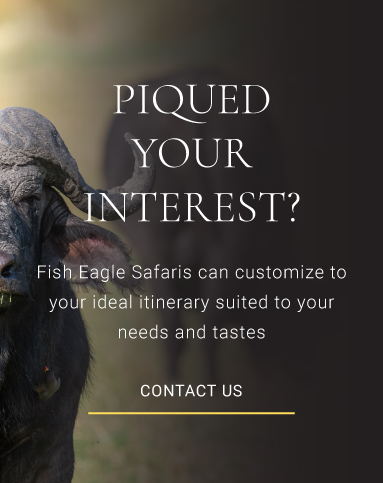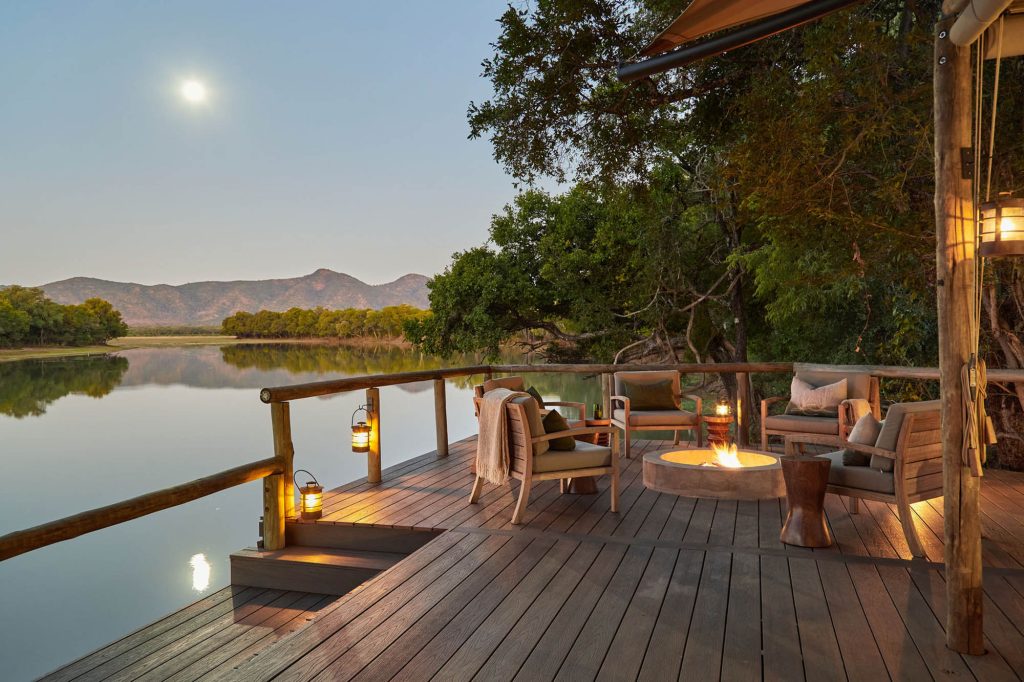 10th Sep 2021
Chindeni and the Bushcamp Company, Zambia
By late July we found ourselves at Chindeni, a small Bushcamp Company property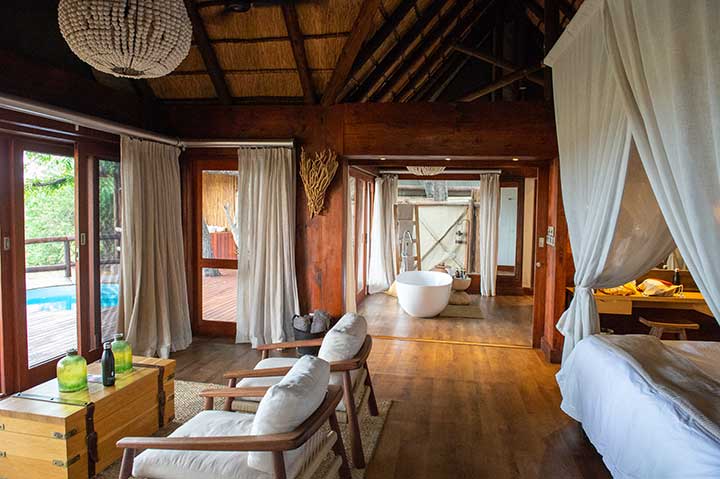 4th Aug 2022
On Safari At Belmond Eagle Island Lodge, Okavango Delta
What is the 'secret sauce' for an unforgettable few days on safari in Botswana? It starts with the animals, of course. The elephants, lions, giraffes, hippos