Photo: Desert & Delta Safaris
Savute Safari Lodge, Botswana
If you were to look at a time-lapse photography sequence taken from Savute Safari Lodge between 2008 and the present, the one thing that will stand out – other than the passing parade of animals, day and night – will be the state of the Savuti Channel, a natural spillway which starts at the Zibadianja Lagoon and ends in the Savute Marsh.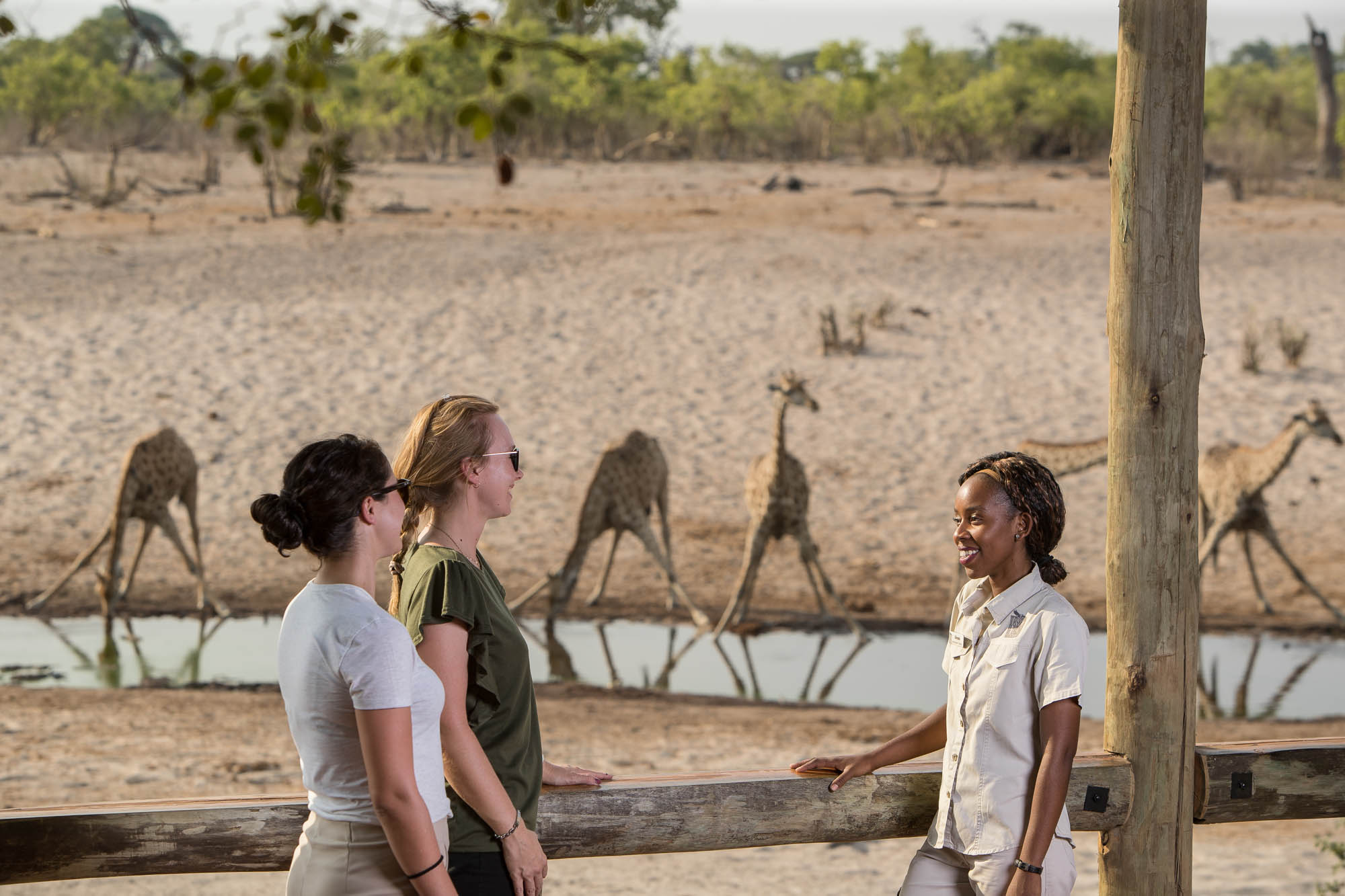 Photo: Desert & Delta Safaris
Back in 2008 there was an artificially maintained waterhole in front of the camp and nothing else.  At the time the Savuti Channel had reverted to being an ephemeral river or linear oasis – the kind of river which occasionally collects some water from local runoff with a few pools here and there, and some spots where elephants could get their trunks into clean water just below the surface of the sand.  The water hole in front of camp was a hive of activity, particularly in the dry season.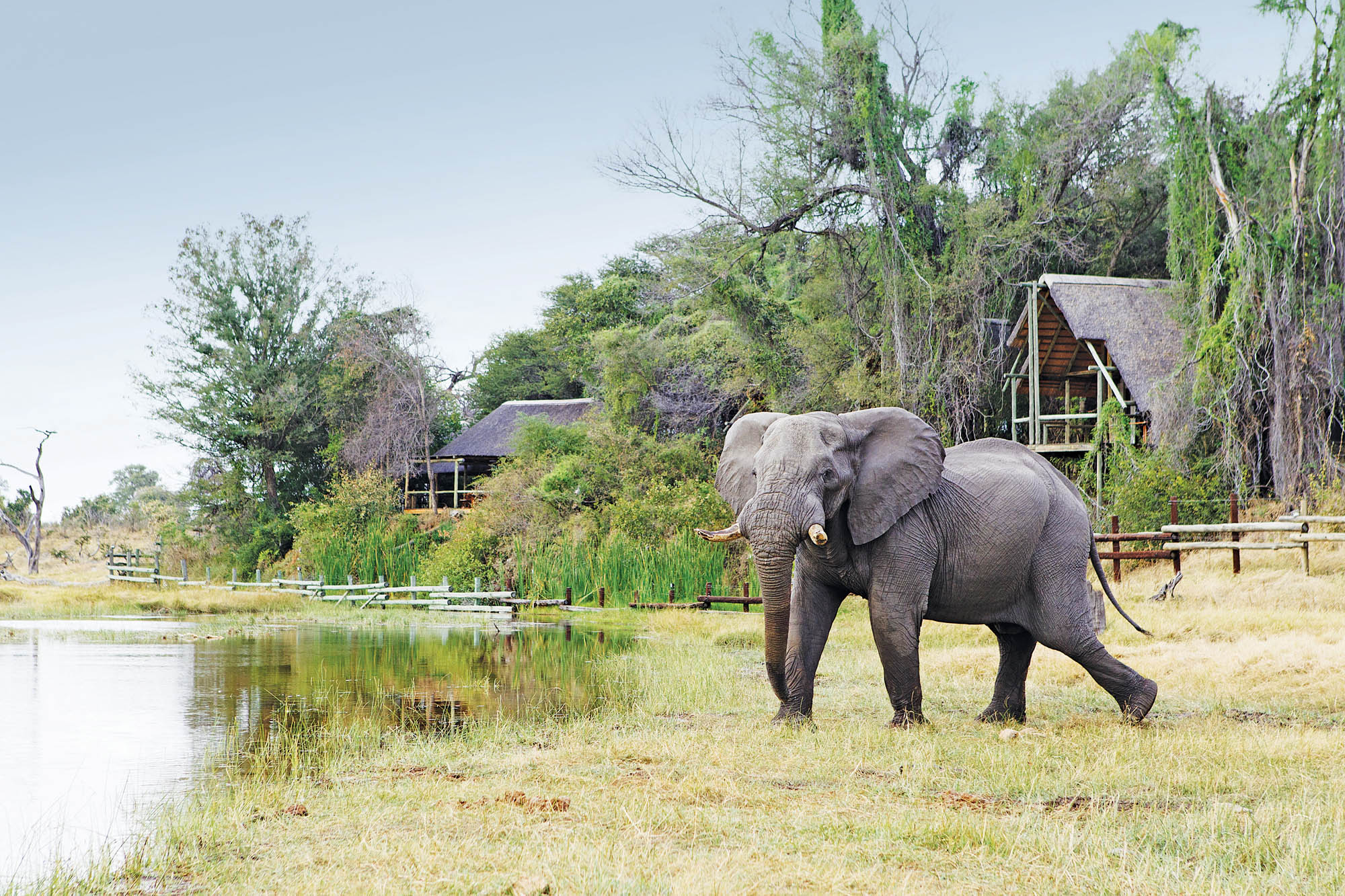 Photo: Desert & Delta Safaris
By 2009 – for reasons that are still not entirely clear but likely the result of a heavier rainfall pattern over several years – also known as a wet cycle – the Savute Channel had started to flow strongly again and at least for a while the presence or absence of waterholes such as the one at Savute Lodge did not matter one way or another.  There was water all along the channel from its source close to the Zibadianja Lagoon, all the way to the Savuti Marsh.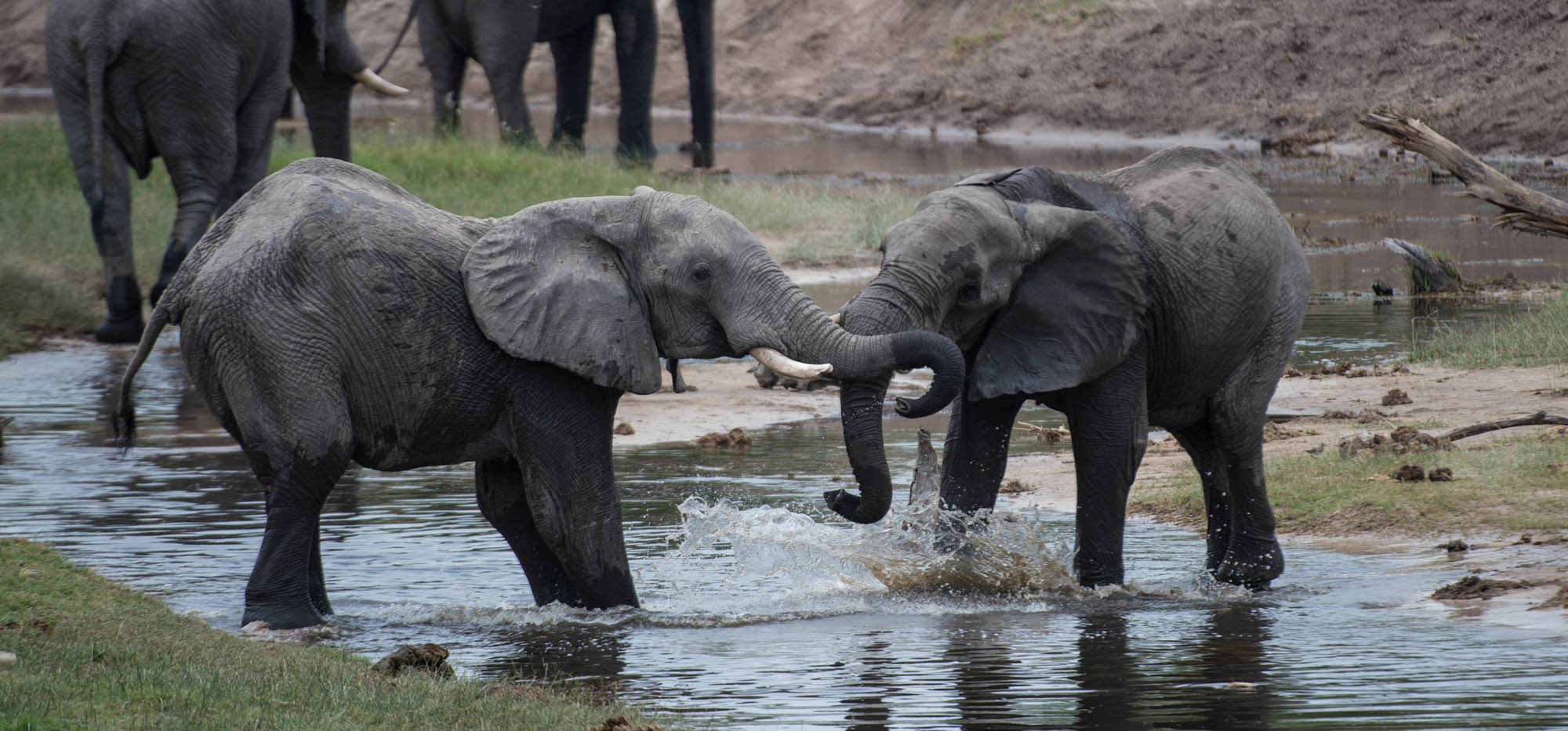 At least initially this made game-viewing in the area more challenging because it created more dispersal of big game species such as elephants and buffalo who did not 'have' to come to the few remaining waterholes in the dry season – they had access to water pretty much anywhere.
By the time we got back to Savute late in 2014, the Savute Channel was still flowing but not very strongly – and the elephants were back at the original waterhole in big numbers, trying to get to the source of the fresh water which they prefer to the muddy stuff available elsewhere in the channel.
Photo: Desert & Delta Safaris
Right now – as our colleague Lyndon saw on a visit to Savute Safari Camp about 10 days ago – the Savute Channel is dry again with no water flowing at all.  There are pumped waterholes, but other than that no permanent water. Which means it has come full circle, all the way back to what it was like,  13 years ago.  The elephants frequenting the water hole in front of the camp on a daily basis are also back to stay, with the water hole being one of the few permanent and reliable sources of water in a huge area.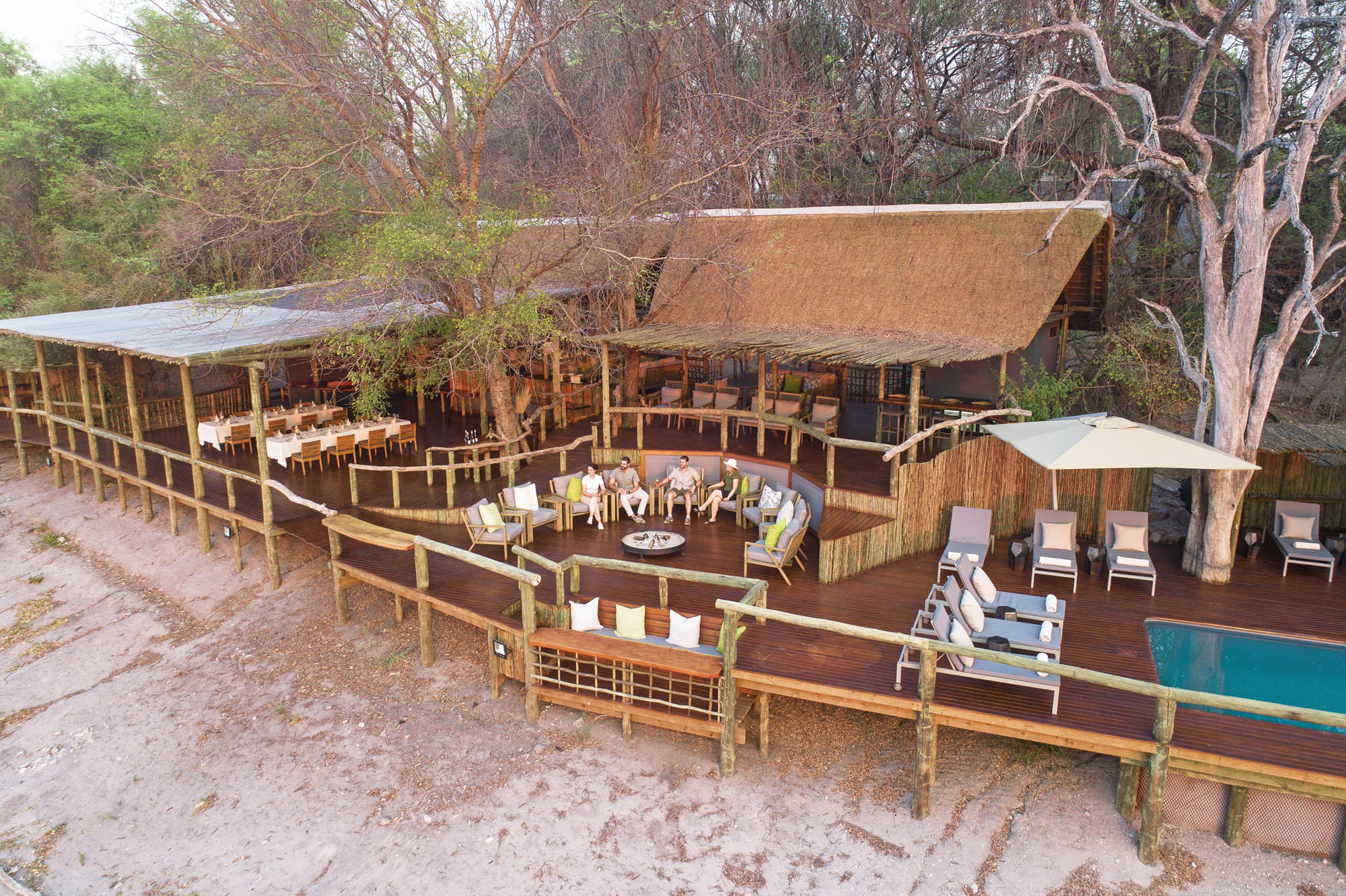 Photo: Desert & Delta Safaris
Savute Safari Camp had seen other changes as well over the last few years.  Extensive refurbishments had been undertaken in the main public areas.  The objective was  to make the best use of the space in front of the Savute channel and the active waterhole. The new facilities include a relocated swimming pool – now more private than before – new walkways, multiple dining locations and new deck areas with a live cooking area for brunches and dinner.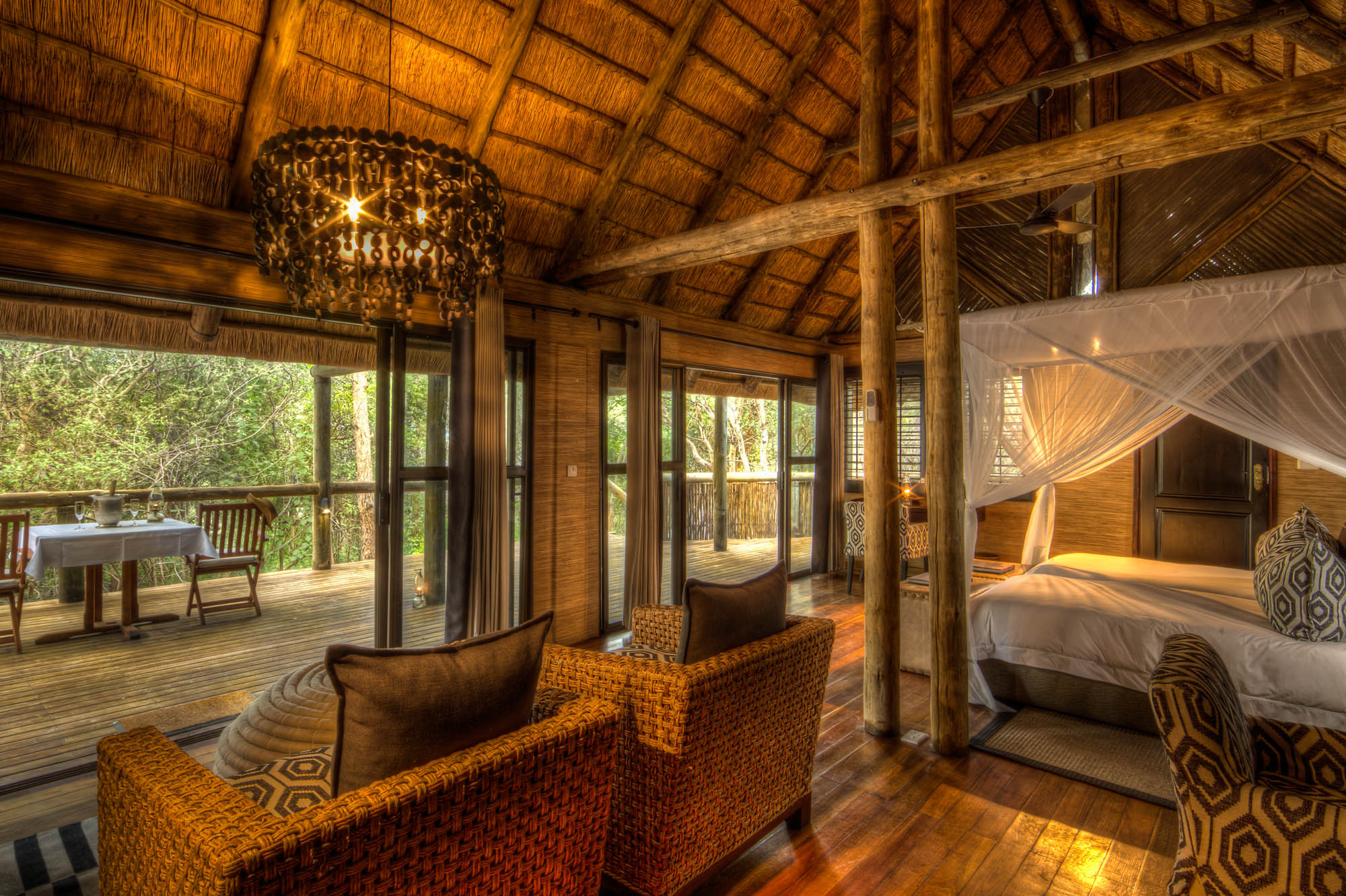 Photo: Desert & Delta Safaris
The camp now has multiple leveled viewing decks connected by walkways, providing different vantage points over the waterhole so that guests can find their own space to enjoy bar service and admire the remarkable animal encounters that take place around the channel and water hole. The rooms/chalets at Savute Safari Lodge have been significantly upgraded as well.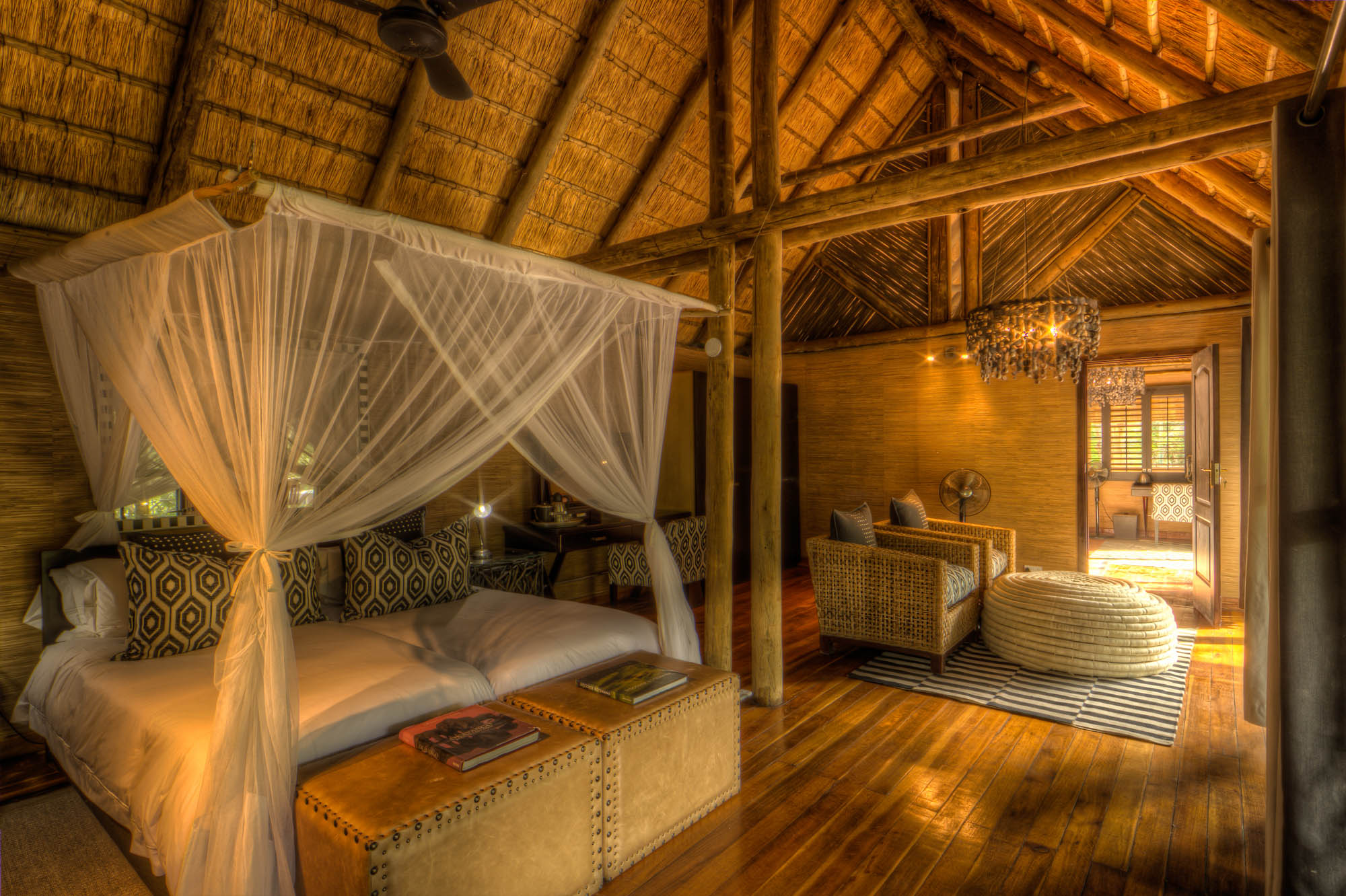 Photo: Desert & Delta Safaris
The chalets are elegantly furnished in neutral tones to blend with the natural environment, feature expansive private decks, a combined bedroom and lounge area and en suite facilities.  The lodge can accommodate twenty four guests in eleven thatched chalets built of local timber and one family room which consists of two double bedrooms.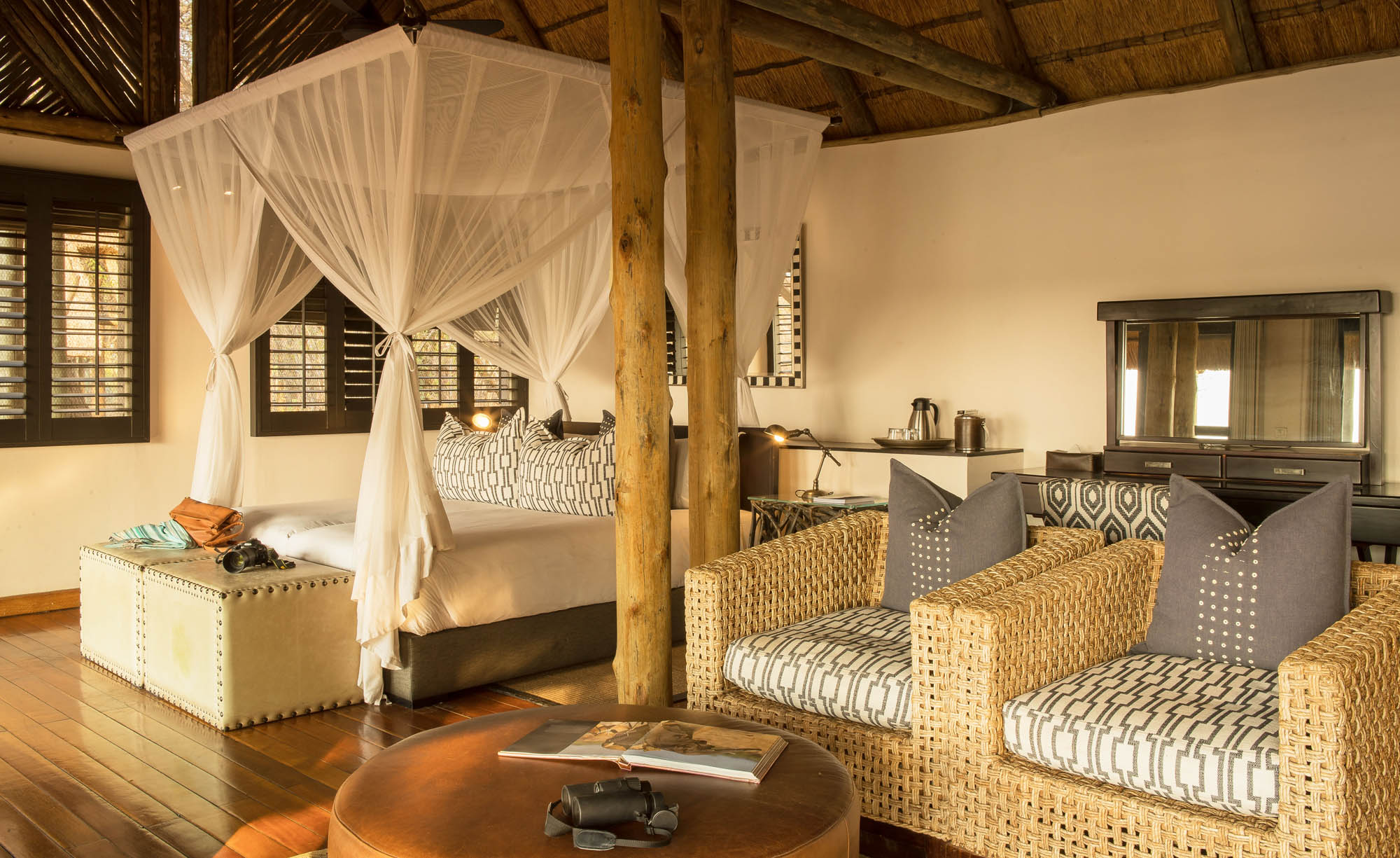 Photo: Desert & Delta Safaris
Savute Safari Lodge offers an exceedingly comfortable stay at a reasonable price, and the management and staff are most welcoming and helpful.  On my most recent visit, everyone made a point of introducing him or herself and maintained a high degree of interaction with all the guests for the duration of their stay. 
The grounds of Savute Safari Lodge are well maintained with good walkways and borders and several natural patches, resulting in an abundance of birdlife and small mammals such as dwarf and slender tailed mongoose and tree squirrels.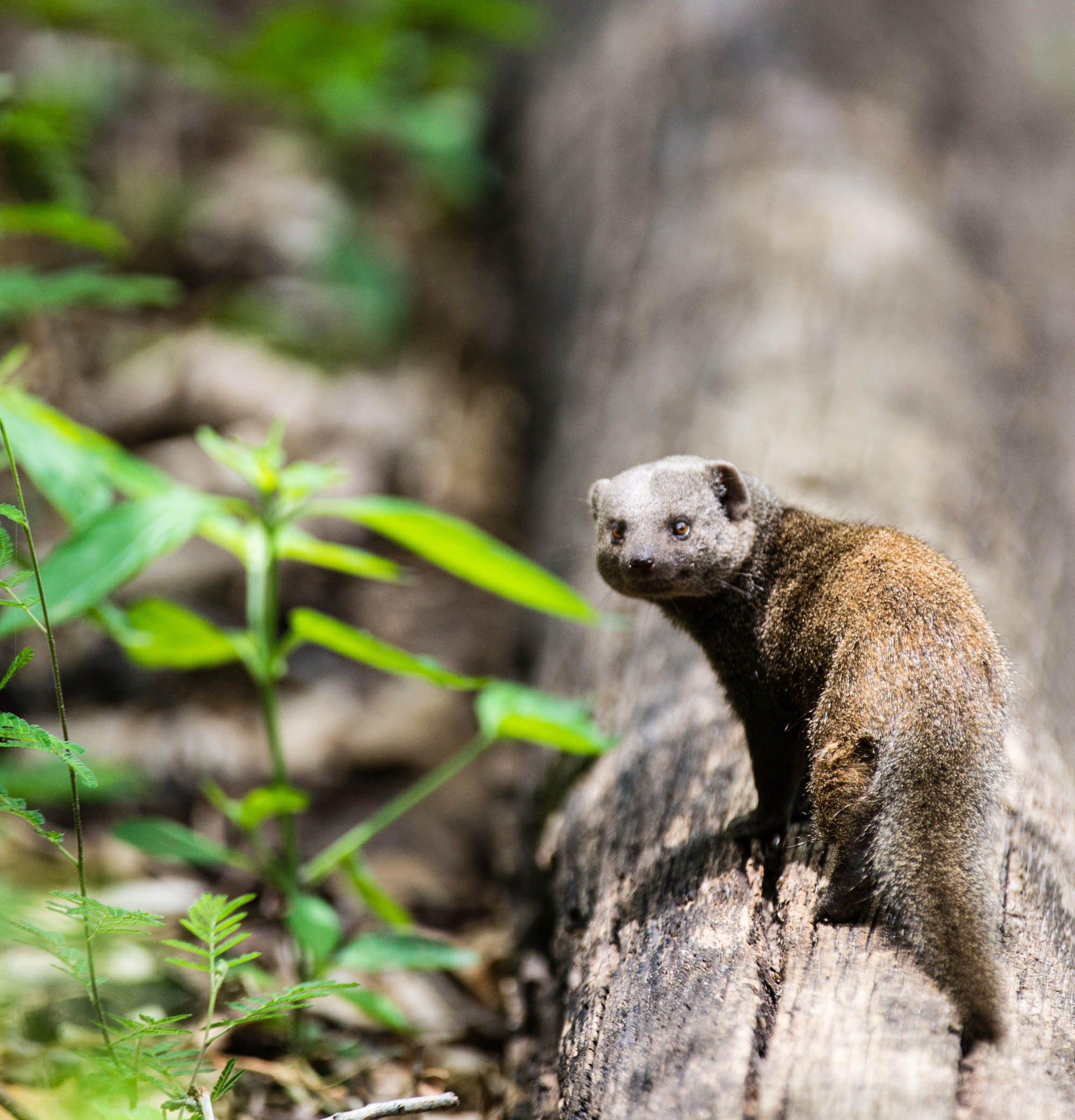 Here is what Lyndon had to say at the conclusion of his recent (July 2021) stay at Savute Safari Lodge:
"Shortly after a buffet brunch we headed out in search of the Marsh Pride (lions) with our guides Metal and Isaac.  Although the drive was quiet on the way out, we were amply rewarded with a sighting of almost 20 lions lying in the shade of a tree.  This pride has been dominated by a couple of huge brothers for the past 12 years, longer than most wild lions' lifespan.  Several wildlife documentaries have featured them and their hunting prowess.  They had recently taken down a wildebeest and were still resting up; it was not yet time to venture out again.  Even so, it was a rewarding experience to see such an abundance of lions in one place!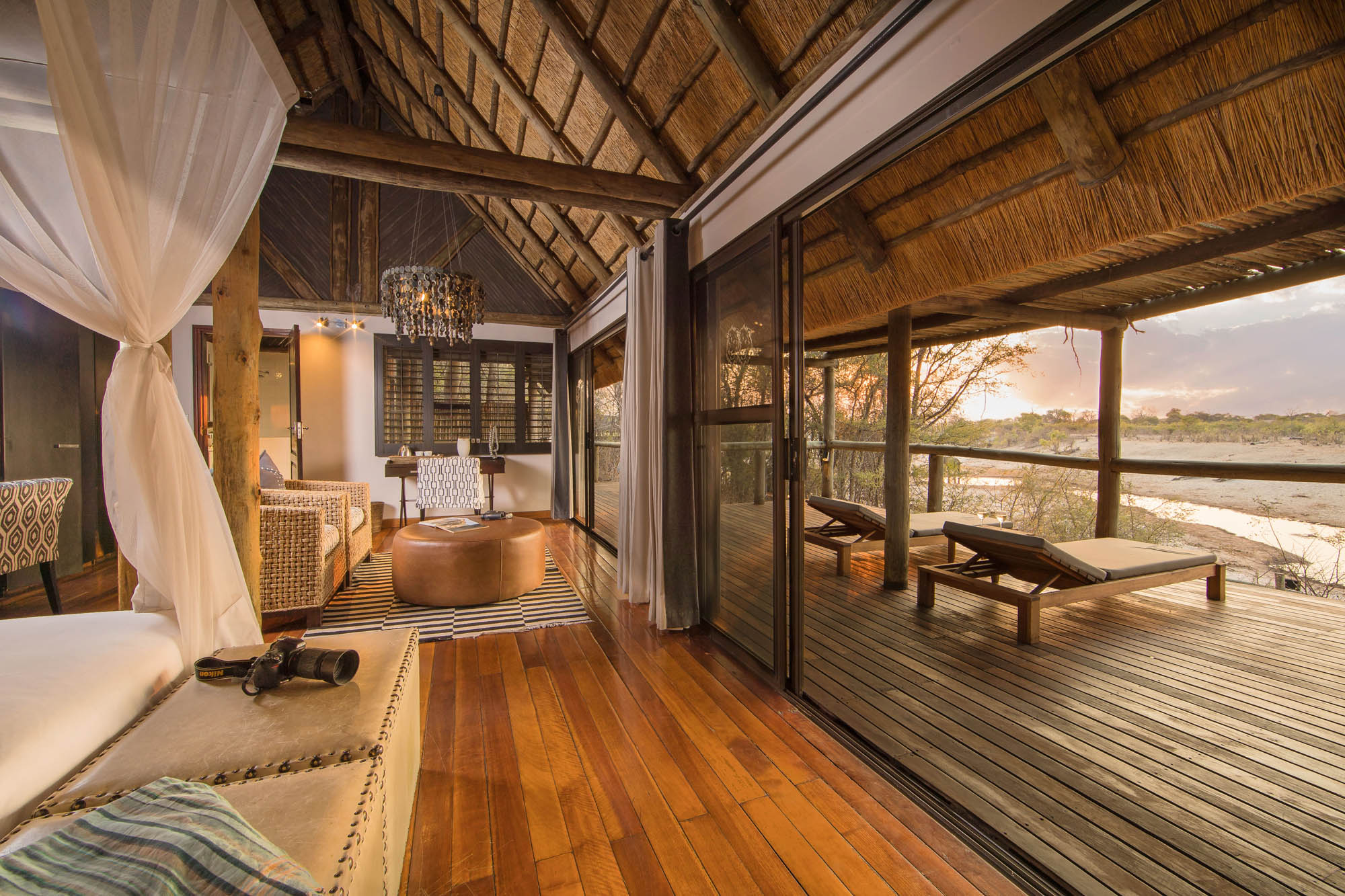 Photo: Desert & Delta Safaris
Dinner was on the deck overlooking the channel, where the water hole is lit up at night.  We enjoyed a meal with some delicious mashed sweet potato, broccoli, assorted vegetables and kudu steak as well as sticky toffee pudding for dessert.  It is shocking how quickly it can cool down in the evening and after dinner it became properly cold, right away.  Our group enjoyed some drinks around a bonfire before heading to bed.  
Our final morning drive was frigid but I actually prefer it that way.  Nothing better than to wake you up after a deep African slumber than a cold, cold wind blowing in your face as you set out on a game drive.  Layer up, grab a blanket and perhaps a heated water bottle like the ones they provide at Savute and enjoy!
We took a small detour to a rocky outcropping which is home to an old San/bushman cave.  There are some beautiful rock paintings just outside the cave.  Visitors need to take note that the path is steep and rocky in some parts, albeit quite short.  Our game drive was successful again with us witnessing a brilliant roaring display by a striking male lion.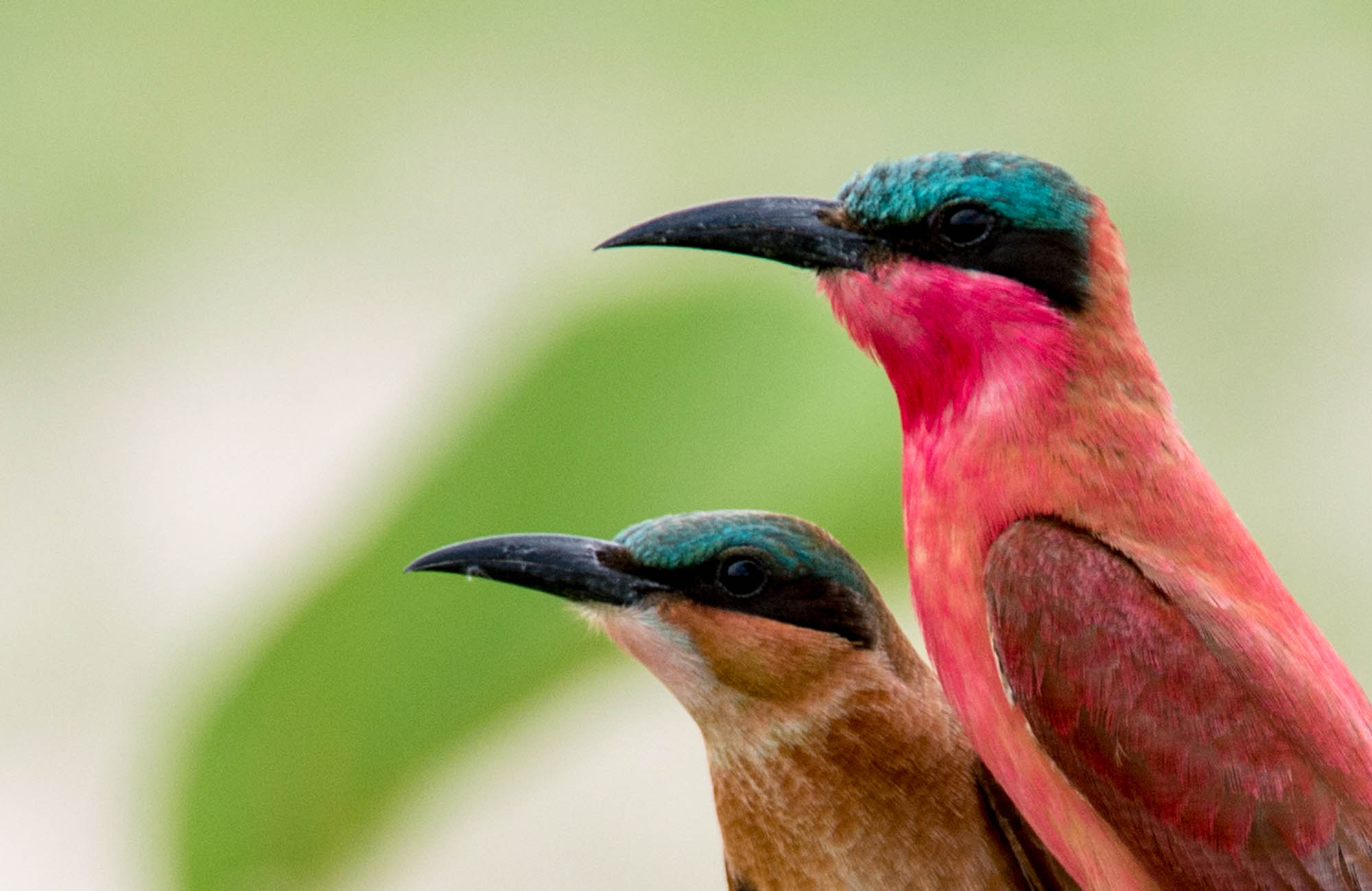 One thing that I have noticed that has changed during Covid is that you no longer get the large spread of snacks as was traditional at a point during your morning game drive (tea/coffee break) or in the late afternoon for sundowners.  Instead each guest is given their portion in a small paper sack.  It typically includes all the ingredients you would need to make your own tea, coffee or chocolate milk and often includes some snacks.  I do miss the old way of doing this and I am hopeful that someday we will be able to return to that.  In the meantime I think everyone is now used to these small sacrifices and it shouldnt detract from the overall experience.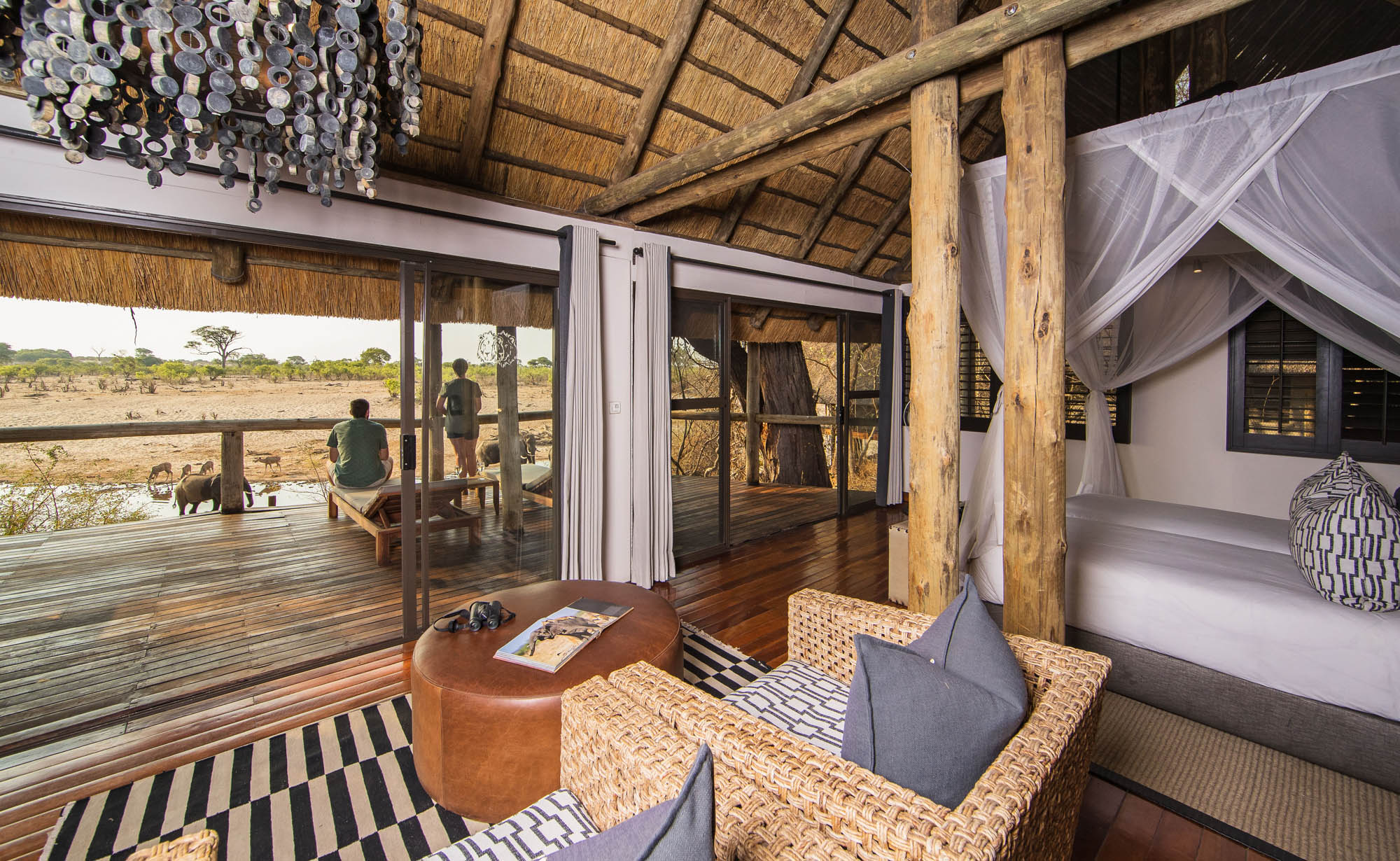 Photo: Desert & Delta Safaris
While I am on the subject, the mask protocol, for the most part, is as follows:  In camp I wear a mask in public/main areas unless I am eating or having a drink.  In your room and on a game drive it is fine to go without.  On light air transfers and inside any airport terminals, I wear it."
On my own most recent trip to Savute Safari Lodge, it soon became evident that we had happened upon a once-in-a-life time wilderness experience where the game-viewing was elevated to an almost surreal, hyper level.  Never before had we seen such a high density of elephants spread out in such a large area.   Not at Amboseli, not at Hwange, not at Chobe and not at Kruger Park.  The number of large bull elephants roaming around the Savute Marsh on this trip was simply astonishing, and there were dozens of large breeding herds around every corner.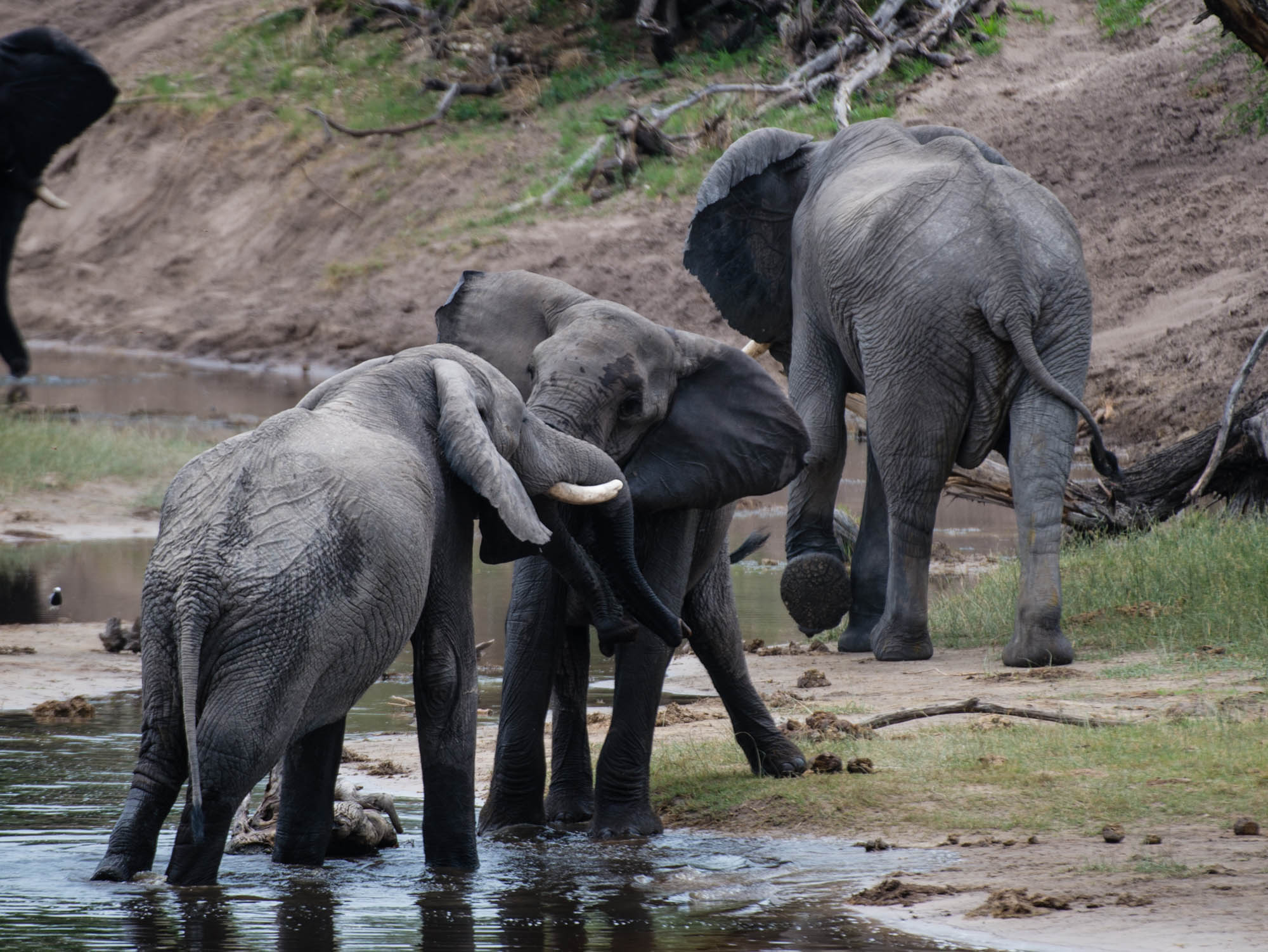 This was on an early December trip, just after the first rains had fallen.  Our driver-guide had to take evasive action all the time, either driving off road to avoid the lumbering animals, or stopping and waiting for them to cross.  In 30 years of going on safari, this still ranks in the 'top three' of our ultimate elephant experiences, the other two being at Little Makalolo in early November one year and at Amboseli in June.   It was a confluence of factors which we realize is unlikely to happen again.  Possibly there was inadequate vegetation available in the Linyanti area with earlier rain creating ideal grazing conditions in and around the marsh itself.  For whatever reason it seemed like every last elephant in Northern Botswana was in Savute that week.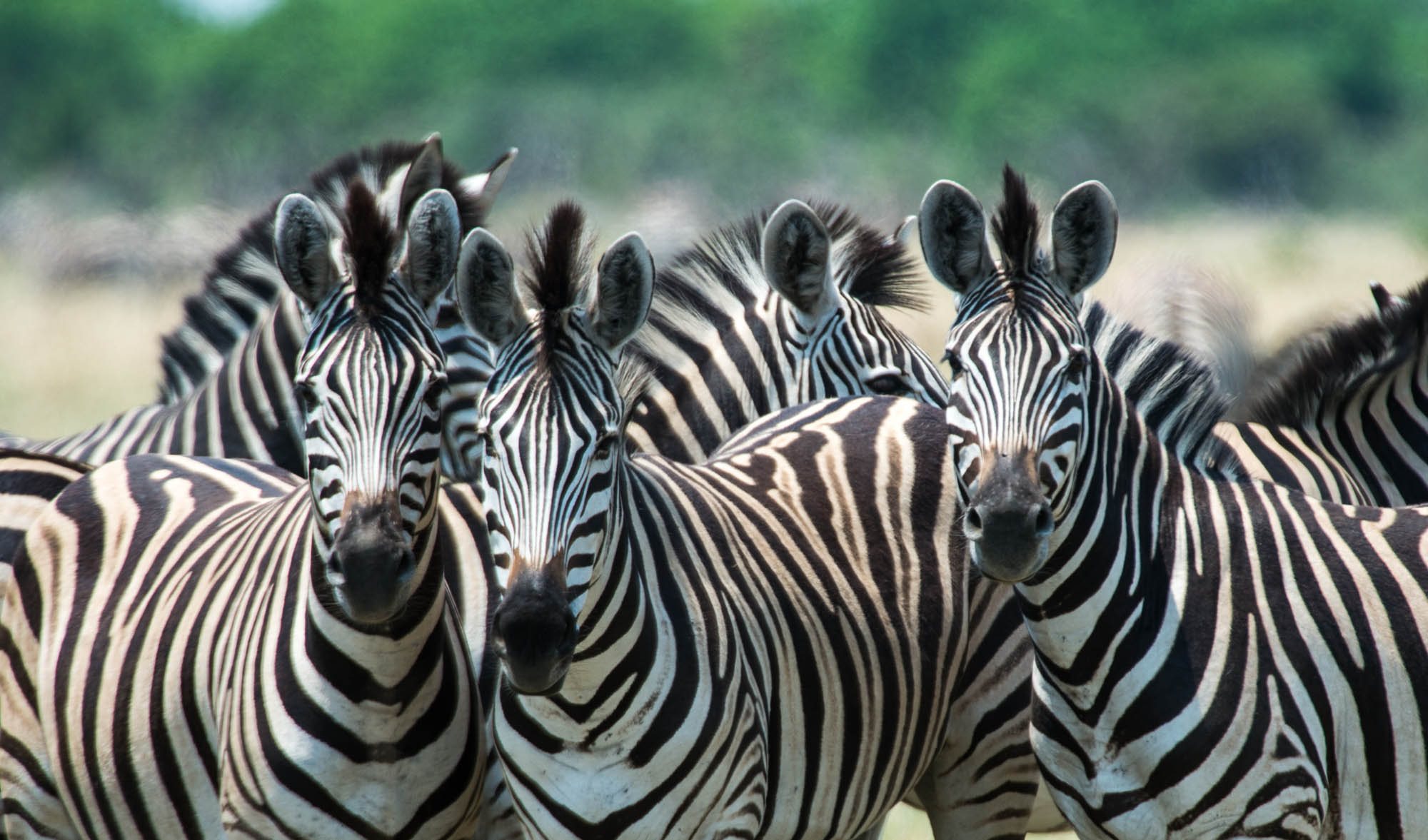 What made the entire experience even more special, was the presence of so many other animals.  There were zebras moving into the fringes of the marsh in their tens and hundreds, kudu of all sizes and ages around everywhere, hundreds of impala with multiple hundreds of babies, many giraffes, plus good numbers of wildebeest and even a few roan antelope.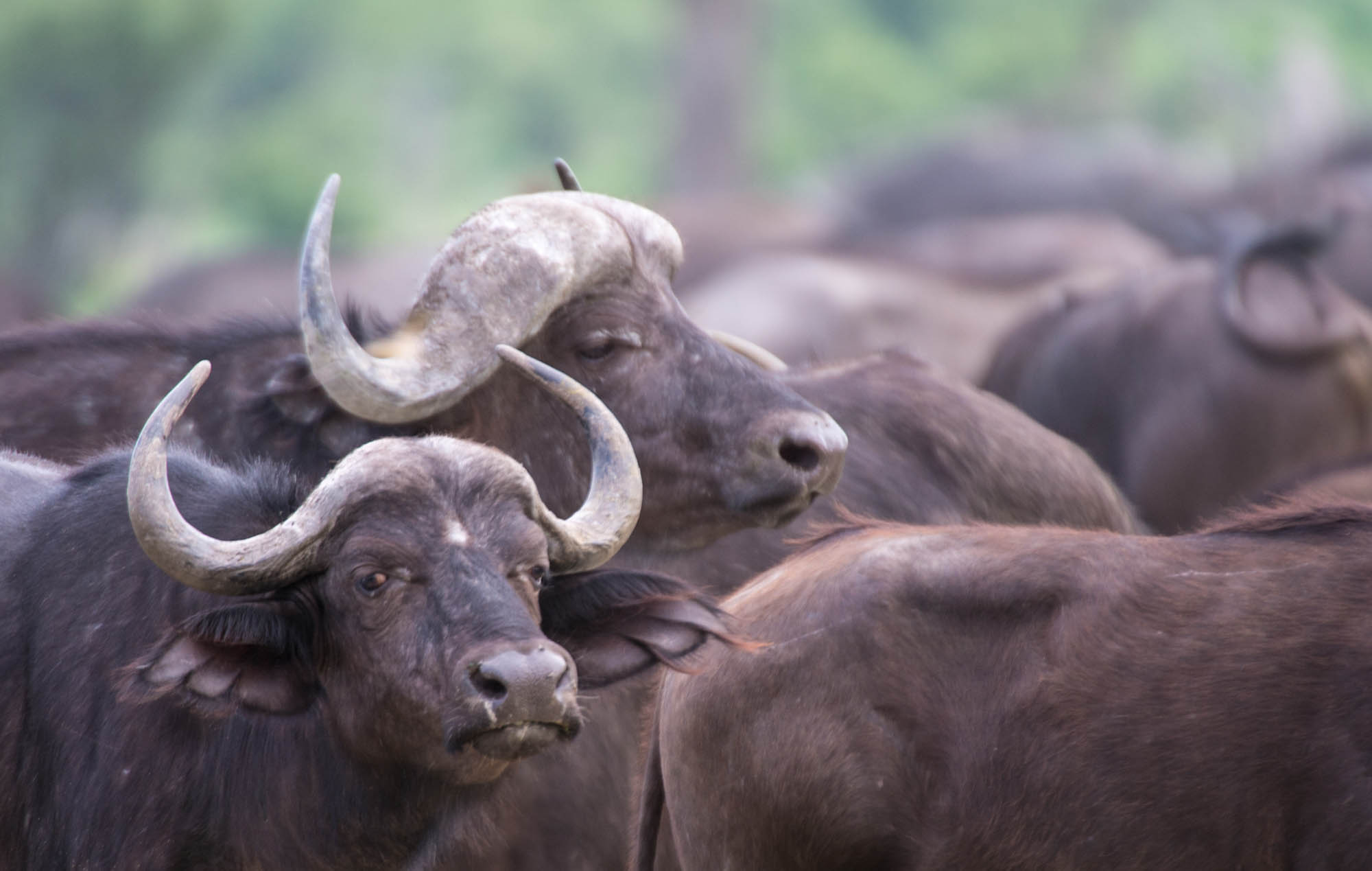 On top of that we also found ourselves right in the middle of a massive herd of buffalo on the final afternoon, moving in the direction of a watering hole.  A while later, we relocated to a different spot where two lionesses were watching the approaching buffalo herd, seemingly weighing up the odds of making a successful attempt at bringing one down.  Ultimately they decided not to, which was a wise decision as they were totally outnumbered and would have been no match for the many large, powerful buffalo bulls at the waterhole.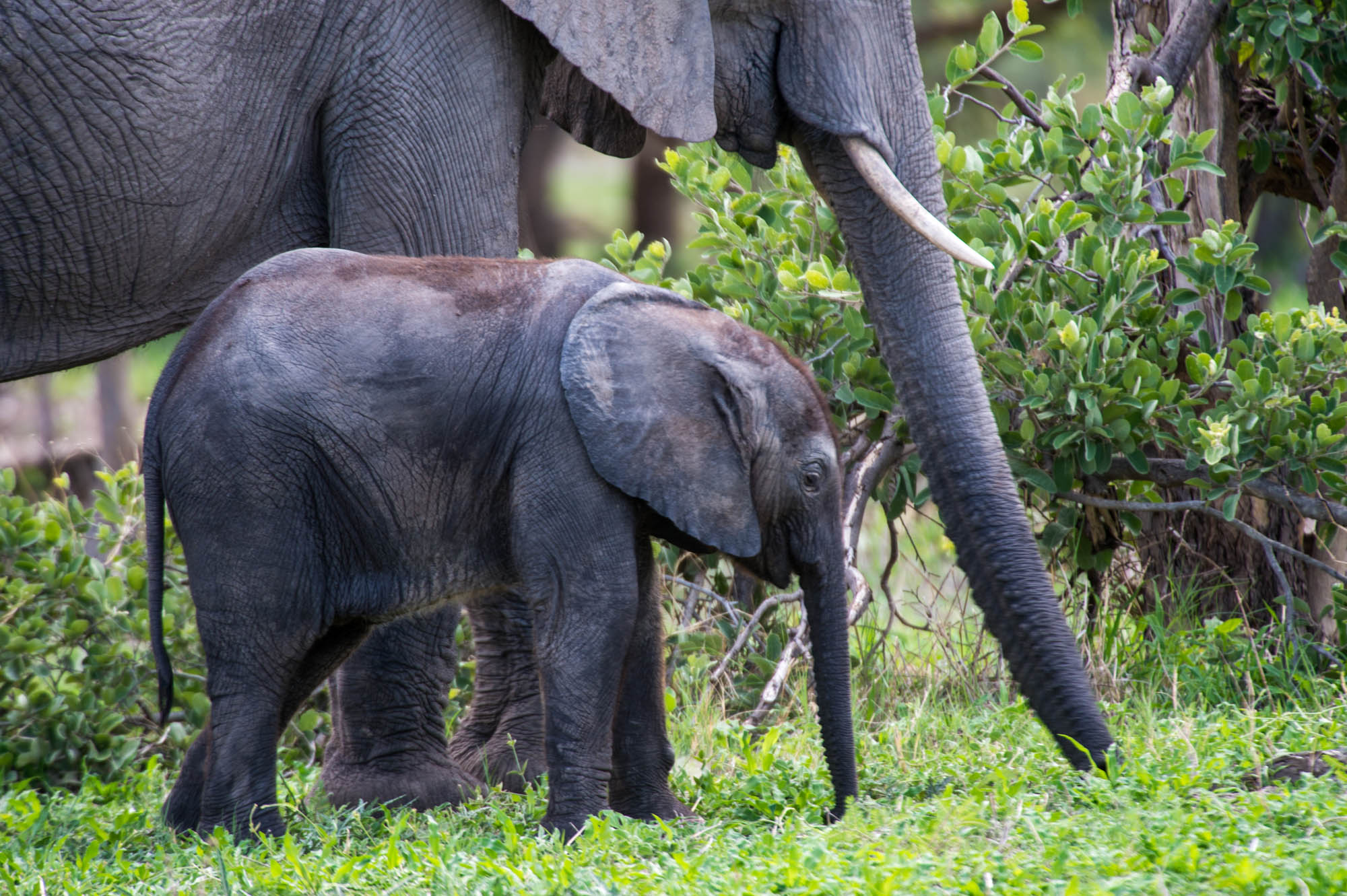 The game-viewing at Savute Safari Lodge did not stop at hundreds of elephant, zebra and other plains game.  We had previously – on an all-day trip from Ghoha Hills – seen the Marsh Pride on the edge of the marsh.  On the day of our arrival at Savute Safari Lodge we went back to take a look at them and they were still in the same spot in the marsh, about 20 meters or so off the road.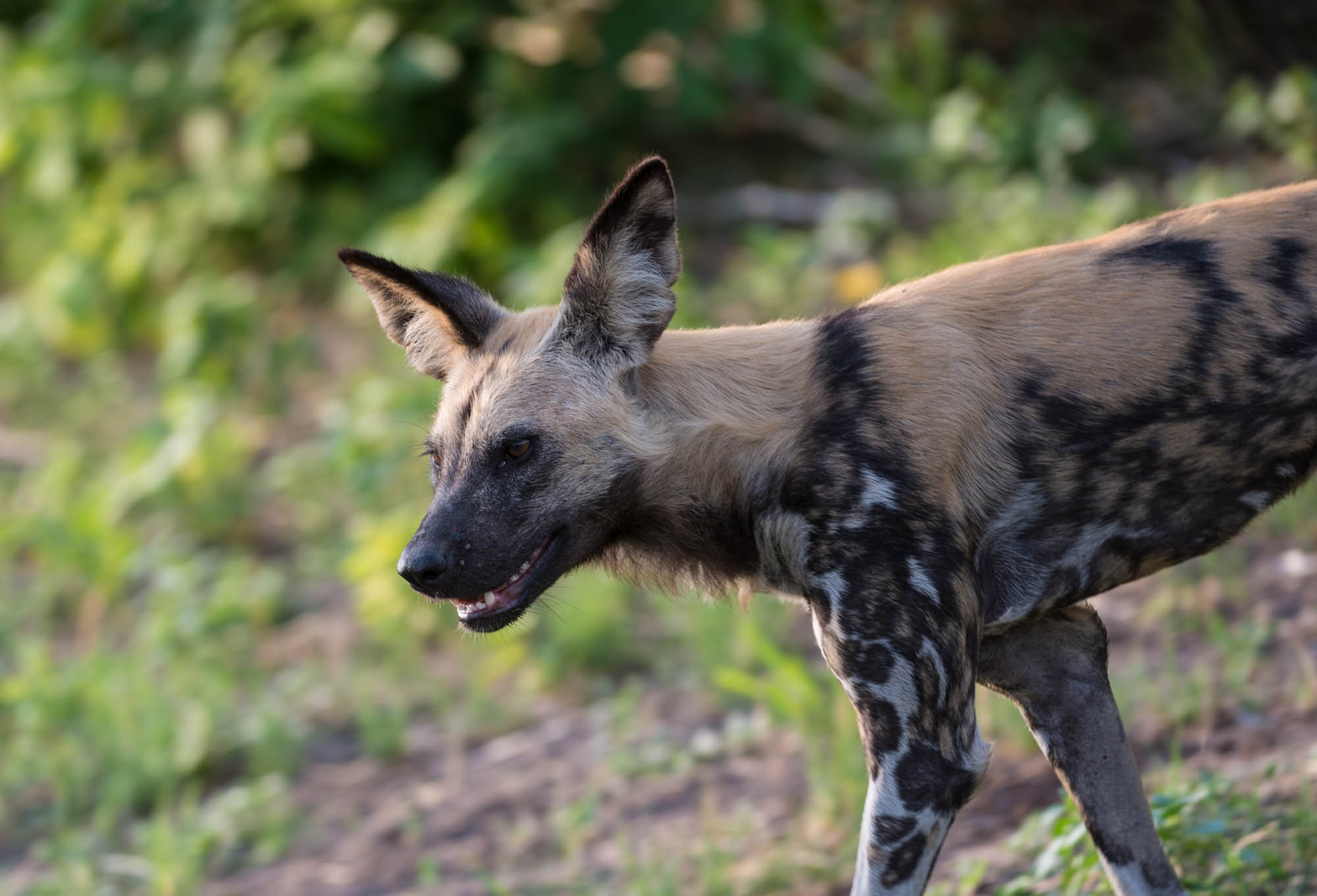 The following morning we were on our way back to the marsh when our guide received word of the presence of a pack of African Painted Dogs near the Rock Painting site.  We promptly drove there, missed them on the first attempt and then enjoyed a very good – albeit brief – view of 5 or so of the animals moving from our right to left and eventually disappearing into the thick bush.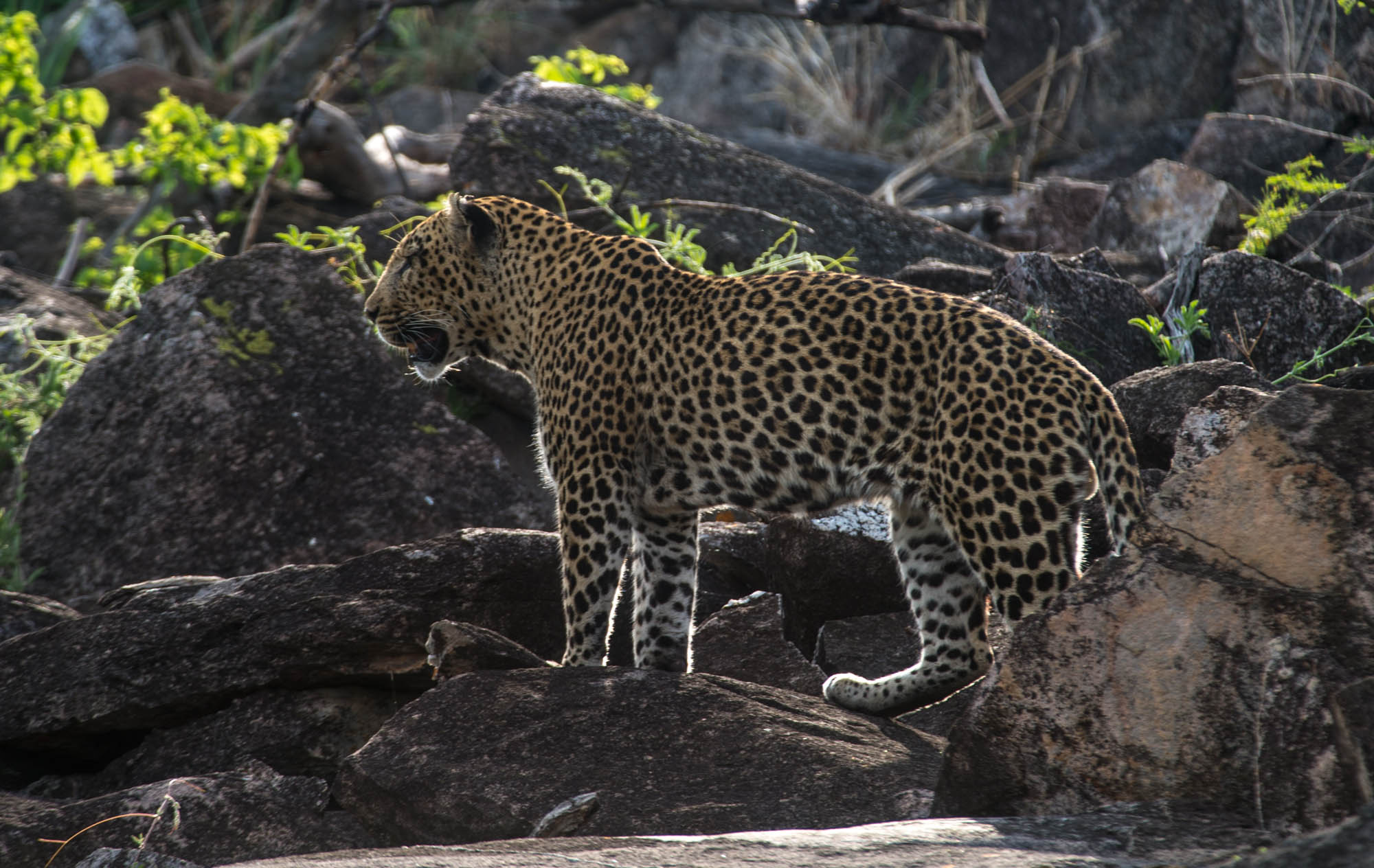 Just minutes later we were looking at a trio of mating leopards.  Usually leopards are found either by themselves or in a mating pair.  Or sometimes a female with youngsters.  This was an exception as an older male leopard was vying for the attention of a female who had paired up with a younger, more energetic male.  At first the older leopard was just resting up on a rock ledge but eventually he got into the action as well, displacing the young male towards the latter stages of the encounter.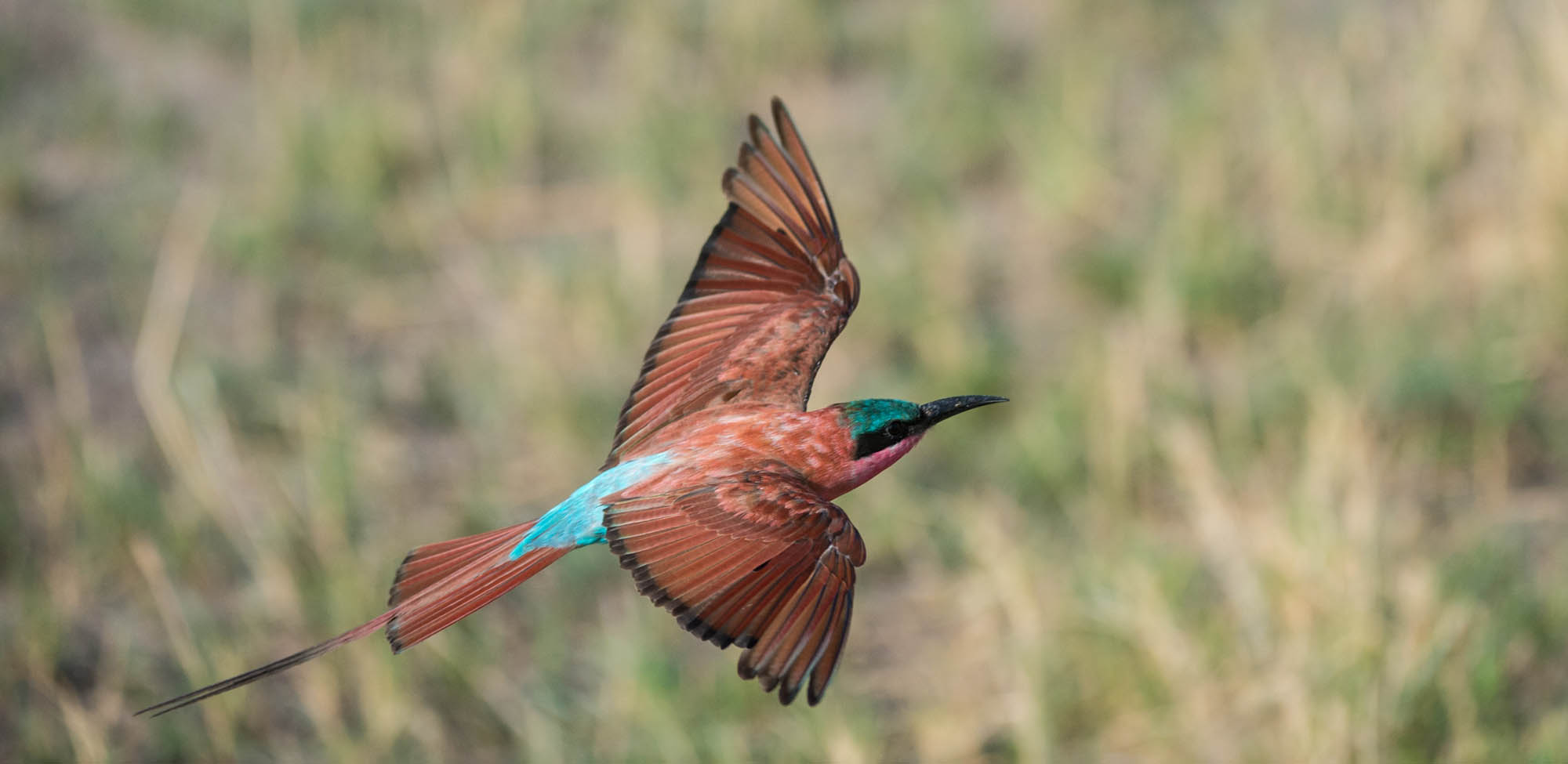 Driving around the edges of the marsh, our vehicle was followed by several carmine bee-eaters, intent on catching the insects stirred up by our activities.  In the process I managed a few decent pics of these colorful birds in flight – always something to behold. Beautiful birds in flight, something to look forward to when planning a visit to Savute Safari Lodge – and the Savute Marsh.
Photo: Desert & Delta Safaris
YOU MIGHT ALSO BE INTERESTED IN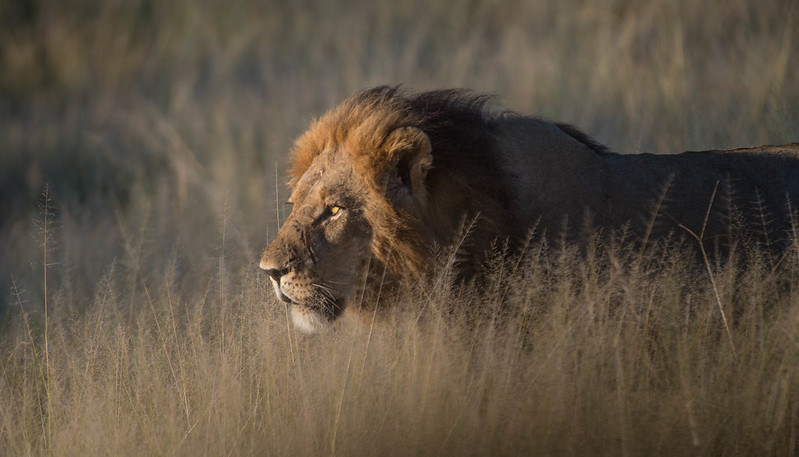 12th Oct 2023
Zimbabwe & Botswana special offers – low-demand season 2023-2024
We've got several special offers available for the coming low-demand season in both Zimbabwe and Botswana. The specials are available for a range of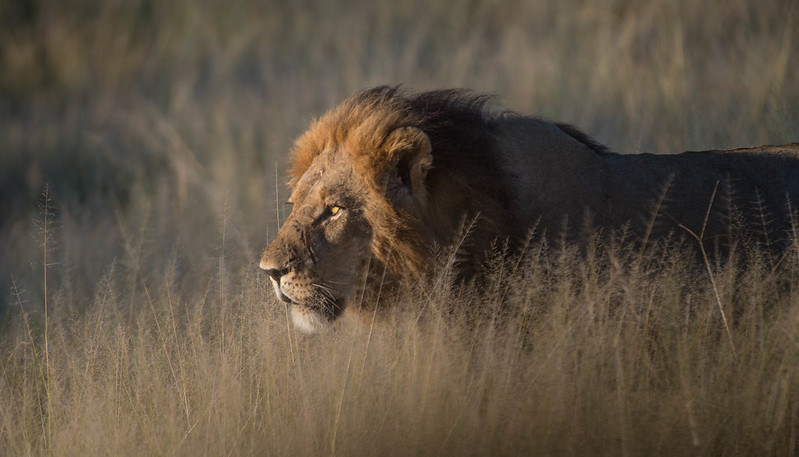 12th Oct 2023
Zimbabwe & Botswana special offers – low-demand season 2023-2024
We've got several special offers available for the coming low-demand season in both Zimbabwe and Botswana. The specials are available for a range of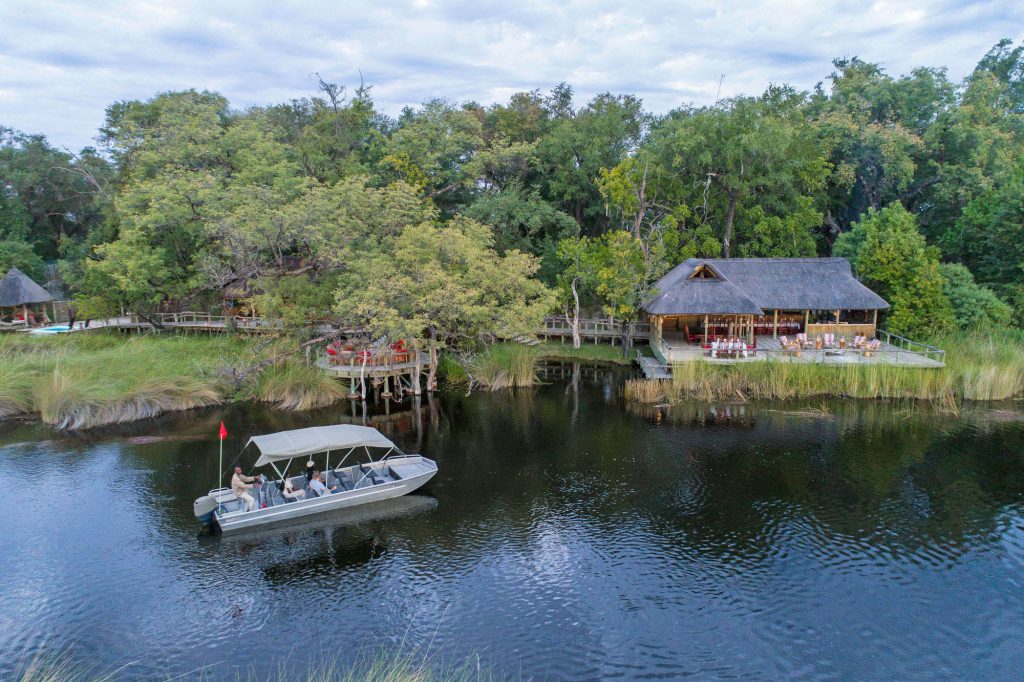 10th Aug 2021
Xakanaxa Camp, Botswana
What is there to be said upon one's return from a trip to Botswana? That it was fun?
SUBSCRIBE TO OUR NEWSLETTER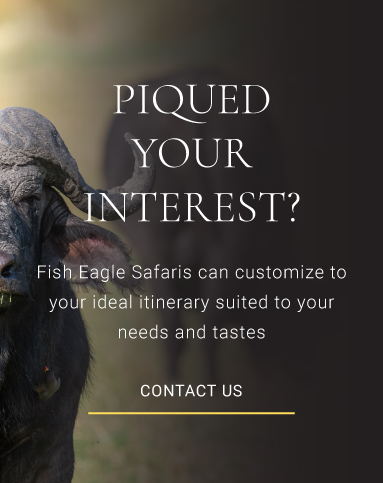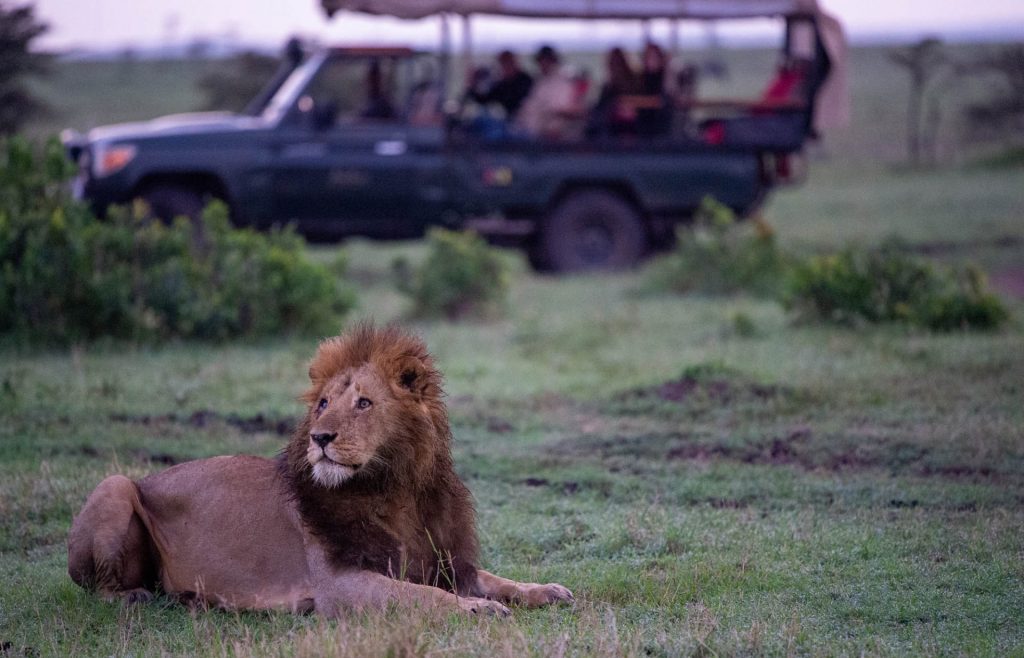 11th Nov 2021
How to book a better safari
Fish Eagle Safaris' owner Bert Duplessis and his team at Fish Eagle Safaris Inc.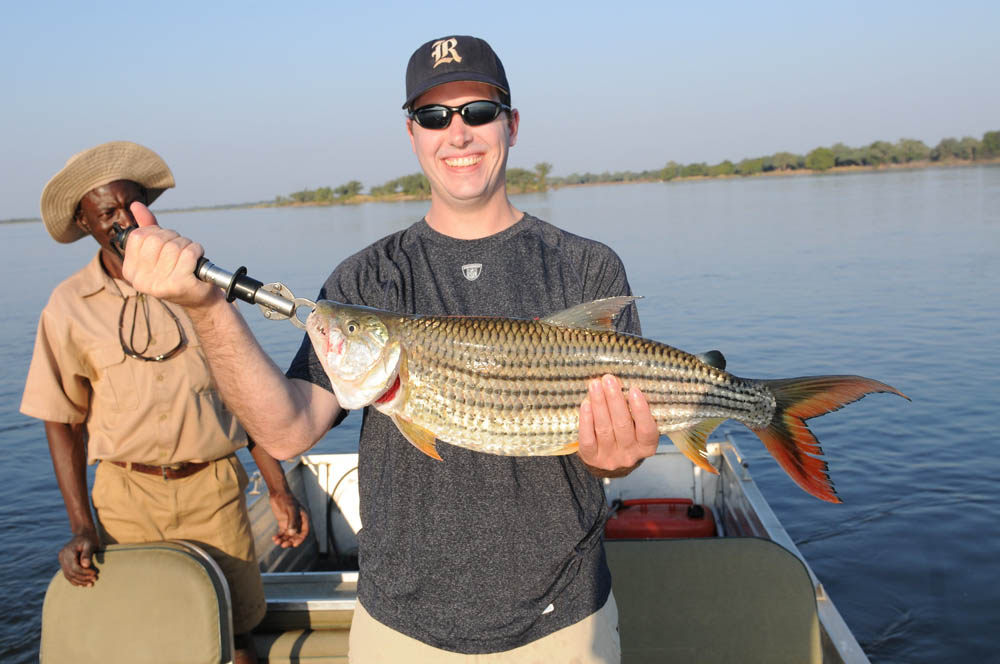 20th Apr 2020
"Only in Africa": Tiger Fishing
I believe the core activity on any great safari is the game drive.  The animals are, of course, the main attraction and there is no better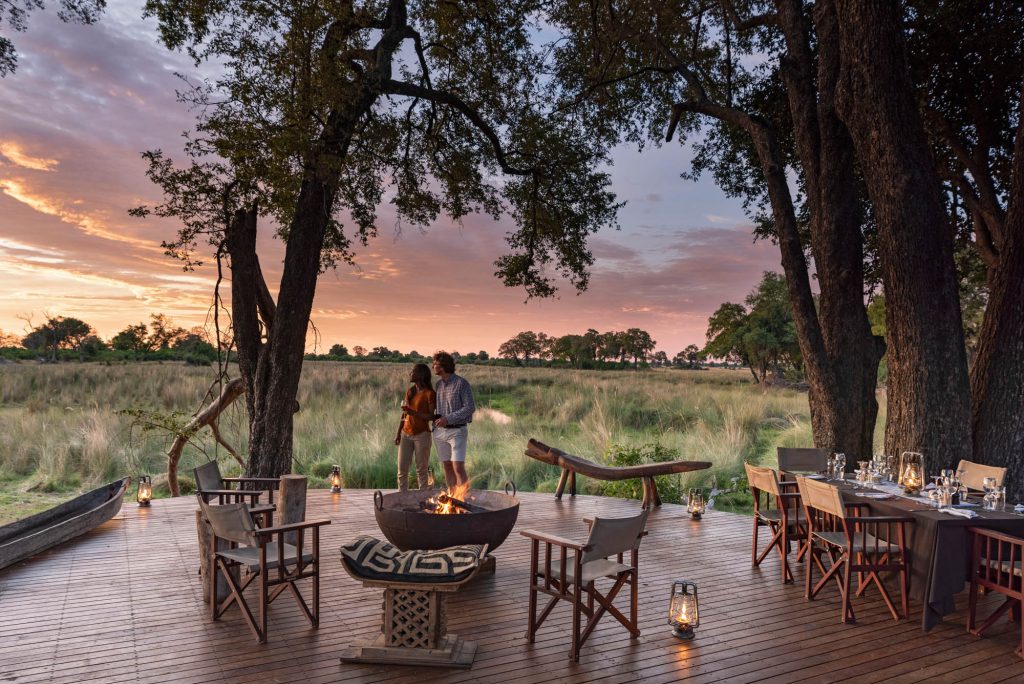 30th Jul 2021
Duba Explorers & Duba Plains Camp, Botswana DUBA EXPLORERS CAMP
Great Plains' Duba Explorers Camp is located in the northern part of the Okavango