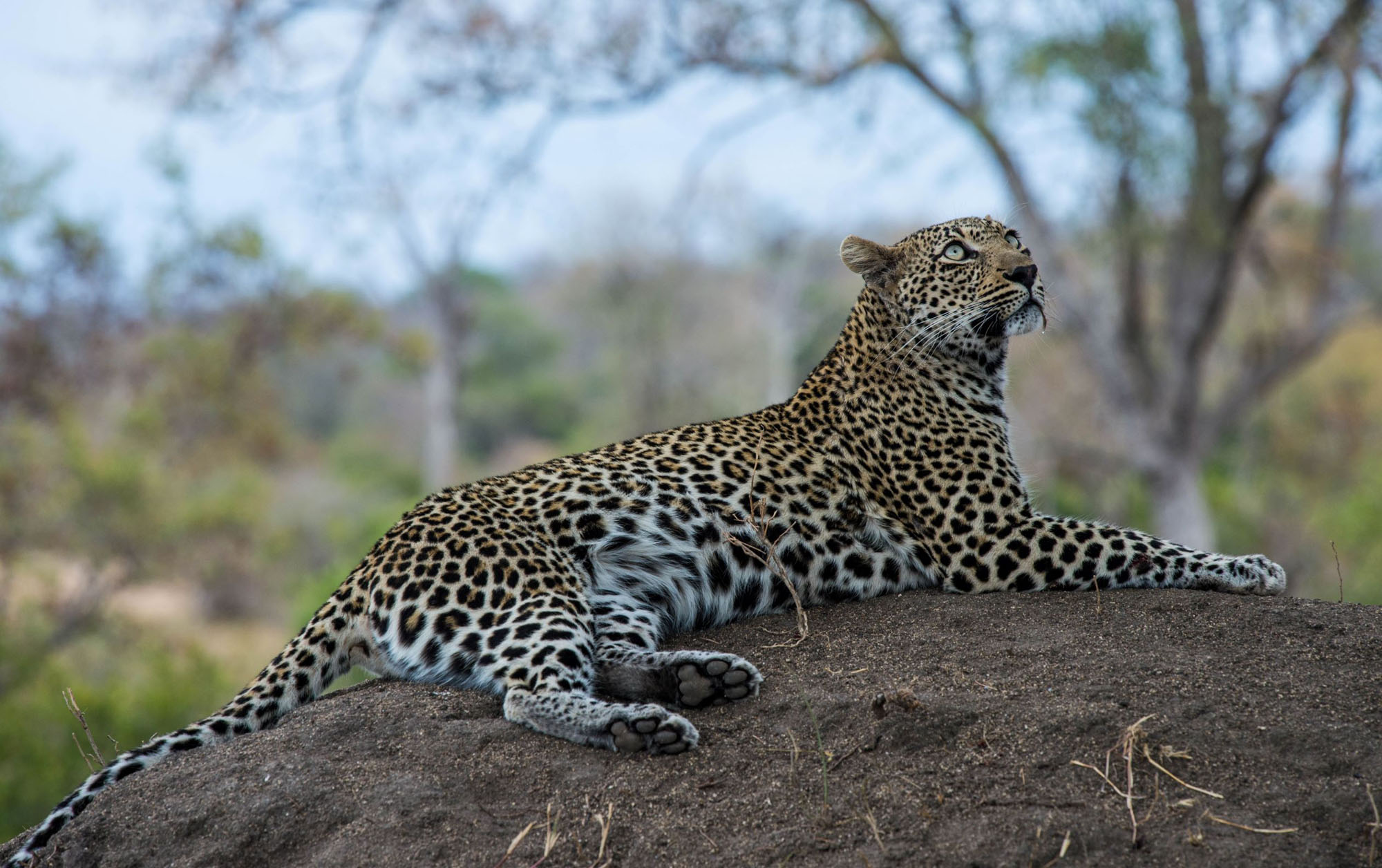 In Search of Leopards
What is the only regret that many African safari travelers go home with? Not seeing a leopard. I know of several repeat visitors to Africa who have struck out on leopards more than just once. Three, four trips even and including some known leopard haunts and – nothing. Some animals are more equal than others, and among the much celebrated 'Big Five' mammals – lions, leopards, rhinos, elephants and buffaloes – leopards are clearly a standout.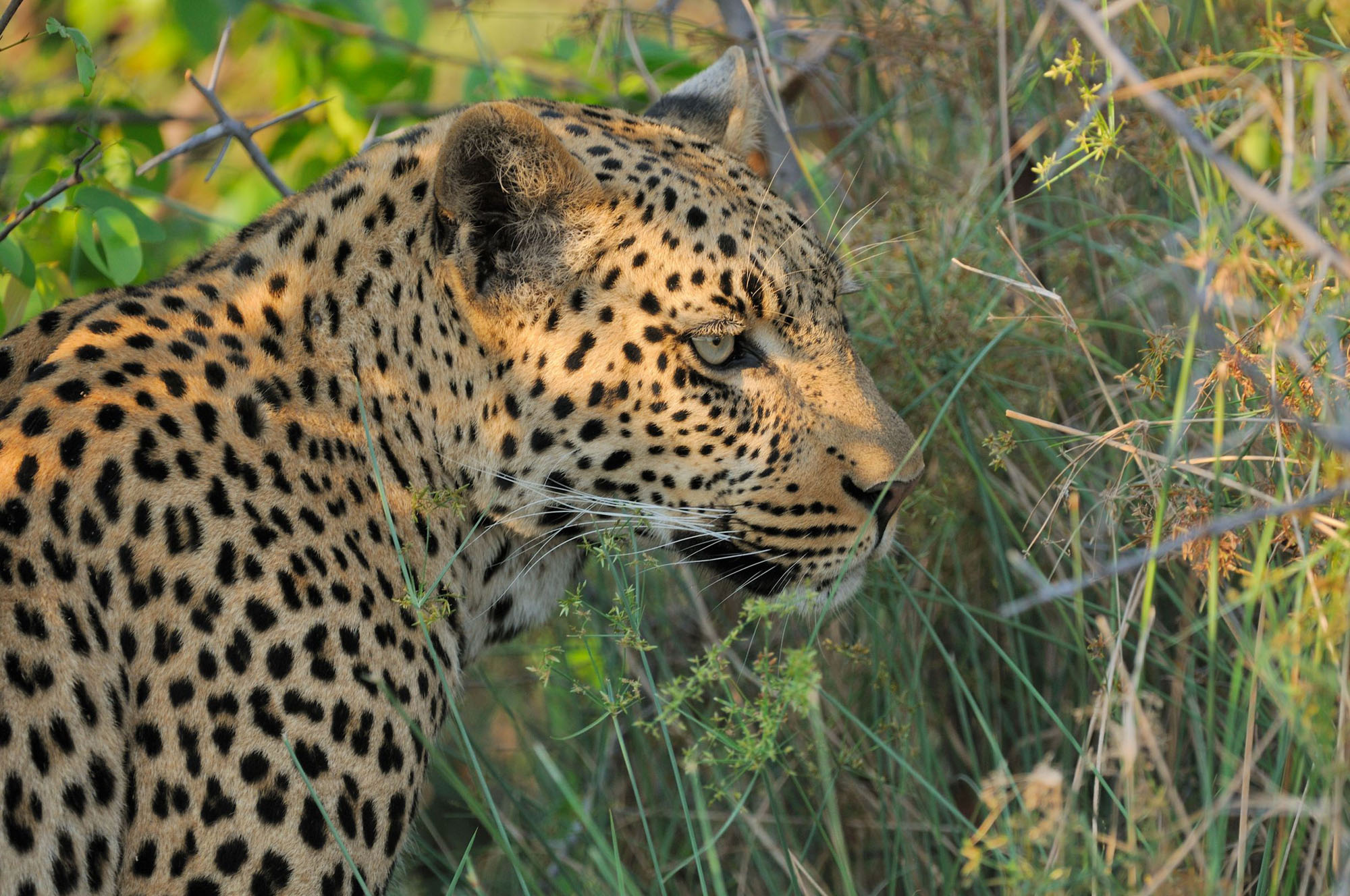 Not because they are rare – in fact they are more abundant than any of the African big cats – but because they are naturally evasive, skulking and mostly nocturnal. Other than in a handful of places across Africa, leopards are rarely observed beyond perhaps a quick glimpse, a flash of spots disappearing into the green.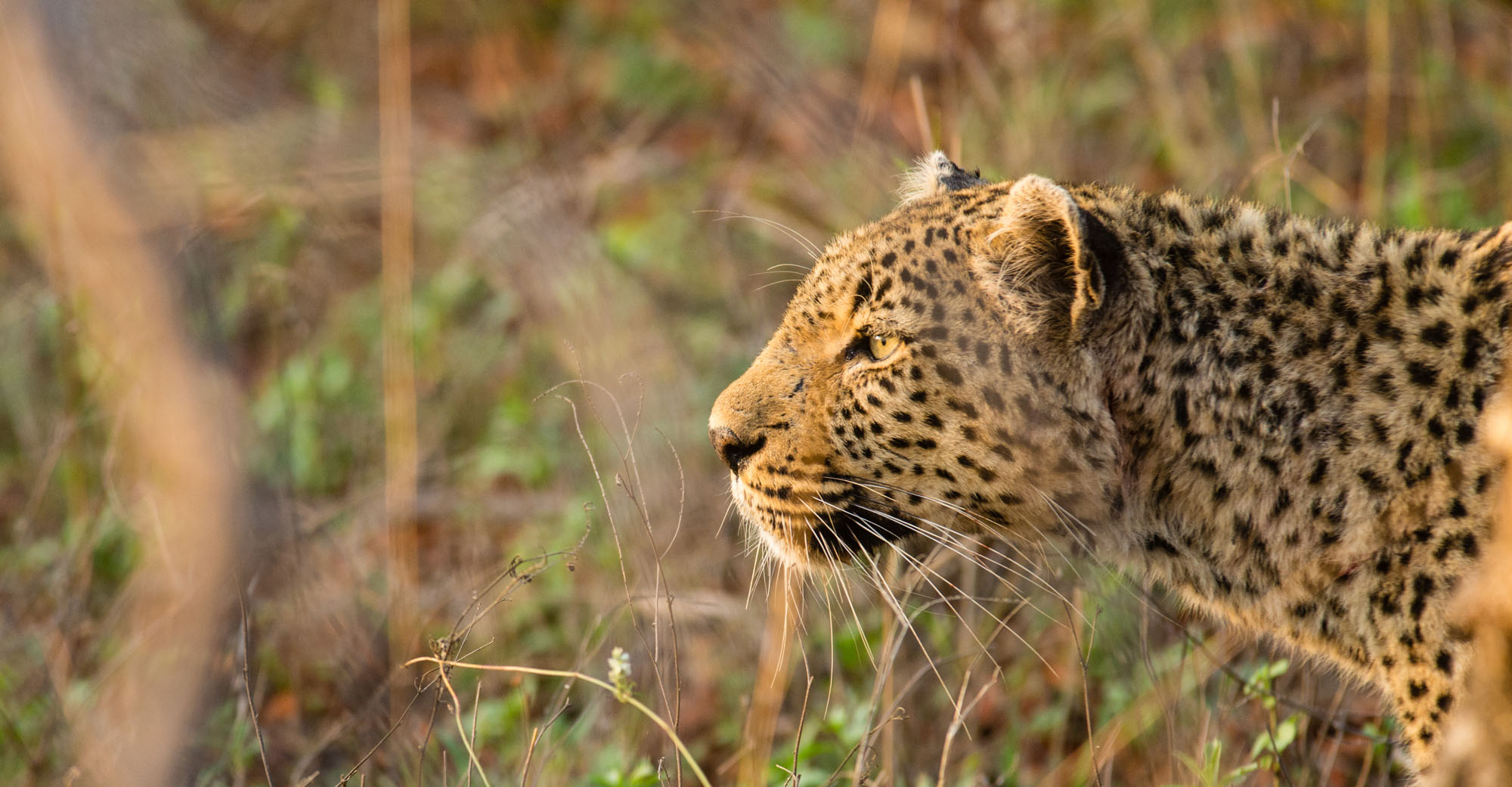 When you do get lucky with a leopard sighting, it is always fodder for camp-fire talk, something to casually mention over dinner back in camp. The reaction being a predictable mix of envy and admiration. Suddenly, you're the most interesting person in the room. There will be an invitation to provide more details and the conversation will probably meander into reminiscing about old but not forgotten leopard sightings. Memories of this sleek, beautiful cat – pound for pound the most powerful of any of its kind – barely fade with time.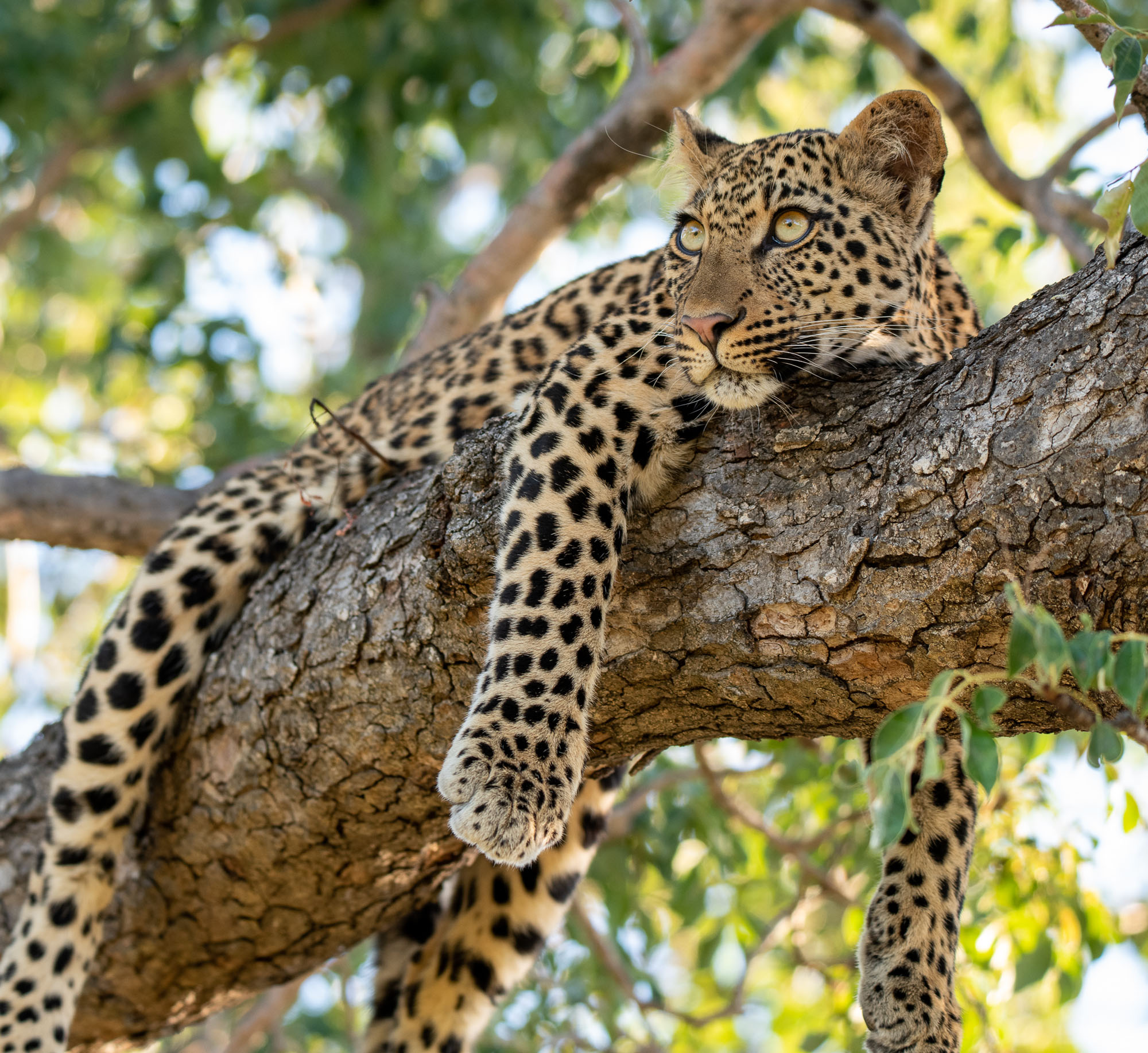 Prod any safari aficionado a bit and they will tell you about seeing a leopard practically run up a tree in Samburu in Kenya, the warm body of a good sized impala firmly clamped in its jaws. Or the time they saw a leopard stalk and kill a careless blackbacked jackal in Etosha National Park in Namibia, in the middle of the day. There are lots of good leopard stories out there. And almost just as many places and opportunities to experience this most memorable of animals, and start working on your own stories. Here are some notes on a few of these special places, with some of our favorite leopard photographs.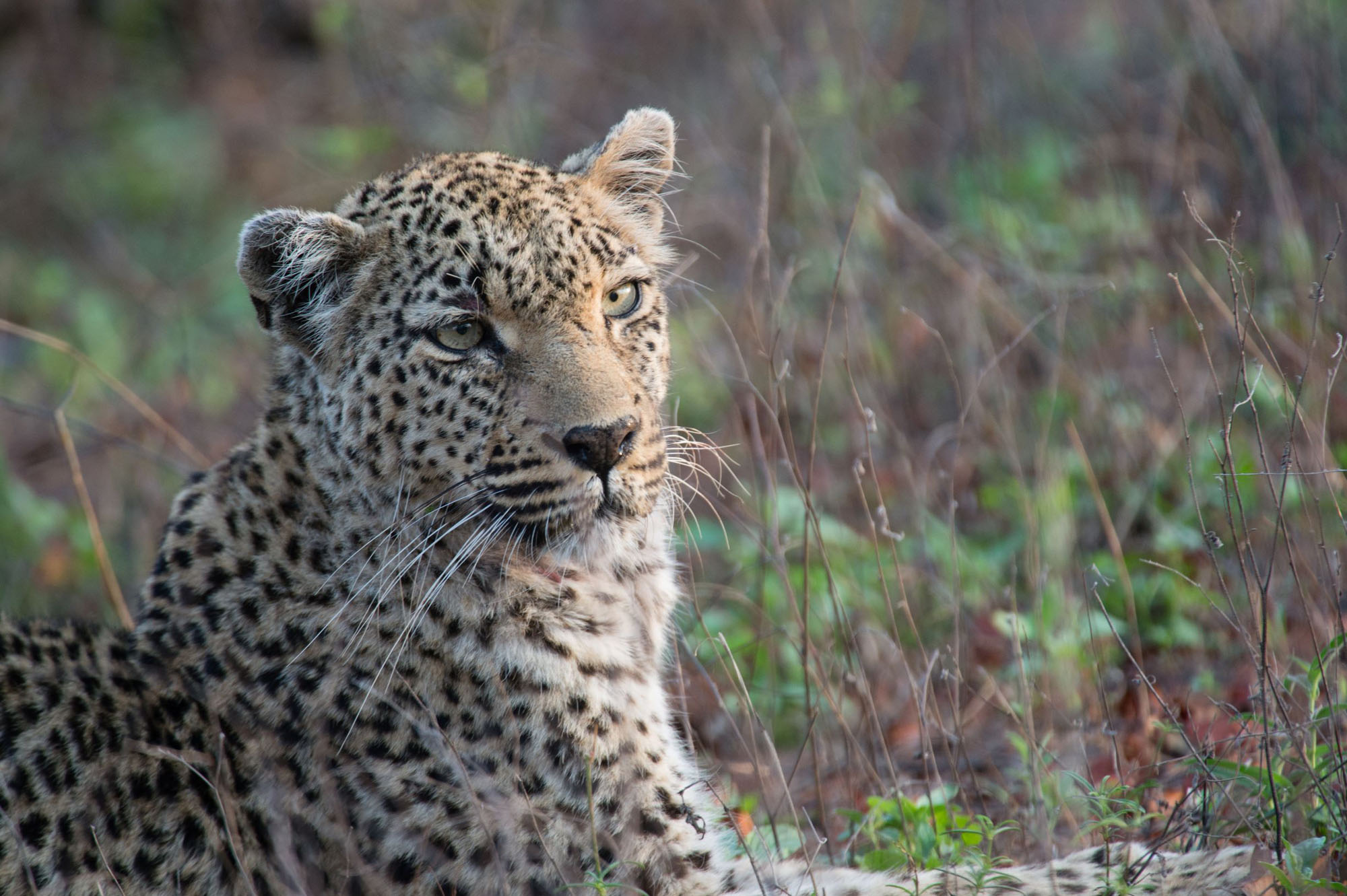 Hunda Island, Okavango Delta Botswana
Hunda Island is a large, well-wooded island in the Jao concession in the western part of the Okavango Delta. The Jao concession is exactly what one might anticipate the Okavango Delta looking like, even before you've ever been there. A stunningly beautiful mosaic of small, palm-fringed islands, meandering channels and pretty lagoons with sizable stands of reeds and papyrus. When the annual flood is in, large expanses of the Jao floodplain become inundated, creating a water wonderland like no other. Hunda Island is a few feet higher than the surrounding plains, so it stays dry year round. There is no lack of trees though and plenty of game including impalas, baboons, hares, warthogs and rodents. Leopard food, all. Some of the leopards to be seen on Hunda Island are quite relaxed – as the guides will say – being habituated to the presence of vehicles. Which means they can see and smell you – but they don't care.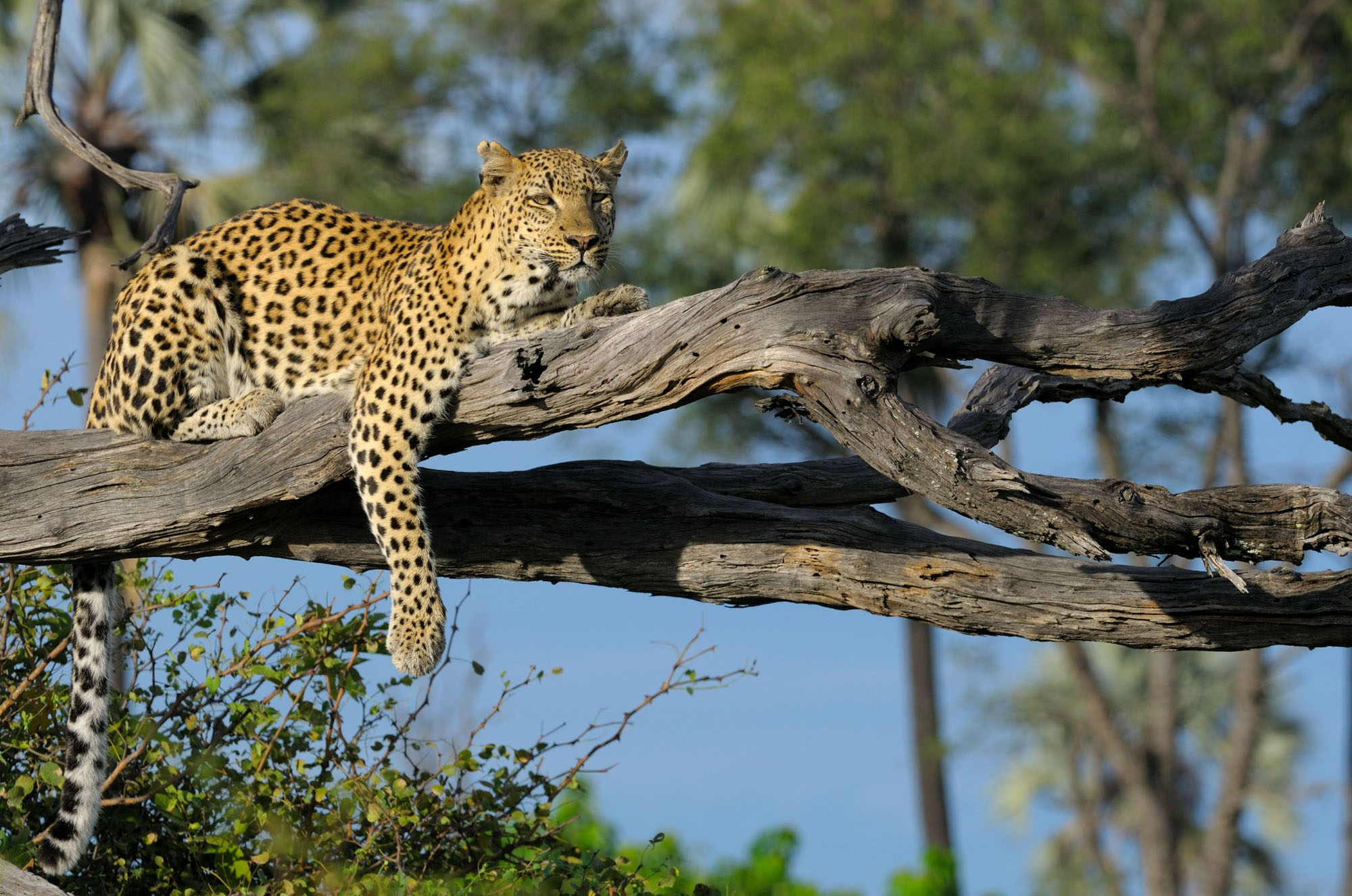 More than once, I've seen a leopard in a tree on Hunda Island. Which is a photographer's potential dream shot – and also his or her biggest challenge. The issue being the dreaded 'bright sky' background which messes up the exposure, resulting in either an underexposed (dark) leopard or a totally blown out, overly bright sky background. On the day that I managed to get this shot of a leopard in a tree on Hunda Island, this very same animal had been in another tree just minutes earlier, with 'just sky' in the background. With zero chance of getting a nicely balanced exposure. I was beyond myself. Only to have the leopard calmly clamber down that tree, and into another one, with – halleluja – green foliage in the background. Leopard in a tree shot? Check. My advice is to be patient and to stick around. Things change, and often for the better. If you're really keen on getting some great leopard shots, spend more time on Hunda Island (like four nights instead of three) and stay at Tubu or Little Tubu camp. They are right on Hunda Island and you won't be wasting time getting there.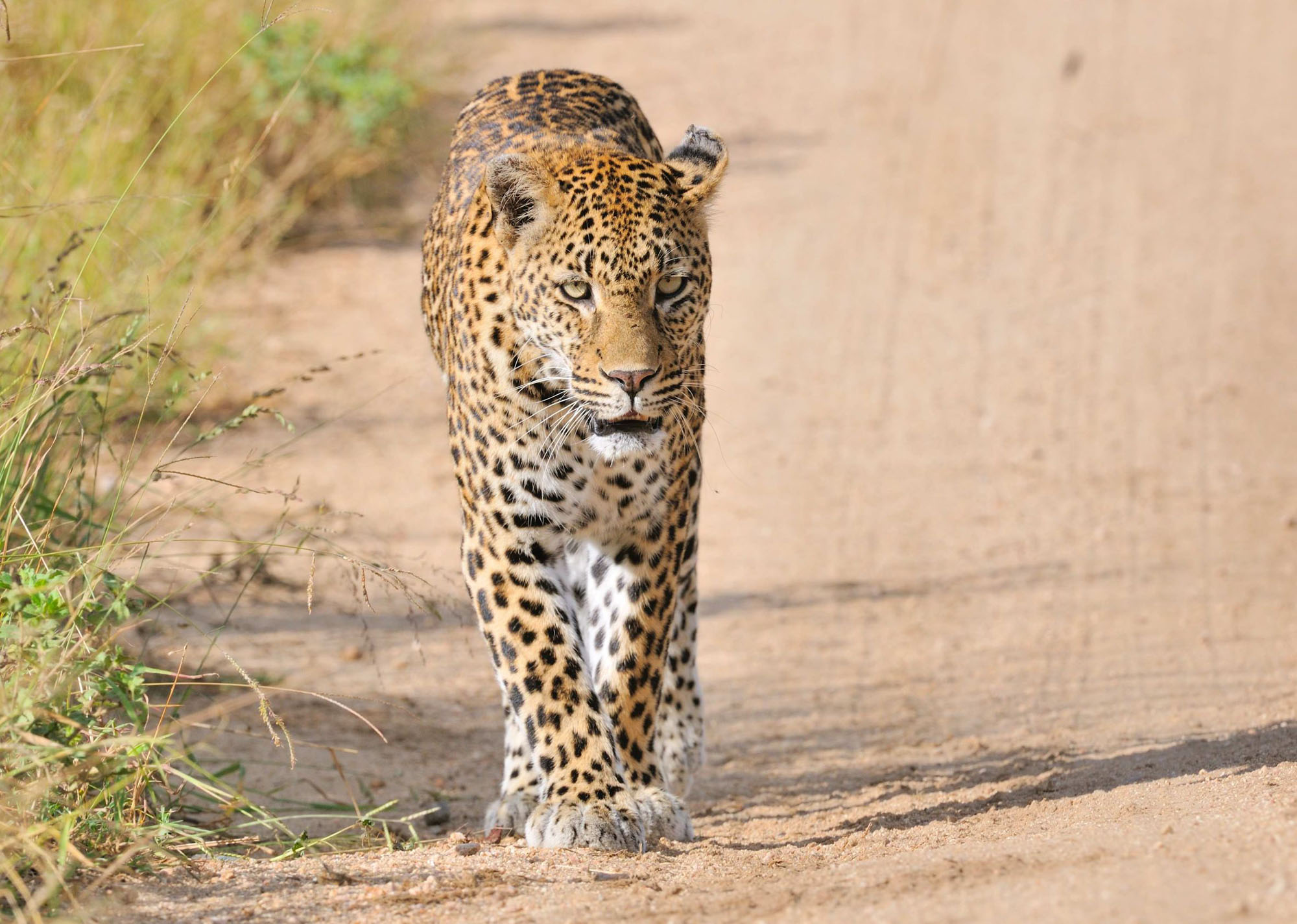 MalaMala Game Reserve, Sabi Sand Reserve, South Africa
I always think of MalaMala as a place where leopards can be seen strolling down a track at 11 in the morning. It is that kind of a place. The consistency with which leopards are seen at MalaMala is simply astonishing. Practically not a day goes by without a leopard sighting, week in and week out. There were a total of 1,216 sightings in 2019, an average of 3.3 sightings per day. Leopard sightings are measured on a per day basis, so if the Island Female is seen on the morning drive and again in the afternoon, that is counted as one sighting. The record high number for different leopards being seen at MalaMala on one day is no less than fifteen. So if you absolutely, positively 'have' to see some leopards on your next or first Africa trip, MalaMala needs to be on your itinerary. You can thank me later.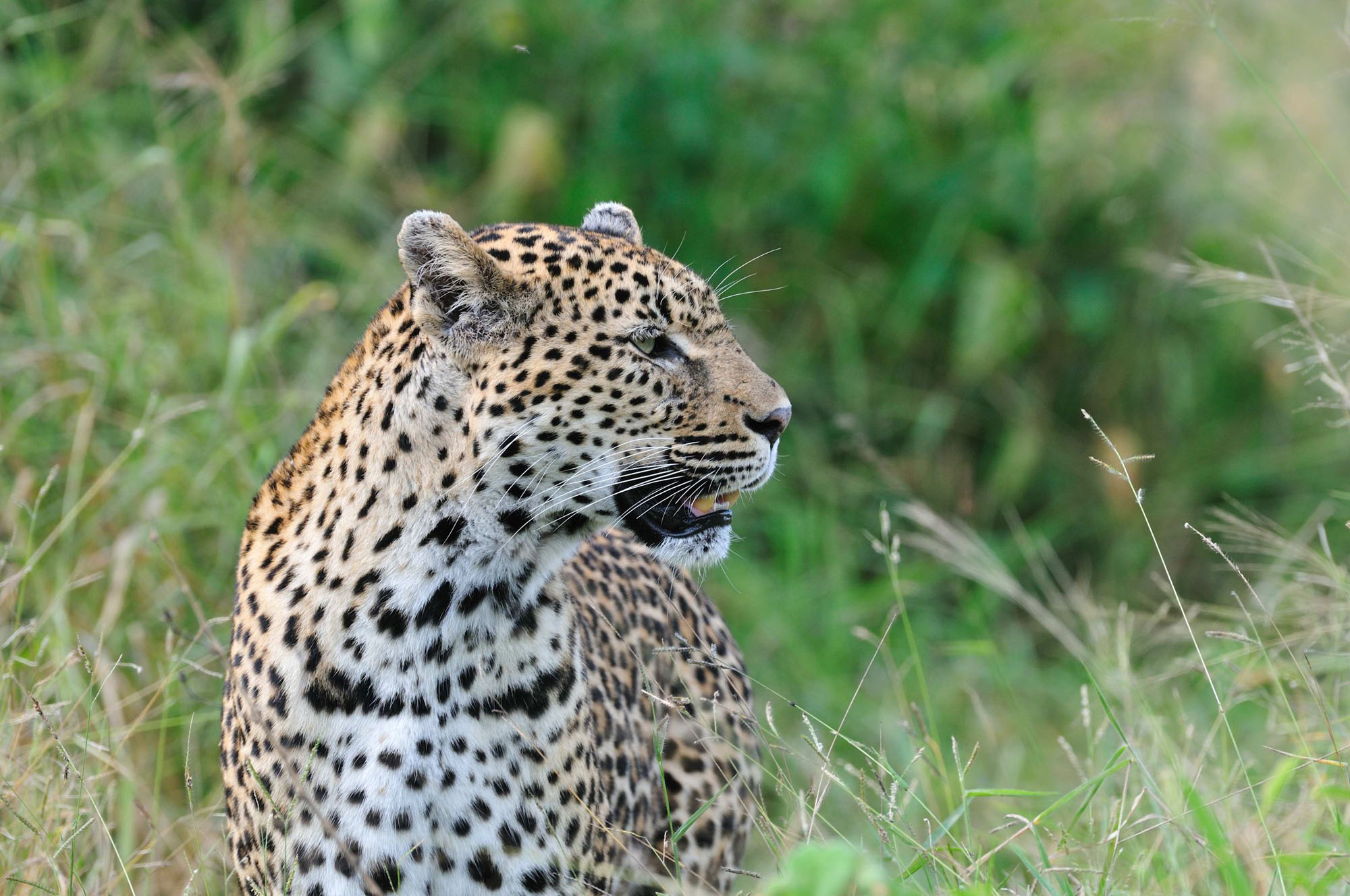 If you've been there recently or are planning a trip, names like the Piccadilly Female, the aforementioned Island Female, the Nkoveni Female, the Split Rock Male or the Maxim's Male may either be familiar to you, or soon will be. The most widely accepted method of leopard identification is by using spot patterns. A spot pattern refers to the uppermost row of spots on the leopard's cheeks, above the upper line of whiskers. Probably best to get a good close-up shot of the leopard first, and check the spots later…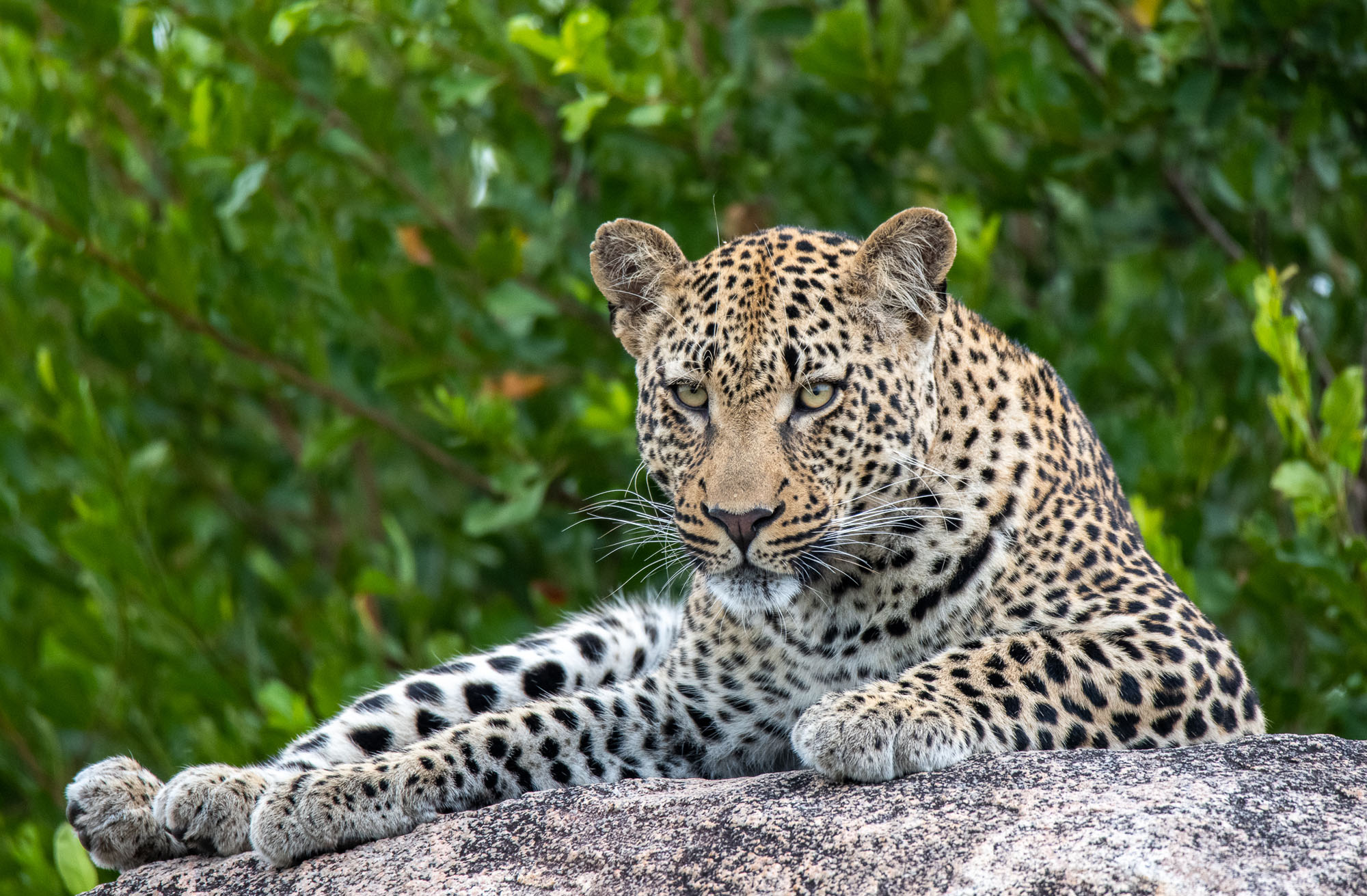 This photo of a young male leopard was taken on our most recent trip to MalaMala in June last year. What made it special was that we spent nearly an hour observing him walking around, patrolling the area and checking for the scent or signs of any intruders into his territory. He was completely relaxed and did not so much as look at the vehicle, despite walking right by it on a couple of occasions. Eventually, he selected one of his favorite spots on a flat rock and stretched out. We were one of only two vehicles to enjoy this sighting, the first vehicle leaving the scene within minutes of us arriving.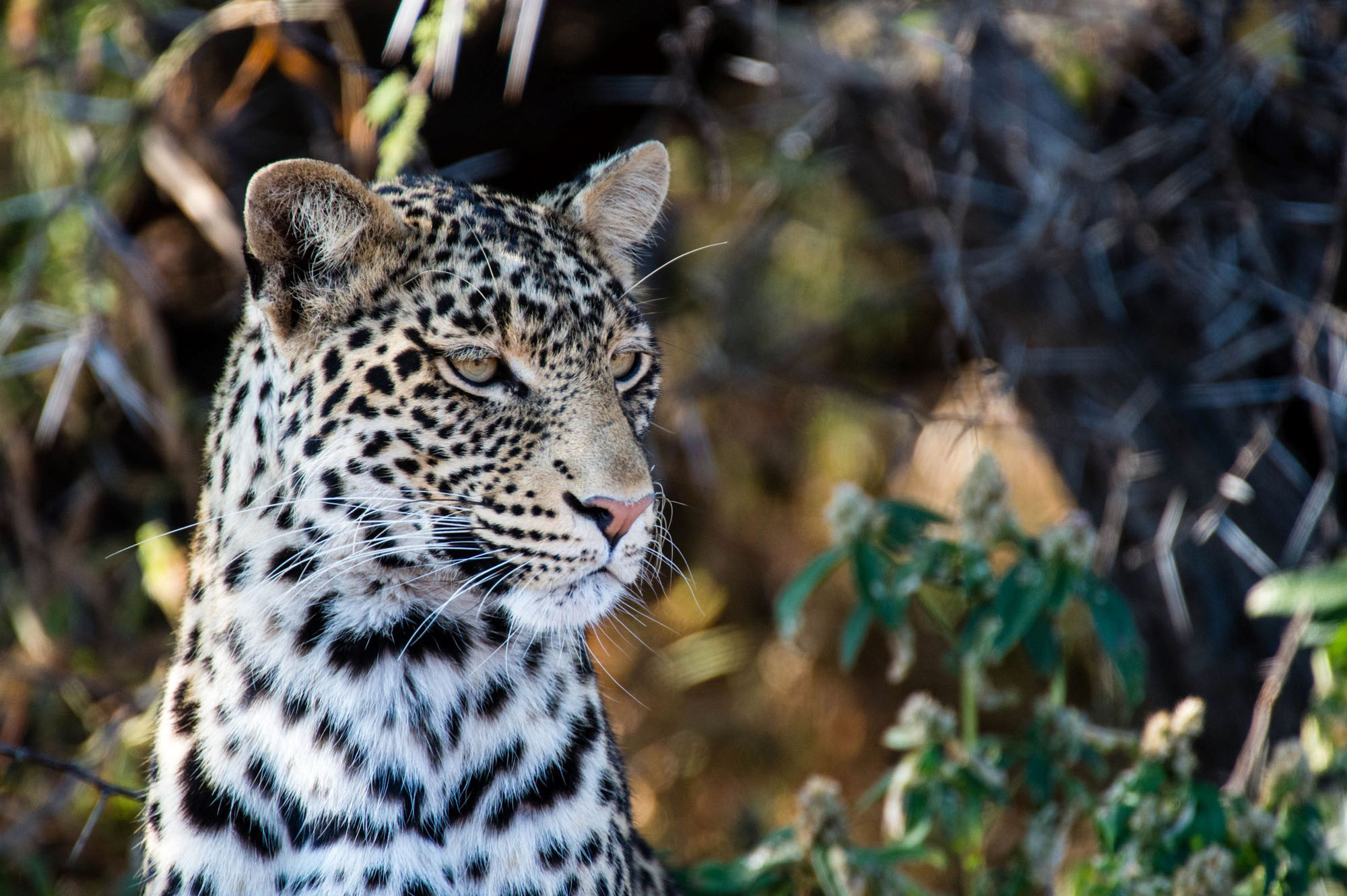 Mashatu, south-eastern Botswana
Likely the most underrated of any Southern African wildlife sanctuary, Botswana's Mashatu Game Reserve delivers big cat sighting after big cat sighting to match any other wildlife area in Africa. With no exceptions. Lions, cheetahs, leopards. All three can currently be seen there consistently. On a recent September trip, we enjoyed two different cheetah sightings and three different leopard sightings in the course of a relatively short stay at Mashatu Tented Camp. Unlike the true 'bushveld' regions of Southern Africa, Mashatu is relatively arid with less in the way of impenetrable thickets and dense riverine bush. While there's plenty of cover for leopards in the way of mopane scrub, woodland, craggy terrain and rocky outcrops, visibility is generally quite good and I've had more unobstructed views of leopards and other cats here, than practically anywhere else. Except perhaps for the Serengeti/Mara complex in East Africa.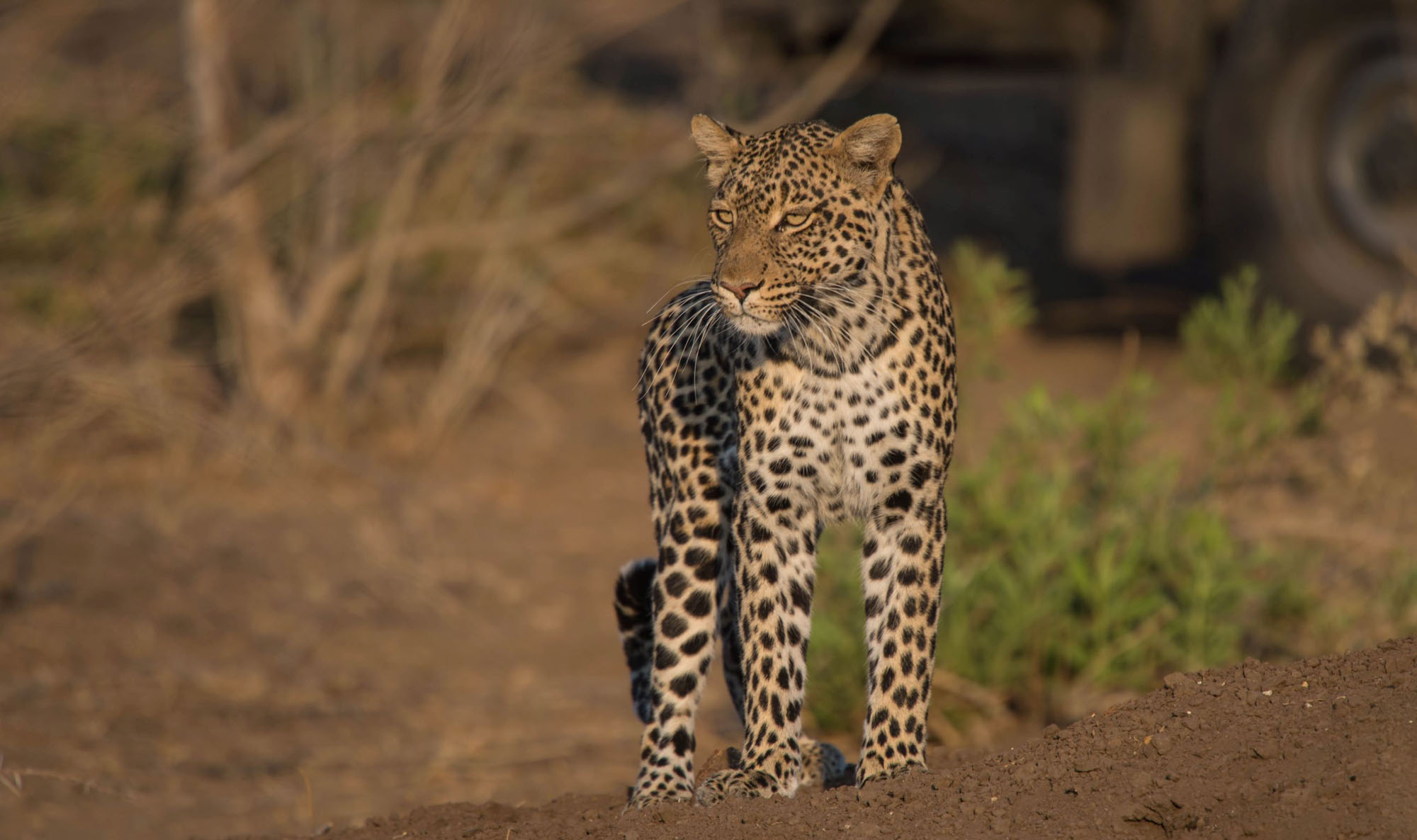 This photo of a leopard at Mashatu was the culmination of a guiding clinic, of sorts. Initially, our guide – and tracker – had spotted some fresh leopard tracks in one of the dry ephemeral rivers in the reserve. Following the tracks down into a gully, we had every expectation of bumping into the leopard. Soon. It was nowhere to be seen. The tracks had petered out in a gravelly patch. We circled around a bit and just when I had pretty much given up on the sighting, the guides heard the alarm call of a helmeted guineafowl. Looping around a few bushes, we approached the loudly protesting bird which was practically pointing at a nearby bush. If a bird could point. Sure enough, not seconds later, a leopard emerged from the bush. It gave us the barest of glances and calmly crossed the dry riverbed, prompting a torrent of machine gun-like shutter clicks from my Nikon D4 at nine frames per second. Success!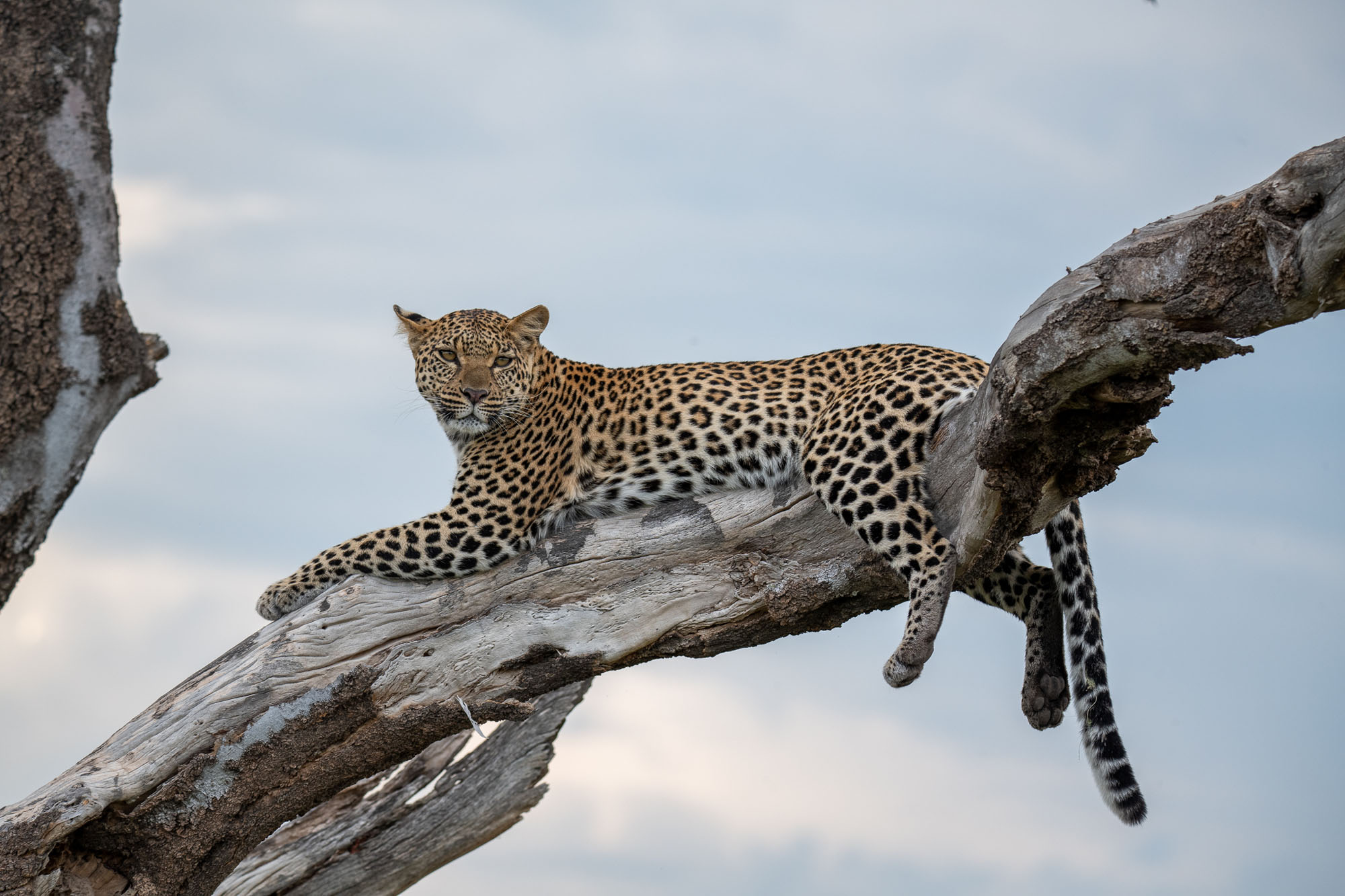 Mombo Camp, Chief's Island Botswana
Wilderness Safaris' Mombo Camp has gained a worldwide reputation and recognition for all-round excellence. Hospitality, guiding, game-viewing, atmosphere, food – there are no shortcomings. On first arriving at the Mombo airstrip many years ago, we were given the choice of proceeding to a cheetah kill or a Martial Eagle which had just taken down an impala. Of course we did both, and they were both phenomenal. The photos, much to my regret, were lost in a subsequent hard drive failure. I know. Back up on the cloud… The following day we experienced the first of many leopard sightings at Mombo, a streak which remains unbroken over the course of several return visits. As recently as March 2020 we were on a fantastic sighting of a female leopard in a tree – with her cub – within fifteen minutes on our first game drive. So Mombo.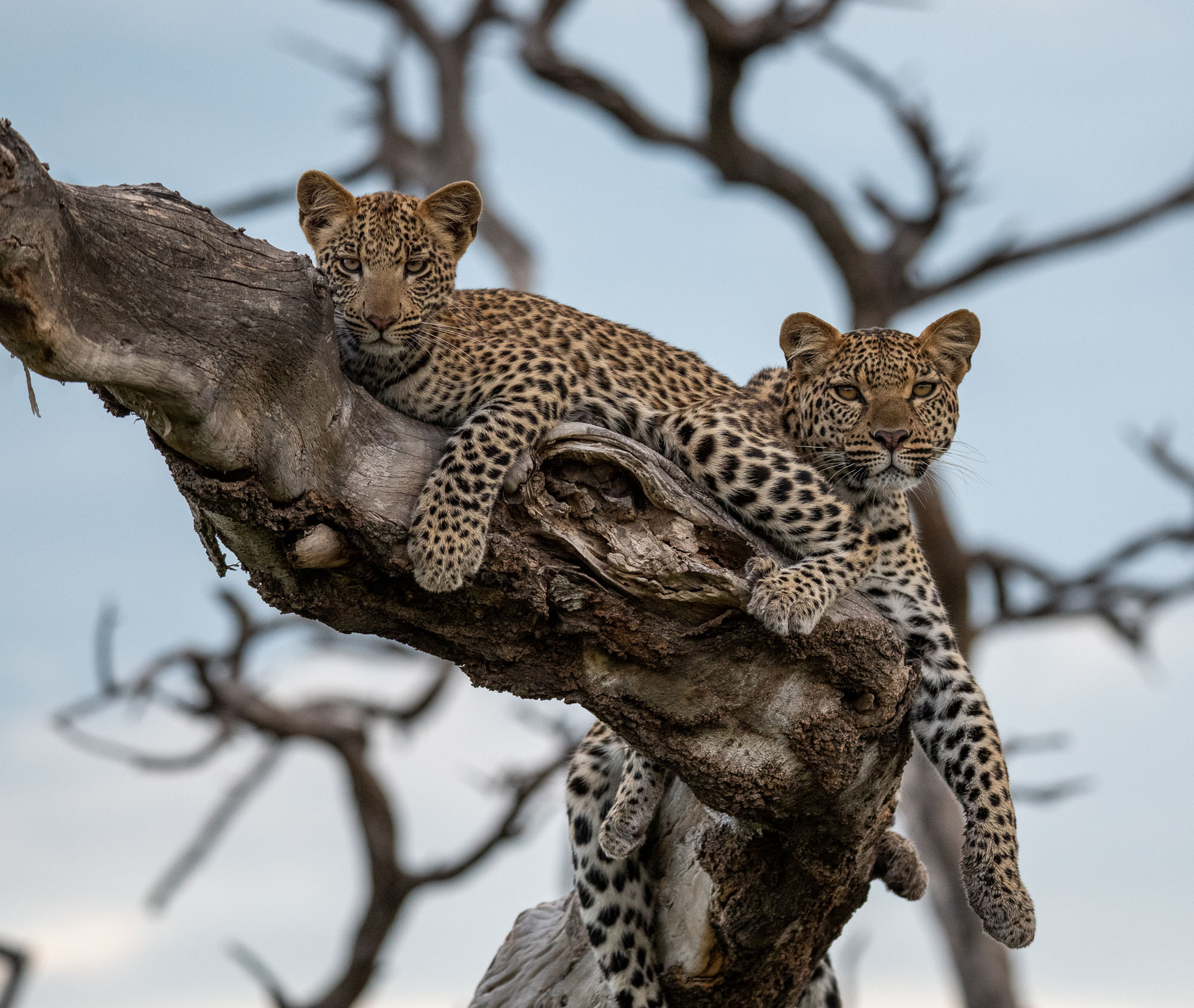 One of the most legendary of Mombo leopards was Legadima, which Kathy and I were fortunate to see more than once. She was truly a 'movie star' leopard, featured in Dereck and Beverly Joubert's 'Eye of the Leopard'. It followed every step of her life, as the cub of Tortilis, from just eight days to three years old. Two of Legadima's cubs namely Pula and Maru then became Mombo favorites, as did Phefu, the daughter of Maru. Currently a young male leopard named Tladi – the son of Phefu – is being seen all around Mombo, walking on the boardwalk and clambering onto the roofs of the guest tents. At just 14 months Tladi successfully hunted a full-grown kudu – quite an achievement for such a young predator. The Legadima legacy lives on.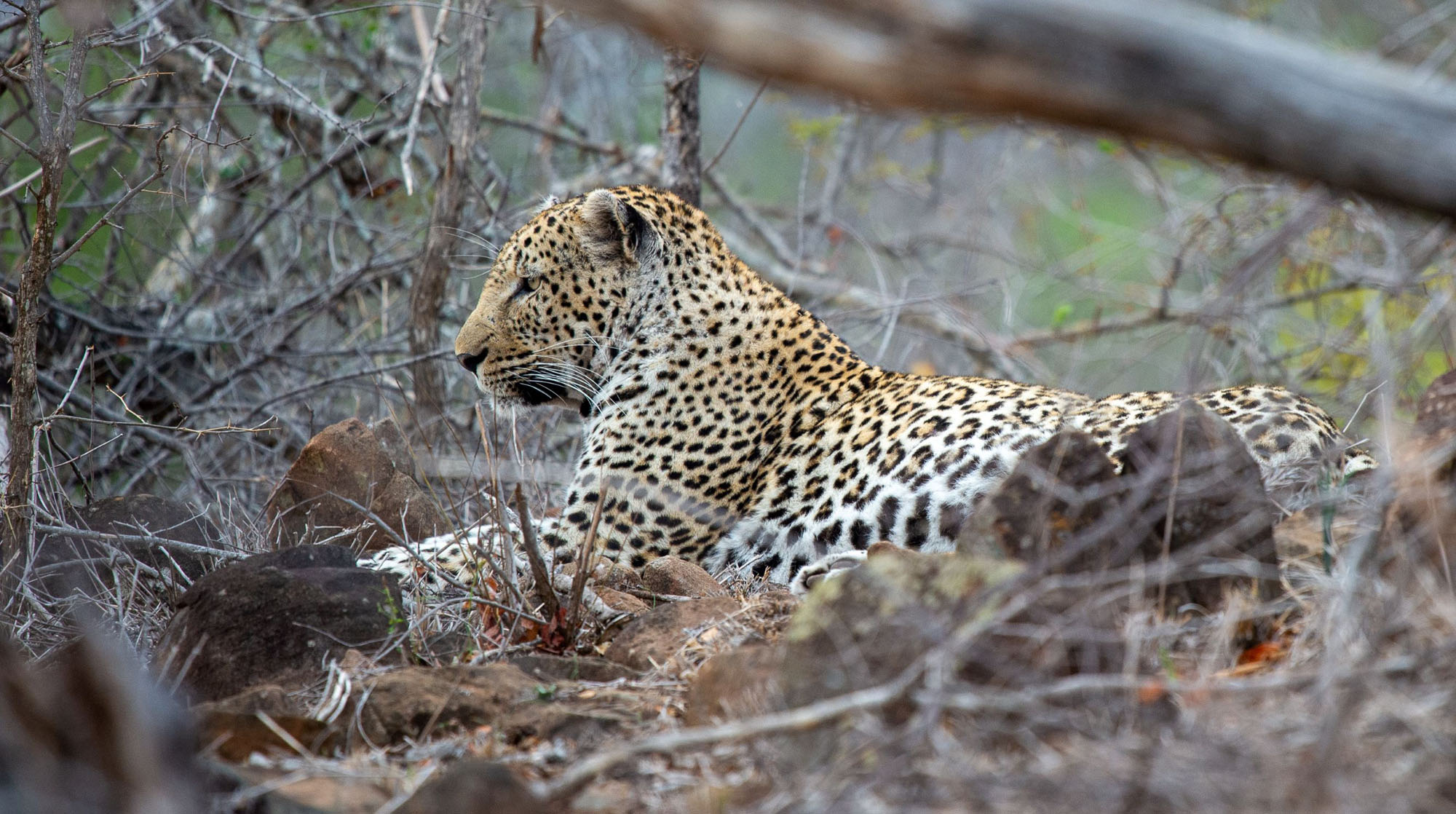 Kaingo Camp, South Luangwa Zambia
Zambia's South Luangwa National Park is known as good leopard habitat, and there's no reason not to anticipate seeing one or more at practically any of the camps in the reserve, over the course of 3 days or so. Some South Luangwa camps do have an edge though, as does Shenton Safaris' Kaingo Camp. It definitely belongs in the top echelon of safari properties where you are likely to see and properly photograph a leopard. On our first visit to the camp we witnessed an extraordinary spectacle one evening when we were out on a night drive, checking for predator action in some open floodplain terrain, along the South Luangwa River.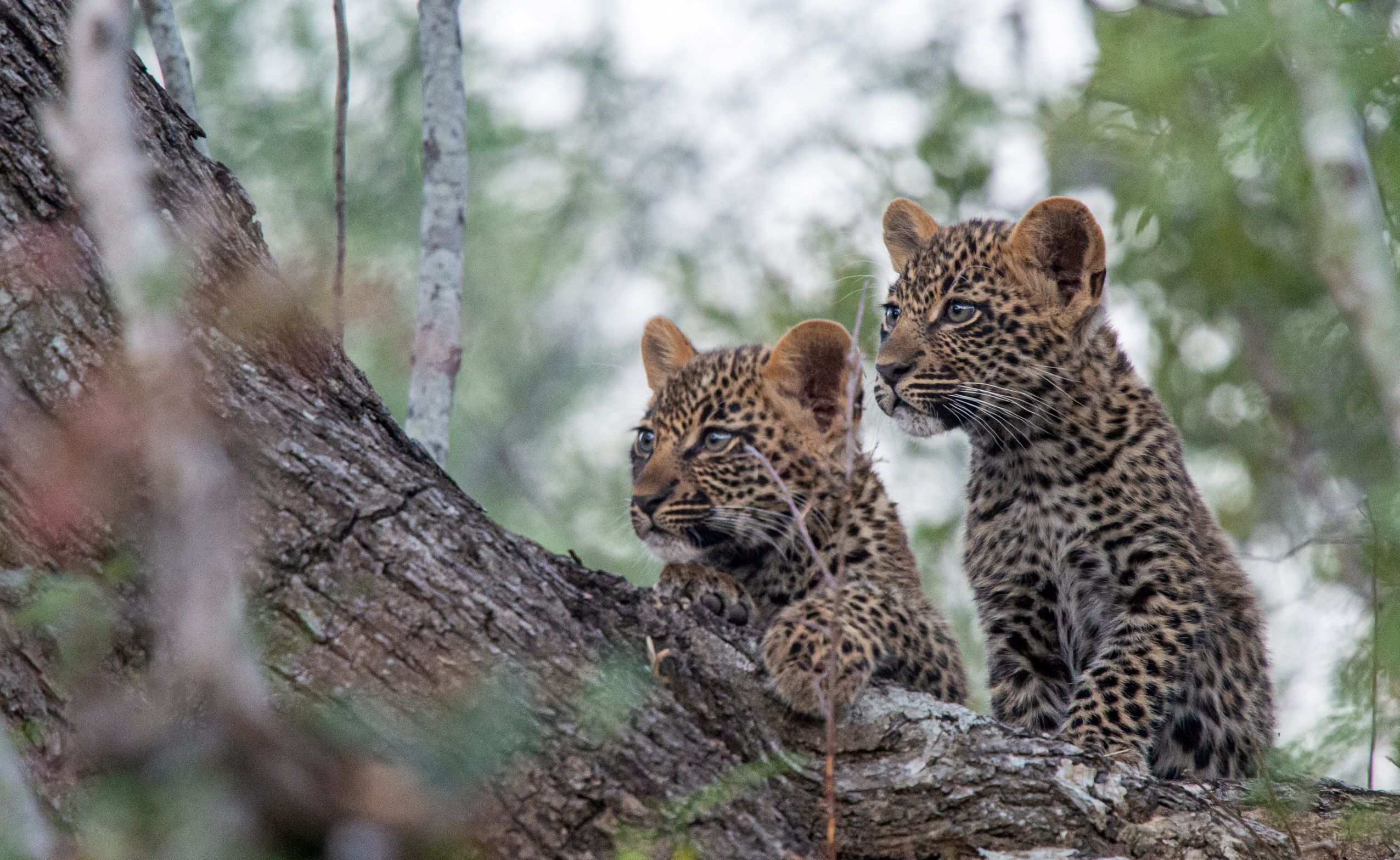 It wasn't long before we had the spotlight on a big male leopard walking into the arena, as it were, checking around for what might be available for dinner. And then, just minutes later, from stage left, a female lion dashed into the picture, going straight for the leopard. To her instant regret, our guide had inadvertently lit up one predator for another. She later told us that she would have felt awful if the lion had been successful in getting to the leopard. In the end the leopard made a successful getaway, scampering to the safety of some nearby trees.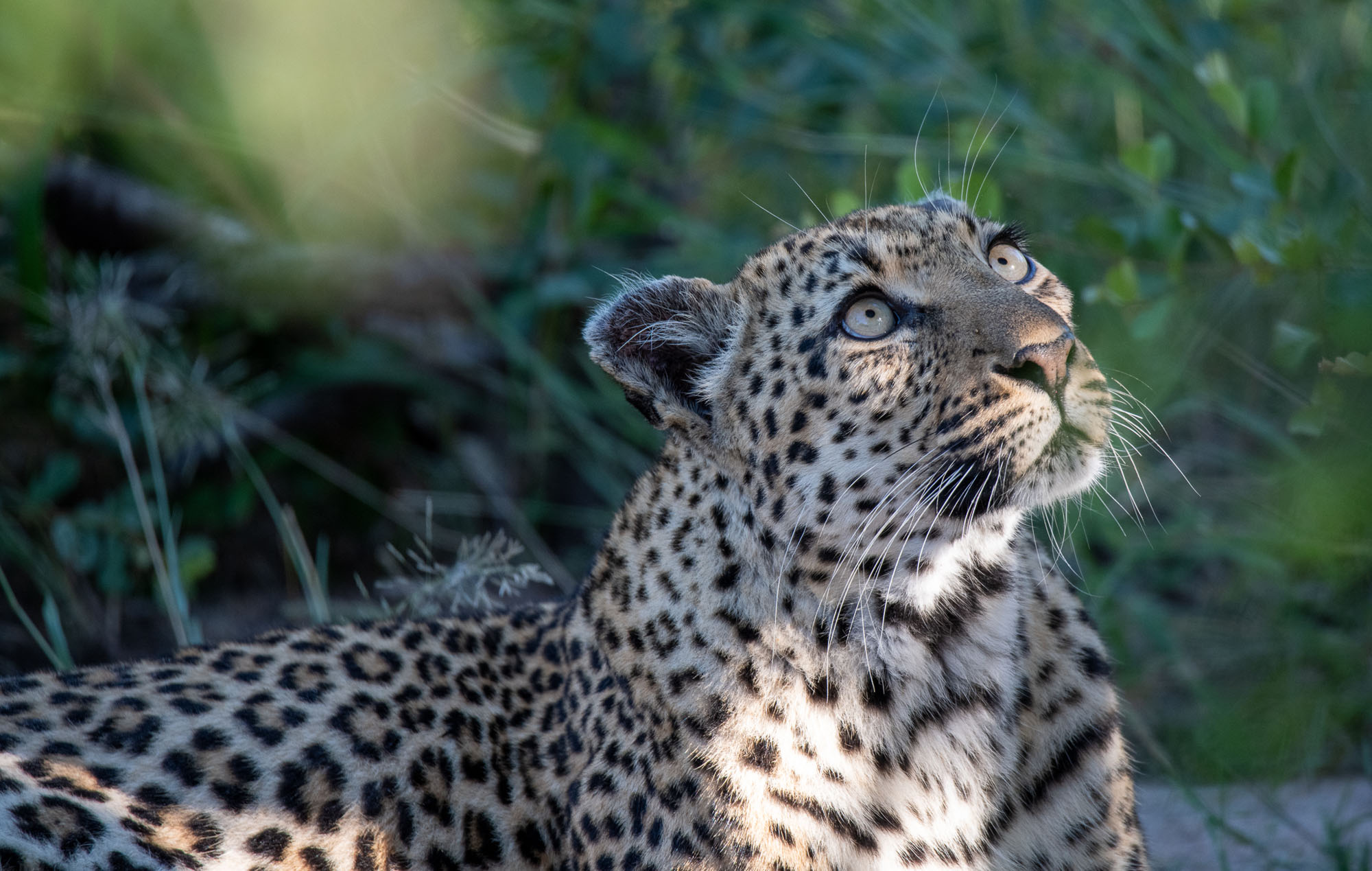 Another interesting phenomenon which we first observed at Kaingo involved hyenas and leopards. In this part of Zambia – and likely elsewhere – hyenas often follow leopards around at night, instinctively realizing that they may benefit if and when the leopard makes a kill. Either by appropriating the carcass for themselves – which we have witnessed on Hunda Island – or by scavenging for leftovers. So on every subsequent night drive, whenever we would see or hear hyenas, we'd be thinking and looking around for leopards. More often than not, that is how it turned out.
Kaingo is exceptionally well attuned to the needs of serious photographers, from the way the vehicles are equipped to the abundance of photographic hides, the kind of advice you get and the ability of the guides to anticipate behavior and movement and get you in the right position for a pro shot, time after time.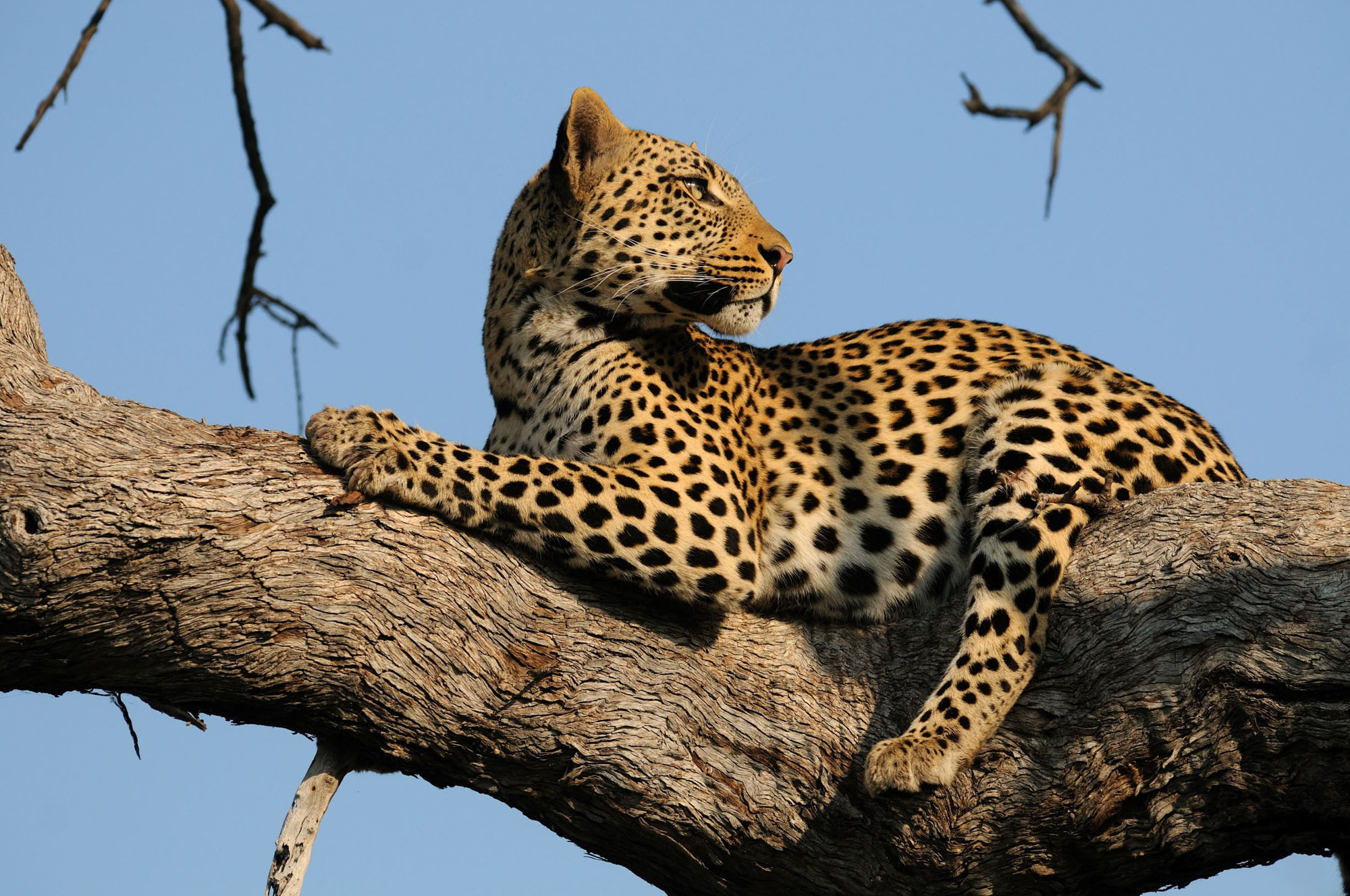 Kirkmans Kamp, Sabi Sand Reserve
AndBeyond's Kirkmans Kamp and its younger, deluxe sibling Tengile, are leopard mainstays. On three different visits here the professional guides at both camps have found leopards for us every time without fail. And not just your common, garden variety of leopard sightings. We're talking leopards in trees, leopards just a few hundred meters from lions, and most recently a 'leopard alert' where I was cautioned to stay in my room early one morning, waiting for a leopard to walk out of camp. We're talking adrenaline-pumping, action-packed sightings which add 200 shots to your photo count in a hurry.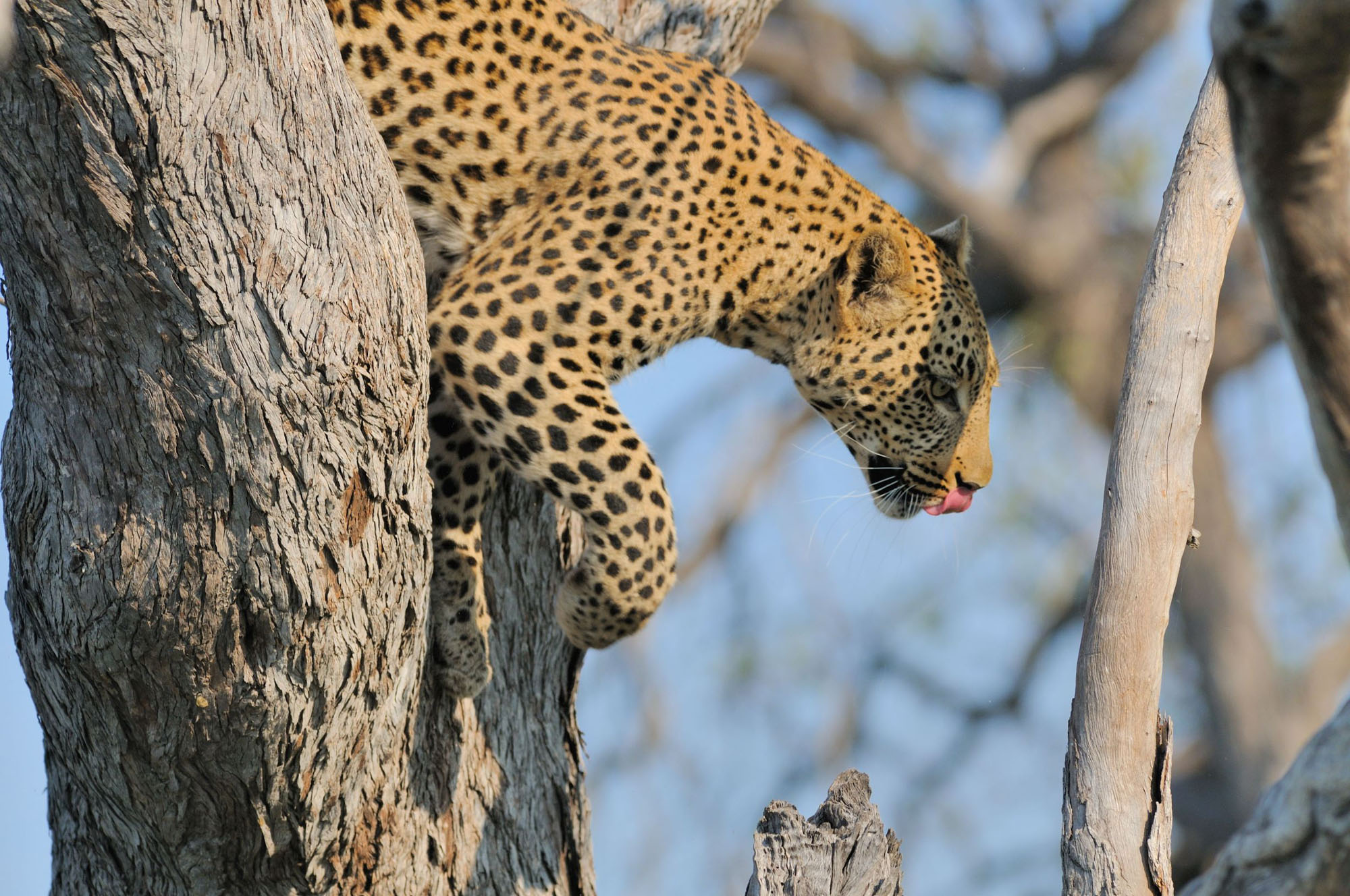 Despite some back-lighting issues, I managed to get a couple of decent exposures of the leopard that had walked into and then out of the camp, a little while later. It had climbed into a tree to survey the area. For whatever reason it was not happy about having the vehicle to the side of the tree, and snarled at us a couple of times. Uncharacteristic behavior for a leopard, in my experience.
In our blog post next Friday we will take a look at the where, why and when of chimpanzee trekking in Uganda, Rwanda and Tanzania.
YOU MIGHT ALSO BE INTERESTED IN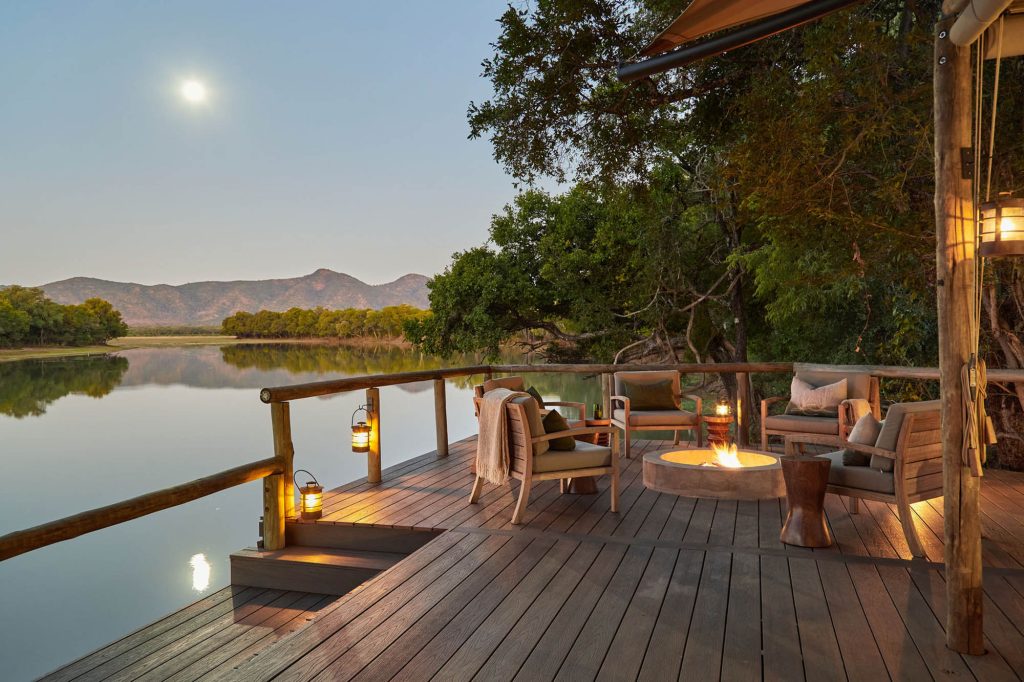 10th Sep 2021
Chindeni and the Bushcamp Company, Zambia
By late July we found ourselves at Chindeni, a small Bushcamp Company property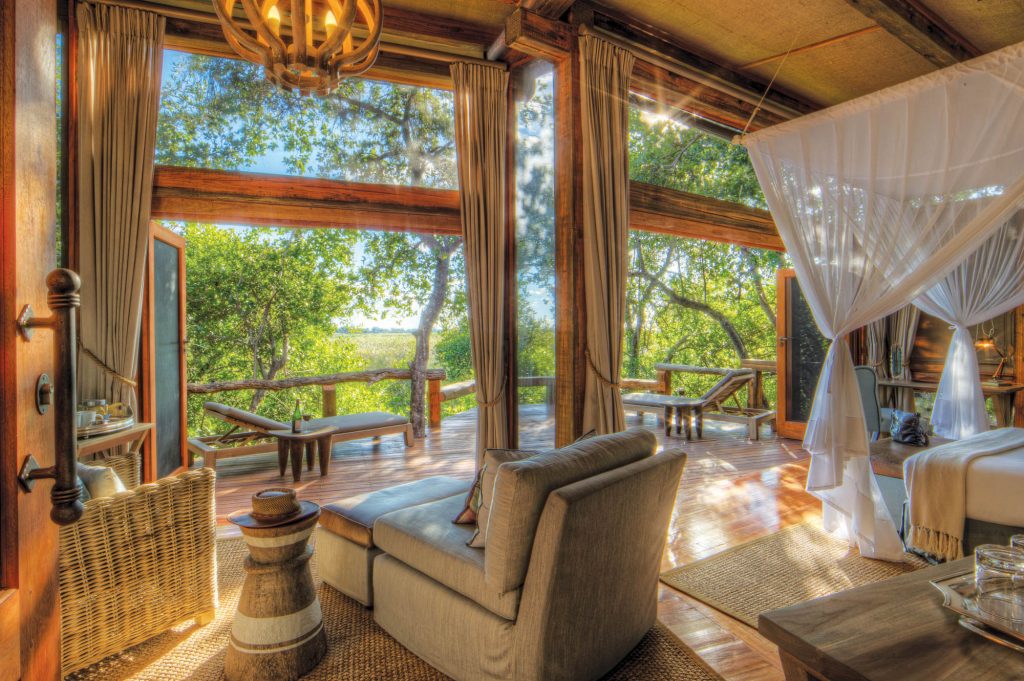 3rd Oct 2022
Camp Okavango, Botswana
Camp Okavango is in the heart of the permanent part of the Delta. In this idyllic setting there are no vehicles, and it is just a short walk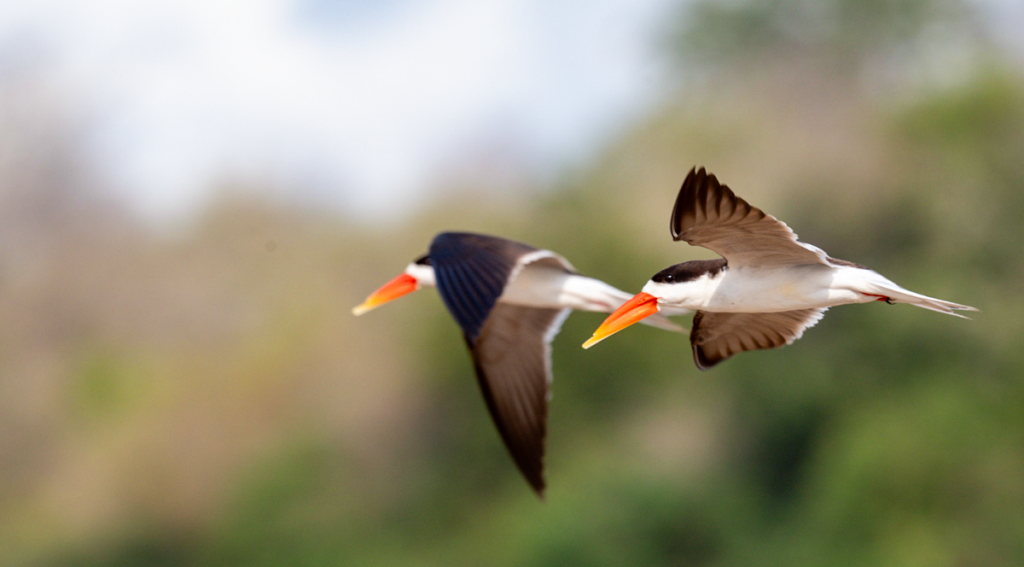 14th Oct 2023
From My Safari Notebook: Wildlife Photography
Birds in flight and wildlife photographers have an uneasy relationship. Things go wrong as often as they go right. Getting focus-lock on a moving subject
SUBSCRIBE TO OUR NEWSLETTER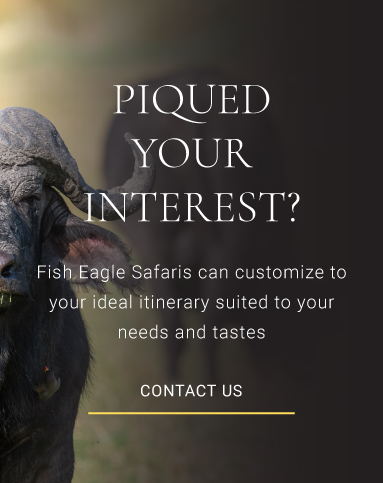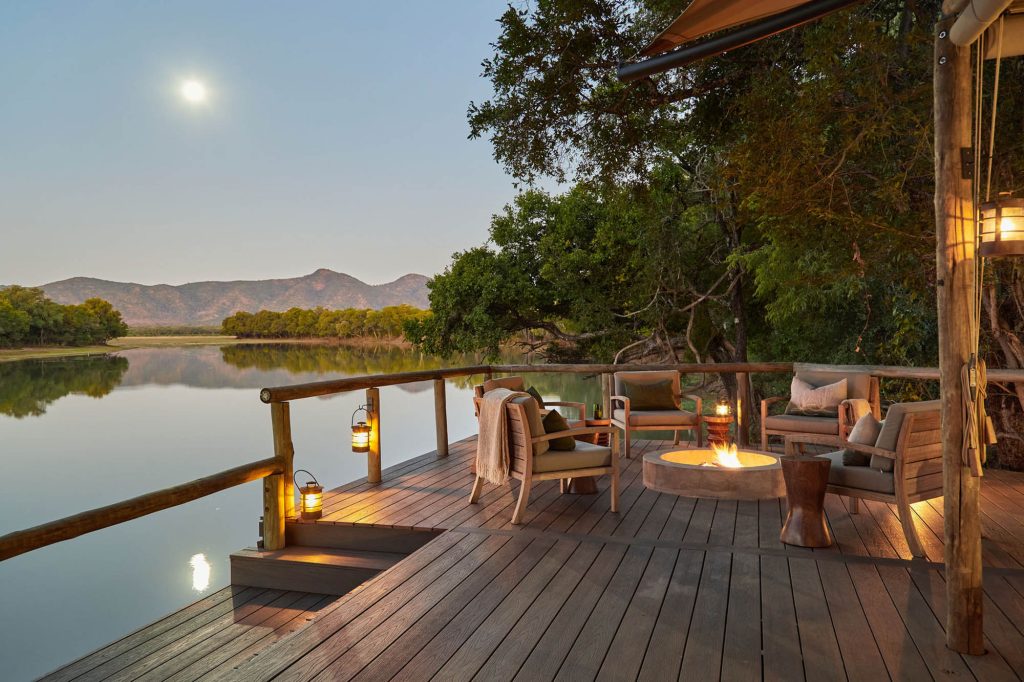 10th Sep 2021
Chindeni and the Bushcamp Company, Zambia
By late July we found ourselves at Chindeni, a small Bushcamp Company property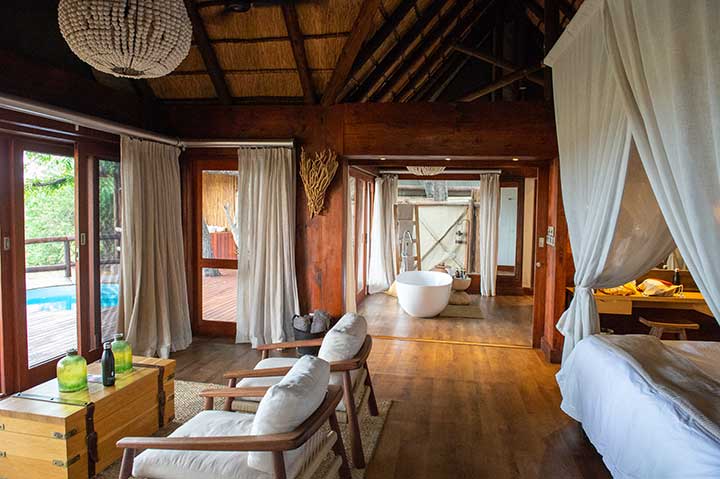 4th Aug 2022
On Safari At Belmond Eagle Island Lodge, Okavango Delta
What is the 'secret sauce' for an unforgettable few days on safari in Botswana? It starts with the animals, of course. The elephants, lions, giraffes, hippos