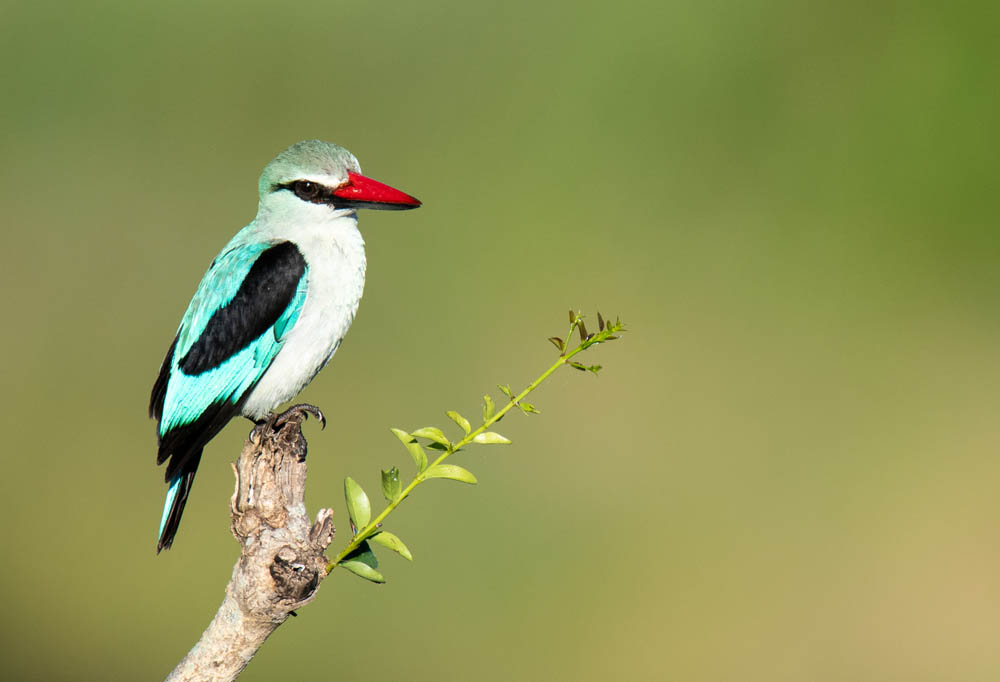 Greater Kruger Park Area 2020
Part 2
JABULANI
Our long-awaited 3-night stay at Jabulani in the private Kapama Game Reserve lived up to and exceeded every expectation we had.  Together with our dear friends Abe & Rosanna Lambrechts from Cape Town, we experienced a superb all-round safari with excellent game-viewing, fascinating elephant interaction, an exciting and educational visit to the Hoedspruit Endangered Species Centre, and we were served what was unquestionably some of the best food on our trip to that point. Jabulani has four chefs including a pastry chef.
The Jabulani experience started with a bang on the first afternoon, meeting three members of the Jabulani herd namely Jabulani, Sebakwe and Somopane, and having an opportunity to feed them some pellets and in the process get up close and personal with each of them.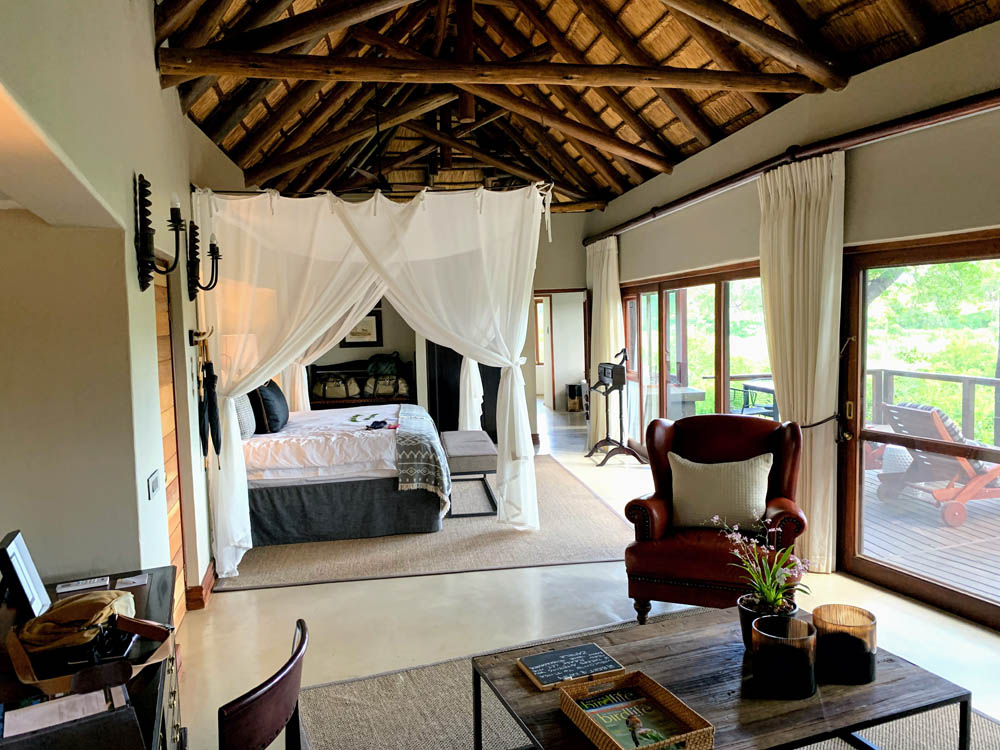 The elephant interaction at Jabulani is limited to this feeding and petting session, but it is quite intense and involved.  We were a group of 8 guests and we spent the better part of an hour alternating between the three elephants with ample opportunities for photography and videos.
We spent three nights at Zindoga Villa (suitable for families or 2 couples traveling together) which was beautifully appointed in a classic safari style with a thatched roof, and soothing interiors with natural mud and straw finish on some of the surfaces.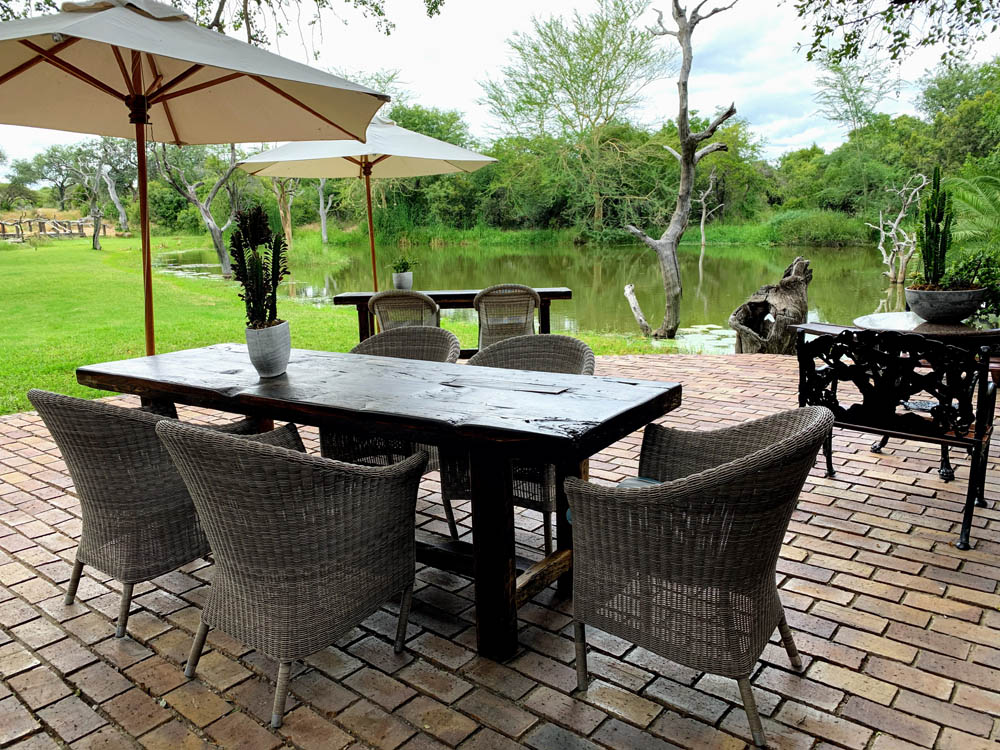 The two main suites at the Villa each had its private splash pool, fireplace, tub, indoor and semi-outdoor shower, and a shared dining room and lounge.  A charming twin-bedded suite adjoining one of the main suites is ideal for two children or two adults sharing. From the villa, it is about a 5-minute walk along an immaculately groomed sandy path to the main lodge and dining room, overlooking a small dam. Just before reaching the lodge you cross over a sturdy suspension bridge.  The Zindoga Villa also has a private villa entrance for game drive pick ups and drop offs.
The food at Jabulani was stellar, from the first evening's 5-course tasting menu to an elaborate bush dinner with sundowner drinks and snacks, with the elephants.  Our farewell dinner with choices such as venison loin and grilled salmon, was another delightful meal served in the cozy wine cellar.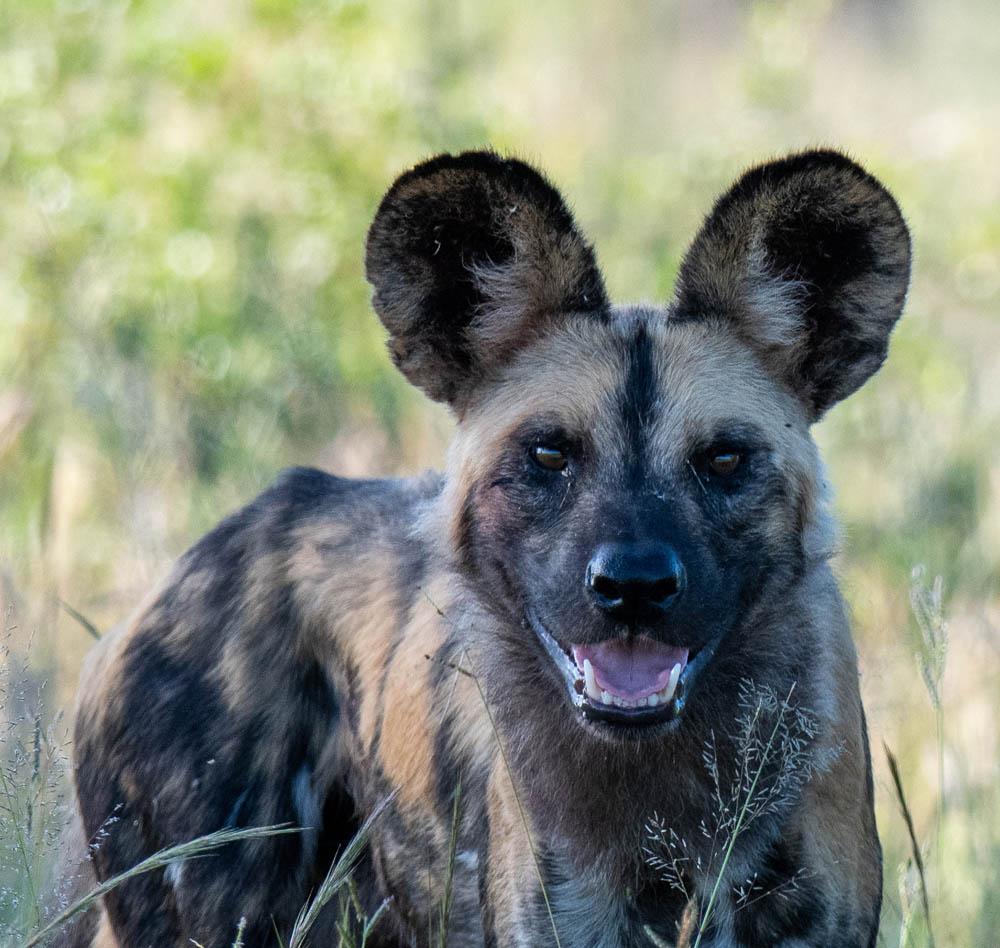 Most of all though, Jabulani excelled in the quality of the game viewing.  Our capable and effervescent guide Liesa was knowledgeable and fun to be around.  She also displayed a well-developed ability to anticipate and predict animal behavior, putting us in excellent positions to observe predators in action.   Most memorably, this resulted in us witnessing a spell-binding African painted dog hunt.
In addition to the painted dogs, we also spotted several prides of lions, a leopard (briefly), white rhinos and buffaloes, lots of wild elephants and a rare pangolin sighting.  Jabulani appears to be reliably good for seeing all of the Big Five mammals over the course of 3 to 4 days.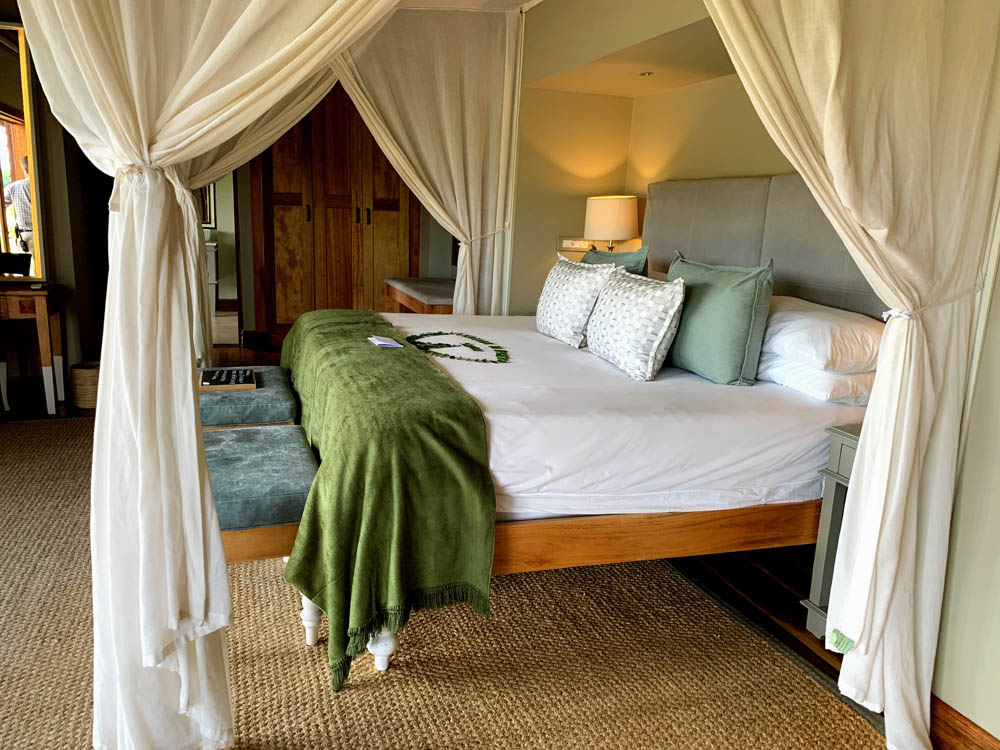 LION SANDS TINGA LODGE
Tinga Lodge and its sister property Narina Lodge are located in a private concession in the southern area of Kruger Park, close to Skukuza Airport and Skukuza Rest Camp.  We found the Tinga rooms and common areas overlooking the Sabi River to be exceptionally attractive and well-managed.  The same was true of nearby Narina Lodge which was similar in concept and style, except that it was raised off the ground level on a boardwalk about 3 meters high.  This resulted in a  view from the front of the common area which was better than the one at Tinga.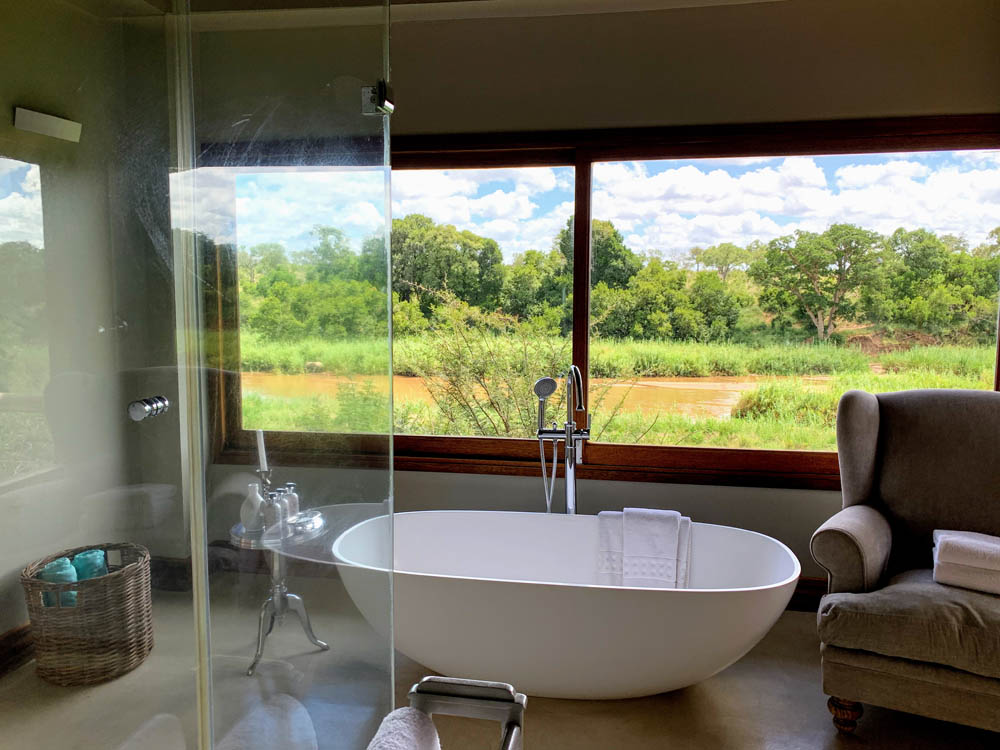 We enjoyed several well-prepared meals at Tinga, with the lunch on arrival being served out on the deck, a perfect spot for it. The game-viewing in the area – which was true of the game-viewing everywhere in the Greater Kruger National Park area – was challenging due to the thick bush.  Heavy summer rains had caused rank, dense vegetation with grasses obscuring pretty much everything  smaller than buffaloes, rhinos and elephants.  This was particularly noticeable in the areas around Tinga, to the point where our guide Joe (who was as good as they come) had to venture onto the public parks road in search of lions and zebras, for example.  We did get lucky with a couple of great sightings including a surprise encounter with a pack of about 6 or 7 African painted dogs.  They popped up in front of a crash of White rhinos which was what we had initially stopped for.  The best sighting overall by far, was of a massive and clearly extremely powerful male leopard which spent several minutes right in front of our vehicles, marking its territory.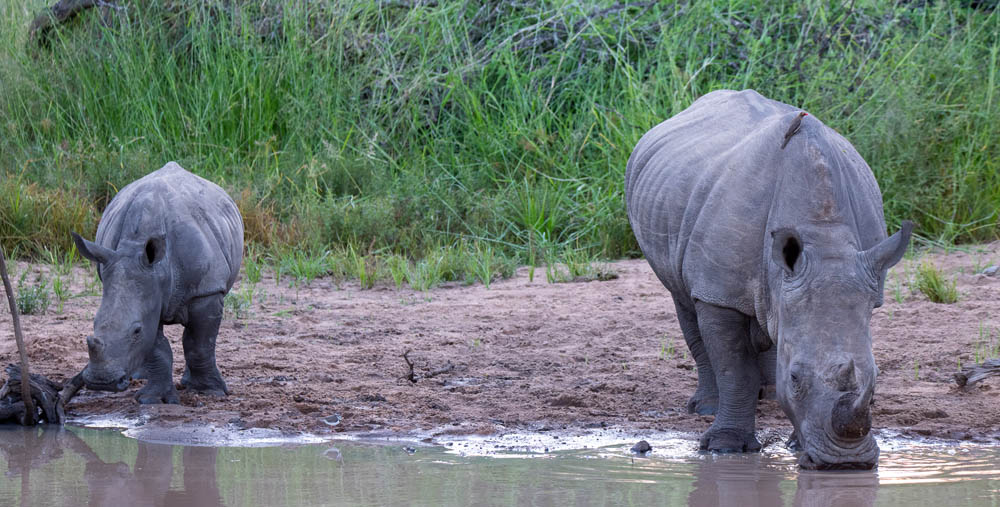 ROYAL MALEWANE FARMSTEAD
Fittingly, our last stop in the Greater Kruger Park area was at the sublime Royal Malewane Farmstead, where camp manager Nick Daneel and his team including Charne Daneel and super guide Rudi Hulshof, introducing us in splendid fashion to this iconic safari brand. I was thrilled to finally find out for myself what it was that has made Royal Malewane such a highly regarded and popular deluxe safari brand.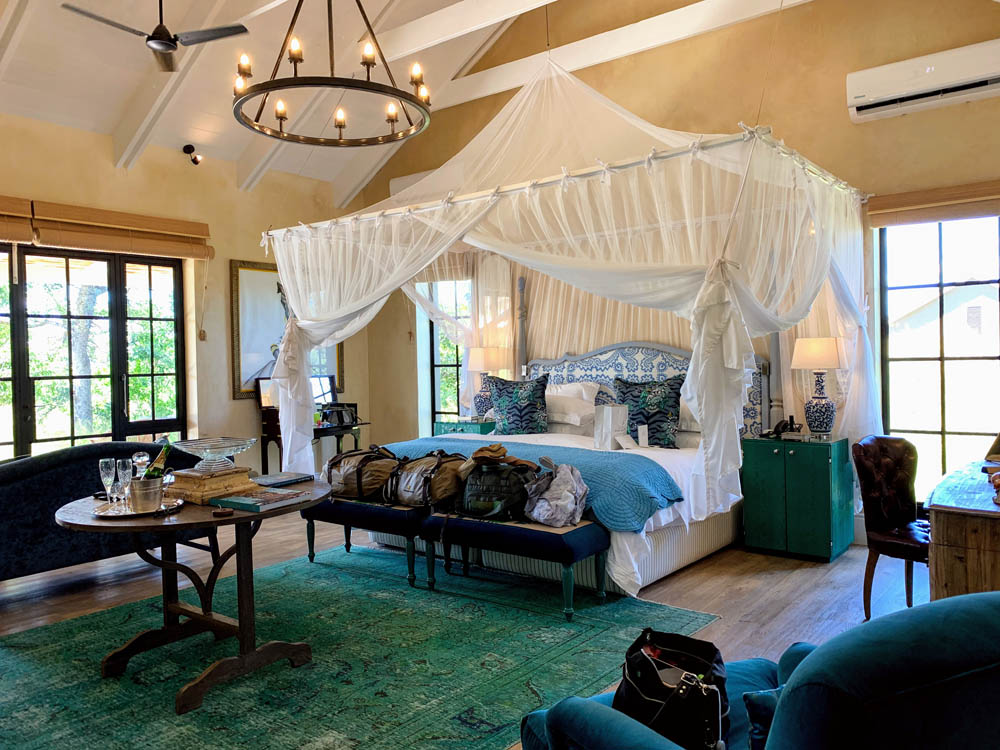 Like all great brands, Royal Malewane creates quality by imbuing every aspect and facet of the guest experience with quality.  To start with, the usual new arrival formalities were dealt with as efficiently and briskly as I've ever seen it done.  In the room – which was a veritable work of art itself – there was a half bottle size of quality sparkling wine on ice, if one were so inclined. As a couple, we are always reluctant to open an entire 750 ml of sparkling wine (anywhere), knowing that most of it would be wasted.  Not an issue at Royal Malewane.  The mini-bar and snack bar had everything one could possibly want – and more.  The room had ample space, plenty of natural light, and a mix of practical and whimsical design and decorative elements which combined into an esthetically pleasing whole.  The Liz Biden touch was unmistakable.  I liked the fact that the suite was uncluttered, without any nooks and crannies, making the most of the available space. The back doors (French doors also located in the bathroom) opened up to a fabulous deck with an outdoor shower and an inviting splash pool.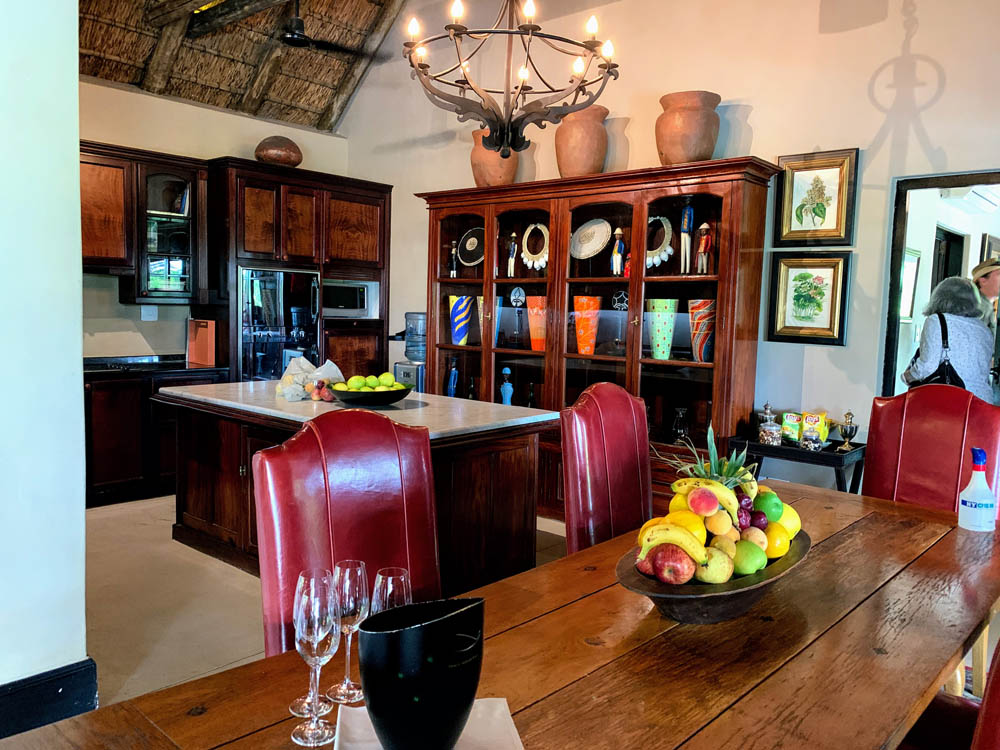 Shortly afterwards, we enjoyed a delicious light tapas lunch and a bit later went out on the first of two outings with our guide Rudi Hulshof, assisted by tracker Lodrick Mkansi. Over the course of 30 years in the safari business we've come across many excellent and a few superb guides.  Rudi quickly established himself as being in the latter group.  His pre-drive briefing was confident and comprehensive without being pedantic.  I was particularly pleased with his comments about sundowners, to the effect that people do not come to Africa to drink G & T's  and that depending on the game-viewing scenario and flow, there may not be time for a drinks stop.  Which is exactly what happened.  We were so engrossed with a young female leopard resting on a horizontal branch and then a heart-stopping walk-by of five sub-adult lions, that a sundowner stop before sunset would have been out of place.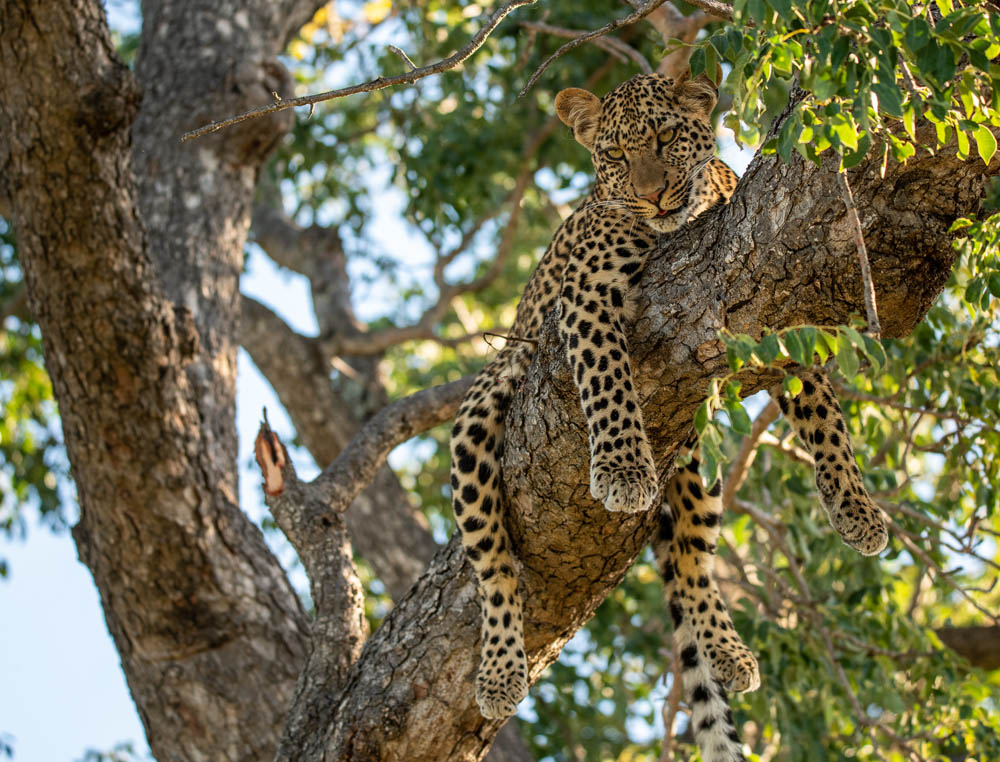 Rudi's uncanny anticipation of animal behaviour, his pithy, clear and concise comments about animal behavior,  habitat, trees and plants and any topic we cared to raise, were what we had anticipated from the highly regarded and award-winning Royal Malewane guiding team.  Between them, the team  has over 300 years of African bush experience, including no less than three of only seven living Master Trackers in the world.
On the morning of our departure back to Jo'burg, we took a short game drive from the Farmstead to Royal Malewane where we enjoyed breakfast on the patio overlooking a well visited water hole.  It was great to finally see for ourselves what makes this place so special and famous.  The welcome from camp manager and expert guide Juan Pinto, illustrated how a few well chosen remarks can make a hugely favorable impression.  Juan complimented Kathy on her Swarovski binocs and then insisted on checking out my vintage pair of Zeiss 7 X 45's.  Juan then offered to clean both pairs of binocs, despite having an imminent staff meeting.  That's how you gain and retain a stellar reputation.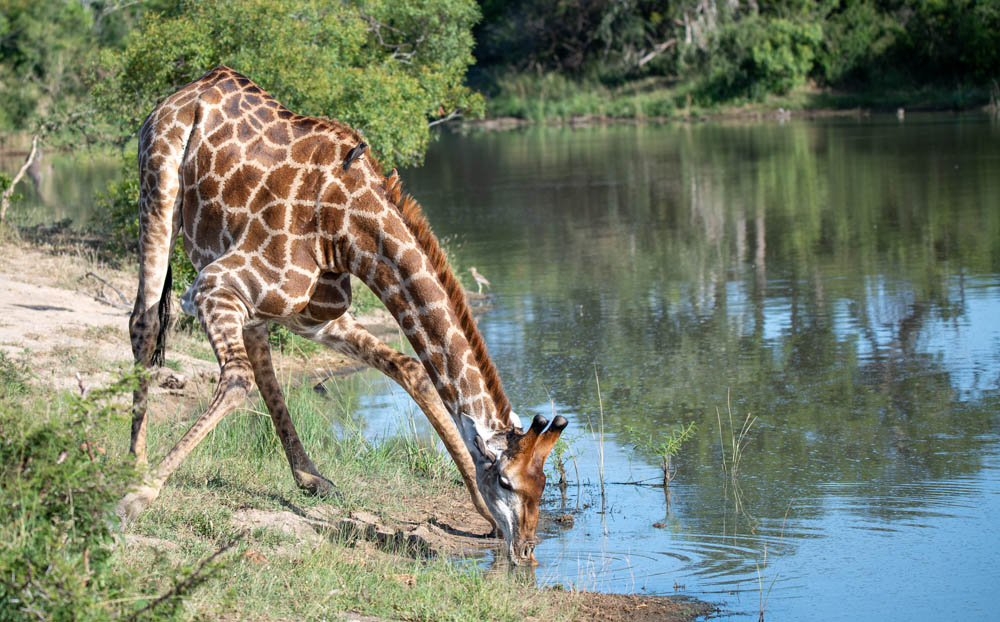 The breakfast itself was splendid and attractively plated.  Cappucino for Kathy?  No problem.
Our brief stay ended with a couple of rooms inspections, including the stunning classic Royal villa.  Nothing nouveau or cutting edge here:  just an ultra-spacious, well-lit and beautifully appointed villa with adjoining suites complete with outdoor plunge pool, indoors and outdoors showers and tub, massive king size beds with mosquito netting, and a tastefully decorated shared living and dining room area.
The same can be said of the six  individual suites.  Plenty of space, lots of light, great views from the verandah – all in all a delightful spot to spend a few days in the bush.
YOU MIGHT ALSO BE INTERESTED IN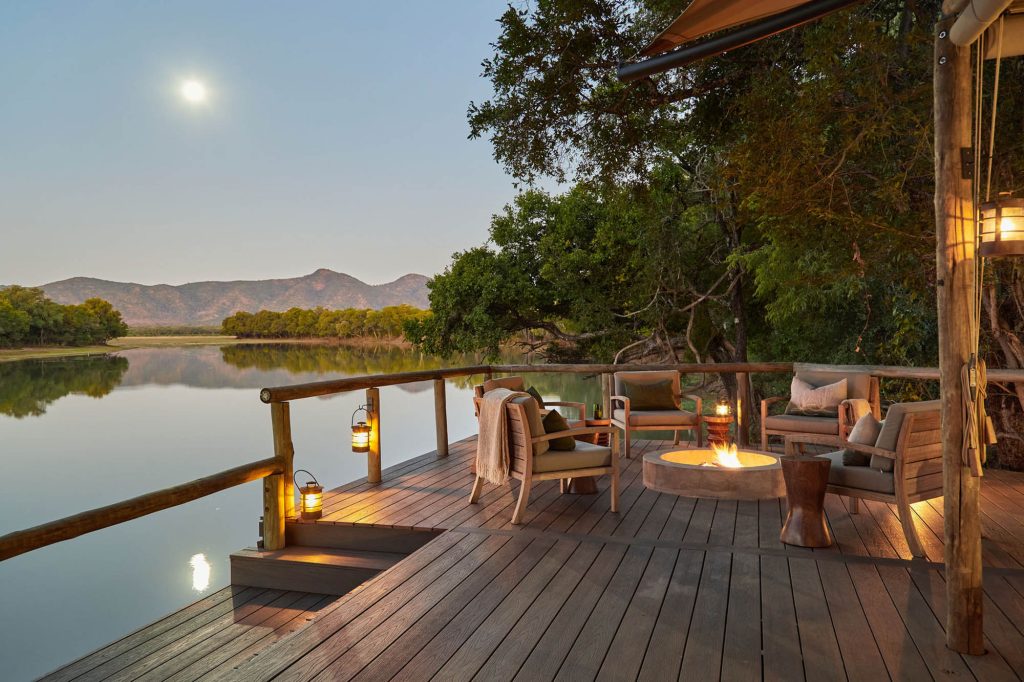 10th Sep 2021
Chindeni and the Bushcamp Company, Zambia
By late July we found ourselves at Chindeni, a small Bushcamp Company property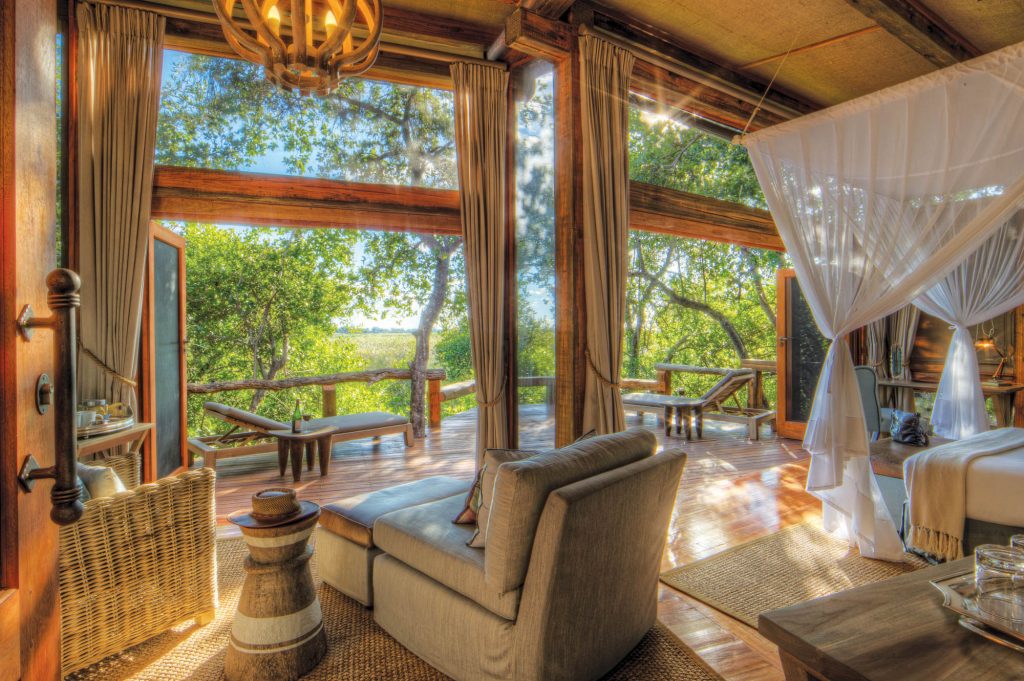 3rd Oct 2022
Camp Okavango, Botswana
Camp Okavango is in the heart of the permanent part of the Delta. In this idyllic setting there are no vehicles, and it is just a short walk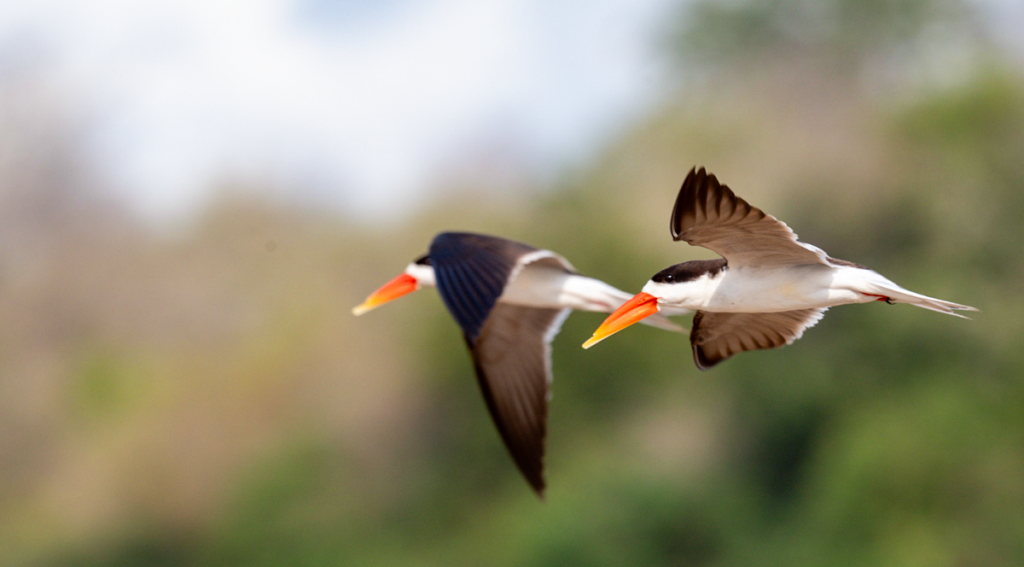 14th Oct 2023
From My Safari Notebook: Wildlife Photography
Birds in flight and wildlife photographers have an uneasy relationship. Things go wrong as often as they go right. Getting focus-lock on a moving subject
SUBSCRIBE TO OUR NEWSLETTER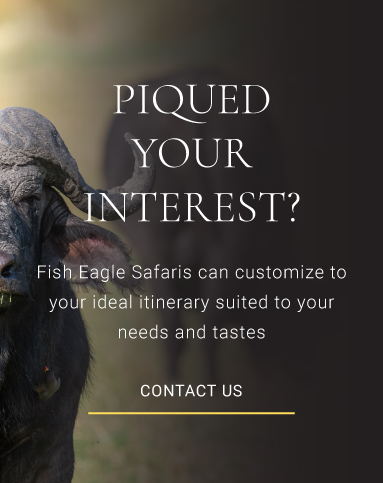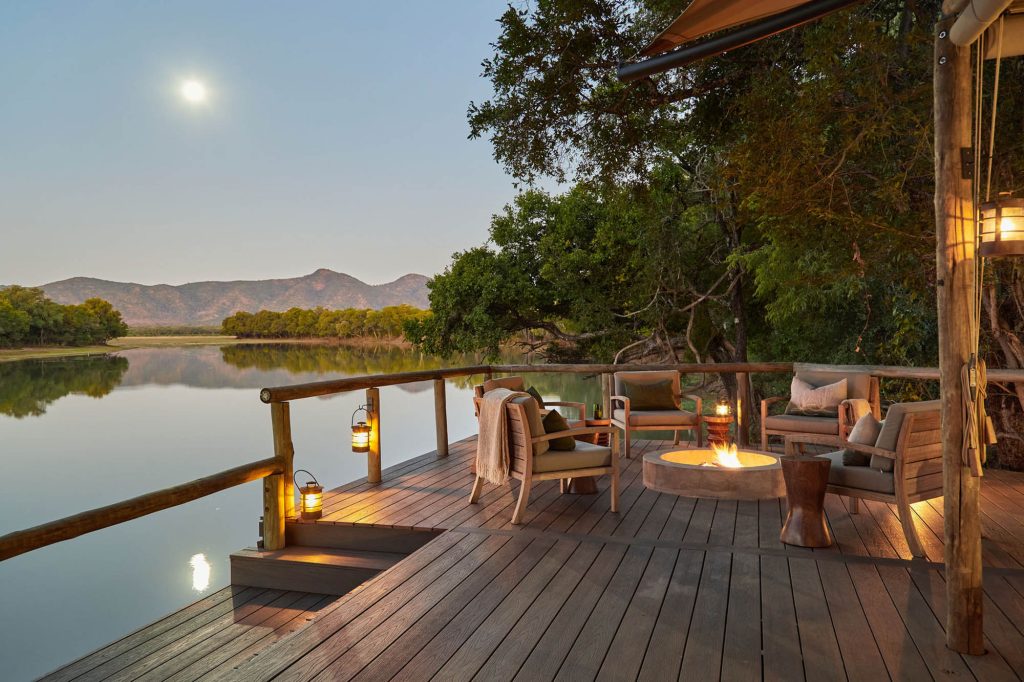 10th Sep 2021
Chindeni and the Bushcamp Company, Zambia
By late July we found ourselves at Chindeni, a small Bushcamp Company property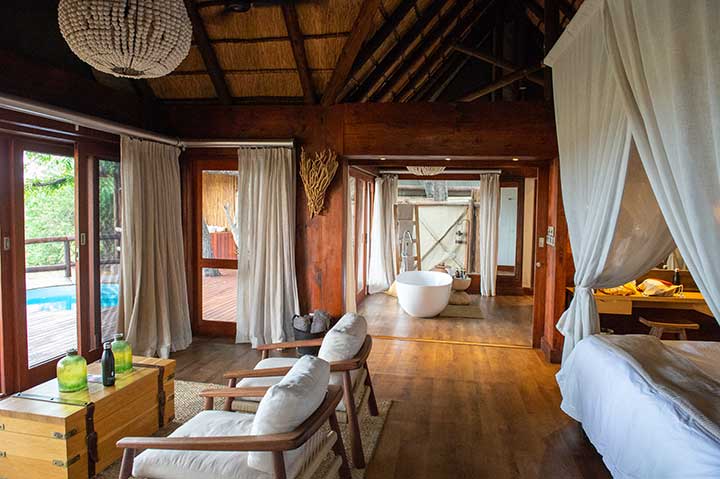 4th Aug 2022
On Safari At Belmond Eagle Island Lodge, Okavango Delta
What is the 'secret sauce' for an unforgettable few days on safari in Botswana? It starts with the animals, of course. The elephants, lions, giraffes, hippos