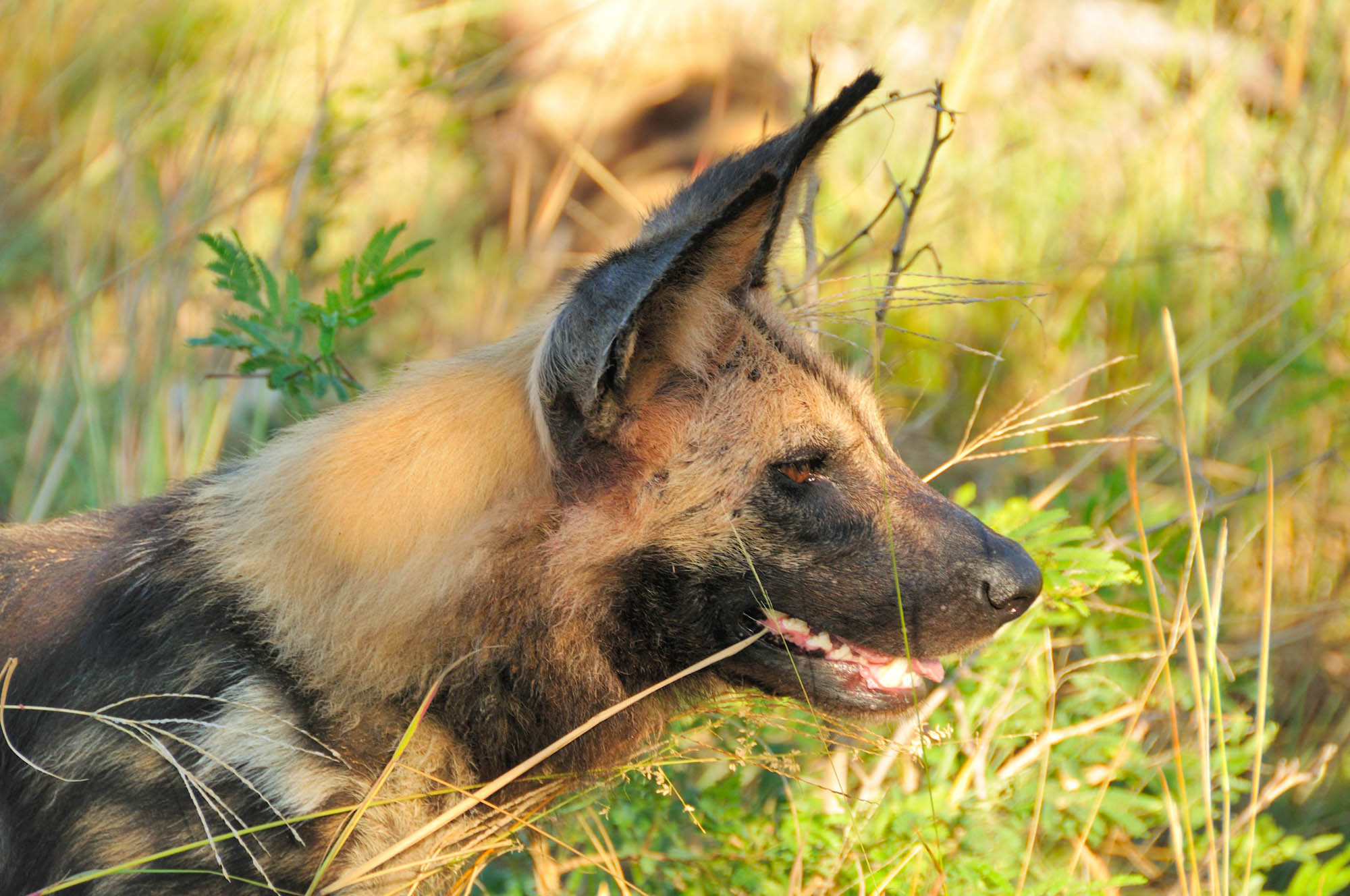 Cape Cadogan – Hotel Exterior View
African Painted Dogs And Where To See Them
My first vivid recollection of African painted dogs is from my childhood, when my siblings and I first started to see these fascinating creatures on self-drive safaris with our parents,  inside Kruger National Park in South Africa.  Even that many years ago, the painted dogs – also known as 'wild dogs' or Cape hunting dogs – were scarce and thinly spread and to see them was a special treat.  The park authorities encouraged visitors to report all sightings – which we duly did.  We spent a couple of weeks or so in Kruger Park almost every winter for several years, yet I can only recall seeing the 'wilde honde' – Afrikaans for wild dogs – on a handful of occasions.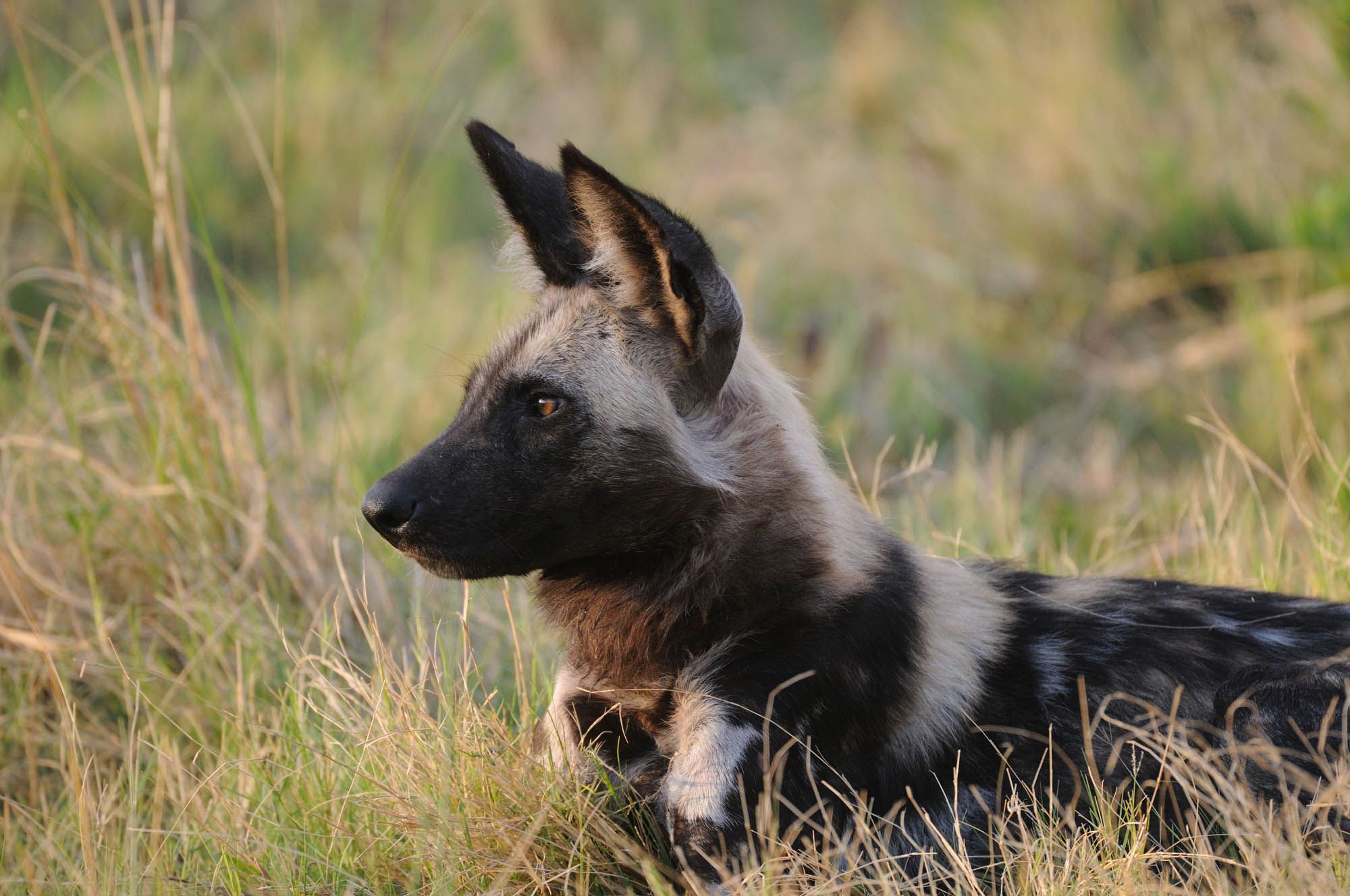 Most memorably, we saw a small pack of painted dogs one afternoon – in the northern part of the park – encircle and attempt to bring down an adult sable antelope.  Those of you familiar with sable antelopes will know that these animals possess an impressive pair of long, curved horns with sharp tips.  On this day, as we kids and of course mother and father, were watching totally spellbound, the sable antelope wedged its vulnerable hind quarters into a thick bush and faced off the repeatedly charging painted dogs.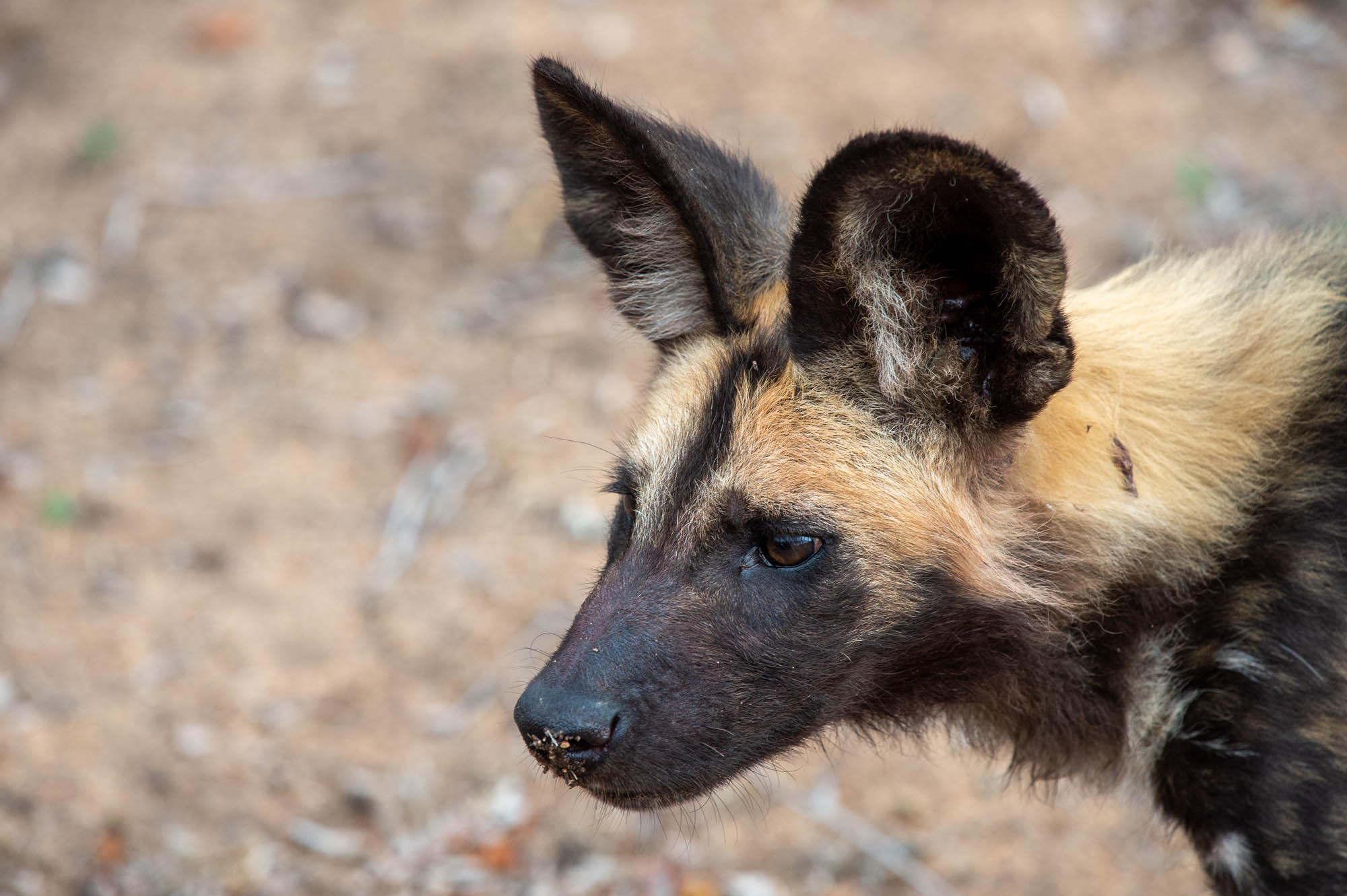 Every time one of the dogs would stray a little too close, the sable would viciously swing at it with its scythe-like horns, evoking quick evasive moves on the part of the dog.  One after another, the painted dogs would dart in and out, apparently trying to rattle the sable into bolting.  We realized early on that this hunting attempt was doomed to fail, with an adult sable antelope simply being too much to handle for a small pack of painted dogs.  The dogs figured it out too and after a few more desultory charges, they gave up and trundled off into the bush.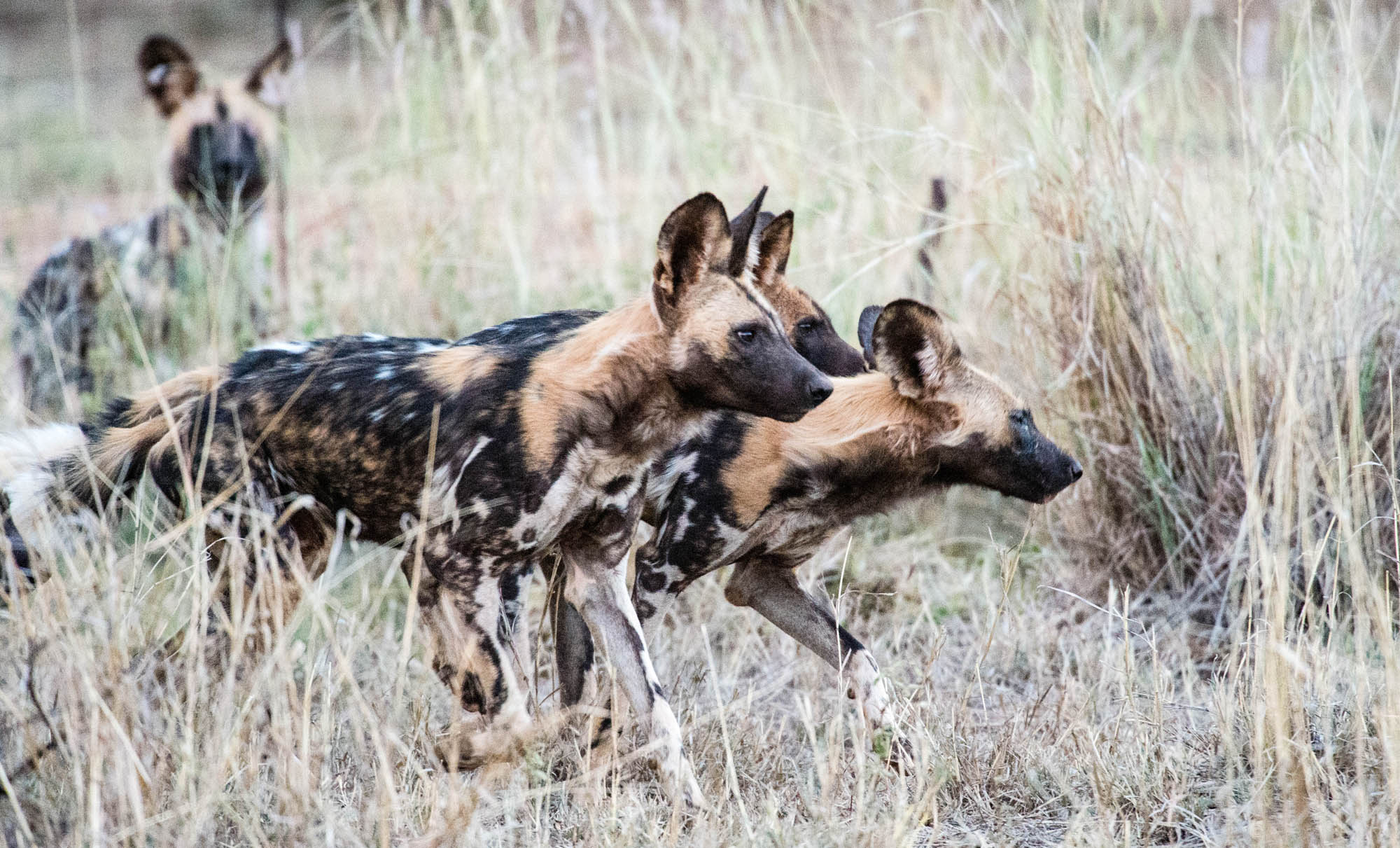 Memories like these go into the 'indelible' category and witnessing this play out in front of your very own eyes is what makes wildlife observation – particularly in an African setting with the interaction between predators and prey – as popular and enduring a pastime as it has proven to be.
Seeing and enjoying – and helping to protect and conserve these endangered mammals – continue to be a part of what motivates and inspires many of us in the photographic safari industry.
African painted dogs have been listed as endangered since 1990, with an estimated total population of just over 6,000 of these animals surviving in about 40 subpopulations, all threatened by habitat loss and fragmentation, human persecution and disease.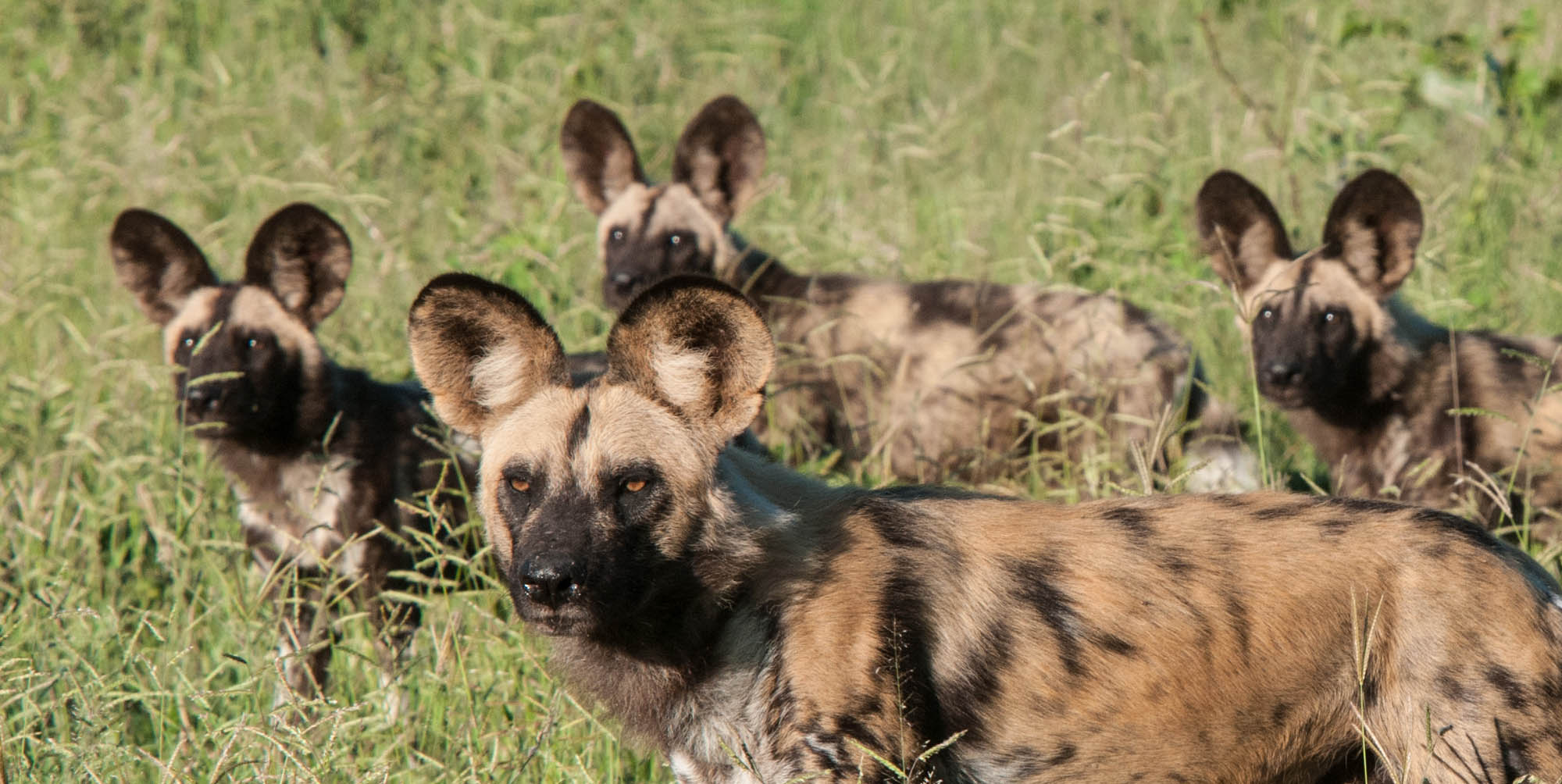 Painted dogs in Botswana
Most of the painted dogs that can readily be seen in the wilderness, are to be found in Southern Africa and more specifically in Botswana, Namibia and Zimbabwe. In Botswana, their core area is Ngamiland which includes the Okavango Delta, Moremi and Chobe National Park.  There are estimated to be about 40 or so packs of painted dogs in Northern Botswana, containing around 450 to 500 animals in total.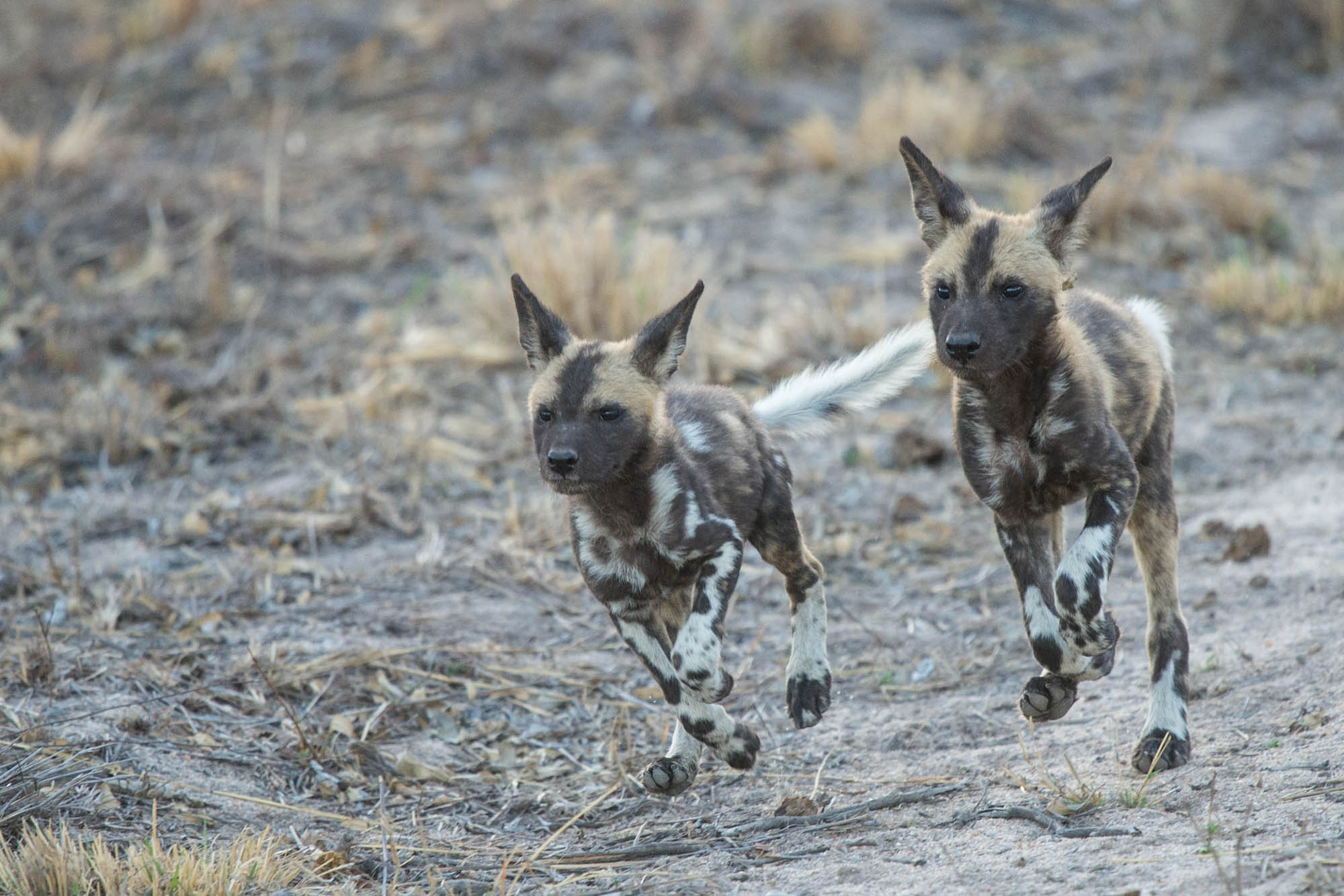 Some time ago, on a game drive out of Dumatau, the Wilderness Safaris property in the Chobe-Linyanti area, we experienced what one might describe as a typical african painted dog scenario:  Our afternoon game drive with our Dumatau guide started on a high note. Not long into the drive, we came across an african painted dog pack of nine, resting up and lolling about in a loose group, a couple of the younger ones coming right up to take a look at our vehicle. Over the following few minutes their demeanor changed from relaxed and inquisitive to alert and focused as they started hunting.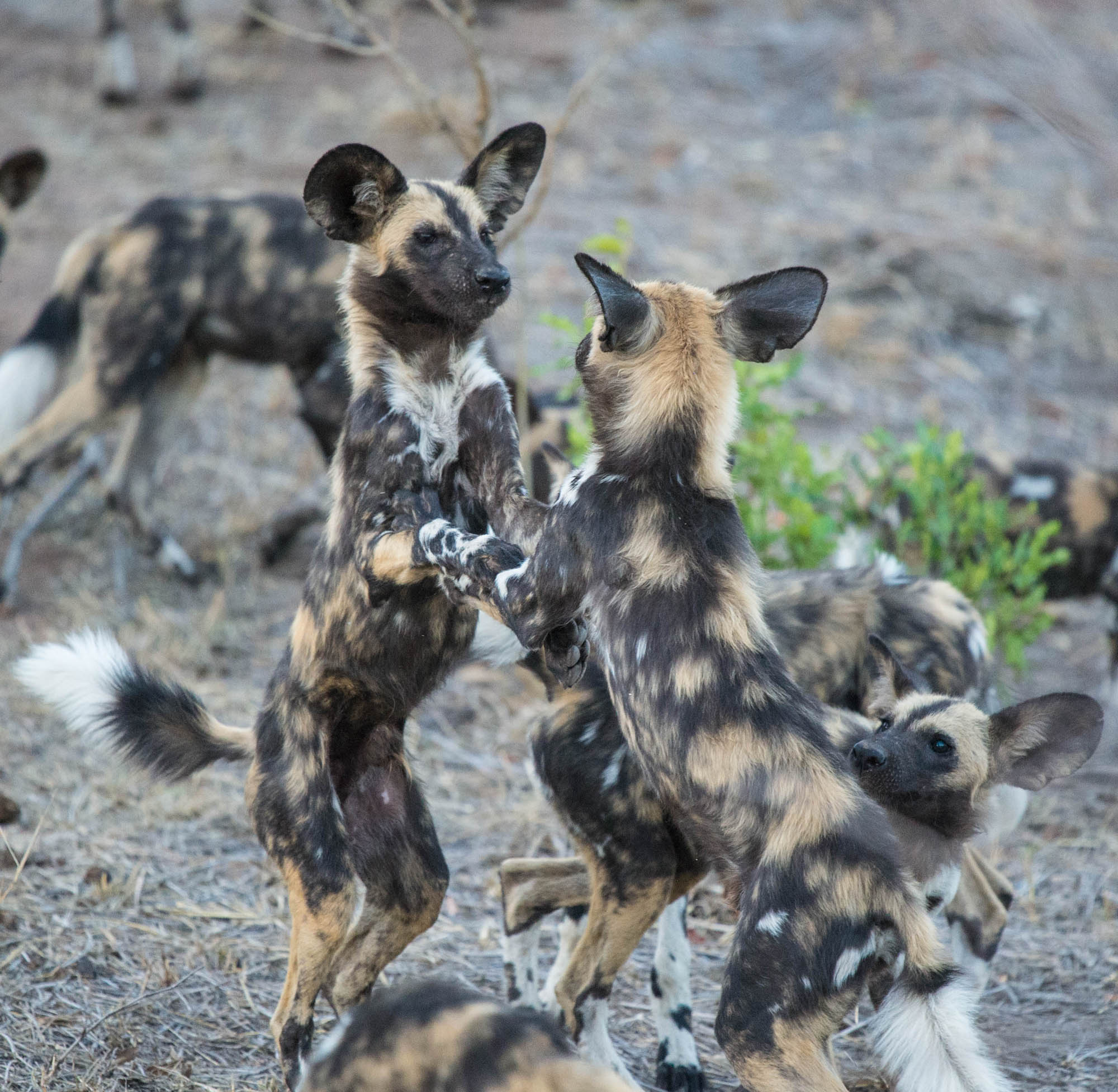 We followed the main group as they rambled through the bush, slowly increasing their speed to a steady trot. Soon, the dogs were moving rapidly through fairly dense woodland, changing direction once or twice, but heading in the general direction of the floodplain. Two hyenas could also be seen, following the dogs, in the hope of a 'free meal', no doubt. By this time, there were two vehicles in radio contact 'working' the hunt, one trying to maintain visual contact with the dogs, and the other one anticipating the direction and speed of the chase. As it happened, we were in the lead towards the end.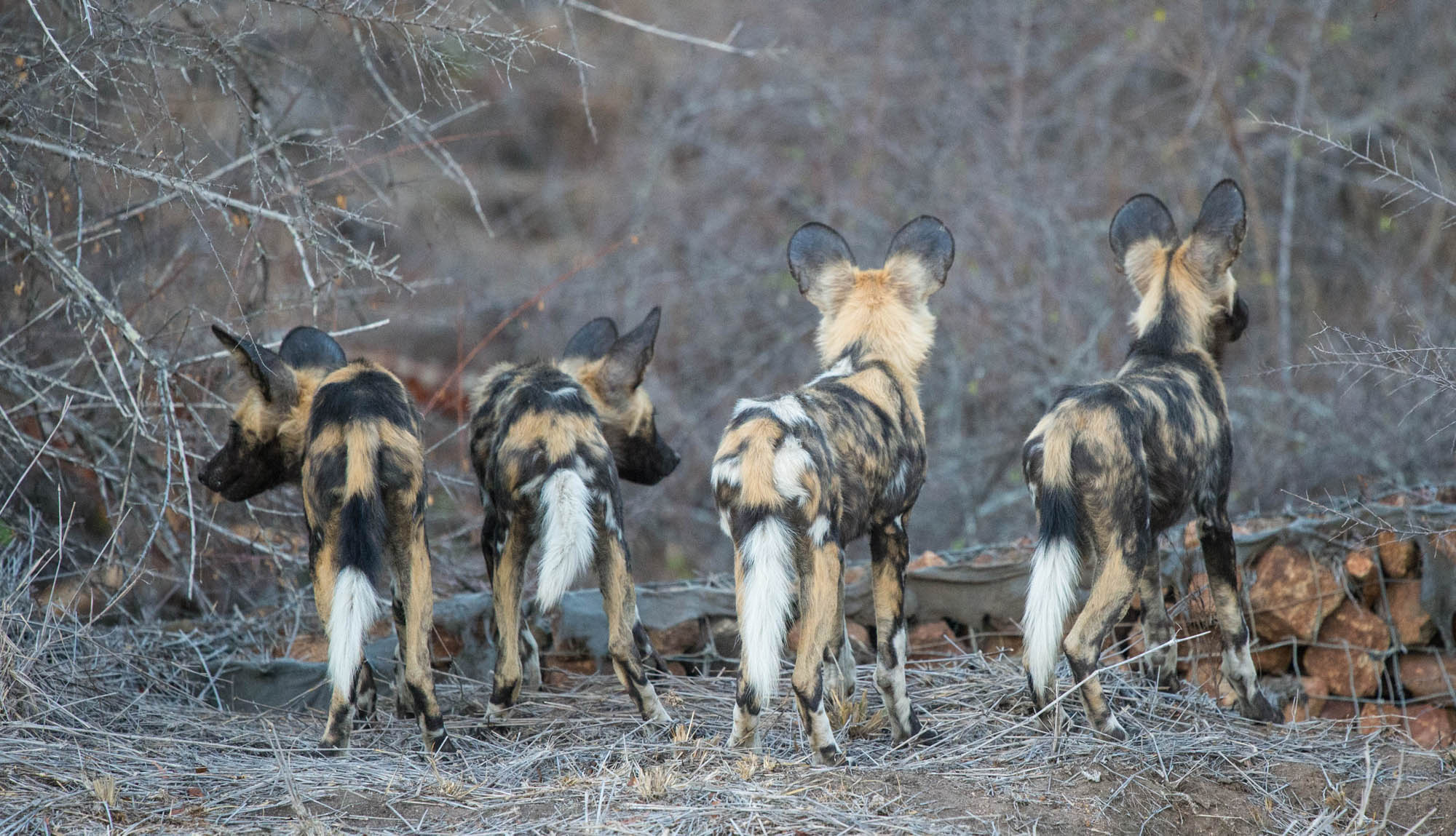 As we emerged from the tree-line and descended onto the edge of the floodplain, in a cloud of dust, we came upon the painted dogs just seconds after they had brought down an impala ram. It was a scene of primeval intensity as they devoured their prey, the sound of their teeth tearing the skin and ripping at the sinews all that could be heard other than our muttered exclamations of amazement and awe. Within the space of just five minutes or so the impala was reduced to little more than backbone, skull and horns. We sat there for the longest time just taking it all in, waiting for the last light of dusk to fade away before we slowly made our way back to camp, for dinner".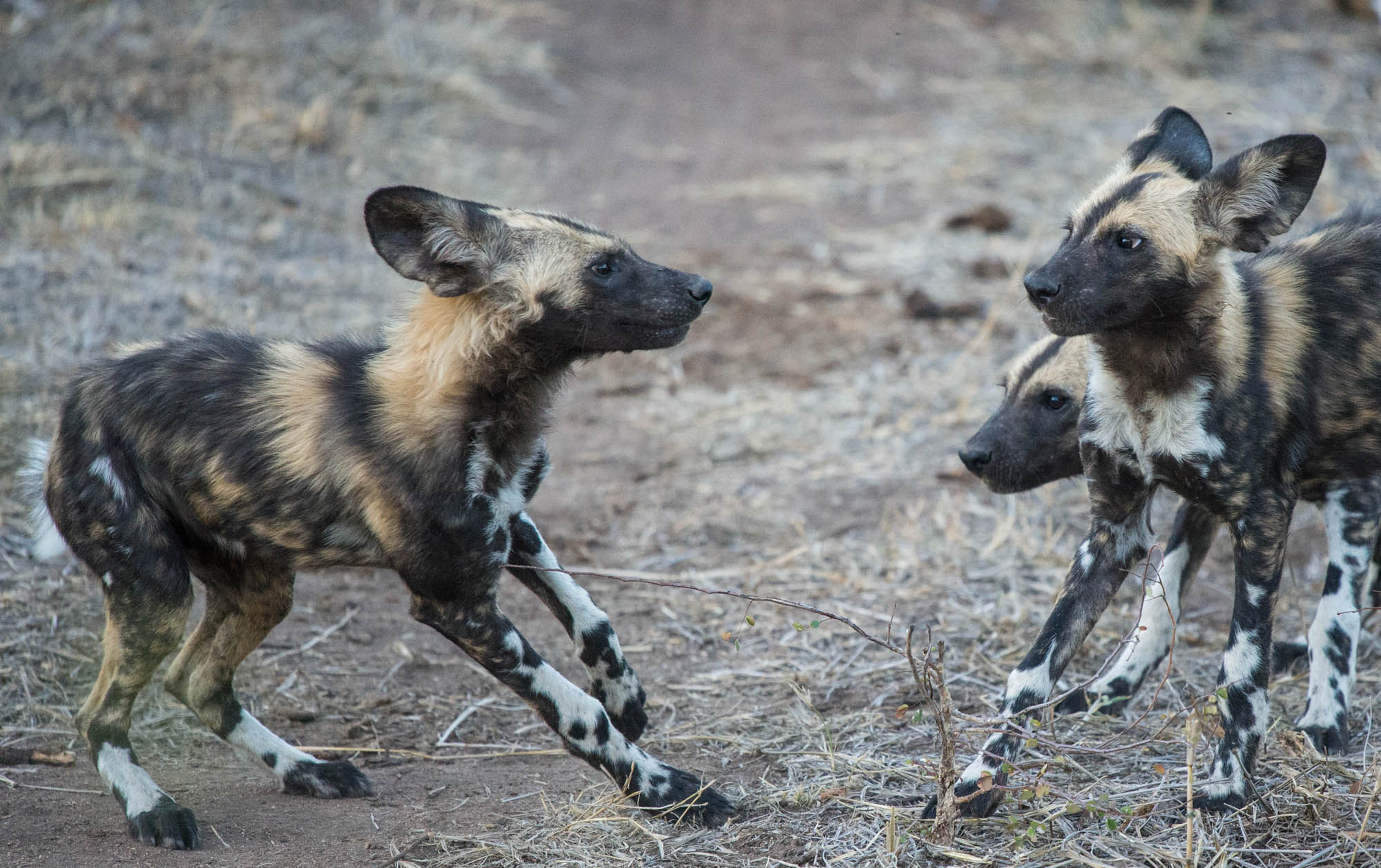 Some time later, we were back at Dumatau and on the drive from Chobe airstrip to Dumatau, one of the other passengers mentioned to our guide Ron Masule (head guide at Dumatau) that the only signature Botswana species which I had not seen thus far on my trip, was painted dog. So, he said, 'Ron better find us some dogs…!' It didn't take long. Just after tea we headed out of camp to a spot where the painted dogs had been spotted the previous day. Within 20 minutes or so, I had my first view of what turned out to be a pack of about 7 of these magnificent animals. After negotiating some very rough terrain we stopped on the edge of a small seasonal waterhole where the painted dogs were resting up and settling in for the night. In the fading light, I was happy to get a few good photographs.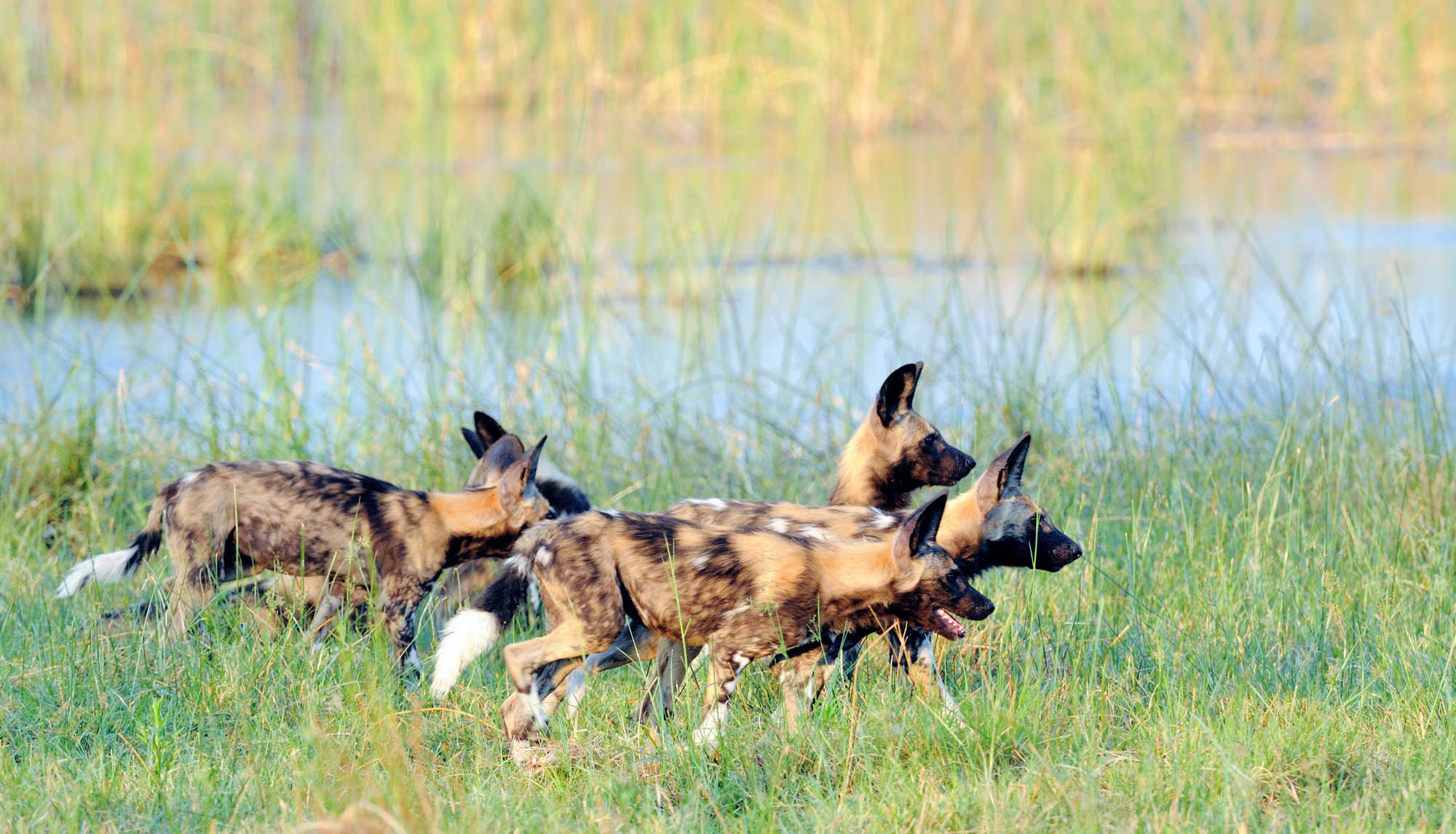 Something interesting which I learnt that day, was that various birds, notably the bateleur eagle and the hooded vulture, are closely associated with painted dog sightings.  The bateleurs because they want to snag a morsel of meat left behind from the kill, the hooded vultures for a rather more obscure reason.  They are coprophagic so the high-protein droppings of the painted dogs are simply a food item to them.  Whatever.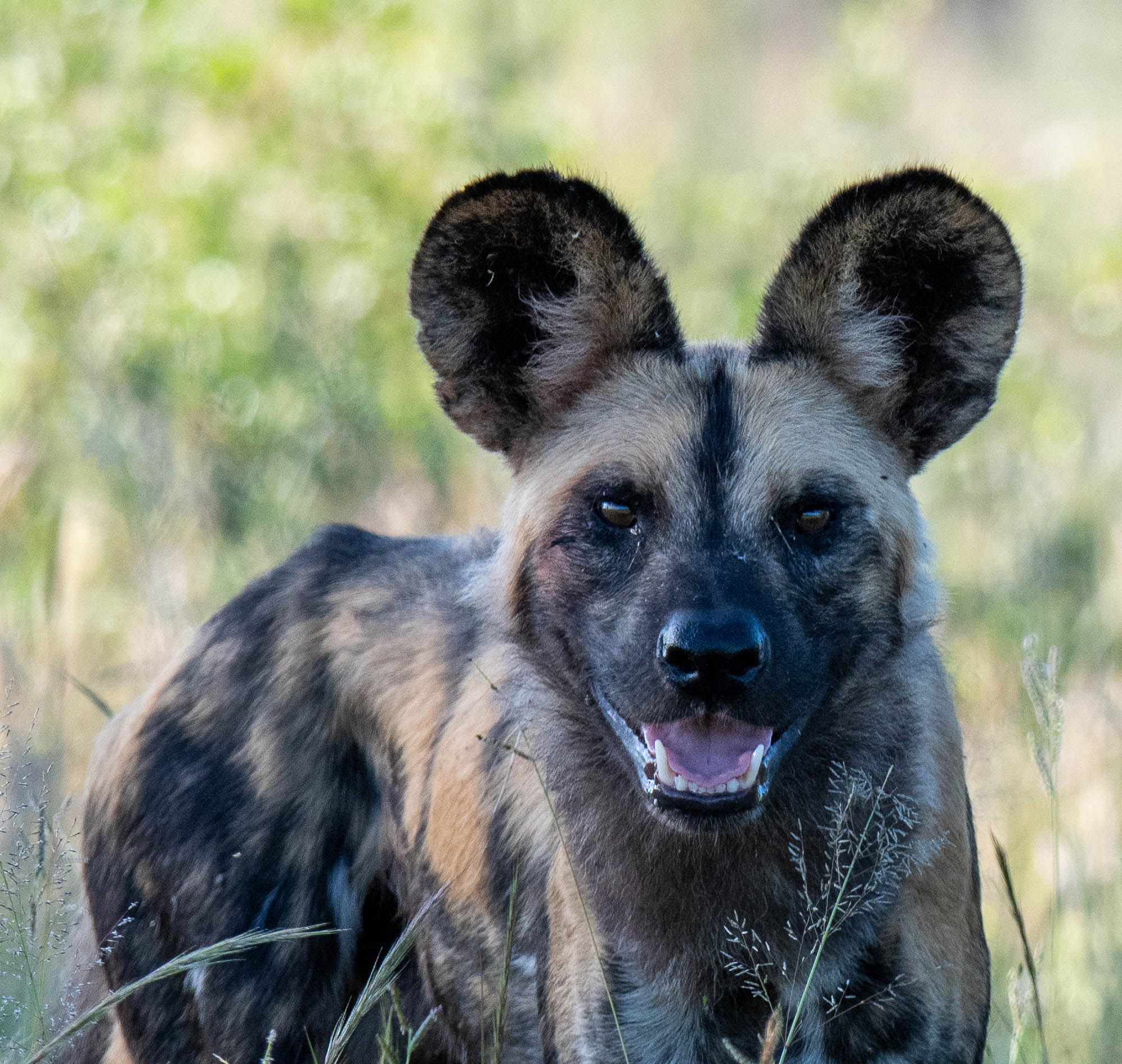 On another visit to Botswana, on a game drive out of Kwando Safaris' Kwara Camp, we had been looking for the painted dogs for nearly two days solid, finding and then losing their tracks repeatedly.  On our last morning there, we were hot on their trail again, but somehow, frustratingly, could just not close the gap.  
At around 3:00 pm or so, we stopped at a small pond for a tea and coffee break.  Having gotten out of the vehicle, we were standing around chit-chatting when, from the corner of my eye, I noticed one and then several wild dogs running out of the woodland towards the water. The wild dogs had found us! We spent the next hour in their company. There were six in total, which is about average for a painted dog pack.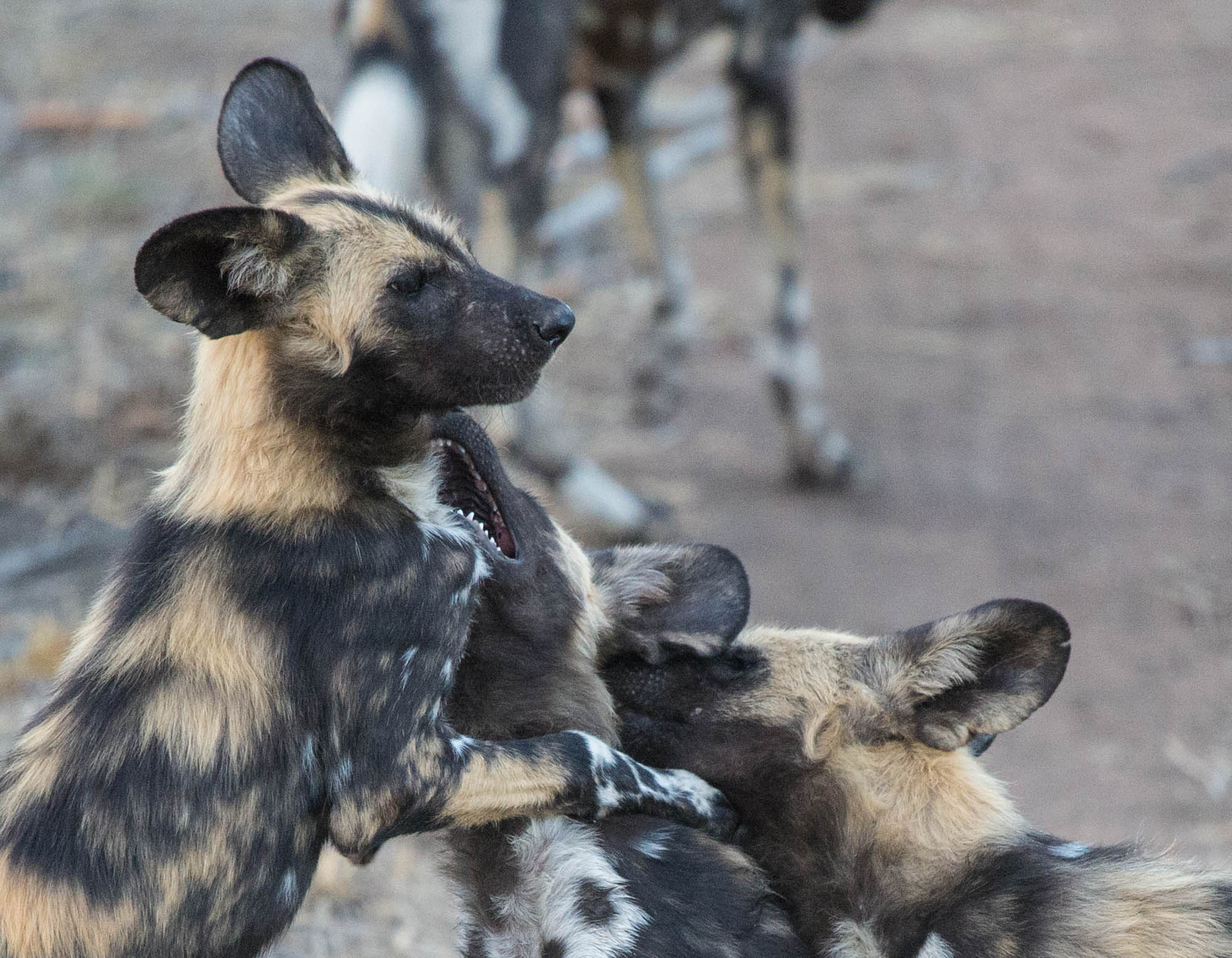 Having followed the six wild dogs for a while, we saw them resting up in a grove of Kalahari apple-leaf trees. There were 2 females and 4 males. Again, typical of a painted dog pack which is almost always 'male-heavy' as it is the females which leave the pack, when it gets too big or when conditions merit, to become the founder of a new pack.  The males stay put.  These very handsome animals were quite oblivious to our presence. As is their habit, they engaged in some horseplay, or perhaps more correctly – canine capers. I recall shooting about 200 mediocre shots of African painted dogs. A couple or so turned out ok.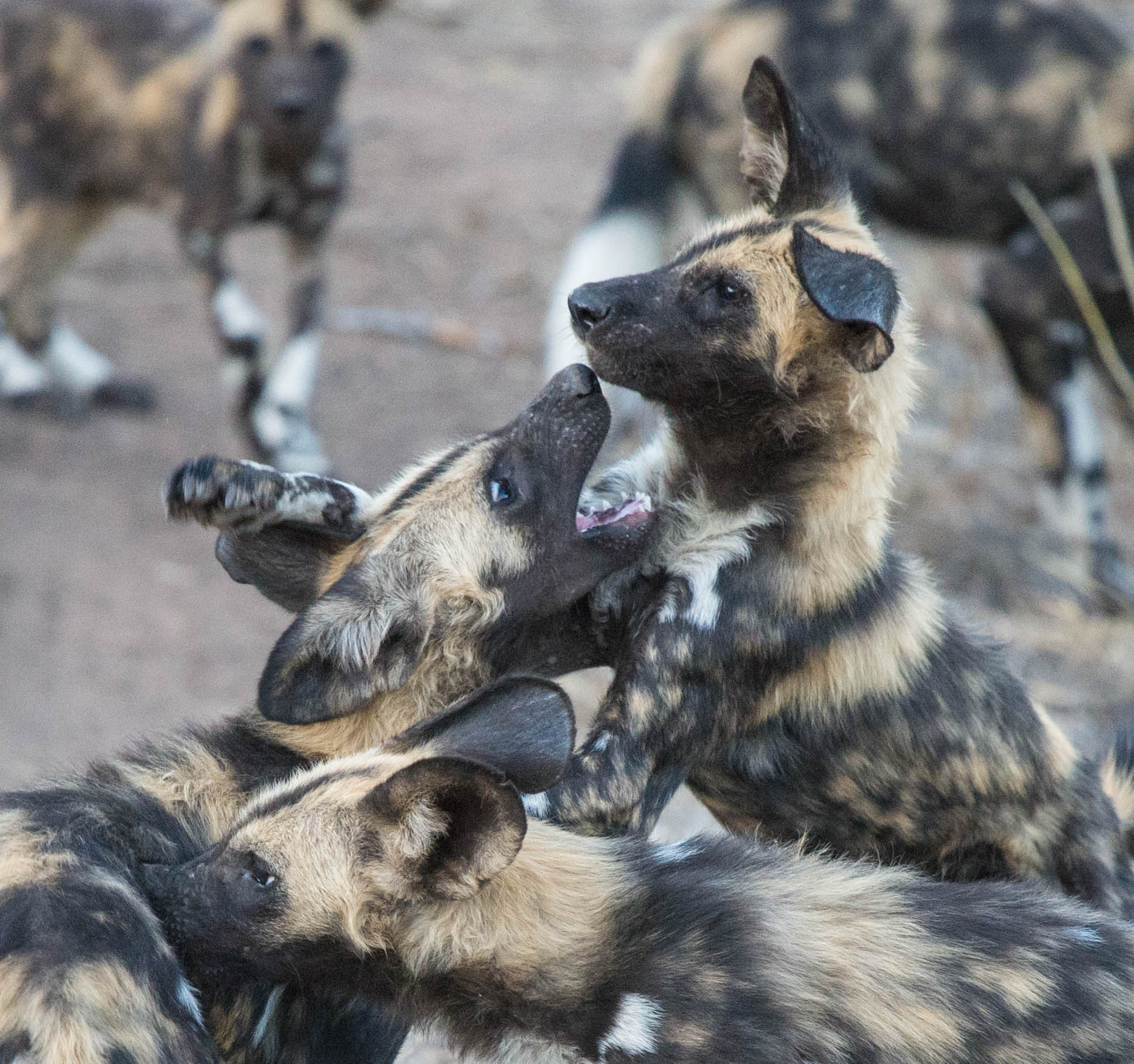 Painted dog behavior and social structure
A Botswana property where we had seen the African painted dogs on more than one location, is Lagoon Camp, which lived up to prior billing as 'the' wild dog camp in N. Botswana. We twice bumped into a large pack of dogs there, watching them feed on an impala and observing their strict but amiable social structure, with the pups eating first, then the alpha dogs and finally the others.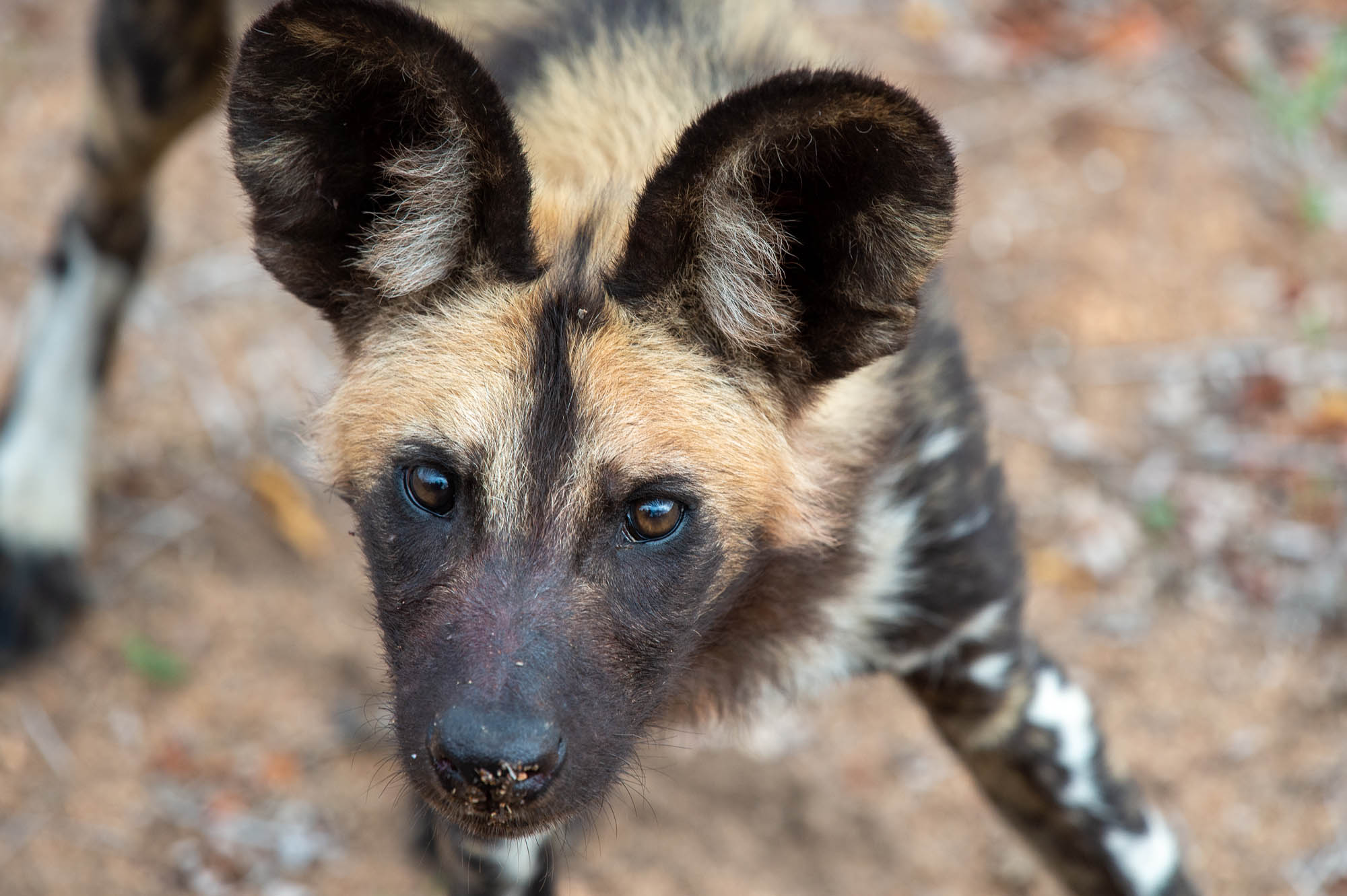 This is typical behavior for the painted dogs, which are highly social animals.  Breeding is limited to the alpha female, who stays close to the pups in the den, and who discourages pack members from visiting them until they are old enough to eat solid food at three to four weeks of age.  By the time the pups are about five weeks old, they start to eat meat regurgitated by pack members.  When the pups reach the age of about 10 weeks, the den is abandoned and the youngsters – who by now resemble adults in every way – follow the adults around on hunts.  This is when they are allowed to eat first, until they are about a year old.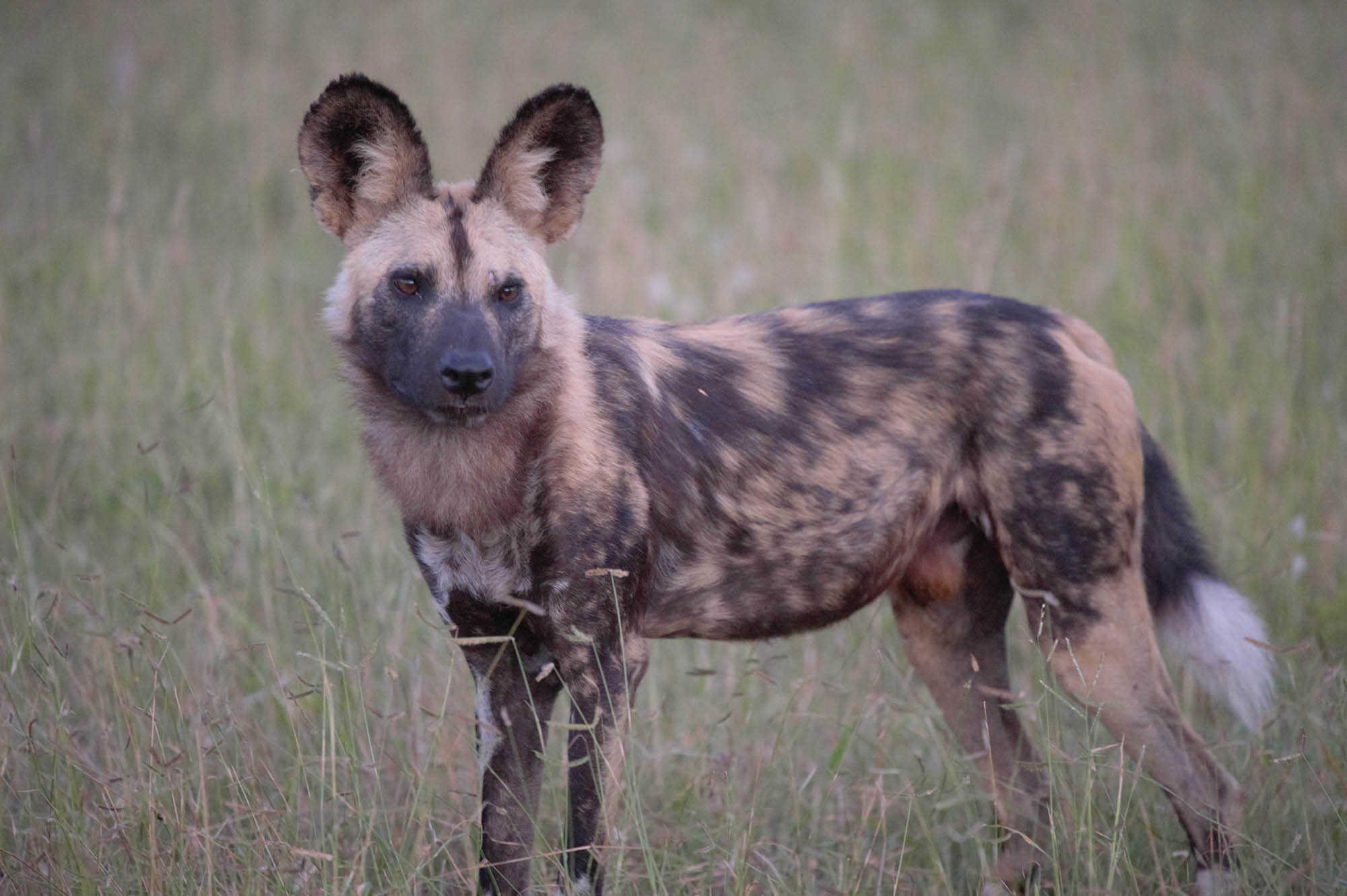 Together with cheetahs, the African painted dogs are the only primarily diurnal  large African predators. We've seen them hunt well past sunset, as well.   African painted dogs have a high hunting success rate and their average of kills as a percentage of attempts exceeds that of both lions and leopards.  The species which feature highest on the painted dogs' menu are kudu, impala, Thomson's gazelle (east Africa), bushbuck, reedbuck, lechwe and blue wildebeest.  We have personally observed them taking a hare, proving that they will kill pretty much anything they come across.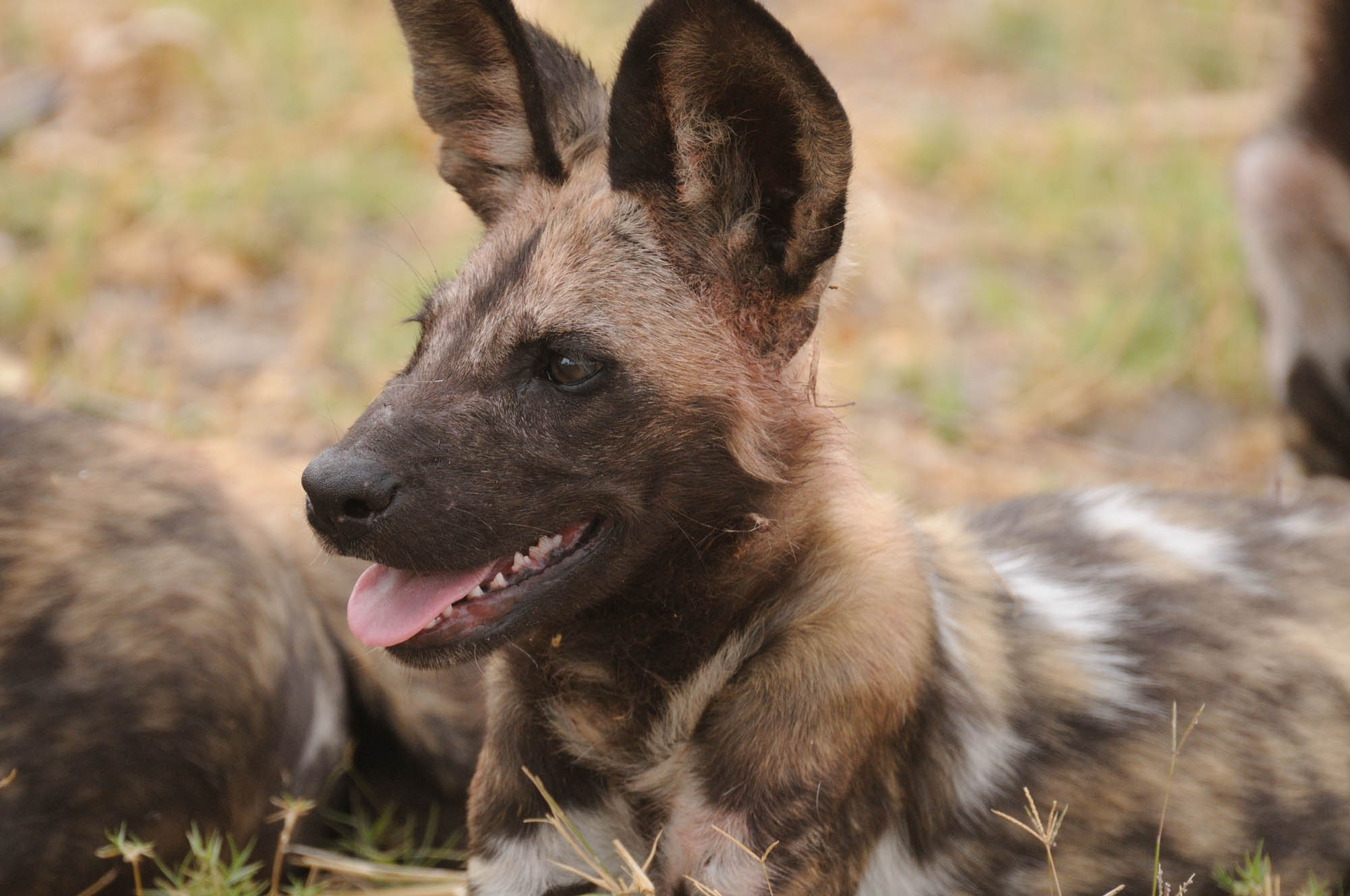 Painted dogs elsewhere in Africa
Two other areas which are good for African painted dogs are the greater Kruger Park in South Africa and Zimbabwe, notably in Hwange National Park and also Mana Pools National Park.  Some of the best camps in the Kruger Park area to visit, to give yourself a decent change at coming across the dogs, are MalaMala, Kirkmans, Singita, Savanna and Dulini in the Sabi Sand Reserve, as well as Kings Camp, Tanda Tula and Kambaku River Sands in the Timbavati Reserve.  In Zimbabwe, we have encountered the painted dogs on game drives from Little Makalolo, Linkwasha, Bomani in Hwange and Chikwenya and Ruckomechi in Mana Pools.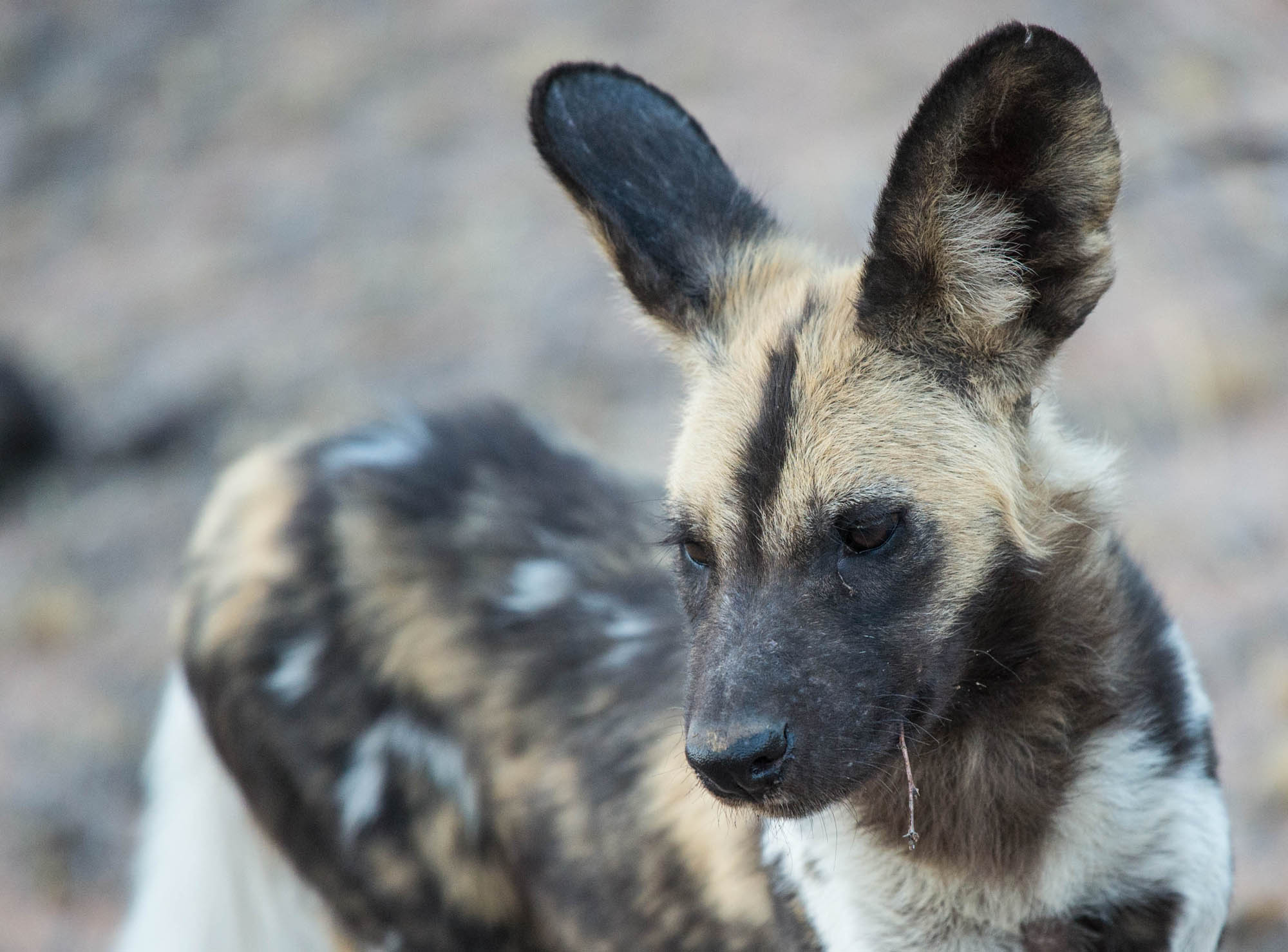 In our blog post next week, we will take a look at a few of our 'Groundhog Day' properties in Southern and East Africa.  Places where we'd be happy to wake up every morning, for the rest of our lives…
YOU MIGHT ALSO BE INTERESTED IN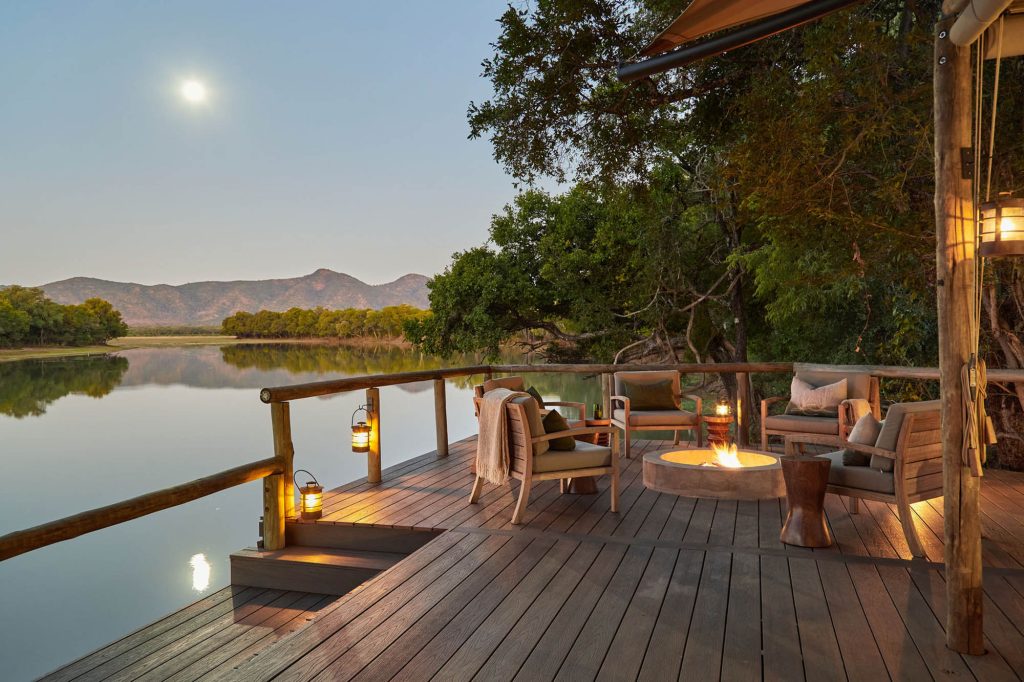 10th Sep 2021
Chindeni and the Bushcamp Company, Zambia
By late July we found ourselves at Chindeni, a small Bushcamp Company property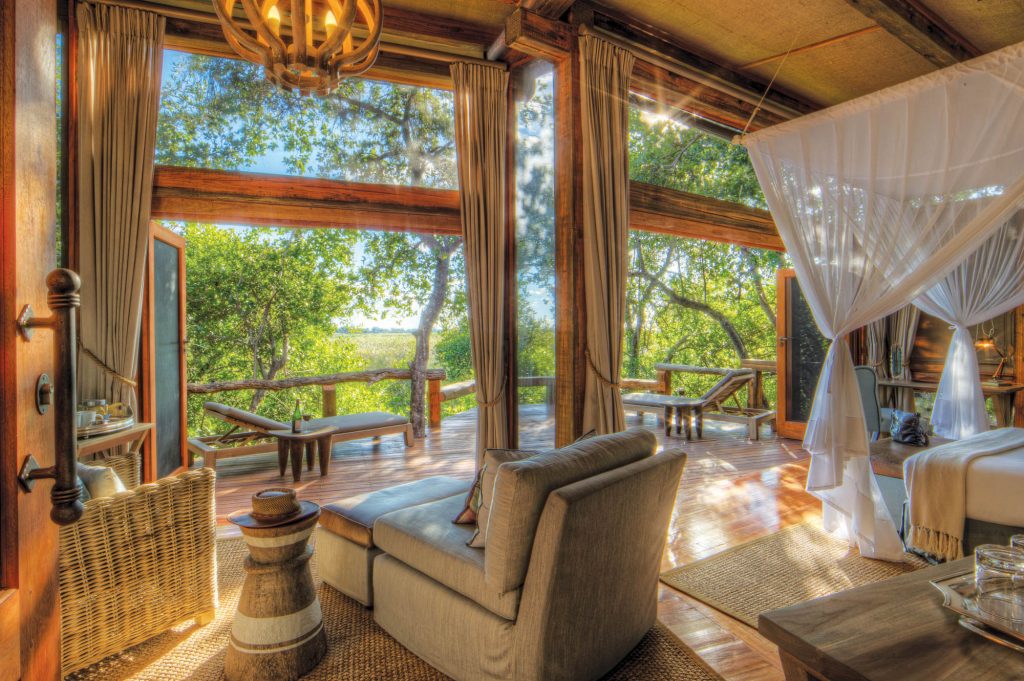 3rd Oct 2022
Camp Okavango, Botswana
Camp Okavango is in the heart of the permanent part of the Delta. In this idyllic setting there are no vehicles, and it is just a short walk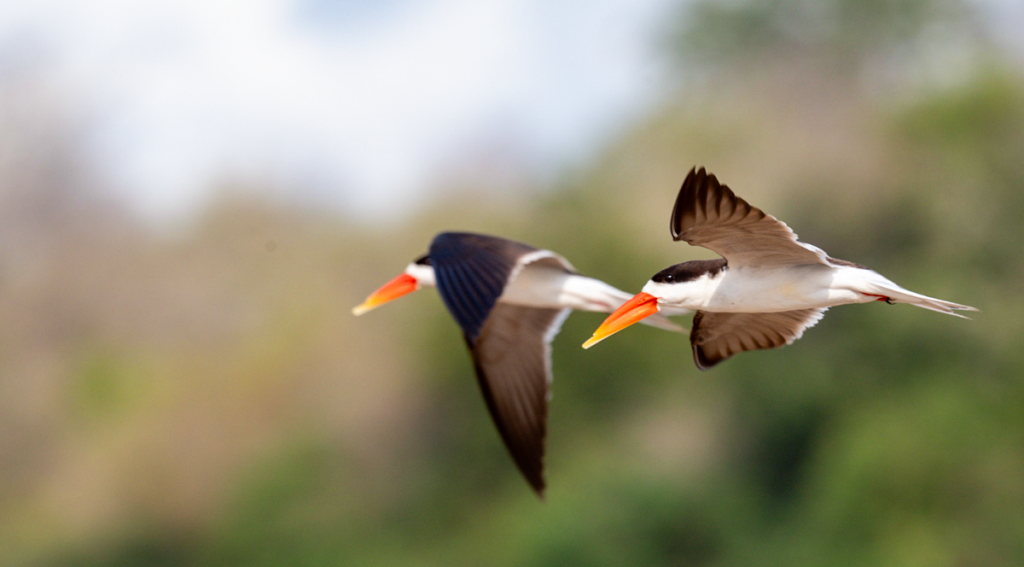 14th Oct 2023
From My Safari Notebook: Wildlife Photography
Birds in flight and wildlife photographers have an uneasy relationship. Things go wrong as often as they go right. Getting focus-lock on a moving subject
SUBSCRIBE TO OUR NEWSLETTER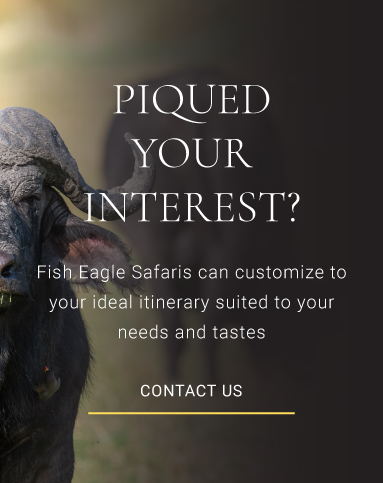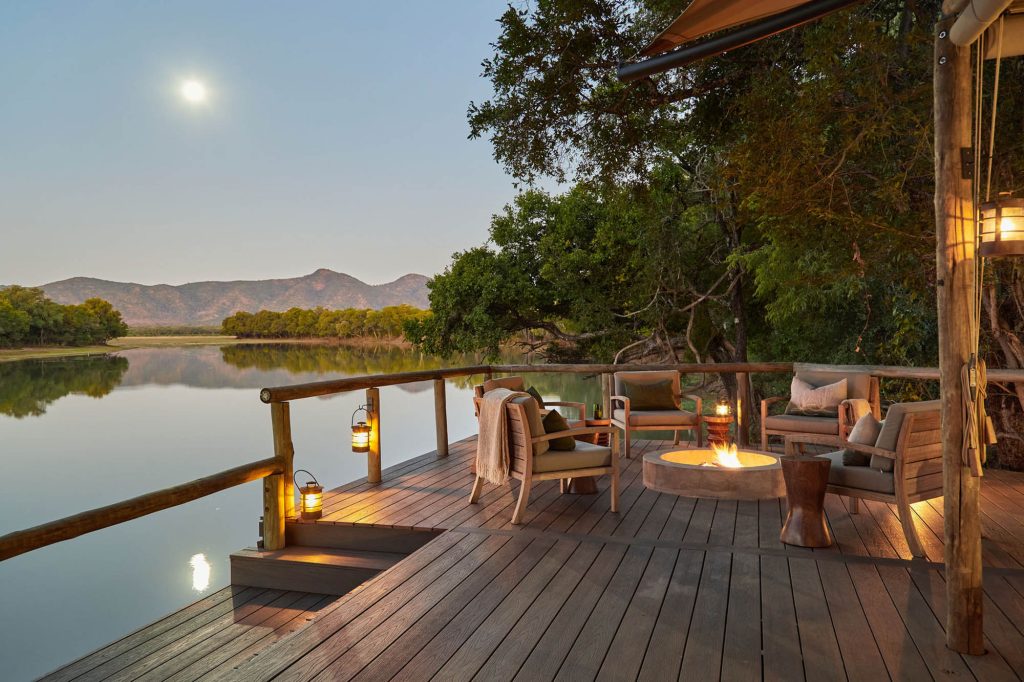 10th Sep 2021
Chindeni and the Bushcamp Company, Zambia
By late July we found ourselves at Chindeni, a small Bushcamp Company property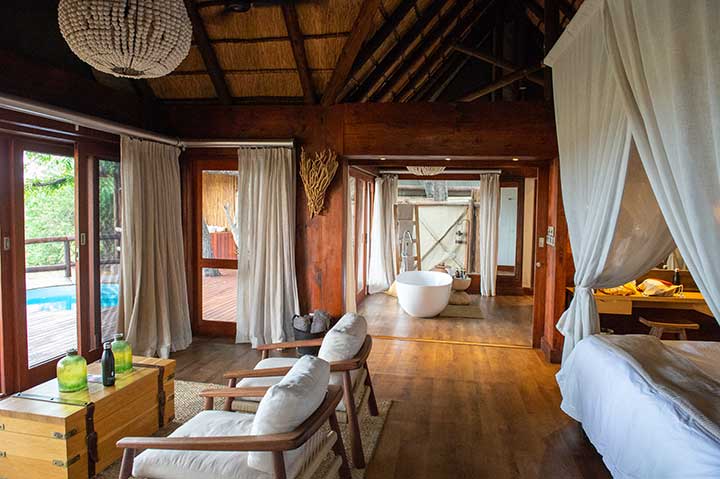 4th Aug 2022
On Safari At Belmond Eagle Island Lodge, Okavango Delta
What is the 'secret sauce' for an unforgettable few days on safari in Botswana? It starts with the animals, of course. The elephants, lions, giraffes, hippos